Air Fryer Chicken Legs with black pepper and garlic are the new favorite around my house. These are simple to do, and absolutely delicious. Even the kids love these. If you didn't like bone in dark meat chicken before this may just change your mind.
I simply score some chicken legs and coat in of course black pepper some spices and some good quality salt and some oil and let them "soak" for about 2 hours.
This is a bit of a combination of a dry brine on the chicken legs and a marinade. This creates a wonderful flavor for the chicken and the salt dries out the skin for a crispy delicious result.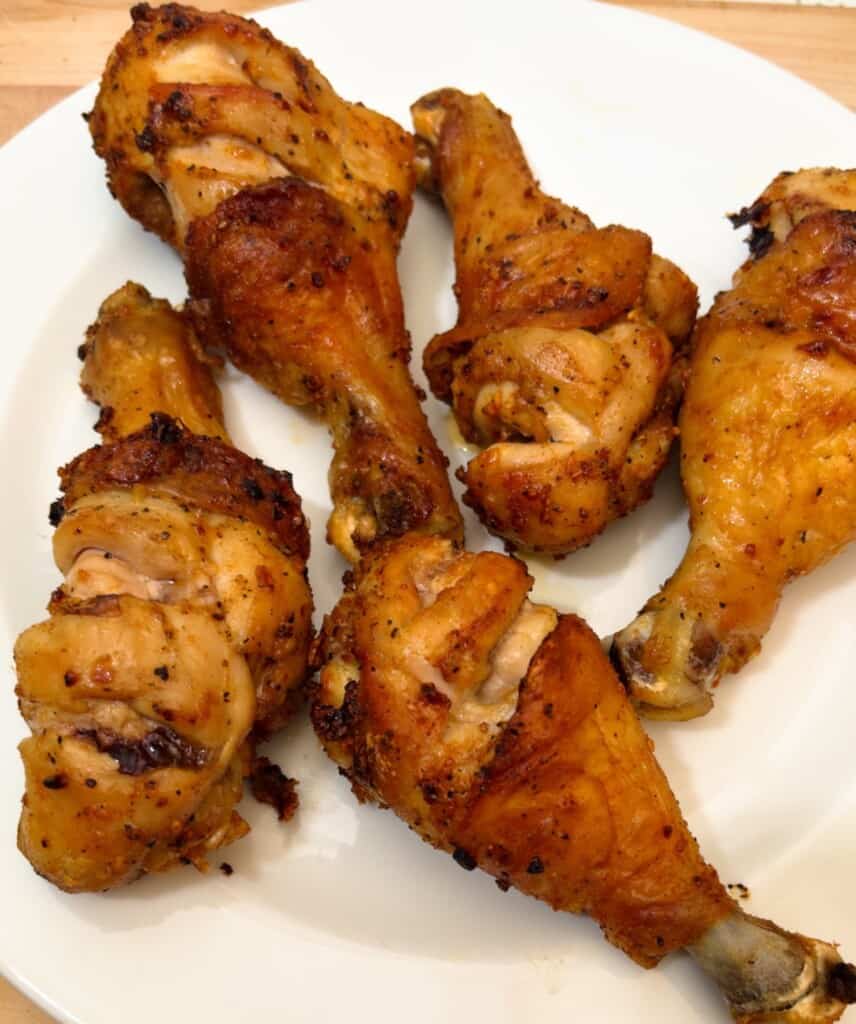 I am always trying new cooking methods and recipe ideas and this air fryer chicken legs recipe is so good with the black pepper and garlic. These are so much better than simple chicken breasts. If you are looking for a delicious side dish to accompany this my Jamaican Steamed Cabbage is always a favorite.
Jump to:
Ingredients in Black Pepper Garlic Chicken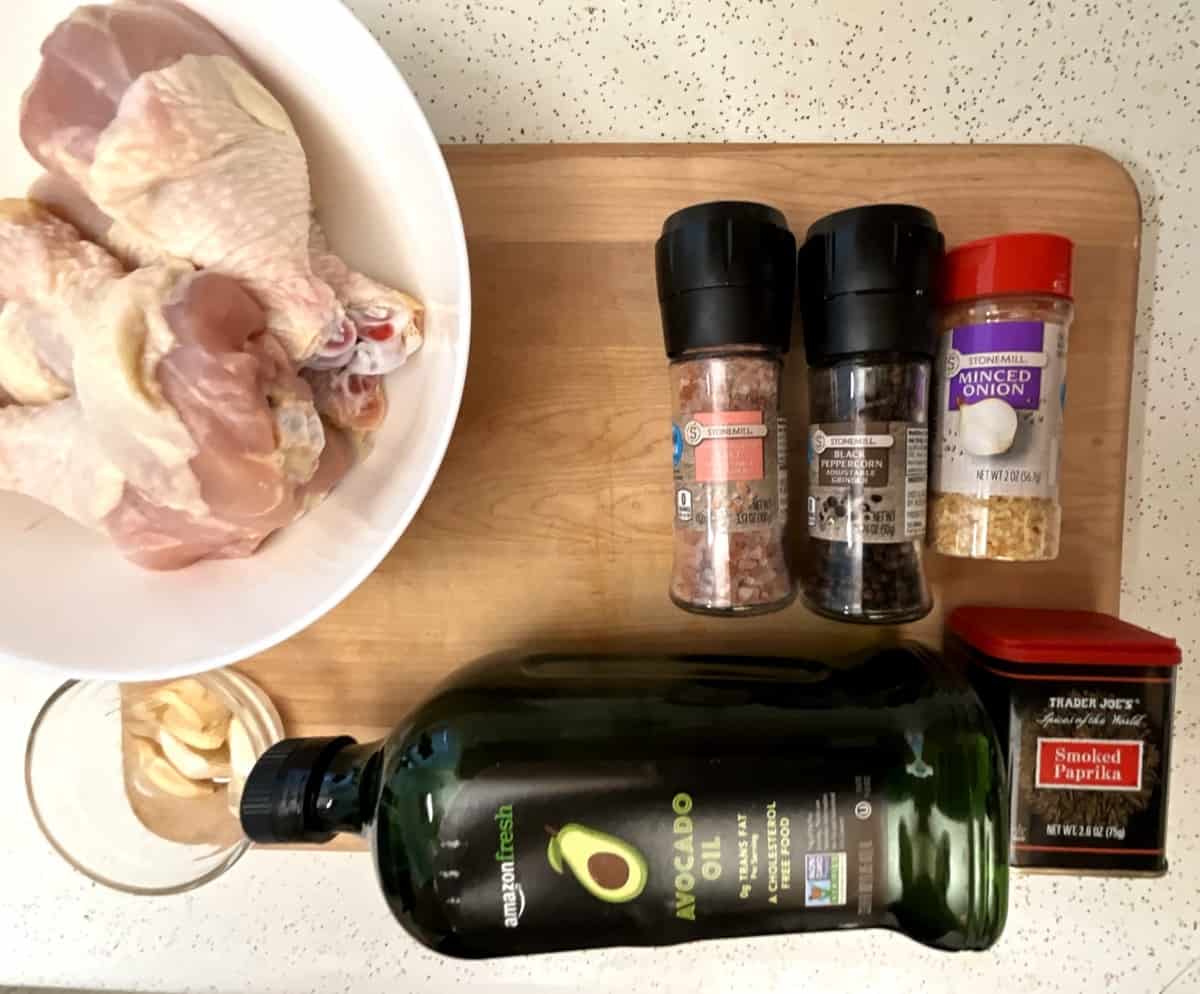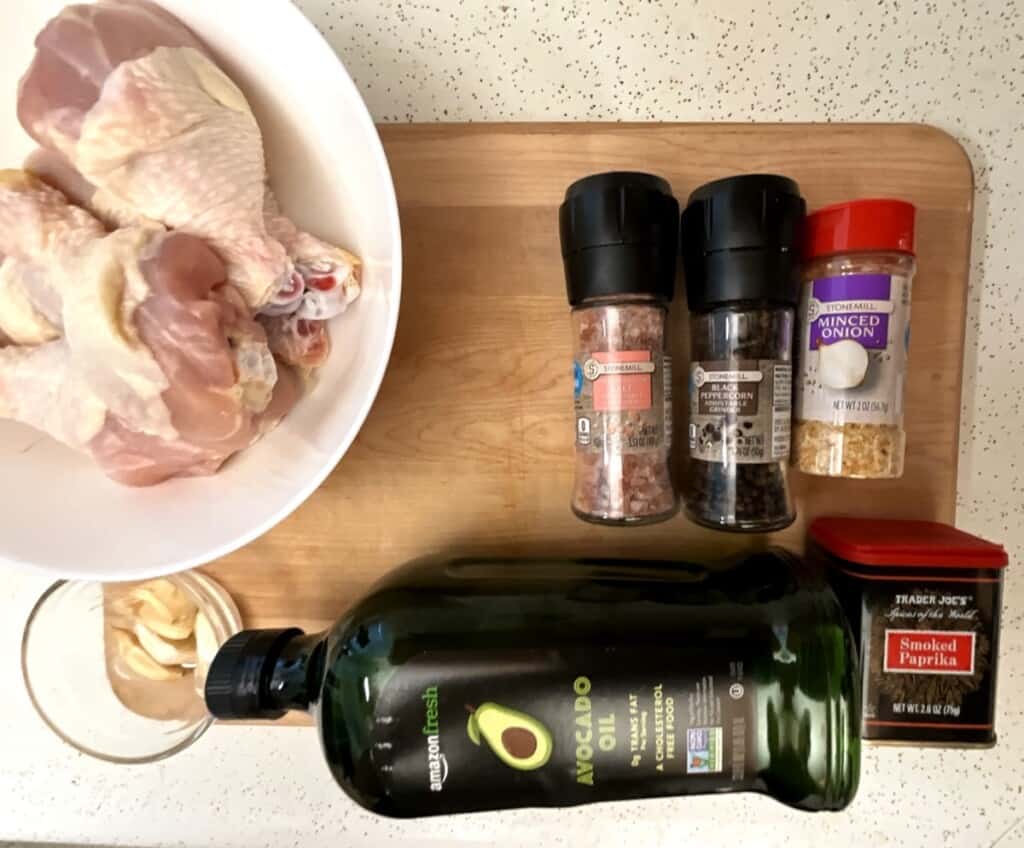 Avocado Oil
Ground Himalayan Pink Salt
Ground Black Pepper
Minced Garlic Cloves
Dried Minced Onion
Smoked Paprika
See recipe card for quantities.
How to Cook Chicken Legs in Air Fryer
The process of cooking these chicken legs is a simple process. The key is scoring, the chicken coating it in all the spices in the oil, and letting it sit in your fridge for at least two hours to give the chicken legs the flavor of the spices all the way through.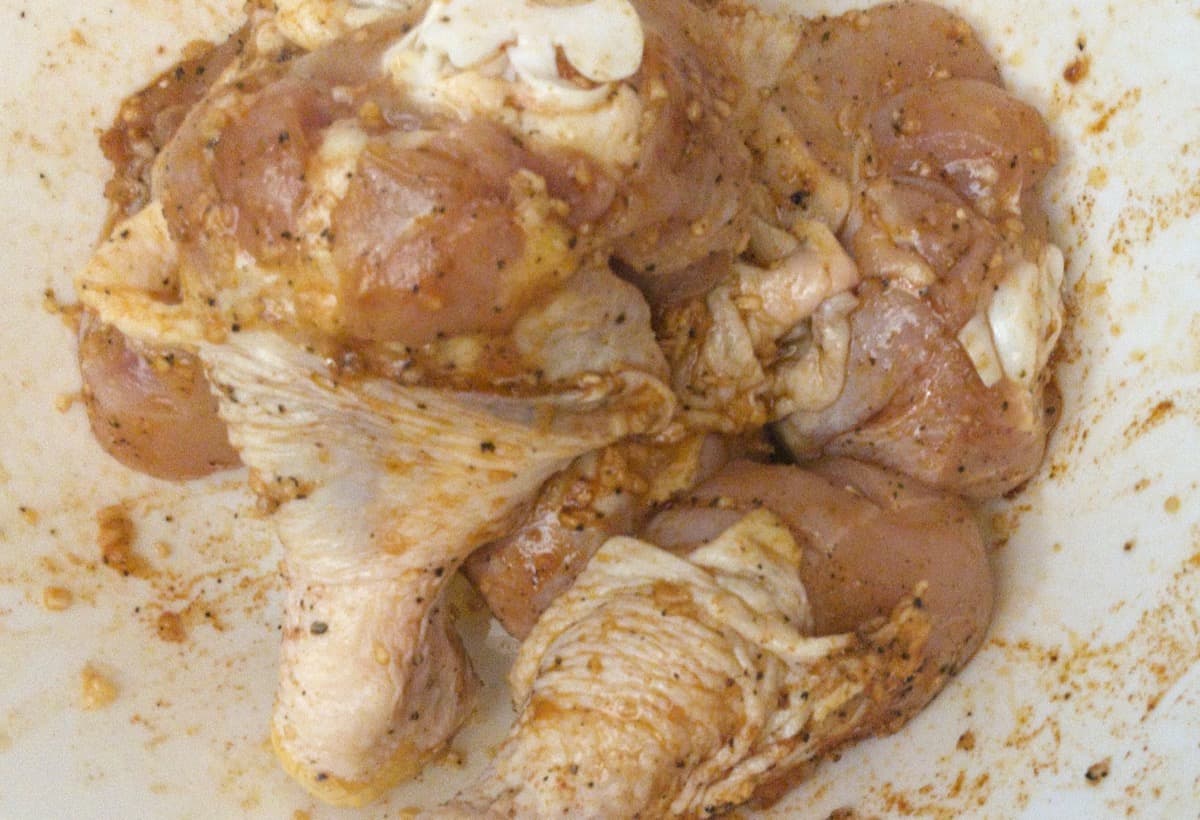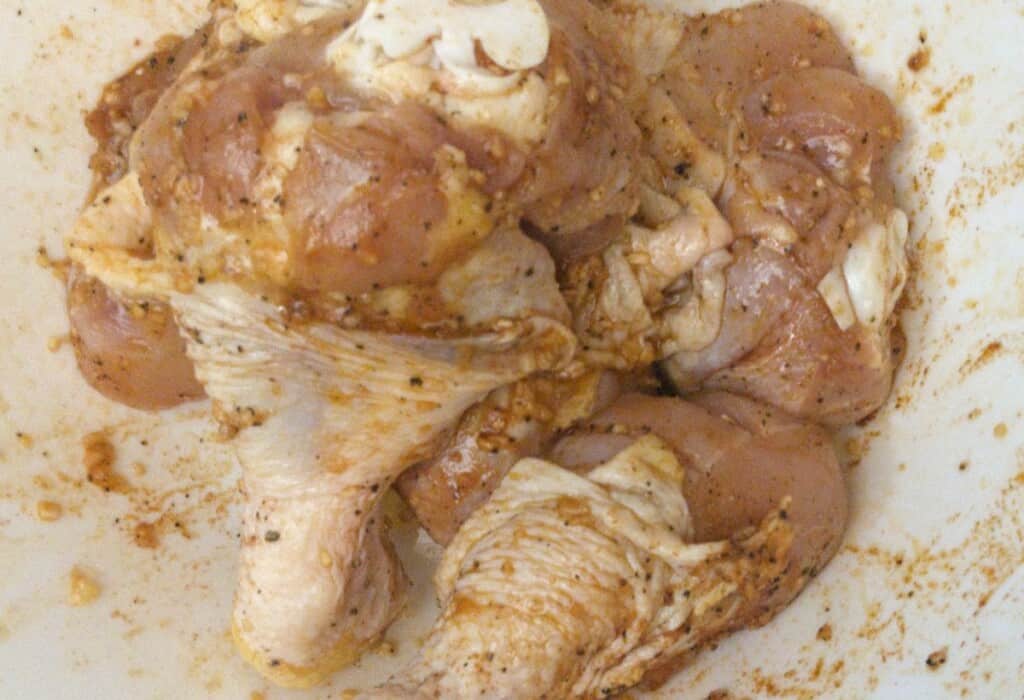 Prepare the chicken legs by pulling back the skin and scoring with a couple of cuts on each side then placing chicken legs in a large bowl.
Drizzle with enough Olive Oil to coat. Sprinkle generously with black pepper. Crush cloves of fresh garlic.
Sprinkle with Himalayan Pink Salt, Dried Minced Onion, and Smoked Paprika. Place in refrigerator for 2 hours uncovered.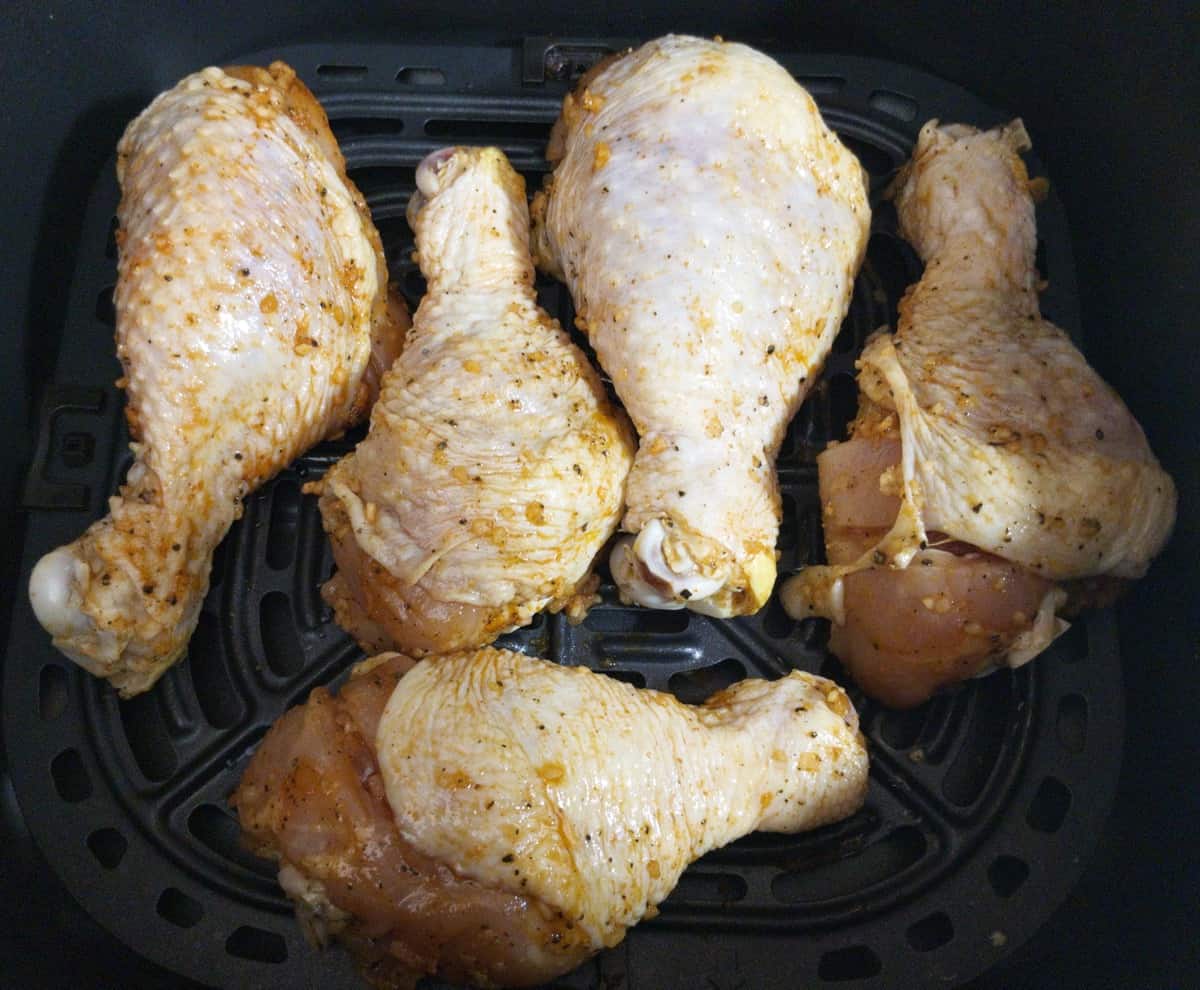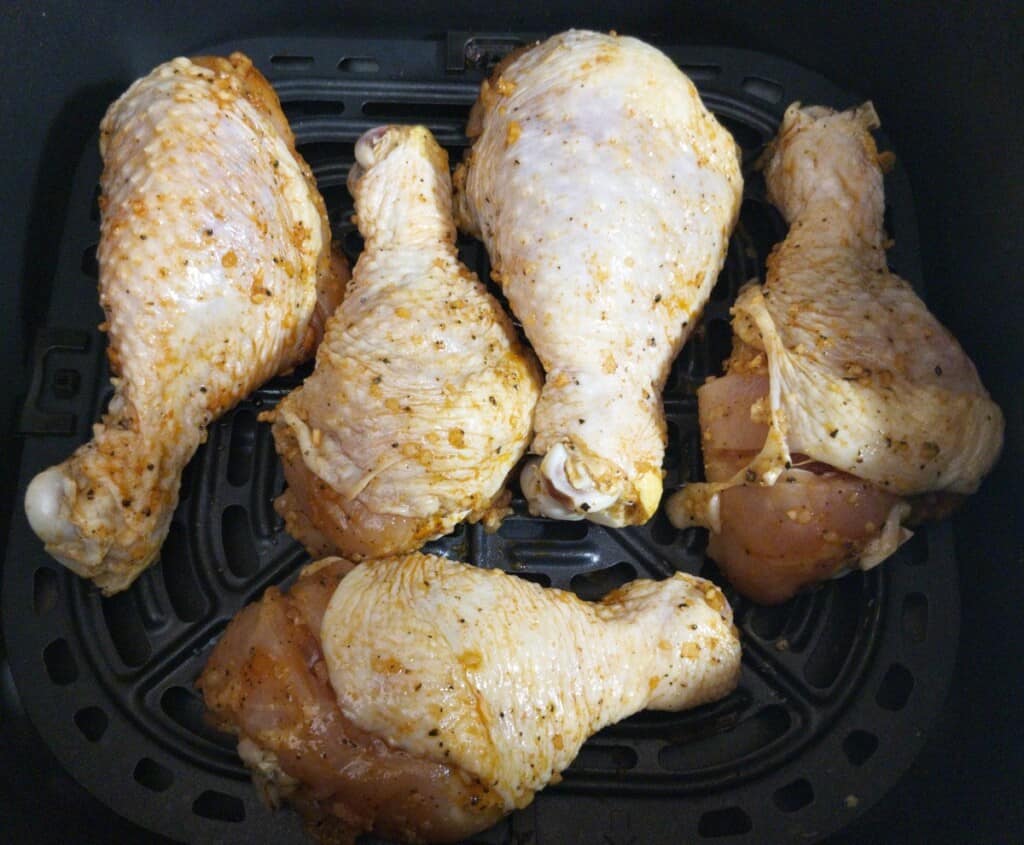 2. Remove the chicken from the refrigerator Pull the skin back over the meat and place in the basket of the air fryer in a single layer that has been preheated to 400 Degrees Fahrenheit. Set the timer to air fry for 24 minutes.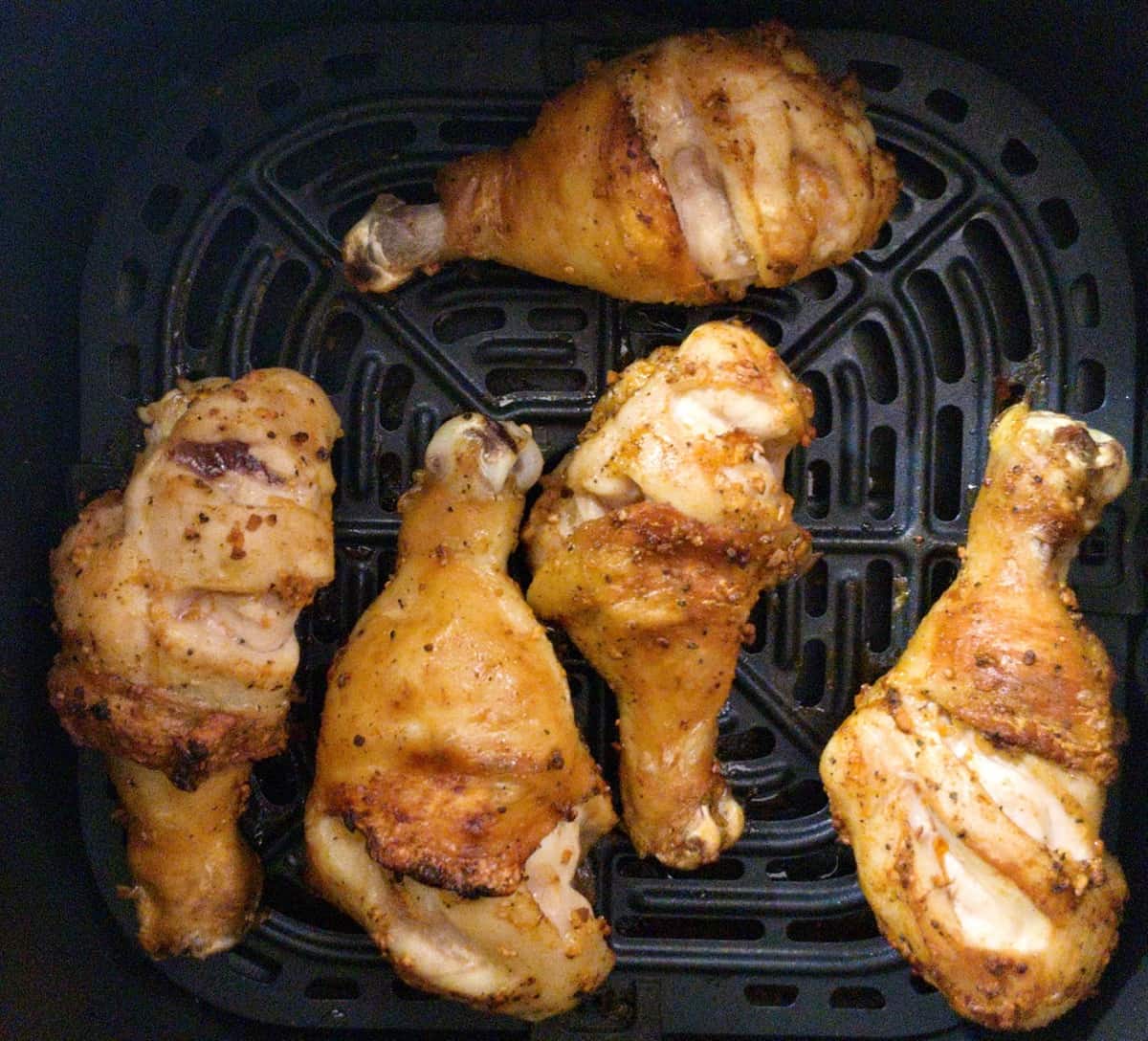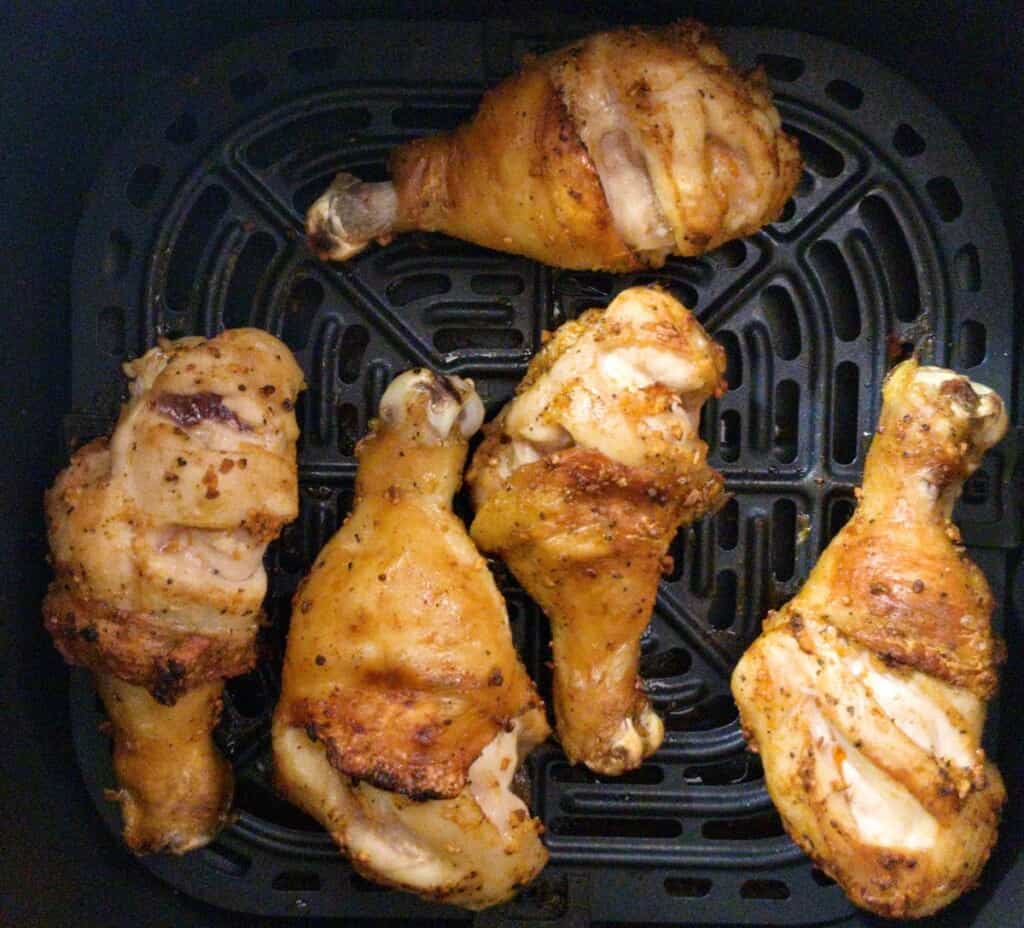 3. Halfway through the cooking time, flip the chicken legs over. Make sure that there is some space between the chicken legs in the air fryer basket for good air circulation. This makes for better browning and crispy skin results.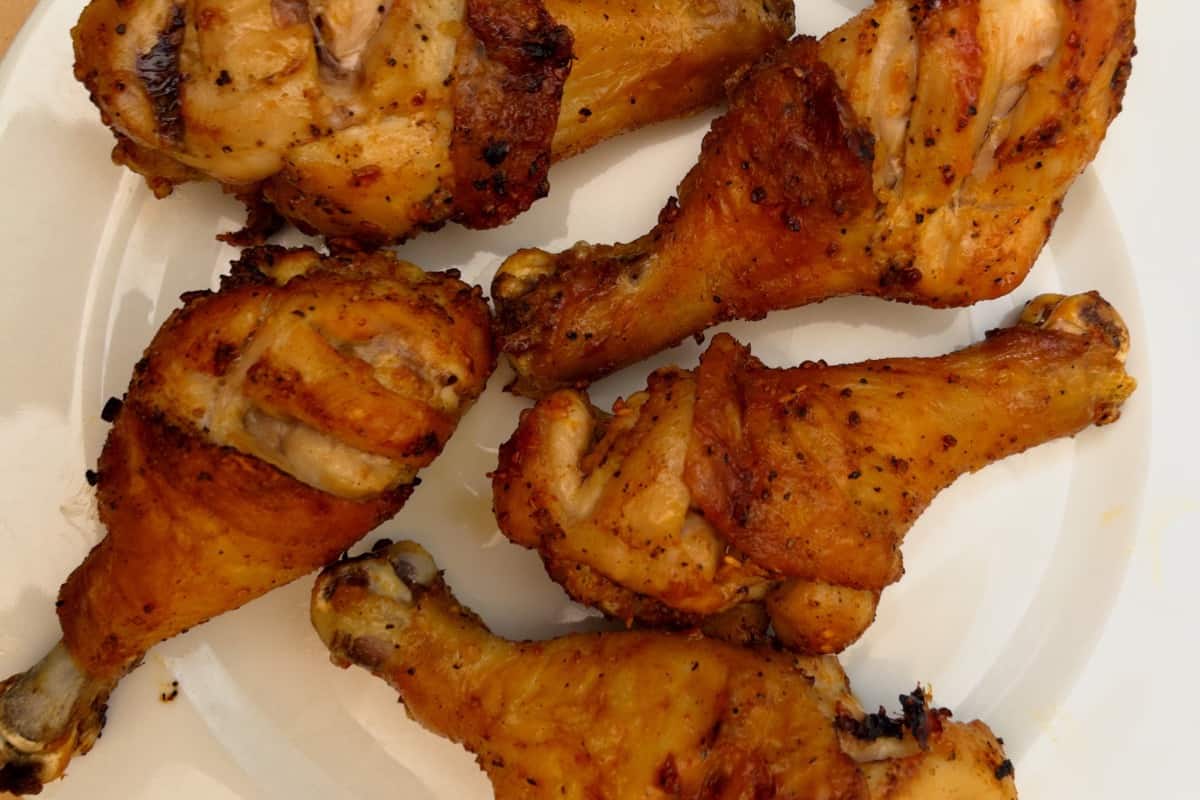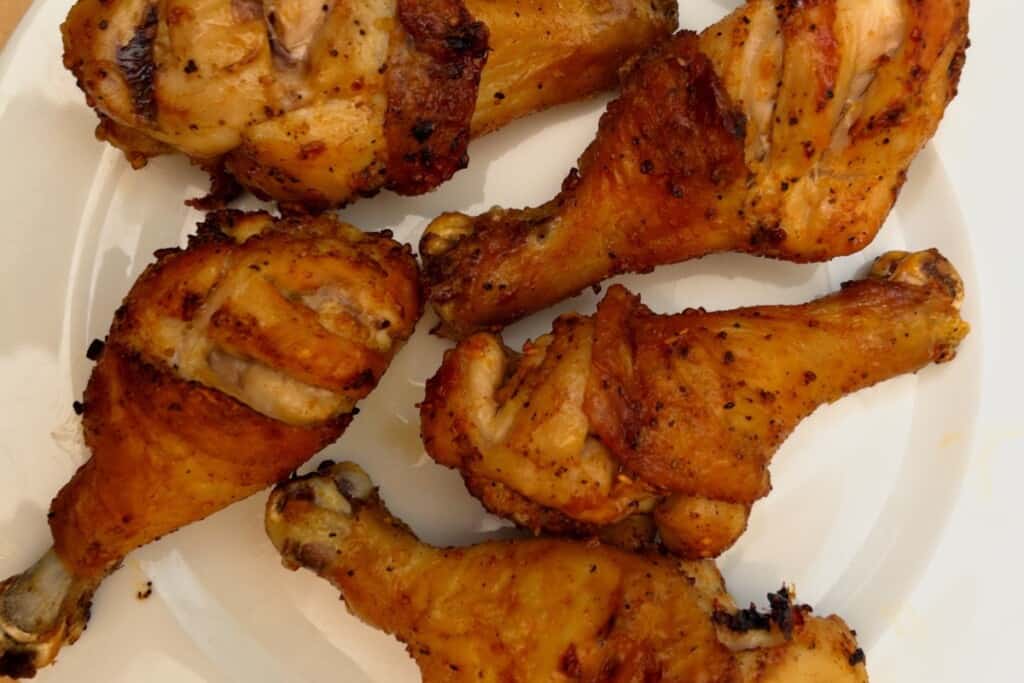 4. Remove the chicken and place on a rack or plate. Check for doneness making sure that chicken is cooked to 165 degrees. If you are going to salt the chicken some more it is always better to do that when the chicken is hot.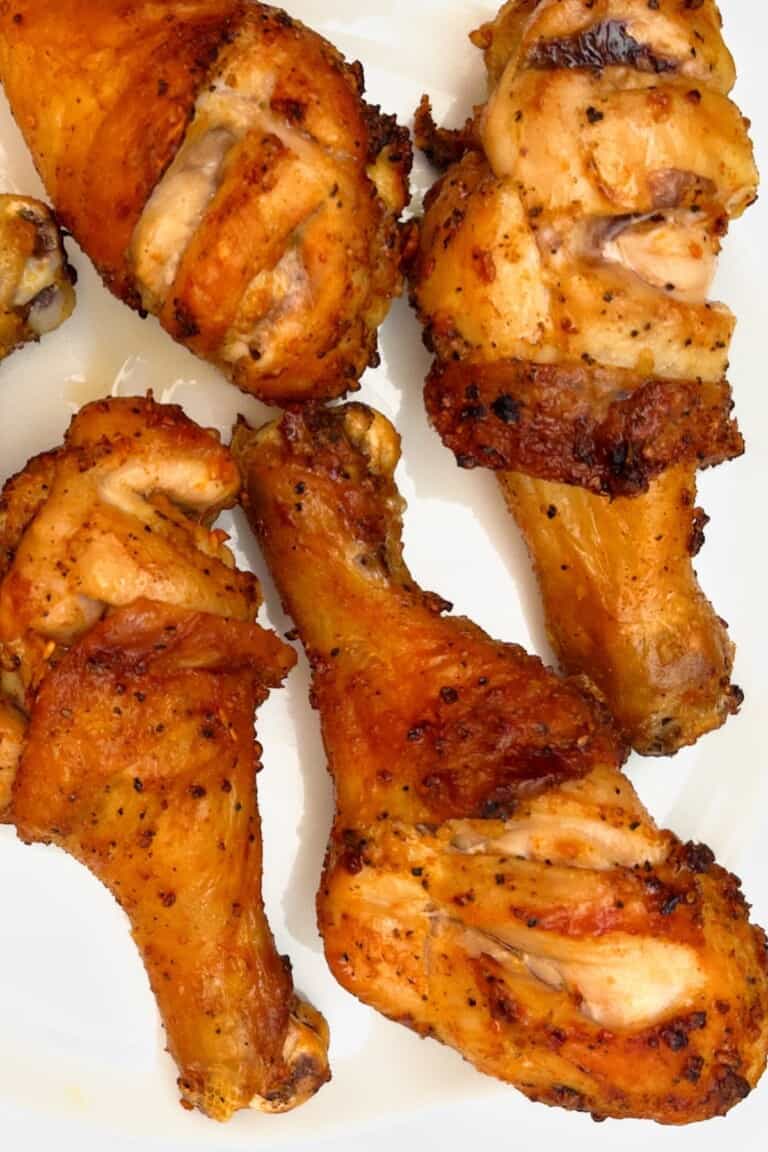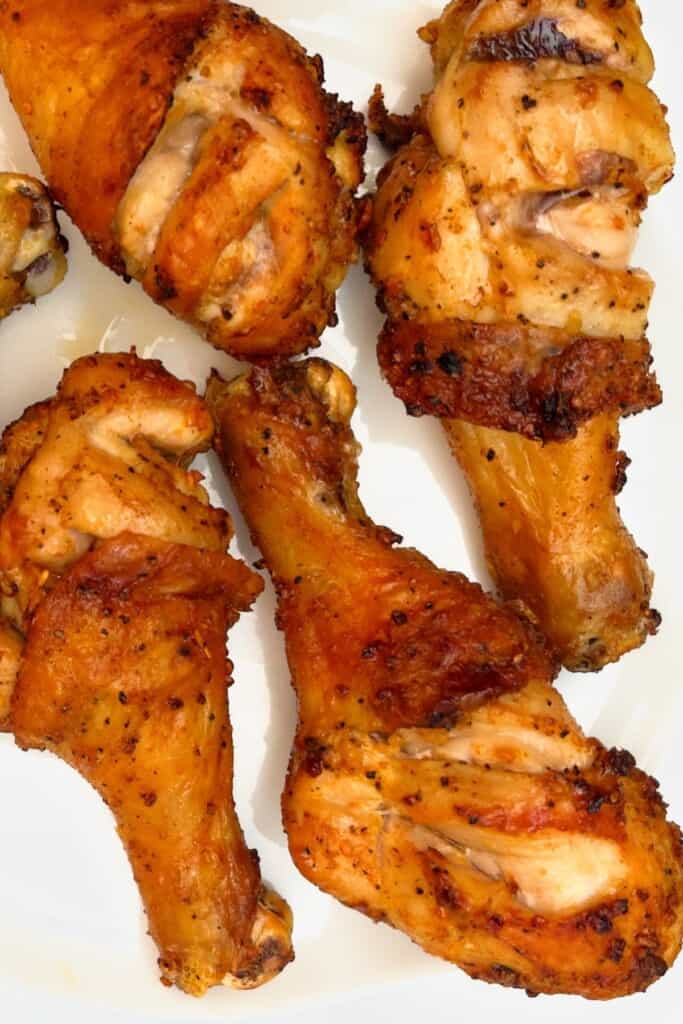 I love how these air fryer chicken drumsticks came out great. Golden brown and delicious definitely happened.
The skin is crispy and delicious and there is no added breading. This is just spices and flavor. I love it.
I am thinking that would also be delicious to use chicken wings for this recipe.
Hint: Make sure that you DO NOT skip the step letting the chicken Brine/marinate for a couple hours to impart the flavor of all the spices.
Substitutions
Sea Salt – This could be used in place of pink salt in a pinch.
Garlic Powder – Even though I recommend fresh garlic garlic powder could be used.
Olive Oil – Olive oil could be used in place of avocado oil. I like avocado oil because it doesn't impart flavor and is better for high temperature cooking.
Variations
Chicken Thighs – Chicken thighs can be used but I like them cooked a few minutes more.
Chicken Breasts – If using breasts especially boneless cut the cooking time by 3 to 5 minutes so they don't dry out. I always recommend dark meat instead.
If you want more of a "Fried Chicken" recipe instead try my Fried Chicken Recipe.
Equipment
I always list the equipment I use in recipes. I also list what I think are kitchen essentials that I love. I do receive a small commission on these items at absolutely NO COST to you. I appreciate the support.
Instant Vortex Plus Air Fryer Oven
COSORI Pro III Air Fryer Dual Blaze
Misen Santoku Knife – 7.5 Inch
Air Fryer Liners – 8.5 Inches, 100pcs
Keep in mind when it comes to air fryers they are all a little different because they are based on wattage so cooking time can fluctuate by a few minutes less or more.
Storage and Reheating
Store leftover chicken legs in an airtight container in the refrigerator for 3-4 days.
Reheat chicken legs in air fryer at 375 degrees Fahrenheit for 3-5 minutes.
Freeze chicken legs in an airtight container or zip bag for up to 3 months.
Top tip
Do not skip the step of seasoning, the chicken with the spices and letting it sit for at least two hours. This helps remove moisture out of the chicken makes the chicken add flavor and helps make it crispy.
FAQ
How long do drumsticks take in the air fryer?
Chicken legs in the air fryer take 20 to 25 minutes to cook.
Are drumsticks better in the oven or the air fryer?
These chicken legs can be prepped in the time it takes for the air fryer to preheat. Air fryer chicken legs have a cooking time of less than 30 minutes. The air fryer creates crispy and delicious chicken in no time.
Can you put raw drumsticks in the air fryer?
What's great is that you can use the air fryer to cook chicken drumsticks straight from the freezer or fresh, which is helpful when you're short on time for defrosting. Simply place them in the air fryer and you're good to go.
Related
Looking for other recipes like this? Try these:
Pairing
These are my favorite dishes to serve with [this recipe]: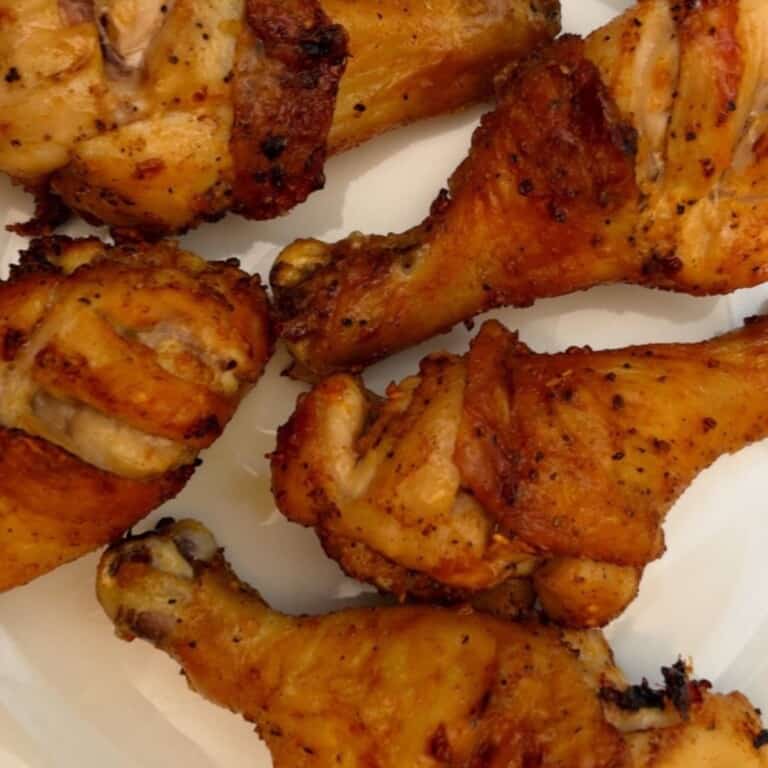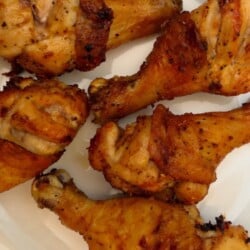 Air Fryer Chicken Legs (Black Pepper Garlic)
These air fryer black pepper garlic chicken legs are easy to make and loaded with yummy flavor. These come out crispy and delicious.
Print
Pin
Rate
Ingredients
1 to 1/2

Tbsp.

Avocado Oil.

1

Tbsp.

Fresh Ground Himalayan Pink Salt.

1

tsp.

Fresh Black Pepper

4 to 5

Minced Garlic Cloves

1/2

Tbsp.

Dried Minced Onion

1

tsp.

Smoked Paprika
Instructions
Season the chicken with all ingredients and let marinate in seasonings for about 2 hours.

I also like to score the chicken. to let the spices get deeper into the meat.

Preheat Air Fryer to 400°F.

Place chicken pieces in the air fryer basket.

Air fry the chicken 24 minutes turning chicken halfway through cooking time.
Nutrition
(Visited 933 times, 1 visits today)