Frozen pizza rolls in the air fryer or just another one of the frozen foods that come out great. I am always trying new frozen items in the air fryer. Frozen foods are great to have around when you are in a pinch for time.
The kids love these air fryer pizza rolls. It doesn't matter which brand of pizza rolls are used. I have tried all the ones in the supermarket in my area.
I think they all come out the same. The totinos pizza rolls air fryer snacks are the most popular.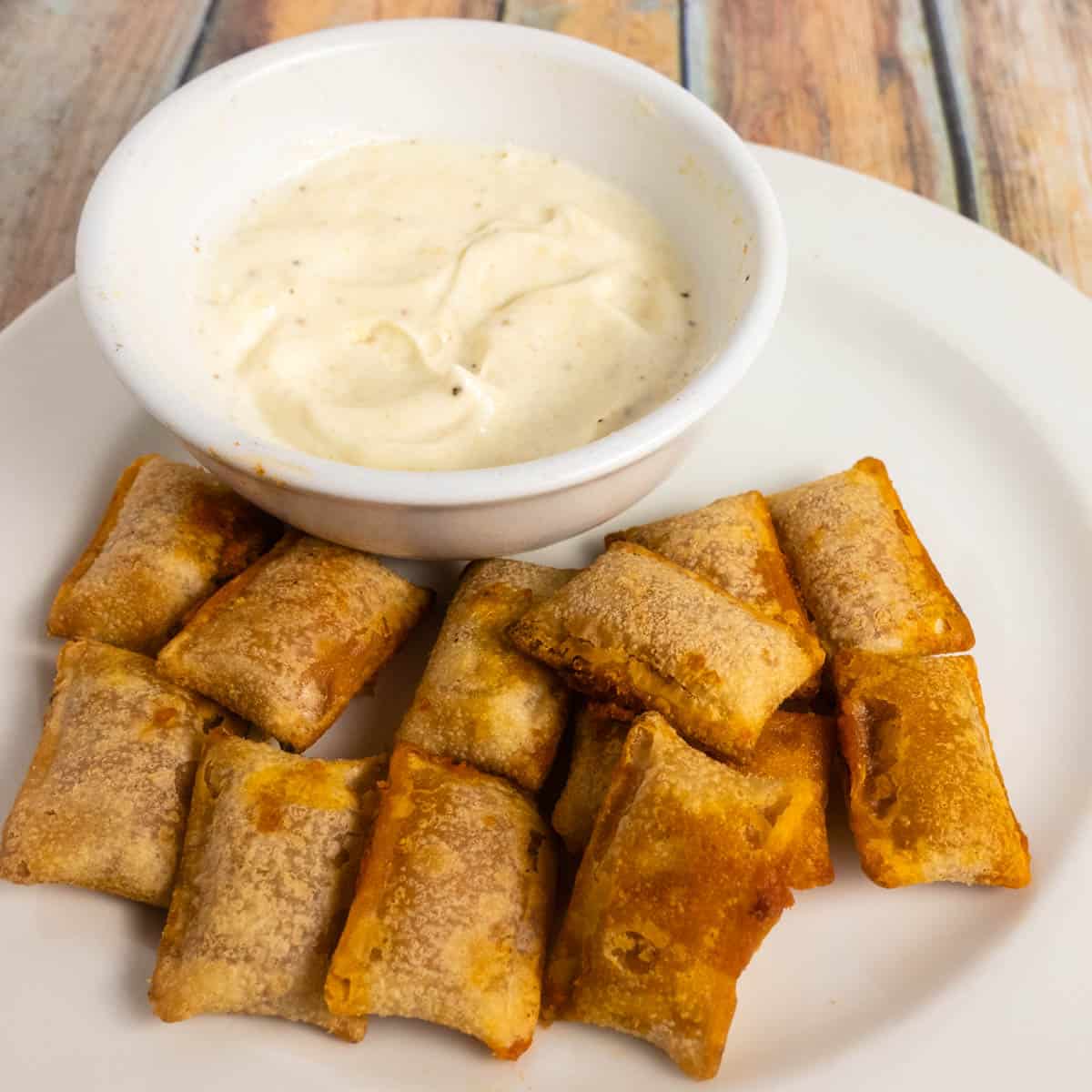 I like making these air fryer frozen pizza rolls on hand for when guests are over it on game day. These are really convenient. It is as simple as tossing them in the air fryer basket and cooking. There is no extra oil required.
Sometimes I make a little platter using Air Fryer Eggrolls, and some frozen French Fries. I like for everyone to have some finger food to nibble on.
The frozen pizza rolls that I used for this recipe was the Annies brand that I got at Whole Foods. I have also used the totinos pizza rolls. They all come out very similar and it is a matter of taste which ones you prefer.
Jump to:
Ingredients
Any brand of pizza rolls can be used. I happen to use the brand below because that's what was available. They were quite good.
I was actually surprised by how good they really were. Air fried pizza rolls are yummy.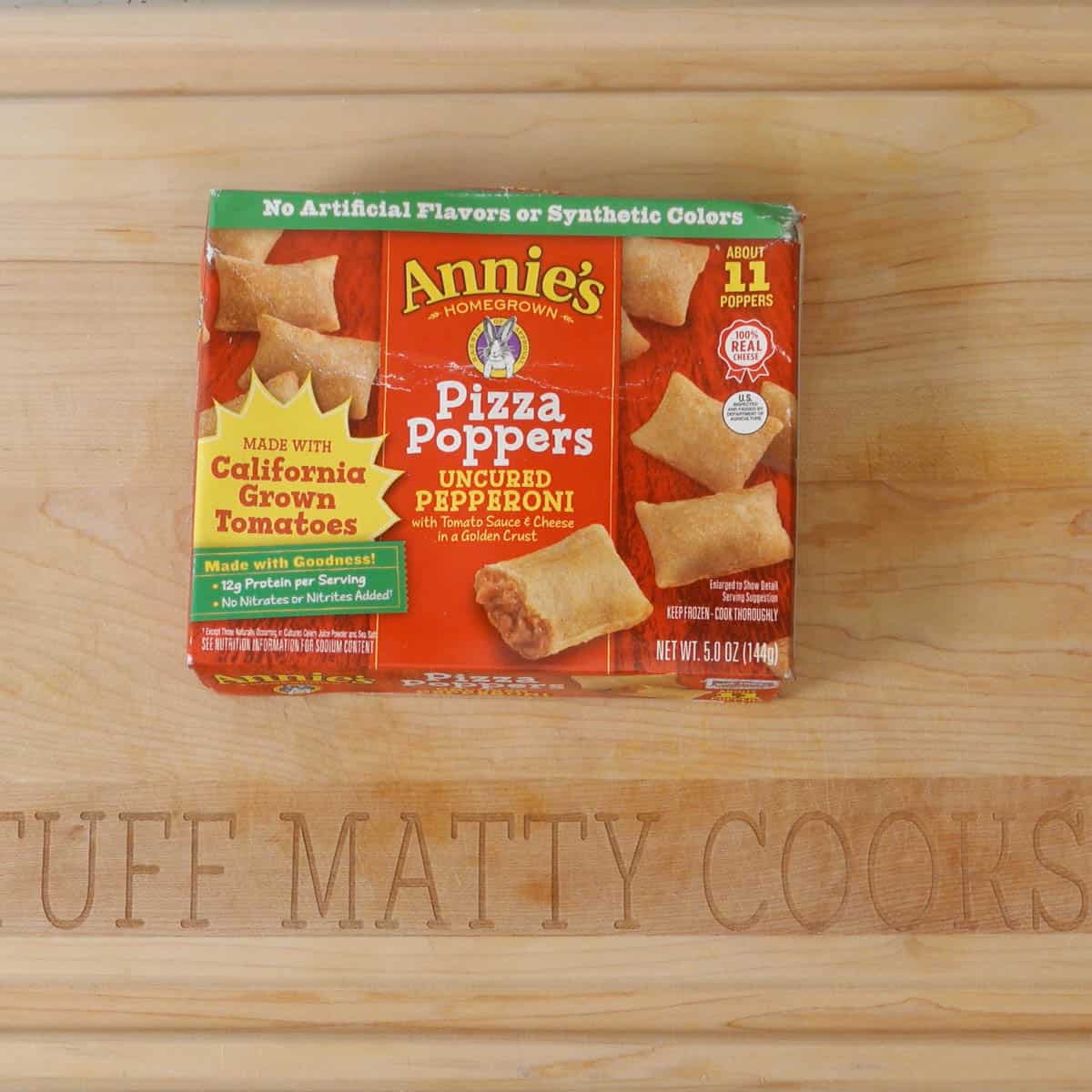 1 box Annies Pizza Rolls or about 1/2 bag of Totinos Pizza Rolls
Mayonaise
Garic Powder
Salt
Black Pepper
Half and Half or Milk
Jump to recipe card for quantities.
Instructions
I will show you how to go about air frying frozen pizza rolls in air fryer. It's a simple process you don't even need any oil. I will also give you the recipe for my quick Garlic Dip. Ranch dressing is also a hit with pizza rolls.
How to Cook Frozen Pizza Rolls in Air Fryer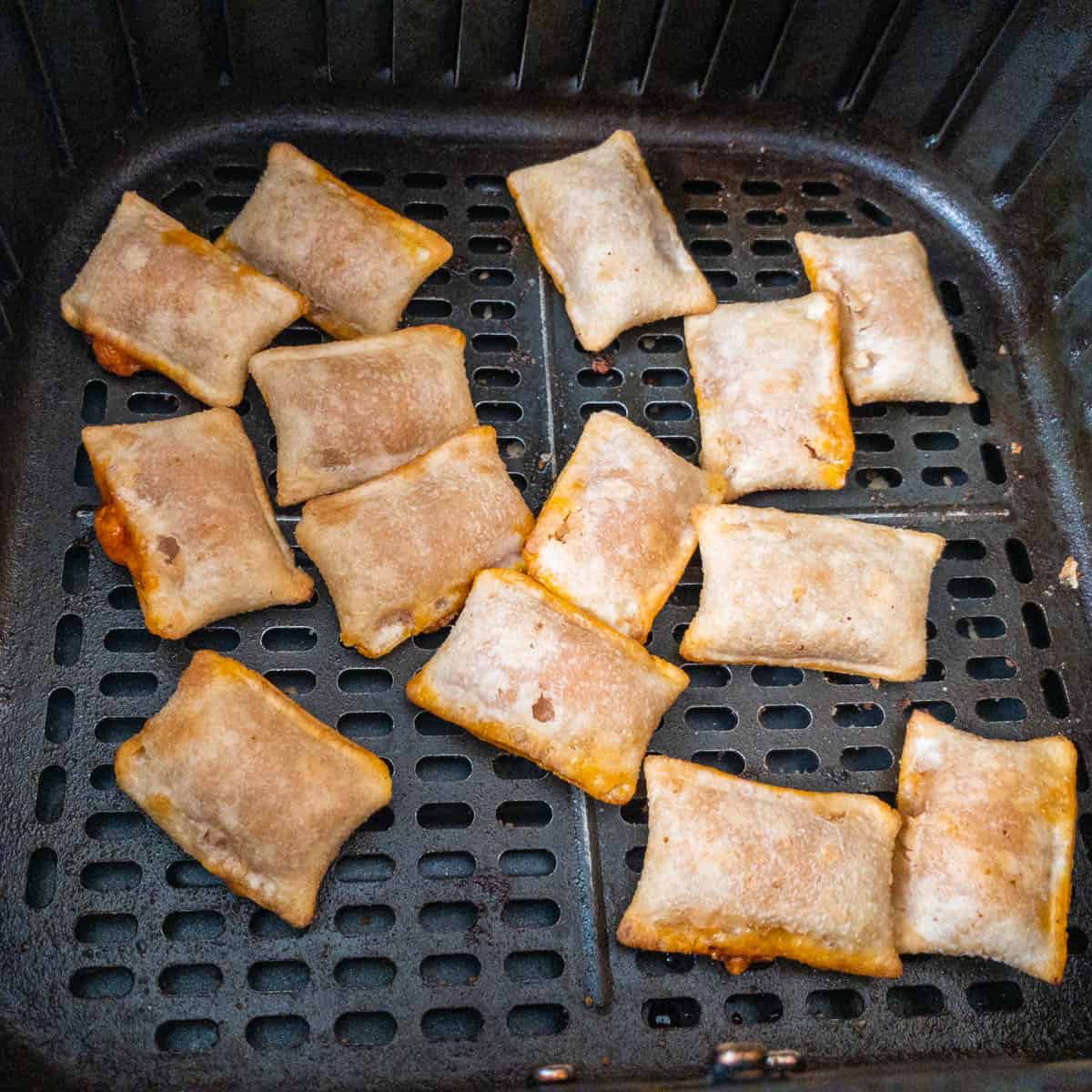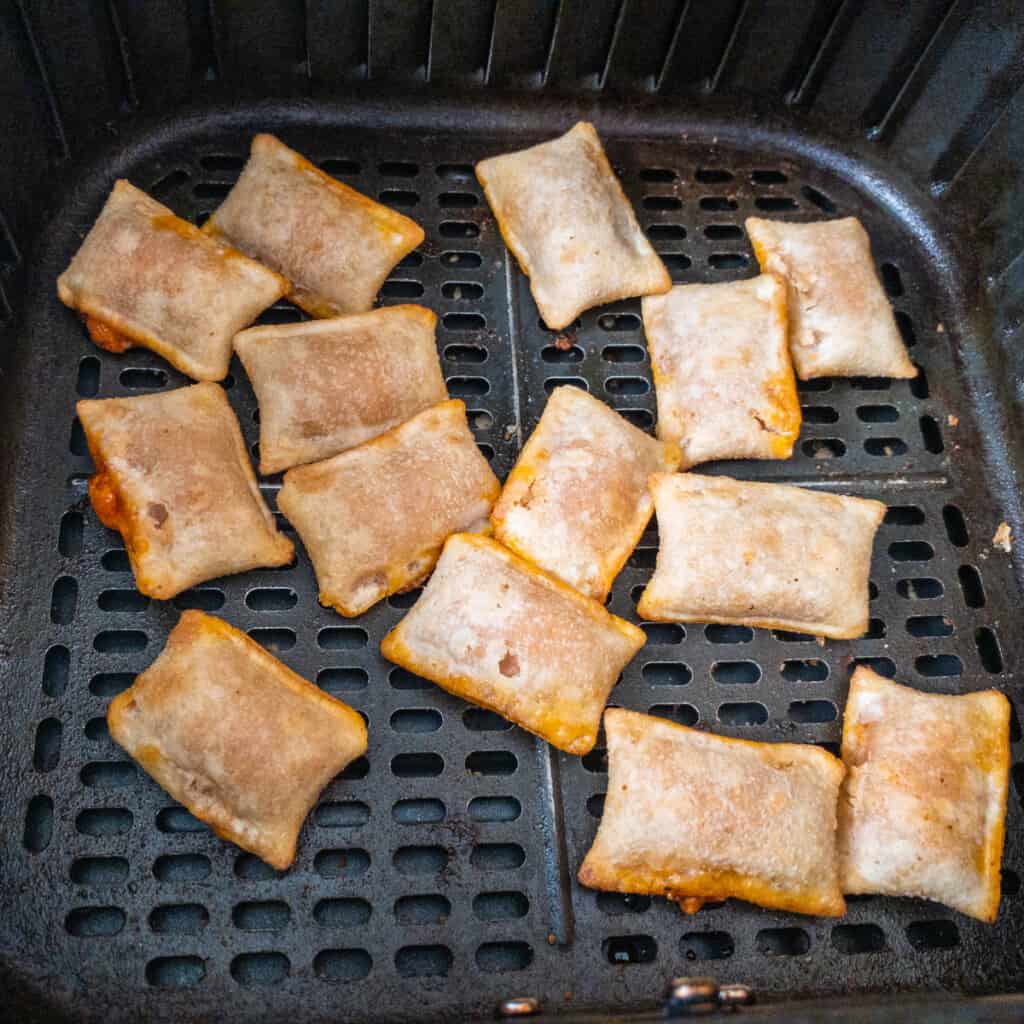 How to Make Totino's Pizza Rolls in an Air Fryer
Preheat air fryer to 380 Degrees Fahrenheit.
Place Pizza Rolls in an even layer in the air fryer basket.
Cook Totino's Pizza Rolls 8 Minutes on 380 Degrees. Shake Basket halfway through cooking.
Let sit 2 minutes after cooking to cool down.
Step 1 – Preheat the air fryer. Arrange rolls in a single layer in the air fryer basket. I usually use about half a bag of the Totino's pizza rolls or one whole box of Annie's pizza rolls.
Step 2 – Cook the Pizza Rolls at 380 Degrees for 8 minutes. Shake the basket halfway through the cooking time to ensure even cooking.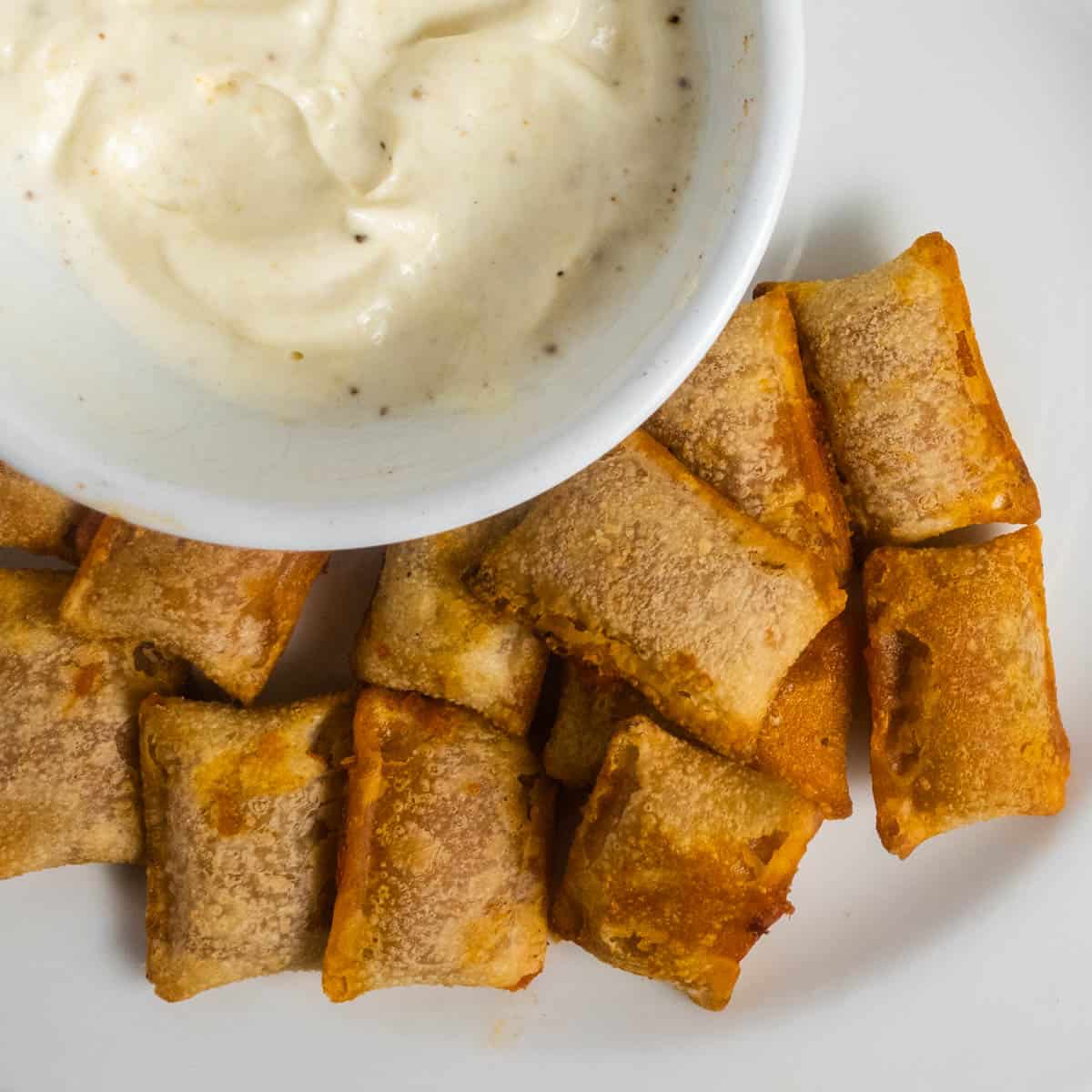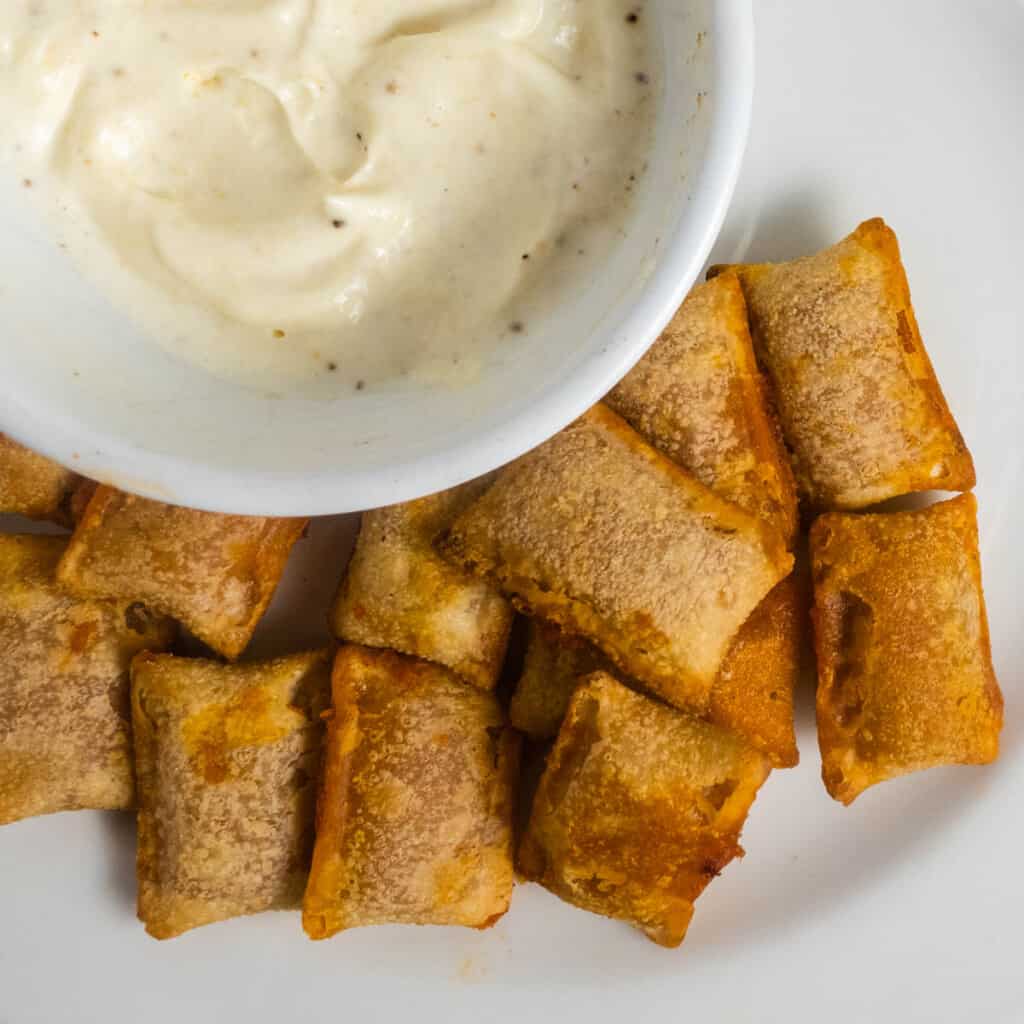 Keep in mind all air fryers cook differently. Some cook hotter than others. Recipes can take a minute or two less or more
Hint: I like these Annies brand pizza rolls. I found them at Whole Foods. I will leave a link to them so you can buy them if you like.
They are available at many supermarkets. I thought that the Annies Pizza Rolls were pretty tasty.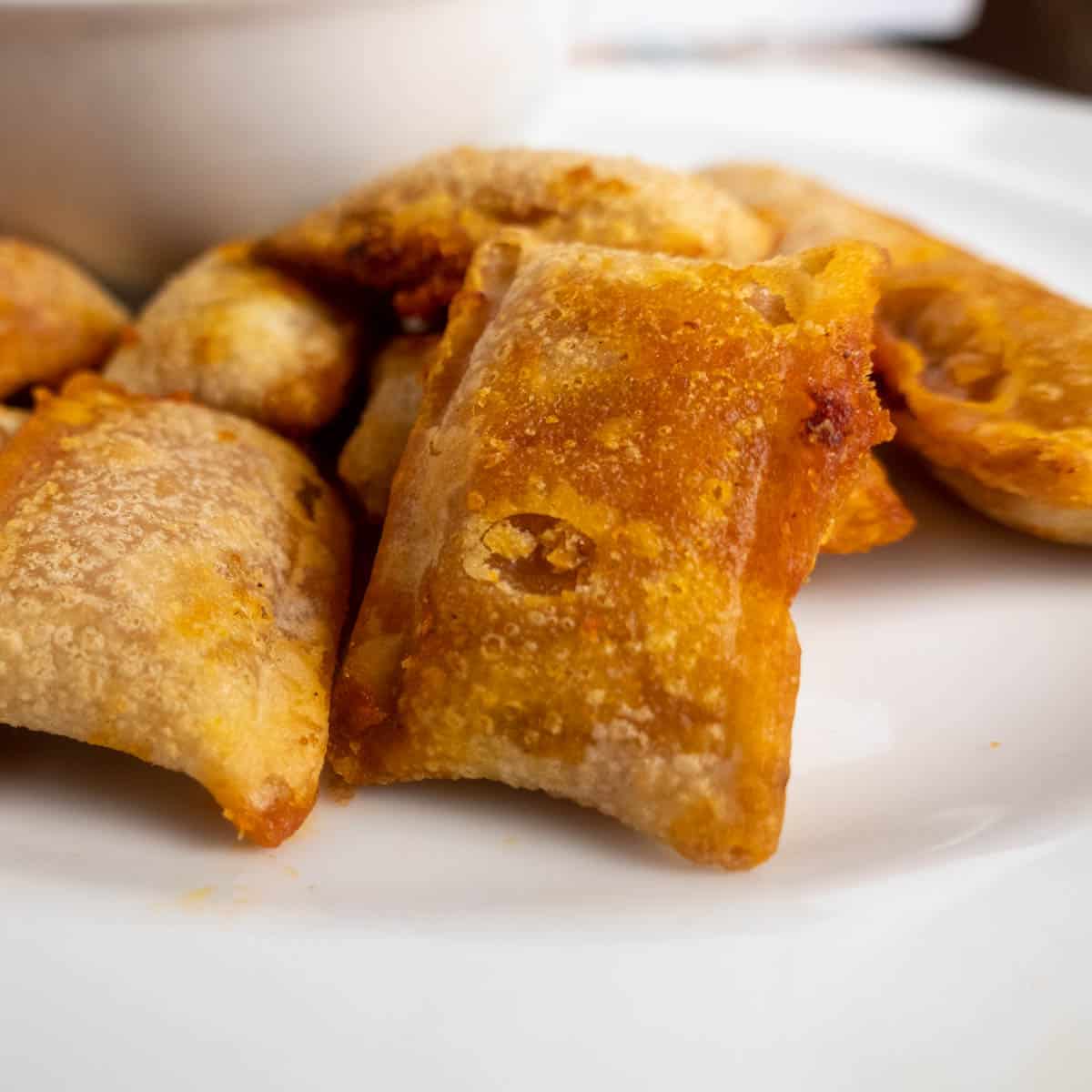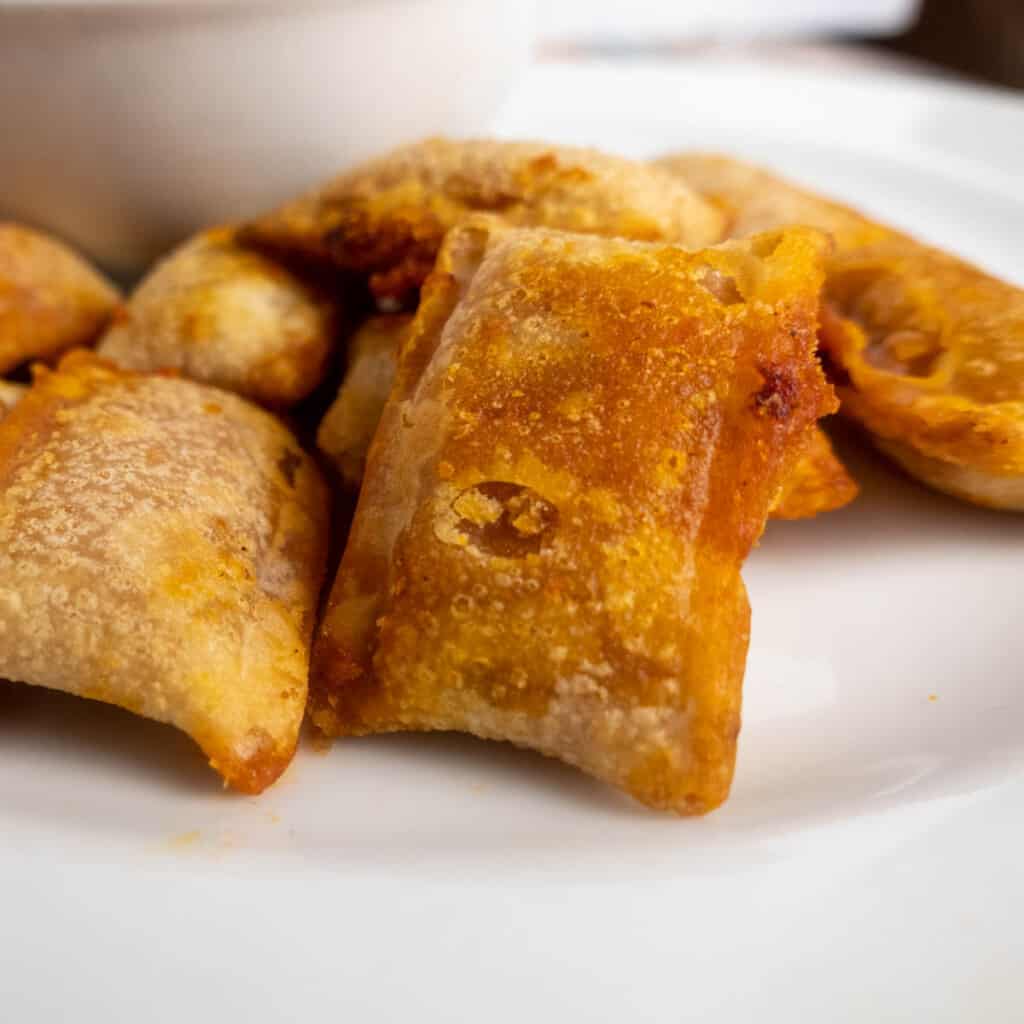 If you like the extra crispy pizza rolls add a couple of minutes of cooking time.
Dipping Sauce for Frozen Pizza Rolls
I normally would just put a side of ranch with these pizza rolls to keep it simple. If you want to take the extra minute to make this garlic dip of mine I am sure you will really enjoy it.
It is easy to make and it is delicious. I usually make this garlic dip to go with chicken wings. Pizza sauce is also a good dipping sauce.
Garlic Dip Recipe
3 Tbsp. Mayonaise
1/2 tsp. Garlic Powder
Salt to taste
Black Pepper (a few shakes or turns of a pepper grinder)
1/2 tsp. White Vinegar
Air Fryer Recipes to Enjoy
Frozen Egg Rolls
Frozen French Fries
Air Fryer Meatballs

Equipment
COSORI Air Fryer Max XL
Air Fryer Liners Accessories 9 Inch 100pcs
Storage
I always store leftover pizza rolls in an airtight container in the refrigerator for up to 3 to 4 days.
Reheating Air Fryer Pizza Rolls
Add the pizza rolls to the air fryer basket in a single layer.
Air Fry at 400 Degrees for 3 to 4 minutes.
Shake Basket halfway through cooking time.
Frozen Pizza Rolls in Air Fryer
Frozen pizza rolls are delicious snack that's ready in less than 10 minutes.
Ingredients
1

Box

Annies or Totinos Pizza Rolls (1/2 bag Totinos Pizza Rolls)
Garlic Dip
3

Tbsp.

Mayonaise

2

tsp

Half and Half or Milk

1/2

tsp.

Garlic Powder

1/4

tsp.

Salt

1/8

tsp.

Black Pepper
Instructions
Preheat Air Fryer to 380 Degrees

Add Pizza Rolls to air Fryer basket in single layer

Shake Basket halfway through cooking time

Serve with Marinara Sauce, Ranch Dressing or Garlic Dip (recipe in post)
Garlic Dip
Mix all ingredients in a bowl. If dip is a bit to thick add more Milk. If it is too thin add Mayonaise.
(Visited 1,164 times, 4 visits today)