Salisbury Steak meatballs in the Instant Pot are so good with the tasty meatballs and gravy. They can be served over anything that you enjoy. I served Salisbury meatballs over pasta. These are also great served over mashed potatoes or rice.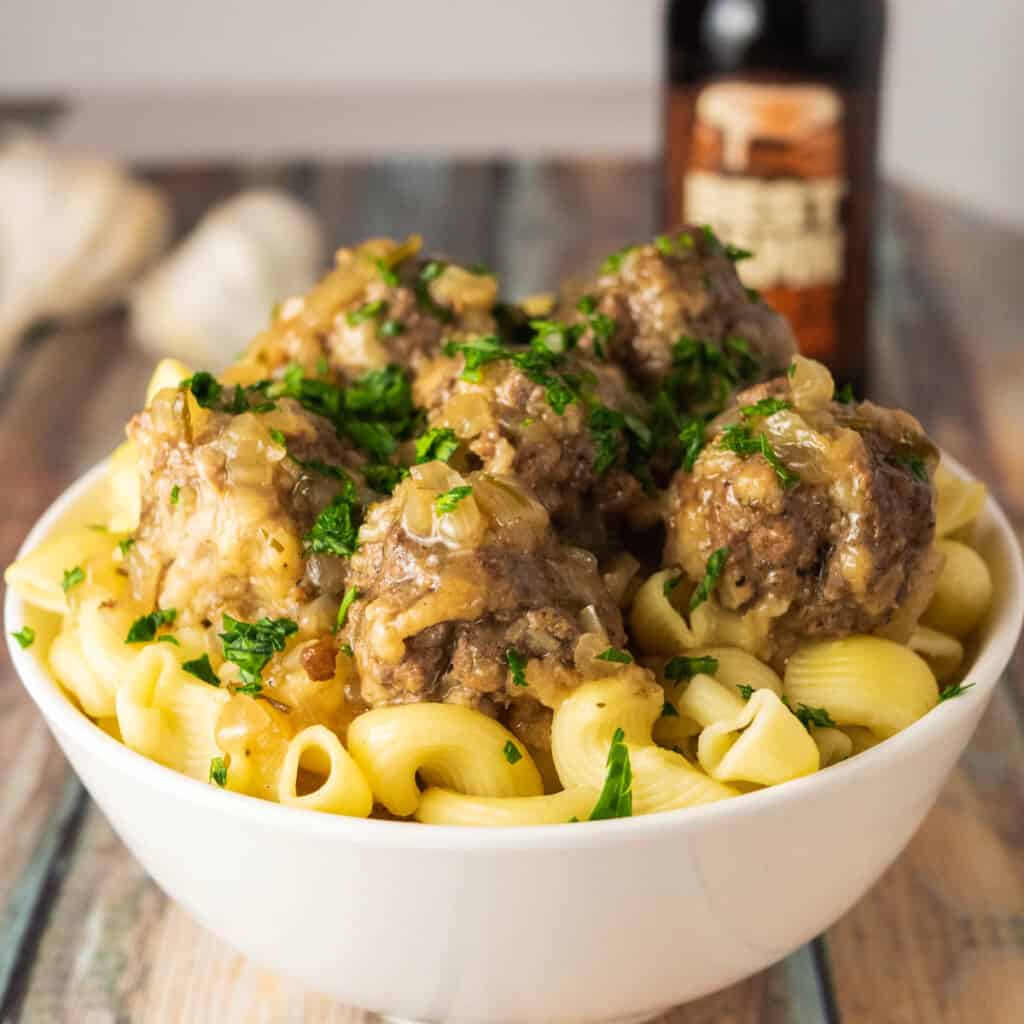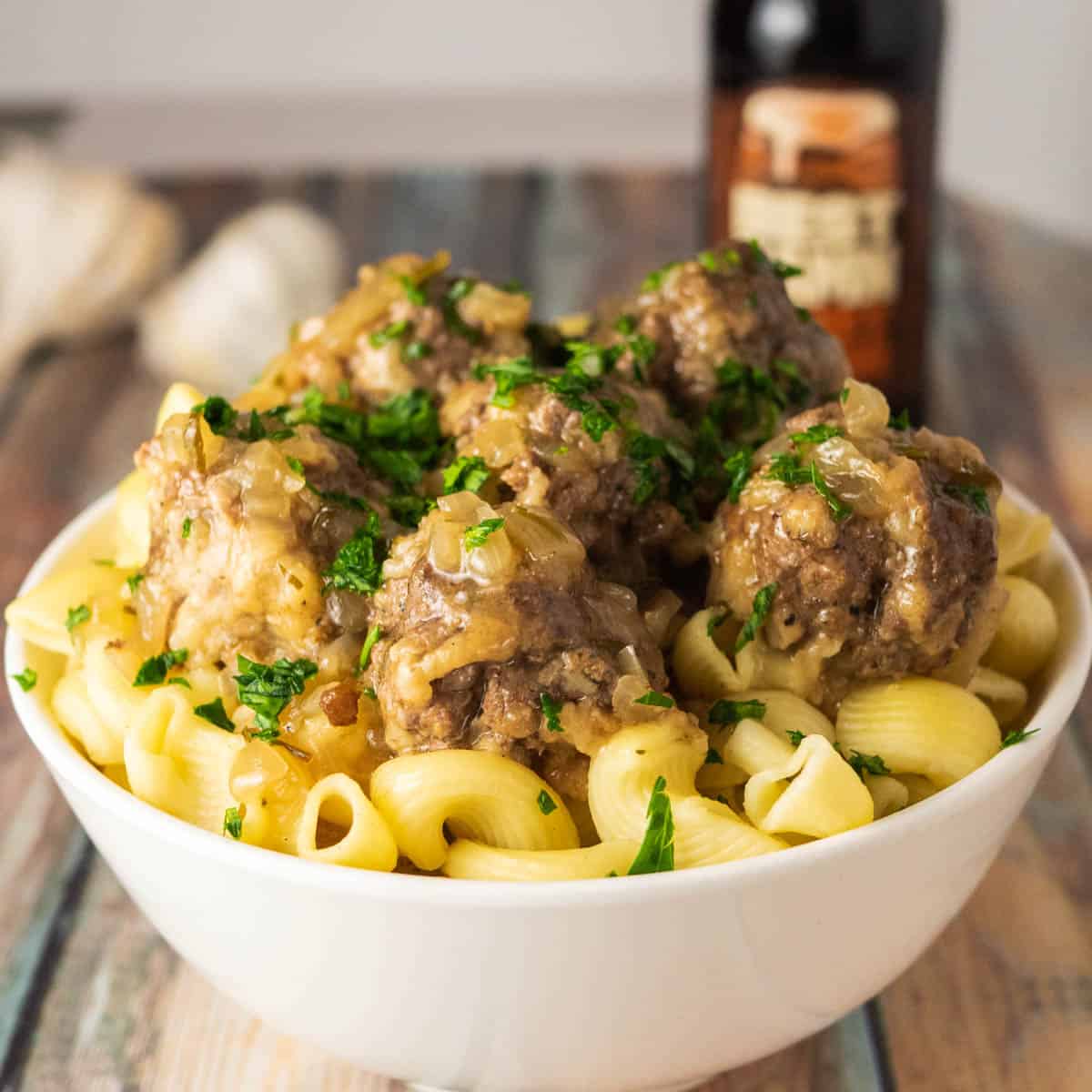 These Instant Pot Salisbury Steak Meatballs have all the flavor of my long-time favorite Salisbury Steak. This is the ultimate in comfort food for me and I have loved Salisbury Steak since I was a kid.
Jump to: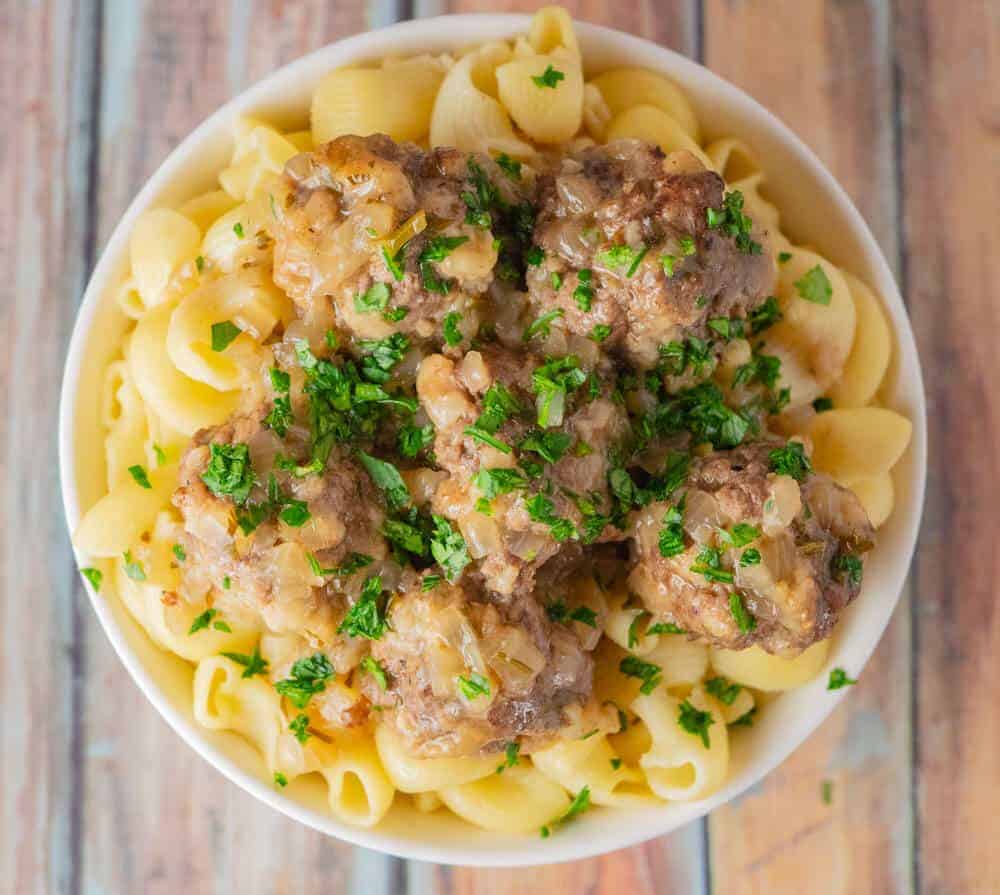 I have not tried it but I imagine Salisbury Meatballs would be good over rice. At the time when I came up with this idea for Salisbury Meatballs, I had some leftover macaroni in the fridge and that sounded like it would go together so I took a shot and I think it was delicious. These Salisbury Meatballs are also good over egg noodles.
This recipe is quick and easy to make. When I make this recipe I usually have the pasta already cooked or leftover mashed potatoes. The meatballs are even delicious on their own just dipped in the gravy.
What is Salisbury Steak?
Salisbury steak is made from ground beef and served with a gravy or brown sauce. It is formed into a steak shape to resemble a steak. I like to describe it like a steak with the texture of a meatball.
This can be served over pasta like macaroni or it is also really good over mashed potatoes too. This is a classic recipe that I put a modern style update on.
Ingredients
Measurements and cooking process jump to recipe card below
Ground Beef
Bread Crumbs ( I use Panko)
Eggs
Milk or Cream
Worcestershire Sauce
Steak Seasoning
Salt
Olive Oil
Beef Broth
Cornstarch
Parsley
Onion
Mushrooms (Optional for mushroom gravy)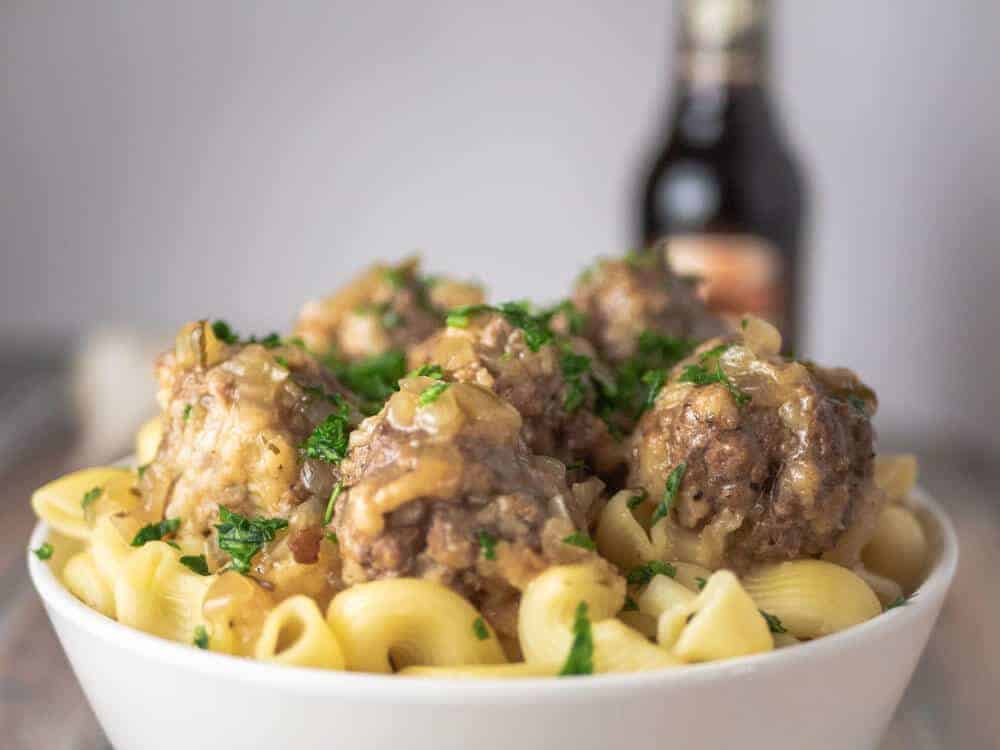 How to Make Salisbury Steak Meatballs
The first step in this recipe is to make the meat mixture for the meatballs. mix together the ground beef, bread crumbs, egg, milk and seasonings in a large bowl
Salisbury Meatballs in the Instant Pot
Press Saute on the Instant Pot. St to Normal Mode.
When screen says " HOT" add Oil and saute meatballs about 3 minutes per side to brown.
Remove meatballs to a plate and set them aside.
Add onions to Instant Pot and saute about 4 minutes.
Deglaze pot with beef broth scraping bottom of pot to release all that flavor.
Place meatballs in Instant Pot. Place lid on pressure cooker and turn valve to SEAL.
Pressure Cook HIGH pressure for 5 minutes with a 5 minute NPR Natural Pressure Release.
Then Release Pressure
Salisbury Meatballs in the Crockpot
I made these Salisbury Steak Meatballs originally in the Instant Pot. They can also be made in the Slow cooker or Crock Pot.
The process is very similar. If you are going to make the meatballs in the slow cooker. Follow this process.
Brown Meatballs in Skillet in about 1 Tablespoon of Olive Oil
Add all ingredients to the slow cooker (except cornstarch slurry)
Cooking time is either 3 hours on HIGH or 4 hours on LOW.
Once cooking time is complete add the cornstarch slurry and cook 20 to thicken the sauce.
Salisbury Steak Meatballs on the Stovetop.
Don't worry if you don't have a slow cooker or an instant pot that's OK I am including a Salisbury Meatballs stovetop method as well. No matter how you cook this recipe it's fairly easy.
Place a large skillet on the stovetop over medium heat. While the skillet is preheating prepare the meatball mixture in a bowl. Form meatballs into golfball-sized meatballs.
Add meatballs to skillet and cook over medium high heat until golden brown on all sides. Cook the meatballs for about 5 minutes. Remove meatballs and set them aside. Add onions to the pan and saute for about 5 minutes until softened.
Return the meatballs to the pan and add the beef or chicken broth to the meatballs as well as the cornstarch slurry. Turn the heat to medium-high and bring the liquid to a boil. Reduce the heat to a simmer and simmer until the sauce has thickened. Simmer for about 15-20 minutes.
Can I add Mushrooms to the Gravy?
Absolutely! If you would like to add mushrooms to the Salisbury Meatballs gravy just add the mushrooms when you sauté the onions and sauté together for about five minutes. Then proceed with the recipe as normal. I would've included mushrooms but the kids don't like them.
Can I Use Store-Bought or Frozen Meatballs?
If you were in a pinch for a quick weeknight meal yes you could use store-bought meatballs or even frozen meatballs. The process would be similar. Browned the meatballs in a pan and then make the gravy add the cornstarch and water to a small bowl to make a slurry and simmer until heated.
I recommend of course creating the recipe with homemade meatballs to get all the flavors that complement this recipe the way it was intended but after a long day using frozen in this meatball recipe is fine.

Can I Cook the Salisbury Meatballs in the Oven?
I cook meatballs in the oven all the time. It is a great method for cooking meatballs and also a much healthier method because it uses much less oil.
Preheat the oven to 375°F. Place the meatballs on a baking rack and spray with oil or cooking spray. Cook meatballs in the oven about 30 minutes or until your preferred doneness.
Do Not Over Mix Meatballs. I find using my hands is the best way. The object is to just combine the ingredients and form the ball. Do not over knead the mixture.
To make forming the meatballs easier I find wetting my hands beforehand helps eliminate the stickiness.
Buying 80/20 Beef makes a better meatball. What this means is 80% meat 20% fat. The higher fat content makes for a much juicier flavorful meatball.
The same is true when making burgers. I always try to use an 80/20 mixture.
What to do with Leftover Meatballs
They can be stored in an airtight container in the fridge for 3 – 4 days or up to 3 months in the freezer. The gravy can also be stored in an airtight container for 3-4 days in the refrigerator or up to 3 months in the freezer
Other Instant Pot Recipes and More to Enjoy
Instant Pot Sausage and Peppers
Air Fryer Meatballs
Kitchen Essentials and Items Used in Recipe
Instant Pot Duo Evo Plus 9-in-1 Electric Pressure Cooker
365 Everyday Value, Elbows, 16 oz
4C Panko Bread Crumbs Plain, 8 oz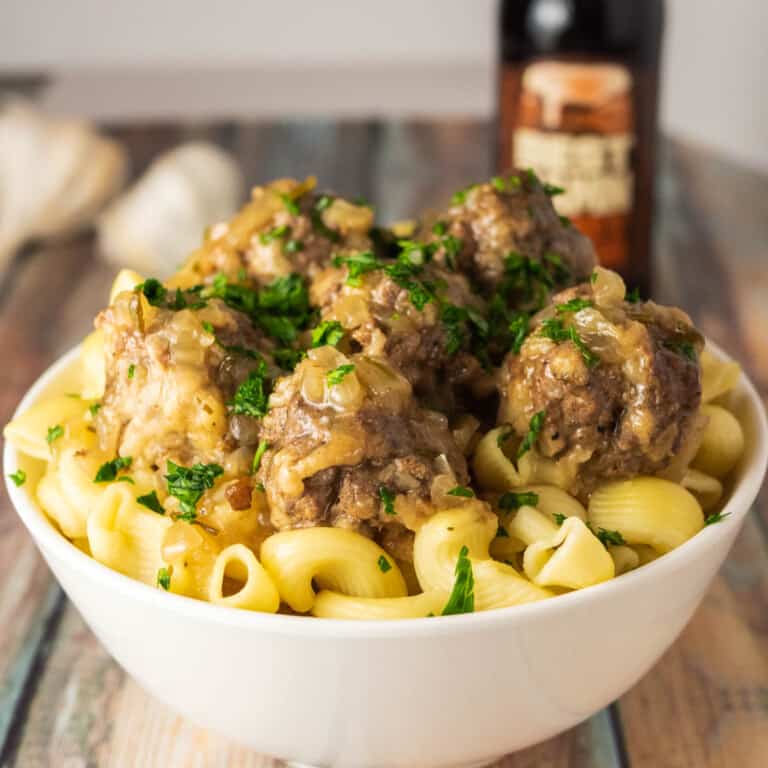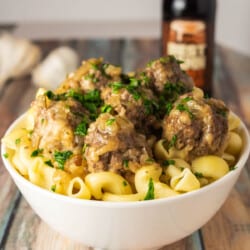 Salisbury Steak Meatballs Instant Pot
Salisbury Steak Meatballs in the Instant Pot is such good comfort food. Great served over mashed potatoes, pasta or rice.
Print
Pin
Rate
Ingredients
Meatballs
1

Pound

Ground Beef

I used 80/20 Grass-fed Beef

1/3

Cup

breadcrumbs.

2

tsp.

Montreal Steak Seasoning

1

Egg

3

Tbsp.

Milk or Cream

I used Half and Half

1

Splash of Worcestershire

1

tsp.

salt

1

Tbsp.

Olive Oil
Gravy
1

Onion diced

1 1/2

Cups

Beef Broth or Chicken Broth

1

Tbsp.

Cornstarch + 2 Tbsp. Water

1/2

tsp.

Salt

1

Tbsp.

Chopped Parsley
Macaroni
8

oz.

Macaroni

Enough water to cover macaroni by about 2 inches

1

tsp.

Salt

1/2

tsp.

Olive Oil
Instructions
Prepare Macaroni
I put the meatballs over macaroni which I had already prepared, but now would be a good time to cook the macaroni. I cook the macaroni in the instant pot. I put in about a half 8 oz. of macaroni and cover the macaroni with about 1 to 2 inches of water and salt of the water with 2 teaspoons of salt and about 1 teaspoon of olive oil. Put the lid on the instant pot seal the valve and cook on HIGH pressure for 4 minutes. Do a manual pressure release immediately after cooking is complete. Have a rag handy just in case pressure valve spits a little bit. Draining macaroni.

YOU CAN ALSO PREPARE MACARONI AHEAD OF TIME ACCORDING TO PACKAGE DIRECTIONS.
Meatballs
In a bowl combine all your ingredients for your meatballs except the oil. Mix together with your hands until everything is incorporated. using a spoon scoop out enough to form a meatball about the size of a golf ball. Do this until you have used up all of the mixture. It's somewhere around a dozen meatballs. Let meatballs sit for about 15 minutes to absorb moisture.

Push sauté on the instant pot until the more setting lights up. Once the instant pot screen reads "Hot" we are ready to start browning the meat balls. Add the tablespoon of olive oil. Then add the meatballs. If there's not enough room doing and two batches. Do not crowd the meatballs during the browning process. Brown meatballs on all sides for about 3 Minutes. Once you have browned all the meatballs remove them from the instant pot.

Add onions to instant pot and Brown for about 4 Minutes. Deglaze instant pot with beef broth scraping bottom of pan with a spoon to get all the flavor bits.

Return meatballs to instant pot and be careful not to squish them. Put lid on Instant Pot and Seal valve. Push cancel on the instant pot and then push Meat Button and set timer for 5 minutes. When cooking time is complete do a natural release for 5 minutes then release pressure manually. Remove lid from Instant Pot.
Gravy
In a small bowl mix together cornstarch and water and blend until smooth. Press cancel on Instant Pot and then press sauté button. Add cornstarch mixture into instant pot and stir slowly sauce should thicken almost immediately. Once sauce is thickened push cancel on the instant pot and then press the Keep Warm button. Your meatballs are now ready to be served. Serve over macaroni and top with chopped parsley.

Enjoy.
Nutrition
(Visited 133,515 times, 1 visits today)