As far as Instant Pot Meatballs go these Chicken Curry Meatballs are delicious. I never really thought that ground chicken was anything to write home about. These Chicken Curry style ones really hit home. They are moist, flavorful and much lower in calories than a standard meatball.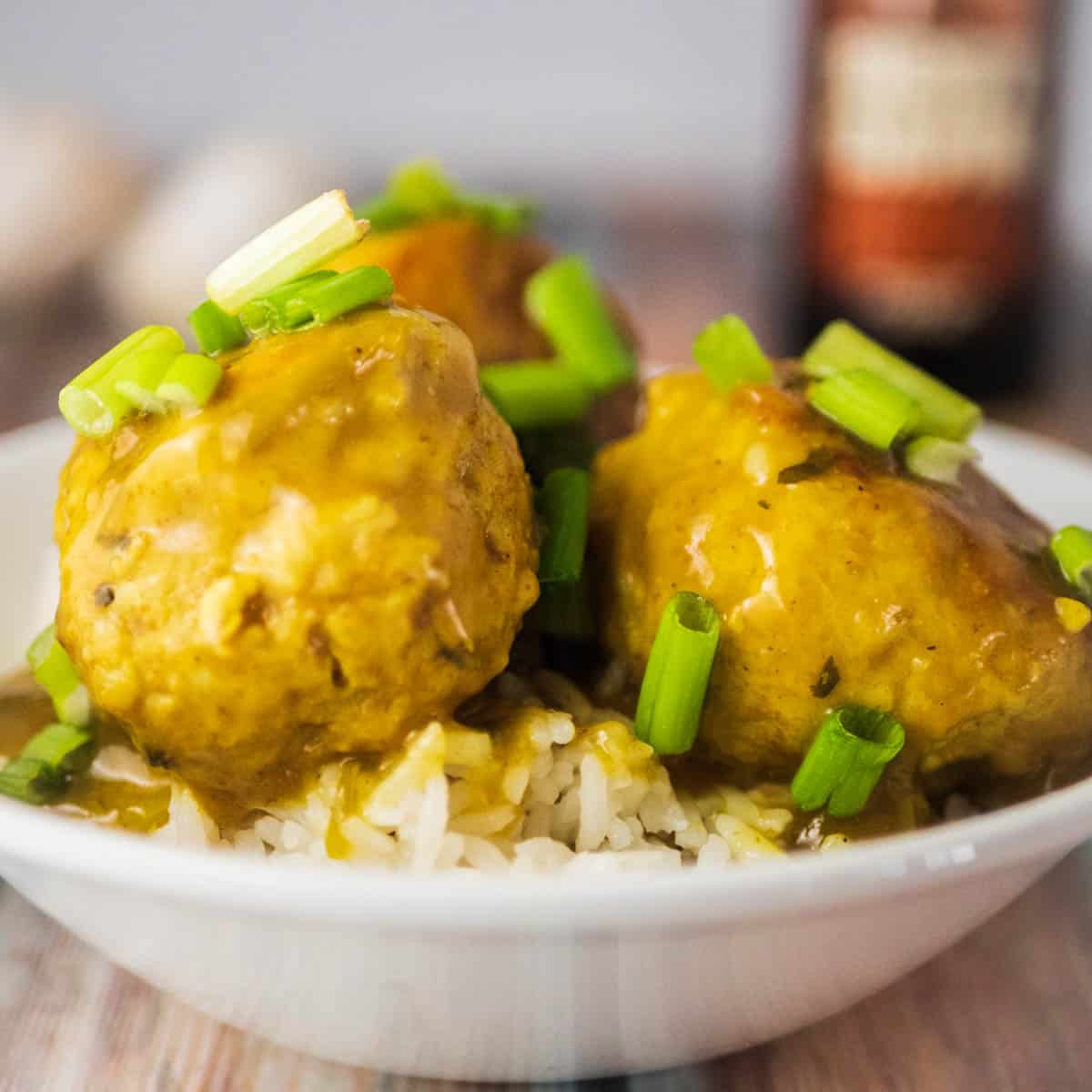 Easy Instant Pot Meatballs
I will be honest here and say that this was a test dish for me but these Instant Pot Chicken Curry Meatballs made the mark on my first try. I just served them over rice and really wasn't ready to put them online but they were so good I just went for it. They have a delicious flavor of curry, ginger, garlic, and coriander. All those flavors complement each other so well.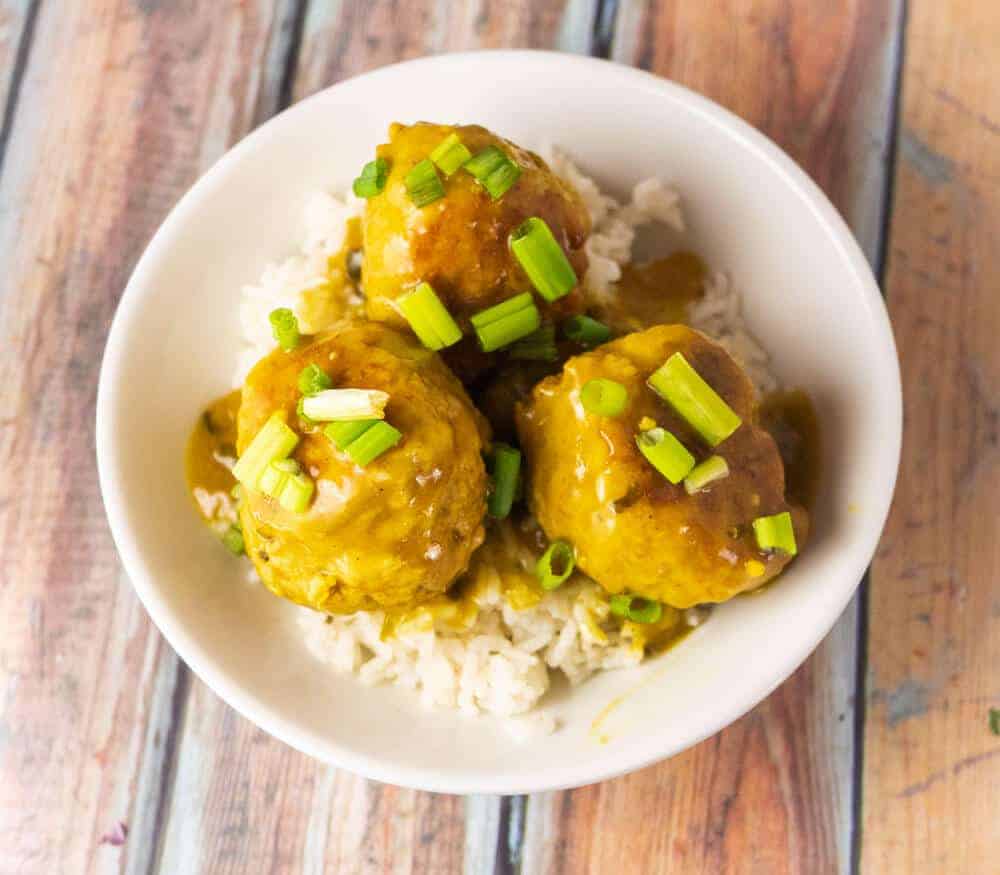 How to Make these Instant Pot Meatballs
These are really as easy to make as any meatball and if you are going to be doing it in the Instant Pot then the browning of the meatballs can be done without an extra skillet.
How to Make These Chicken Curry Meatballs in a Slow Cooker
Yes these can be made in a slow cooker. Cook Time would be 4 hours on High or 6 Hours on Low. Just brown the meatballs in a skillet before adding them to the slow cooker. When the cook time is complete add the cornstarch slurry and let cook for 20 minutes longer.
If you like these Instant Pot Meatballs you will also like Salisbury Steak Slow Cooker Meatballs (Instant Pot) they are also super tasty and a new twist on a classic dish. Also if you try this recipe or need any help please leave a comment below. If you could also leave a rating I would really appreciate it.
Items I used in this Recipe. Available from Amazon. You can HOVER OVER THE LINK to see INFO and PRICE or just Add Them to Your Cart on Amazon. I do receive a small commission from Amazon at NO EXTRA COST to YOU. Thanks so Much for Your Support.
[easyazon_image align="none" cloak="n" height="110″ identifier="B00FLYWNYQ" locale="US" src="https://images-na.ssl-images-amazon.com/images/I/41L%2Br0px7RL._SL110_.jpg" tag="stuffmattycoo-20″ width="110″][easyazon_link identifier="B00FLYWNYQ" locale="US" tag="stuffmattycoo-20″ cloak="n"]Instant Pot DUO60 6 Qt Pressure Cooker[/easyazon_link][easyazon_cta align="none" cloak="n" identifier="B00FLYWNYQ" key="small-light" locale="US" tag="stuffmattycoo-20″] [easyazon_image align="none" cart="n" cloak="n" height="72″ identifier="B00DADZF54″ locale="US" src="https://images-na.ssl-images-amazon.com/images/I/51LEtWXg%2BrL._SL110_.jpg" tag="stuffmattycoo-20″ width="110″][easyazon_link identifier="B00DADZF54″ locale="US" tag="stuffmattycoo-20″ cart="n" cloak="n"]SUN BRAND Madras Curry Powder, 4 OZ (pack of 2)[/easyazon_link][easyazon_cta align="none" cart="y" cloak="n" identifier="B00DADZF54″ key="small-light" locale="US" tag="stuffmattycoo-20″]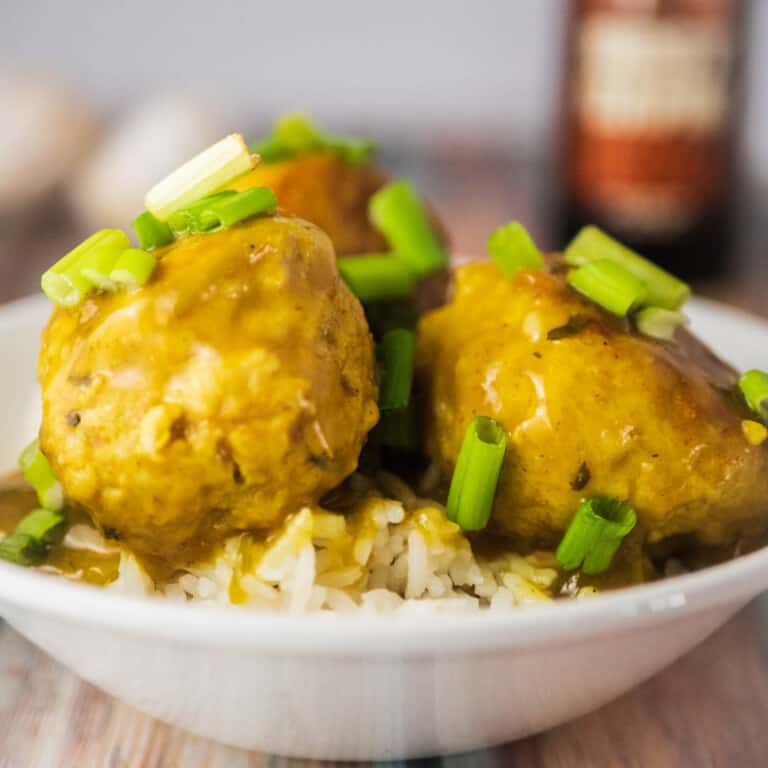 Instant Pot Meatballs (Chicken Curry)
Instant Pot Meatballs (Chicken Curry)
Print
Pin
Rate
Ingredients
1

Pound

Ground Chicken

1/2

Cup

Plain Panko Breadcrumbs

1

Egg

2

Tbsp.

Curry Powder

I use Sun Madras Curry Powder

1

tsp.

Salt

2

tsp.

Garlic Powder

1

tsp.

Ground Coriander

1

tsp.

Minced Ginger

2

Cloves

Minced Garlic

1

Cup

Chicken Broth

2

Tbsp.

Olive Oil

or eqivelant

3

Scallions cut into 1 inch pieces

2

Tbsp.

Chopped Cilantro

1

Tbsp.

Chopped Scallions for garnish

3

Tbsp.

Water

2

Tbsp.

Cornstarch
Instructions
Add ground chicken, breadcrumbs, egg, and garlic powder to mixture. Mix well with your hands to make sure everything is incorporated well. DO NOT ADD CURRY POWDER TO MEAT MIXTURE. Keep reading for when to add curry powder.

Use a spoon to scoop enough meatball mixture to make meatballs about the size of a golf ball or so. This is about 2 tablespoons. Do not pack the meatballs to tight. Place meatballs on a plate. Should make around 12 meatballs. Once meatballs are made let them sit about 15 minutes for the breadcrumbs to soak up some of the moisture.

How to Cook Meatballs

Open Instant Pot and Push Saute Button until it is on the "MORE" setting. When display reads "HOT" you are ready to begin.

Add Olive Oil to Instant Pot to coat bottom of liner. Add meatballs to Instant Pot and brown 2 minutes per side. You may have to do this in 2 batches. Once meatballs are browned remove meatballs from Instant Pot back to plate.

Deglaze Instant Pot by pouring in chicken broth and scraping loose bits on bottom of Instant Pot. Then add curry powder and stir to mix. Add ginger, garlic and scallions that you cut into pieces to the bottom of Instant Pot.

Return Meatballs to Instant Pot being careful not to squish the meatballs. Put lid on Instant Pot and turn valve to SEAL. Press CANCEL on the Instant Pot and Then Press POULTRY button. Set Timer for 7 MINUTES.

When cooking time is complete let Instant Pot Natural Pressure Release for 10 MINUTES then RELEASE PRESSURE. Remove lid from Instant Pot.

Mix together Water and Cornstarch to make SLURRY. Add slurry to instant pot and stir carefully.

Press CANCEL on Instant Pot and then press SAUTE again and wait for sauce to come to boil and thicken for about 2 minutes. Once sauce is thickened press CANCEL on Instant Pot than the KEEP WARM button.

Serve over Rice or item of your choice.

Enjoy.

Makes 2 to 3 Servings
Nutrition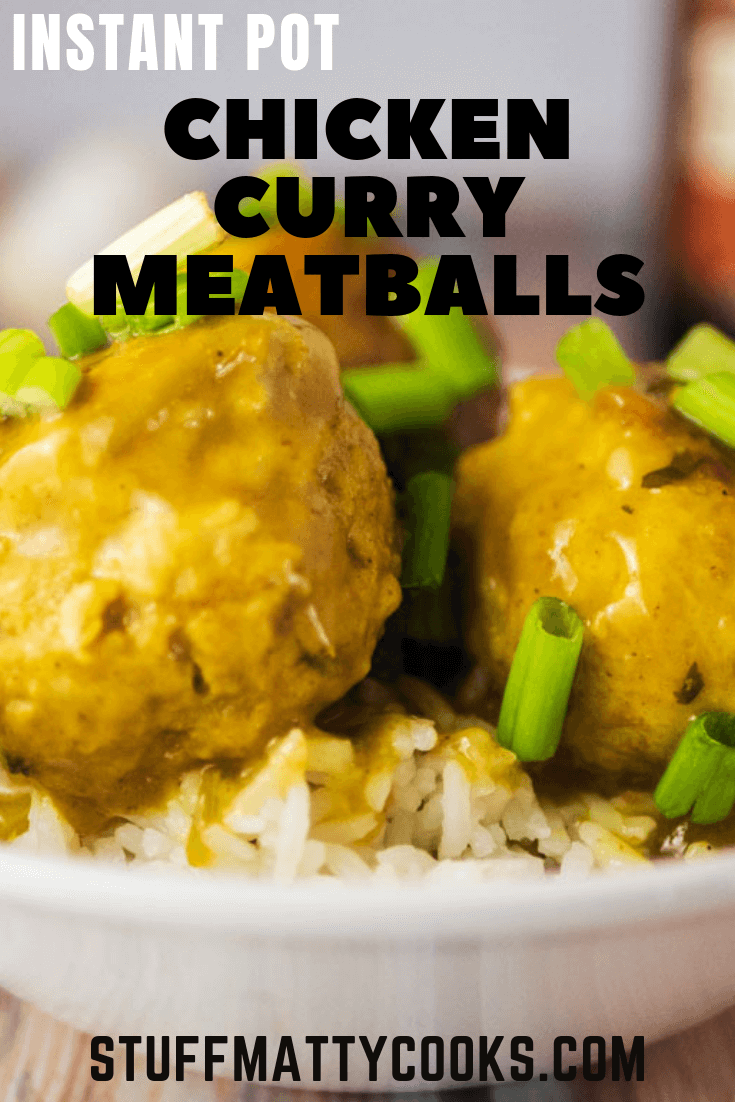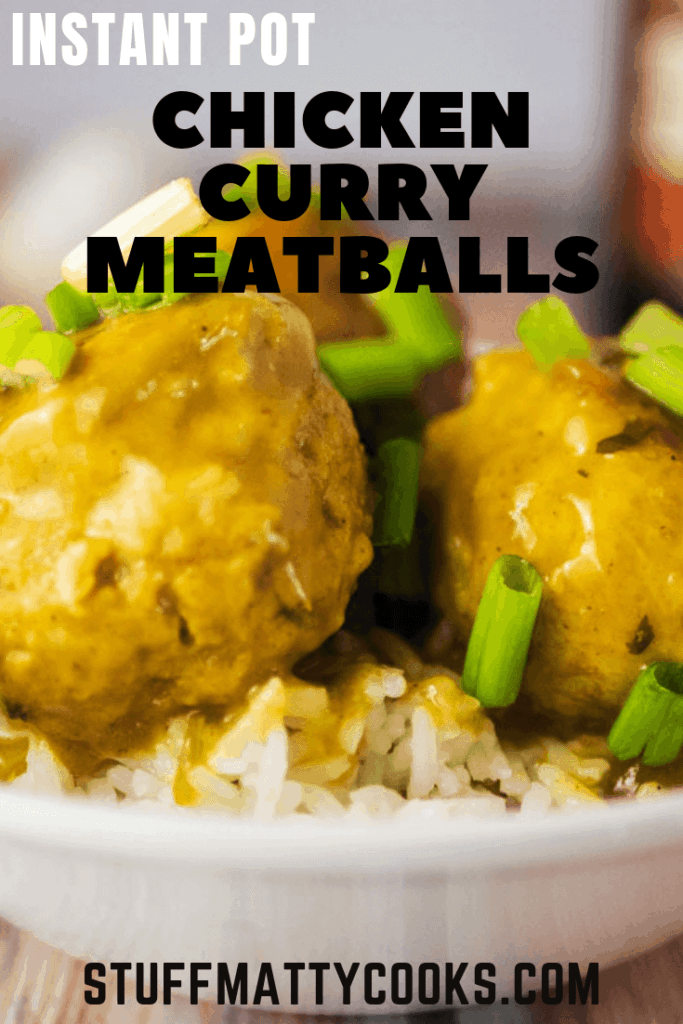 (Visited 6,751 times, 1 visits today)