Garlic and Parsley Instant Pot Potatoes are coated with tasty garlic and herbs giving them a ton of flavor. This side dish of baby potatoes takes only 6 minutes to cook and requires minimal prep work and seasoning.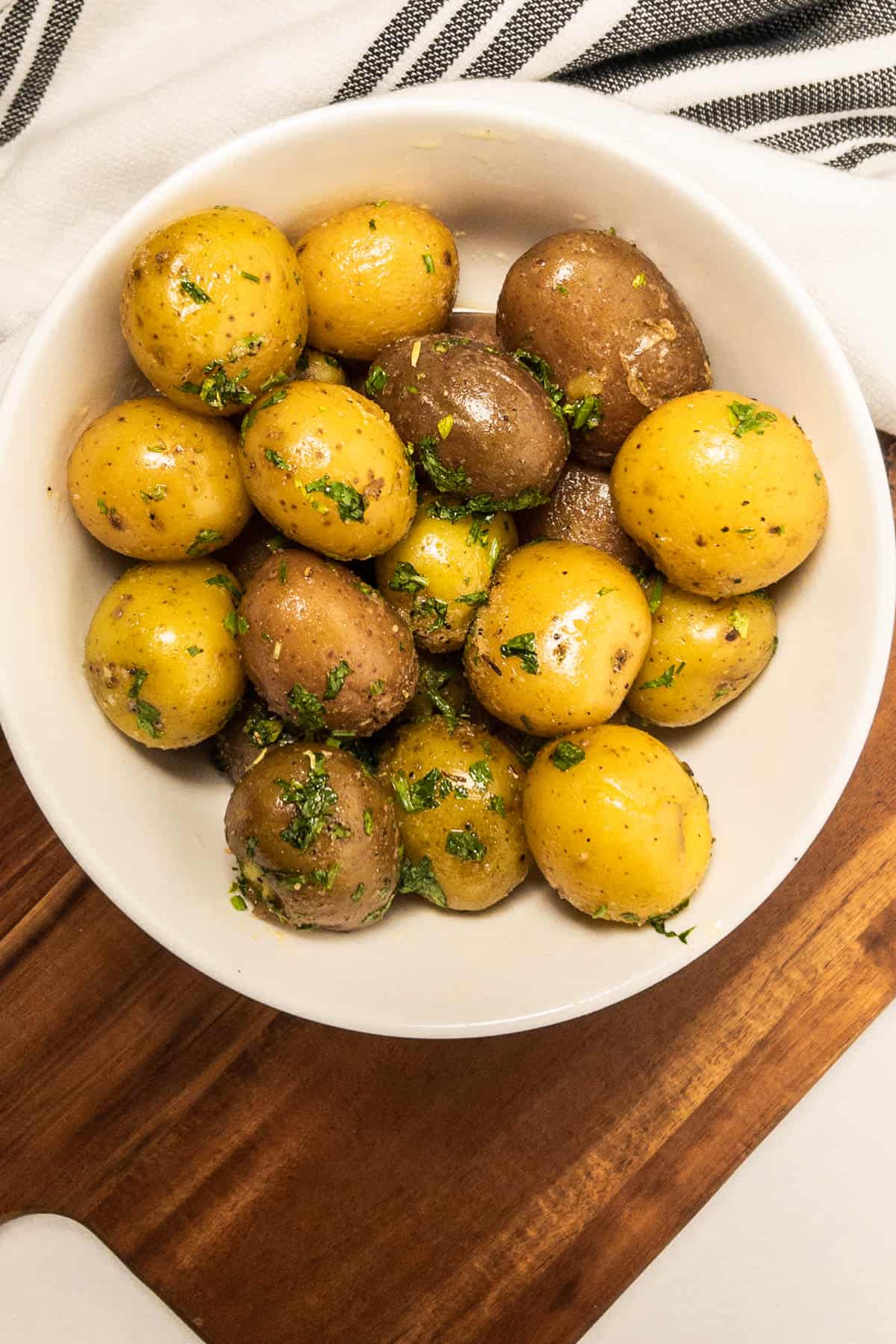 I initially assumed baking or roasting were the only options for potatoes. After making this garlic and parsley Instant Pot potatoes recipe I realized it was the simplest "hands off" preparation. Just add the potatoes to the Instant Pot on the trivet with a cup of water and cook.
Pressure cookers aren't always faster, but they're more convenient. I keep my Instant Pot on the counter because I use it almost daily.
I really enjoy this recipe and cooking method for potatoes in a pressure cooker; it's much better than steamed potatoes.
What Potatoes to Use in the Instant Pot?
I always use the baby potatoes in the Instant Pot from Aldi or Trader Joe's. These come in a small bag and they are both red and gold potatoes. These are my favorite, because they are delicious and creamy almost like mashed potatoes.
If you do not have the baby potatoes any potatoes that you have will still work. I always say " Use what you have."
For optimal results when cooking potatoes in an Instant Pot, make sure they are all a similar size. This is so that they all cook evenly in the same amount of time. If the potatoes are of different sizes, some may become overcooked or undercooked, resulting in a less than desirable result.
I am always making side dishes. One of my favorites is this Instant Pot Rice Pilaf. This is an easy one to do, and this rice has so much flavor. Try my Instant Pot Banana Bread for an enjoyable dessert with your meal.
Jump to:
Ingredients for Instant Pot Garlic Parsley Potatoes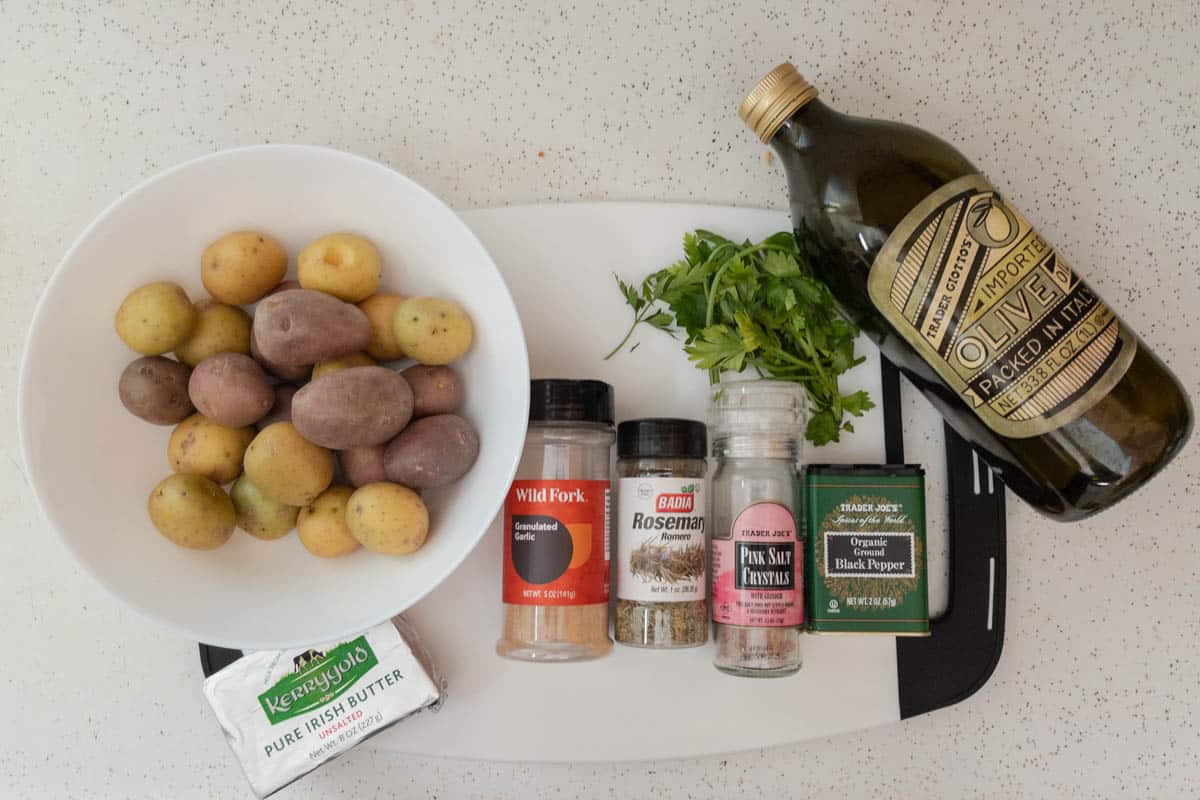 Baby Potatoes ( I like the red and gold ones)
Olive Oil
Butter ( I like Kerrygold Irish Butter)
Salt
Black Pepper
Garlic Powder (Fresh garlic can be used.)
Rosemary (Fresh or Dried)
Fresh Parsley (Dried can also be used.)
Jump to recipe card for quantities.
How to Cook Instant Pot Potatoes with Garlic and Parsley.
I am going to show you in a simple step by step process how to make these Instant Pot potatoes. These are simple to do and they come out fantastic. I use the trivet that comes with the pressure cooker, but you can also use a steamer basket that fits inside.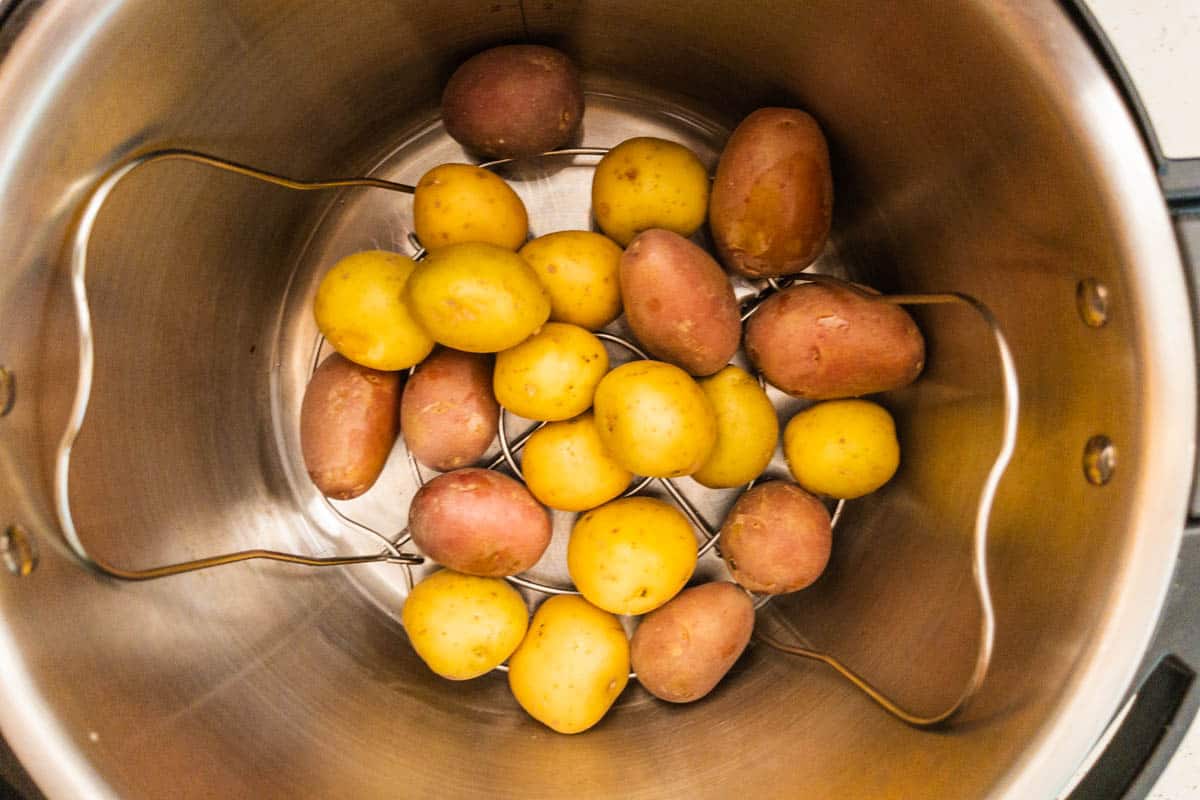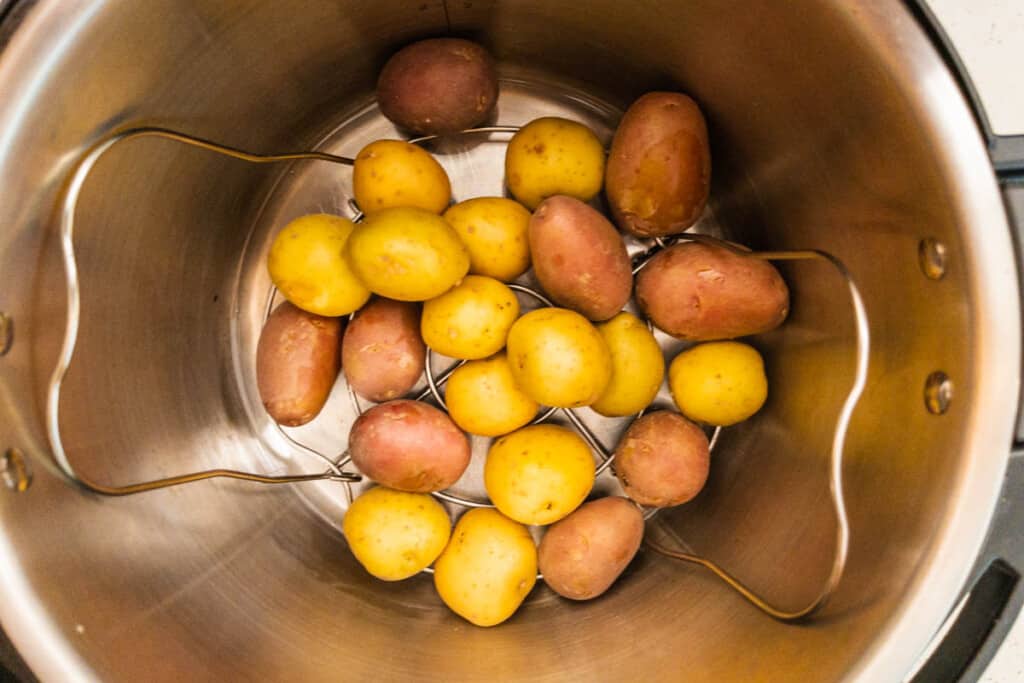 Wash and dry potatoes. Place 1 Cup of water or broth in the Instant Pot liner. Insert the trivet as shown and place potatoes on top.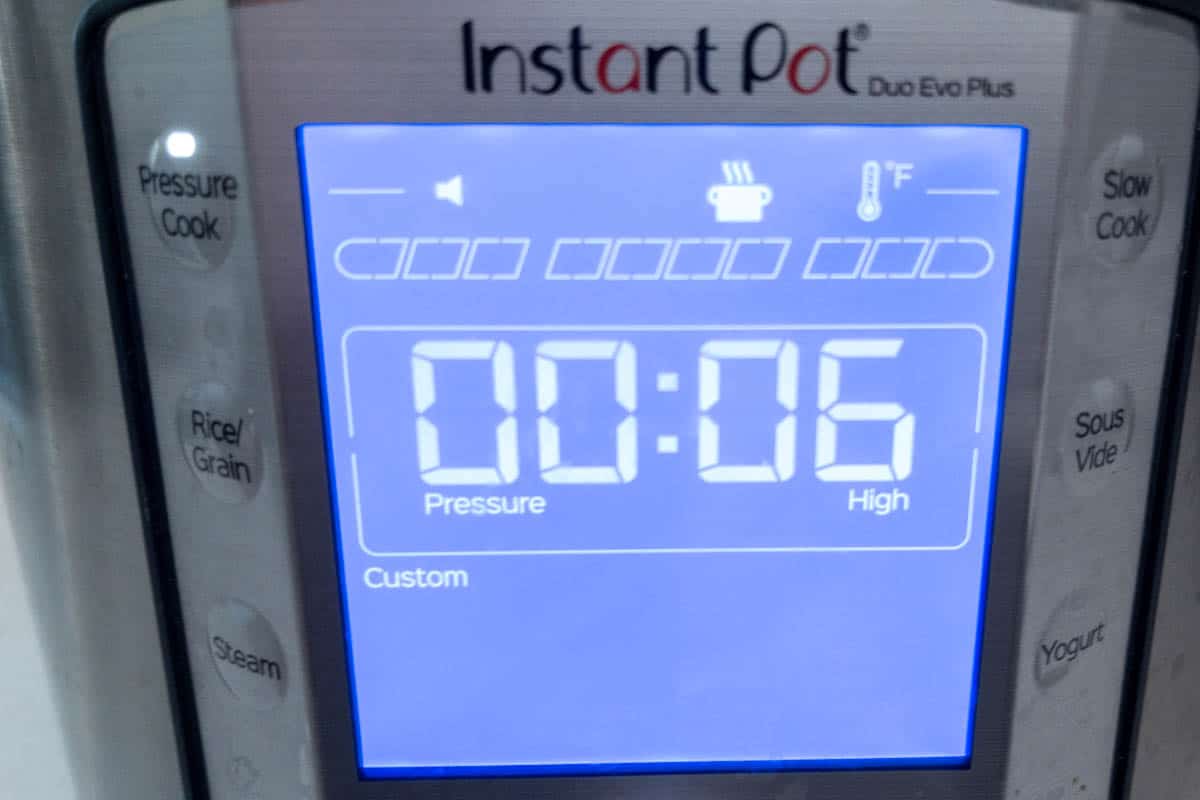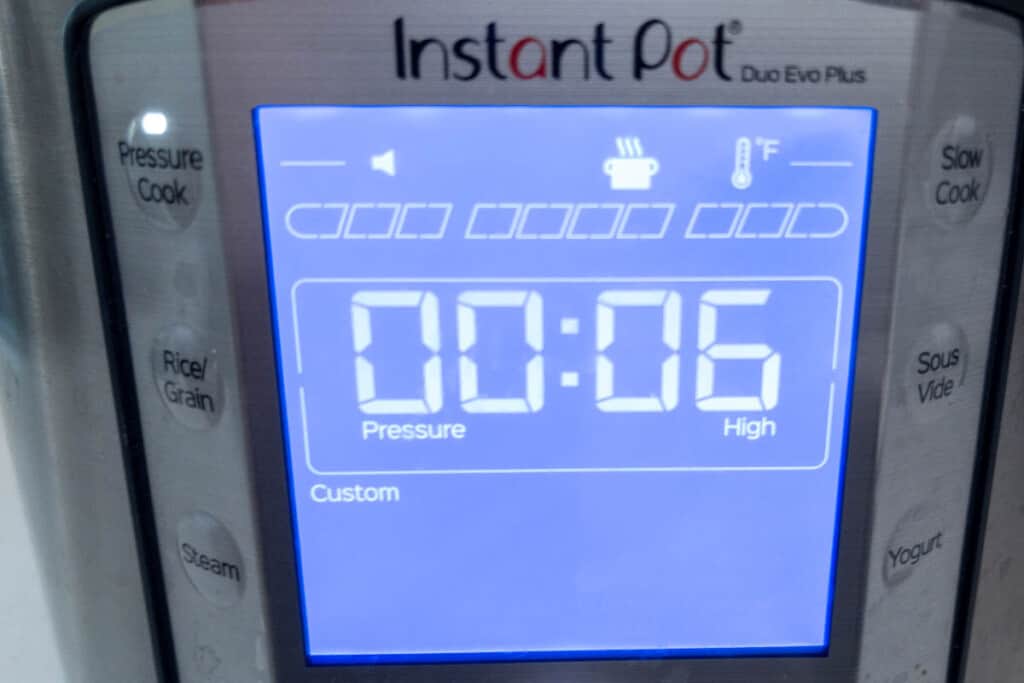 Place lid on pressure cooker and turn the valve to the "Seal" position. Pressure cook potatoes on HIGH Pressure for 6 minutes. Quick release pressure when done. A natural pressure release makes them too soft for me.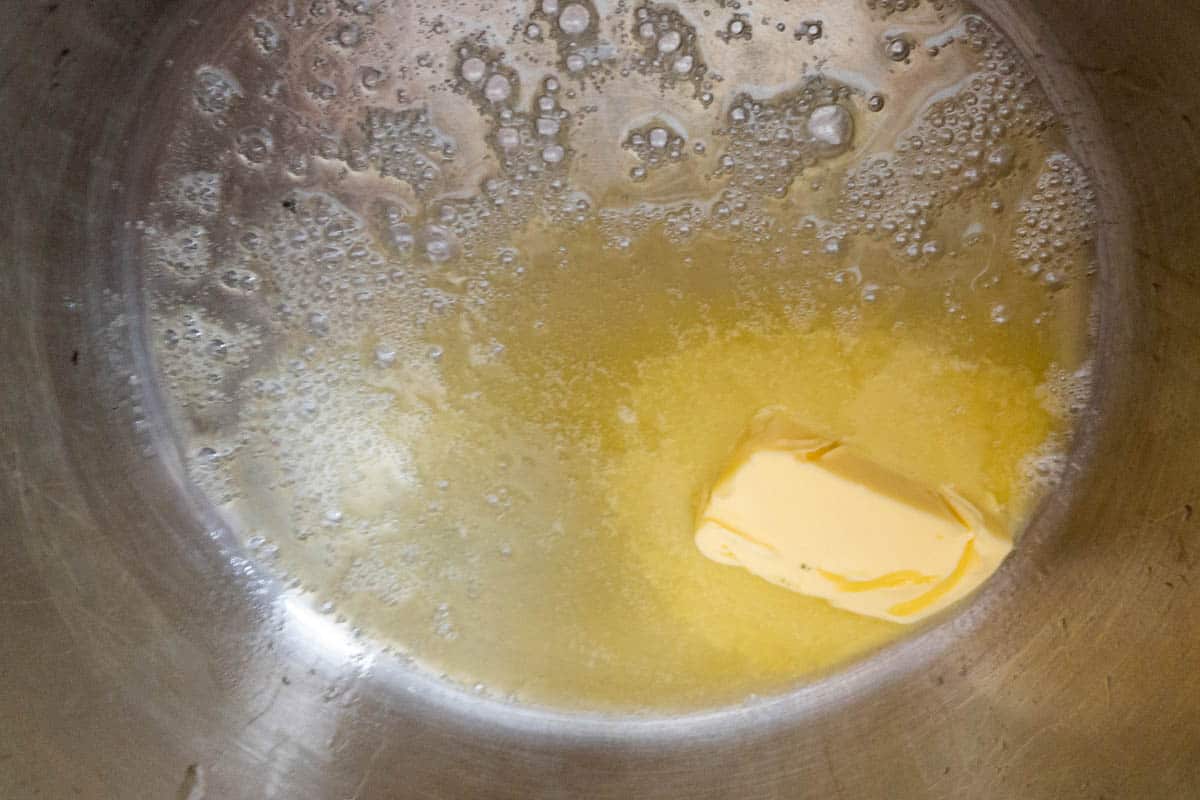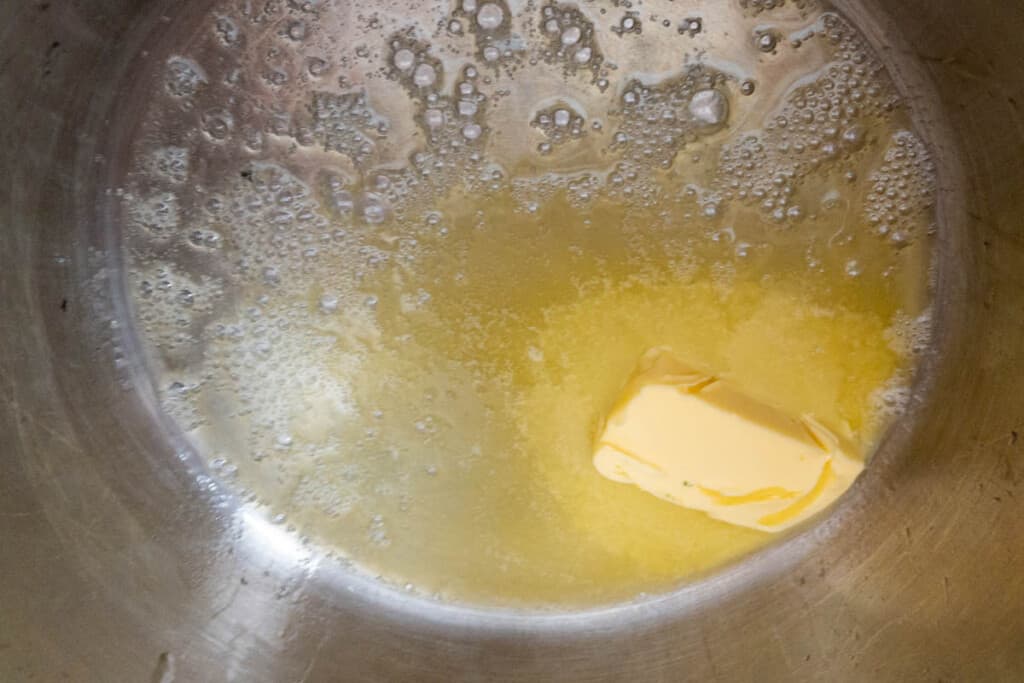 Remove cooked potatoes from pressure cooker and set aside. Press Cancel and then Saute. Place olive oil, and butter in the pot to melt.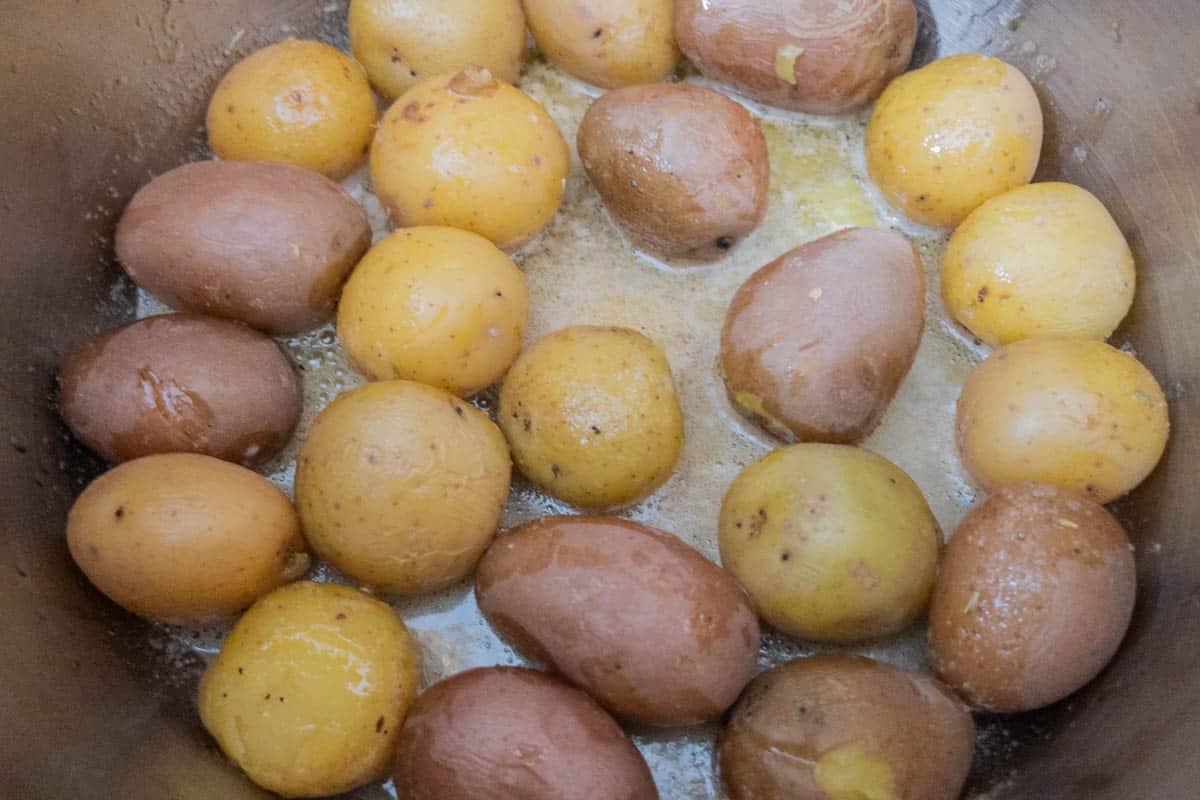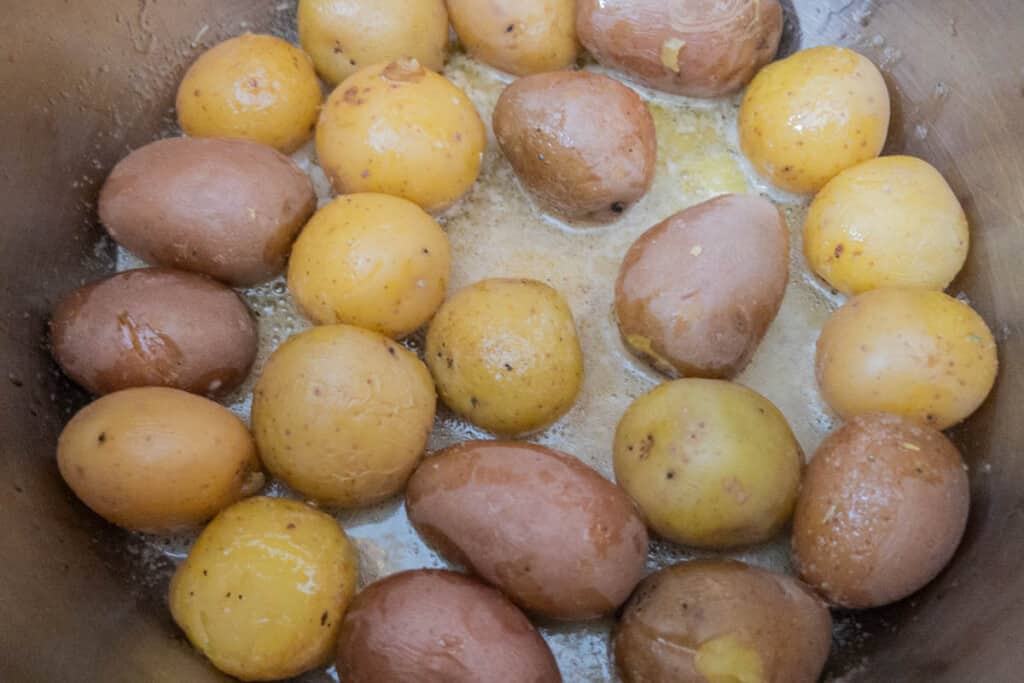 Put the potatoes in the butter mixture and cook for a few minutes on each side to cover them with herbs.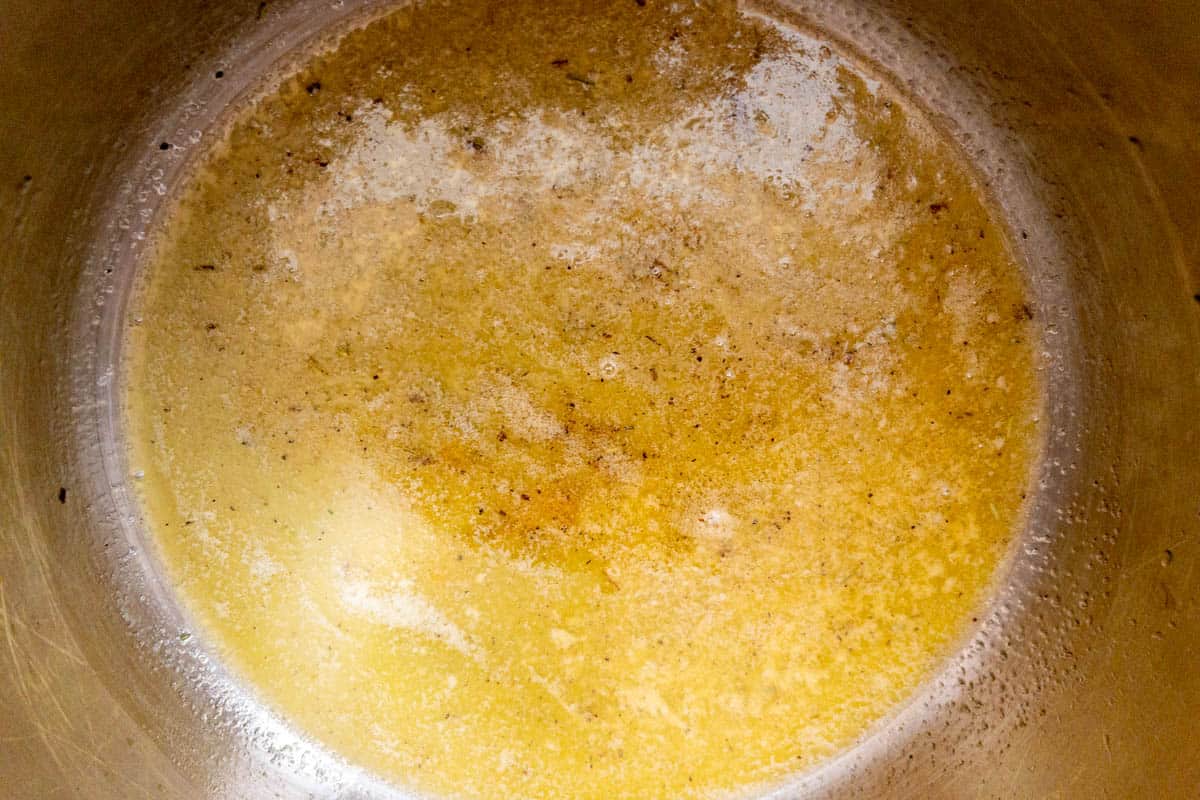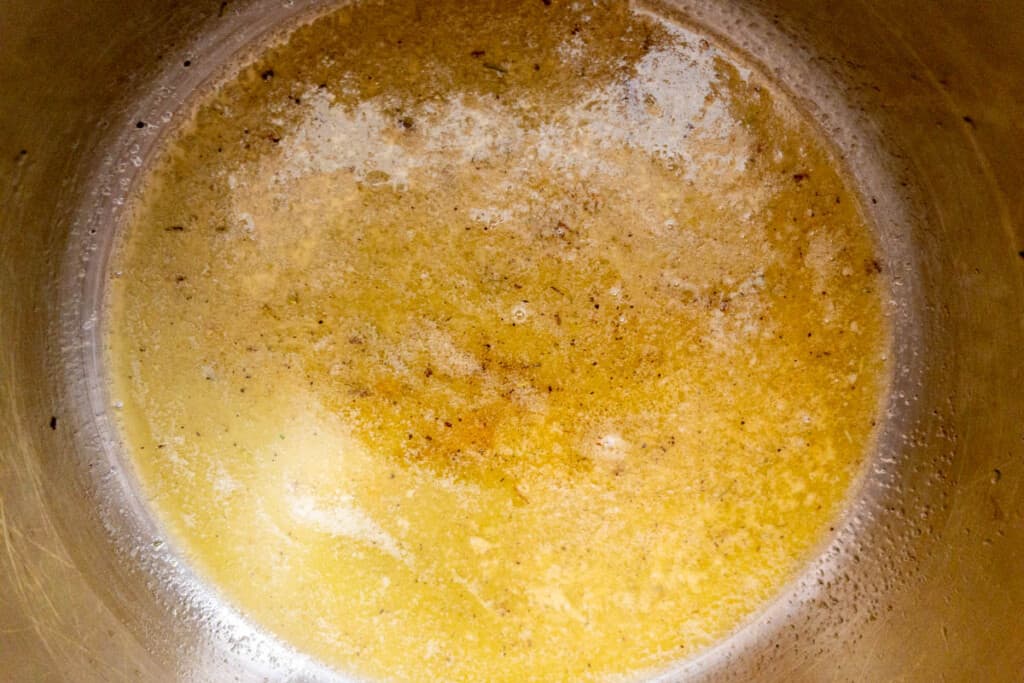 Heat the butter and oil, then add the salt, pepper, garlic powder, and rosemary and stir.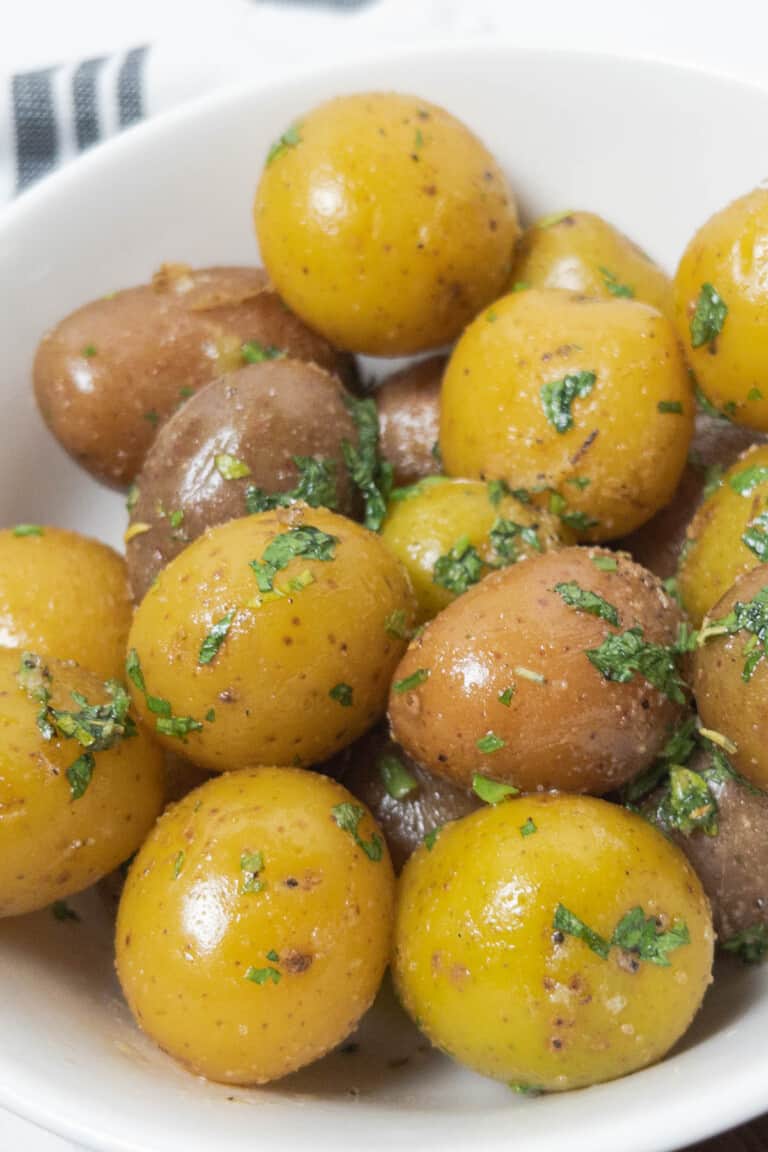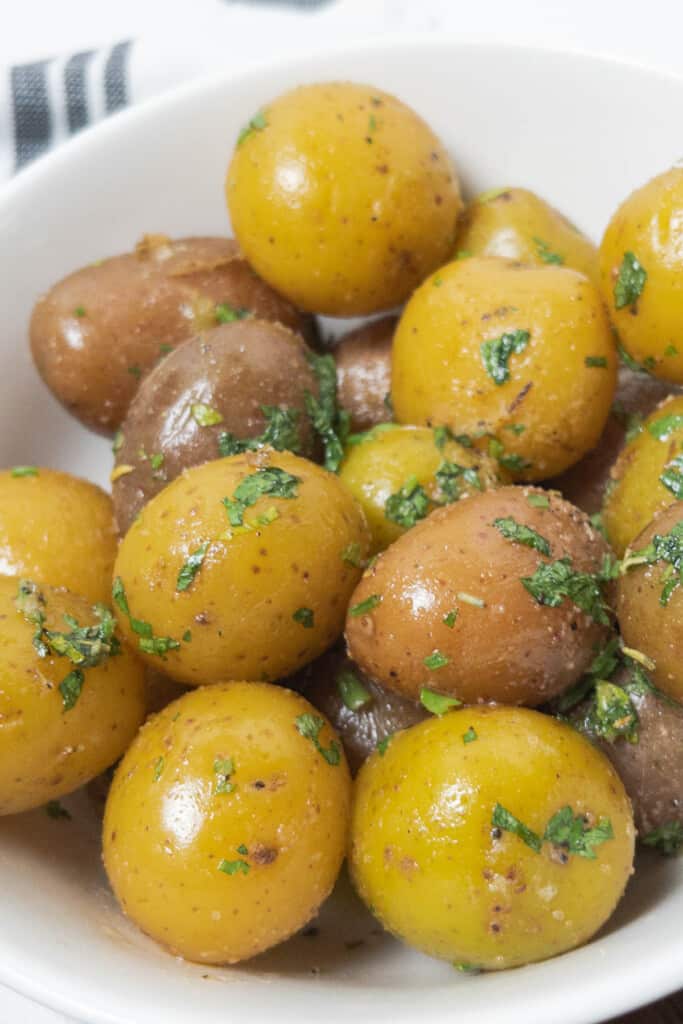 These potatoes come out so good in the Instant Pot. They get coated in all the yummy garlic parsley and herbs. If I have any leftovers (which is not that often) I sometimes make smashed potatoes out of the leftovers.
Tip: This cooking method for potatoes is also great for making potato salad. When I have a BBQ with loved ones, I use my Instant Pot to make a large amount of potato salad.
How Long Do You Cook Instant Pot Potatoes
Cooking time for the pressure cooker potatoes depends on the size of the potatoes that are being used. In this recipe, I used the baby potatoes and 6 minutes with a quick pressure release was perfect.
If using russet potatoes or large potatoes for baking, the pressure cooking time is about 15 minutes to 20 minutes.
For smaller sized potatoes and medium potatoes like diced potatoes I think 3-4 minutes is plenty of pressure cooking time. When I am making things like mashed potatoes I always use this cooking time.
If using mini new potatoes that come in bags I always cook for about 3 minutes.
Variations and Cooking Tips
I often make this recipe for my family and friends at get-togethers, and they all enjoy it. I understand that sometimes it is fun changing things up. So I am including some tips.
Parmesan Cheese – When potatoes are sauteeing add a splash of cream and some parmesan for a cheesy twist.
Fresh Dill – Add dill at the end when tossing with the parsley. ( I omit the Rosemary when using dill)
Potato Salad – This cooking method is a great way to cook potatoes for potato salad for a party or family.
Serving Suggestions
These potatoes are great on their own, but here are some other recipes to make them even better.
Oven Roasted Tri Tip
Air Fryer Bacon Wrapped Asparagus
Turkey Legs (Air Fryer)
Air Fryer Green Beans
Equipment
I always share the equipment that I use to make a recipe. We do earn a small affiliate commission on the sale of these items at NO COST TO YOU. Your support is appreciated.
Instant Pot Ultra, 10-in-1 Pressure Cooker
Simply Organic Whole Rosemary Leaf
Amazon Brand – Happy Belly Garlic
Misen Chef Knife – 8 Inch Professional Kitchen Knife
AmazonFresh Italian Extra Virgin Olive Oil
Storage and Reheating
Store leftover potatoes in an airtight container in the refrigerator. Good for 3-4 days.
Reheating potatoes can be done in various ways.
Microwave or a in a skillet until hot is a common method.
Reheating in the Instant Pot is an easy method. Place potatoes in the Instant Pot in a bowl on the trivet. Place lid on the pressure cooker and close the valve.
Press the steam button and set the cooking timer for 5 minutes.
Other Instant Pot Recipes to Enjoy
Pork and Sauerkraut (Instant Pot)
Vegetable Lentil Soup (Instant Pot)
Instant Pot Adobo Chicken
Instant Pot Brown Basmati Rice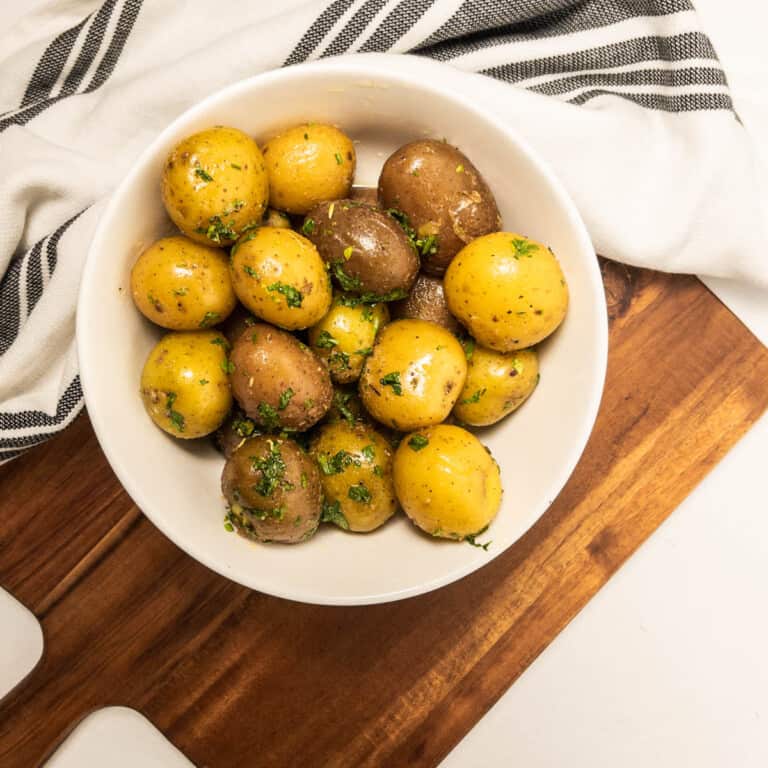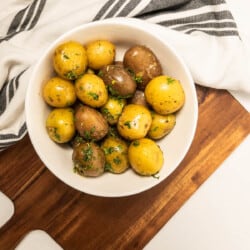 Instant Pot Potatoes (Tasty, Garlic, Herb)
Instant Pot Potatoes are tender and buttery. These are coated with butter garlic and herbs and have minimal prep and just a 6 minute cooking time.
Print
Pin
Rate
Ingredients
1 to 1 1/2

Pounds

Baby Potatoes.

I used the medley ones from Aldi

3

Tbsp.

Butter

1

Tbsp.

Olive Oil

1/2

tsp.

Sea Salt

1/4

tsp.

Black Pepper

1/2

tsp.

Garlic Powder

1/2

tsp.

Rosemary

3

Tbsp.

Chopped Fresh Parsley
Instructions
Wash potatoes and dry well.

Chop parsley and set aside.

Place trivet in bottom of Instant Pot or other electric pressure cooker.
Add 1 cup of water or broth to the bottom of pressure cooker.
Place potatoes on top of trivet.

Place the lid on the pressure cooker and turn the valve to the seal position.

Cook on high pressure for 6 minutes and release pressure when done cooking.

Remove potatoes and dump out the pressure cooker liner.

Return liner to pressure cooker and turn to sauté mode.

When screen reads "HOT" add butter and olive oil to pot until melted.

Add salt, pepper, garlic, rosemary and potatoes and sauté 3- 4 minutes turning halfway through.

Press cancel on the pressure cooker to turn off the heat.

Add the chopped parsley and toss.

Remove potatoes to large bowl and pour butter mixture over potatoes and serve.
Nutrition
Join Our Facebook Groups
Instant Pot Recipe Spot
Air Fryer Recipe Spot
Vegan and Vegetarian Plant Based Recipes
(Visited 6,494 times, 1 visits today)