This Instant Pot Lentil Soup recipe is the best. A lentil soup recipe that is loaded with vegetables like carrots, celery, onions, and potatoes. The lentils are tender.
It is lip-smacking good. Lentil Soup in the Instant Pot is easy to make. Serve it with crusty bread.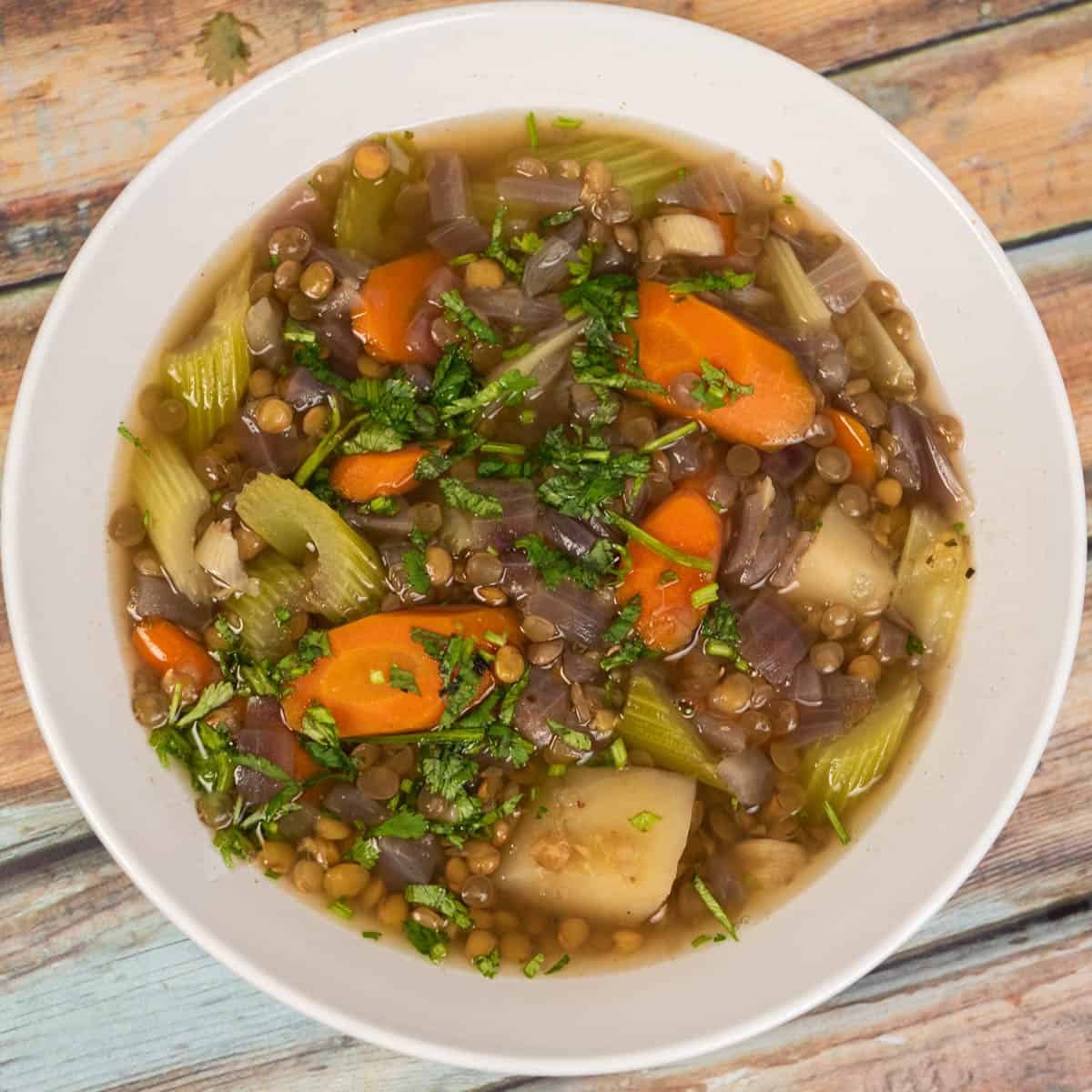 I was not feeling good at all. Soup would warm me up and make me feel better. I was not in a good mood. I needed something quick and easy.
A healthy instant pot soup was the way to go. Cooking soup in the pressure cooker is easy.
This recipe is a vegetarian recipe. It has plenty of plant based protein so if you are vegan this is a diet-friendly recipe. For this recipe, I used brown lentils. This is what I had in my cupboard.
I prefer brown lentils or french green lentils, because they hold their shape. The red lentil tends to break down quite a bit when cooked in the pressure cooker. Red lentils are good for thickening soup.
Any kind of lentils you prefer can be used. Some people like to use a mix of lentils in their soup creations. My motivation when creating this soup was to make something quick tasty and easy that had a lot of great flavors.
This soup has a little bit of everything that I had left in my refrigerator. I like potatoes in my lentil soup. That it seems is a personal preference but I wanted it a little bit hearty and I think that including the potatoes makes it good.
Jump to:
Ingredients Needed for Lentil Soup
Green or Brown Lentils
Carrots
Onion
Celery
Potatoes
Garlic
Cilantro
Salt
Black Pepper
Smoked Paprika
Italian Seasoning
Bay Leaf
Full Quantities in Recipe Card
Why Do I Love This Easy Lentil Soup Recipe
I love this recipe because of its simplicity and big flavor. The fact that I always make it to use up vegetables I have left in the refrigerator means no waste at all. A carrot, a celery stalk, onion, garlic, dried lentils, and vegetable broth is all that is needed to get started.
I make this often for my weekly meal prep for lunch. In under 15 minutes cooking time this is a great option for people looking for simple and healthy recipes. Furhthermore, I love this soup recipe because it is not just for the colder winter months. This soup is delicious year round.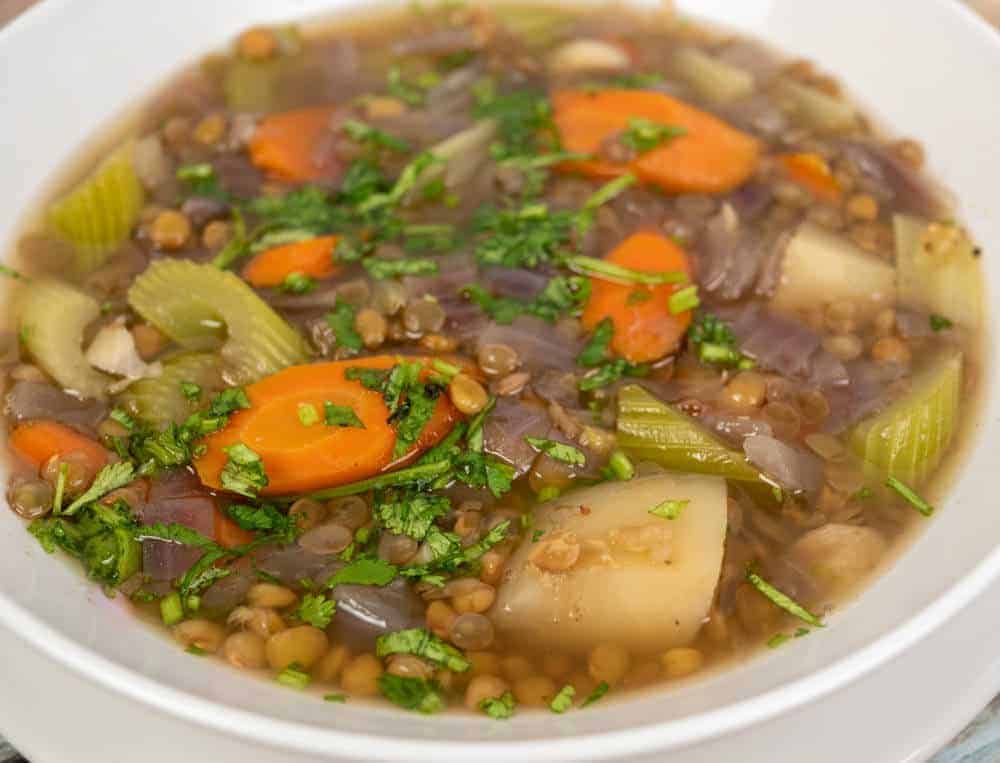 How to Make Lentil Soup
There really is not much to making this soup at all. You can find the recipe card below of course but here are the steps to make this. This is a favorite Instant Pot soup recipe.
Prep and rinse the veggies and the lentils– Rinse your lentils and wash and prep your veggies. Cut your veggies a little bigger than normal so they do not get overcooked.
Add ingredients to the Instant Pot– For this recipe all the ingredients go in the pressure cooker at the same time. This is essentially a Dump and Go Soup Recipe.
Pressure cook soup for 12 minutes- The cooking time for this soup is 12 minutes. Keep in mind it does take about 10 minutes for the Instant Pot to pressurize.
Quick-release the pressure- Do a quick release on the Instant Pot and remove the lid. Give the soup a few stirs. If you would like a thicker soup you can remove about a cup of the soup and put it in the blender to puree.
Return soup puree to the pot. An immersion blender can be used. They make thickening soup easy.
Recipe Variations
Add Bacon – Add bacon and makes it classic French Lentil Soup. Chop bacon and saute in the Instant Pot. Remove bacon and set aside. Stir in bacon when the soup is finished cooking.
Sausage – Saute some chopped onion and sausage. When the sausage is browned add the rest of the ingredients.
Chopped Ham – Adding some chopped ham is always an alternative. It can be sauteed in a tablespoon of olive oil and then set aside for some added flavor or it can be stirred in at the end without sauteeing.
Different Types of Lentils – Different types of lentils can be used. When I make this soup I use brown lentils. Green lentils can also be used. Although, If using red lentils be sure to decrease the cooking time by a few minutes as the red lentils tend to overcook and break apart.
What to Pair With Lentil Soup
Crusty Bread – Bread is mandatory for me with soup. Dipping bread in soup is always delicious.
Make a Salad – Soup and salad have always been a classic combination. Toss together some iceberg and romaine lettuce for a delicious change in texture. I make this Instant Pot Pasta Salad often too. It might sound like a weird combo but I like it.
Can This be Made on the Stovetop or in a Slow Cooker?
Yes! It sure can be made on the stovetop. Just bring all the ingredients to a boil and then simmer about 30 minutes. For the slow cooker add all ingredients and cook on LOW setting for 6 hours.
How to Store and Reheat Lentil Soup
Storing – Store lentil soup in an airtight container in the refrigerator. It will last up to 5 days.
Reheating – reheat soup in a saucepan over medium low heat until desired temperature is reached.
Reheating Soup in Instant Pot – To reheat soup in an Instant Pot, pour it in, close the lid, turn the valve to Sealing, press the "Pressure Cook" or "Manual" button, and set the time to zero. Soup reheats while building pressure. Release pressure when the pot beeps.
Freezing – Soup can be placed in an airtight container and will keep in the freezer for up to 3 months.
Calories in Lentil Soup
This Instant Pot lentil soup recipe makes for an easy lunch or soothing dinner. Luckily, it's also low in calories, making it a smart choice for your healthy diet.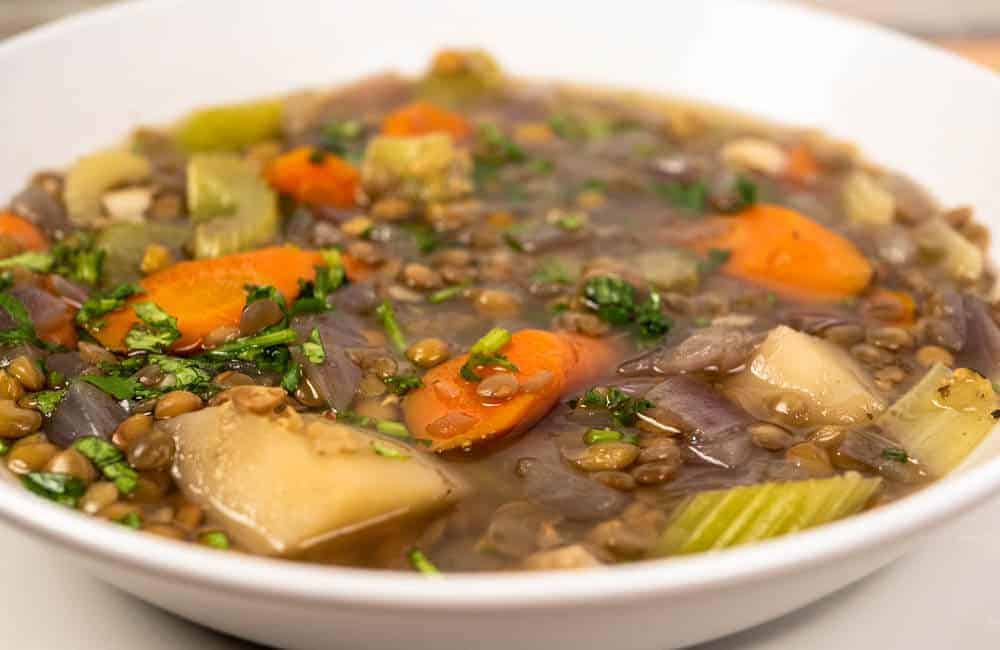 Other Instant Pot Recipes:
Instant Pot Turkey Chili
Corned Beef and Cabbage Soup
Instant Pot Sausage and Peppers
Kitchen Essentials and Ingredients
Lodge 6 Quart Cast Iron Enameled Dutch Oven
Better Than Bouillon Organic Vegetable Base, Vegan, 8 Ounce
Mac Knife MTH-80 Professional Hollow Edge Chef's Knife, 8 Inch, Silver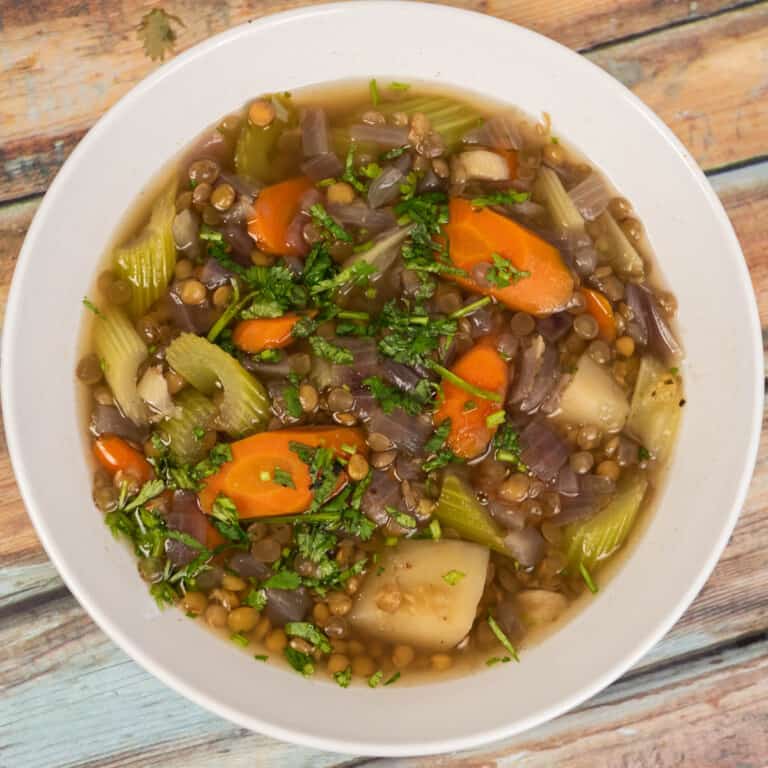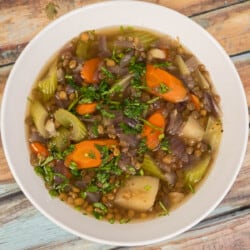 Instant Pot Lentil Soup Recipe
This is the best Instant Pot Lentil Soup. This soup is loaded with flavor. I love it because I get to use up all my older veggies and this makes for a tasty lunch or dinner.
Print
Pin
Rate
Ingredients
1 1/2

Cups

Green or Brown Lentils

6

Cups

Vegetable Broth or stock of choice.

6

Carrots Rough Chopped

1

Purple Onion Diced

3

Stalks Celery

1

Potato Diced

about a cup

4

Cloves

Garlic Chopped

2

Tablespoons

Chopped Cilantro

Optional

10

Turns Fresh Ground Pepper

1

tsp.

Salt

salt to taste

1/2

tsp.

Smoked Paprika

1

Tbsp.

Italian Seasoning

1

Bay Leaf
Instructions
Rinse lentils in a strainer or colander. Chop carrots, onions, celery and potato. Chop them in bigger pieces so they do not overcook in the pressure cooker. Add all ingredients to the the Instant Pot. Give everything a quick stir. Put lid on instant pot and turn the valve to "SEAL." Press "PRESSURE COOK" setting on Instant Pot and set for HIGH PRESSURE. Set timer to 12 MINUTES. When the timer beeps MANUALLY release pressure and remove lid from Instant Pot. Stir soup and enjoy.
Nutrition
(Visited 28,344 times, 1 visits today)