Air Fryer Fried Chicken came about because my girl Pam brought an Air Fryer over because she didn't have room in her apartment for it and wasn't using it. I figured what the hell people rant and rave about these things.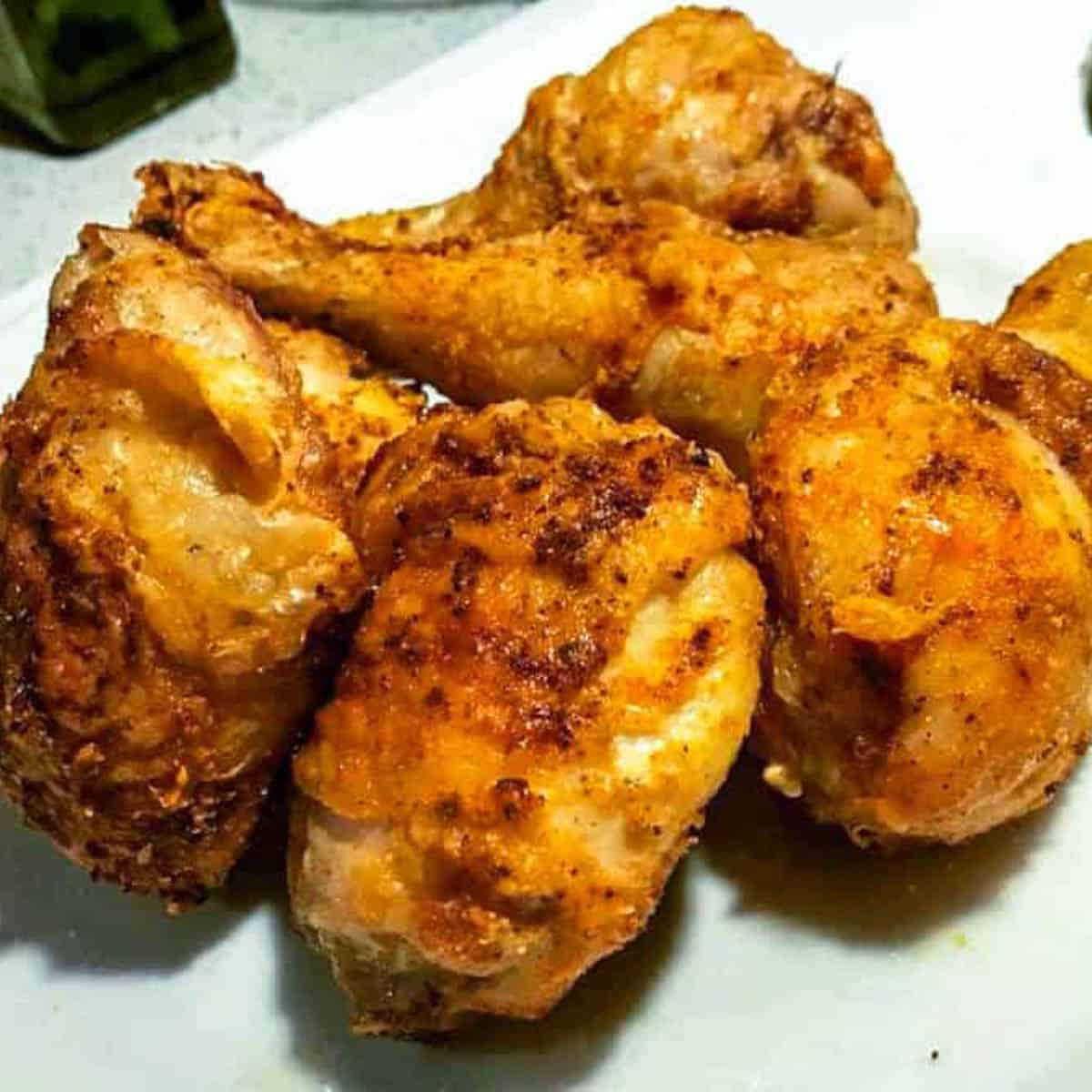 So I set out to learn how to use this thing. It really surprises me how this thing can pretty much duplicate certain textures and flavors without the added things to call it junk food. Let me tell you the amount of oil to make this chicken is minimal. Air fried chicken is really delicious. This machine makes crispy fried chicken comparable to a deep fryer.
If you sit down and learn how to use an Air Fryer it really can fill an empty void without all the mess. I am totally in love with this gadget. It has really become something that I use often in my kitchen.
Jump to:
Air Fryer Fried Chicken
This Air Fryer Fried Chicken Recipe is a simple one. In fact, I have had people doubt that it was going to be that good because of the simplicity of the recipe. My answer to people acting like that is have you tried it?
Normally there's no reply or the answer is no I have not tried it. Well, me being a chef I know that to make something good it doesn't have to be complicated. Most of the time simple is even better.
Sometimes it's all about technique. When I came up with this recipe I set out to make a healthy version of kind of a fried chicken without all the calories and the fat. So I wanted to create a crunchy texture and a good flavor that was savory and salty and would keep you wanting to eat more.
How to Cook Chicken in the Air Fryer
Full Instructions and Ingredient List in Recipe Card Below
This Air Fryer Chicken is EASY to Make. It is one of the more simple air fryer recipes. It can be done with chicken breasts bone-in or chicken thighs or chicken legs or any combination of chicken pieces that you prefer. Once you make this dish it is going to become one of your favorite chicken recipes.
Air Fryer Chicken Thighs
If you want the juiciest chicken then the best part of the chicken is for sure chicken thighs. I am a person that likes the dark meat of the chicken more. I usually buy chicken quarters and cut them up myself. It is easy to do and will save you a little money.
Chicken Breast in Air Fryer
Chicken breasts have a reputation for drying out, but an air fryer keeps that from happening. The quick cooking time means they stay nice and tender and the breading still gets extra crispy from the intense air circulation inside these powerful little machines.
Place in an air fryer basket and cook at 375° for 10 minutes. Flip chicken, and cook for another 5 minutes, until coating is golden and chicken is cooked through. This is for boneless chicken breast. If you are cooking bone-in chicken breast then follow the cooking times for the chicken thighs and cut time by just a few minutes.
Ingredients in Air Fryer Fried Chicken
2 to 3 Pound Bone-in Chicken Pieces
Salt
Pepper
Garlic Powder
Smoked Paprika
Baking Powder
Extra Virgin Olive Oil
Kitchen Essentials and Items Used in This Recipe:
Cosori Air Fryer Max 5.8 Quart Air Fryer
Hotec Premium Stainless Steel Locking Kitchen Tongs with Silicone Tips
Misto Frosted Glass Bottle Oil Sprayer
365 Everyday Value, Extra Virgin Olive Oil, Mediterranean Blend
Magnetic Cheat Sheet Cookbook for Air Fryer, Cooking Times
Step 1 Season the Chicken
Mix in a Bowl Salt, Pepper, Garlic Powder, Smoked Paprika and Baking Powder together. Coat the chicken pieces with this mixture on all sides of the chicken and let the chicken sit for about 15 minutes like you have marinated the chicken. This is an IMPORTANT step. The reason for this is that the baking powder draws moisture out of the skin of the chicken. When the chicken is cooked this step will make the chicken much more crispy.
Step 2 Spray Your Air Fryer Basket and Add Chicken
Spray your Air Fryer basket with some olive oil or cooking spray and then Preheat Air Fryer temperature to 385 degrees. Once the Air Fryer is preheated put the chicken in the basket. Do not overcrowd the basket you want some room for proper air circulation.
Step 4 Cook the Chicken
Set the cooking time on the Air Fryer to 385 degrees and the cooking time to 40 minutes. Spray chicken pieces with Olive Oil spray or cooking spray. Flip chicken halfway through the and spray with olive oil mist.
Other Recipes:
Air Fryer Jerk Chicken Wings
Parmesan Balsamic Roasted Brussel Sprouts
Instant Pot Sausage and Peppers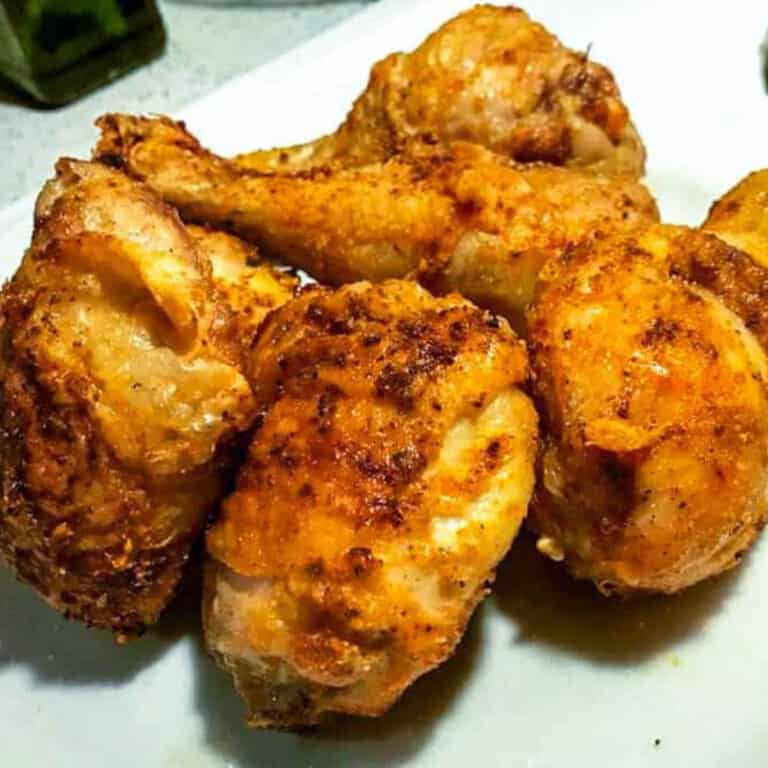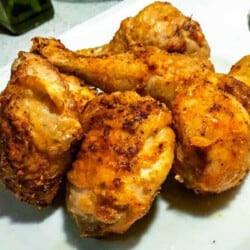 Mattys AirFryer Chicken
Simply Delicious. This Airfryer Chicken is juicy and crunchy. So good you'll think it is the junk food version.
Print
Pin
Rate
Ingredients
2 to 3

pounds

chicken pieces of your choice

Salt and pepper chicken to taste

1/2

tsp

Garlic powder

1/2

tsp

Smoked Paprika

2

tsp

Baking Powder
Instructions
Salt and pepper chicken pieces to taste.

Cover chicken with the garlic powder and smoked paprika and baking powder. The baking powder is essential to making the chicken super crispy as it pulls moisture from the skin. Once the chicken is coated with the spices and the baking powder let it sit about 10 to 15 minutes.

Spray your air fryer basket with and olive oil mist Or wipe with a paper towel with a little bit of oil on it to prevent sticking. Put all chicken parts into your air fryer trying not to overlap them. I like to spray the chicken with an olive oil mist but you can use cooking spray if that's all you have. You must sprayed the chicken with the oil or cooking spray it is part of the process to get the chicken nice and golden crispy.

Turn on your air fryer and set temperature to 385° for 35 to 40 minutes flipping the chicken ones halfway through and spraying the chicken again with the olive oil missed or cooking spray once you flip it. That's all.

Enjoy
Nutrition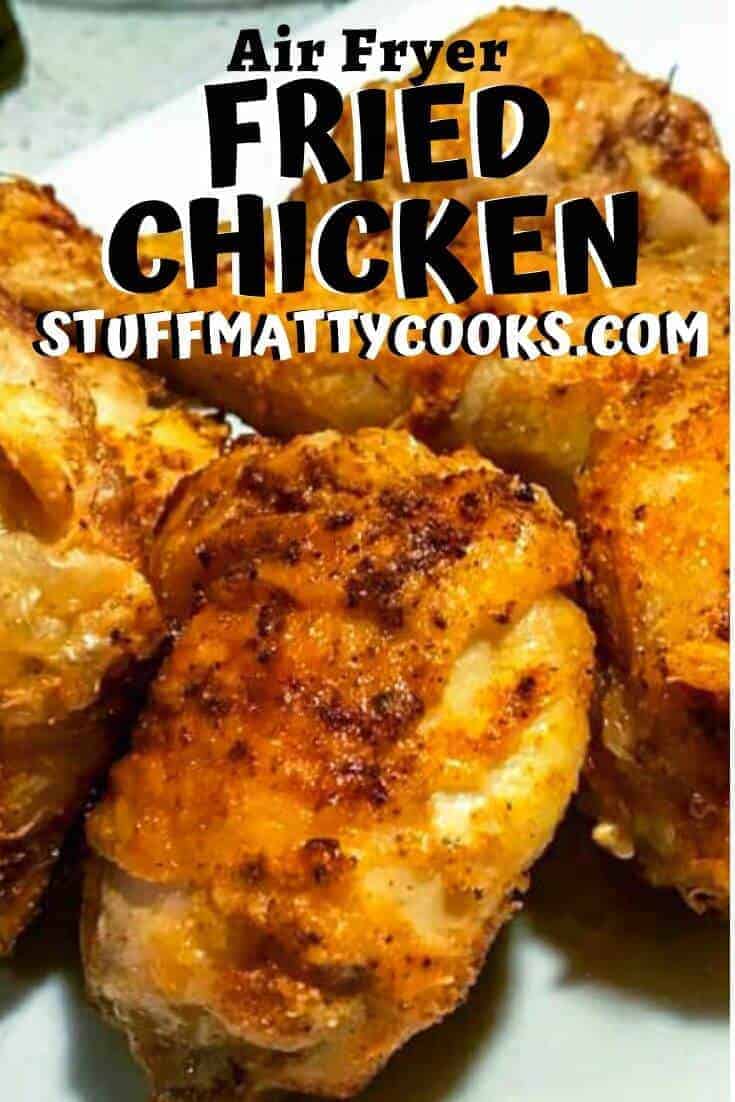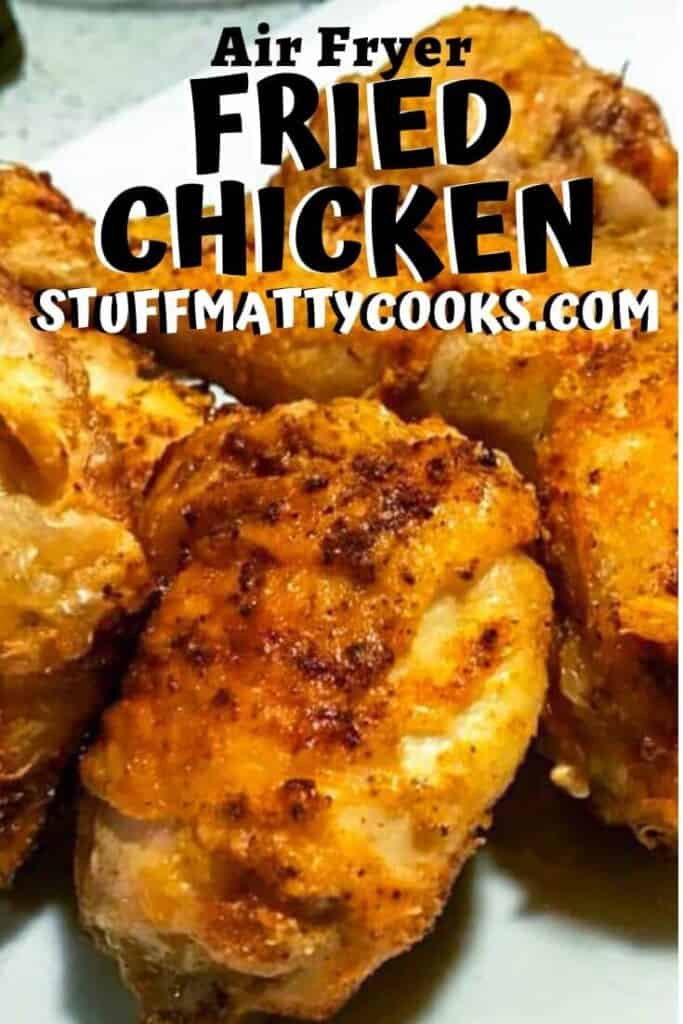 SaveSave
SaveSave
SaveSave
SaveSave
SaveSave
SaveSave
SaveSave
SaveSave
SaveSave
SaveSave
SaveSave
SaveSave
SaveSave
SaveSave
(Visited 451,343 times, 5 visits today)