Balsamic Parmesan Roasted Brussels Sprouts are the perfect side dish. Topped with parmesan, garlic, and balsamic vinegar. Parmesan Balsamic Roasted Brussels Sprouts are the perfect side dish to accompany any meal. These can be cooked in the Air Fryer or Oven.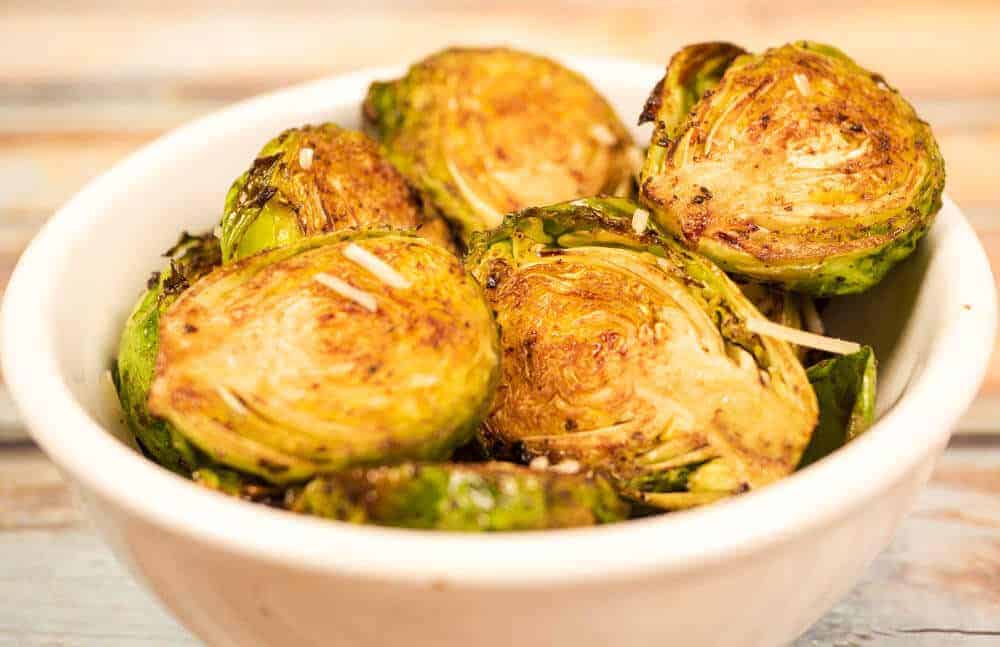 Balsamic Parmesan Roasted Brussel Sprouts
I know that many people are turned off by the thought of Brussel sprouts. Roasted Brussel sprouts with parmesan cheese are delicious. Roasting Brussel sprouts brings out the natural sweetness and carmelizes the natural sugars. This takes away the bitterness that turns some people off. Accompany Brussel sprouts balsamic vinegar and garlic together and this creates a great flavor.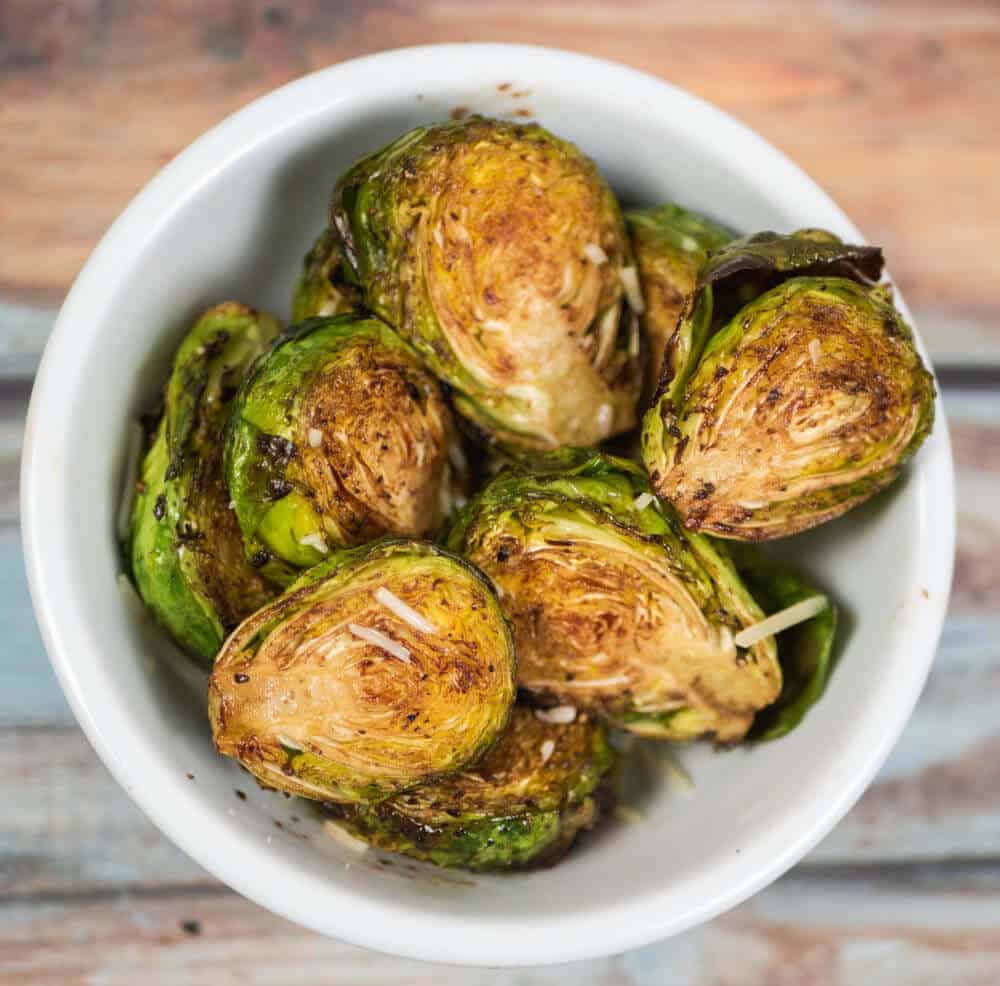 This easy Roasted Brussels Sprouts with Parmesan and Balsamic recipe is tasty enough to make even the pickiest of eaters fall in love with Brussels sprouts.
Roasted Parmesan Brussel Sprouts
This recipe is really easy to make. Simply toss everything with some olive oil, balsamic vinegar, garlic powder, and parmesan cheese. Crusty parmesan balsamic Brussels ready in a flash.
Ingredients Needed for Roasted Brussel Sprouts
Brussel Sprouts
Olive Oil
Balsamic Vinegar
Salt
Pepper
Garlic Powder
Parmesan Cheese
How to Make Balsamic Parmesan Roasted Brussel Sprouts
I used about 6 good sized Brussel Sprouts to make this recipe. That was about 1 good size serving of these. This recipe can easily be doubled. Cut the root end off of the Brussel Sprout. Cut the Brussels in half lengthwise.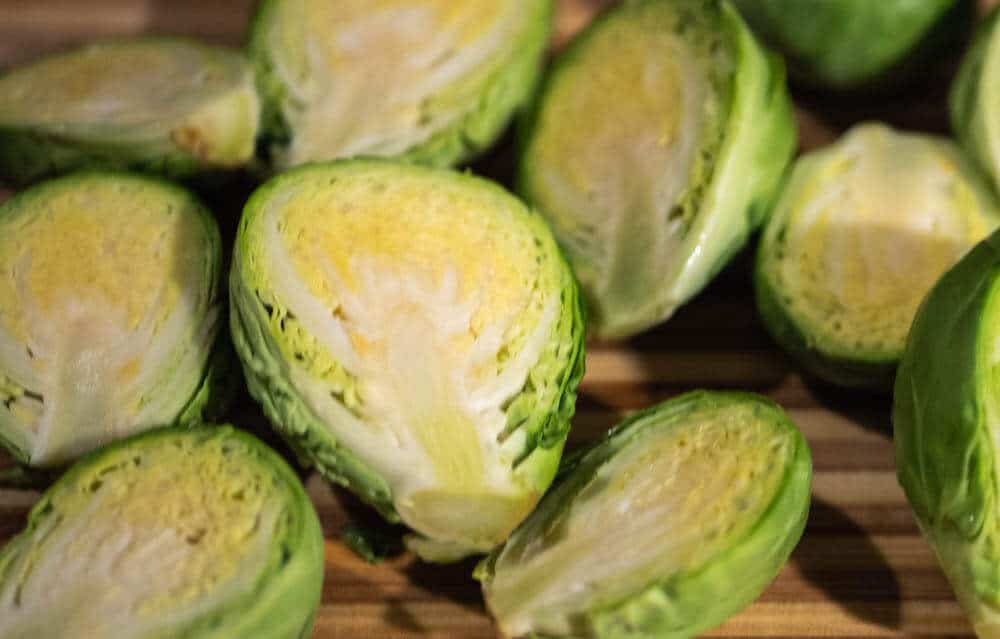 In a bowl big enough to put the Brussel Sprouts. Mix together Olive Oil, Vinegar, Salt, Pepper, Garlic Powder. Toss in the Brussels and stir to coat. Now decide on your cooking method below. If you are using an Air Fryer then once you put the Brussels in the Air Fryer Sprinkle them with the Parmesan Cheese and Cook. If you are Roasting in the Oven put Parmesan Cheese on Brussels about halfway through the cooking time so it doesn't get too dark.
Roasted Brussel Sprouts in the Air Fryer
This is the way that I chose to cook my Parmesan Balsamic Brussel Sprouts. It is the easiest way in my opinion with the least amount of clean up.
Preheat Air Fryer to 380 Degrees
Set timer on Air Fryer for 8 Minutes
Shake Basket halfway through cooking time
Brussel Sprouts Roasted in the Oven
Preheat Oven to 400 Degrees
Placed Halved Brussels on Sheet Pan
Roast 15 to 20 Minutes Turn Brussels after 7 Minutes
Other Recipes:
Oven Roasted Tri Tip
Jerk Chicken Wings (Air Fryer)
Adobo Chicken (Instant Pot)
Kitchen Essentials and Items I Used:
Cosori 5.8 Qt. Air Fryer
Mac Knife MTH-80 Professional Hollow Edge Chef's Knife, 8 Inch
QO Organic Thick Aged Balsamic Vinegar of Modena
Rachael Ray 47576 Nonstick Bakeware Set with Grips
Misto Brushed Aluminum Oil Sprayer
Balsamic and Parmesan Roasted Brussel Sprouts
Balsamic and Parmesan Roasted Brussel Sprouts are so tasty. What a great taste and texture. Easy to make.
Ingredients
6

Large Brussel Sprouts Cut in Half

1

Tbsp.

Olive Oil

1

Tbsp.

Balsamic Vinegar

1/2

tsp.

Salt

1/2

tsp.

Pepper

1/2

tsp.

Garlic Powder

2

Tbsp

Shredded Parmesan Cheese
Instructions
Cut Root End off of Brussel Sprouts

Cut Brussel Sprouts in Half Lengthwise

In a Bowl Mix Olive Oil, Vinegar, Salt, Pepper, Garlic Powder

Add the Brussel Sprouts and Stir to Coat with Mixture

Follow Desired Cooking Method Below
Cooking Roasted Brussel Sprouts in Air Fryer
Preheat Air Fryer to 380 Degrees

Add Brussel Sprouts to Air Fryer Basket

Sprinkle Brussel Sprouts with Half Parmesan Cheese

Halfway Through Cooking Time Shake Basket and Cover with Remaining Cheese
Cooking Roasted Brussel Sprouts in the Oven
Preheat Oven to 400 Degrees

Place Brussels in Single Layer on Baking Sheet

Roast Brussel Sprouts 15 to 20 Minutes until Desired Doneness

After 10 Minutes Sprinkle Brussels with Parmesan Cheese and Continue Cooking

Check Frequently to Make Sure they do not get too dark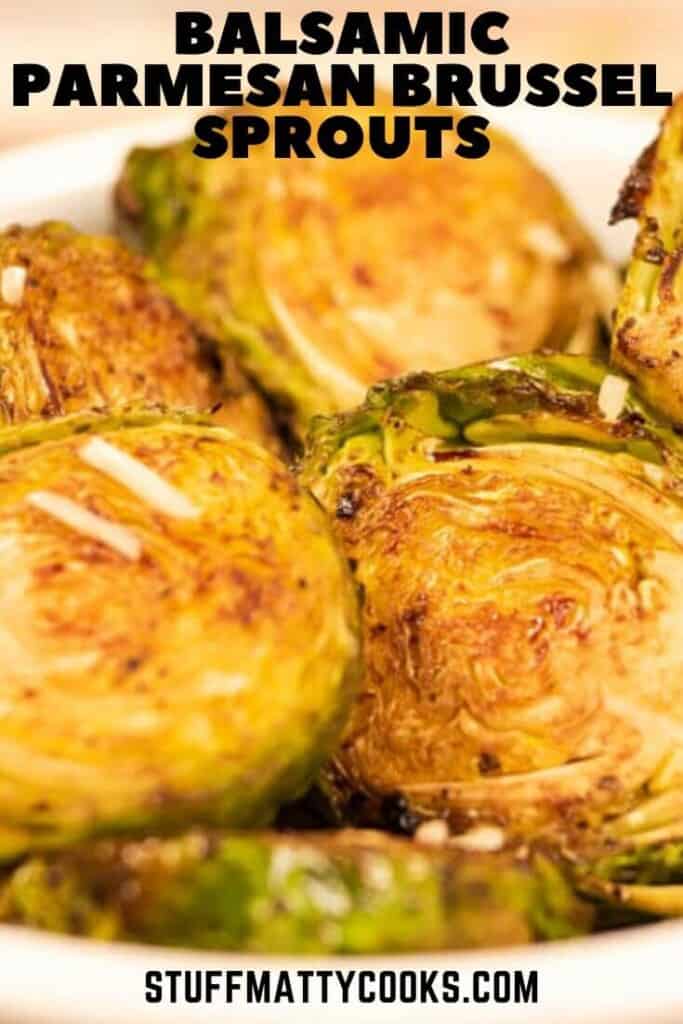 (Visited 6,302 times, 3 visits today)