Parmesan air fryer Brussel Sprouts and a bit of balsamic are the perfect side dish. Topped with parmesan, garlic, and balsamic vinegar. Parmesan Brussel sprouts are the perfect side dish to accompany any meal. These can be cooked in the Air Fryer or Oven.
Parmesan Brussel sprouts in the air fryer with balsamic are really easy to make and they do not have to be a dish that you make on the holidays. The combination of the caramelized Brussel sprouts, balsamic vinegar sweetness, and the saltiness of the parmesan make this a great recipe for any night of the week.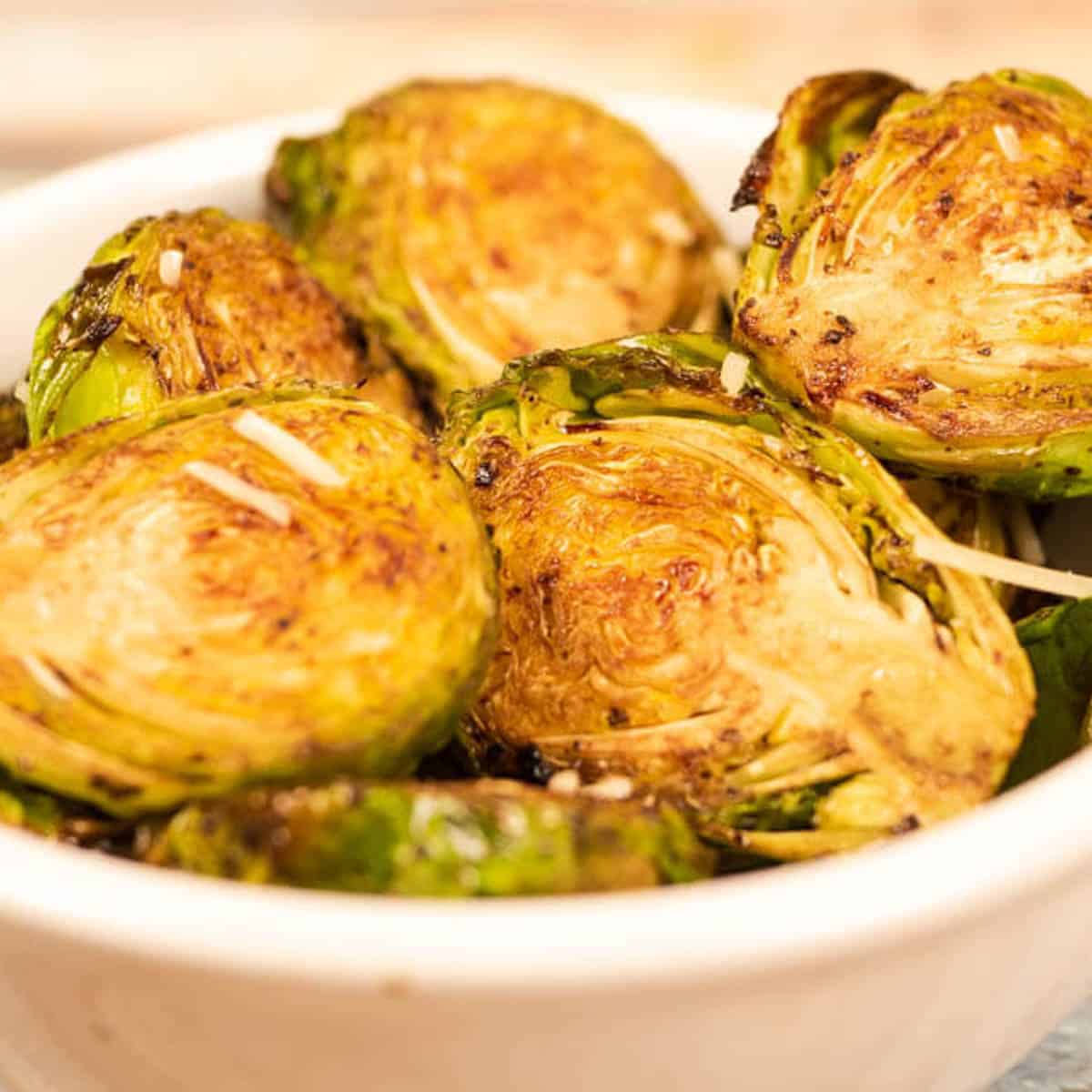 Jump to:
Are Brussel Sprouts Cabbage?
Contrary to what most people think Brussel sprouts are not many cabbages. They sure do look that way but they are not. They are a member of the same family though.
The cruciferous vegetable category that brussels sprouts are in also includes broccoli and kale and bok choy. Give these brussels sprouts a chance and you will end up with an addiction that will have you just pop these in your mouth.
Are Brussel Sprouts Healthy?
Brussels sprouts are very healthy. They are high in fiber, antioxidants and vitamins and minerals. They are low in saturated fat and welcome addition to any diet.
Some added health benefits of Brussel sprouts are that they reduce the risk of cancer. They also decrease inflammation and also aid in blood sugar control. These are a bit of a superfood. These are one of my family's favorite side dishes.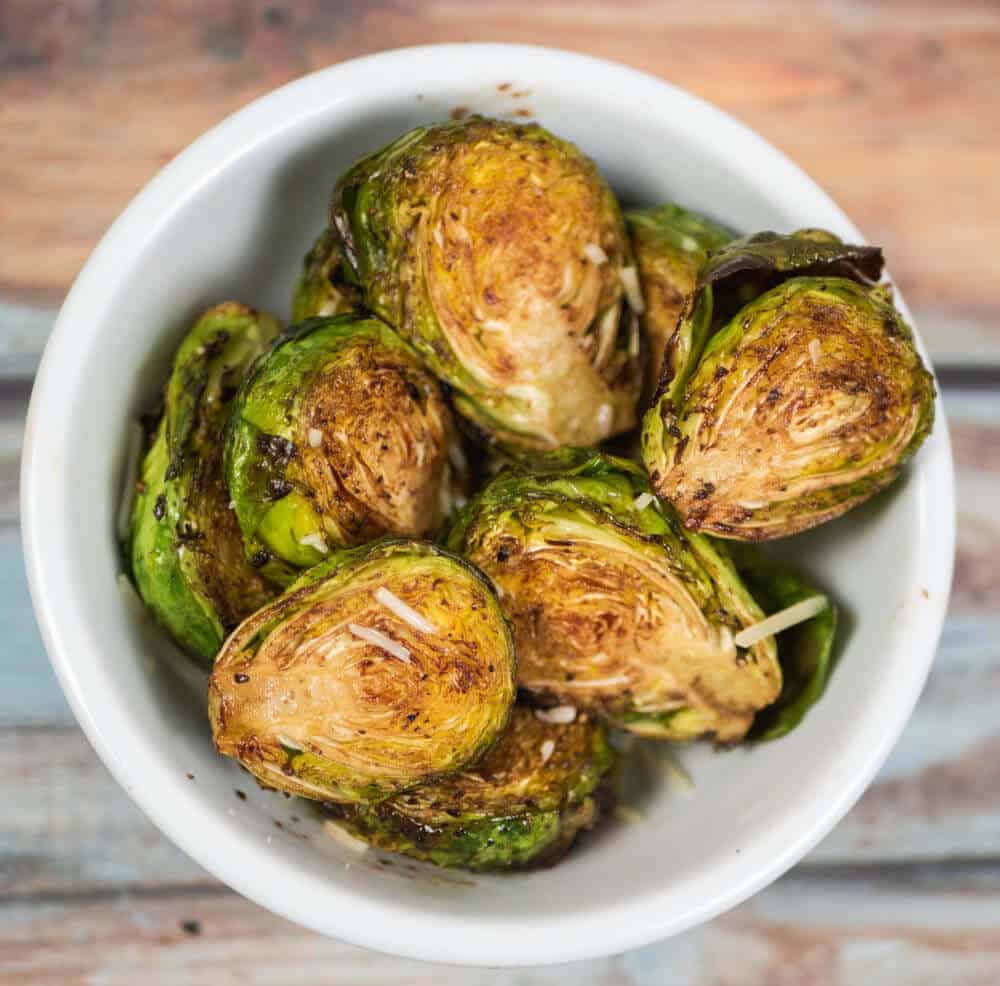 This easy Parmesan Air Fryer Brussel Sprouts recipe is tasty enough to make even the pickiest of eaters fall in love with Brussels sprouts. There is something about the flavor of parmesan on balsamic vinegar Brussel sprouts.
How to Prepare and Cut Brussel Sprouts?
How to prepare Brussel sprouts is easy but first, we have to cut the Brussel sprouts. Here are the steps below.
Rinse the Brussel sprouts to remove any dirt and debris
Peel away and brown discolored looking outer leaves.
Using a sharp knife remove the discolored end of the sprout
Cut the Brussel Sprout in half lengthwise
Can I Use Frozen Brussel Sprouts in Air Fryer?
Yes. Frozen brussels sprouts in the air fryer can be used but I will warn you ahead of time that the texture is completely different. Not just in this dish but in all dishes that call for brussels sprouts. I am not a fan at all of frozen Brussel sprouts.
This recipe is really easy to make. Simply toss everything with some olive oil, balsamic vinegar, garlic powder, and parmesan cheese. Crispy Parmesan Brussel Sprouts with Balsamic drizzle ready in minutes.
Ingredients
Brussel Sprouts
Olive Oil
Balsamic Vinegar
Kosher Salt
Pepper
Garlic Powder or minced garlic
Parmesan Cheese
I have a few different methods to cook this recipe. This recipe was developed using an air fryer and then I modified it to include oven roasting directions.
I would encourage you to try both methods and see what you prefer. I like the air fryer method because the air fryer heats up fast and is easy to clean and it makes fantastic crispy air fryer Brussel sprouts. This air fryer recipe is one of my favorite side dishes and it is ready in less than 15 minutes.
How to Cook Parmesan Brussel Sprouts in Air Fryer
I used about 6 large Brussel Sprouts to make this recipe. That was about 1 good size serving of these. This recipe can easily be doubled.
Cut the root end off of the Brussel Sprout. Cut the Brussels in half lengthwise.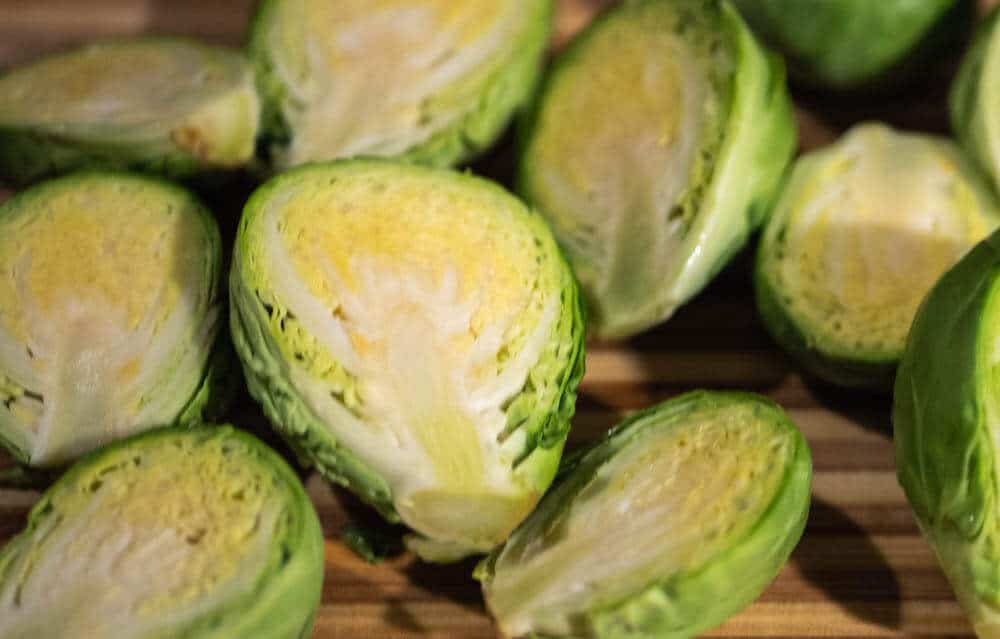 In a large bowl big enough to put the Brussel Sprouts. Mix together Olive Oil, Vinegar, Salt, Pepper, Garlic Powder. Toss in the Brussels and toss to coat. When these Brussels are cooked they are going to form a delicious balsamic glaze.
Now decide on your cooking method below.
NOTE: If you are using an Air Fryer then once you put the Brussels in the Air Fryer Sprinkle them with the Parmesan Cheese and air fry. If you are Roasting in the Oven put Parmesan Cheese on Brussels about halfway through the cooking time. The goal is to have crispy Brussel sprouts, but not to let them get too dark. Golden brown is the color that we are looking for.
This is the way that I chose to cook my air fryer Parmesan Brussel Sprouts. It is the easiest way in my opinion with the least amount of clean up.
How Long to Cook Brussel Sprouts in Air Fryer
Preheat Air Fryer to 380 Degrees
Place Brussel Sprouts in Air Fryer Basket
Set timer on Air Fryer for 8 Minutes
Shake Basket halfway through cooking time
Oven Roasted Brussel Sprouts
Preheat Oven to 400 Degrees. If you like them really crispy turn the oven to high heat. Oven to 425 degrees
Placed Halved Brussels on Baking Sheet Pan cut side or flat side down in single layer
Roast 15 to 20 Minutes Turn Brussels after 7 Minutes. If you like them more done 30 minutes cooking time.
Full Instructions in Recipe Card Below
Other Recipes:
Oven Roasted Tri Tip
Jerk Chicken Wings (Air Fryer)
Adobo Chicken (Instant Pot)
Kitchen Essentials and Items I Used:
Cosori 5.8 Qt. Air Fryer
Mac Knife MTH-80 Professional Hollow Edge Chef's Knife, 8 Inch
QO Organic Thick Aged Balsamic Vinegar of Modena
Rachael Ray 47576 Nonstick Bakeware Set with Grips
Misto Brushed Aluminum Oil Sprayer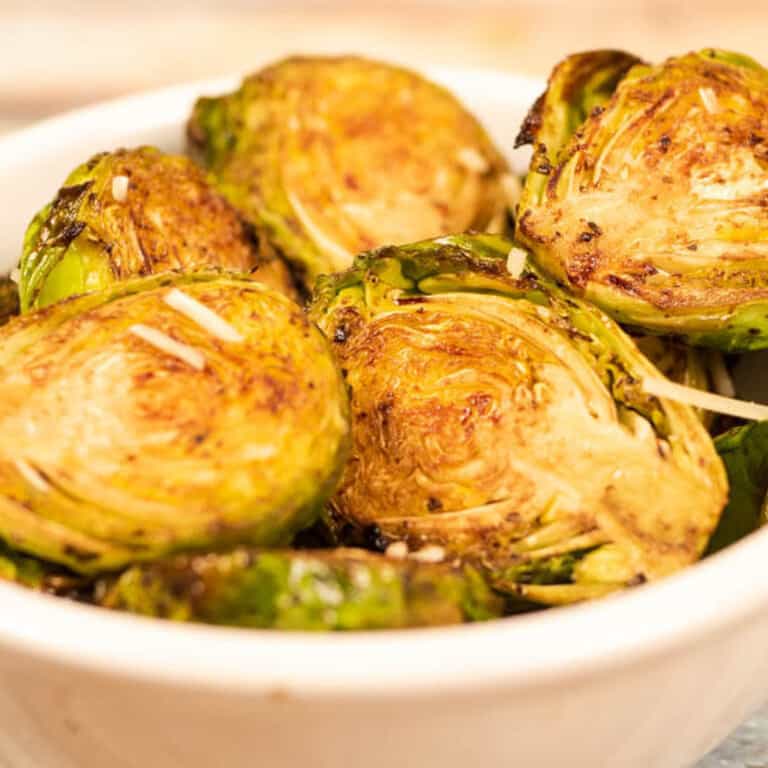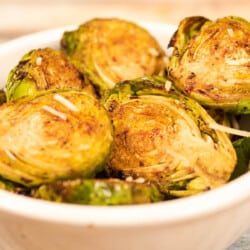 Parmesan Air Fryer Brussel Sprouts
Parmesan Roasted Brussel Sprouts are delicious. Nutty Parmesan and Balsamic are a hit side dish.
Print
Pin
Rate
Ingredients
6

Large Brussel Sprouts Cut in Half

1

Tbsp.

Olive Oil

1

Tbsp.

Balsamic Vinegar

1/2

tsp.

Salt

1/2

tsp.

Pepper

1/2

tsp.

Garlic Powder

2

Tbsp

Shredded Parmesan Cheese
Instructions
Cut Root End off of Brussel Sprouts

Cut Brussel Sprouts in Half Lengthwise

In a Bowl Mix Olive Oil, Vinegar, Salt, Pepper, Garlic Powder

Add the Brussel Sprouts and Stir to Coat with Mixture

Follow Desired Cooking Method Below
Cooking Roasted Brussel Sprouts in Air Fryer
Preheat Air Fryer to 380 Degrees

Add Brussel Sprouts to Air Fryer Basket

Sprinkle Brussel Sprouts with Half Parmesan Cheese

Halfway Through Cooking Time Shake Basket and Cover with Remaining Cheese
Cooking Roasted Brussel Sprouts in the Oven
Preheat Oven to 400 Degrees

Place Brussels in Single Layer on Baking Sheet

Roast Brussel Sprouts 15 to 20 Minutes until Desired Doneness

After 10 Minutes Sprinkle Brussels with Parmesan Cheese and Continue Cooking

Check Frequently to Make Sure they do not get too dark
Nutrition
(Visited 26,580 times, 1 visits today)