This Instant Pot clam pasta with white clam sauce is a recipe that I have been making for more than 20 years. I modified this recipe of Clams Linguine for use in the Instant Pot Pressure Cooker not that long ago. I keep making it over and over again because it is my go to when I really don't feel like cooking and cleaning up after a long day. I mean, after all, this thing has a very fast cook time.
This is an easy version of this popular Italian dish. I love the flavors of clam juice, garlic, and spices with the al dente pasta. Fantastic flavors and textures in such a simple dish.
Linguine and clams also make great leftovers. It is even better the next day and makes a great lunch.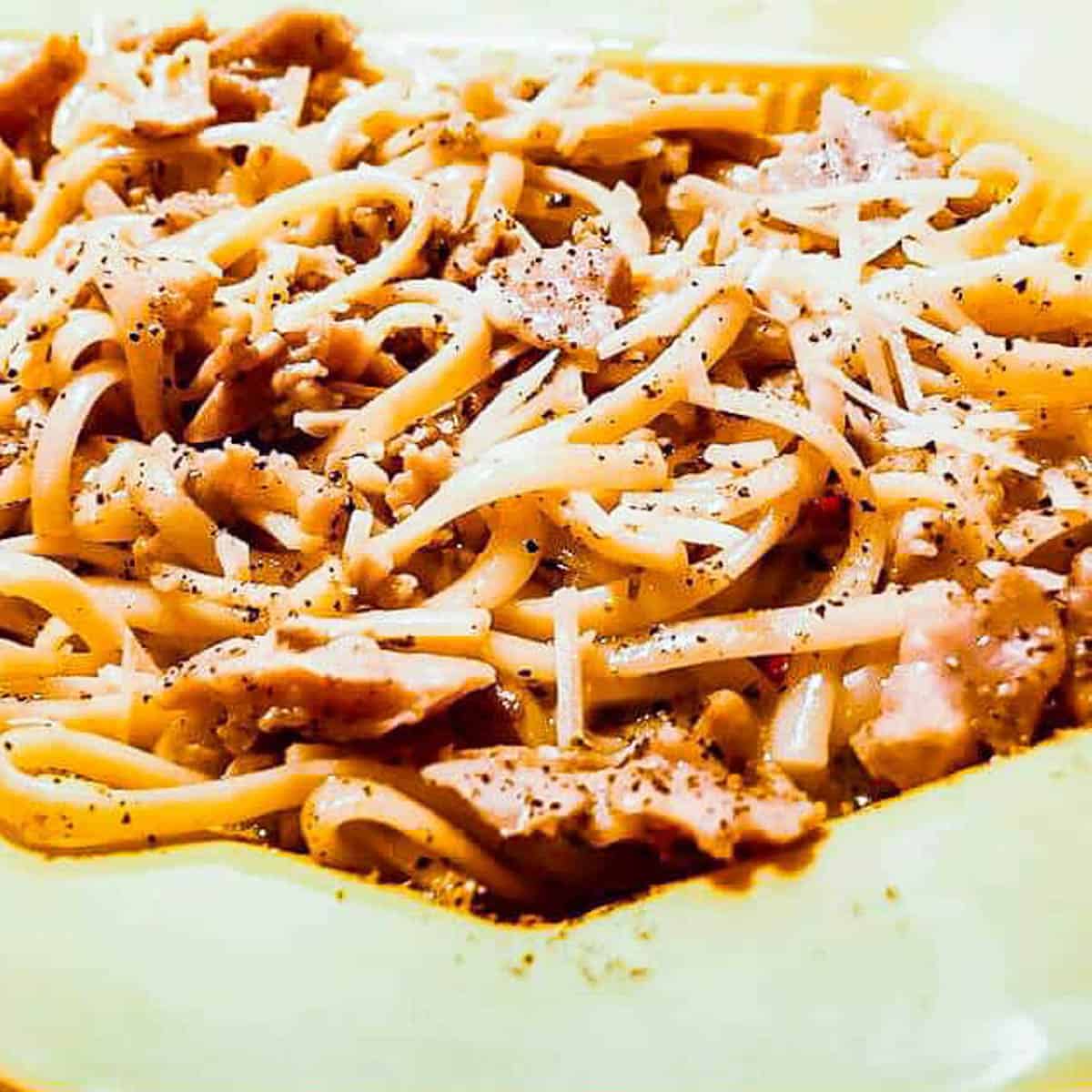 Linguine with White Clam Sauce
I love white clam sauce on pasta. I prefer it over red sauce. I think it is lighter and more flavorful.
This is the best white clam sauce recipe that uses canned clams. Adding littleneck clams is even better but I always have canned clams around.
In this recipe, I am using canned clams.I feel they're delicious even though I do like fresh clams better. Canned clams I always have on hand and they are inexpensive.
White Clam Sauce Ingredients
Linguine Pasta
Chopped Clams
Minced Garlic
Chicken Broth
White Wine (Optional)
Italian Seasoning
Chopped Parsley
Red Pepper Flakes
Parmesan Cheese
Olive Oil
Salt
Pepper
How to Make White Clam Sauce
This is how I went about making this clam sauce. You can put it over any pasta you like although my favorite is linguine. This pasta with clam sauce also goes well over spaghetti if you do not have linguine.
The first thing I do is put the Instant Pot in Saute Mode. Make sure it is on the normal setting. When the Instant Pot says "HOT" you are ready to go.
Put the olive oil in the pressure cooker and let it get hot for a moment. Add the garlic and saute it until it is fragrant (about 2 minutes).
If you are going to use the optional white in this dish add 1/4 cup to the pot. and let it cook down for a minute.
Then add in your canned clams. No need to drain the clams. Then add in the Italian seasoning and other spices.
Add in the chicken broth. I use the Organic Better than Bullion and mix it with water but standard chicken broth is just fine. Stir to combine the broth and the spices.
Break pasta in half and add the pasta on top in a crisscrossed pattern. Push pasta down carefully so it is covered in pasta water liquid. DO NOT STIR.
Put the lid on the Instant Pot and put the valve in the SEAL Position. Press Pressure cook on the Instant Pot and set to HIGH PRESSURE. Set the Cook time at 5 Minutes. Let the pressure cooker pressurize and cook the white clam sauce.
When the cooking time is completed let the pressure do a NATURAL RELEASE for 5 Minutes and then manually quick release the rest of the pressure.
Open the Instant Pot and stir everything. It is normal for it to be a little thin. Just let it sit for about another 5 minutes after stirring. It will thicken up.
Then add the parmesan cheese and stir. Remove the Pasta and Clam Sauce from the Instant Pot and Enjoy.
What to Serve with Linguine Pasta with White Clam Sauce?
I like things like salad with pasta. I just like to have different flavors and textures. The crunch of the salad and the garlic flavored pasta is great.
I have also made this Lemon Asparagus salad of mine and it goes great with pasta dishes. If you go with the salad option it can be as simple as just a green salad with a champagne vinegarette. I love the combination of flavors of this dish with some wine or champagne.
I find that any dry champagne works. Sometimes I just buy a split of champagne to keep around for dishes like this one.
This dish is simple to make but has a flavor I crave often. This one is in my regular rotation. Leftover are great too.
Other Recipes You Will Enjoy.
Instant Pot Sausage and Peppers
Instant Pot Steamed Mussels in Garlic Butter
Instant Pot Chicken Lettuce Wraps
Lemon Asparagus Salad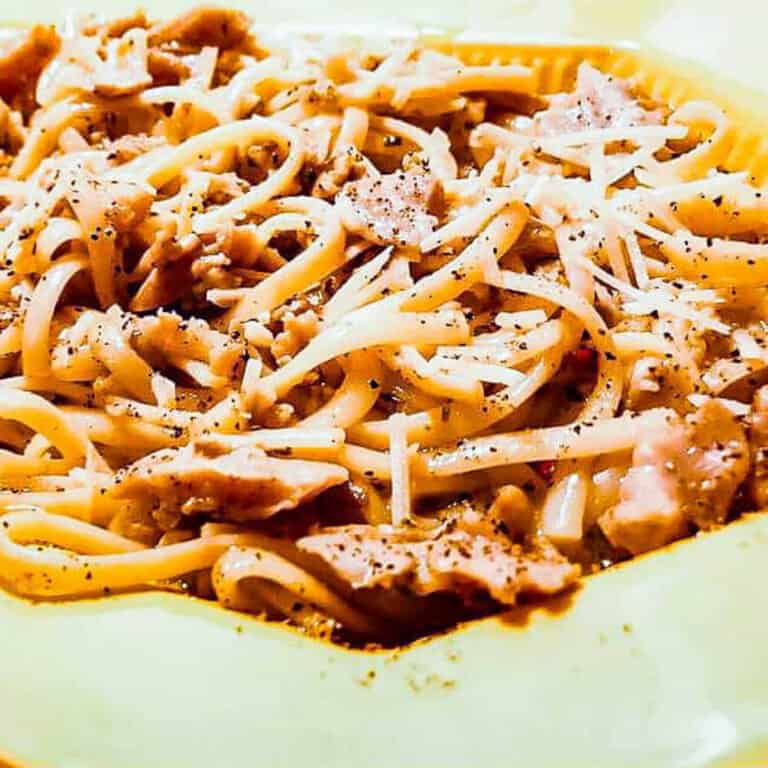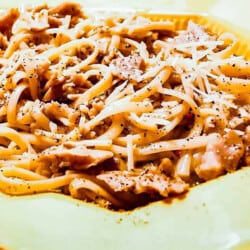 Linguine with White Clam Sauce (Instant Pot)
Linguine with White Clam Sauce is loaded with garlic, spices and a little bit of heat. It is a tasty goto for a simple dinner.
Print
Pin
Rate
Ingredients
2

cans Chopped Clams

3

cloves

minced garlic

1 3/4

Cups

Chicken broth

1

tablespoon

Italian Seasoning

1/2

tsp

red chili pepper

2 to 3

tablespoons

parmesan cheese

1

tablespoon

olive oil

5

oz.

Linguine

Salt and Pepper to taste
Instructions
Turn on sauté on Instant Pot to normal setting. When hot. Add olive oil to Instant Pot and sauté garlic for 2 to 3 minutes. Then add two cans of chopped clams, chicken broth spices and mix. Add pasta on top of sauce broken in half and crisscrossed. Do not stir. Push down pasta to cover and liquid.

Secure lid on top of instant pot and turn valve to seal position. Hit Cancel on Instant Pot. Then hit manual pressure and set to high pressure and timer to five minutes. When cooking time is done do a natural pressure release for five minutes then a quick pressure release.Remove lid from Instant Pot and pasta will be a little bit liquidy. Stir and wait a few minutes and then add Parmesan cheese and stir again and sauce will thicken up. Serve and enjoy.
Notes
At the end remove lid stir and add cheese and let sit for a few minutes to thicken.
Nutrition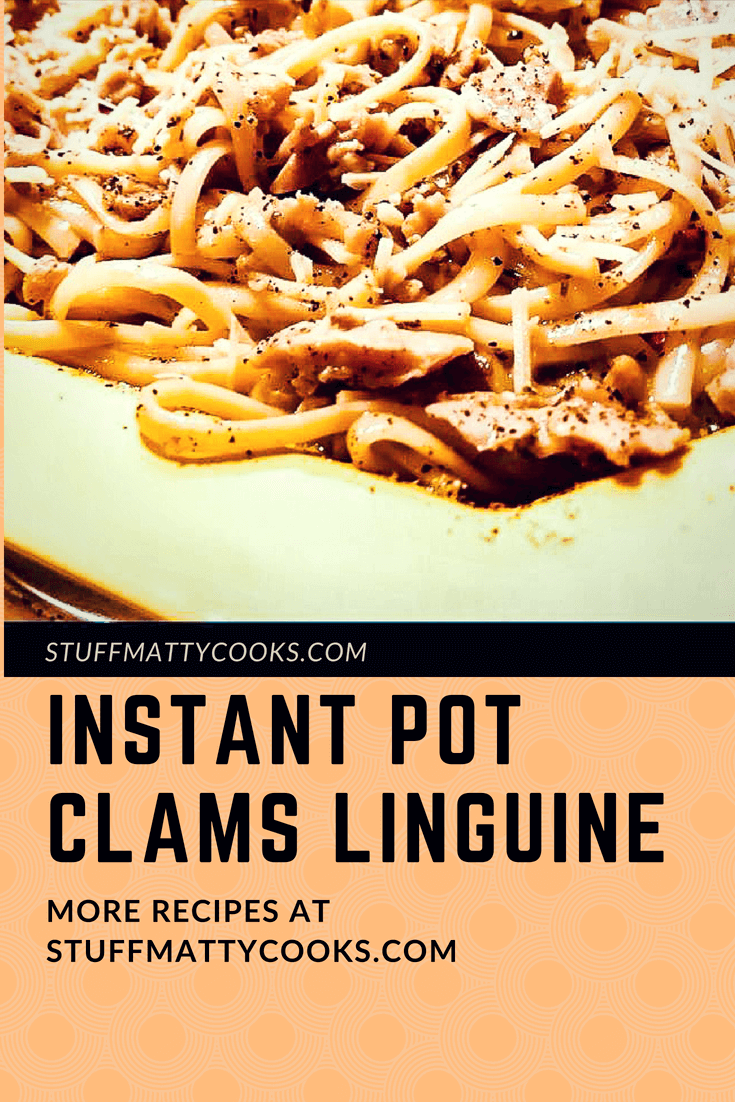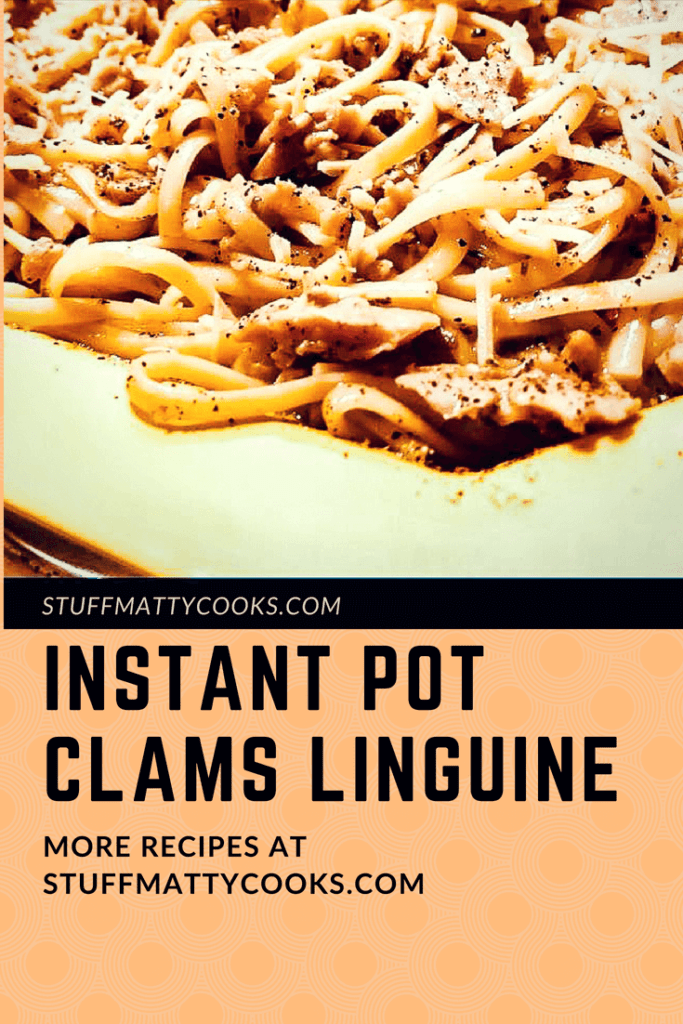 SaveSave
SaveSave
SaveSave
SaveSave
SaveSave
SaveSave
SaveSave
SaveSave
SaveSave
SaveSave
SaveSave
SaveSave
(Visited 27,368 times, 1 visits today)