Instant Pot Ribs are as good as they are easy to make. Believe it or not, the instant pot makes some of the best baby back ribs you ever had. It doesn't matter if you are making Instant Pot baby back ribs or Instant Pot spare ribs. Both of them come out fantastic and you are not going to have to wait hours to enjoy them.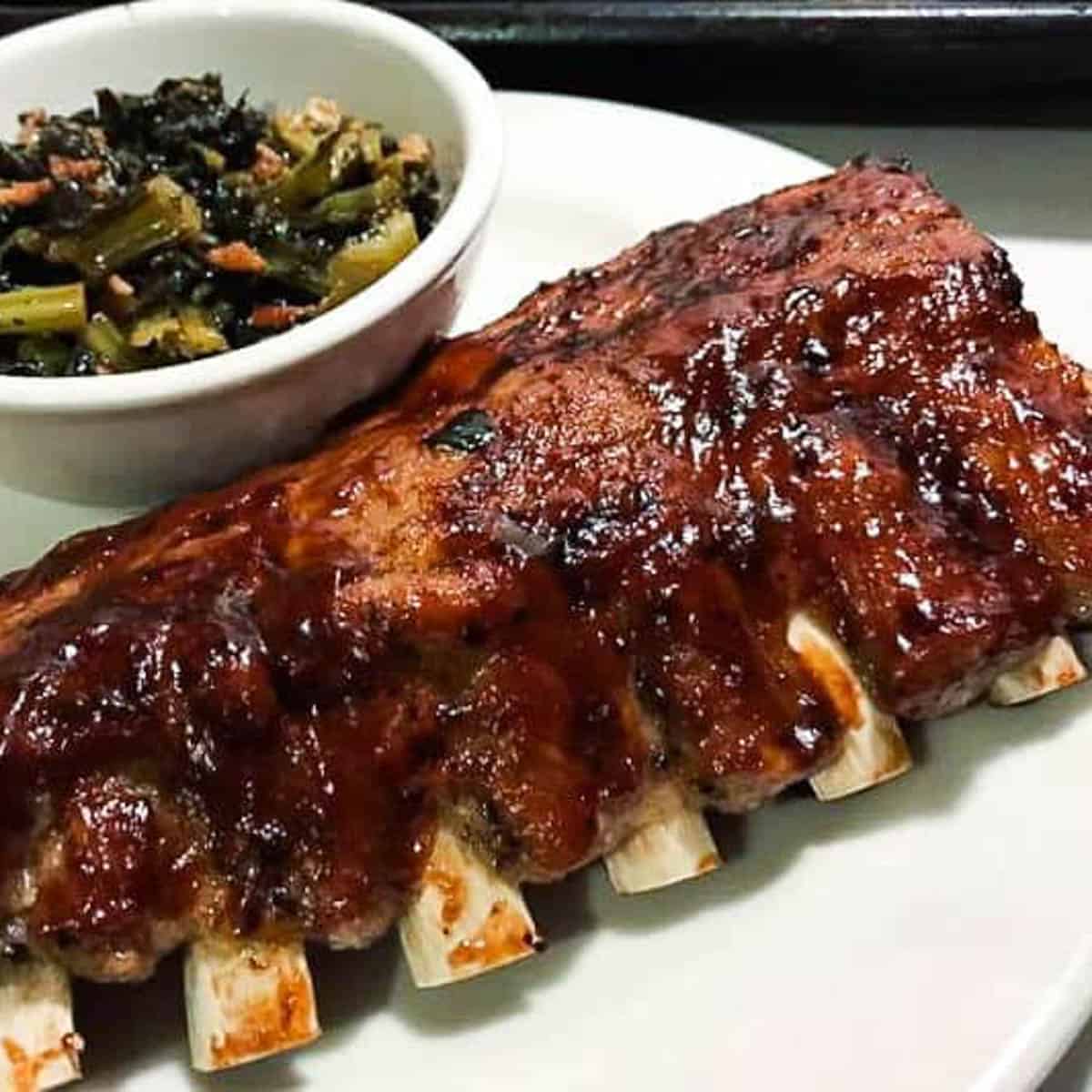 Instant Pot Baby Back Ribs
Ribs can now be a last minute dinner for the whole family. Another great thing is more than one rack of ribs can be done at a time. I have done two racks at a time and have heard that you can even get three racks in there if you have one of the bigger models. No matter how many you cook at a time they are done in just about 30 minutes.
The Instant Pot is also great to use to cook ribs when you are having friends or family over for dinner. You can prepare multiple racks ahead of time and keep them in the fridge. Just before serving they can be thrown on the grill or put under the broiler for a few minutes and then brushed with some barbeque sauce and they are ready to eat.
Jump to:
Instant Pot Ribs Ingredients
Rack of Ribs (Baby Back or St. Louis Spare Ribs
Salt
Black Pepper
Garlic
Paprika
Apple Cider Vinegar (Optional)
Barbecue Sauce (Any Kind Preferred)
Liquid Smoke (Optional)
Water or Broth
How to Prepare Baby Back Ribs
There is just a couple of steps in preparing baby back ribs. These should be done whether you cook ribs in the oven, smoker, grill or Instant Pot.
Remove the membrane – removing the membrane is not mandatory but I always do it. It allows the dry rub to penetrate the meat more effectively. It is an easy process to remove it.
Use a butter knife and loosen the edge of the membrane on the underside of the ribs. If you are having a hard time pulling off the membrane a good trick is to use a paper towel to get a better grip.
Season the Ribs – Season the ribs with salt and pepper or use a dry rub that is either store-bought or you can make one yourself using a combination of salt, pepper, brown sugar, garlic, paprika and even some chili powder.
How to Cook Baby Back Ribs in Instant Pot?
Let's get down to cooking these ribs in your pressure cooker. Put the trivet in your instant pot so that the ribs are not going to be sitting in liquid as they cook. Add a cup of water or broth to the bottom of the Instant Pot.
If you like you can also add some Apple Cider Vinegar and Liquid Smoke for flavor if you like. Basically, there are no rules you can add any seasoning or liquid you like as long as you have about a cup of liquid.
Place FULL rack of ribs in the Instant Pot wrapping in half moon shape standing upright on the trivet. Generally, you can easily fit 2 racks of ribs as long as you have the 6 quart or 8 quart pressure cooker.
If it is easier for you the rib rack can be cut in half and placed on top of the trivet on each side. Personally, I like to do the full rack of ribs without cutting them. It just makes for a prettier presentation at the end.
Place the lid on the Instant Pot and fasten and turn the pressure valve on the Instant Pot to "SEAL". Now hit the "PRESSURE COOK" button on your pressure cooker and set HIGH PRESSURE for 25 minutes.
For ribs that are "FALL OFF THE BONE TENDER" set the timer to 25 minutes. If you prefer them with a bit more "tooth" set the timer to 22 minutes. When rib cooking is complete let the ribs stand in the pressure cooker for 10 minutes more before you release the pressure.
Remove the ribs from the Instant Pot carefully. Brush the ribs with your favorite BBQ Sauce.
How Long to Cook Baby Back Ribs in the Instant Pot?
I like to cook a 2 pound rack of ribs for about 22 minutes with a 10 minute natural release. I happen to like my ribs with a little bit of "tooth". If you like ribs that are more "fall off the bone then 25 minutes should do it. Keep in mind if your rack of ribs is bigger or smaller you may need to increase or decrease cooking time by a couple of minutes.
How Long to Cook Spare Ribs in Instant Pot?
If spare ribs "St. Louis" style ribs are your preference the cooking method it is the same. The cooking time for spareribs that are around 2 pounds is 35 minutes. Let the Instant pot do a natural release when cooking time is complete.
Finish Ribs Under the Broiler, Grill or in the Air Fryer.
When the ribs are done cooking in the instant pot they are absolutely fine to eat. But if you want to go that extra mile and in my opinion make your ribs look better and taste better you are going to want to finish them under the broiler, on the grill or even in your air fryer. I have done this all 3 ways and they all work well.
Place pork ribs on a baking sheet meat side up. Brush your ribs with a little bit of barbecue sauce and then choose your finishing method.
Under the broiler and on the grill is just a few minutes per side. I usually set the grill to medium high and grill about 3 to 5 minutes per side. Keep an eye on them because you want the sauce to caramelize NOT burn. This process takes less than 15 minutes.
If you are finishing them in the air fryer you are most likely going to have to cut the rack of ribs in half first. The finishing time varies a bit depending on the power of the air fryer. I usually start at about 5 minutes per side.
Place the ribs about 4 to 5 inches under the broiler for 2 to 3 minutes per side to carmelize the BBQ Sauce. Watch the ribs during this step because it happens quickly and you do not want to burn the sauce.
How Long to Broil Ribs After Instant Pot
Brush rack of ribs with the sauce of choice. Place the ribs about 4 to 5 inches under the broiler for 3 minutes per side to carmelize the BBQ Sauce. Watch the ribs during this step because it happens quickly and you do not want to burn the sauce.
How to Reheat Ribs
I wanted to update this post with a newfound technique for reheating food. I find that the air fryer is one of the best ways to reheat food. Definitely quicker than an oven and the results are fantastic. Preheating of the air fryer is not necessary.
Air Fryer Method (Recommended)
Set Air Fryer Temperature to 350 Degrees Fahrenheit
Place Ribs in air fryer leaving space in between ribs for air circulation
Cook 5-7 Minutes until warm
How to Reheat Ribs in Oven
Wrap Ribs in Aluminum Foil
Preheat Oven to 350 Degrees Fahrenheit
Cook 15-20 Minutes until warm
What to Serve With Ribs?
Instant Pot Collard Greens
Air Fryer or Oven Roasted Brussel Sprouts
Air Fryer Frozen French Fries
Bacon Wrapped Asparagus
Jamaican Steamed Cabbage
Kitchen Essentials and Items Used
Alexia Smart Classics Frozen French Fries

Join Our Facebook Groups for More Recipes
If you would like a ton more recipes for your Instant Pot or your air fryer be sure to join our facebook group to share your creations and interact with others. These groups are filled with great recipes and tips. Members are always sharing tips, asking questions as well. Thanks for all your support.
Instant Pot Recipe Spot
Air Fryer Recipe Spot
Vegan and Vegetarian Plant Based Recipes
IF YOU MAKE THESE PLEASE COME BACK AND LEAVE A RATING AND COMMENT IT HELPS US ALOT.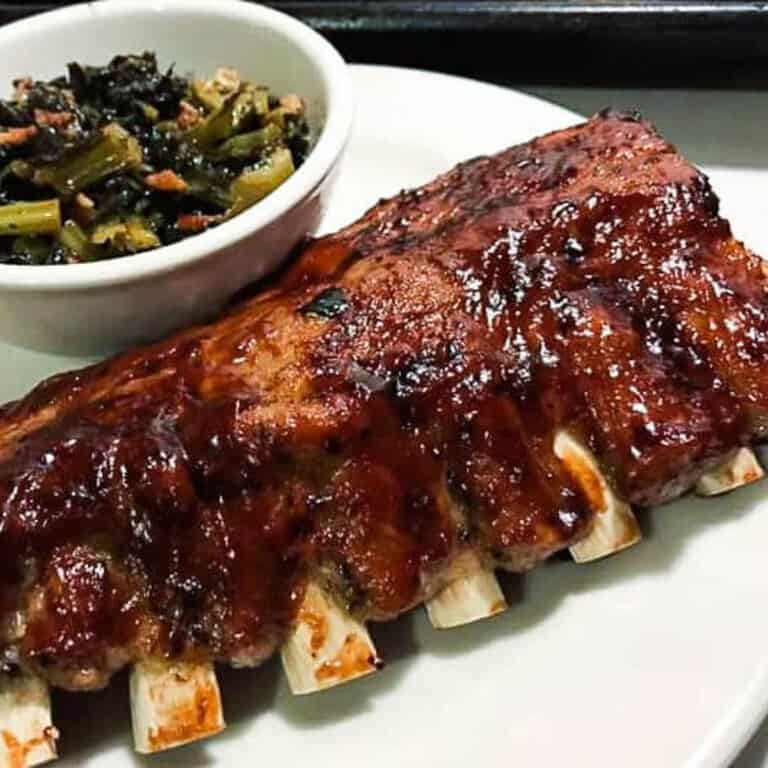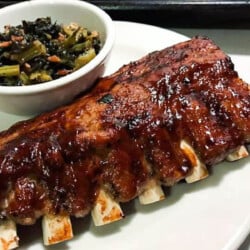 Instant Pot Baby Back Ribs
Fall off the bone ribs in LESS than an hour. The Instant Pot make some great Baby Back Ribs.
Print
Pin
Rate
Ingredients
1

Rack of Baby Back Ribs

1/2

tsp

Salt

1/2

tsp

Pepper

1/2

tsp

Garlic

1/2

Adobo Seasoning

optional

1/2

tsp

Paprika

1

Tablespoon

Liquid Smoke

1

Tablespoon

Apple Cider Vinegar

3/4

Cup

Water

1/2

BBQ Sauce of Choice
Instructions
Remove rear membrane from back of ribs. Then Coat Ribs in salt, pepper, garlic, adobo seasoning And Paprika.

Put trivet in instant pot. Add ribs to instant pot wrapping them around in a half circle around inner edge of instant pot. Then add liquid smoke, apple cider vinegar and water to Instant Pot pouring in making sure not to get on ribs so you don't remove any seasoning.

Put lid on Instant Pot and lock. Make sure your valve is set to sealing. Push the meet button on your Instant Pot and set timer to 25 minutes. While ribs are cooking heat up your broiler on high and place rack in middle rack position. When cooking time is complete leave Ribs in instant pot for 10 minutes and then do a quick release of pressure.

Place ribs on Sheet pan and coat with barbecue sauce. Place ribs under broiler for three minutes per side or until desired crispiness. I recommend no more than five minutes per side maximum.

Enjoy.
Nutrition
You Might Also Like These Recipes:
Airfryer Chicken Easy Crispy Low Fat and Healthy
Instant Pot Collard Greens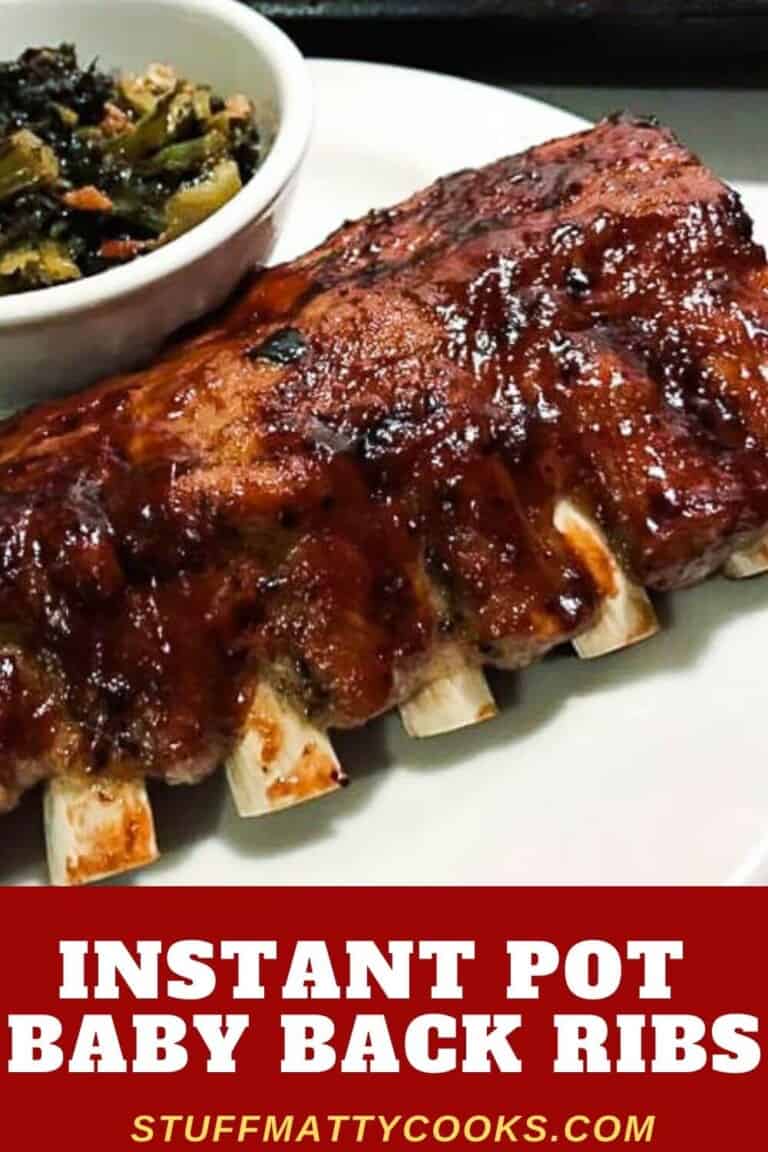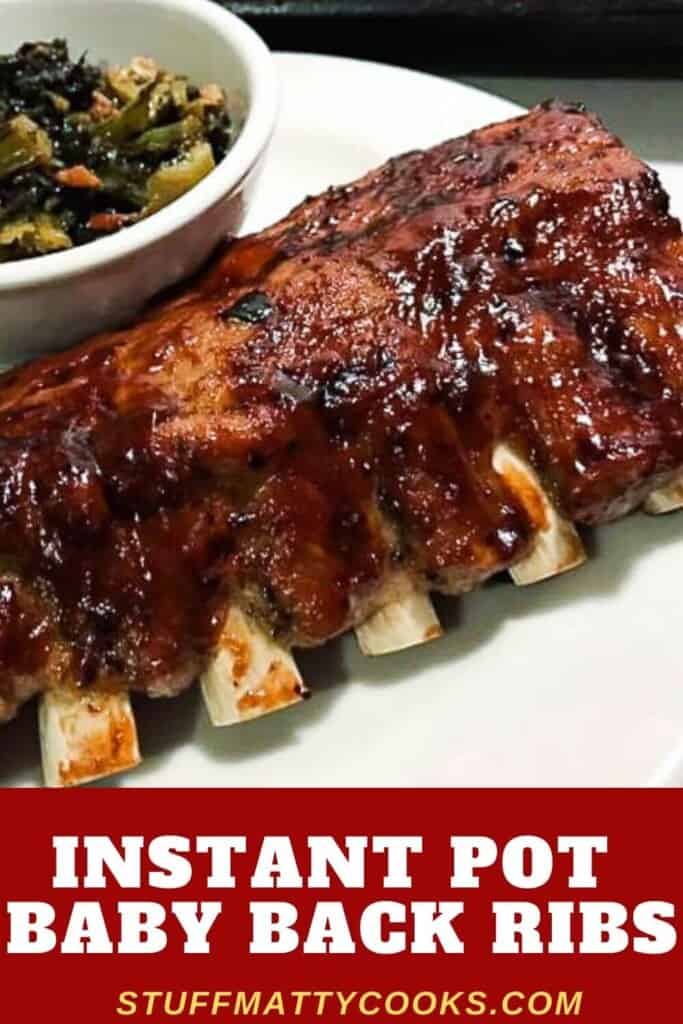 SaveSave
SaveSave
SaveSave
SaveSave
SaveSave
SaveSave
SaveSave
SaveSave
SaveSave
SaveSave
(Visited 65,552 times, 1 visits today)