Pressure Cooker Ribs are where it's at. Believe it or not the instant pot makes some of the best baby back ribs you ever had. Just coat them in a dry rub spice rub of your choice. Make sure that you do the broiling trick on a baking sheet in the oven after you smother these pork ribs with BBQ sauce. The caramelization at the end is important to perfect this sweet baby back ribs recipe. Instant Pot ribs make ribs tender but the flavor is dependent on the liquid and broiling at the end.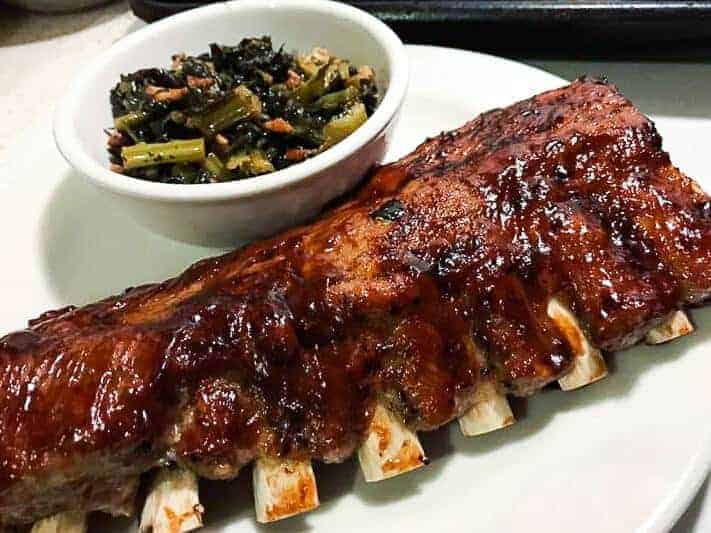 Easy Instant Pot Baby Back Ribs
This Instant Pot Baby Back Ribs Recipe. is not only fast but it is also and easy process to make baby back ribs in the pressure cooker. There is just a few simple steps pressure cooking ribs for you to come out with the best Instant Pot Ribs. Instant Pot Spare Ribs are also great if you prefer those over Baby Back Ribs. Not matter what you choose the ribs are cooked in a flash.
I still love my ribs that are cooked low and slow, but they would take HOURS in the smoker. I would have to wait ALL DAY to get a taste of that tender rib meat. That's all changed with these Instant Pot Baby Back Pork Ribs. Now I can have that tender, fall-off-the-bone goodness in just 25 minutes!
How do you prepare baby back ribs in the Instant Pot?
There is just a few easy steps to making these ribs. The first thing you want too do is peel off the membrane on the back of the ribs. The easiest way to do that is to take a knife and get the membrane peeled up a little bit at the edge. Then grab a paper towel and grab on to the membrane and peel it off.
The next step is seasoning up your ribs. Don't be shy here. Coat the ribs pretty liberally with salt, pepper, garlic powder, brown sugar, paprika or just your favorite store-bought rib rub.
How do you cook Baby Back Ribs?
Now it is time to cook your Baby Back Ribs. Put the trivet in your instant pot so that the ribs are not going to be sitting in liquid as they cook. Put a cup of water or broth into the bottom of the Instant Pot. You can also add some Apple Cider Vinegar and Liquid Smoke for flavor if you like. Basically there are no rules you can add any seasoning or liquid you like as long as you have about a cup of liquid.
Put the lid on the Instant Pot and fasten and turn the pressure valve on the Instant Pot to "SEAL". Now hit the "PRESSURE COOK" button on your pressure cooker and set for 25 minutes if you want them "FALL OFF THE BONE TENDER". If you like them with a bit more "tooth" set the timer to 22 minutes. When rib cooking is complete let the ribs stand in the pressure cooker for 10 minutes more before you release the pressure. Remove the ribs from the Instant Pot carefully. Brush the ribs with your favorite BBQ Sauce.
Broiling the Ribs in the oven at the end.
Place the ribs about 4 to 5 inches under the broiler for 2 to 3 minutes per side to carmelize the BBQ Sauce. Watch the ribs during this step because it happens quickly and you do not want to burn the sauce.
What Side Dishes to Serve with Baby Back Ribs?
You could always serve my Instant Pot Collard Greens with ribs. They are delicious.
IF YOU MAKE THESE PLEASE COME BACK AND LEAVE A RATING AND COMMENT IT HELPS US ALOT.
Instant Pot BBQ Ribs Recipe
Instant Pot Baby Back Ribs
Fall off the bone ribs in LESS than an hour. The Instant Pot make some great Baby Back Ribs.
Ingredients
1

Rack of Baby Back Ribs

1/2

tsp

Salt

1/2

tsp

Pepper

1/2

tsp

Garlic

1/2

Adobo Seasoning

optional

1/2

tsp

Paprika

1

Tablespoon

Liquid Smoke

1

Tablespoon

Apple Cider Vinegar

3/4

Cup

Water

1/2

BBQ Sauce of Choice
Instructions
Remove rear membrane from back of ribs. Then Coat Ribs in salt, pepper, garlic, adobo seasoning And Paprika.

Put trivet in instant pot. Add ribs to instant pot wrapping them around in a half circle around inner edge of instant pot. Then add liquid smoke, apple cider vinegar and water to Instant Pot pouring in making sure not to get on ribs so you don't remove any seasoning.

Put lid on Instant Pot and lock. Make sure your valve is set to sealing. Push the meet button on your Instant Pot and set timer to 25 minutes. While ribs are cooking heat up your broiler on high and place rack in middle rack position. When cooking time is complete leave Ribs in instant pot for 10 minutes and then do a quick release of pressure.

Place ribs on Sheet pan and coat with barbecue sauce. Place ribs under broiler for three minutes per side or until desired crispiness. I recommend no more than five minutes per side maximum.

Enjoy.
You Might Also Like These Recipes:
Airfryer Chicken Easy Crispy Low Fat and Healthy
Instant Pot Collard Greens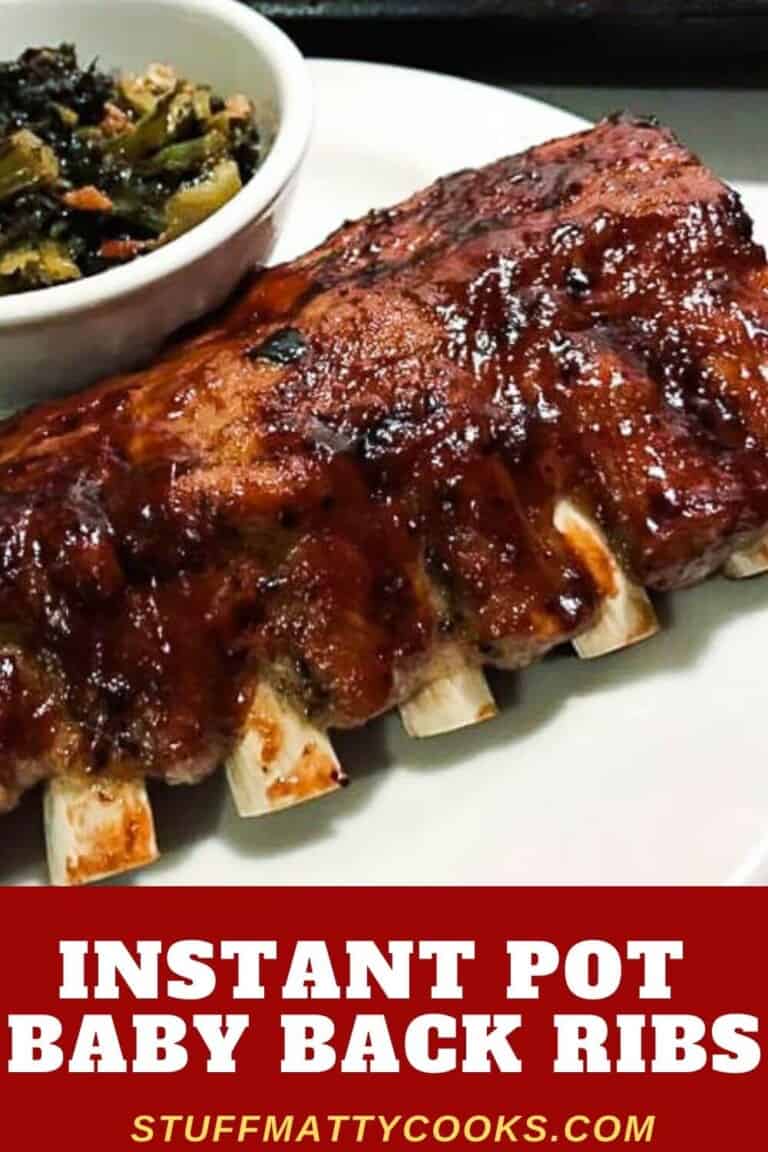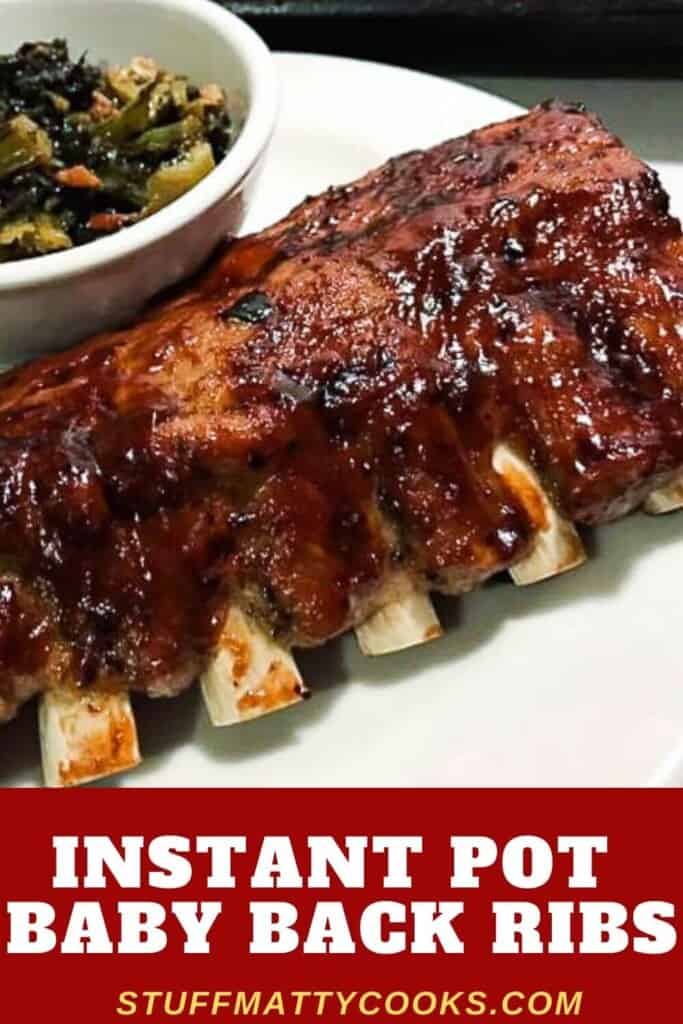 SaveSave
SaveSave
SaveSave
SaveSave
SaveSave
SaveSave
SaveSave
SaveSave
SaveSave
SaveSave
(Visited 32,603 times, 3 visits today)