Instant Pot Corned Beef and Cabbage is one of the best ways to cook Corned Beef. The Corned Beef in the pressure cooker comes out tender and delicious in a lot less cooking time than cooking corned beef on the stovetop. In just. 7 steps I am going to show you how to cook a delicious Corned Beef and this is going to become your favorite recipe for Corned Beef and Cabbage.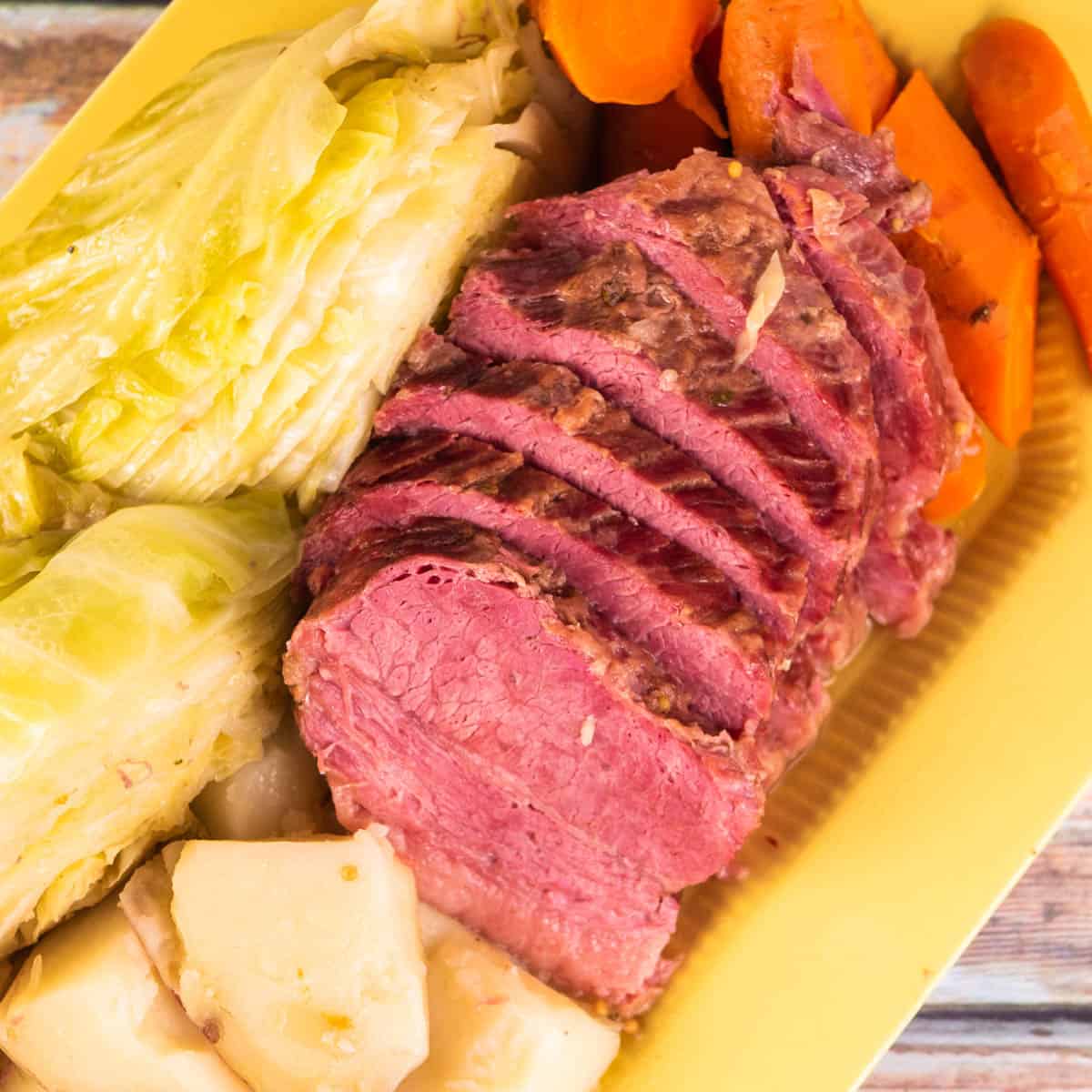 Instant Pot Corned Beef and Cabbage
This pressure cooker Corned Beef recipe will leave you with a big hunk of tender and juicy meat. The recipe also includes all of the vegetables like cabbage, carrots, and potatoes. When buying your Corned Beef buy the biggest piece you can find because it will shrink a lot when cooked. If you are like me you always want some leftovers for sandwiches or even corned beef hash.
Jump to: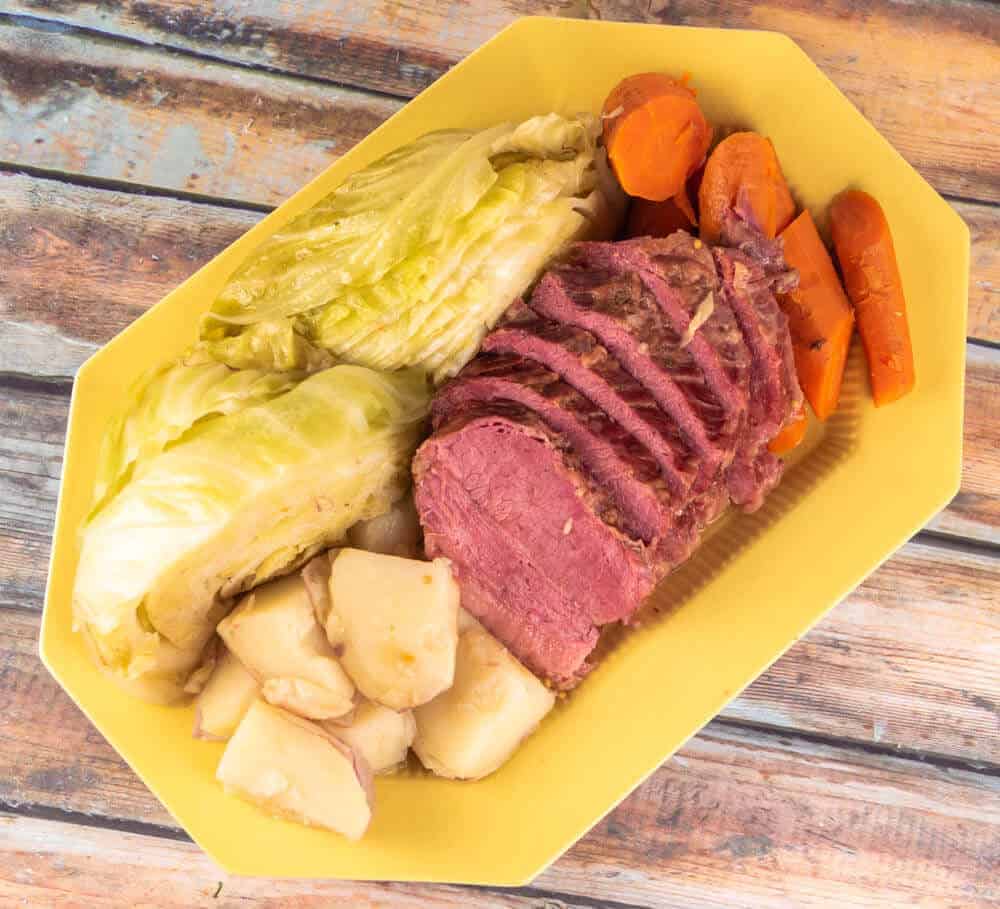 When cooking Corned Beef in the electric pressure coo it is a 2 step process. What I mean is we will be using the Instant Pot twice to complete this recipe. The first round we will be cooking the Corned Beef. When that cooking time is complete and we have waited for a Natural pressure release we will then use the pressure cooker a second time to cook the vegetables.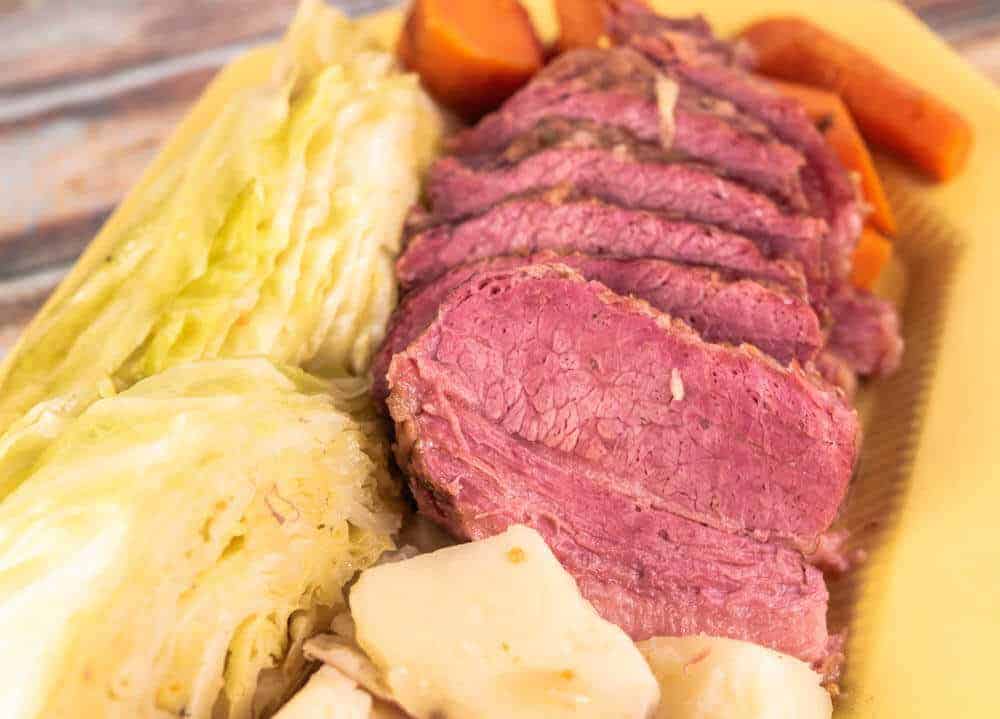 How to Cook Corned Beef in Instant Pot, Foodi Pressure Cooker
Let's get started on how to cook corned beef in Instant Pot. It is a simple process that I will explain step by step so you end up with a Corned Beef Brisket that is delicious. This recipe is easy and really just a few steps.
Ingredients in Instant Pot Corned Beef and Cabbage
Corned Beef (3 to 4 Pounds) Get bigger if you can.
Cabbage (1 to 2 Pounds)
Beef Broth or Water
Garlic
Bay Leaf
Onions
Celery
Beer (Optional)
Carrots
Potatoes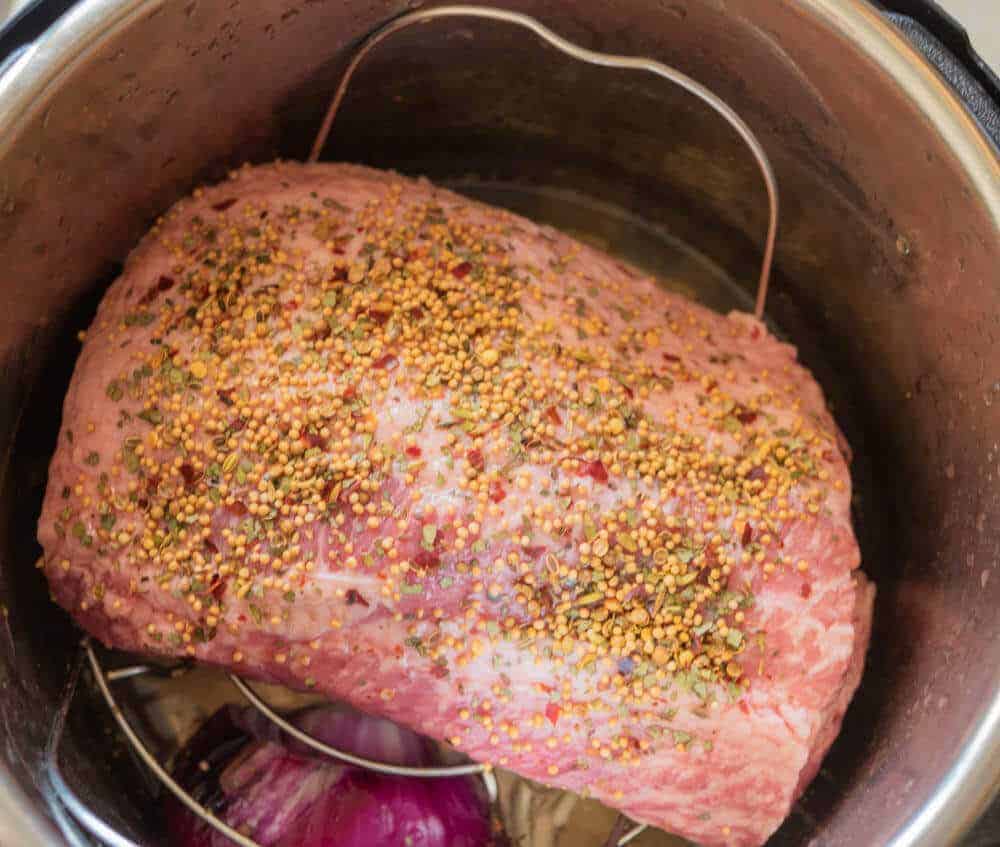 Step 1– The first step for cooking the Corned Beef is to remove it from the package and RINSE the corned beef to get off the liquid from the package. Don't forget to save the seasoning packet as we are going to be using that.
Step 2- I choose not to trim the Corned Beef. It is much easier to cut off the fat cap at the end when the brisket has been cooked. Place the broth or water in the bottom of the Instant Pot with Celery, Onions and Bay Leaf. Place the trivet on top of the vegetables and lay the Corned Beef on the trivet fat side up and season with the seasoning packet like the picture above.
Step 3- Place the lid on the Instant Pot and turn the Valve to the "SEAL" position. Press the "Pressure Cook" button and set the timer for 75 MInutes. This is the cooking time that I used for a 3 1/2 Pound Corned Beef. When cooking is complete let the pressure cooker do a natural release. Remove Corned Beef and trivet.
Instant Pot Corned Beef and Cabbage Cooking Times
75 Minutes cooking time is standard for Corned Beef of this size in the Instant Pot. It will leave you with a brisket that is tender yet still firm in texture. If you would like it even more tender cook the corned beef for 90 Minutes. I do not recommend cooking any longer than that.
Step 4- When cooking time and natural pressure release are complete remove Corned Beef from Instant Pot. Cover with foil or place in a 200 degree oven to keep warm. Remove and save the liquid in Instant Pot leaving about 1/12 to 2 Cups liquid for vegetables.
Step 5- Place Potatoes, Carrots and quartered Cabbage pieces in Instant Pot. Place lid on the pressure cooker and turn the vent to "Seal" position. Pressure cook vegetables on high pressure 3 to 4 Minutes. When cooking time is complete do a quick pressure release.
Step 6- Trim the fat cap from the Brisket. This is an easy process with a sharp knife. Just place the Corned Beef fat side up and carefully slice off the fat cap.
Step 7- Slice the Corned Beef is done by placing the brisket fat side down and slicing the Brisket ACROSS THE GRAIN to your desired thickness. Once you have sliced all the Corned Beef place it on a serving dish with the Cabbage and vegetables and spoon some of the reserved liquid over the cabbage, corned beef, potatoes, and carrots.
Other Recipes to Enjoy
Oven Roasted Tri Tip
Instant Pot Rare Deli Roast Beef
Instant Pot Chicken Adobo
Kitchen Essentials and Items Used in Recipe
Instant Pot Smart WiFi 8-in-1 Electric Pressure Cooker
Ninja OP301 Foodi 9-in-1 Pressure, Slow Cooker, Air Fryer
All Natural Reduce Sodium Beef Base 8oz.
Mercer Culinary M13914 Millennia Granton Edge Slicing Knife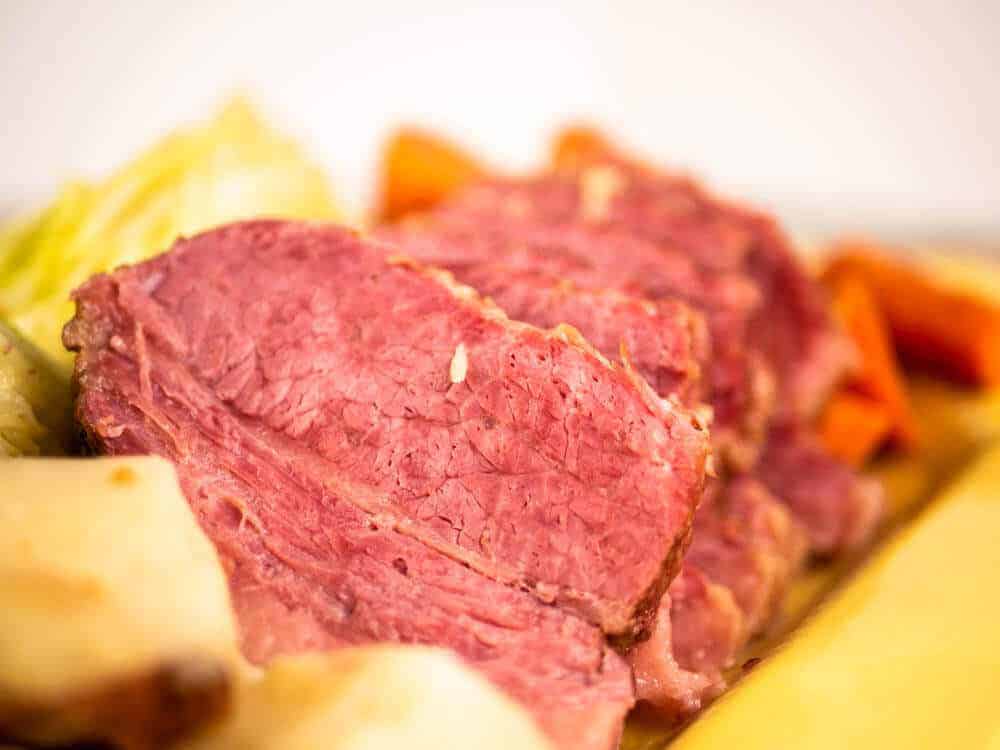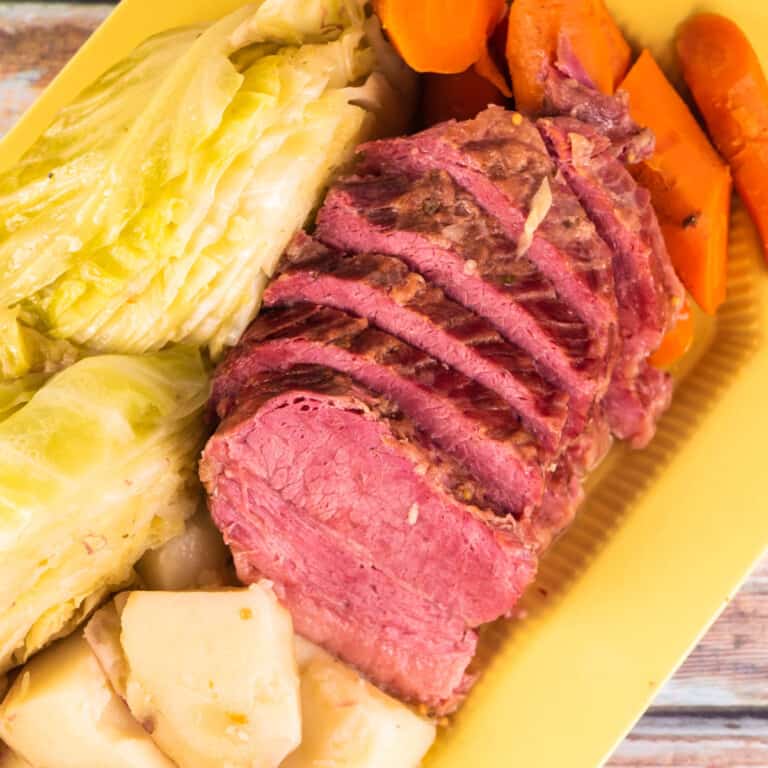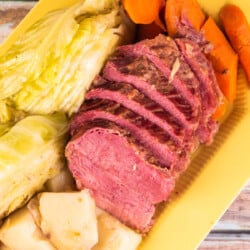 Instant Pot Corned Beef
Instant Pot Corned Beef and Cabbage is Tender and Juicy. Served with all the vegetables and trimmings.
Print
Pin
Rate
Ingredients
3 to 4

Pound

Corned Beef

1

Onion Cut in Quarters

2

Stalks Celery cut in Half

1

tsp.

Minced Garlic

2

Bay Leaves

2

Cups

Beef Broth

1

Head Green Cabbage Cut in Quarters

1

Pound

Baking Potatoes or Red Potatoes

4

Carrots Cut on Bias in 2 to 3-inch pieces
Instructions
Rinse corned beef well. Reserve seasoning packet.

Cut onion into quarters and put in the Instant Pot. Put bay leaves in the Instant Pot. Put the trivet in the Instant pot on top of onions. Put corned beef in instant pot fat side up. Pour beef broth over corned beef.

Add seasoning pack to the top of Corned Beef.

Put the lid on top of the Instant Pot and close valve

Pressure cook corned beef 75 minutes and do a Natural Pressure Release

If cooking a corned beef bigger than 3 pounds add 10 minutes of pressure cook time for every pound over 3 pounds.

Once pressure is released remove corned beef from the Instant pot.

Cut cabbage into six wedges and add to instant pot with carrots and potatoes. Put the lid back onto Instant Pot close valve and pressure cook vegetables for 3 minutes. When cooking time is complete do an instant pressure release.

Cut the fat off of the top of corned beef. Turn corned beef over so the fat side is down and slice the corned beef against the grain into 1/4 to 1/2 inch slices and serve.
Notes
If you would like a more TENDER corned beef pressure cook 90 Minutes.
Nutrition
(Visited 21,412 times, 1 visits today)