Rice pilaf in the Instant Pot is a tasty side dish for almost any meal. It's fluffy and has a great texture. This rice pilaf recipe has turned into one of my favorite comfort food recipes. I just love rice done in the pressure cooker.
If you are a fan of regular rice in the pressure cooker then you will absolutely love this Instant Pot Rice Pilaf recipe. The best part about it is it so easy and delicious. Everybody loves side dishes that are simple to make.
It also does not matter what kind of pressure cooker you have. It does not have to be an IP. This works in a Ninja Foodi, Cusinart or whatever brand. This is pressure cooker rice pilaf and it is not a brand of cooker specific.
Once you start making this recipe regular white rice is going to take a backseat to this most of the time. Every grain infused with buttery chicken flavor.
The orzo rice sized pasta makes it even better. Toast it all in butter and boom it's well…I was going to say flavor town but that's somebody else's line. I'm just gonna say this rice is FANTASTIC!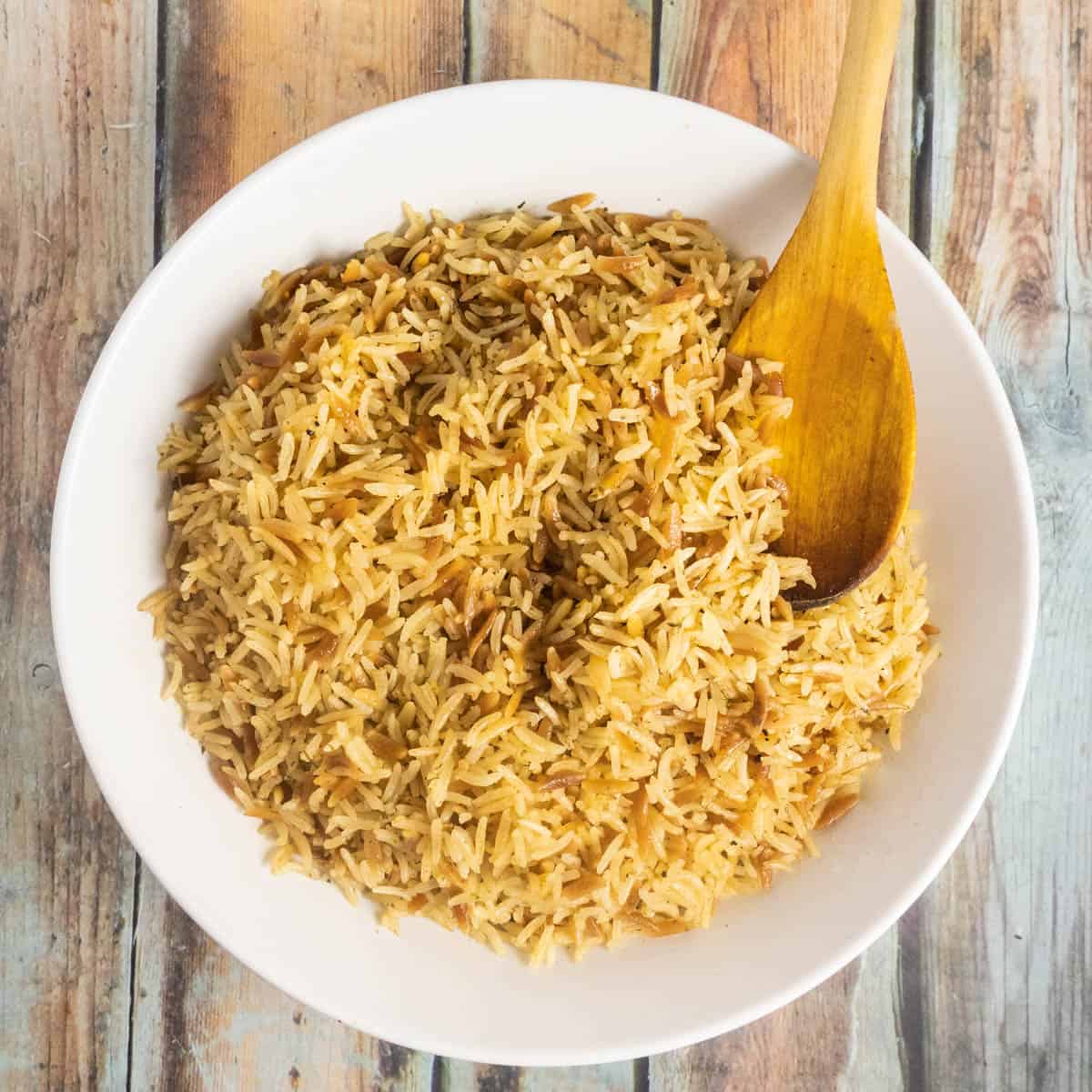 What is Rice Pilaf?
I did a little searching around the Internet because I was curious what the actual definition of "Pilaf" was. I came across a couple of things. Some definitions say Pilaf is a dish of rice and meat.
This inspired by my Balsamic Brussel Sprouts, and pairs well with this Oven Roasted Tri Tip. I am always trying to come up with new side dishes that complement each other.
Jump to:
Ingredients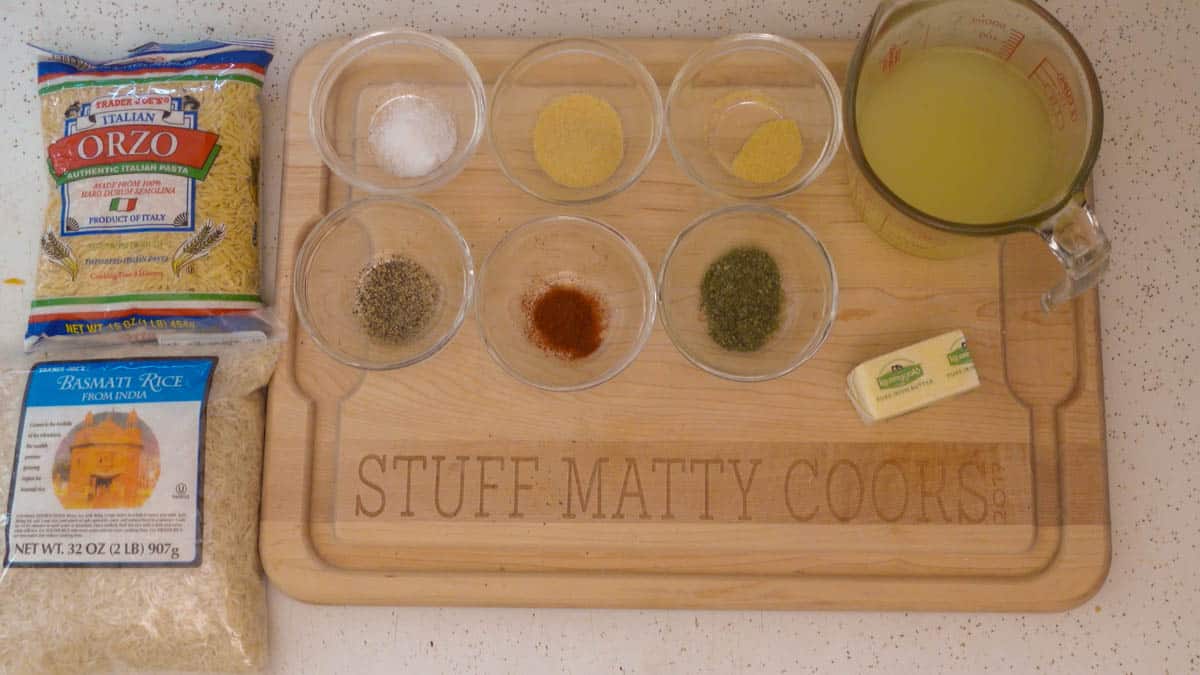 White Rice ( I used Basmati Rice. Use Long Grain Rice)
Orzo
Chicken Broth
Salt
Black Pepper
Garlic Powder
Onion Powder
Smoked Paprika
Fresh or Dried Parsley
Jump to recipe card for quantities.
Instructions
I am going to walk you through how to cook Rice Pilaf in the Instant Pot. I am including process photos of each step to make this really simple. There is also a video on how to make this dish. This is actually easier than using a rice cooker.
Step 1 – Melt the butter in the Instant Pot. I used 1/4 cup of butter for this recipe. Oil is ok. Although, "Everything is better with butter." Make sure that the bottom of the liner is cover well.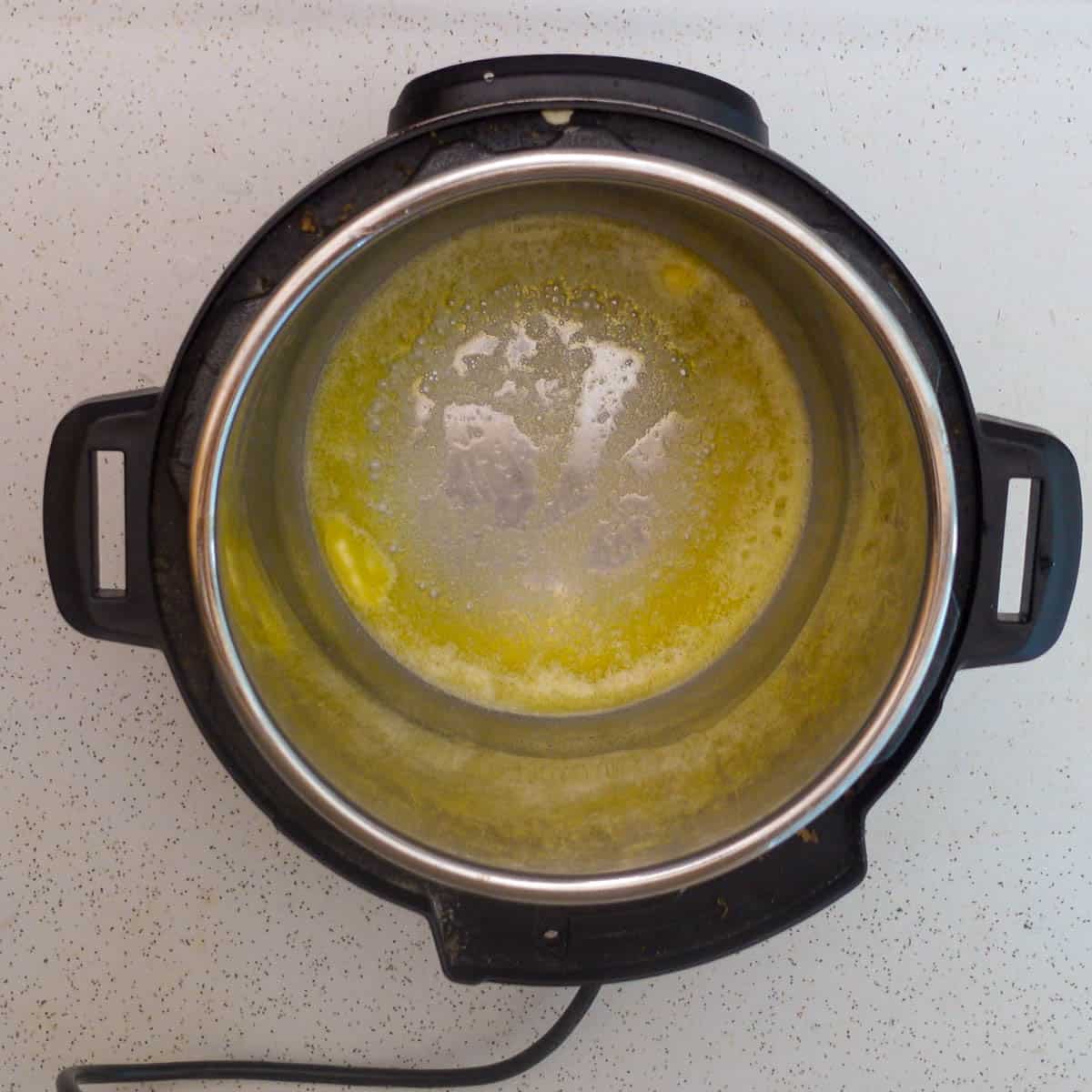 How to Cook Rice Pilaf in Instant Pot
Step 2 – Toast the Orzo in the butter. The object is to toast the orzo to a light golden brown. This gives the dish a great flavor and also a great color. Add the Orzo to the foaming butter and toast in the butter for 3-4 minutes or until the Orzo is a light golden brown.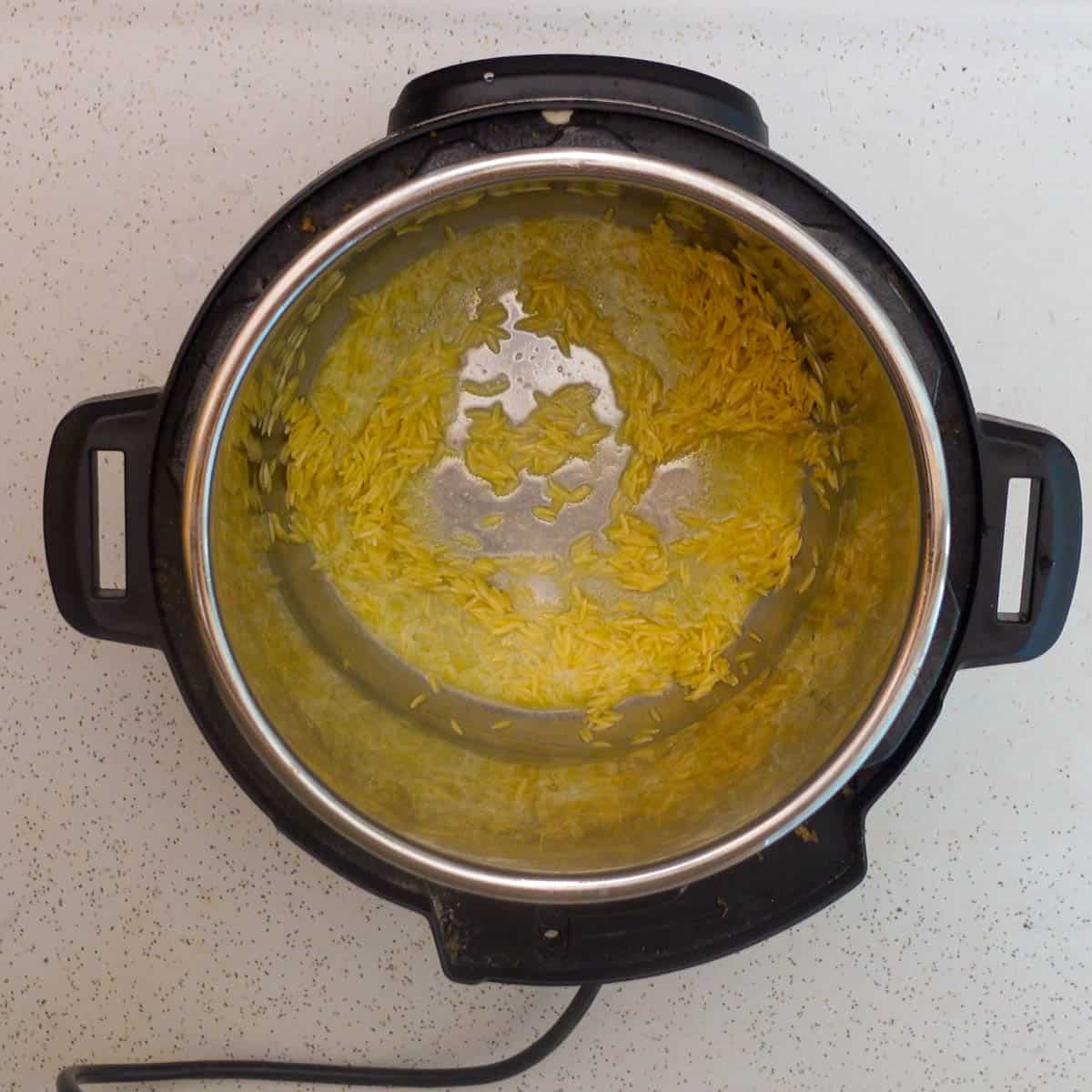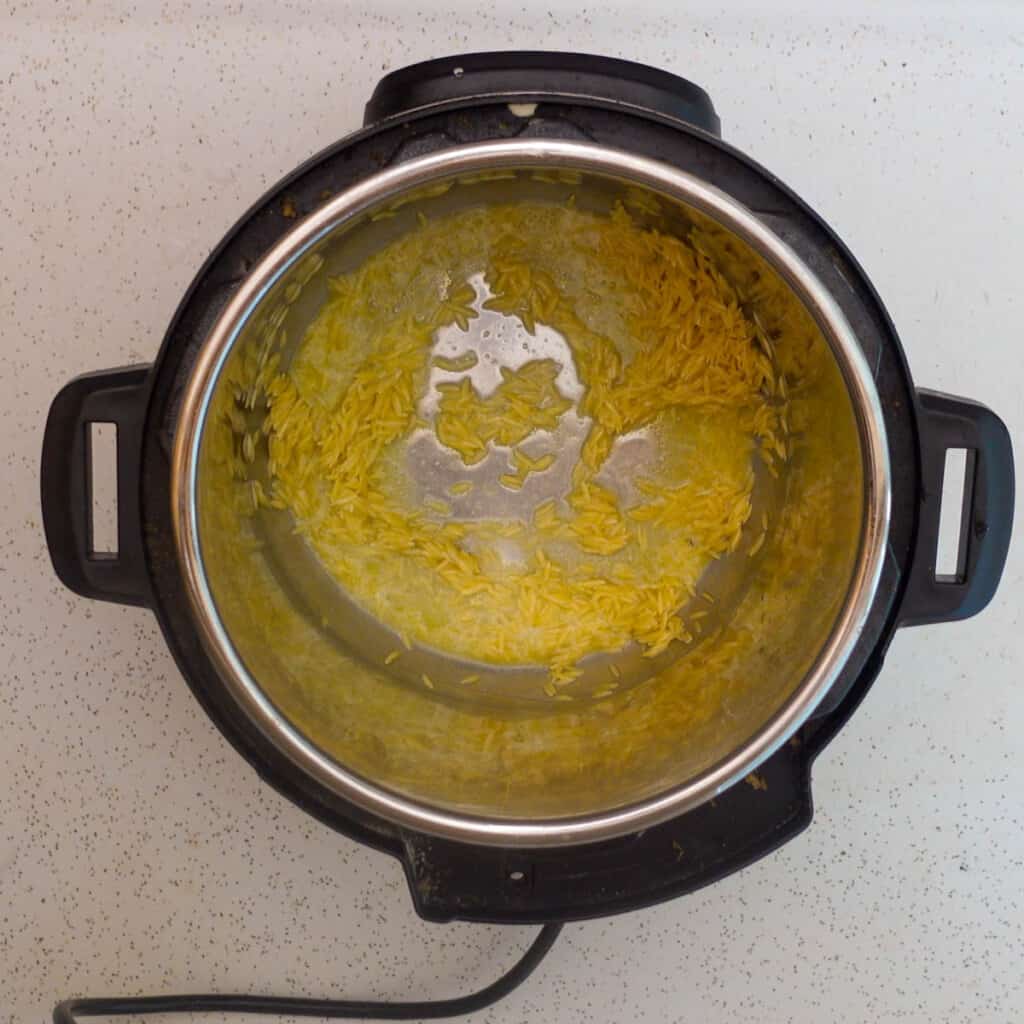 Step 3 – Add the Rice when the Orzo is nice and lightly golden brown. I used Basmati Rice because that was what I had available. Rinse the rice if preferred. Although it is not necessary.
Long grain white rice is what I used in this recipe. Toast the rice for a minute or two. The rice actually should get a bit brighter white in color.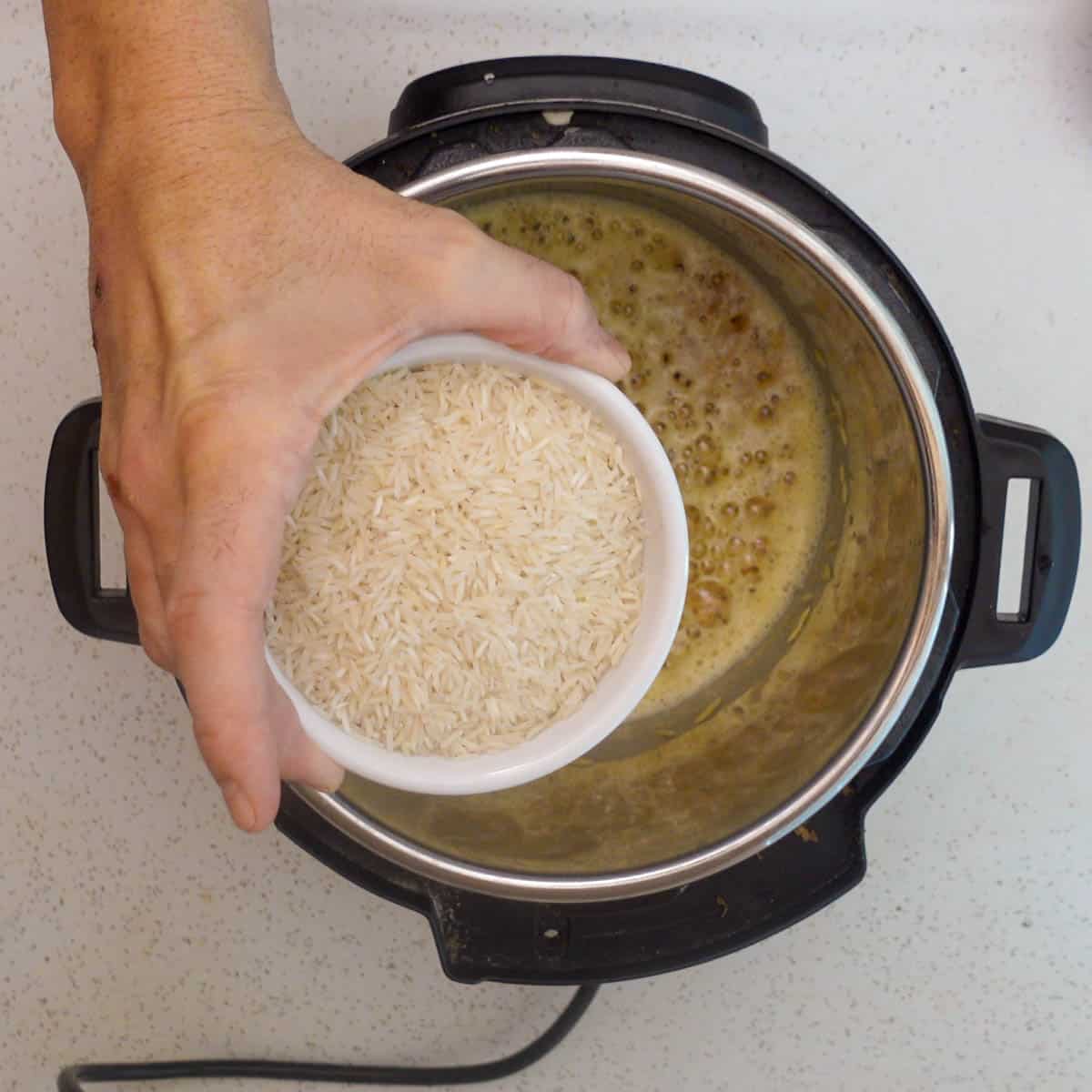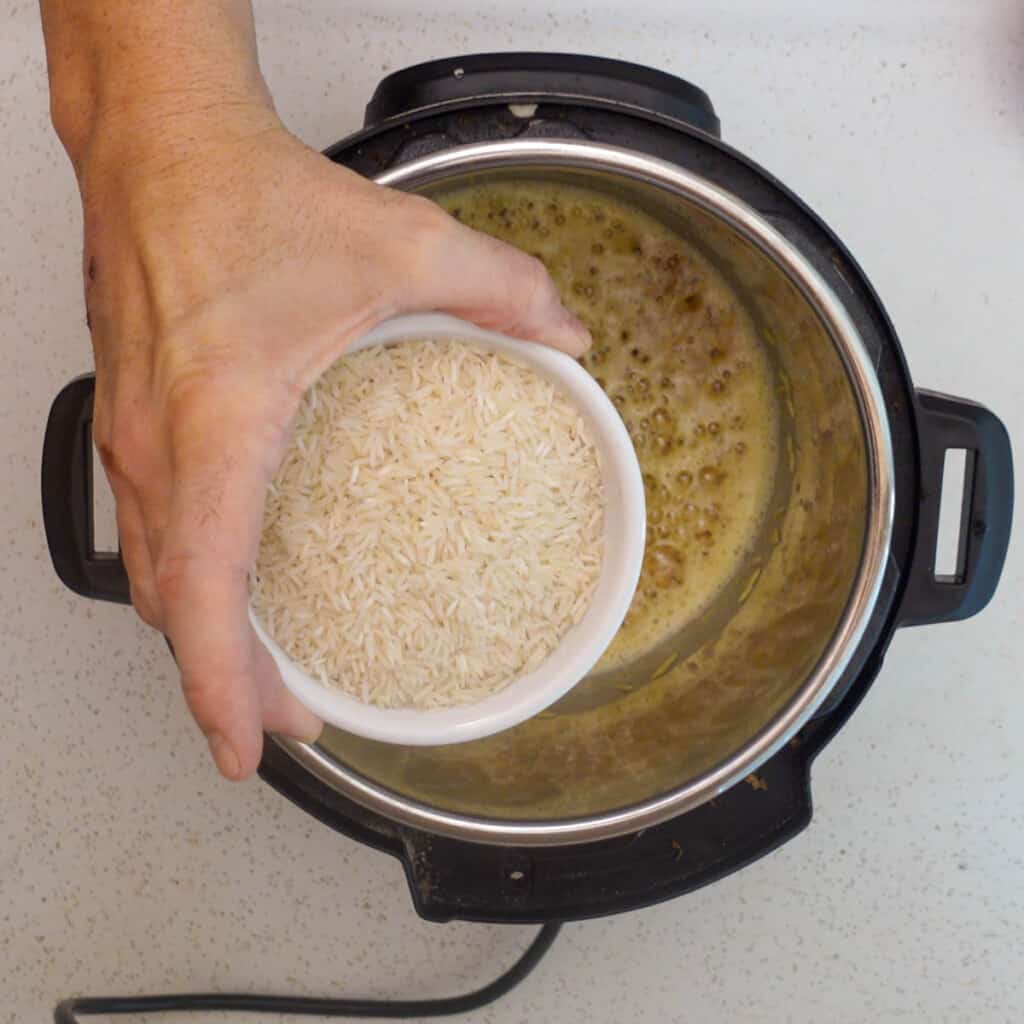 Step 4 – Add Chicken Stock or vegetable broth once the Rice and Orzo have toasted. I used Better than Bullion Organic Chicken Base for the broth. Stir to mix.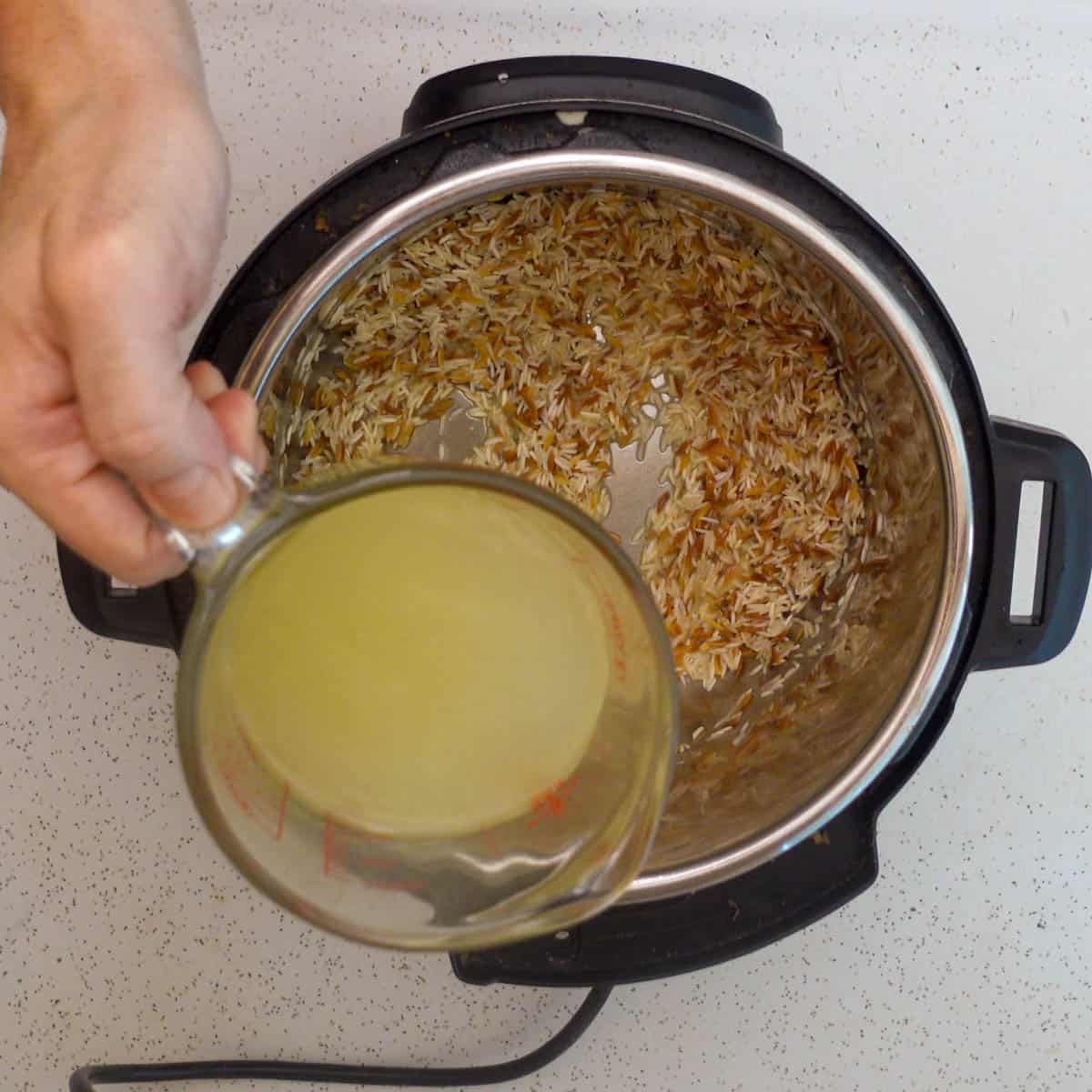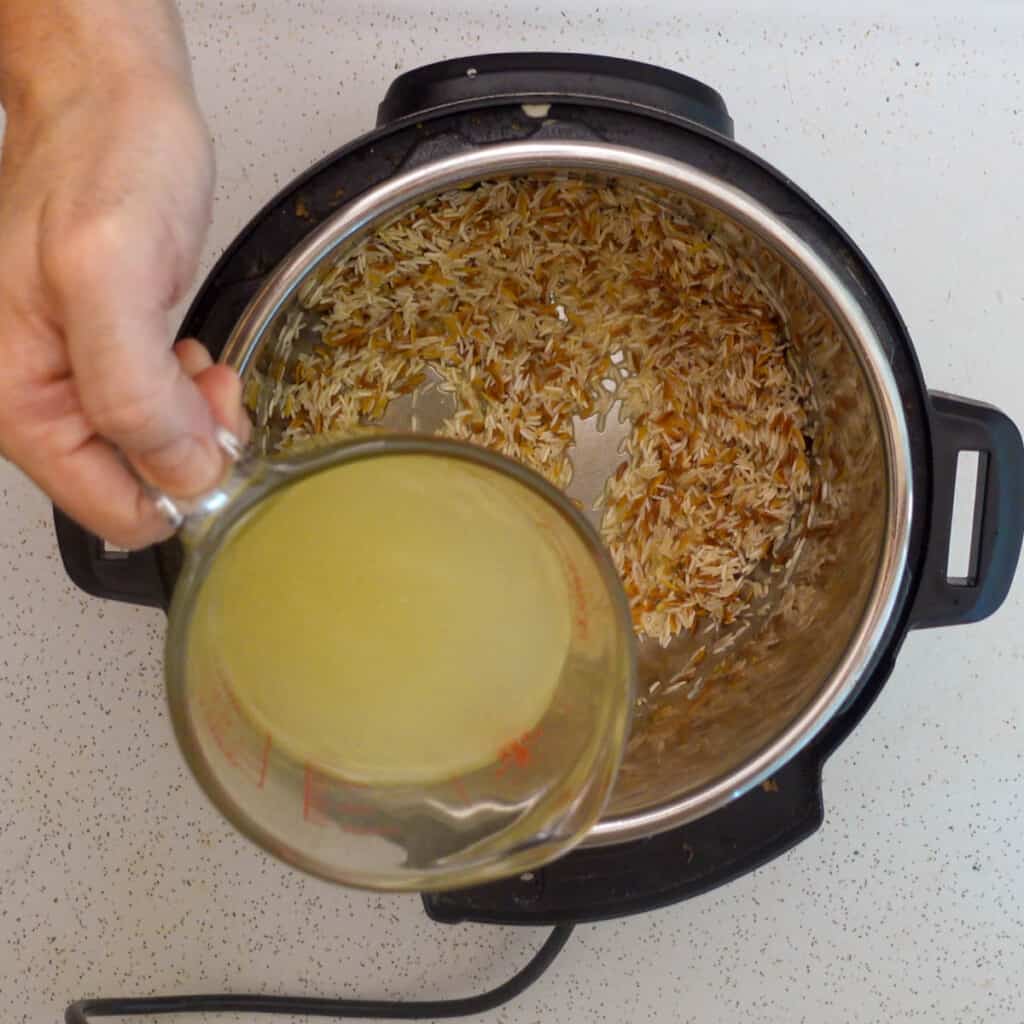 Step 5 – Add the Spices to the broth. This includes Salt, Pepper, Garlic Powder, Onion Powder, and Smoked Paprika. Hold off on the Parsley to stir into the Rice AFTER cooking.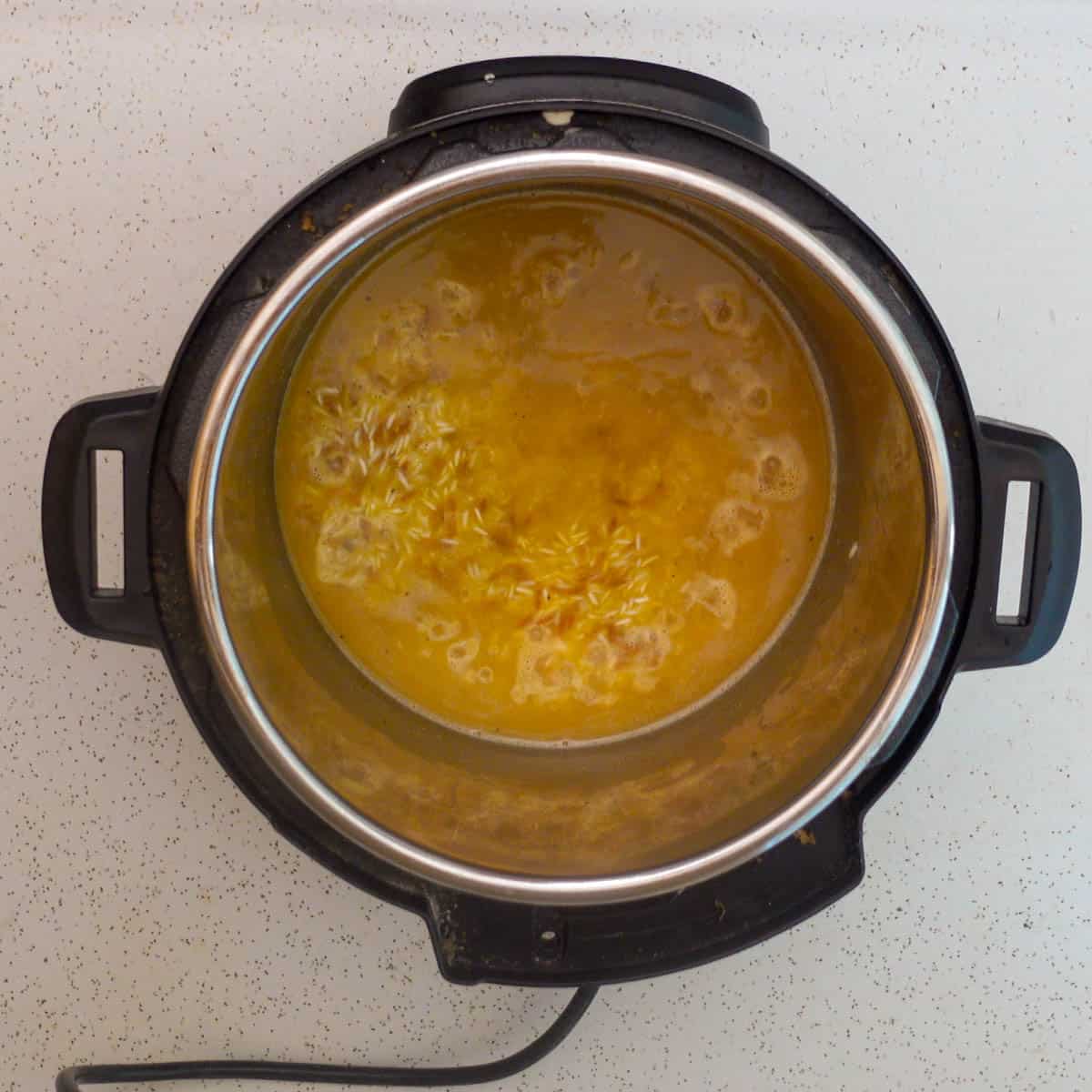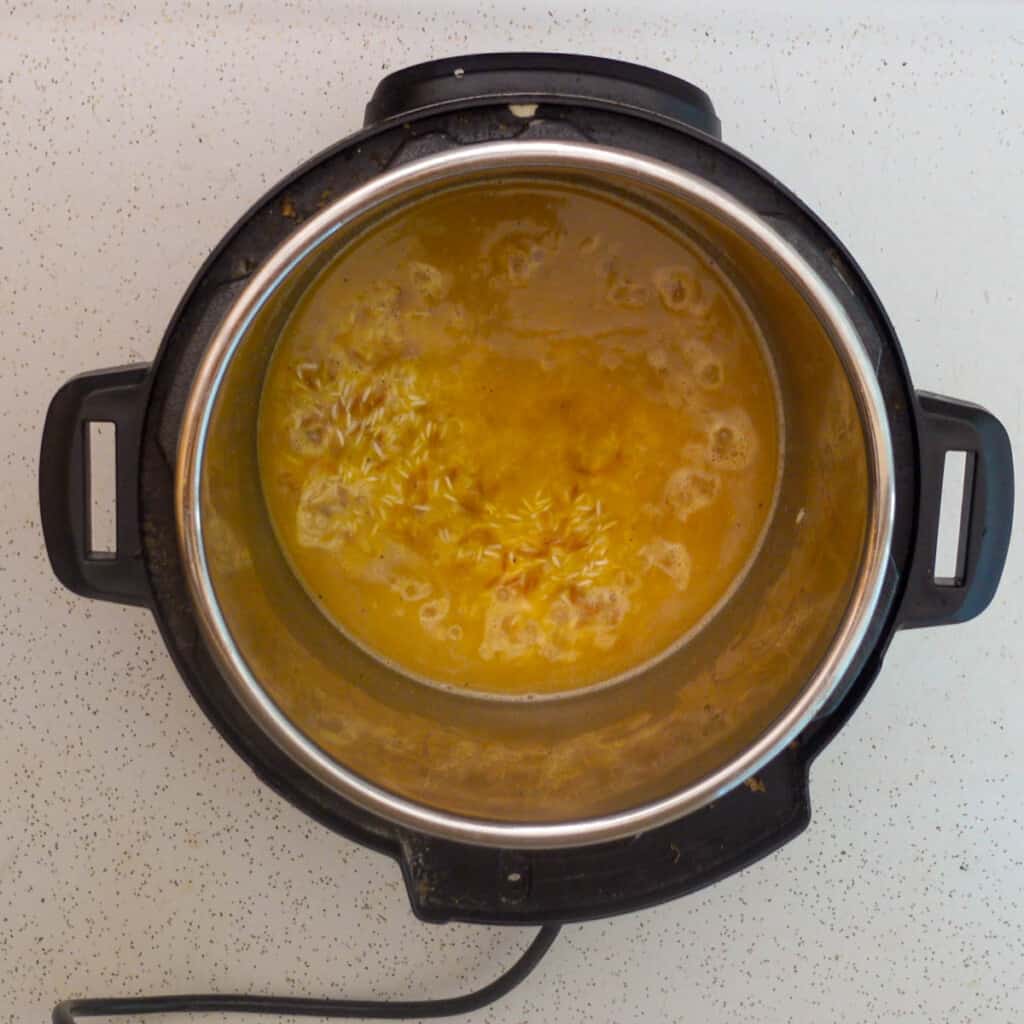 How Long to Cook Rice Pilaf in Instant Pot
Step 6 – Pressure Cook the Rice. Place the lid on the pressure cooker and lock it in place. Turn the valve to the SEAL position. Pressure cook the rice on HIGH PRESSURE for a cooking time of 3 minutes.
Once the cooking time is complete DO NOT do a quick release. Let the rice finish cooking and wait for the pressure to release naturally.
This can take up to 30 minutes or so. Another thing I do is TURN OFF the KEEP WARM function. I find this makes the pressure release a bit quicker.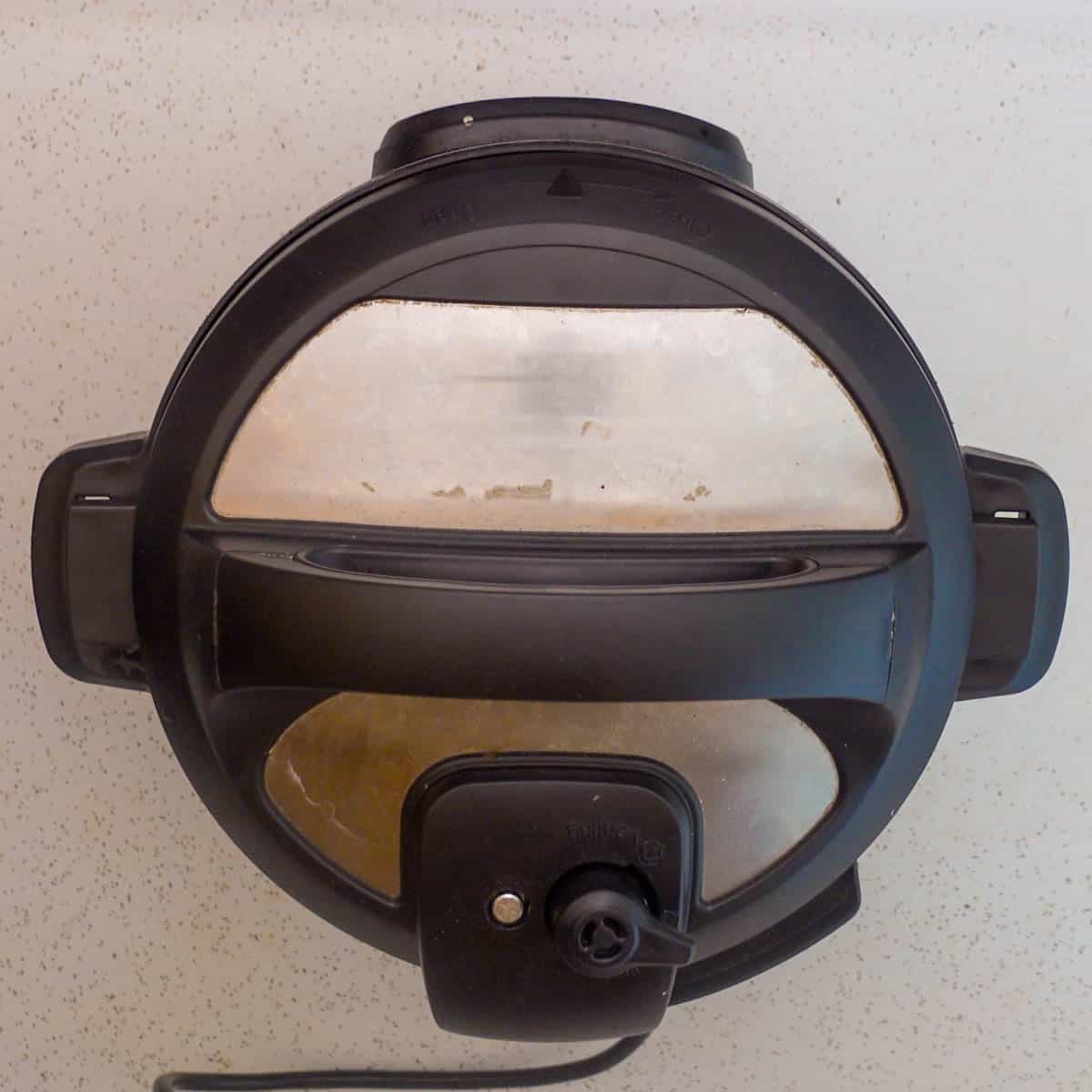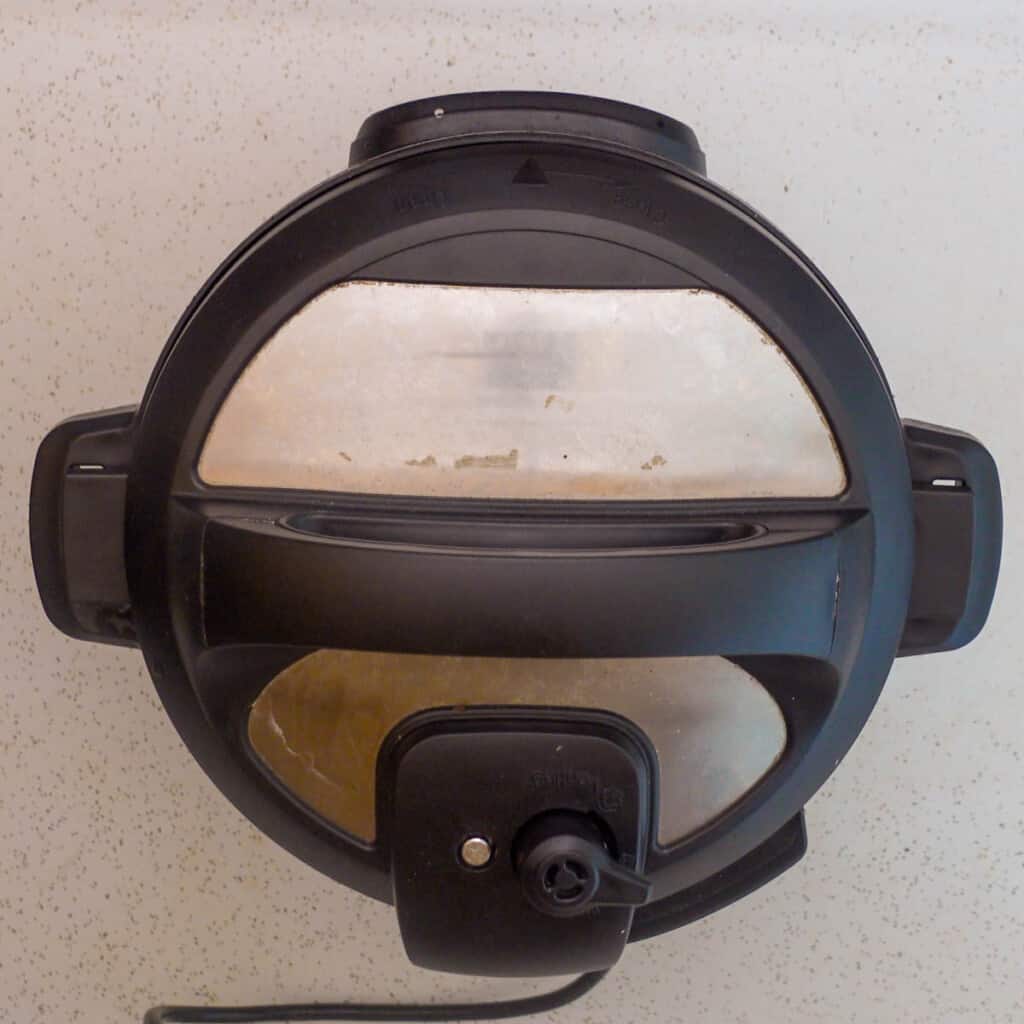 Step 7 – Add in the Parsley once the pressure has released. Turn the valve to the OPEN postion and remove the lid of the pressure cooker.
Fluff the Rice a bit and stir in the Parsley to the rice. Fresh or dried Parsley can be used. For dried parsley use a teaspoon of Parsley. If using fresh Parsley add about a Tablespoon finely chopped.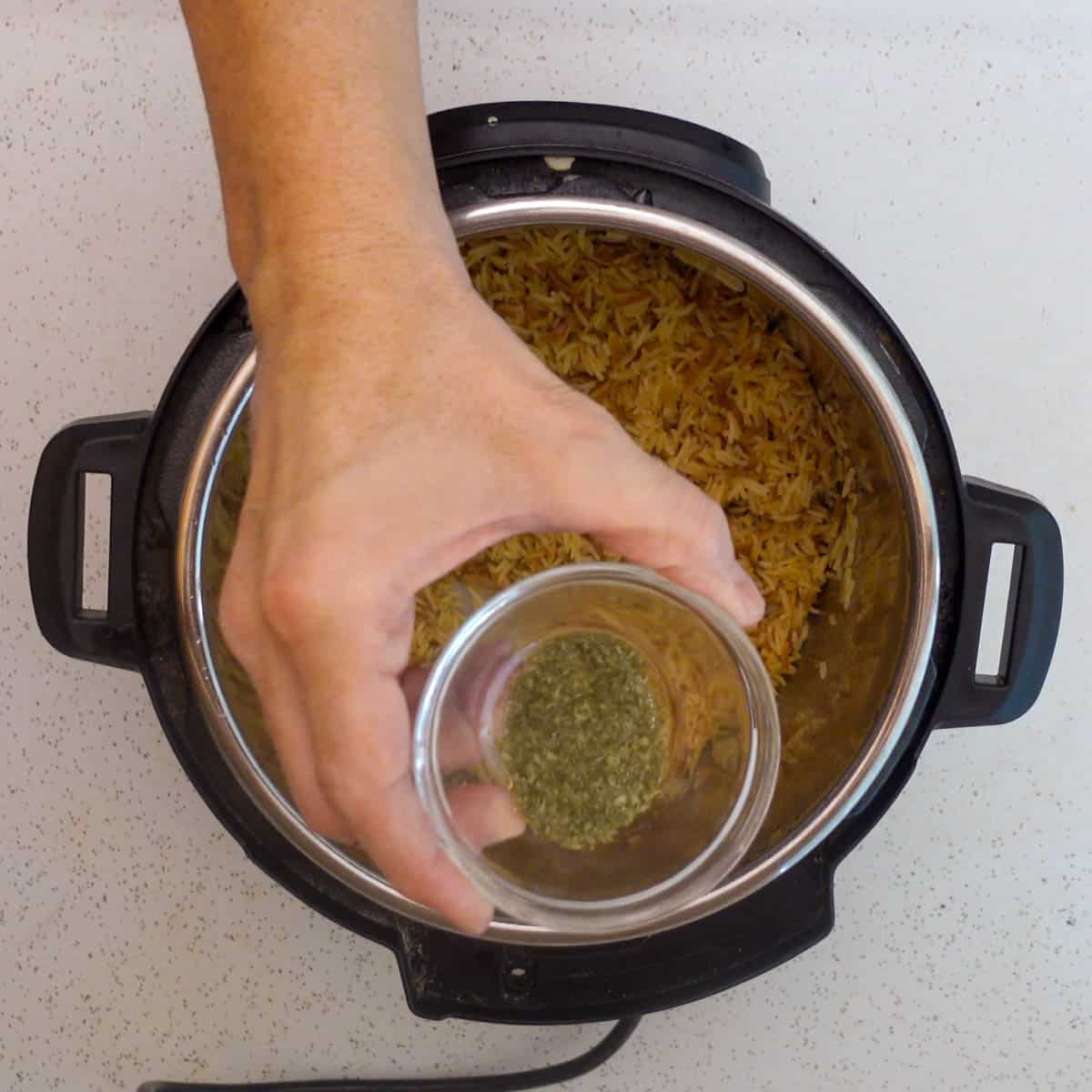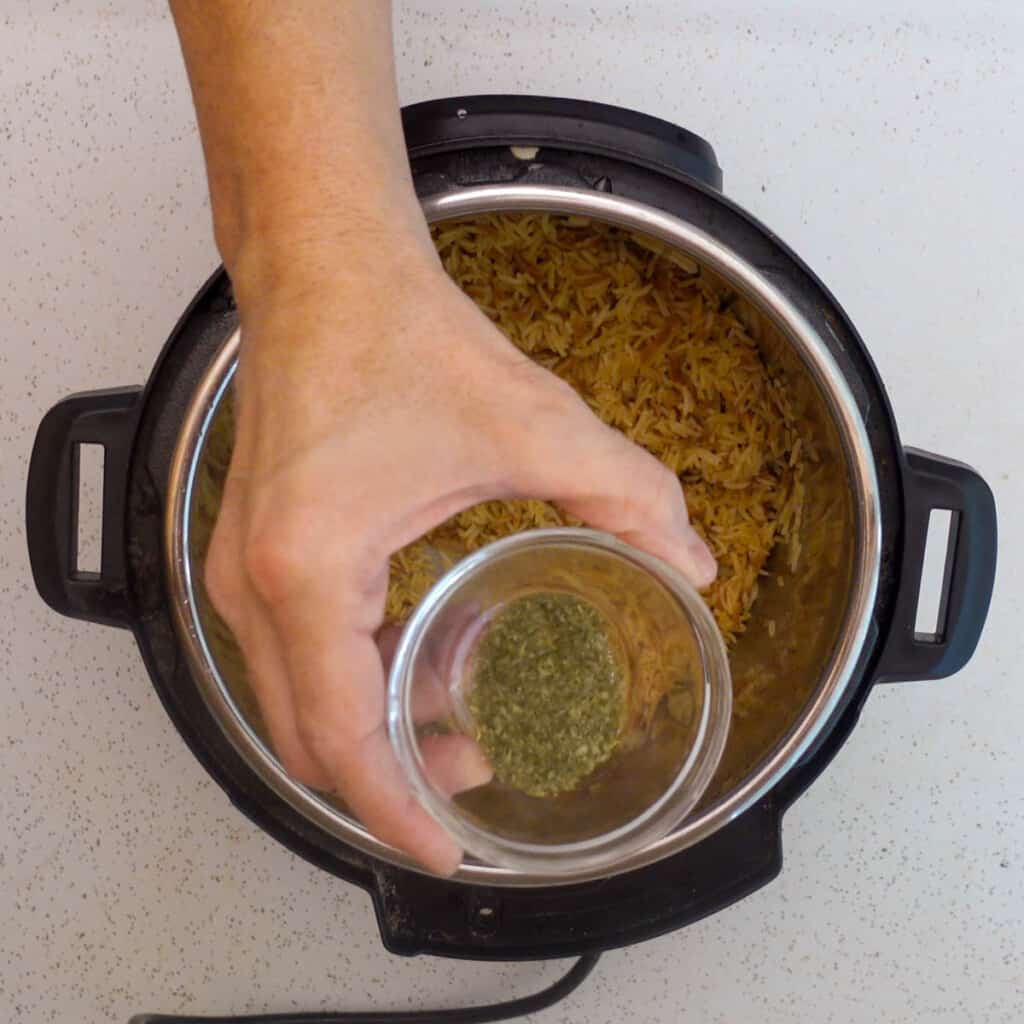 Hint:I use Kerrygold Grassfed Butter in this recipe. I find it makes a difference in the recipe's flavor (affiliate link). Grassfed butter is the healthier saturated fat.
How to Make Rice Pilaf on Stove Top
Heat a Tablespoon Oil or Butter (about 1/4 Cup over medium heat.
Add the orzo and sauté two minutes until it gets a bit of color. Stir in Rice and saute 2 minutes.
Add in the salt, black pepper, garlic powder,onion powder and smoked paprika.
Stir in 2 Cups Chicken Broth or Water. Stir to combine rice mixture broth and spices.
When mixture comes to a boil cover and simmer 14 minutes.
Remove from heat and let stand covered 6 minutes.
Fluff with fork and make sure all liquid is absorbed. Stir in dried parsley and enjoy.
Substitutions
Oil – Oil can be used in place of Butter. Somthing like Olive Oil or even Avocado Oil
Vermicelli Pasta– can be used in Place of Orzo Pasta. It is delicious as well.
Variations
Sauteed Mushrooms – add sauteed Mushrooms for mushroom rice pilaf and an added flavor and texture.
Onions – Add onions for an added flavor boost.
Diced Carrots – add diced carrots for added flavor and texture.
Toasted Almonds – add toasted almonds that are sliced or chopped.
Peas and or Carrots or Onions – add Peas and or chopped Carrots.
Brown Rice – This can be done with Brown Rice. Omit the Orzo and up the cooking time to 21 minutes with a 10 minute Natural Release. This recipe is Gluten Free if Orzo is omitted.
Equipment and Essentials
Below is what I used to create this recipe. I will link to these items. Yes, some of these are affiliate links but they are no cost to you.
Instant Pot Duo Plus 6 Quart 9-in-1 Electric Pressure Cooker
Whole Foods Market, Organic Orzo
365 by WFM, Rice Indian Basmati White Organic
Storage
Store Rice Pilaf in an airtight container in the refrigerator. Rice will be Good for 4-5 days.
Reheating
Rice Pilaf can be reheated in a saucepan on the stovetop over medium-low heat. Add a couple tablespoons of water and cover. It takes about 20-25 minutes to reheat.
Top tip
Toasting the Orzo and Rice is an important step. Saute orzo until lightly brown. Saute rice until bright white. The stovetop version takes about 20 minutes.
Instant Pot Recipes and More to Enjoy
Balsamic Parmesan Brussel Sprouts
Brown Basmati Rice Instant Pot
Jamaican Steamed Cabbage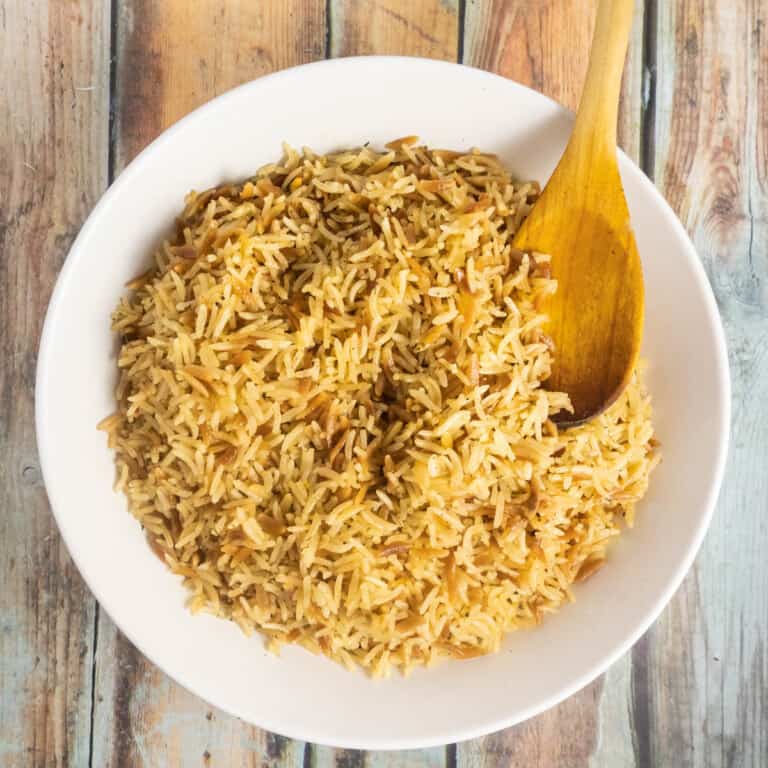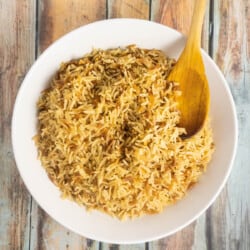 Rice Pilaf Instant Pot
Rice pilaf in the instant pot is a buttery taste the rice recipe that complements any meal. Fluffy and loaded with flavor.
Print
Pin
Rate
Ingredients
1/4

Cup

Butter

1/3

Cup

Orzo

1

Cup

White Rice

I used Basmati

2

Cups

Chicken Broth

I used Better than Bullion Organic Chicken Broth

1

tsp.

Garlic Powder

3/4

tsp.

Sea Salt

1/4

tsp.

Black Pepper

1/4

tsp.

Onion Powder

1/4

tsp.

Smoked Paprika

1

tsp.

Dried Parsley

If using fresh use 1 Tbsp.
Instructions
Step 1 – Melt the Butter – Add Butter and swirl to melt and spread evenly.

Step 2 – Brown the Orzo – When the butter begins to foam add the orzo. Saute until lightly brown. This usually takes 3 to 4 minutes.

Step 3 – Add Rice – After browning the Orzo add the rice and sauce about 1 minute. Rice will become a bit brighter white in color when done.

Step 4 – Add Chicken Broth – Stir in the Chicken Broth.

Step 5 – Add Spices – Add Salt, Pepper, Garlic Powder, Onion Powder and Smoked Paprika and stir to combine. Omit Parsley until the end.

Step 6 – Pressure Cook the Rice – Place lid on the Instant Pot and turn valve to the SEAL position. Pressure Cook HIGH Pressure 3 minutes. I also turn off the keep warm function. Allow pressure to natural release. This took close to 30 minutes. When pressure has released remove lid.

Step 7 – Add Parsley – Stir the parsley into the rice and let rice sit for a few minutes before serving.
Notes
If you do not have smoked paprika regular paprika is fine. Are used better than bullion organic chicken base to make the broth. Regular chicken broth is also fine.
Nutrition
Can You Double the Recipe?
I doubled the recipe do I have to double the cooking time? The answer is no you do not have to double the cooking time the cooking time stays the same. The pressure cooker will take a few minutes longer to pressurize since the ingredients are doubled. This usually takes 15 minutes give or take.
(Visited 39,790 times, 28 visits today)