Air Fryer Zucchini is a side dish that says it's summertime. It's crisp, healthy, and delicious. You only need a few ingredients from your pantry to make this tasty air fryer zucchini recipe. It's quick and easy to prepare.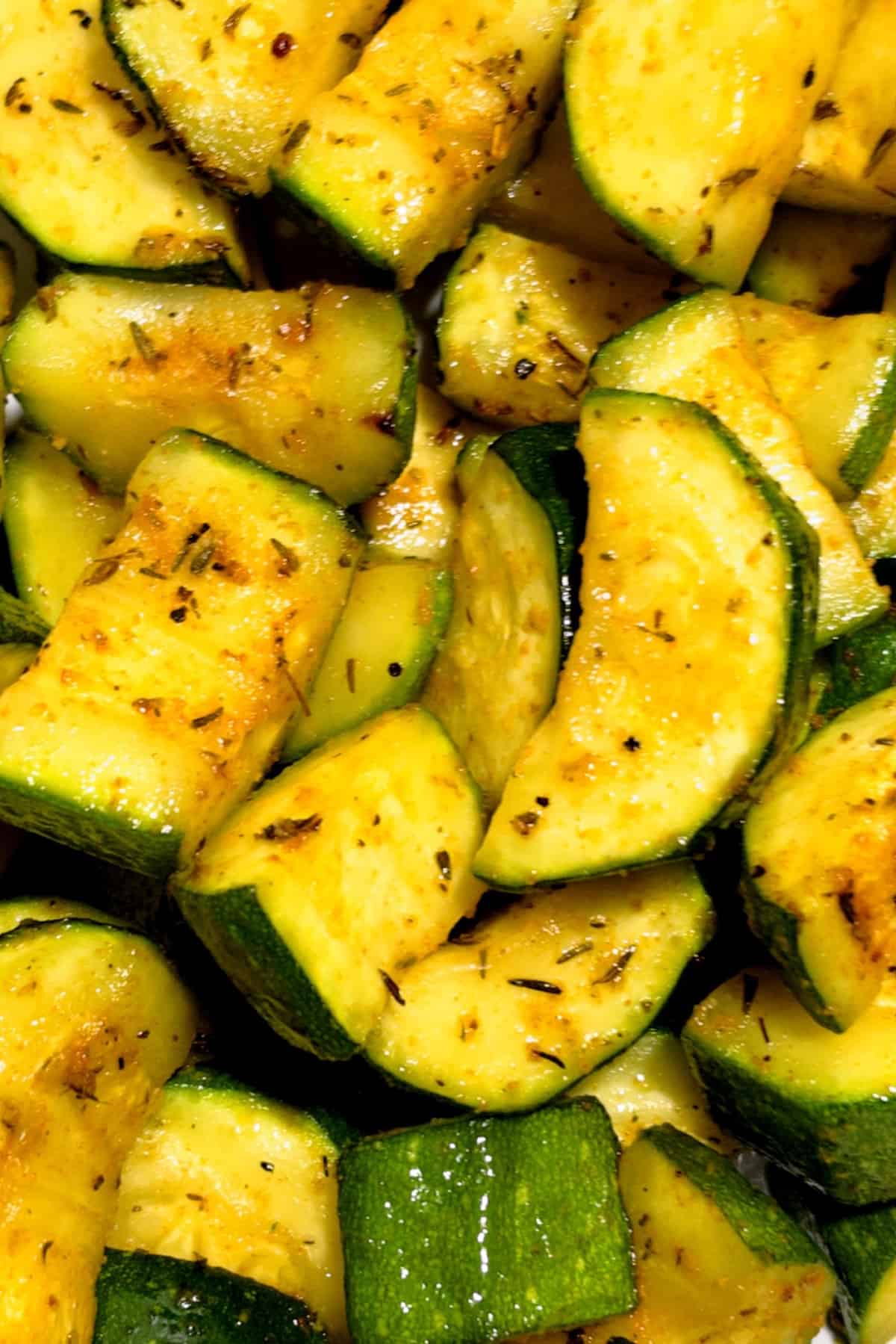 I absolutely love zucchini. I actually make zucchini in the air fryer all year long. I think it's very flexible. I can add different ingredients to change the taste and avoid getting tired of it.
Jump to:
Ingredients Needed
It takes just a handful of common ingredients to make air fryer zucchini. I usually have all these ingredients in my pantry, so I am assuming most of you do as well. You can swap any ingredients for what you prefer. For example this time I used olive oil sometimes I use avocado oil.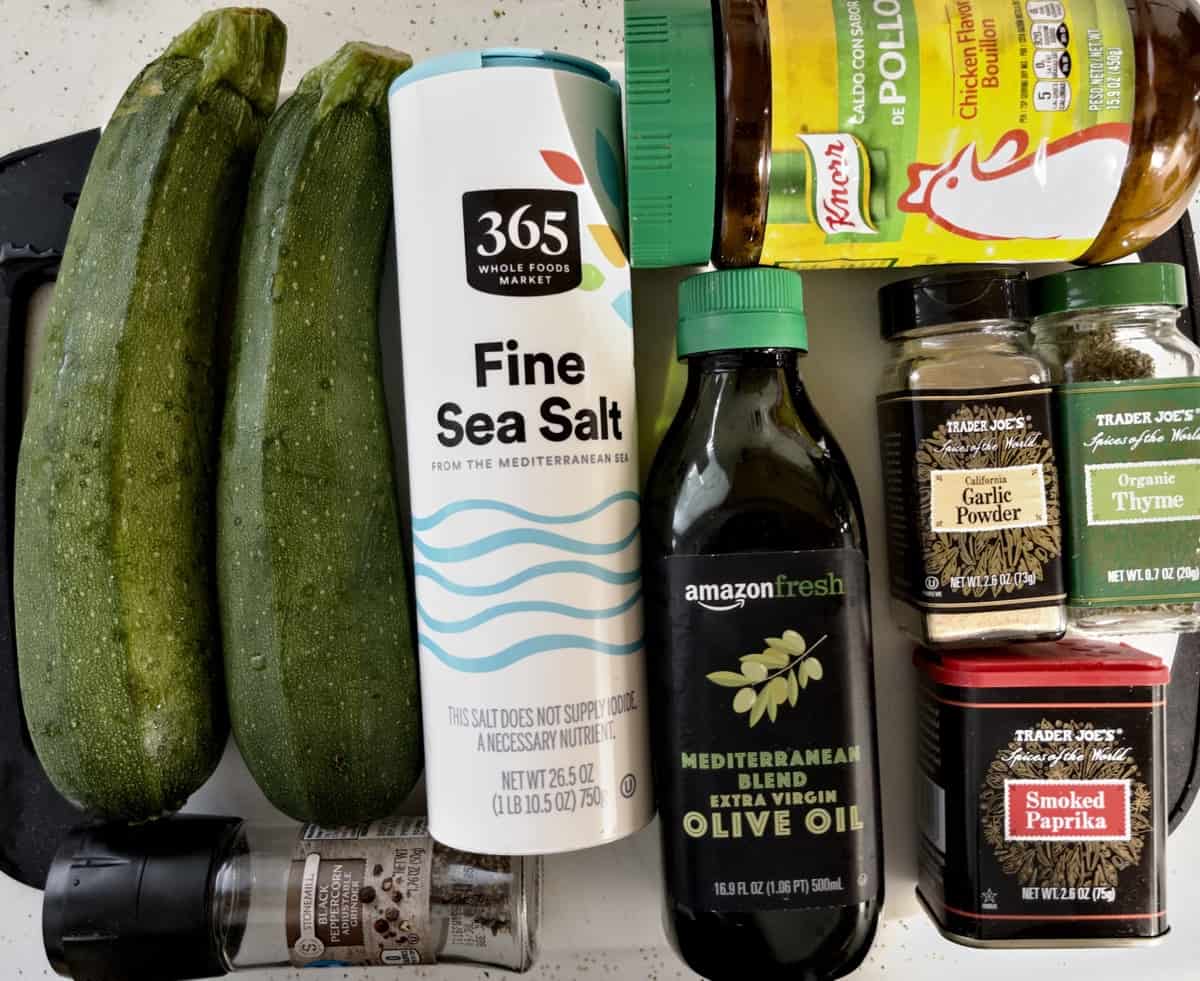 Medium Size Zucchini or other summer squash variety.
Olive Oil or Avocado Oil
Sea Salt
Black Pepper
Garlic Powder
Smoked Paprika
Dried Thyme
Chicken Bouillon Powder (Optional)
See recipe card for the quantities.
How to Cook Air Fryer Zucchini
I am going to show you exactly how to cook zucchini in the air fryer. It's really simple end. It takes just a few minutes to prepare. Gather all of your ingredients and lets get started.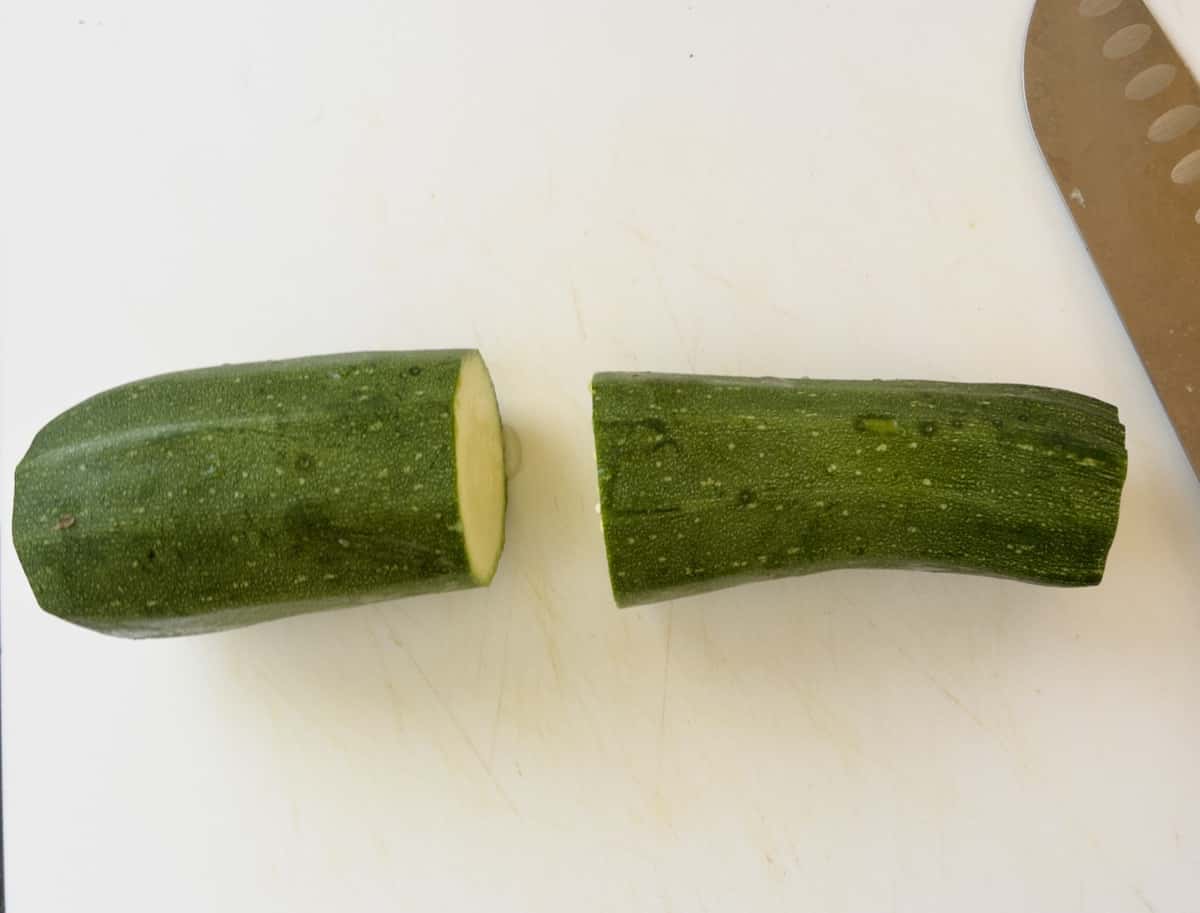 Cut zucchini in half and then cut each half in half again. If you want a different shape, that's fine. Just make sure all the zucchini slices are the same size so they cook evenly.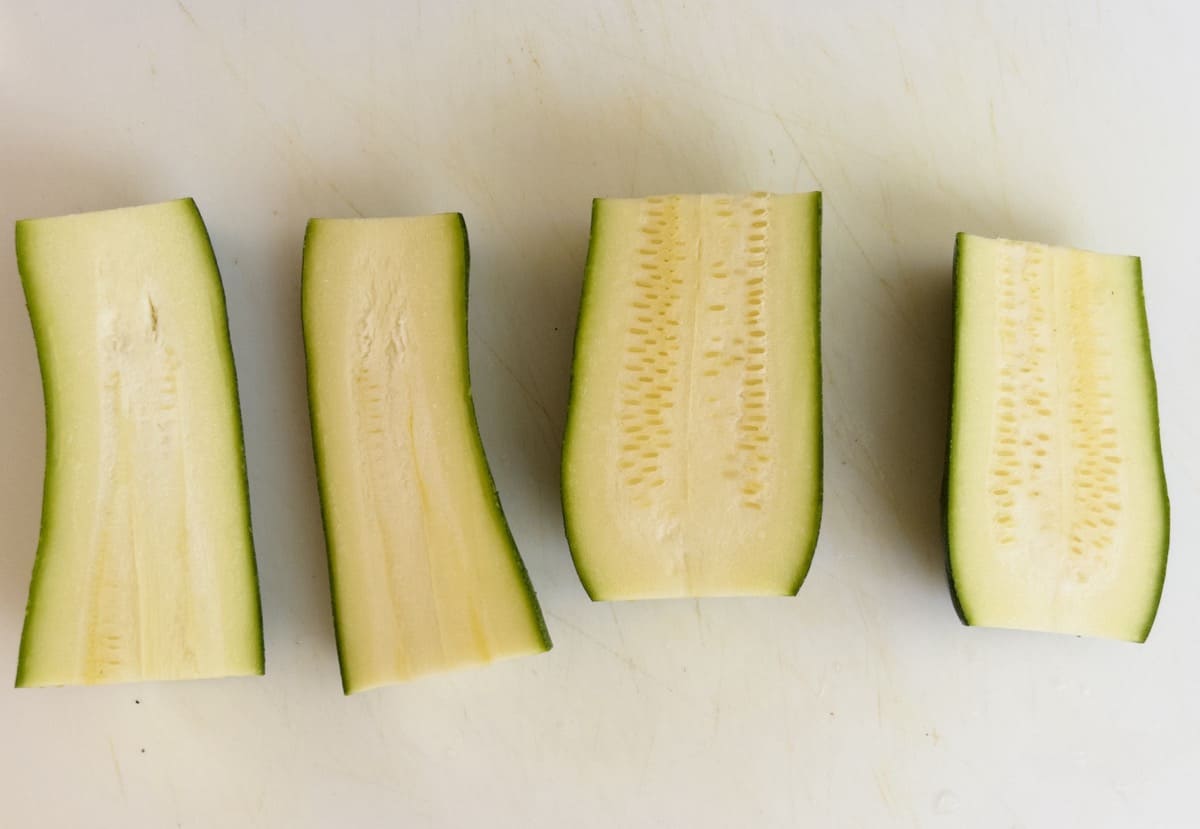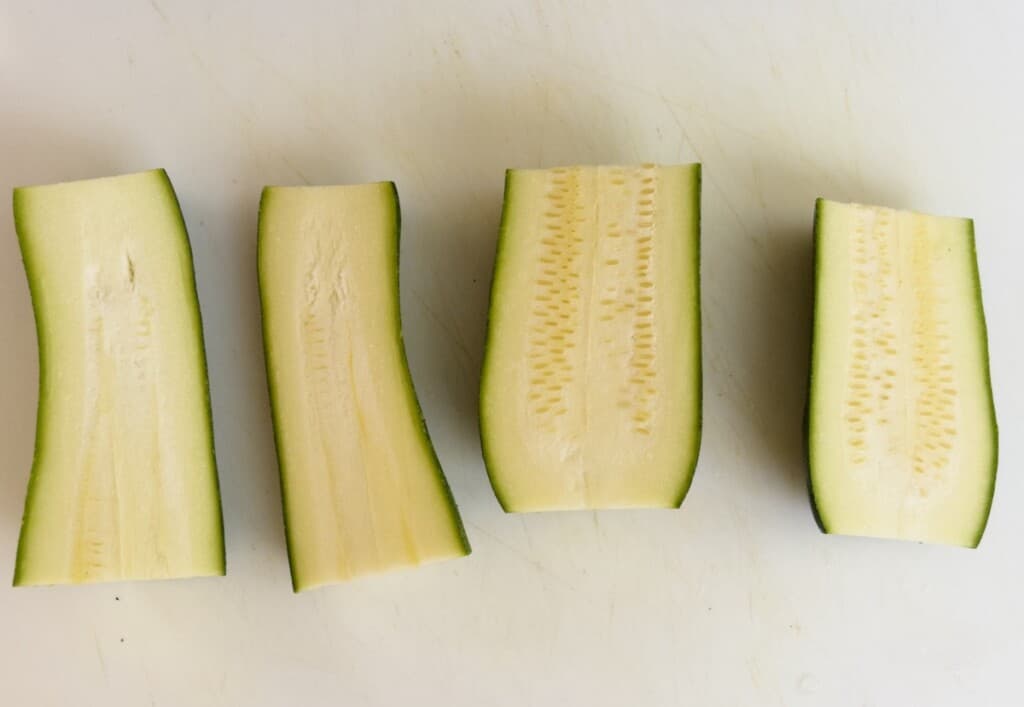 2. Once I have the zucchini quartered I flip them over flat side down and cut them into half moon shapes. If you want you can make zucchini rounds or even spears as long as the size of each piece is similar.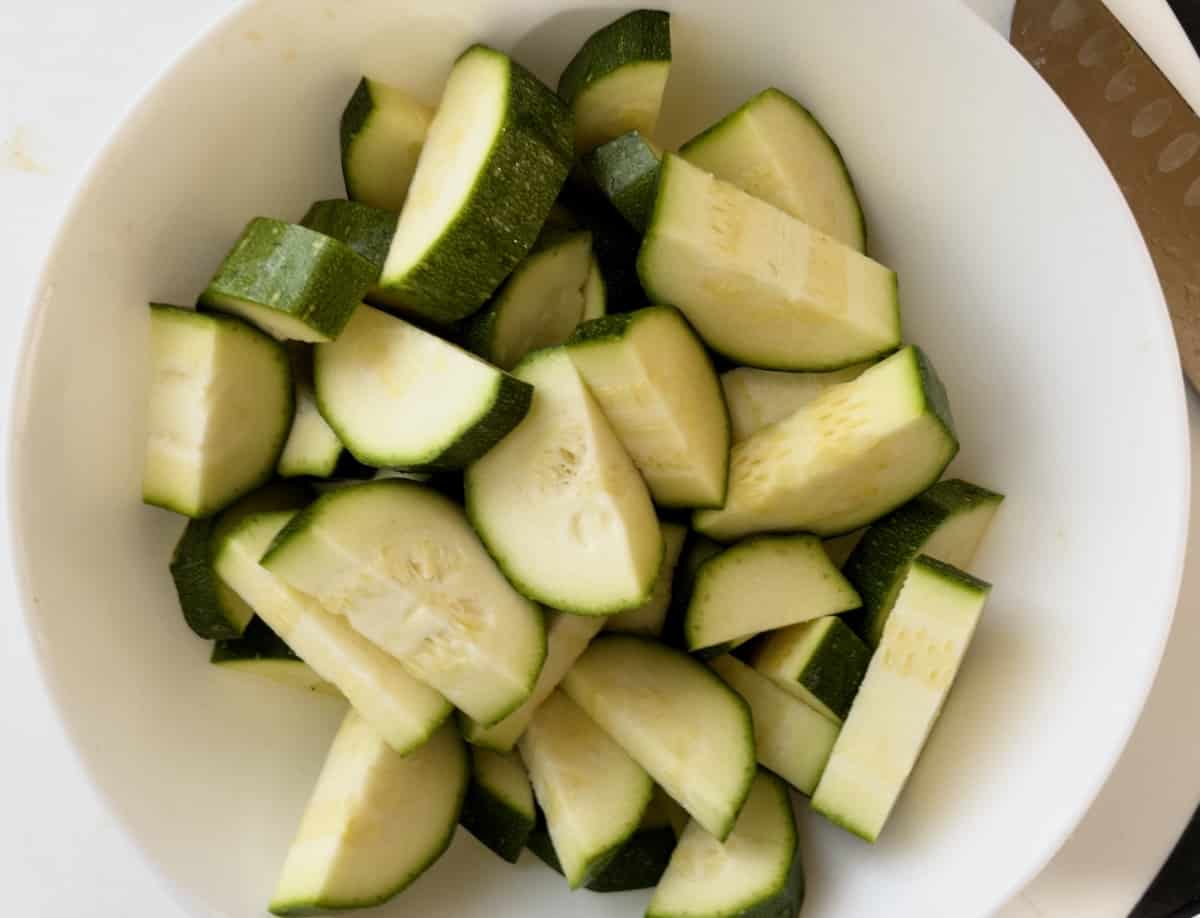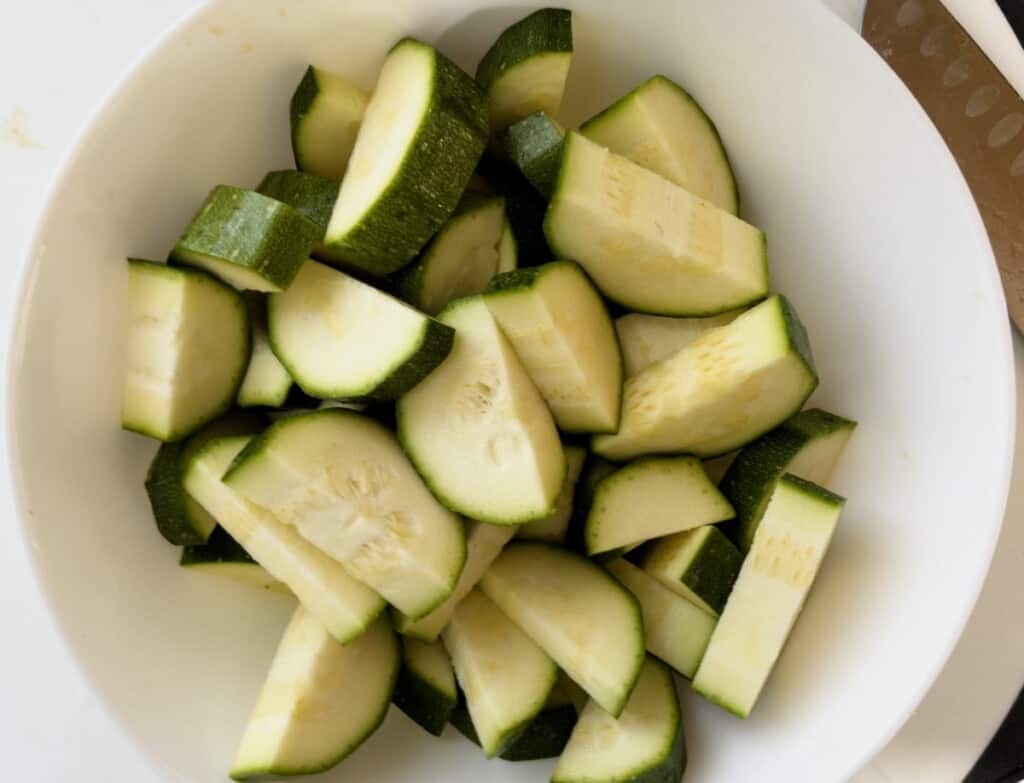 3. I then season all of the zucchini pieces in a large bowl. I usually make a mixture of salt, black pepper, garlic powder, smoked paprika, and thyme.
I also pour in about a tablespoon of oil. Use whatever oil you prefer. I used olive oil this time.
I really like the smoked paprika because I find the added smokiness and the way the air fryer cooks. It gets kind of a grill flavor.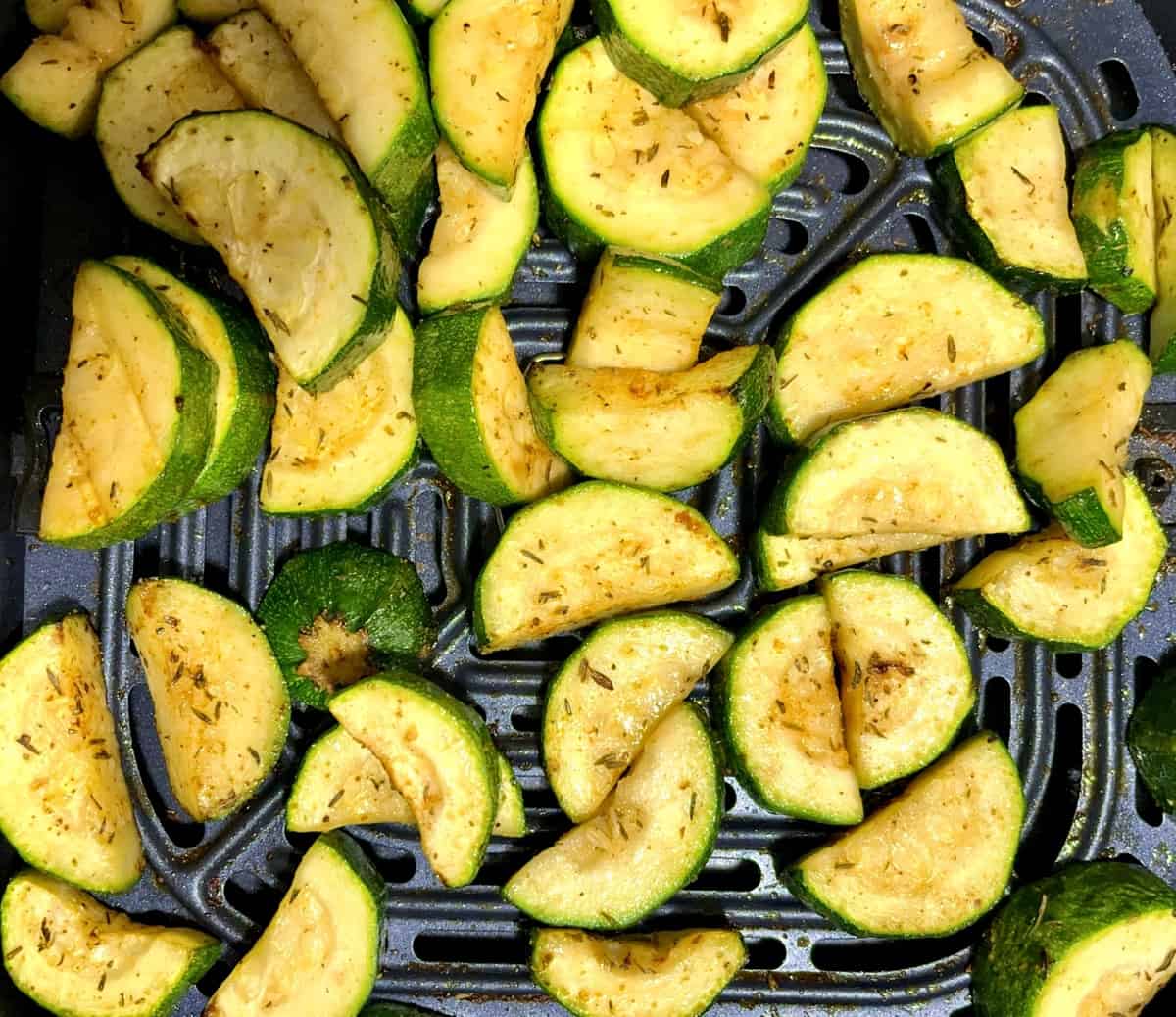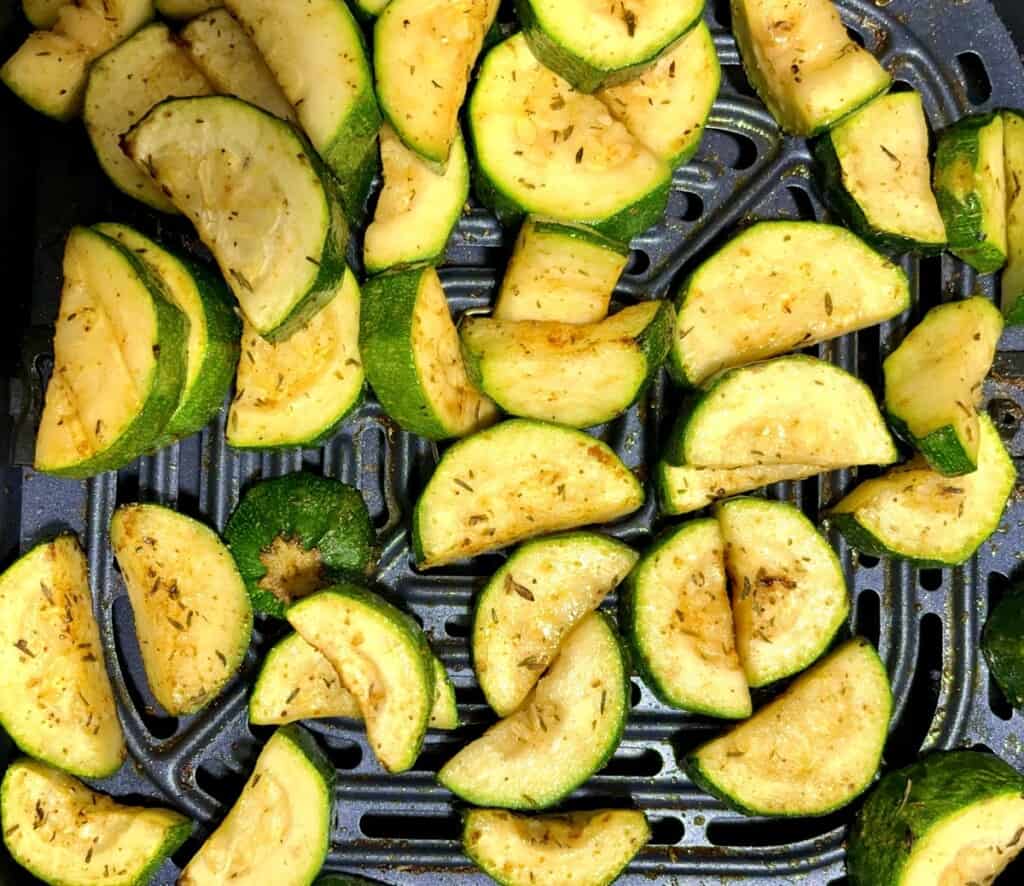 4. Once all the pieces are nicely coated in the olive oil and spice mixture I toss everything into the air fryer basket. I like to make sure that all of the zucchini is spread out in the basket in a single layer.
I feel this gives much better results. It's not rocket science just make sure it's not one big pile.
How Long to Cook Zucchini in the Air Fryer
Preheat the Air Fryer to 400 degrees Fahrenheit.
Place zucchini in the air fryer basket in a single layer.
Airfry zucchini 10-12 minutes shaking and flipping zucchini halfway through.
Hint: Check the zucchini a bit early to make sure that it does not get overcooked. Depending on the size cooking time can be modified by a minute or two.
Oven Roasted Zucchini
Preheat oven to 425 degrees Fahrenheit.
Line the baking sheet with parchment paper or foil.
Toss zucchini in oil and spice mixture in a large bowl.
Spread even on a baking sheet in a single layer.
Bake 15-20 minutes until the edges are golden.
Variations to Try
Parmesan Cheese – Parmesan cheese is a great thing to add. Its salty nutty flavor is delicious and it gets crispy on the outside.
Panko Breadcrumbs- adding a Tablespoon of Panko adds a nice crunch texture. I like it with both Panko and Parmesan.
Chili Crisp- Chili Crisp adds a great flavor with a bit of heat.
Feta Cheese- After removing from the oven sprinkle with feta cheese.
Italian Seasoning- Replace Thyme with Italian Seasoning for a different flavor.
Yellow Squash- Yellow Squash can be substituted or a medley of both.
See this spicy version of this recipe on my website! (placeholder for in-content link)
Equipment Used and Kitchen Essentials
I always list the equipment used in my recipes. I also like to list what I think our kitchen essentials that make recipes easier and turn out better. I do receive a small commission on these products at absolutely no cost to you. Thanks for your support.
Instant Pot Vortex Plus 6-in-1 6-Quart Large Air Fryer
Air Fryer Liners – 100pcs Premium Perforated Parchment Paper (Easy Cleanup)
HENCKELS Forged Premio Hollow Edge Santoku Knife, 7-inch
FLYBYJING Sichuan Chili Crisp
Storage and Reheating
If you have any leftover air fryer zucchini, it can be stored in an airtight container in the refrigerator for 3 days days. Reheating zucchini is best done in the air fryer at 350 degrees for 3-4 minutes or until warm.
Top tip
Do not overcrowd the air fryer basket with zucchini. Try to place everything in a single layer for even cooking. I find checking the zucchini early is best to avoid over cooking. Nobody likes mushy zucchini.
FAQ
Do I Have to Peel Zucchini Before Cooking?
No, you do not have to peel zucchini before cooking. The skin is a big source of nutrition, so it is better to leave it on for all the nutrients.
How Many Calories are in a Serving of Roasted Zucchini?
A serving of zucchini has about 60 calories
Do you Salt Zucchini Beforehand?
If vegetables have a lot of water in them, they can become soft and tasteless if you don't remove the extra moisture before cooking. To do this, you will need to use salt and give it some time. Adding salt to these vegetables with high water content will help remove the excess water and enhance their flavor. Although this is not mandatory.
Related Recipes
Looking for other recipes like this? Try these: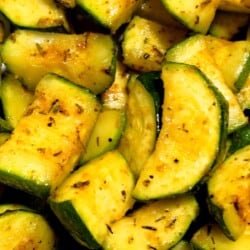 Air Fryer Zucchini
Roasted air fryer zucchini, so delicious. It even has a little bit of a grill flavor. Nothing says summer like zucchini. This recipe is healthy and delicious and a complement to any meal.
Print
Pin
Rate
Ingredients
3

Zucchini sliced into 1/2 inch half moons

1

Tablespoon

Avocado oil or Olive Oil

1/2

tsp.

Sea Salt

1/4

tsp.

Black Pepper

1/2

tsp.

Garlic Powder

1/2

tsp.

Smoked Paprika

1/2

tsp.

Dried Thyme
Instructions
Preheat Air Fryer to 400 degrees.

Cut zucchini into 1/2inch thick half moons.

Add zucchini to large bowl and coat with oil.

Mix together salt, black pepper, garlic powder, smoked paprika and thyme. Sprinkle all over zucchini and toss to coat.

Place zucchini in air fryer basket. Try to get into single layer.

Air fry zucchini 10-12 minutes turning halfway through cooking time.
Nutrition
(Visited 2,193 times, 1 visits today)