Roasted Air Fryer Chickpeas recipe is delicious and easy to make, crunchy and crispy air fryer chickpeas and delicious. This is such a great healthy snack that is quick and easy. Roasted chickpeas are loaded with protein, low in saturated fat and gluten free.
Chickpeas in the Air Fryer is so much easier than making them in the oven. You will get great results and the process of making these chickpeas is really simple. This has really turned out to be one of my favorite snacks and chickpeas are high protein as well.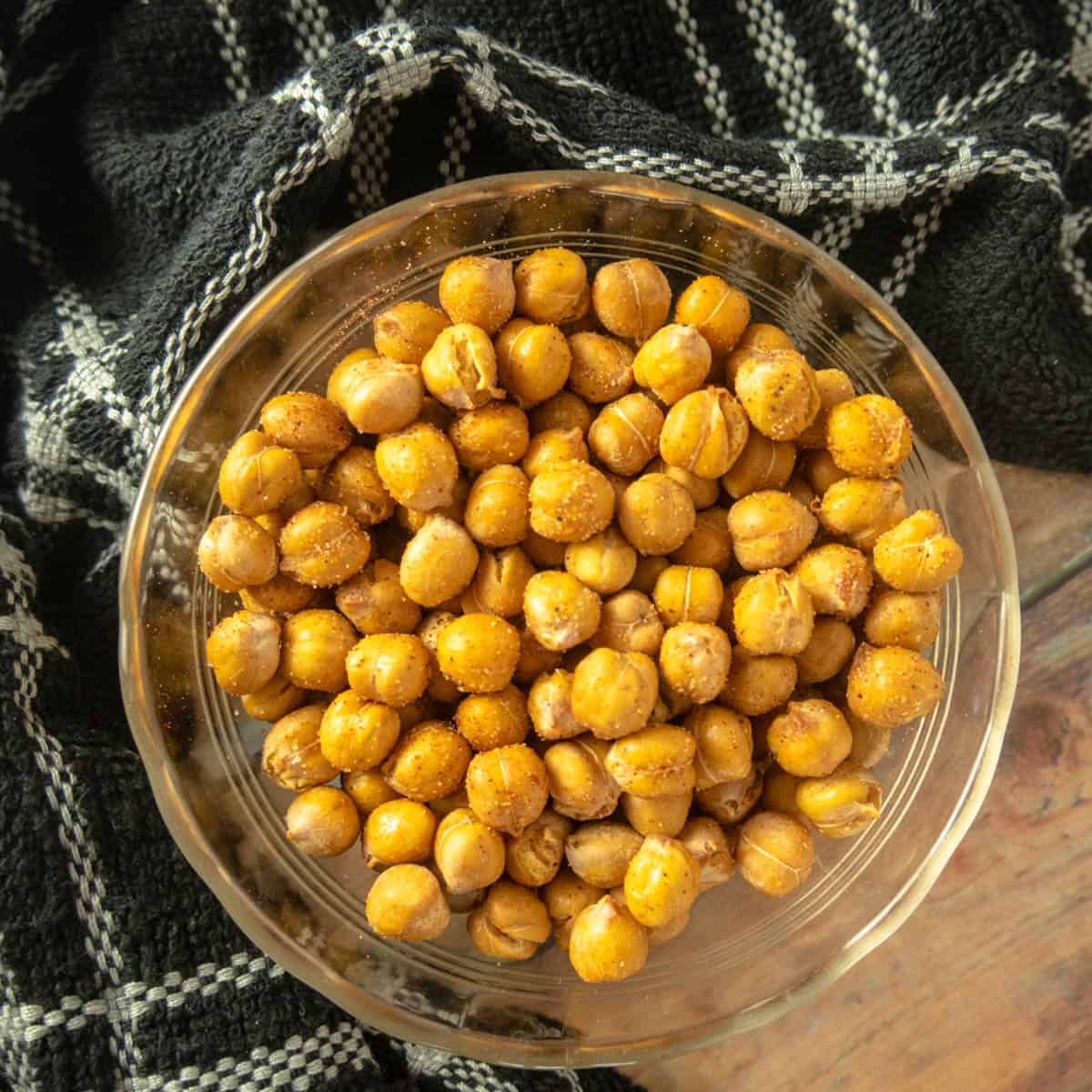 I just love roasted chickpeas. They have loved them ever since I was a kid. I eating them right out of the can.
Actually, I still do that. I love chickpeas in my salads too. they are a great source of protein.
These chickpeas roasted take salads to a different level. I love the texture and crunch that these crispy chickpeas add. I have learned that they are not just good by the handful.
Feel free to let me know how you use them in the comments below. It is always fun to share ideas and uses to make food more enjoyable.
Jump to:
How to Roast Chickpeas in Air Fryer
Normally when roasting chickpeas you need to rinse them and then dry them which takes time. Not anymore. These chickpeas are a GAME CHANGER.
You don't have to rinse them and you don't even have to dry them. We are going to dry them right in the air fryer. So you can skip that step when making these in the air fryer.
The first thing you want to do is get your air fryer preheated to 390 degrees and set the timer for 15 minutes. The cook time can be as little as 12 minutes and as much as 17 minutes. I find 15 minutes is what it takes in my air fryer.
Ingredients
Can of Chickpeas Drained
Olive Oil
Salt
Garlic Powder
Cumin
Smoked Paprika
Any Seasoning that you prefer to use to season chickpeas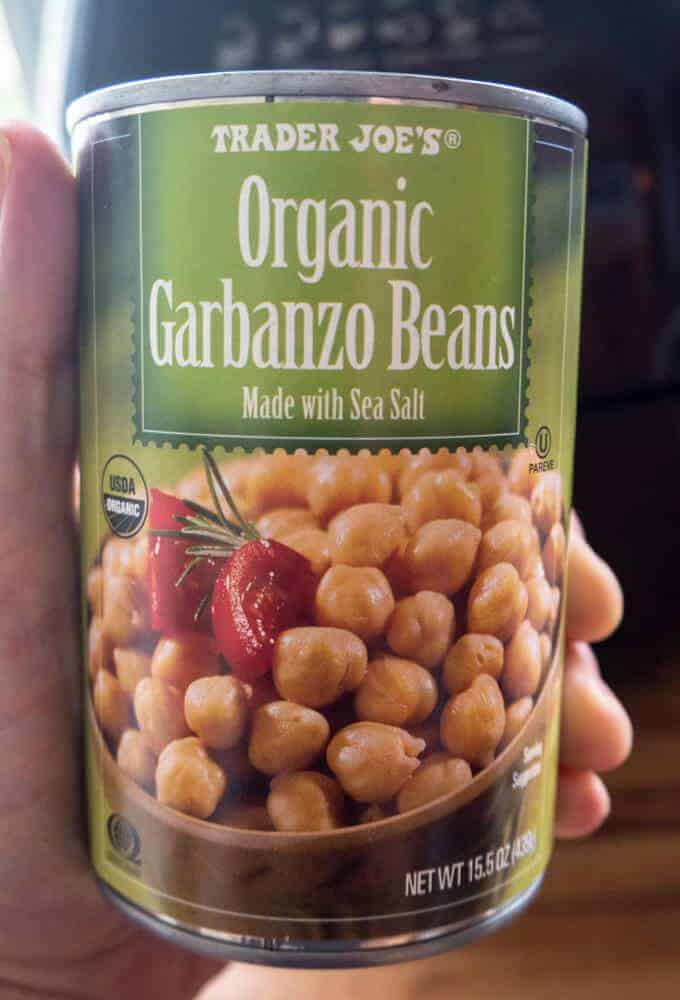 Full Instructions in Recipe Card Below.
Step 1
Grab you can of chickpeas and let us get started making this chickpeas recipe. I used organic chickpeas that I got at Trader Joes. You can use any brand you like. All you have to do is open them and drain them.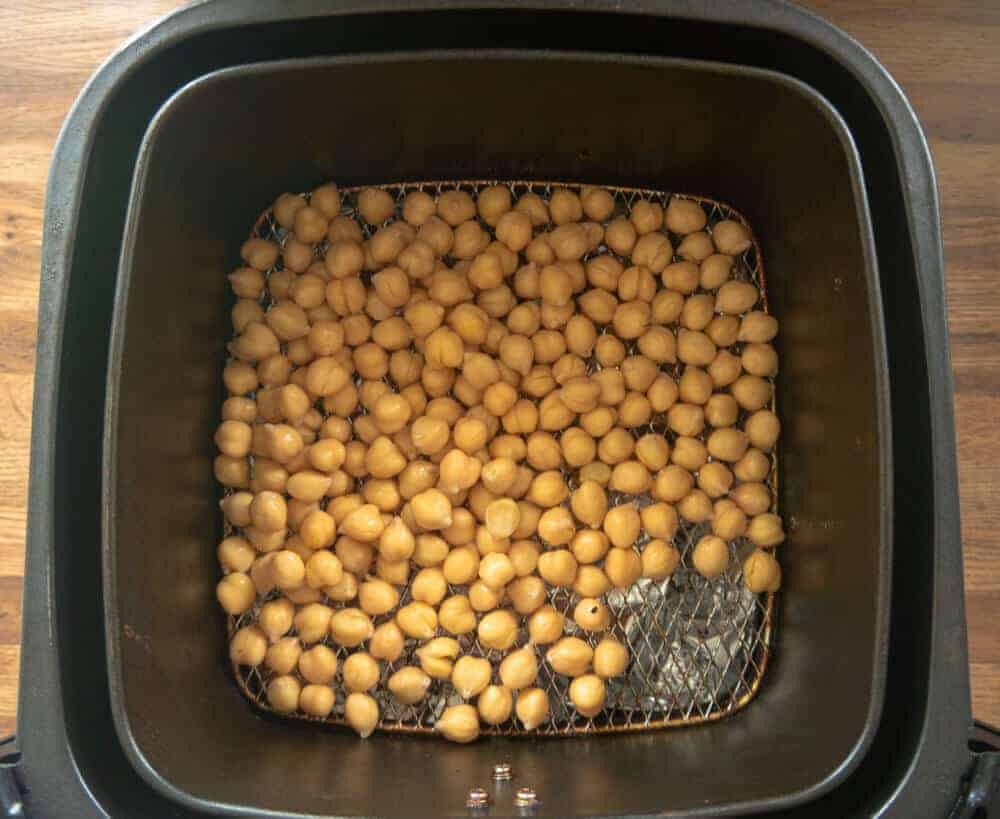 Step 2
Dump your can of chickpeas right into the air fryer. See isn't this recipe easy so far? Once you have the chickpeas in the air fryer shake them around to get them mostly in a single layer.
Step 3
Now that your chickpeas are in your preheated air fryer close the basket. Air fry chickpeas for 5 minutes till the chickpeas are dry. After 5 minutes open the air fryer and spray the chickpeas with the oil sprayer. If you don't have one pour the teaspoon of oil over the chickpeas and shake the basket around to distribute the chickpeas getting coated.
Step 4
Close the air fryer and let it keep cooking shaking the basket every 5 minutes or so until there is 2 minutes left. Open the air fryer basket and sprinkle half of the seasoning mixture over the chickpeas and shake the basket to distribute. Cook the final 2 minutes then serve. Top the chickpeas with the remaining seasoning.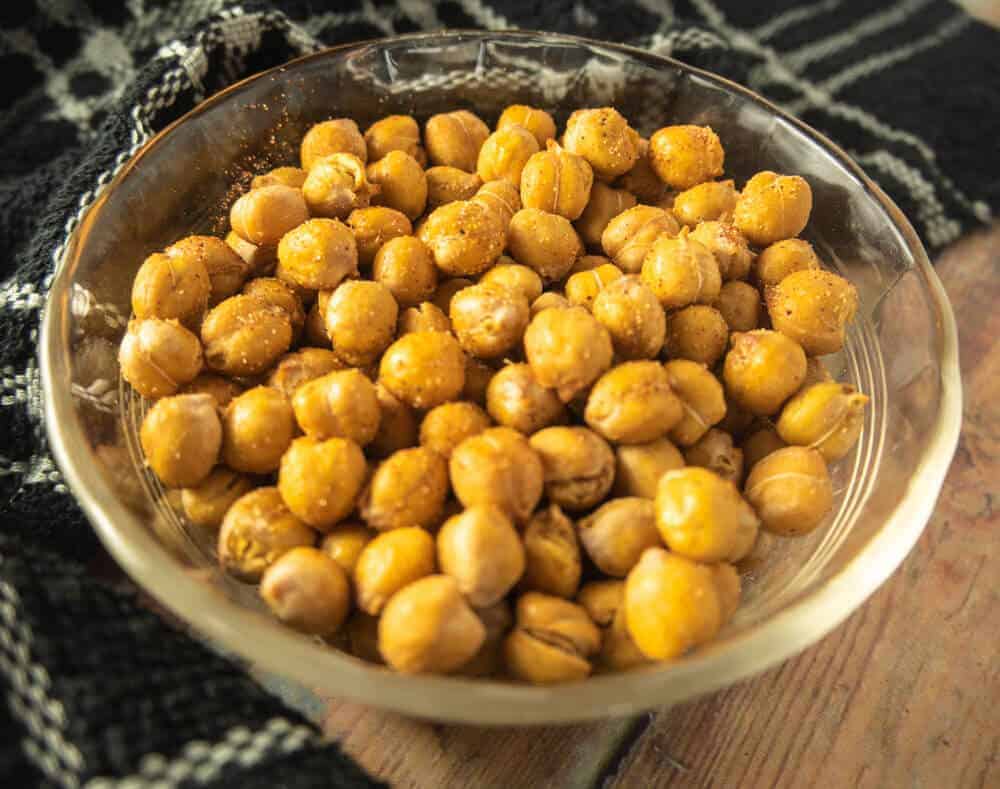 Crunchy Chickpeas in Air Fryer
It is EASY:

Drain and rinse a can of chickpeas
Toss with olive oil and seasoning
Cook the chickpeas at 390°F for 12-18 minutes, shaking them a few times during the cooking process. Depending on the air fryer that you have you may need to add or subtract a few minutes to get the chickpeas crispy enough for your liking.
How to Make Oven Roasted Chickpeas
If you would rather make roasted chickpeas in the oven I have am also including that cooking method. Even if you do not have an air fryer you can enjoy these.
These chickpeas are just as delicious roasted in your oven. The one tip that I can give is to make sure to completely dry the chickpeas or they will not become crunchy.
Oven Roasted Chickpeas Instructions
Preheat Oven to 400 Degrees
Rinse and Drain Chickpeas
Make sure that your chickpeas are dry. Place on a towel to dry completely.
Toss chickpeas in a drizzle of olive oil and season with salt.
Place chickpeas sheet pan lined with parchment paper and spread even
Transfer pan to oven and roast for 20 minutes until crispy
Remove from oven and season chickpeas with the seasonings or seasoning of your choice.
How can I use these Crispy Roasted Chickpeas
These are great as a salad topper. They are great in tacos and even just by themselves as a healthy snack.
Another great thing about these chickpeas in the air fryer is they are a great snack for last minute guest appearances to give people something to snack on. They are also best ehen they are first made. Just roast them and qucikly season them and they are ready for serving.
How to Store Roasted Chickpeas
Room temperature, out in the open: Clearly the winner. I placed the chickpeas in a bowl and laid a paper towel across the opening (just to keep random particles away. If you use shelf-stable ingredients (i.e., don't smear them butter or something), they should last a couple of days with no problems at all.
Some Other Flavors to Try
Ranch Flavor Seasoning
Cajun Seasoning
Cinnamon
BBQ Seasoning
Basically any flavor that you enjoy you can sprinkle on the roasted chickpeas.

Other Air Fryer Recipes to Try
Easy Air Fryer Chicken. It is Healthy and Delicious and Crispy.
Parmesan Brussel Sprouts (Air Fryer)
Air Fryer Meatballs (Quick, Easy and Juicy)
Air Fryer Banana Bread (Air Fryer or Instant Pot)
Kitchen Essentials and Items Used in this Recipe.
Chickpeas- Of course, you will need these
Air Fryer– This is the One I have it is the Cosori 5.8 Quart Air Fryer
Misto Oil Sprayer – Great to have with an Air Fryer. Get one you'll love it.
Cajun Seasoning – This is a good seasoning to also use on the chickpeas.

Roasted Chickpeas Recipe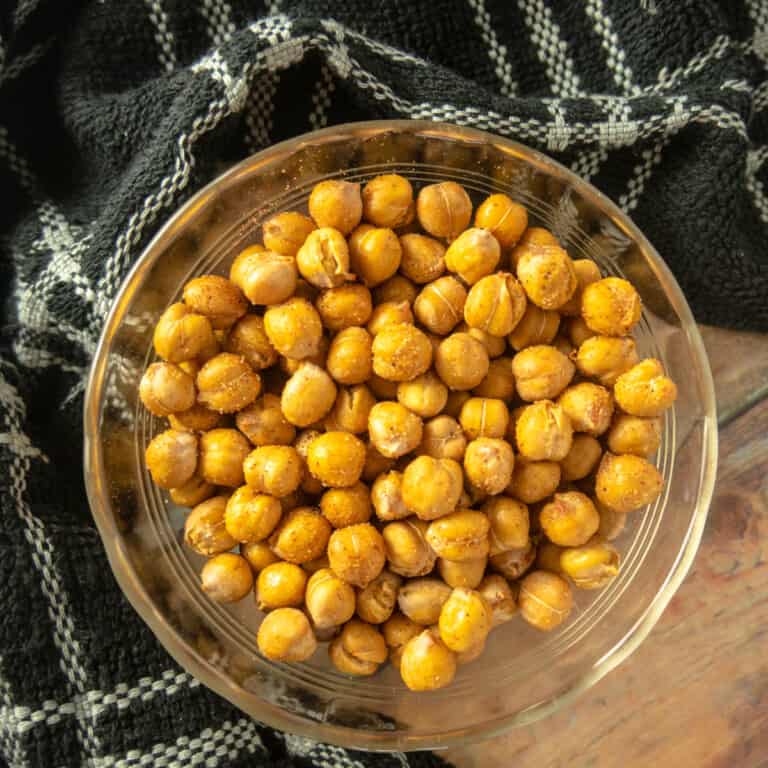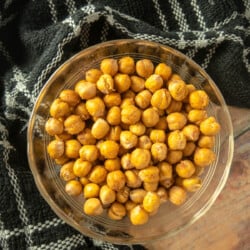 Air Fryer Chickpeas
Air Fryer Chickpeas Roasted in the Air Fryer are a delicious snack and also great on salads.
Print
Pin
Rate
Ingredients
1

Can 15.5 oz. chickpeas

1/2

tsp.

Salt

or to taste

6 to 7

turns of a pepper grinder

1/2

tsp.

garlic powder

1/2

tsp.

smoked paprika

1/2

tsp.

ground cumin

1

tsp.

olive oil

I use a Misto sprayer for 2 to 3 sprays
Instructions
Directions
Preheat Air Fryer to 390 degrees set time to 15 minutes

Open can of chickpeas and drain

Add chickpeas to air fryer basket

Cook 5 minutes to dry chickpeas

Open air fryer and spray chickpeas a few times or coat with the teaspoon of oil if your not using a sprayer.

Close air fryer and let cook shaking air fryer basket every 5 minutes. When there is 2 minutes left open air fryer and add half of the seasoning and shake air fryer basket to distribute.

Close air fryer and let cooking finish. Toss chickpeas in remaining seasoning and enjoy.

Cook to your desired doneness. All air fryers are different so if you want more CRISPY cook them longer.
Notes
If you want the chickpeas more CRISPY cook them longer. All airfryers are different so cook them to your desired doneness.
Keep in mind that you can use any seasonings that you like. You do not have to just stick to this recipe.
Nutrition
(Visited 28,533 times, 2 visits today)