Instant pot pork and sauerkraut is a really easy recipe to make. It's just a handful of ingredients and your pork roast will be fork tender. Sweet apple with pork and sauerkraut is such a fantastic flavor combo.
This is great served over mashed potatoes or with just a side of green beans. I've been known to serve it with small whole potatoes on the side. I started out adding an apple chopped into the instant pot to balance out the acidic flavors of sauerkraut and that made it even better. This is the best recipe for pork and sauerkraut in your pressure cooker and it is alot faster than cooking in a dutch oven.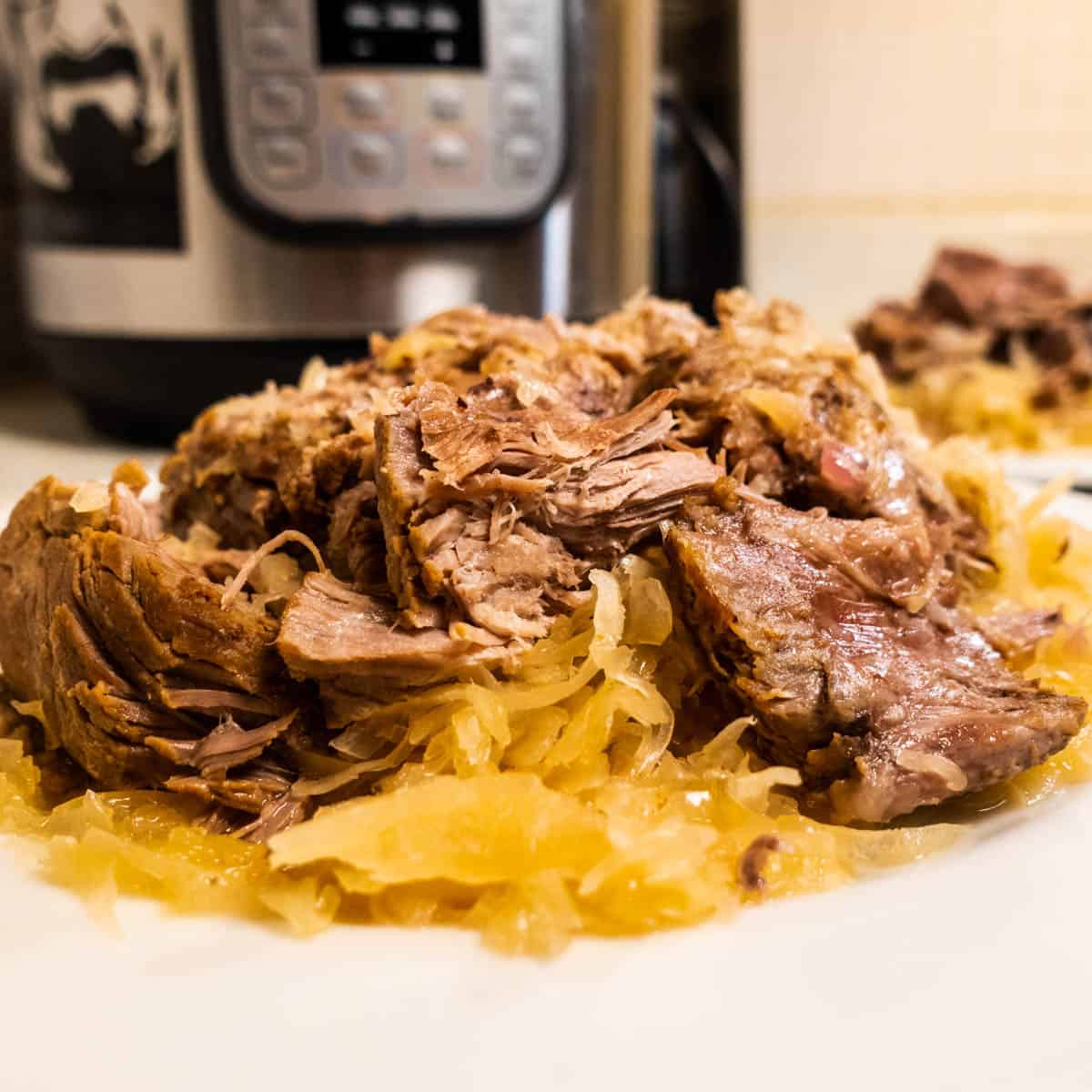 Why Do People Eat Pork and Sauerkraut on New Year' s Day?
Pork and sauerkraut is a great recipe and it's really popular on New Year's. The Germans believe for generations that it brings good luck and riches. Apparently, they wish their friends and family as many riches as there are strands of sauerkraut.
Another German recipe of mine that you might want to try is my Smoked Bratwurst. It is a delicious change on standard Bratwurst. If you like sausages you'll love that recipe too. I usually make them and just serve them on a bun but they are great with sauerkraut too.
The reason I love this recipe is that instead of using a slow cooker and waiting all day for it to be ready it can be made in a fraction of the time in the pressure cooker. This recipe is so easy that I would recommend it to anyone that got a new Instant pot during the holidays to make this their first recipe.
Jump to:
Ingredients for Instant Pot Pork and Sauerkraut
The ingredients in this recipe are of course pork and sauerkraut along with some pantry staples. This is one of the easiest pork and sauerkraut recipes you'll make that you will love the most.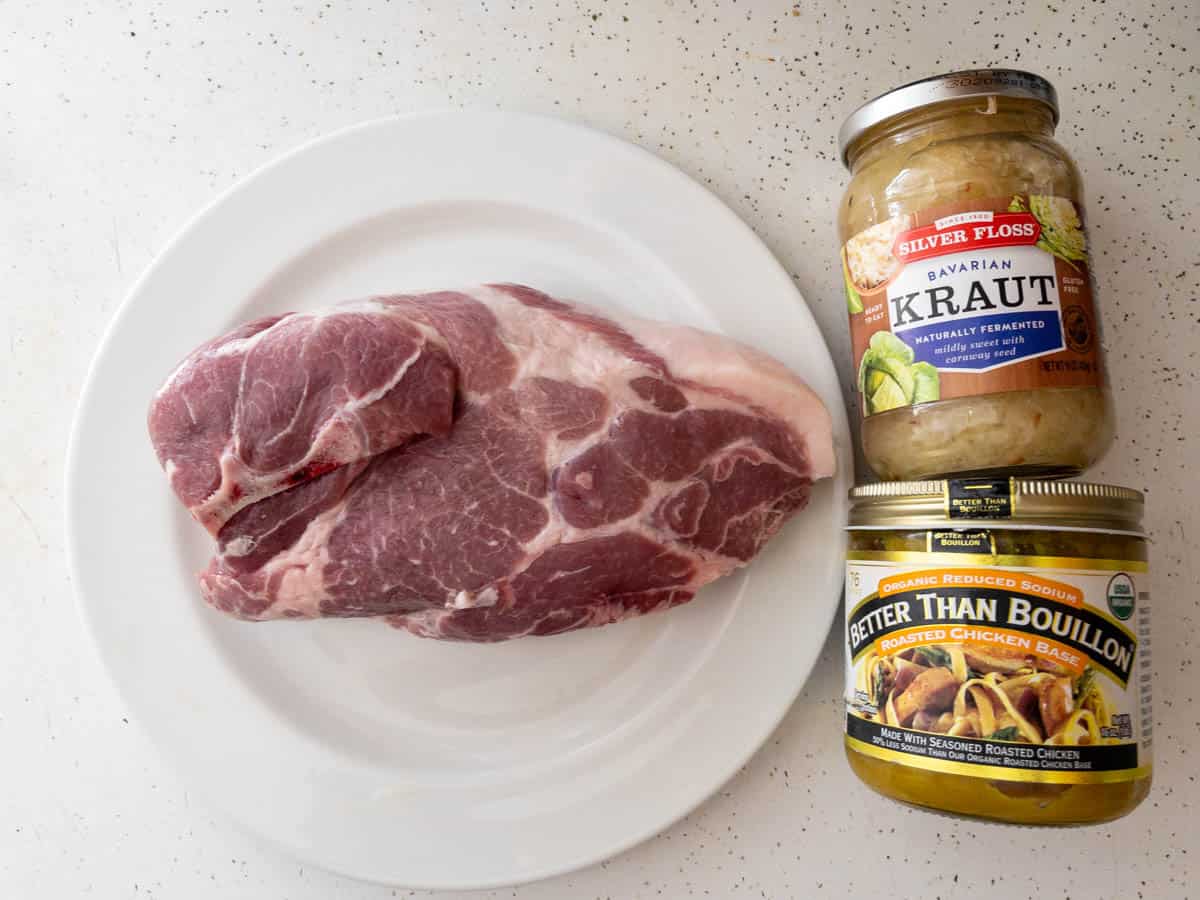 What Type of Pork to Use for Pork and Sauerkraut
When I make instapot pork and sauerkraut I like to use pork shoulder butt roast. It has more fat than tenderloin and the end result for the pork is much more tender with this cut of meat.
Pork Shoulder Butt Roast (Pork Loin Roast can also be used.)
Bag of Sauerkraut ( Canned can also be used)
Chicken Broth
Apple ( I used a Honey Crisp)
Diced Onion
Salt
Pepper
Brown Sugar
Caraway Seeds (These are optional)
Jump to recipe card for quantities.
How to Make Pork & Sauerkraut in Instant Pot
I will walk you step by step through the method I used to create this recipe. It is straightforward and I will make it simple to follow.
Step 1 – Season and Brown the Pork Roast
Season the pork roast with salt and pepper on both sides. The liberal here with the seasoning. We are going to sear this roast up well and get some color on it. This is an important step to create great flavor.
Note: If the roast is too big for the Instant Pot it can be cut into a few large chunks before browning.
Press the "Saute" button on your Instant Pot and set it to the "More" setting for the highest heat. When the screen reads "HOT" we are ready to sear.
Add 1 to 2 tablespoon oil to the inner liner of the pressure cooker. I used avocado oil but any oil can be used. Give oil a few seconds to heat up.
Add pork roast to Instant Pot and sear for 5 to 8 minutes per side until you see color on the roast. If you are doing a big roast that was cut in pieces you may need to sear in 2 batches. If that's the case that's fine. It will all be cooked together in the next step.
Do not try to move the roast while it is searing. This is key to getting good color on the meat. After several minutes and turning the roast your roast should be seared nicely. Remove the roast and set aside.
Step 2 – Deglaze
If you don't know what the term "Deglaze" means don't let it scare you. Do you see all that stuff on the bottom of the liner of the Instant Pot that looks burned on? That is called "Fond" in cooking terms and it is a fancy word for FLAVOR.
Deglazing is the process of getting that off the bottom and into our food. It is and easy process. We are going to add the broth to the bottom of the pressure cooker while scraping with a wooden spoon and all of that is going to come off the bottom into the liquid.
Add the chicken stock and scrape with a wooden spoon to get all the bits from the bottom. Once you have done that move on to the next step. Press "Cancel" on the pressure cooker to stop saute mode
Step 3 – Pressure Cook the Pork and Sauerkraut
It is now time to pressure cook the pork and sauerkraut. Add the roast back to the pressure cooker along with the sauerkraut on top. Add the diced onions and apples.
Sprinkle the brown sugar on top of the sauerkraut, apple, and onion. If you are adding the caraway seeds sprinkle those evenly as well.
Place the lid securely on the Instant Pot and turn the valve to the "Seal" position. Press the "Manual Pressure" button on your pressure cooker until it is on the "High Pressure: setting.
How Long to Cook Pork and Sauerkraut in the Instant Pot
Set the timer of the Instant Pot for the Pork & Sauerkraut. I cooked 4 pound pork roast for 1 hour. The calculation is 15 minutes per pound if using Pork Butt. 20 Minutes per pound if using pork loin roast.
Once cooking time is complete DO NOT RELEASE THE PRESSURE. This is the key to really tender pork. Let the pressure cooker do a NATURAL RELEASE of pressure. This will give you the best results.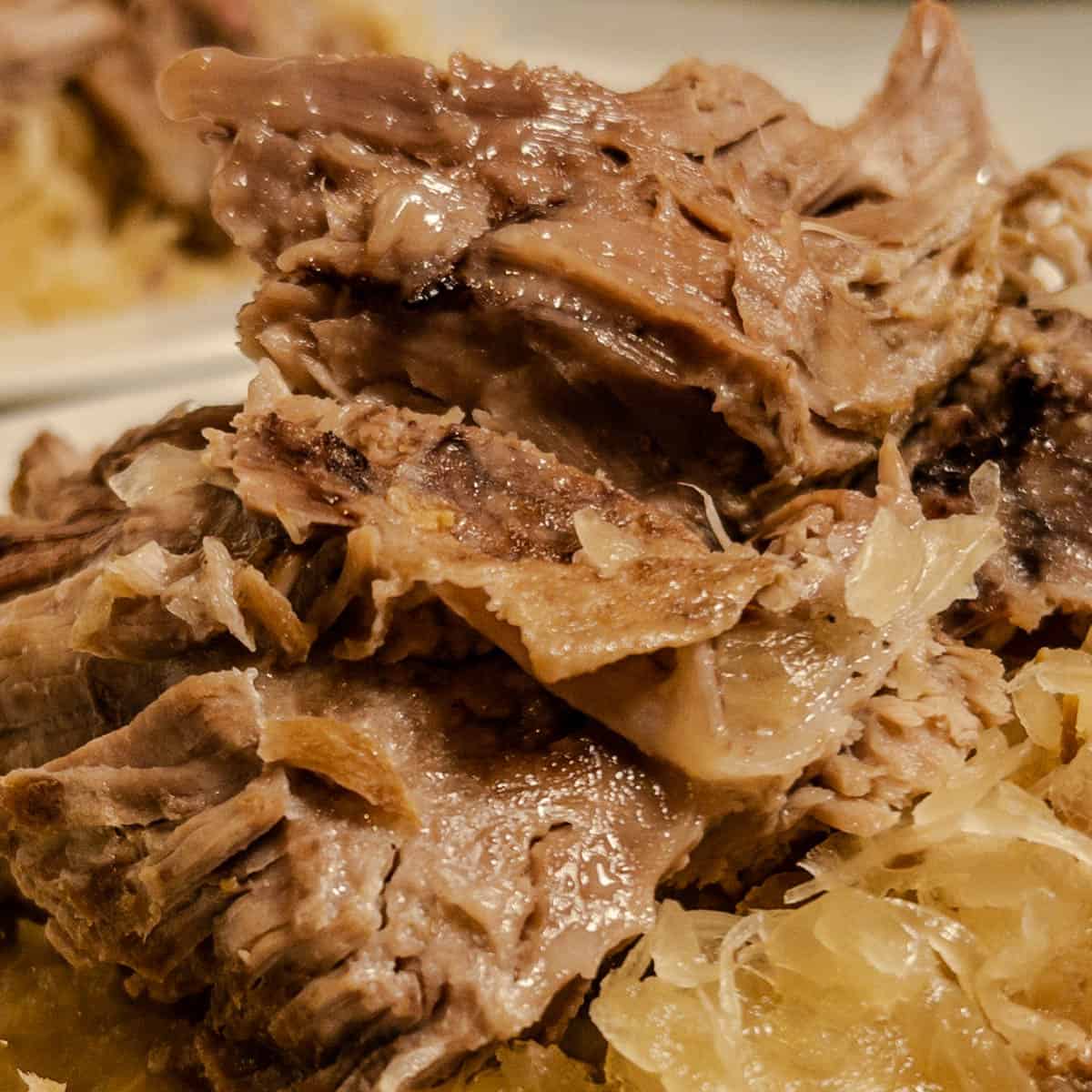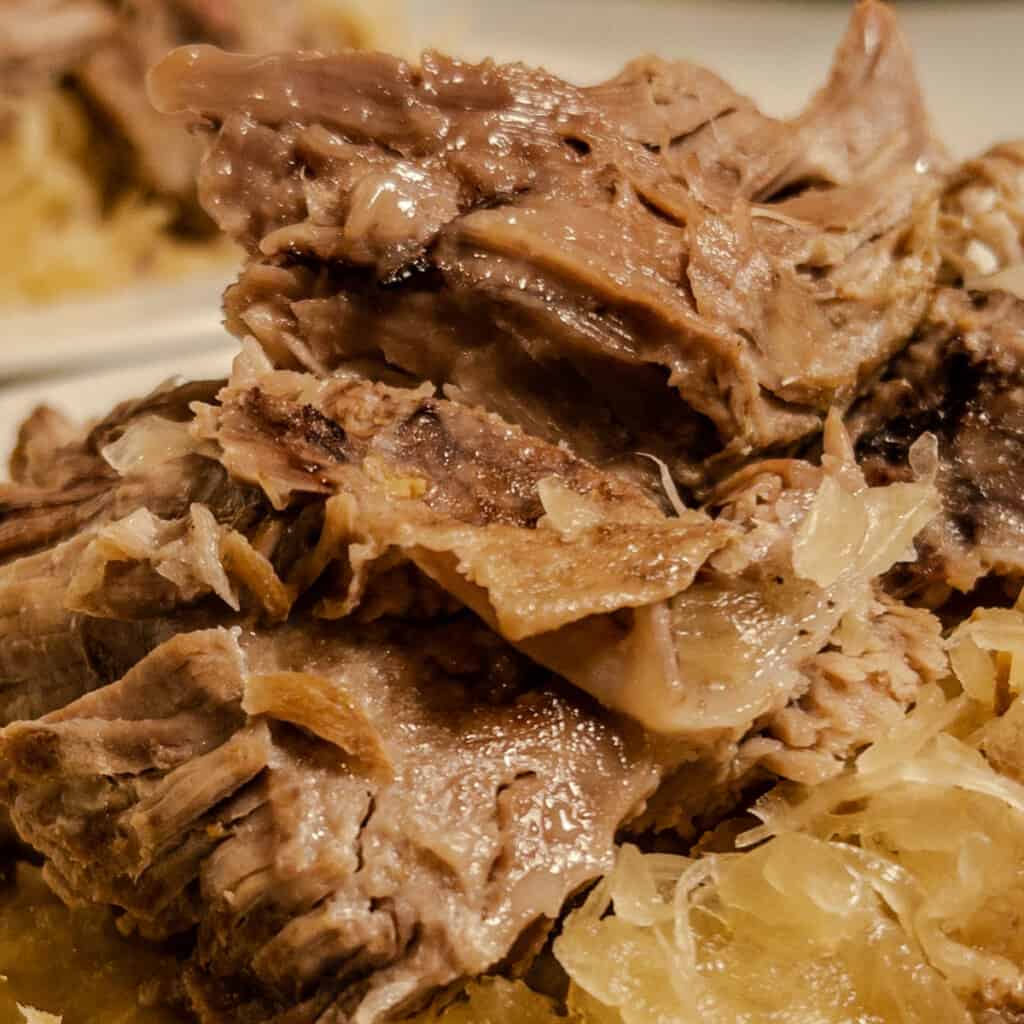 Substitutions
Canned Sauerkraut – canned sauerkraut can be used also. I have also used sauerkraut that comes in a jar.
Apple Juice – Apple juice can be used in the broth to give an even sweeter profile to the pork and sauerkraut recipe.
Other Recipes to Enjoy
Pellet Smoker Bratwurst
Air Fryer Italian Sausage
Bacon Wrapped Asparagus
Equipment
If you do not have an Instant Pot or Foodi or some kind of pressure cooker I am going to link to some that I like, and some cooking essentiaIs I find useful. These are affiliate links I do get a small commission for these but it is at NO COST to you. I appreciate the support.
Instant Pot Pro 10-in-1 Pressure Cooker
Ninja Foodi XL 8 Qt. Pressure Cooker
Instant Pot 100 PCS Pressure Cooker Accessories Set
Instant Pot Official Silicone Steamer Basket
ThermoPro Waterproof Digital Meat Thermometer
Just in case you are looking for an air fryer I have the Cosori Air Fryer Max XL.
Storage
When it comes to the storage of pork and sauerkraut I like to store the two items separately. I'm not really a fan of sauerkraut kind of fermenting around my pork leftovers. This may be me but it's just my recommendation. I just store each one and it's on container and it will keep for 3-4 days in the fridge.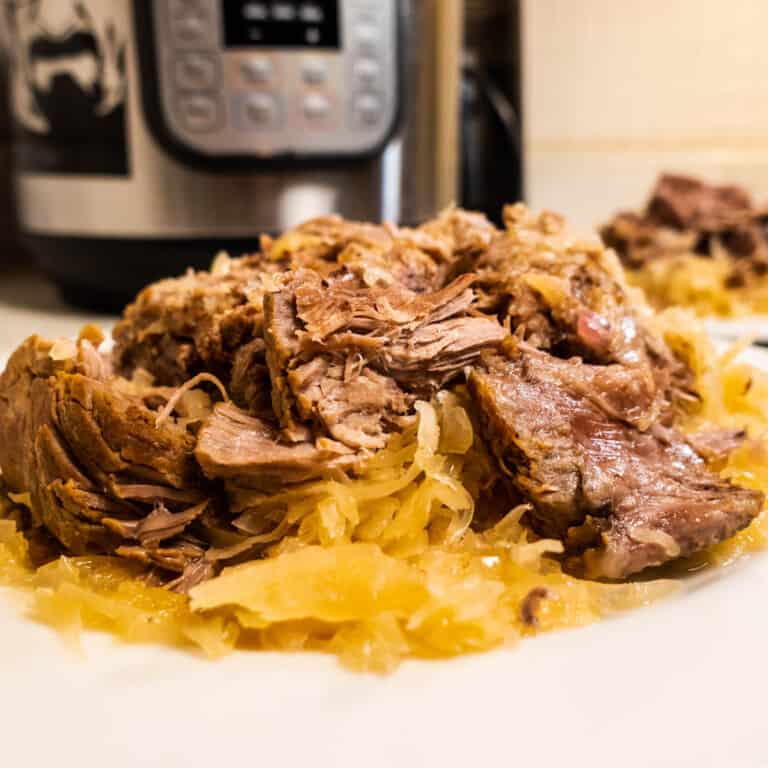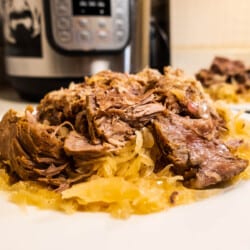 Instant Pot Pork and Sauerkraut
Instant Pot Pork and Sauerkraut comes out fork tender and the flavor is sweet and savory and delicious. Great anytome of year. It is said it is good luck to eat on New Year's.
Print
Pin
Rate
Ingredients
4-5

Pound

Pork Butt Roast

1 24

oz.

Bag of Sauerkraut

I used Silver Floss Brand

Salt and Pepper to Taste

1/2

Cup

Chicken Broth

I used Better than Bullion Organic Chicken Base

1/4

Cup

Brown Sugar

I used the light one

1

tsp.

Caraway Seeds

Optional

1

Whole

Apple Peeled and Diced

1

Whole

Medium Onion Diced
Instructions
Salt and Pepper Pork Butt liberally coating on all sides.

Turn Instant Pot on saute mode HIGH SETTING. Wait for screen to say "hot." Add 1 Tablespoon Oil of choice to liner.

Place roast in Instant Pot and sear until it has got some nice color. About 5 minutes per side.

Place Sauerkraut and caraway seeds,Onion into Instant Pot. Place diced apple and brown sugar on top of Sauerkraut.

Place lid onto pressure cooker and turn valve to the SEAL position.

Pressure cook on HIGH pressure for 15 minutes per pound. Let pressure cooker do a Natural Release when cooking is completed.

Makes about 4-5 servings
(Visited 21,464 times, 1 visits today)