Air Fryer Chicken Legs are simple to make and really tasty. This Chicken Legs Drumsticks recipe is easy and flavorful. This air fried chicken is very similar to Jerk Chicken but without the spicy heat. This is one of the more simple air fryer recipes. It can be made with drumsticks or thighs. It takes under 30 minutes to prepare. It can be prepared in air fryer basket or oven style air fryers and the cook time should be the same. Air Fryer Chicken Legs are healthy because they are not fried they are Air Fried. You can use legs, thighs, or even the whole drumstick leg and thigh. If you use chicken breast decrease the time by a few minutes. Truth is in the air fryer legs and thighs are the best to use because they are a bit more juicy and forgiving.
Easy Air Fryer Chicken Recipe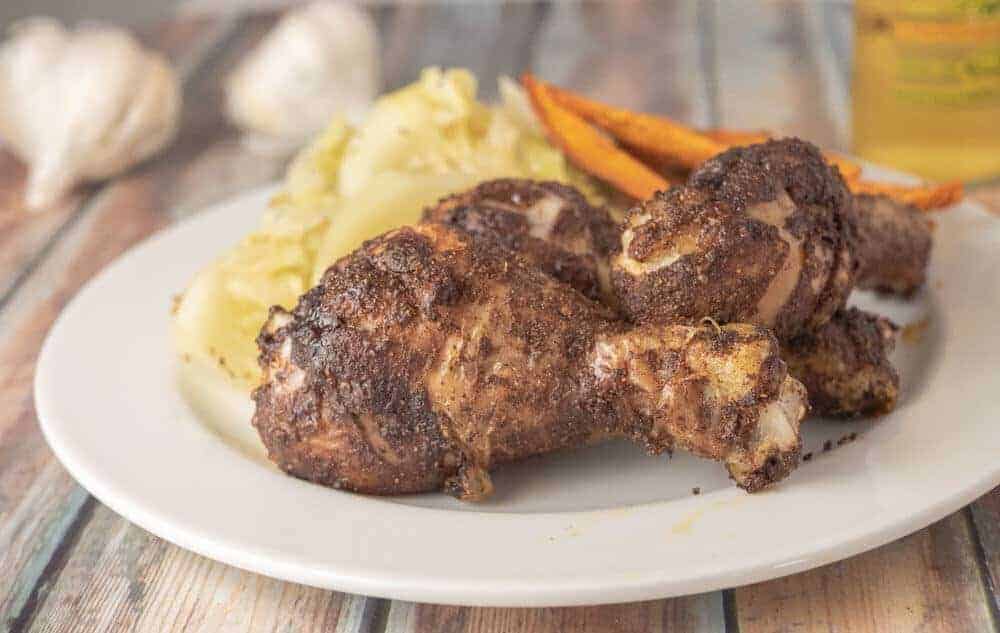 If you've ever tried Jerk Chicken and you like it but its a bit too spicy for you then you will love this recipe. It has flavors very similar to Jerk Chicken like Allspice, Cinnamon and Coriander with just a touch of heat. I absolutely LOVE Jerk Chicken. Here in South Florida where I am located, it is served all over. I loved the Caribbean Island flavors of this dish.
How many chicken legs can I cook in the Air Fryer?
Size does matter when you are cooking in an Air Fryer. You do not want to overcrowd the chicken pieces. In a 5.8 Qt Air Fryer you can fit about 7-10 chicken legs or thigh pieces. In a 3 Qt. Air Fryer its it about 4-5 chicken pieces.
What temperature to Air Fry the Chicken Legs?
When cooking these air fried chicken legs I tend to keep the cooking tempurature at 380 degrees. Different people will give you different answers. A few minutes before the chicken is done cooking I usually take a peek and see how it is looking. Most of the time I will crank up the chicken frying temp for the last 5 minutes to around 400 degrees just to give the chicken that crispy skin that is crunchy and delicious.
How long to cook chicken legs in the Air Fryer?
Generally I tell everyone about 25 to 30 minutes of cook time to cook the chicken pieces and get them nice and crispy and golden in color.
Ingredients in these Air fryer Chicken Drumsticks?
Preparing these Easy Airfryer Chicken Legs is EASY. Simply mix together all the dry spices. Then add a couple tablespoons of Olive Oil and mix with the spices to form somewhat of a paste. Once that is completed add your chicken. You can use drumsticks, thighs or both. Coat the chicken well with the oil and spice mixture. Let the chicken marinate for at least 20 minutes or overnight. You want the flavor of all those spices in the chicken.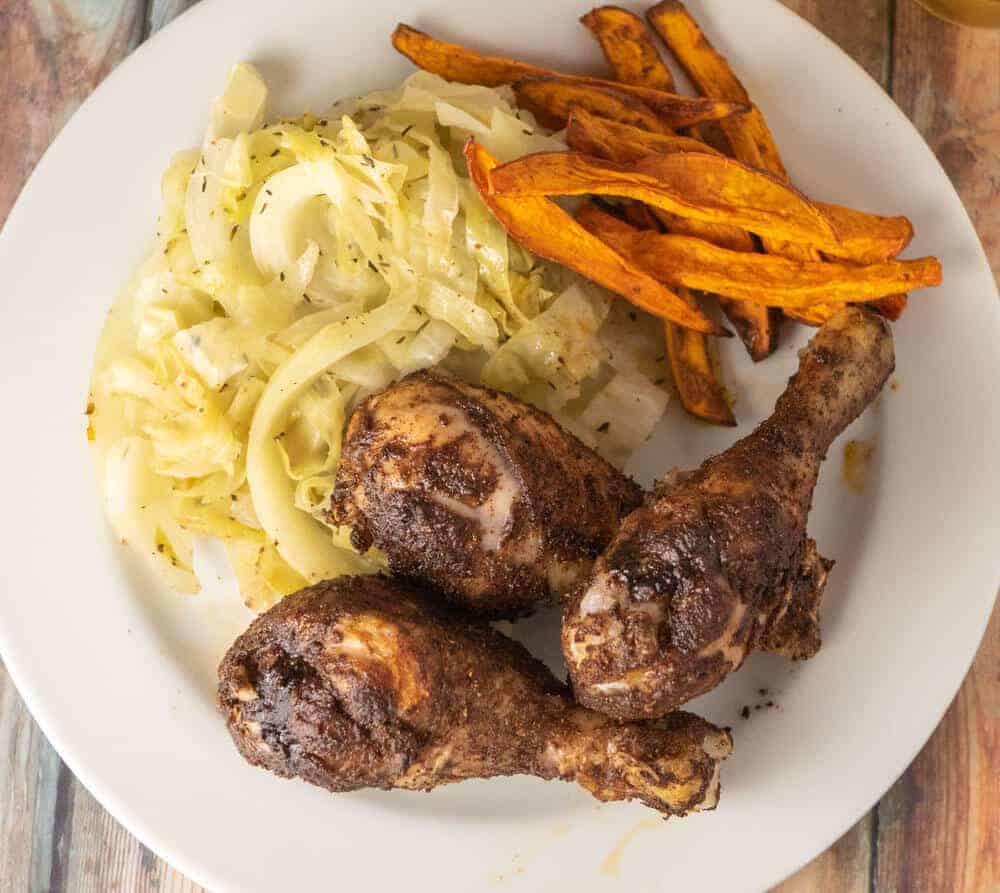 Once the chicken has marinated a bit we are ready to put it in the Airfryer. I paired these Air Fryer Chicken Legs with Steamed Cabbage and Sweet Potato fries that I made in the Airfryer to make it more Paleo. Truth is this goes really well with my Instant Pot Vegetarian Pasta Salad.
How to cook chicken drumsticks in Airfryer
These air fryer chicken drumsticks are not only easy they are also keto friendly. If you are a fan of Air Fryer fried chicken then give this a try because it is a real tasty alternative. This can be done with bone in chicken thighs as well.
If you have any questions about this recipe feel free to leave a comment. If you have made this recipe please leave a rating and a comment it really helps us out. Thanks so much for stopping by my spot on the internet.
Items I used in this Recipe. Available from Amazon. You can HOVER OVER THE LINK to see INFO and PRICE or just Add Them to Your Cart on Amazon. I do receive a small commission from Amazon at NO EXTRA COST to YOU. Thanks so Much for Your Support.
SUPER DEAL ZenChef PRO XXL Hot Air Fryer Family Size 5.8 Qt

J.A. HENCKELS INTERNATIONAL Classic Paring/Utility Knife, 4-inch

Join Our Facebook Groups
Air Fryer Chicken Legs Recipe
Air Fryer Chicken Legs
Air Fryer Chicken Legs and Thighs
Ingredients
2

Pounds

Chicken Parts

1

Tbsp.

Allspice

1

Tbsp

Cinnamon

1

Tbsp.

Coriander

1/2

tsp.

Cayenne Pepper

1/2

tsp.

Salt

1/2

tsp.

Ground Ginger

1/2

tsp.

Smoked Paprika

1/2

tsp.

Old Bay

1 1/2

Tbsp.

Olive Oil
Instructions
Mix all the Spices together and stir till they are well combined. Add olive oil and stir till it is kind of a paste. Add the chicken and coat well. Let marinate 15 minutes or Overnite.

Turn Airfryer to 380 degrees and PREHEAT. Spray preheated basket with Pam or Olive Oil Spray. Add Chicken and cook 12 Minutes. Then Flip Chicken and Cook 10 to 12 Minutes More. Remove Chicken season with salt and pepper to taste and let cool a few minutes.

Enjoy.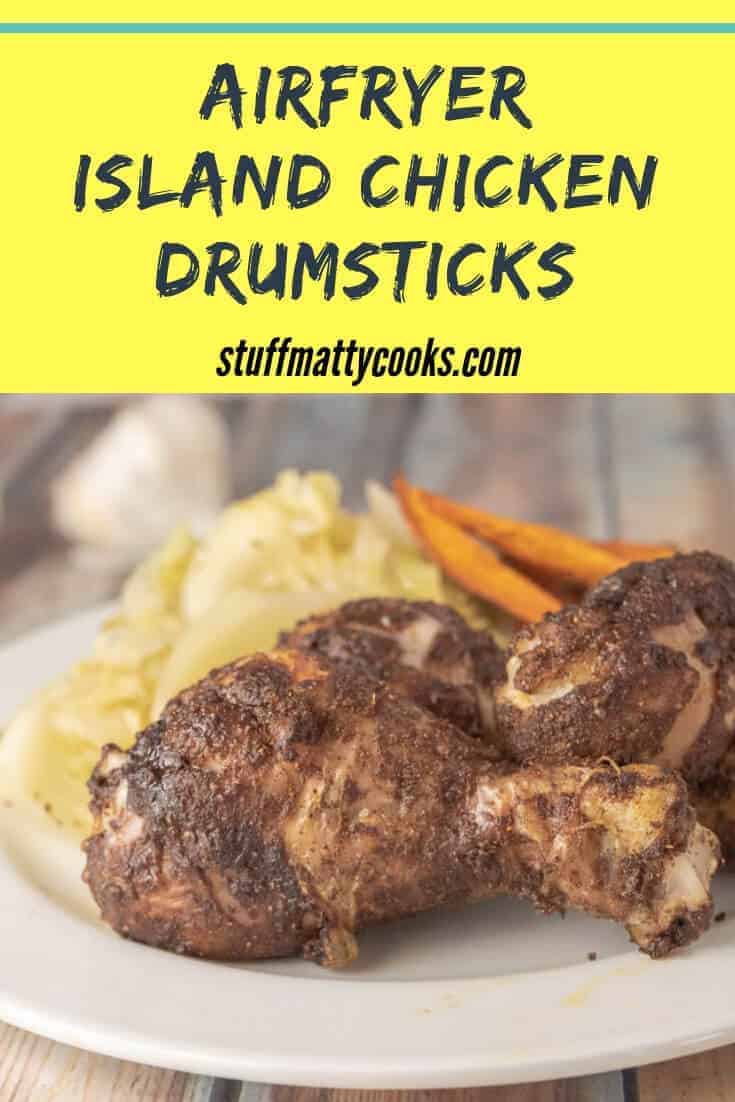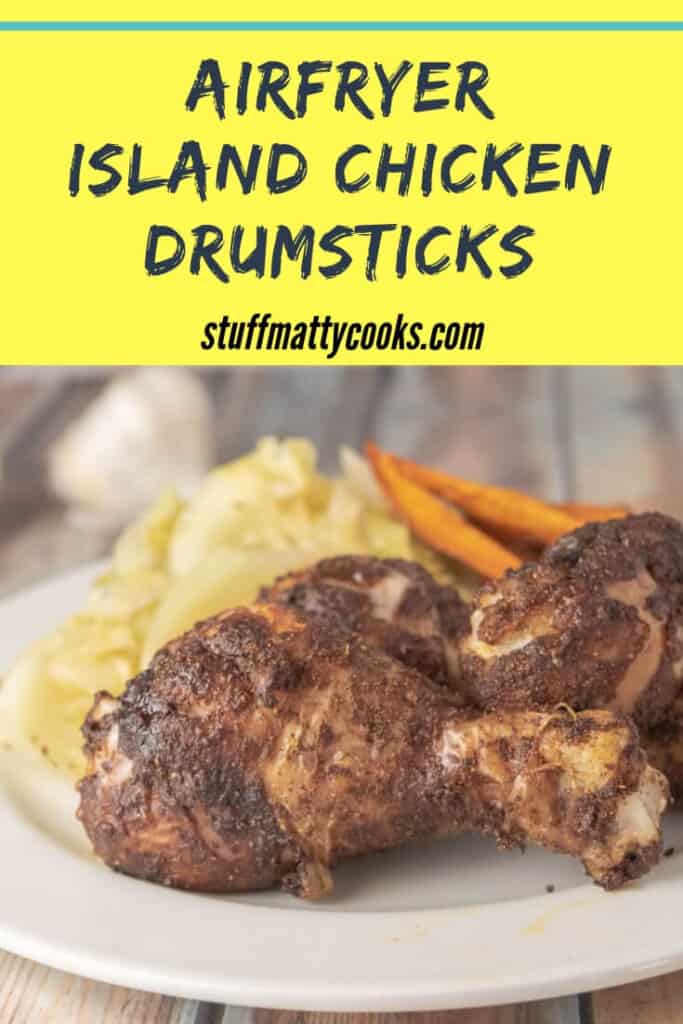 (Visited 6,575 times, 37 visits today)