Instant pot banana bread is the perfect way to cook up the classic treat we all love. It comes out perfectly every time. Instant pot banana bread cooks evenly and comes out moist thanks to the cooking environment created by using a pressure cooker.
Banana bread is very comforting. Slathered with a healthy layer of butter makes it even better. I am going to show you my instant pot banana bread recipe that is soft, moist, and loaded with flavor, and makes some delicious banana bread.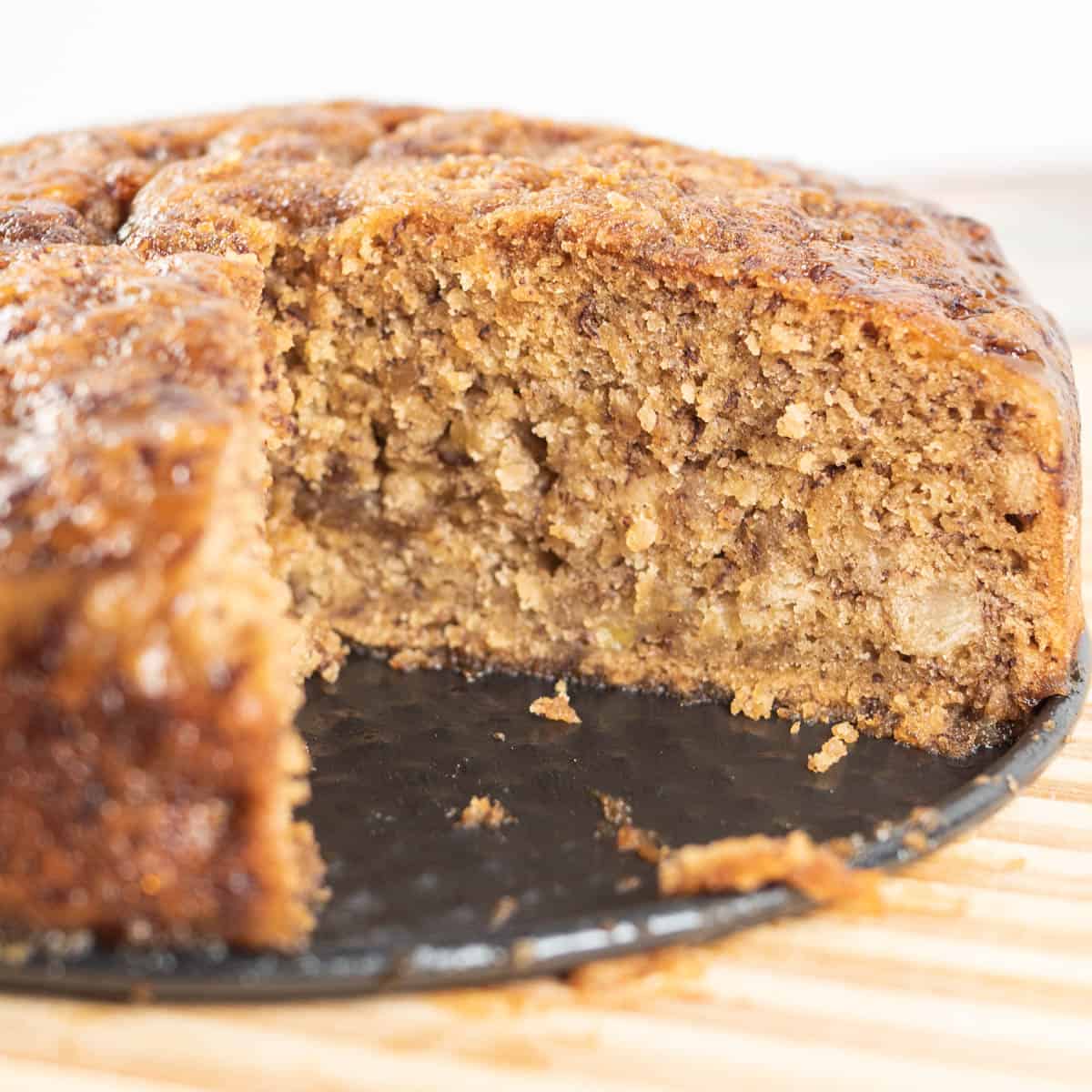 Banana Bread Instant Pot
Banana bread has been a staple in homes since the dawn of time. My family has been making it on a regular basis for most of my life. I can remember the whole house smelling of banana bread when I was a kid. Having this bread as a dessert was always a treat.
Bananas are common on every kitchen counter in America. Great for smoothies, cereal, and snacks. Bananas are a versatile food when you think about it.
I buy at least a few bananas at the store each week. Some weeks I have leftover bananas and they get too ripe.
I was brainstorming about how I could use these ripe bananas because I do not like to waste food. Especially these days with food being so expensive. One day it hit me what to do with the leftover bananas. We make banana bread, of course.
Jump to:
What Can I Make with Overripe Bananas?
Banana bread is the perfect way to use up all those overripe bananas that you would normally just throw out. These ripened bananas may not be the best for eating. Although the higher sugar content of ripe bananas makes them really shine in banana bread.
Banana Bread Variations
Banana bread is delicious on its own, and it makes the perfect quick breakfast or snack at any time of day. Don't just stop at plain banana bread, though. There's so much you can do to step it up with banana bread. Below is a list of extra ingredients that can take your banana bread to the next level.
Nuts
You can add any kind of nut for some crunch in your banana bread. Pecans, Walnuts, Almonds, Pistachios, and are great additions.
Chocolate Chips
Chocolate chips also make a great addition to your banana bread. Milk chocolate morsels are a classic, but you can also add in semi-sweet or dark morsels. Get creative and try butterscotch or even toffee. The mellow banana flavor works well with these flavors.
Dried Fruit
Believe it or not, dried fruit is excellent in banana bread. Tiny morsels of cranberries or blueberries are delicious. Raisins are a tasty add in as well.
When adding dried fruit to the batter use about 1/2 cup to 3/4 cup. Add to the bowl mix into the batter before pouring into the loaf pan.
Spices
Adding some spices to your banana bread is another way of kicking your banana bread skills up a notch. Space is like nutmeg, cinnamon, cardamon and even cloves are great additions. When using the spices go light on them as to not overpower the bread. You can use them individually or mix them together.
How to Make Instant Pot Banana Bread
Banana bread is prepared exactly the same as traditional oven-baked banana bread. The methods and ingredients used are identical, it's only the cooking method that is different.
The moist heat inside the pressure cooker makes for a wonderful cooking environment. This guarantees a perfectly baked, moist banana bread that everyone in the family will love.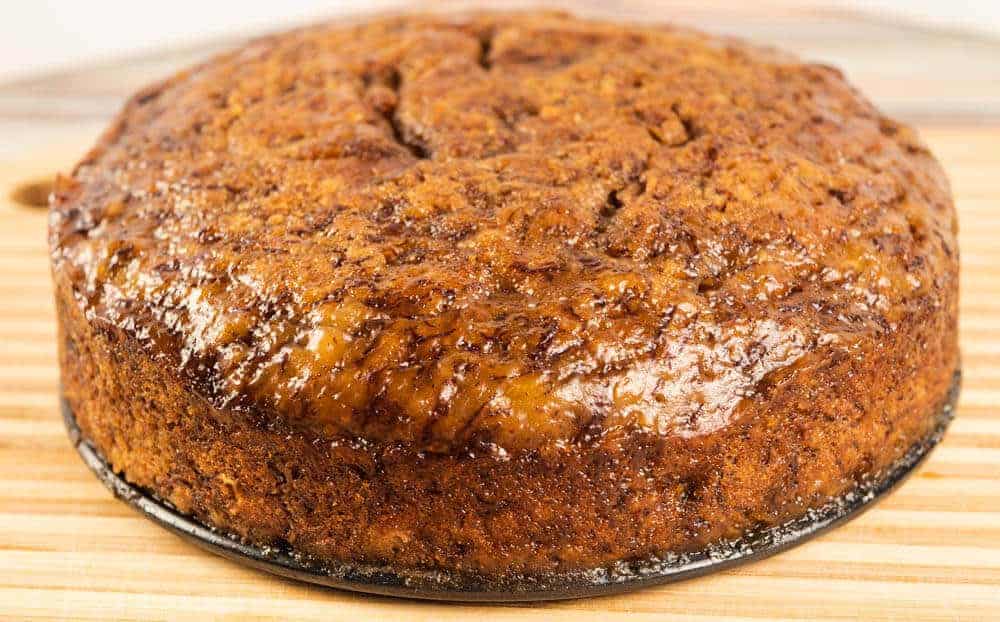 Ingredients Needed to Make Banana Bread
Bananas
All Purpose Flour
Butter
Sugar
Brown Sugar
Eggs
Vanilla
Baking Soda
Baking Powder
Cinnamon
Salt

Full List of Ingredients and Measurements in Recipe Card
How to Make Instant Pot Banana Bread
Making Instant Pot banana bread doesn't require any special prep. You'll prepare the banana mixture in the same way that you would for your oven baked banana bread. It's an incredibly easy process that even beginners can do.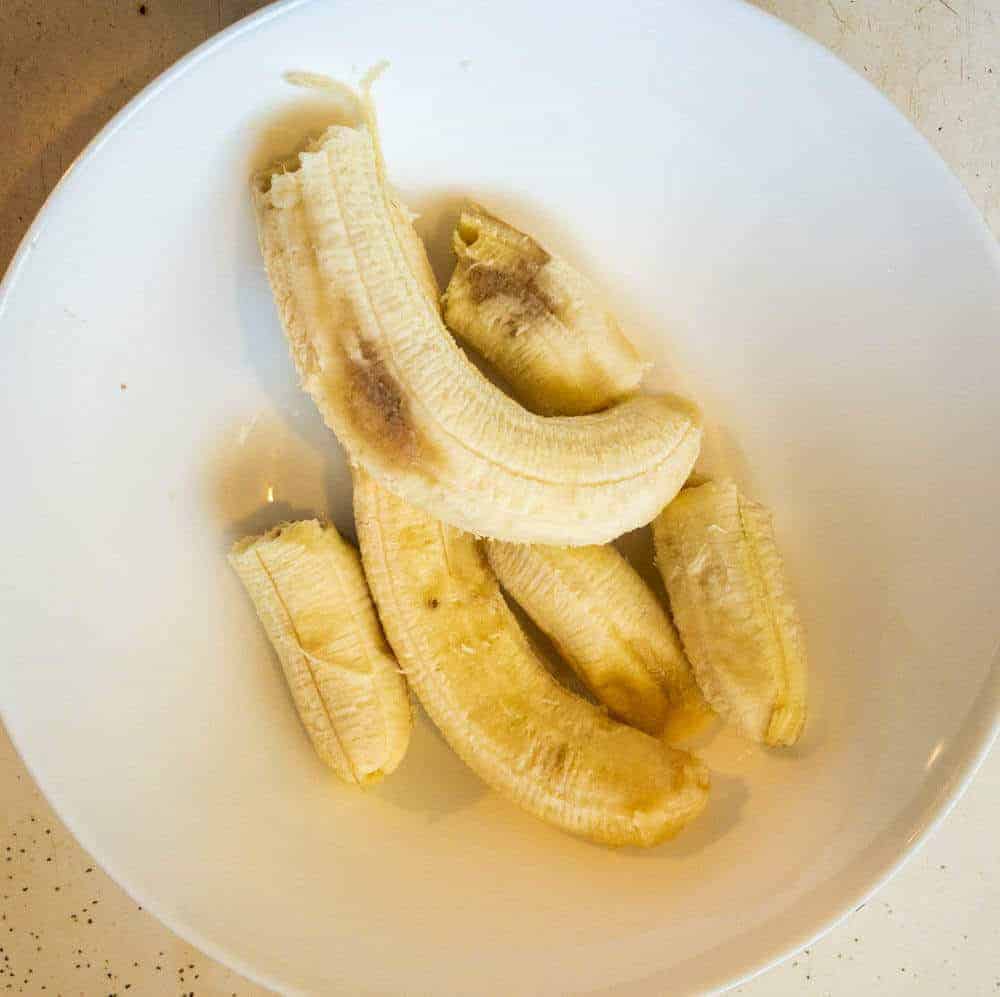 Step 1 – Smash the Bananas
Place bananas in a medium bowl. Using a fork, mash up your overripe bananas. You want the mashed banana to look like the photo so it mixes easily with the other batter ingredients.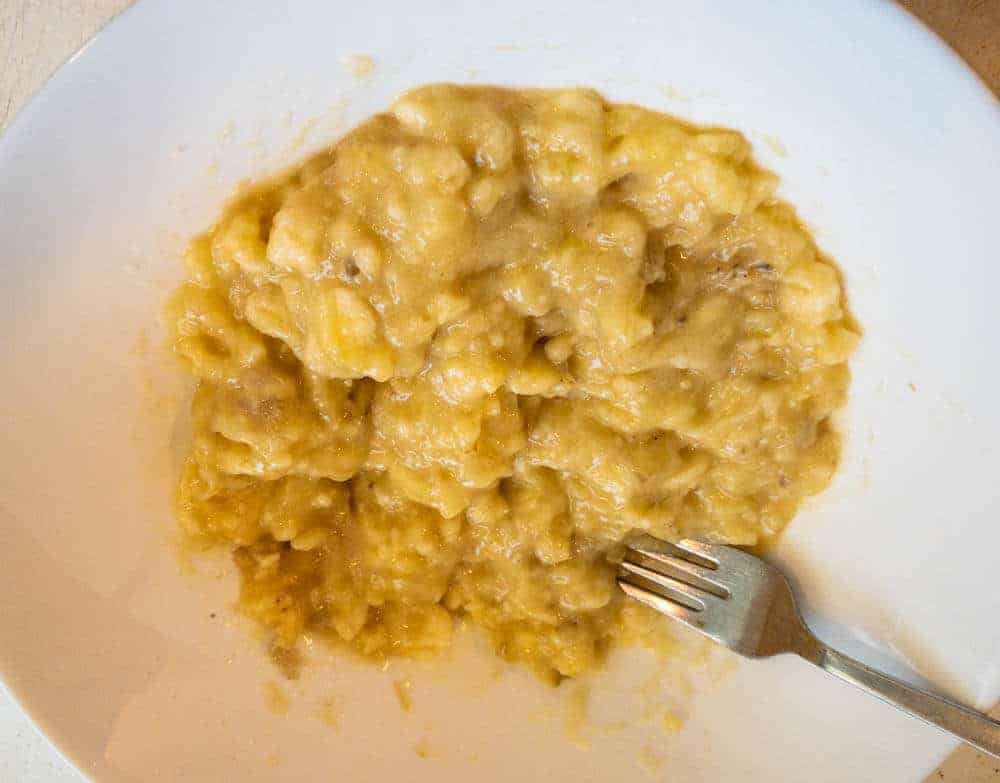 Step 2 – Combine Your Ingredients
Once your bananas are mashed to an even consistency combine with the remaining dry ingredients. Mix just until everything is well combined and you have a batter.
There may be some lumps and that is good. It adds texture. Remember, do not overmix the batter.
If you've chosen to add something like nuts or chocolate chips, now is the time to mix them into the batter. Using a spatula, gently fold the add ins into the batter.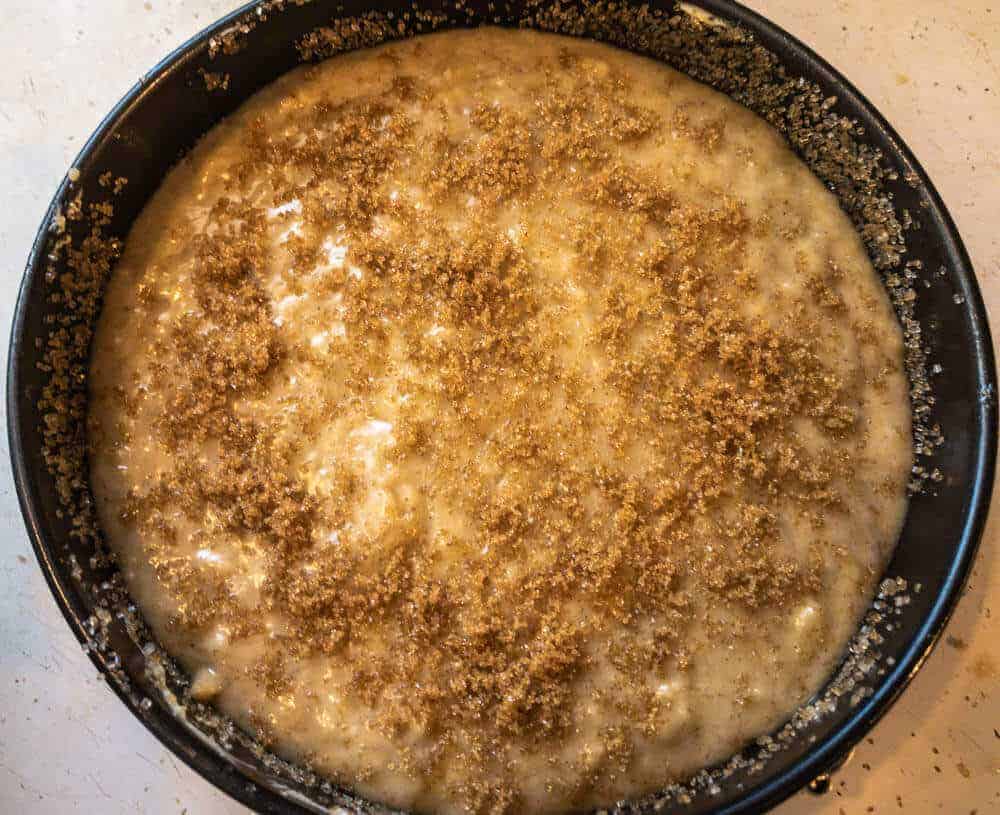 3 – Bake in the Instant Pot
Place a cup of water in the Instant Pot. Add the trivet to the bottom.
Pour your batter into a springform cake pan. Cover with foil. Place the baking pan on top of the trivet.
Place lid on the Instant Pot. Turn valve to the seal position. Pressure cook 70 to 75 minutes on HIGH pressure.
When cooking time is complete DO NOT QUICK RELEASE PRESSURE. Let pressure cooker Natural Pressure Release for 20 minutes then release pressure.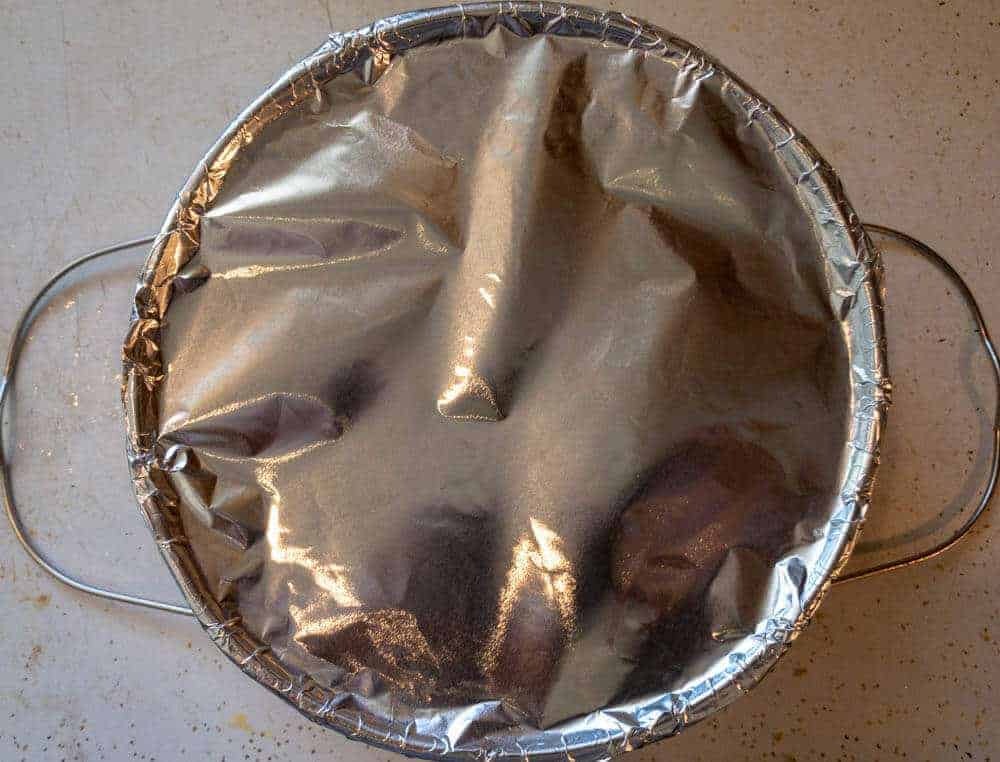 Cool and Serve
TIP: The banana bread is done cooking when you can insert a toothpick and remove it cleanly. If not return to Instant pot for a few more minutes of cooking time.
Let your banana bread cool after removing it from the Instant Pot. This pressure cooker banana bread is always a family hit. It is so moist and loaded with flavor.
This has always been one of my favorite banana bread recipes. I hope you enjoy it as much as my family.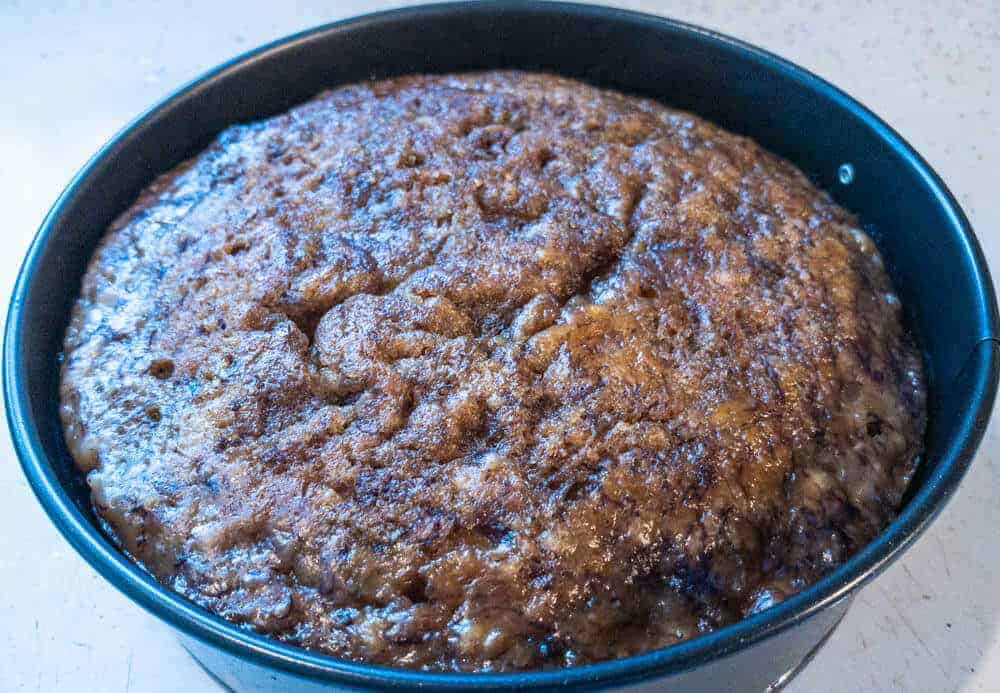 Air Fryer Banana Bread Cooking Instructions
Since I created this recipe I have been messing around making it also in the air fryer. So I figured I would update this recipe and include directions for making an air fryer recipe for banana bread. Air frying banana bread comes out absolutely fantastic.
If you do not have a pan that fits in your air fryer I have linked to one below in the kitchen essentials. If you have a 7 inch springform pan that is what I used. Any 7 inch pan with work. As long as the pan fits in the air fryer you are good to go.
The process of making the banana bread in the air fryer is the same. Below is the correct cooking time and temperature that I find success in the air fryer.
There is one thing that I like to do when making this banana bread recipe in the air fryer. I like to sprinkle brown sugar on top of the batter before baking. This creates a nice crunchy top crust texture on the the top.
This trick does NOT work for the Instant Pot version due to the moist heat.
Air Fryer Cooking Time and Temperature
Preheat Air Fryer to 310 Degrees
Place Banana Bread in the pan in Air Fryer
Do Not Cover the pan with foil if cooking in an air fryer
Cook Banana Bread for 40 to 45 minutes or until toothpick in center comes out clean.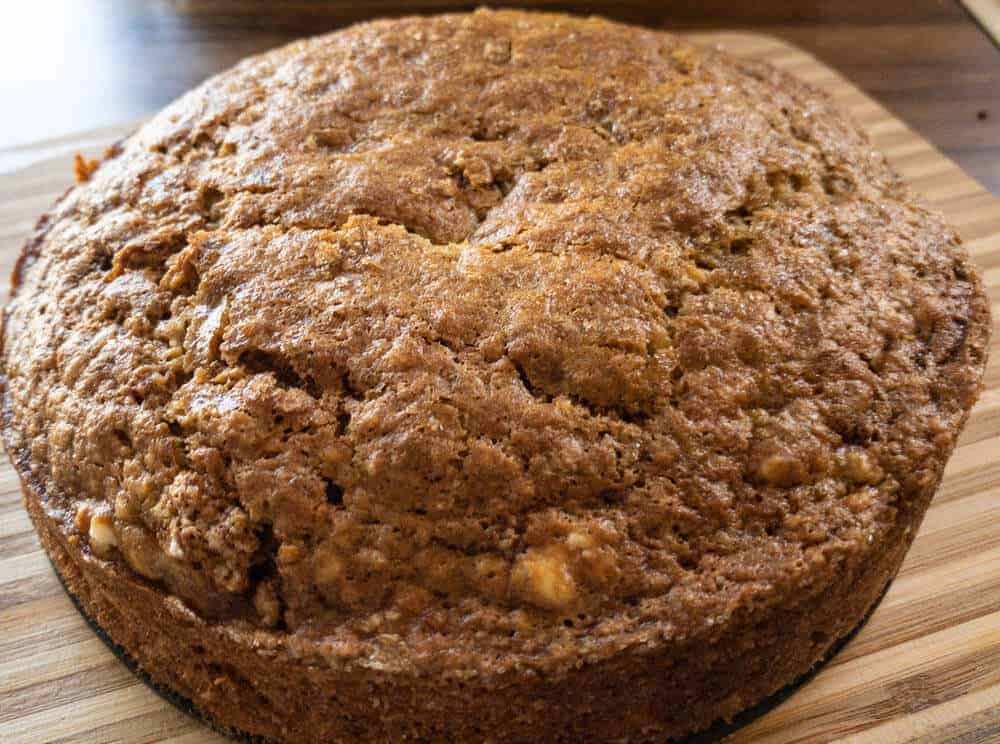 Ideas for Leftover Banana Bread
Banana Bread French Toast
Cut into Cubes and use in an Ice Cream Sundae
Banana Bread Bread Pudding
Join Our Facebook Groups
Are you looking for more recipes? Join our Facebook groups below. These groups are great for tips and questions. A great community for sharing ideas, and recipes.
Instant Pot Recipe Spot
Air Fryer Recipe Spot
Vegan and Vegetarian Plant Based Recipes
Kitchen Essentials and Items Used in Recipe
Instant Pot Duo Evo Plus 9-in-1 Electric Pressure Cooker
Instant Pot 5252051 Official Springform Pan, 7.5-Inch
365 Everyday Value, Organic All-Purpose Flour, 5 lb
365 Everyday Value, Organic Ground Cinnamon, 1.9 oz
Other Recipes You'll Love
Oven Roasted Tri Tip
Instant Pot Deli Roast Beef
Instant Pot Chicken Adobo
Air Fryer Empanadas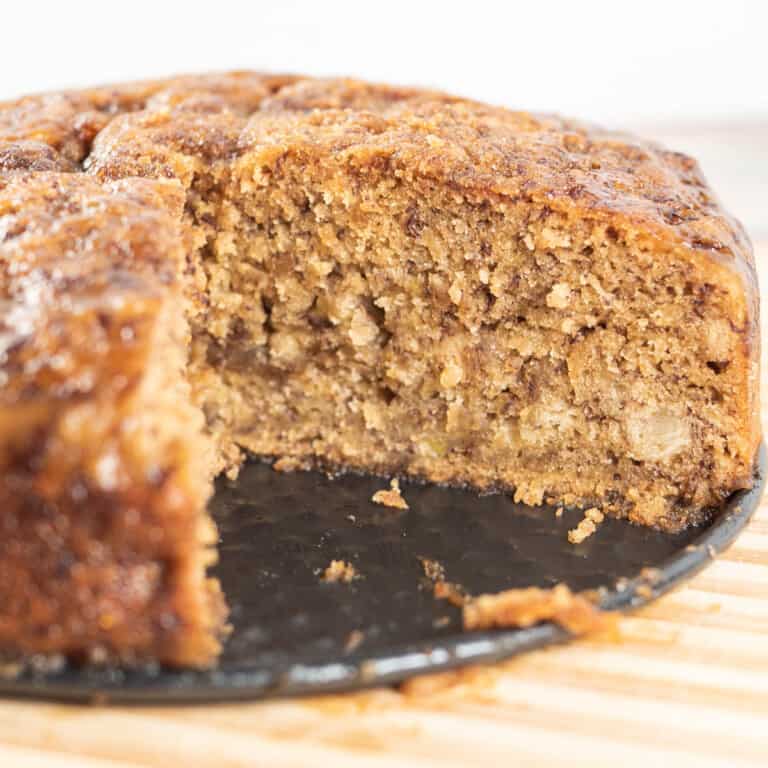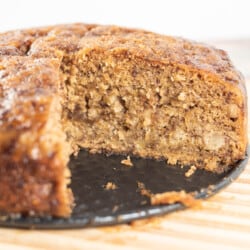 Instant Pot Easy Banana Bread
Instant Pot Banana Bread is moist sweet and flavorful and easy to prepare in just 5 easy steps.
Print
Pin
Rate
Ingredients
3

Over Ripe Bananas Mashed

1/3

Cup

Melted Butter

3/4

Cup

Sugar

I Used Cane Sugar

1

Egg Whisked

1

tsp.

Baking Soda

1

tsp.

Baking Powder

1

tsp.

Vanilla Extract

1/2

tsp.

Ground Cinnamon

1/3

tsp.

Salt

1

Tablespoon

Brown Sugar to Sprinkle Top

before baking.

1 1/2

Cups

Unbleached All Purpose Flour

1 1/2

Cups

Water (For Instant Pot)
Instructions
Step 1
Grease a 7 in Springform cake pan with some butter.

Use about 2 Tbsp. Of Sugar to sprinkle the greased pan. (Optional)
Step 2
In a bowl mash the bananas. I use a fork to mash.
Step 3
Mix in all other ingredients and mix by hand until it is all incorporated and looks like batter. Do not over mix. Some lumps is ok.

Use a rubber or silicone spatula to get all the batter into the springform pan.

Smooth out ingredients in pan with spatula to spread even.

Leave about 2 inches from top of pan.
Step 4
Cover pan tightly with aluminum foil.

Place 1 1/2 cups water in Instant Pot

Place Trivet in Instant Pot

Place Springform Pan in Instant Pot

Put Lid on Instant Pot and Turn valve to SEAL
Step 5
Cook on High Pressure 70 to 75 Minutes.

Natural Pressure Release 20 Minutes.

Do Toothpick Test. (Make sure toothpick comes out clean)
Remove and Let Cool
Remove from Instant Pot

Let cool 15-20 Minutes.

Remove from Springform Pan
Oven Baked Banana Bread Instructions
The process for preparing this recipe in the oven is basically the same. Use a 9 inch loaf pan instead or you can use a 7 inch springform. Follow step 1 thru 3 exactly the same.

Preheat oven to 350 Degrees

Bake 45 to 55 minutes. Remember to do toothpick test to check for doneness.
Nutrition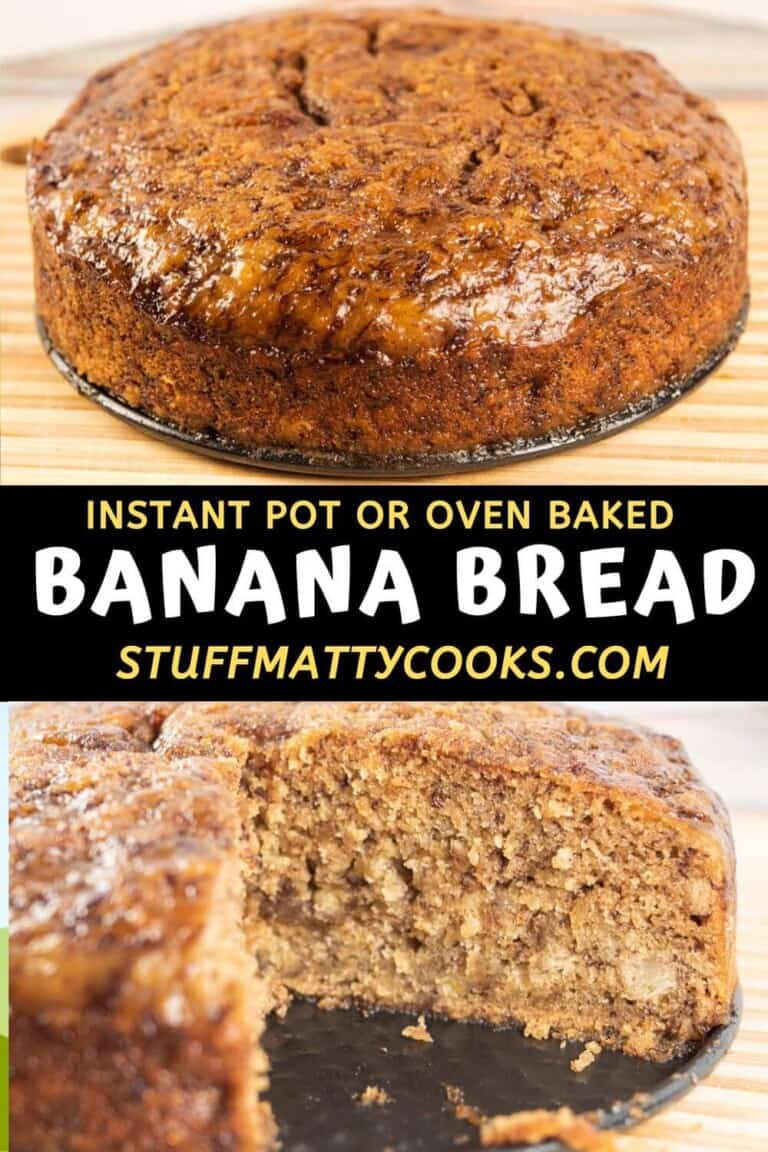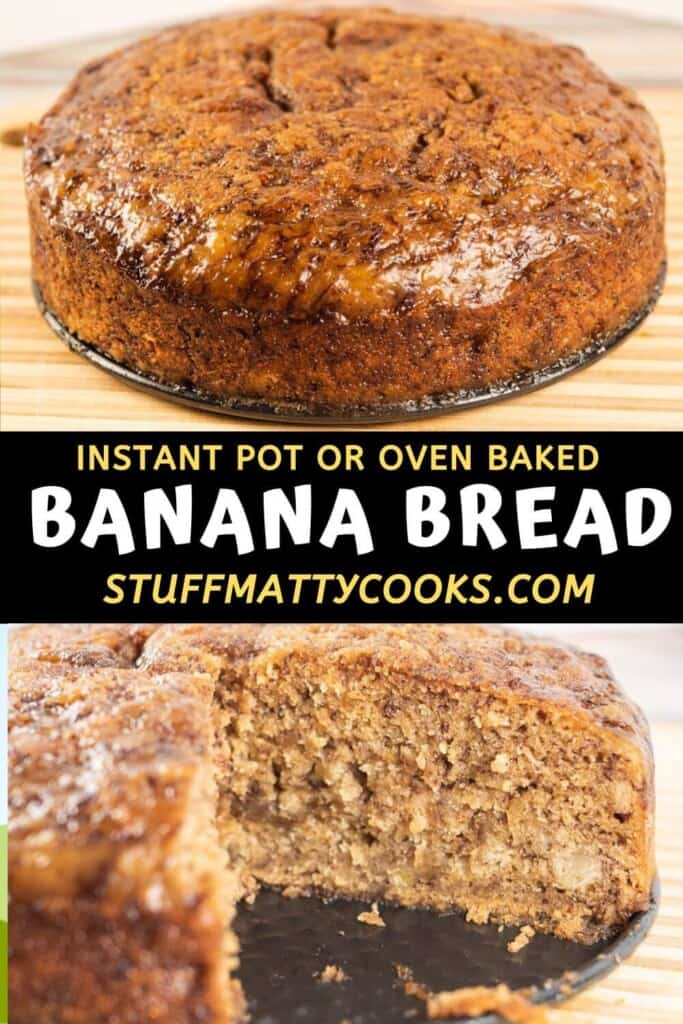 (Visited 48,219 times, 1 visits today)