Air Fryer Empanadas are a favorite snack all over my hometown area of South Florida. These little pockets of fried or baked dough are filled with all kinds of yummy fillings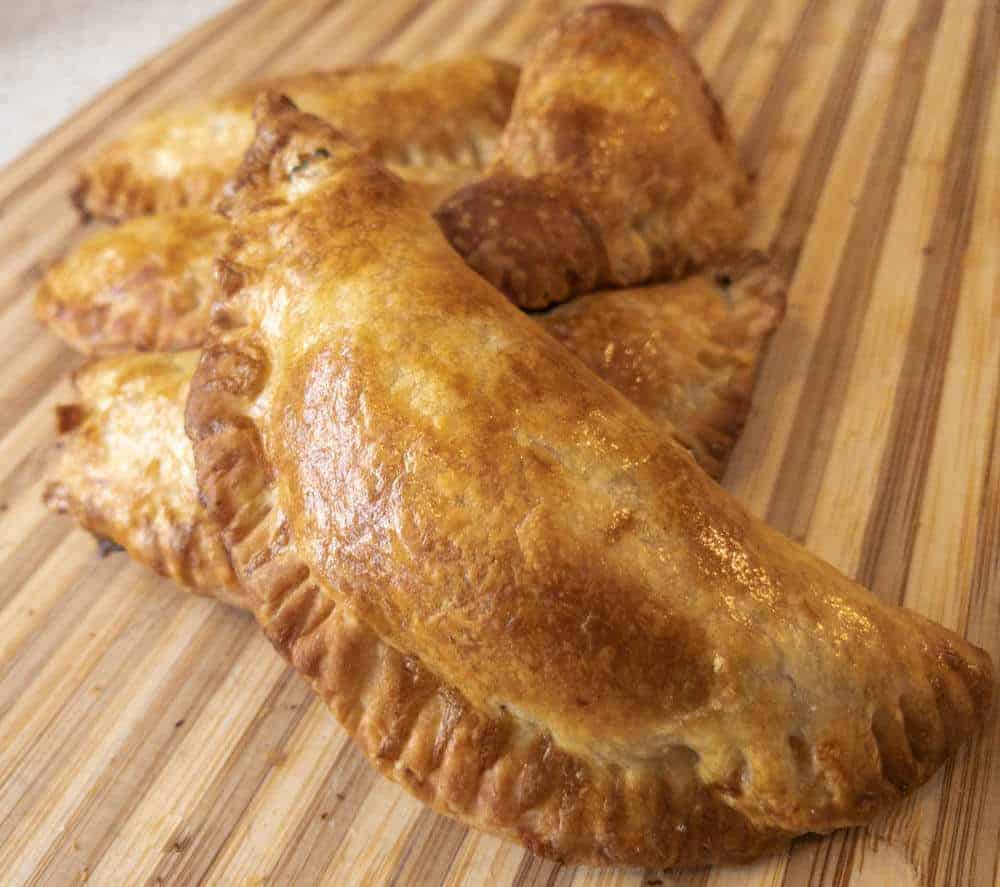 Air Fryer Empanadas
These are great for a snack or appetizer. They can be filled with almost anything that you like. Typically empanadas are filled with ground beef and a mix of peppers and onions. Chicken is also a very common filling and that is what we are doing in this empanada recipe.
Where are Empanadas from?
Now I am no expert on history but according to Wikipedia empanadas originated in Portugal. The word "empanar" means to wrap a filling in bread. Fillings can range from different meats, vegetables or even fruits. I totally love apple empanadas.
Can you cook Empanadas in an Air Fryer?
Absolutely! You can cook Empanadas in an air fryer and they come out fantastic. I actually seem to prefer these over their deep fried counterpart. They are crispy on the outside and soft on the inside and they are delicious.
Ingredients in Air Fryer Empanadas
Filling for Empanadas (Chicken or Ground Beef)
Goya Empanada Dough (Freezer section of Market)
Cheese ( Any kind of cheese you enjoy)
Scallions
Salt
Pepper
Cumin
Egg (For Egg Wash)
What to use in place of Empanada Dough?
If you live in an area where a premade empanada wrappers are not available you can use pie crust that's pre-rolled. This is a bit sweeter than empanada dough. You can also use premade biscuit dough or crescent roll dough. Roll them out thin if you want an empanada that is flakier.
Full Ingredient List and Measurements in Recipe Card Below
How to Cook Empanadas in the Air Fryer
Stick with me and I will show you my method on how to cook empanadas in the air fryer. This is really not a difficult process.
In this recipe, I am using Goya Empanada dough. This is readily available at most supermarkets. The premade dough is fantastic and makes this recipe very simple.
Step 1 – Prepare your Filling Protein for Empanadas
I always try to make empanadas out of fillings that I have around that are leftovers. In this recipe I used leftover chicken that I made on my smoker over the weekend.
Leftovers make the best fillings for empanadas. Although you can cook some chicken breast or ground beef up in just minutes.
Ok well lets get to it. If you are using chicken the ideas is to chop it up in small bite size pieces like the photo below. Some people use a food processor but I just did it with a chef knife.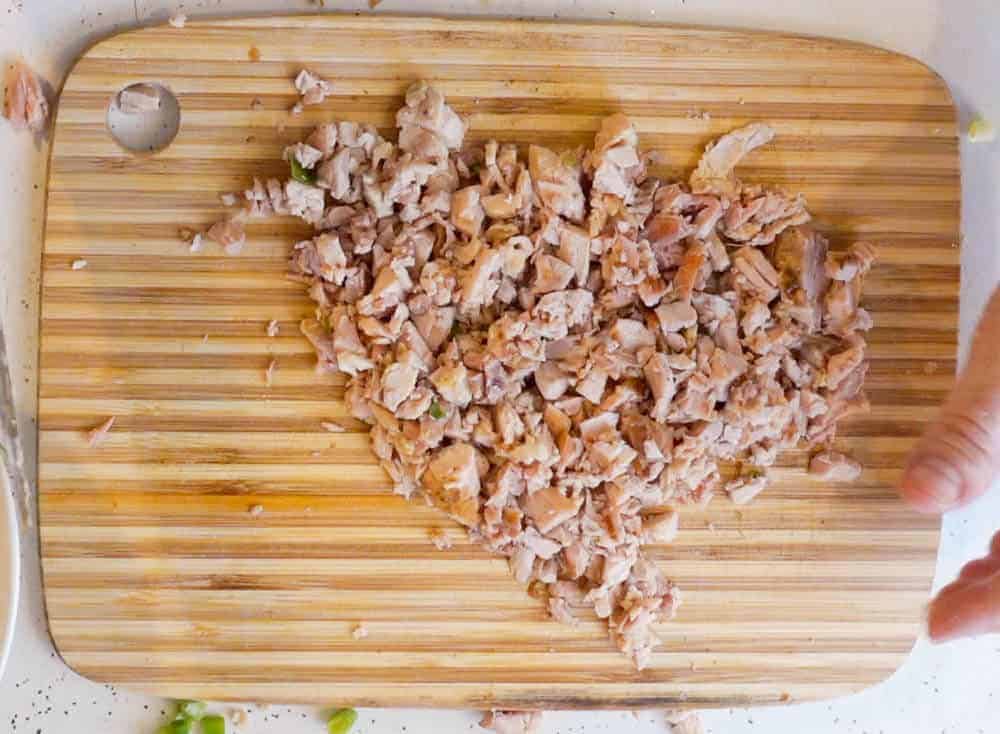 I just added some green onion scallions and cheese to this recipe to create a filling for the empanadas. I spiced up the mix with some salt, pepper, garlic powder, and cumin. Giving it a bit of a Latin flavor. I then added a few pinches of cheese.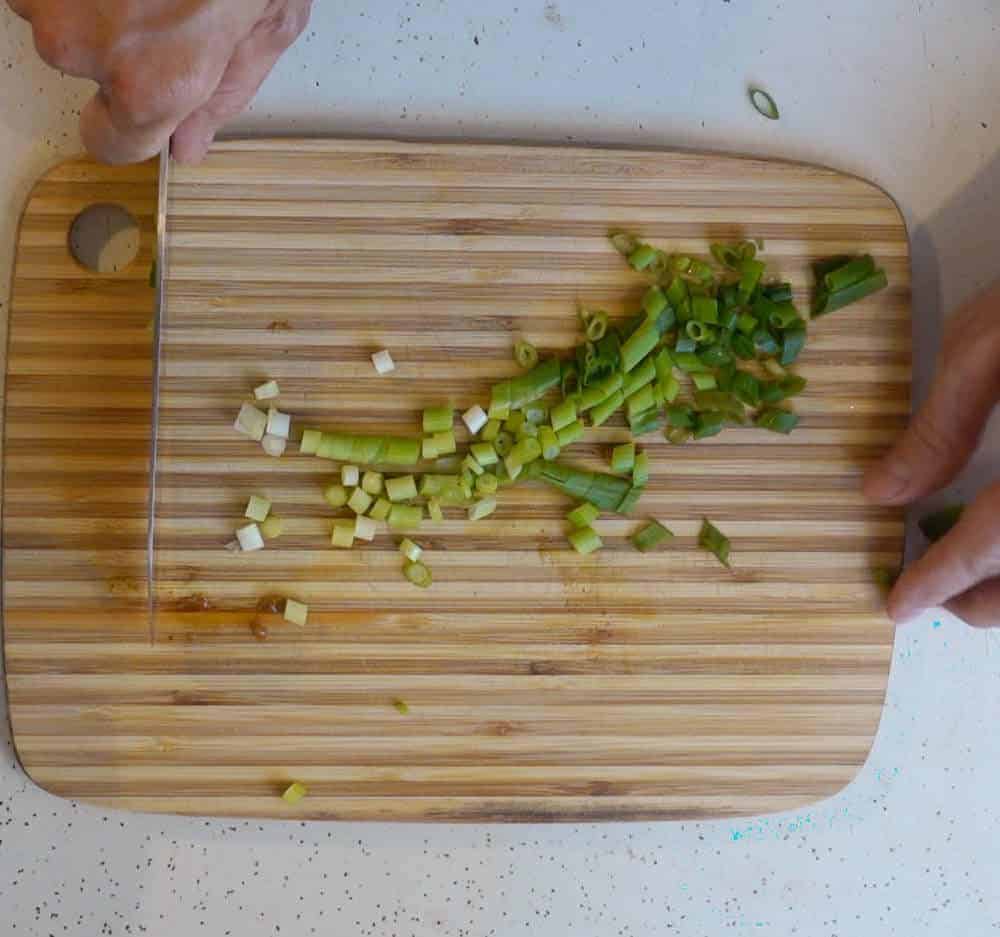 Step 2 – Filling and Wrapping the Empanadas
Make sure that your empanada dough discs are defrosted. Create an egg wash with one egg beaten and a few tablespoons of water. Dip your finger in the egg wash and run it around the edge of the empanada dough. This is going to help seal the empanada.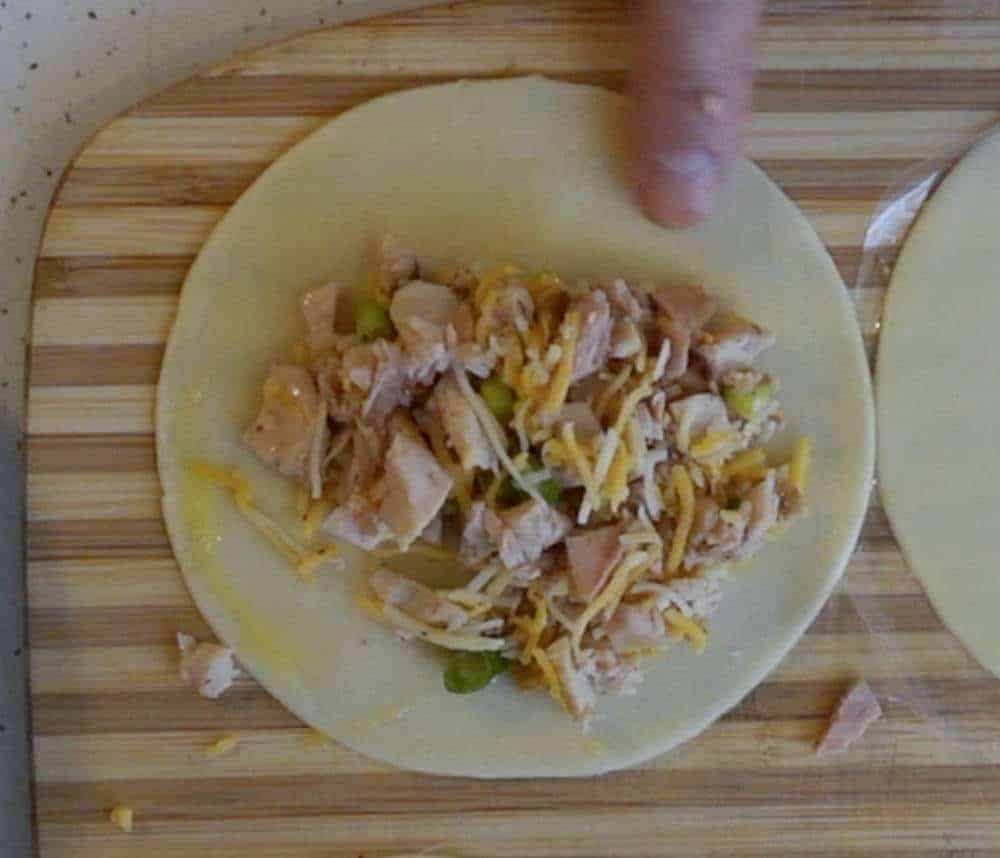 Add your filling to the dough like the photo above. Spread it out evenly leaving edges clean. I used a couple tablespoons of filling in each. Once your empanada is filled fold it over and pinch to seal.
Step 3 – Crimp the edges of the Empanada with a Fork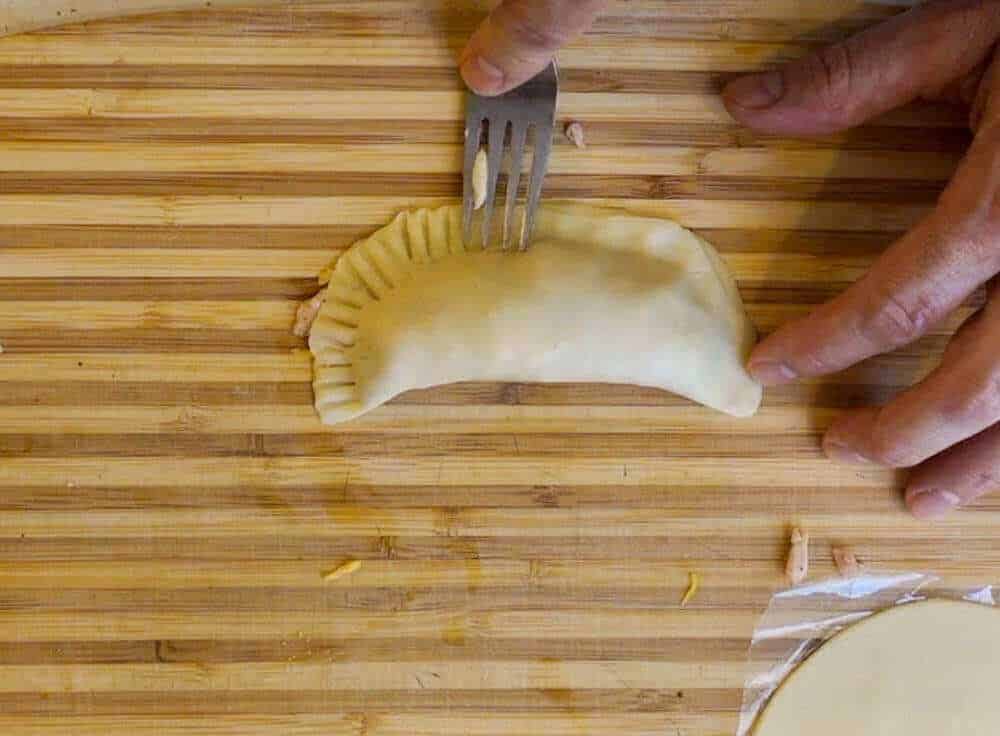 Run a fork around the edge to ensure a good seal and this also makes it look nice. Be careful not to puncture the empanada with the fork. Repeat this process until all the empanadas are completed.
Cooking Empanadas in the Air Fryer
Just before you are ready to cook the empanadas they need to be brushed with the egg wash that you created. Cooking spray can also be used but I like the egg wash result.
Tip: Brush one side with the egg wash before putting them in the air fryer basket. Then put that side down. This way you don't half to flip them in the basket.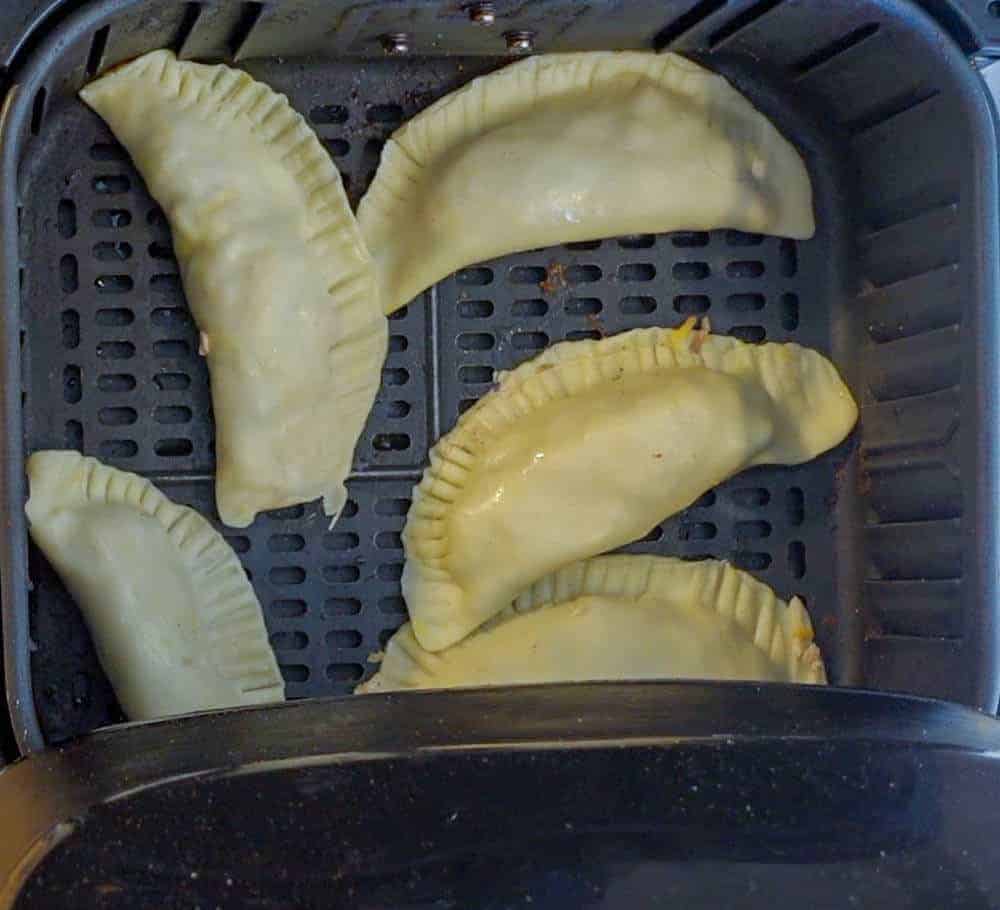 I am using a 6-quart air fryer and I was able to put 5 empanadas per batch in the basket in a single layer. Do not overlap them. Proper air circulation is required for the best golden brown air fry crispy results.
Air Fryer Empanadas Cooking Time and Temperature
The cooking time and temperature for the empanadas was 400 degrees Fahrenheit. The cooking time that I preferred was a total cooking time of 8 minutes per batch. I found this to be optimal for this air fryer recipe. If you want them a bit lighter use more medium heat around 375 degrees Fahrenheit.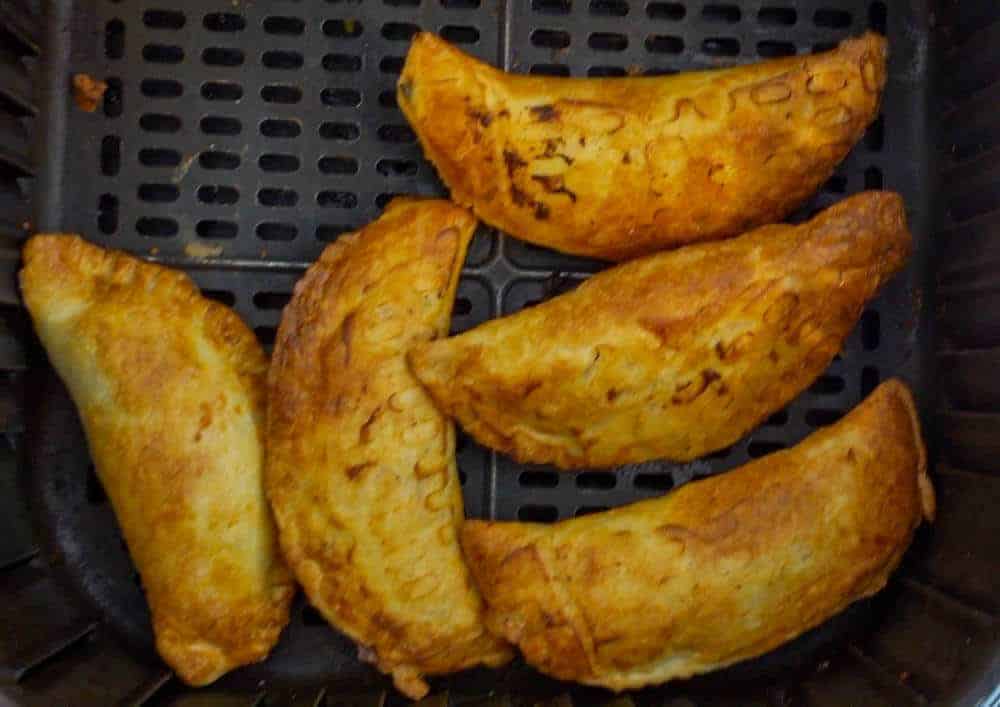 Can You Freeze Empanadas?
Yes. You can absolutely freeze empanadas. I am always making more than one batch and I store them in a freezer bag frozen for an appetizer or snack. Wrapped in plastic wrap for extra protection. I also label and date the bag.
Reheating Frozen Empanadas in Air Fryer
Reheating frozen empanadas in the air fryer is an easy process and the empanadas reheat wonderfully at 350 degrees Fahrenheit for just 3 to 4 minutes and the empanadas are ready to eat.
Can you Cook Frozen Empanadas in Air Fryer
Yes you can. I do this often because when I make these I make a big batch and keep them frozen in the freezer.
Step 1 – Preheat your air fryer.
Step 2 – Spray empanadas with an oil sprayer or cooking spray.
Step 3 – Add empanadas to the basket and cook 340°F for 8-10 minutes.

Oven Baked Empanadas
If you do not have an air fryer or would rather use your oven to make this recipe you can easily do that.
Spray a baking sheet with cooking spray and add empanadas. The cooking temperature to bake the empanadas would be 400 degrees Fahrenheit for 20 to 25 minutes.
More Recipes to Enjoy
Air Fryer S'mores
Air Fryer Bacon Wrapped Asparagus
Air Fryer Fried Shrimp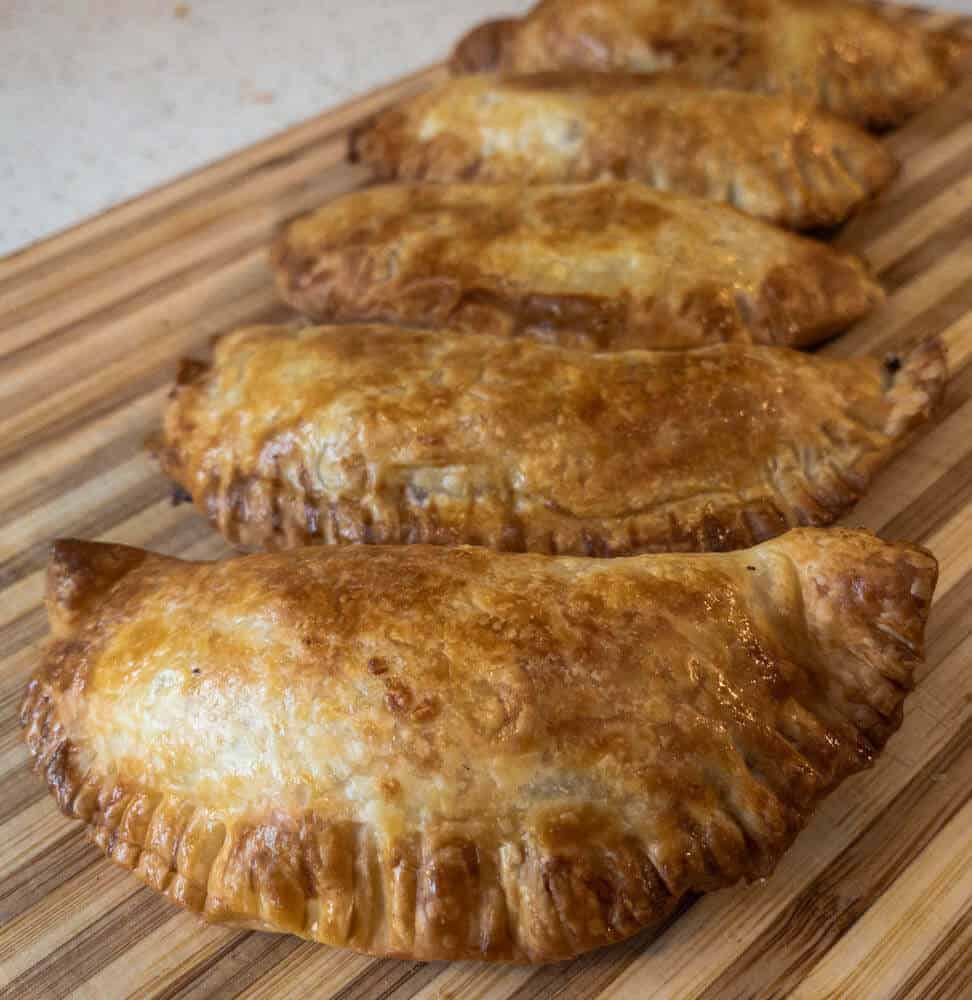 Kitchen Essentials and Items Used
COSORI Air Fryer Max XL
Instant Vortex Plus Air Fryer Oven 7 in 1 with Rotisserie
Oil Spray Bottle Versatile Glass for Cooking, Baking, Roasting, Grilling
Air Fryer Liners Accessories 9 Inch 100pcs
Air Fryer Empanadas (Chicken or Beef)
Air fryer empanadas are easy and delicious. They make a great appetizer snack filled with chicken or beef or any filling you enjoy.
Ingredients
1

package

Goya Empanada Dough Discs

8 to 10

ounces

cooked chicken or beef

2

chopped

Scallions

1

tsp.

Salt

1/4

tsp.

Black Pepper

1/2

tsp

Garlic Powder

1/2

tsp.

Cumin

3

Tbsp.

Cheese (Any Variety)

1

Egg

2

Tbsp≥

Water
Instructions
Empanada Filling
In a mixing bowl add chopped chicken, scallions and cheese.

Season the mixture with Salt, Black Pepper, Garlic Powder and Cumin.

Mix Ingredients until combined.
Assemble Empanadas
add egg and water to bowl and beat egg to create the egg wash.

Lay a piece of the empanada dough on flat surface. Fill with 2 to 3 Tablespoons of mixture.

Dip finger in egg wash and run around edge of empanada dough to help seal.

Fold over dough and pinch edges to seal.

Crimp edges with fork being careful not to punture empanada.

Repeat pricess until all empanadas are completed.

Turn over all empanadas so bottom is facing up.

Brush all empanadas with the egg wash on bottom.
Cooking Air Fryer Empanadas
Place side you brushed with egg wash down in air fryer basket.

Place about 5 empanadas in the basket. Do not overcrowd.

Brush top side of empanada with egg wash.

Set cooking temperature of air fryer to 400 degrees Fahrenheit.

Cook empanadas 8 minutes total flipping half way through.
Notes
Keep in mind all air fryers cook a little different. Some hotter than others some not as hot. Cooking time may vary by a few minutes more or less.
Air Fryer Empanada Variation Ideas
Beef Empanadas or Steak Empanadas
Fruit Empanadas (Apple or Peach)
Vegetable Empanadas
Shrimp Empanadas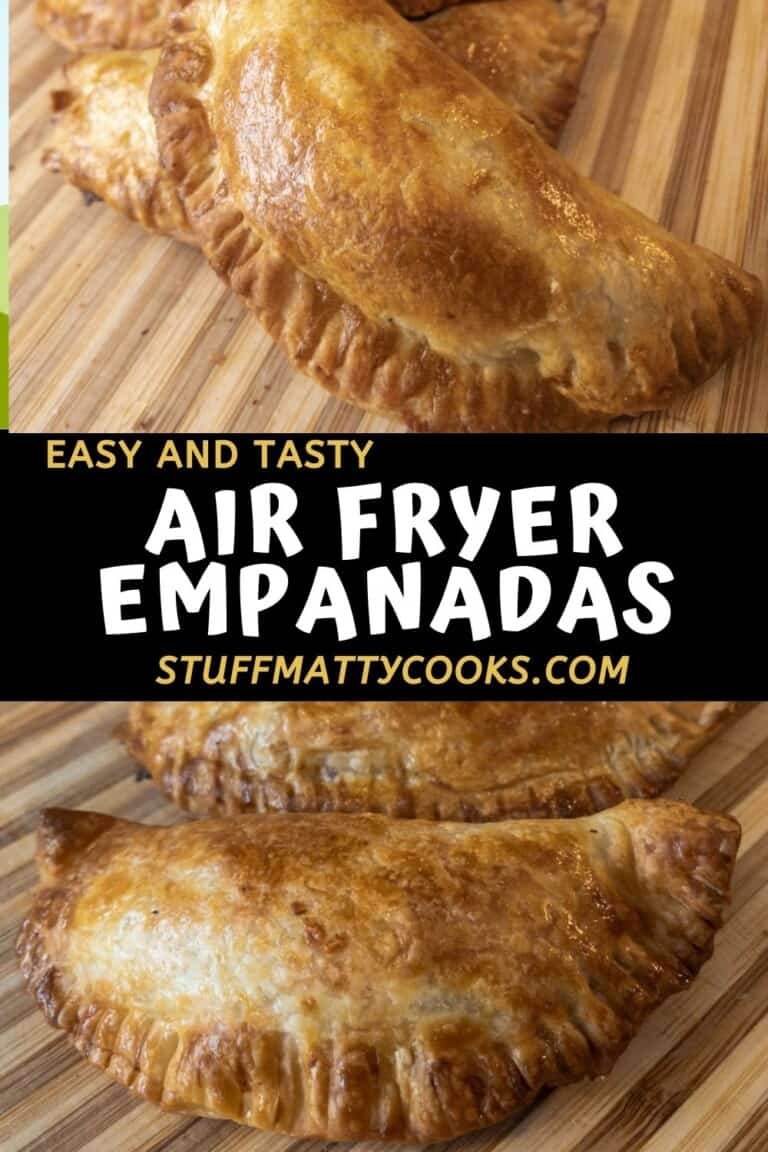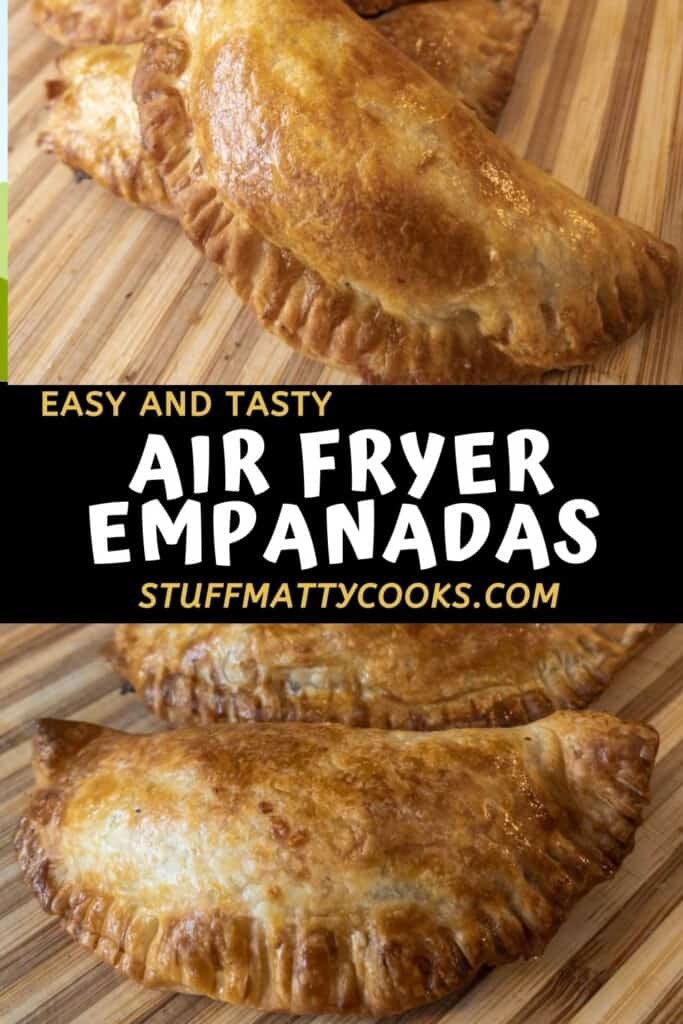 (Visited 5,939 times, 17 visits today)