If you haven't tried these air fryer boneless chicken thighs you're missing out. It takes less than 20 minutes to prepare, season and cook these juicy and flavorful chicken thighs. Boneless skinless chicken thighs in air fryer are quick and easy to have on the dinner table for the whole family.
When it comes to chicken thighs I always buy bone in chicken thighs. I like doing this because when you buy the bone in chicken thighs you have more options on how to cook chicken thighs in the air fryer. Removing the bone in chicken thighs takes just a minute and the cost of bone in chicken thighs is about 50% less than buying boneless skinless chicken thighs.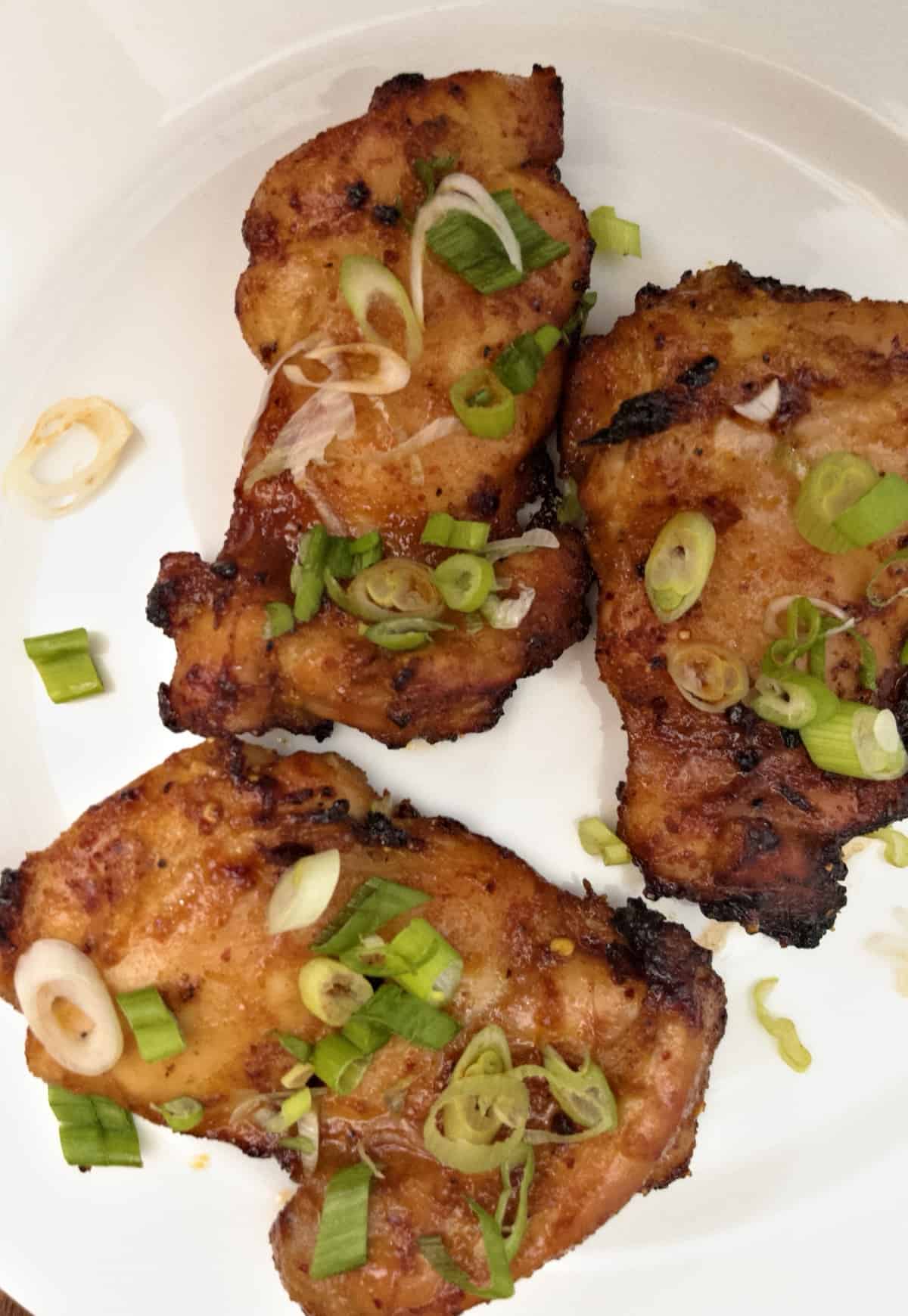 Why You Will Love This Boneless Chicken Thighs Air Fryer Recipe
These boneless chicken thighs can prepared and ready to cook in just a few minutes. These chicken thighs are simple to cook even for an air fryer beginner. Chicken thighs have always been a favorite in the air fryer for a number of reasons. I love that boneless chicken thighs are quick cooking and they stay juicy.
Air fryer chicken thighs get the yummy crispy edges making. then not only look great, but those crispy bits make the chicken thighs full of flavor that is close to the flavor of cooking chicken thighs on the grill.
Jump to:
Ingredients for Chicken Thighs in the Air Fryer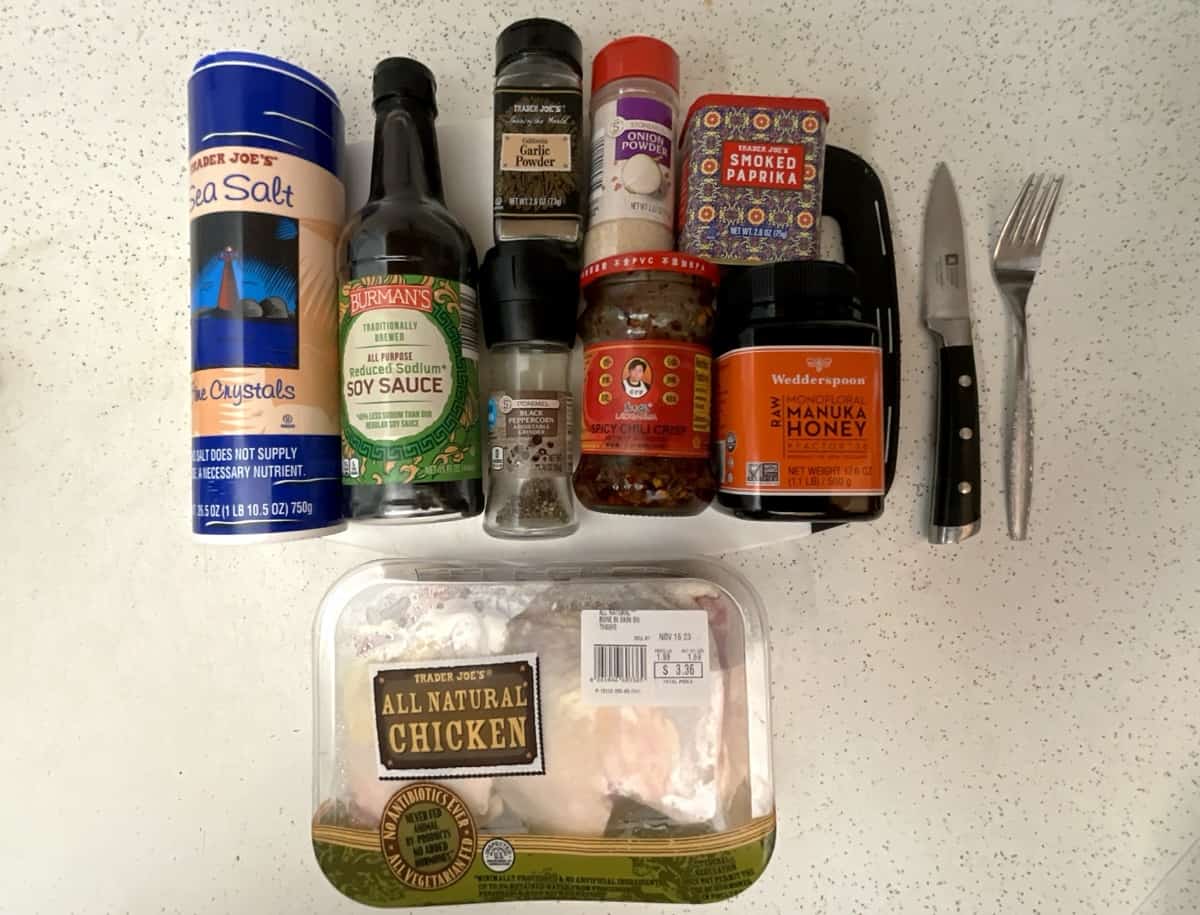 Chicken Thighs
Sea Salt
Black Pepper
Garlic Powder
Onion Powder
Smoked Paprika
Chili Crunch
Low Sodium Soy Sauce
Honey
Chopped Scallions
Fresh Parsley (Optional)
Sesame Oil (Optional)
Olive oil spray or Avocado oil
Full recipe quantities in recipe card below
How to Cook Air Fryer Chicken Thighs
Make the seasoning mixture for the chicken thighs. In a large bowl add sea salt, black pepper, garlic powder, onion powder, smoked paprika, soy sauce, chili crunch and honey. Mix well to combine ingredients.
Add chicken thighs to seasoning mixture in the bowl. Toss the chicken thighs to ensure each chicken thigh gets coated well. Let marinate 30 minutes for more flavor.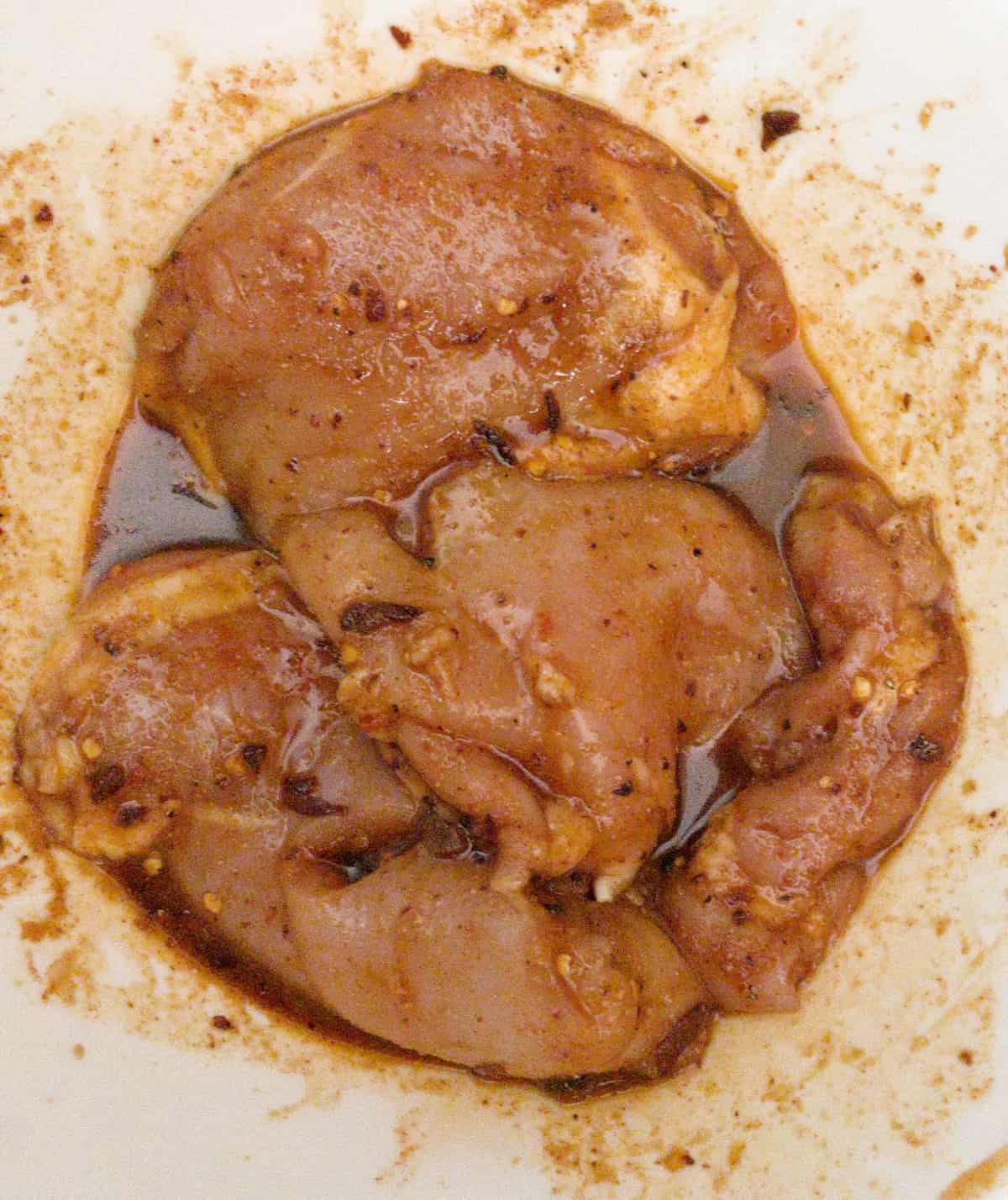 2. Place boneless chicken thighs in air fryer basket and pat chicken thighs dry with paper towel to remove excess liquid. Spray chicken thighs with some oil. This helps with making crispy chicken thighs. I used avocado oil. Olive oil spray can also be used.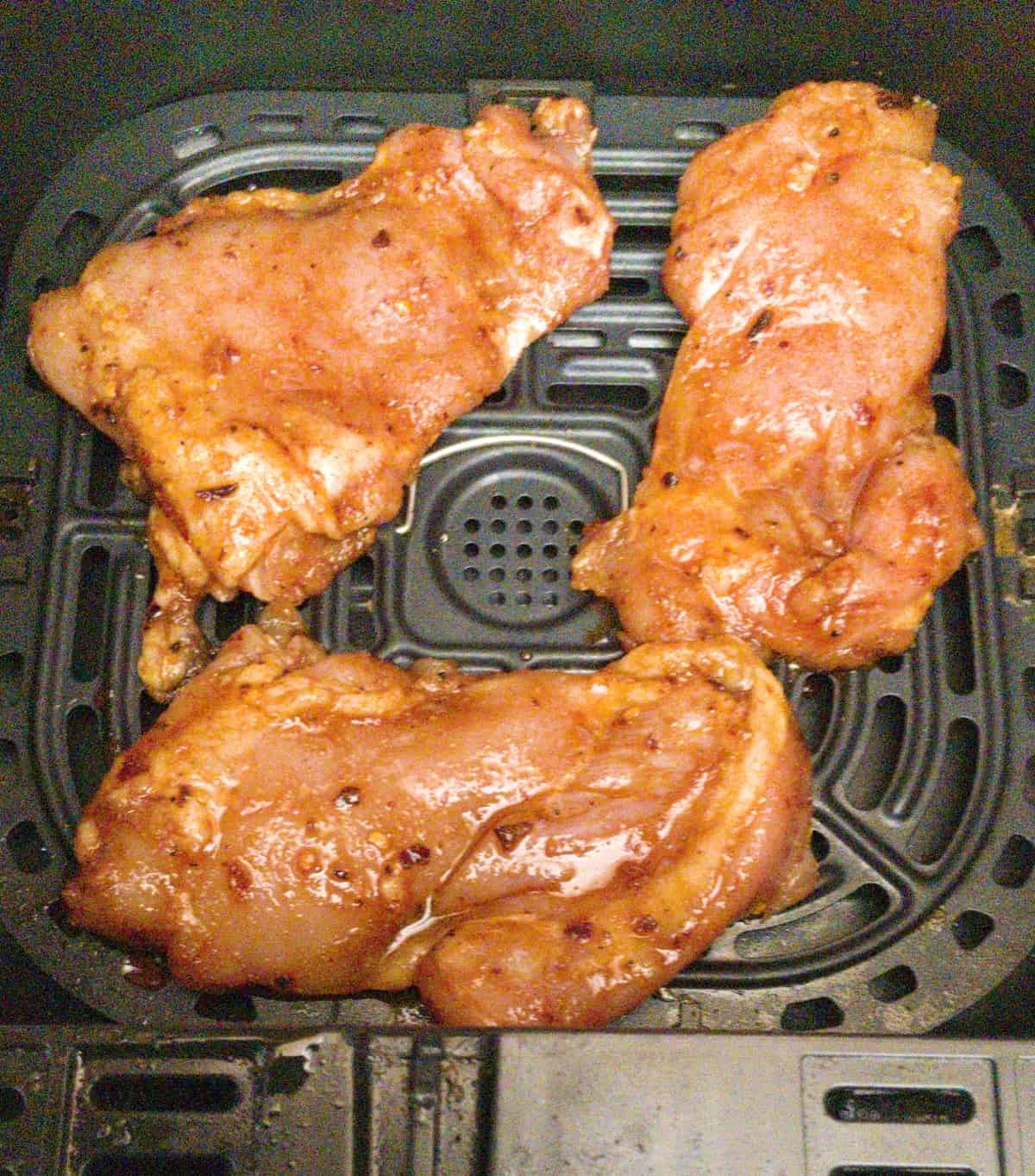 3. Cooking Chicken Thighs smooth side upin the air fryerfor 15 minutes at 380 Degrees flipping boneless thighs halfway through cooking time.
Cook chicken thighs to a minimum internal temperature of 165 degrees Fahrenheit on a meat thermometer. Remove from air fryer basket and set aside for 5-7 minutes to let juices inside chicken thighs redistribute before cutting.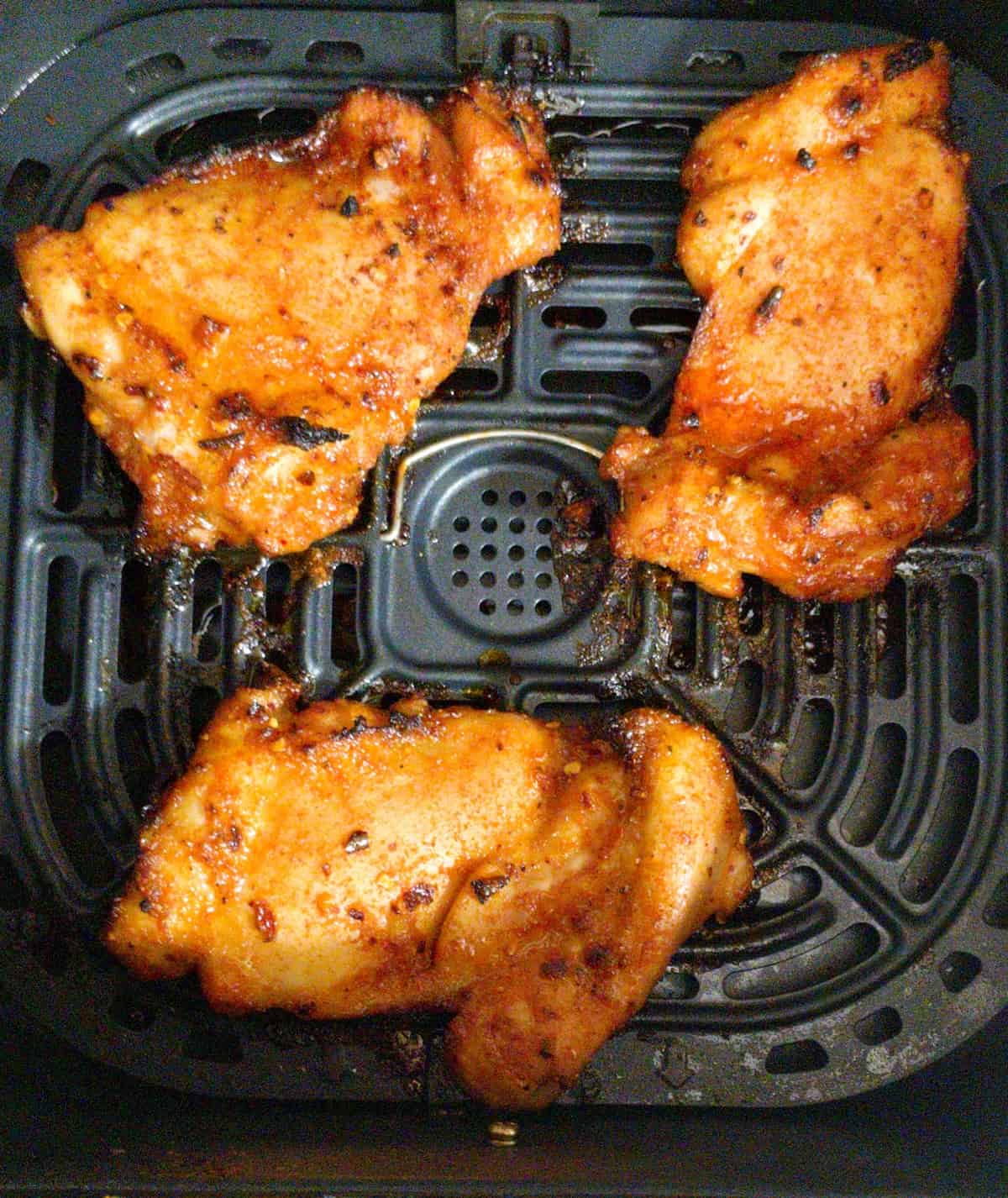 Tip: Let chicken thighs sit 5-7 minutes before cutting to ensure juicy chicken thighs.
This boneless chicken thigh recipe is one of my favorite recipes to make. It is wonderful to make a quick weeknight dinner. Pair with a rice dish like my Instant Pot Rice Pilaf and dinner is complete. Try this recipe leaving the skin on the thigh. Perfectly crispy skin has so much flavor and texture. Top your dish with some chopped fresh parsley to make it pop.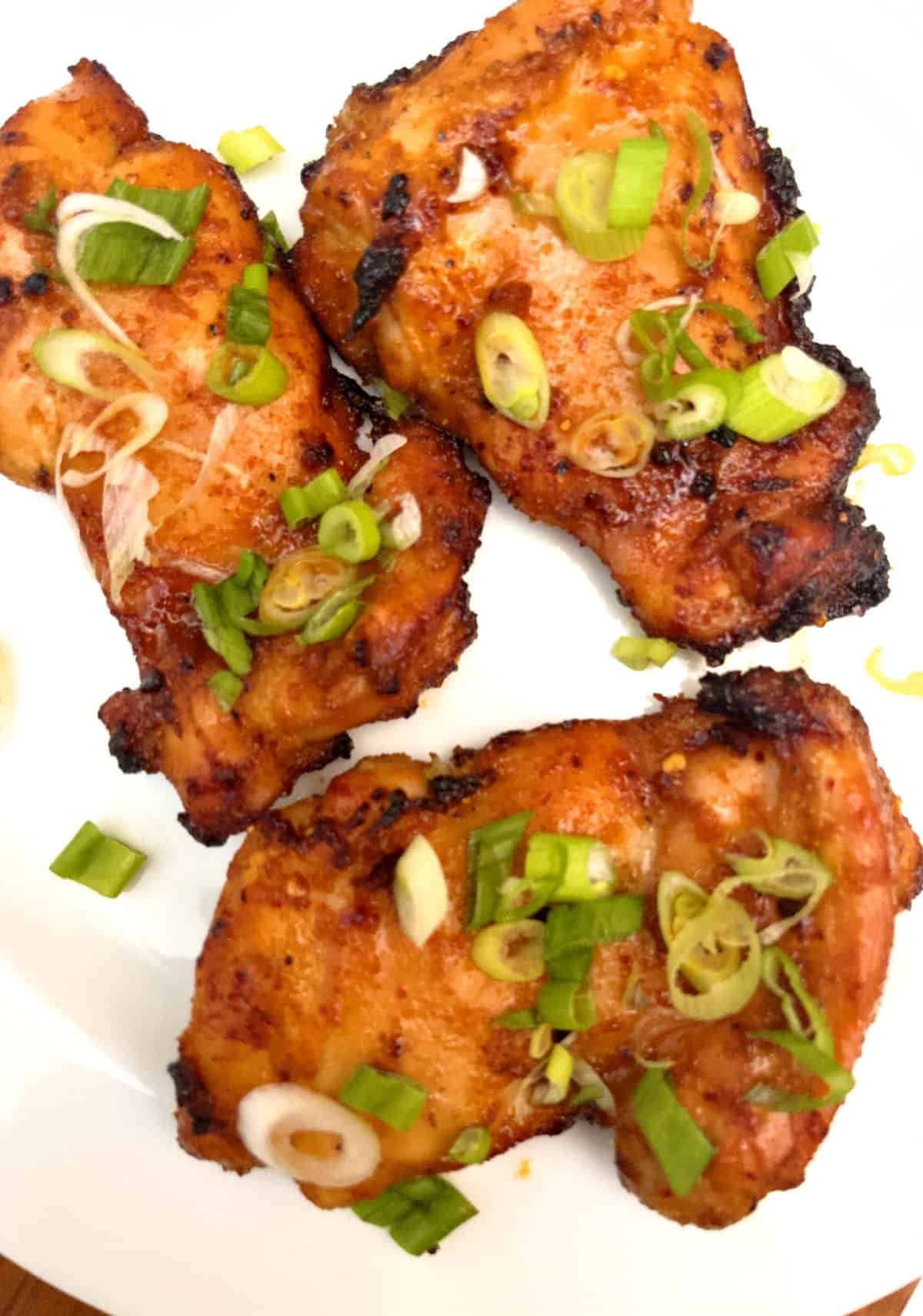 How Long to Cook Air Fryer Chicken Thighs?
Air fryer chicken thighs are best cooked at 380 degrees Fahrenheit for 15 minutes. If using bone in thighs increase the cooking time to 22 minutes flipping halfway though cooking time.
Bone in or Boneless Chicken Thighs?
I made this air fryer chicken thighs recipe using boneless chicken thighs. Bone in chicken thighs can easily be used. The cooking time for bone in chicken thighs increases. Time increase is also dependent on size of the chicken thighs.
Substitutions and Variations for Air Fryer Chicken Thighs
Sweet Paprika – Sweet paprika can be used in place of smoked paprika. I do recommend smoked paprika because of the smoky rich flavor it adds to the chicken thighs.
Sugar or Maple Syrup – can be used in place of honey as a sweetner. I like the health benefits of honey and the maple syrup gives a nice flavor to the air fryer chicken thighs recipe.
Fresh Garlic – can be used in place of garlic powder. It ads a nice flavor to the chicken thighs.
Cayenne Pepper – add some cayenne pepper to the spice mix to add some heat and give the chicken thighs a spicy kick.
Sweet Chili Sauce – add a teaspoon of sweet chili sauce to the spice mixture to add a sweet heat.
Skin On Boneless Chicken Thighs – Skin on chicken thighs are delicious too. The skin gets nice and golden brown and crispy. Give it a try it is a nice way to change it up the next time you make air fryer chicken thighs.
Sesame Oil – drizzle with a small amount of sesame oil just before serving. Just a little bit it's powerful.
Equipment and Kitchen Essentials
Hey there everybody. I always like to list the equipment I used to make a recipe. Sometimes I include some kitchen essentials that I use every day that I like. I do make a small commission on these items at absolutely NO COST to you. I appreciate all the support.
Instant Pot Vortex Air Fryer Stainless Steel 6 Quart
Ninja Foodi 8 Quart 6-in-1 DualZone 2-Basket Air Fryer
Air Fryer Liners – 8.5 Inches, 100pcs
365 by Whole Foods Market, Boneless Skinless Chicken Thighs Organic
Momofuku Chili Crunch
Oil Sprayer for Cooking
Simply Organic Smoked Paprika
365 by Whole Foods Market, Organic Garlic Powder
Amazon Brand – Happy Belly Clover Honey
Store the leftover chicken thighs in an airtight container in the refrigerator for up to 4 days. Skinless chicken thighs that are already cooked make them great for meal prep.
A chopped up chicken thigh can easily be used in quick soup like my vegetable lentil soup. I use leftover chicken thigh meat to make tacos all the time. I find it is always good to have some cooked protein in the refrigerator at all times. This makes for a quick and easy dinner at the end of a long day.
Can I Reheat Chicken Thighs in the Air Fryer?
Yes you can and they come out great. Place chicken thigh in air fryer basket and set temperature to 375 Degrees Fahrenheit.
Set timer for 3-4 minutes for boneless skinless chicken thighs.
Set timer for 6 minutes for bone-in chicken thigh
FAQ
How Long to Cook Boneless Chicken Thighs in Air Fryer?
Skin on or boneless skinless chicken thighs should be cooked for 15 minutes at 380 degrees Fahrenheit.
What Temperature Should Boneless Thighs Be When Done Cooking?
Boneless thighs should be cooked to an internal temperature on a meat thermometer reads 165 Degrees Fahrenheit.
Related Recipes
Looking for other recipes like this? Try these: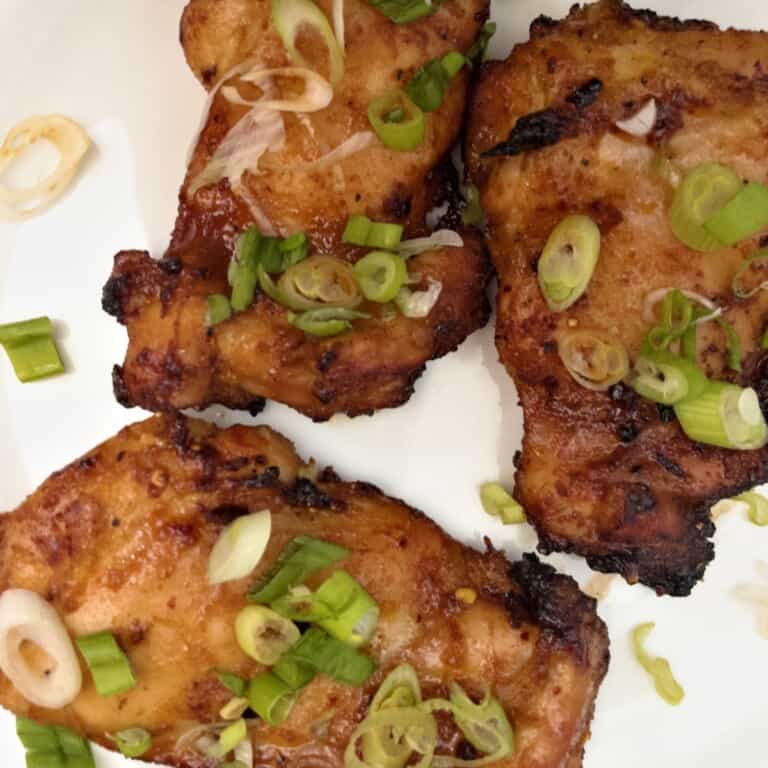 Air Fryer Boneless Chicken Thighs
Air fryer boneless chicken thighs come out crispy and juicy and loaded with delicious flavor. Cooks up in just 15 minutes. Pair with some side dishes for a healthy and quick weeknight dinner.
Print
Pin
Rate
Ingredients
1 to 2

Pounds

Boneless Chicken Thighs

1/2

tsp.

Sea Salt

1/4

tsp.

Black Pepper

1/2

tsp.

Garlic Powder

1/2

tsp.

Onion Powder

1/2

tsp.

Smoked Paprika

1

tsp.

Chili Crunch

2

Tbsp.

Reduced Sodium Soy Sauce

1

Tbsp.

Honey

2

Tbsp.

Chopped Green Onions for garnish

1

Tbsp

Chopped Fresh Parsley (Optional)
Instructions
Preheat air fryer to 380 Degrees Fahrenheit

In a large bowl combine Salt, Pepper, Garlic Powder, Onion Powder, Smoked Paprika, Chili Crunch, Soy Sauce and Honey. Mix well.

Add boneless chicken thighs to bowl and toss in bowl to coat chicken thighs well.

Let stand about 30 minutes and marinate. This is not required but it is better if you do.

Place chicken thighs in air fryer basket.

Air fry boneless chicken thighs 15 minutes at 380 Degrees Fahrenheit.
(Visited 469 times, 1 visits today)