Fried Shrimp in Air Fryer is going to become one of your new favorites to make in your air fryer. The shrimp come out crispy on the outside and they stay juicy on the inside. The process of making air fryer fried shrimp is simple. I am going to show you how to make fried shrimp in the air fryer quickly and easily.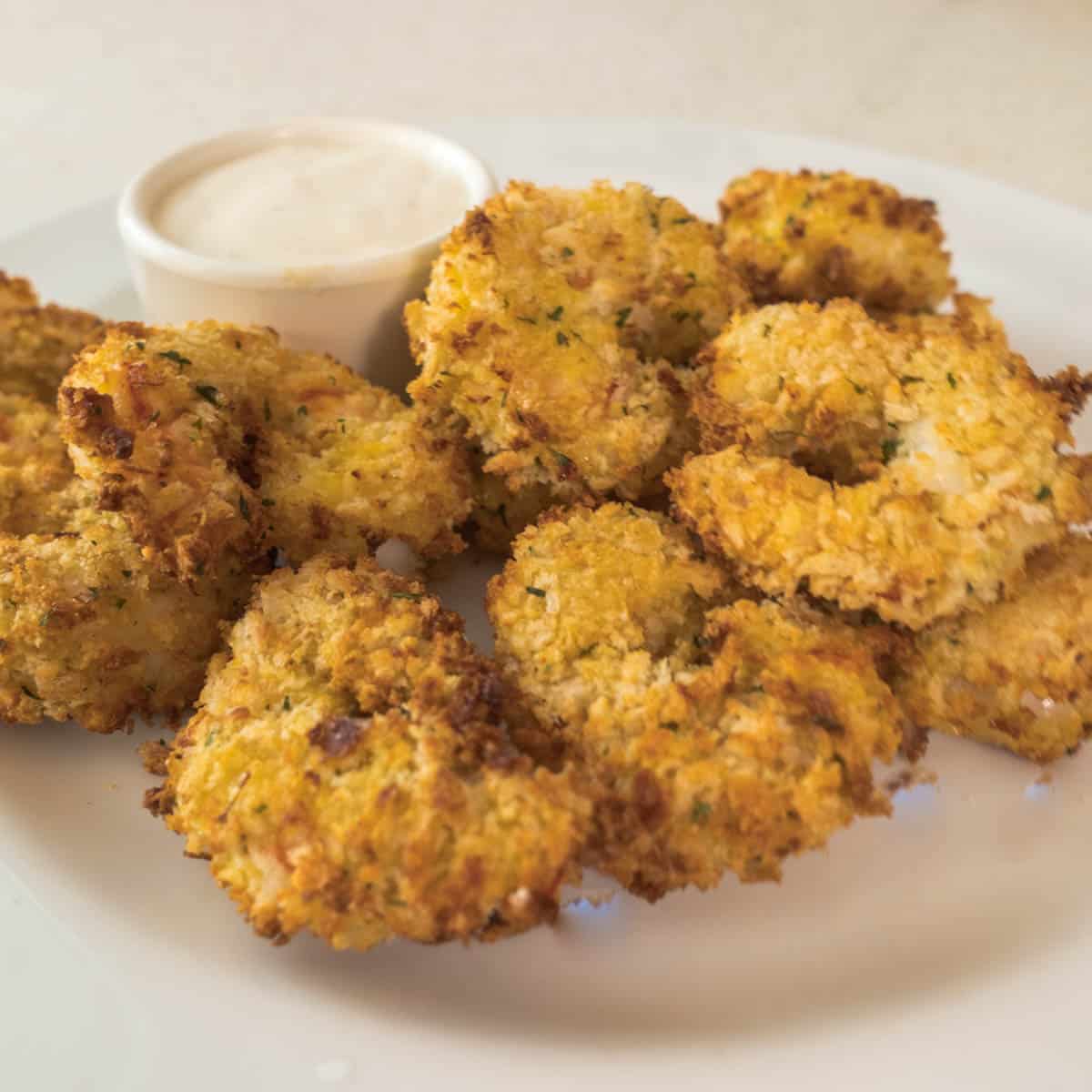 This is one of the best recipes. It comes out delicious air fried as restaurant versions. Fried shrimp is delicious. Have this dish on the table in 20 minutes or less.
I can air fry a lot of shrimp in the air fryer basket. This is a great dinner recipe for families.
Jump to: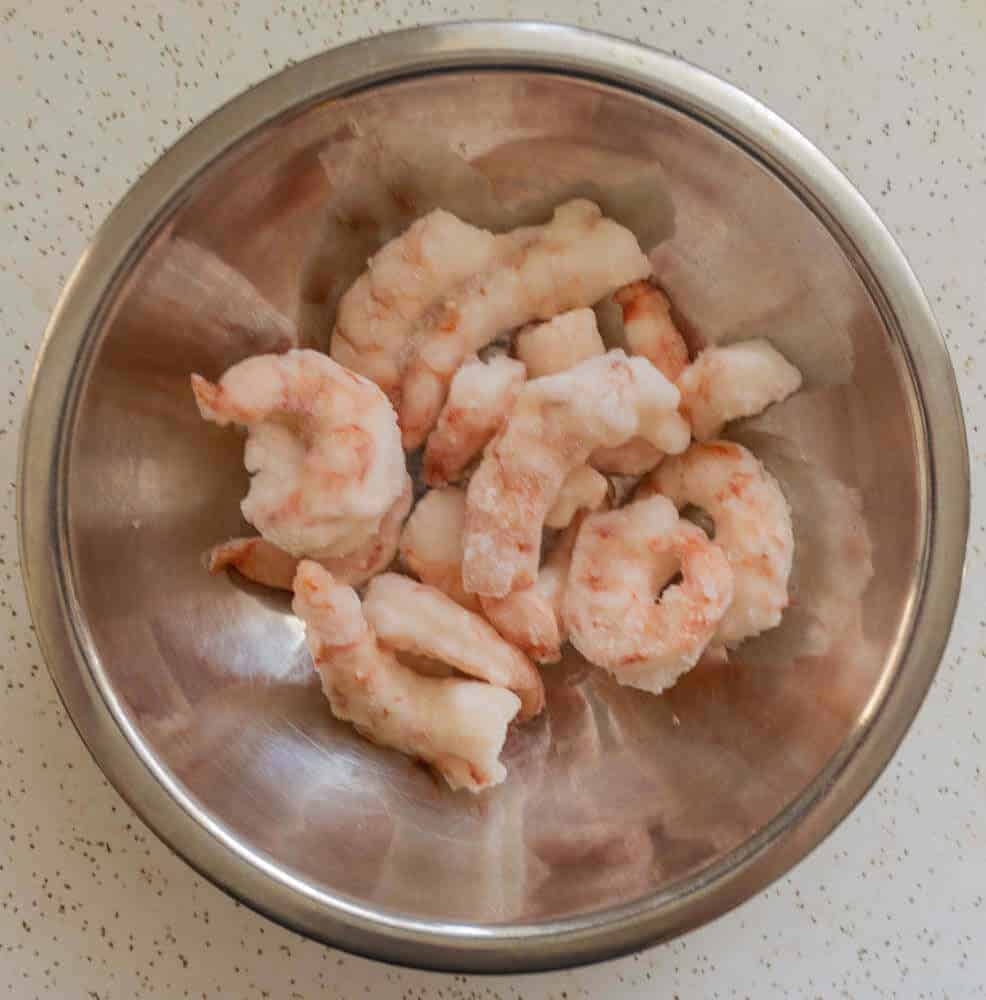 What Type of Shrimp to Use?
there is many different types of shrimp available at the market. There is raw shrimp, pre-cooked shrimp, ez peel shrimp to name a few and also different species. Key West Shrimp and Argentenian Wild Shrimp are my favorite for this air fry shrimp recipe.
I always buy shrimp that are peeled and deveined to save time and make things easy.
Can I Use Frozen Shrimp in Air Fryer?
I use frozen shrimp. Defrost them beforehand. I defrost the shrimp in a bowl of water for 20 minutes. Then make sure they are dried well with paper towels.
I normally recommend using fresh shrimp, but always use Trader Joe's wild Argentinian shrimp and this recipe comes out great every time. The shrimp are crunchy and juicy and not rubbery at all.
Ingredients
Shrimp ( Fresh or Frozen)
Panko Breadcrumbs (Seasoned or Plain)
Flour
Eggs
Water
Salt
Pepper
Garlic
Paprika
Olive Oil
Ranch Dressing, Tartar Sauce or Cocktail Sauce
Full Ingredients List and Directions in Recipe Card Below
How to Make Fried Shrimp in Air Fryer
I am going to walk you through making this recipe step-by-step. I make this quick and simple. Shortly you will be enjoying these fried shrimp made in your air fryer.
Don't forget the condiments like cocktail sauce, tartar sauce or the way I like it which is ranch dressing. The shrimp are pretty much good with any dipping sauce to be honest.
Step 1 – Defrost the Shrimp
If you are using frozen shrimp you were going to want to defrost them in a bowl of cold water for about 20 minutes. You are going to want to make sure that they are completely defrosted before moving forward to the next step.
If you are using fresh shrimp of course you are going to need to make sure they are peeled and deveined. If you have a Trader Joe's in your area their wild frozen shrimp are great for this recipe.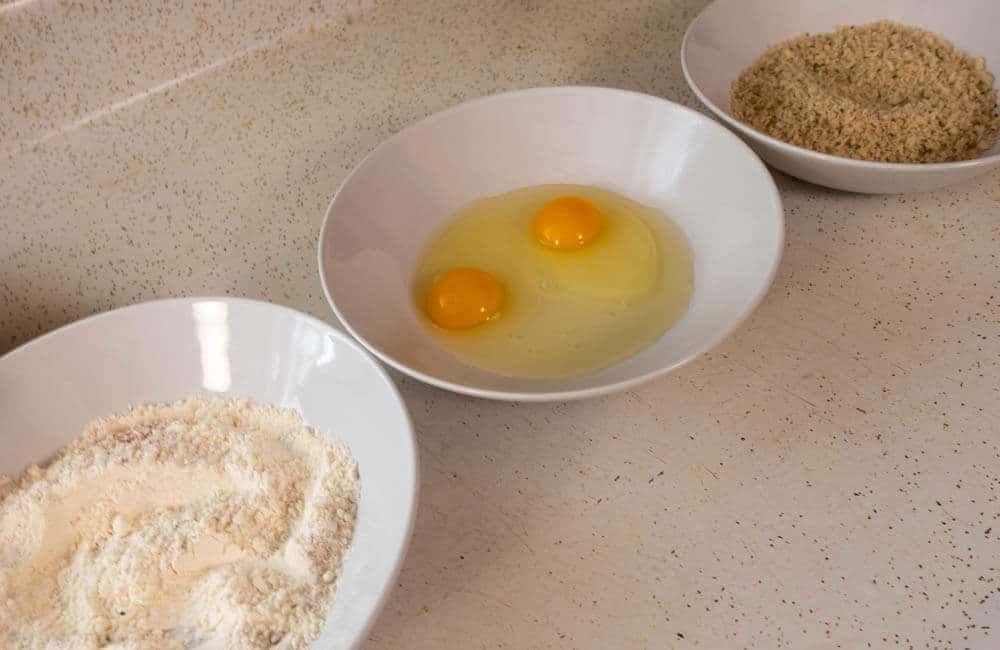 Step 2 – Breading the Shrimp
The next step is the process of breading the shrimp. This is an easy process. The best way to do this is by setting up what I call a "dredge station." This is done by setting up an assembly line of the process in the order of flour, egg wash, and breadcrumbs.
Place each in a separate bowl. In the order of flour, egg wash and then breadcrumbs. I like my shrimp Panko breaded and that is what I used for this recipe.
Season the flour with some salt and black pepper and if using plain Panko breadcrumbs season them with some salt, pepper, garlic, and paprika. If you want exact measurements they are in the recipe card below.
Beat the eggs and add a couple of tablespoons of water to thin it a bit. Once that is done we are ready to proceed.
Make sure that the shrimp fairly dry. A bit damp is fine and we want the flour to stick to the shrimp well.
Coat the shrimp in flour and then give them a shake to get off the excess and then dip the shrimp into the egg wash. After the egg wash go right to the bread crumbs and coat them well. Repeat untill all the shrimp are coated and look like the image below.
It helps to have a piece of parchment paper or a plate nearby to place the breaded shrimp. When all the shrimp are complete I like to place them in the refrigerator for 10 minutes or so. This makes the breading stick to the shrimp even better.
Step 3 – Cooking the Shrimp
Cooking the shrimp in the air fryer it's a quick and easy process. Play your breaded shrimp in a single layer in the air fryer basket. Preheat the air fryer to 390 degrees for 5 minutes.
Place the breaded shrimp in the air fryer basket in a single layer and cook for two minutes. After 2 minutes open the air fryer and spray the shrimp with cooking spray or olive oil spray. I find the results are better if you let the shrimp cook for a couple minutes before spraying them with oil.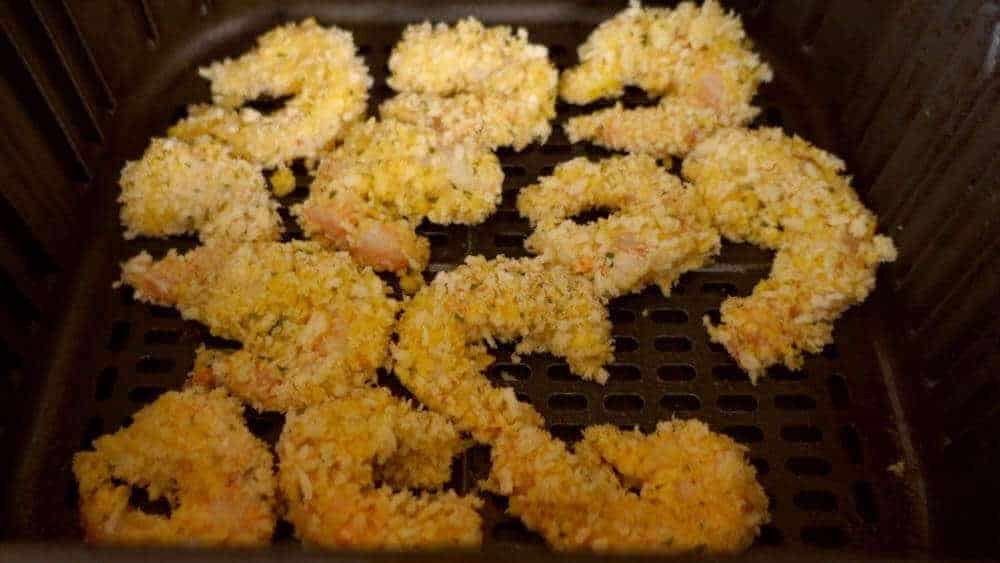 How Long to Cook Fried Shrimp in the Air Fryer
Cook the shrimp a few minutes more until they start to turn golden brown. Then flip the shrimp and cook for 3 to 4 minutes longer. I find that in my air fryer for medium sized shrimp it takes 7 to 8 minutes total and the shrimp are crispy on the outside and juicy on the inside.
If your shrimp are bigger or smaller adjust the time accordingly by 1 or 2 minutes total cooking time. Popcorn shrimp cook quicker.
The shrimp in the image below had a total cooking time of 8 minutes flipping them halfway through. These shrimp are fantastic. I think they are as good as deep frying.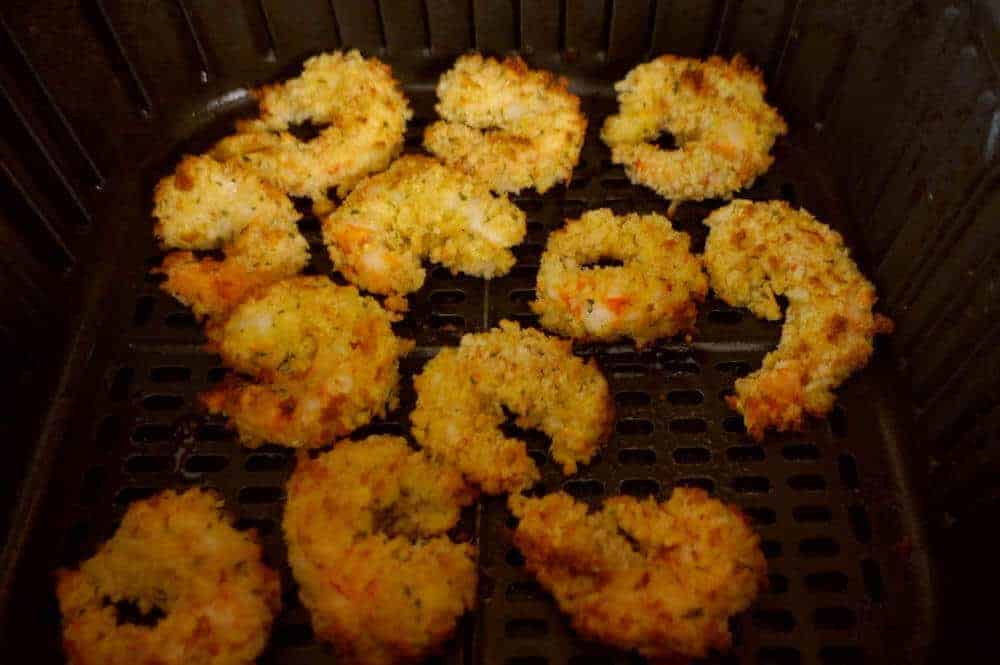 Can I Reheat Shrimp in the Air Fryer?
Yes, shrimp can be reheated in the air fryer. Set the air fryer to 375° and reheat the shrimp into minute increments until they are hot. Of course shrimp are best served right after they're cooked but they are also delicious reheated.
Frozen Fried Shrimp in Air Fryer?
Frozen fried shrimp can be cooked in an air fryer. Preheat air fryer to 400 Degrees Fahrenheit. Place frozen shrimp in the air fryer basket and cook for 5 minutes. Shake basket and cook the shrimp for an additional 5 minutes.
Other Recipes For You to Enjoy
Air Fryer Frozen French Fries
Air Fryer Sausages
Meatballs in the Air Fryer
Oven Roasted Tri Tip
Kitchen Essentials and Items Used
Alexia Smart Classics Frozen French Fries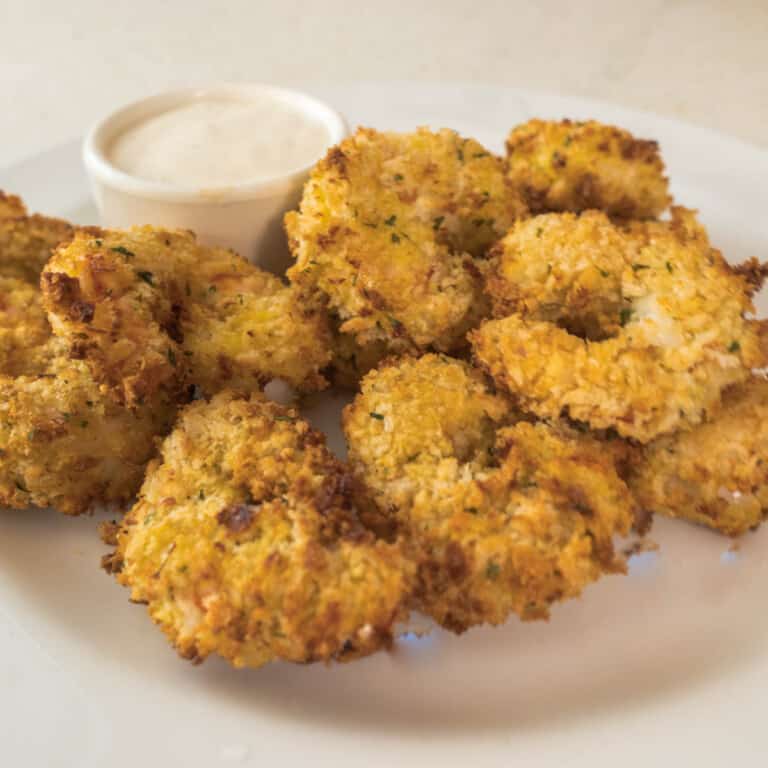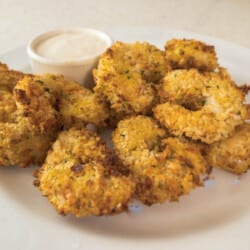 Fried Shrimp in Air Fryer
Fried Shrimp in air fryer are crunchy moist and delicious. They are quick and easy to cook with the cook time of less than 10 minutes.
Print
Pin
Rate
Ingredients
1/2

Pound

Medium Shrimp Peeled and Deveined

1/2

Cup

All Purpose Flour

3/4

Cup

Panko Bread Crumbs (Plain or Seasoned)

2

Eggs

Beaten with 2 Tbsp. Water

2

tsp

Salt (Divided)

1

tsp

Black Pepper (Divided)

1

tsp

Garlic Powder

1

tsp

Smoked Paprika

1/2

tsp

Olive Oil or Cooking Spray
Instructions
Breading the Shrimp
It helps to have three separate bowls. In the bowls do you want to place flour, egg wash, breadcrumbs in that order.

Season the flower with half the salt and pepper. Season the breadcrumbs with the other half of the salt and pepper and also the garlic and smoked paprika.

Make sure that your shrimp are fairly dry. Dredgeneach shrimp and flour and then dip in the egg wash and then the Panko breadcrumbs. Coat each shrimp liberally with Panko.

Repeat until all shrimp are done. Place completed shrimp on a plate.

Place shrimp in refrigerator for 10 minutes. This makes the breading adhere better.
Cooking the Shrimp
Preheat air fryer 5 minutes 390 Degrees

Place shrimp in air fryer in single layer. Cook 2 minutes

Open air fryer and spray shrimp with cooking spray or olive oil spray. Cook 3 minutes more.

Flip Shrimp and cook remaining 3 minutes or until preferred doneness.
Notes
If you are using seasoned Panko breadcrumbs you can skip seasoning them with salt and pepper or salt and pepper them to taste.
Nutrition
Join Our Facebook Groups
Instant Pot Recipe Spot
Air Fryer Recipe Spot
Vegan and Vegetarian Plant Based Recipes
(Visited 25,186 times, 1 visits today)