Asian Cucumber Salad is one of my favorite summer side dish recipes. It is so bright and refreshing. It's sweet, it's sour, and a bit savory too. It's simple to adapt this side dish to incorporate various mouthwatering Asian flavors.
You can easily accomplish this by replacing or adding a few basic and commonly used components to your current homemade recipes.
I especially love this kind of side dish during the hotter summer months. The contrast between the summer heat and the cool crisp, sweet, and sour cucumber crunch is absolutely delicious.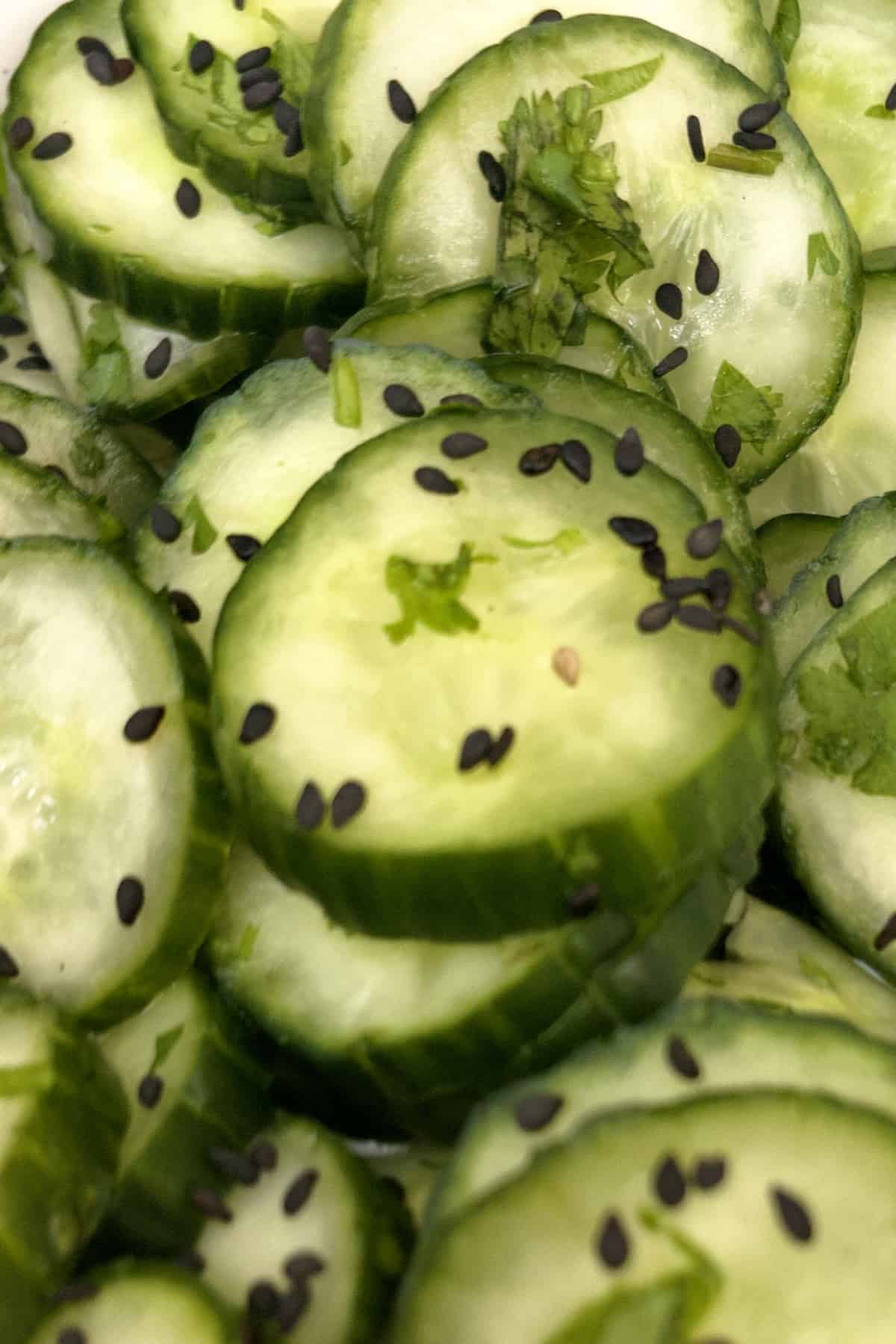 Who am I kidding? I make this Asian cucumber salad recipe throughout the year, not just during the summer. This is the basic recipe, and although delicious it is fun to change it up from time to time.
Feel free to add other ingredients to customize it according to your current preferences. This easy Asian cucumber salad is one of my favorites for good reason.
For example, add some fish sauce for a more savory flavor. Try using Thai basil instead of cilantro and squeeze some lime juice for a Thai twist.
Jump to:
Ingredients in Asian Cucumber Salad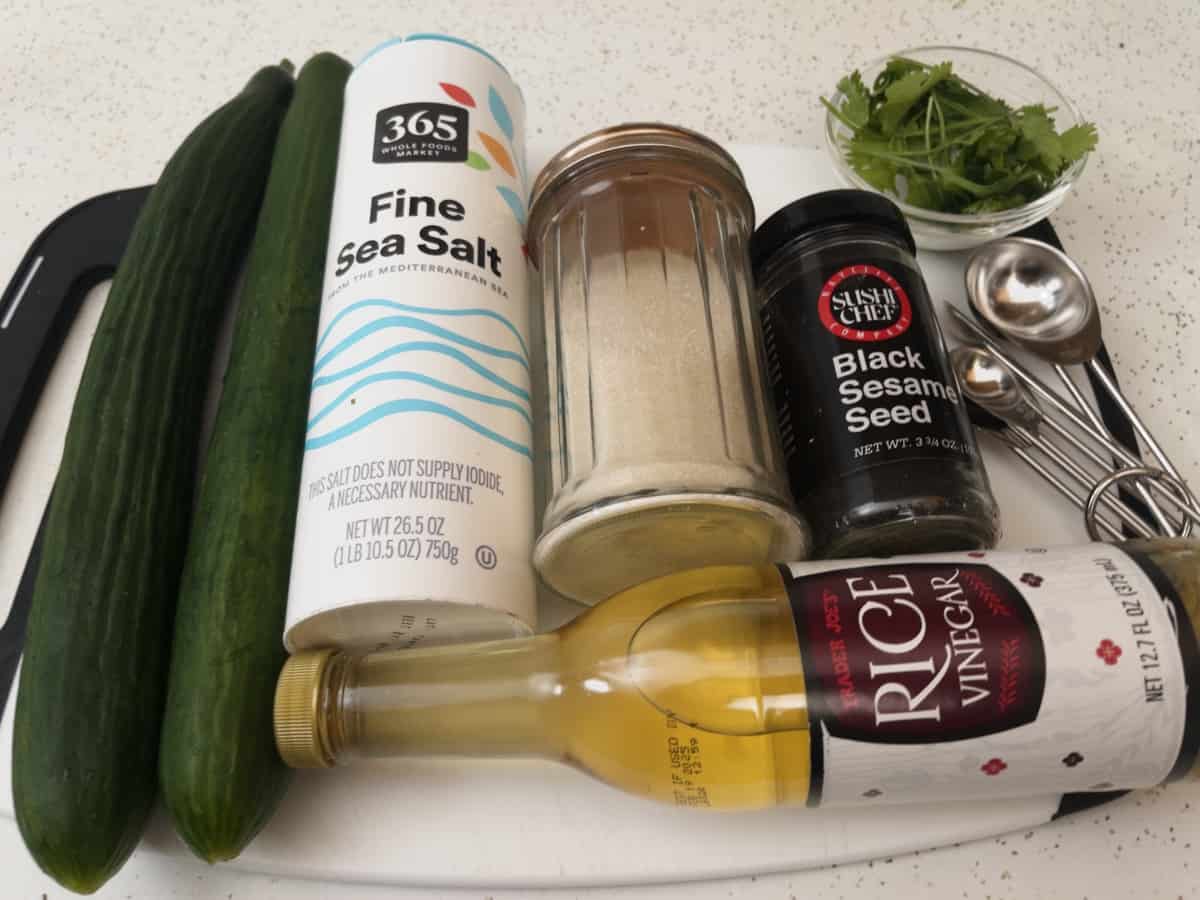 English Hot House Seedless Cucumbers
Salt
Sugar
Rice Vinegar
Cilantro
Black Toasted Sesame Seeds
See recipe card for quantities.
What Kind of Cucumbers Do I Use?
I prefer English or mini Persian cucumbers because their skin is thin and can be eaten. Regular cucumbers, on the other hand, have thick and waxy skin.
You can use regular cucumbers in a hurry, but you have to peel them and take out the seeds.
How to Make Asian Cucumber Salad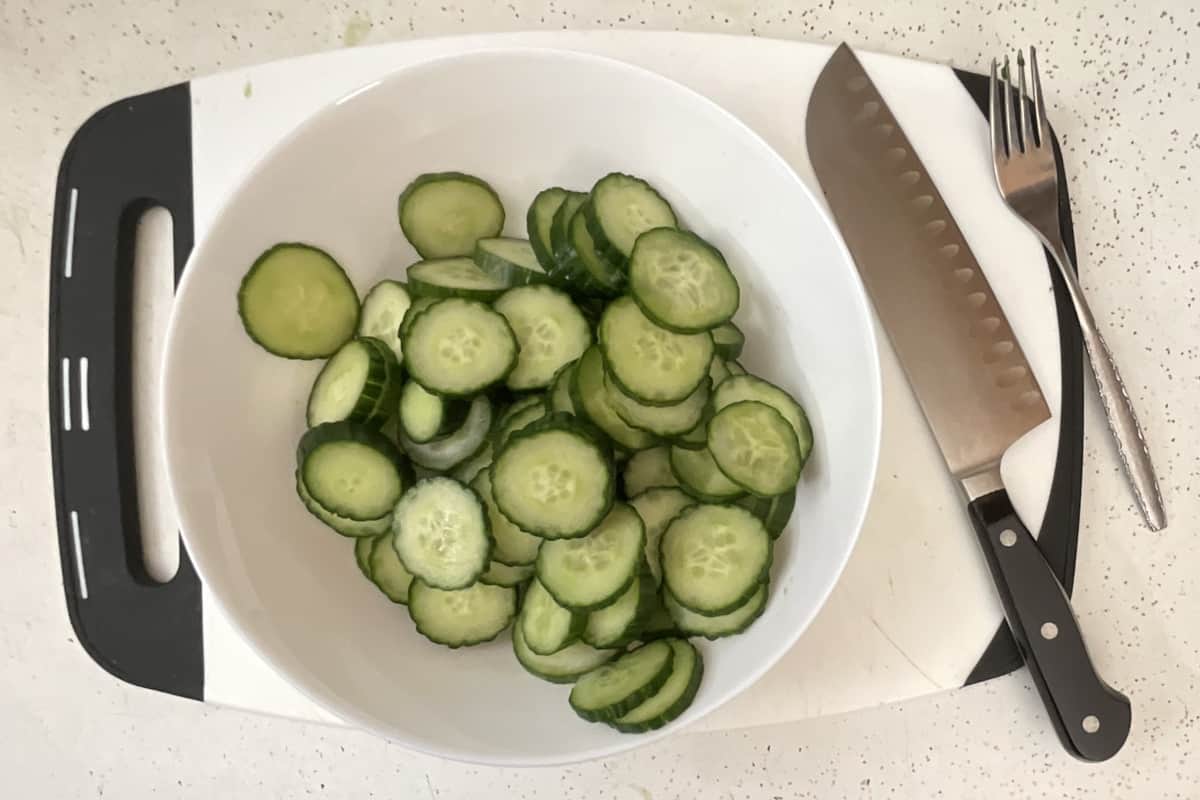 Step 1– Wash all your cucumbers and slice cucumbers as thin or thick as you like. Some people like to cut the cucumber thicker and some like thin slices. Place in a large bowl.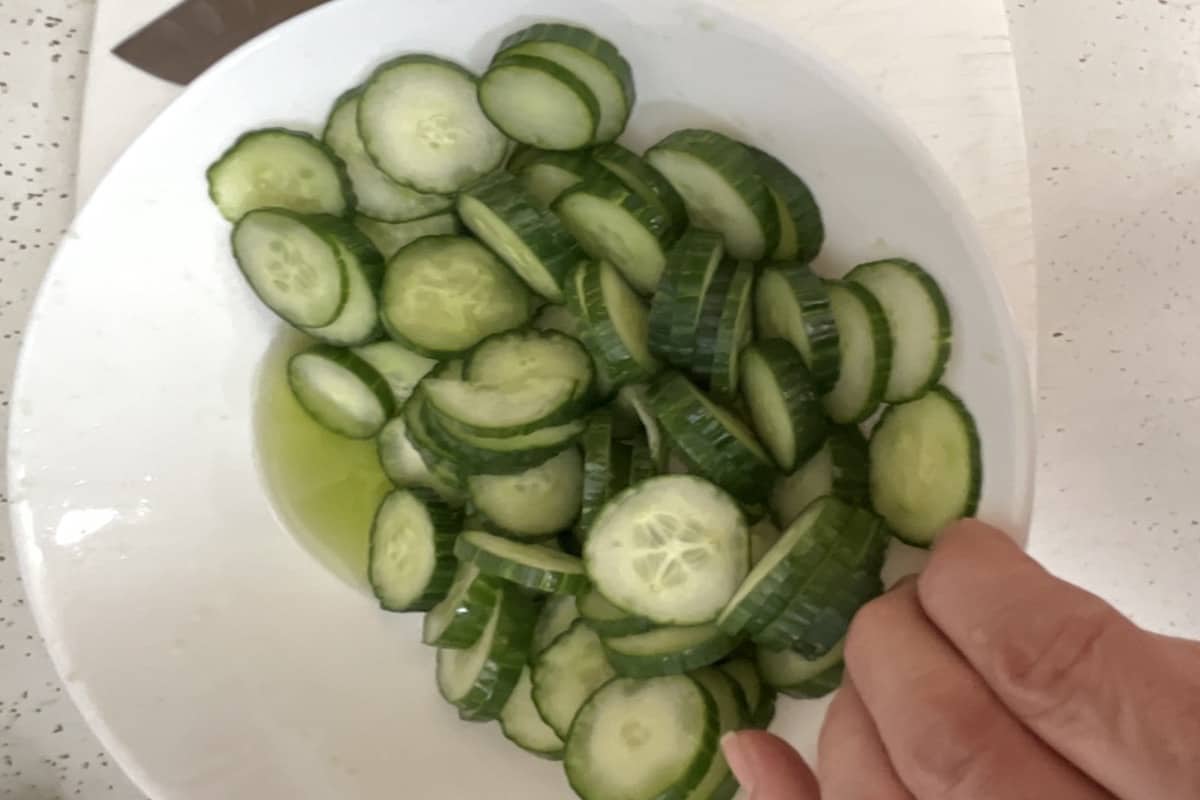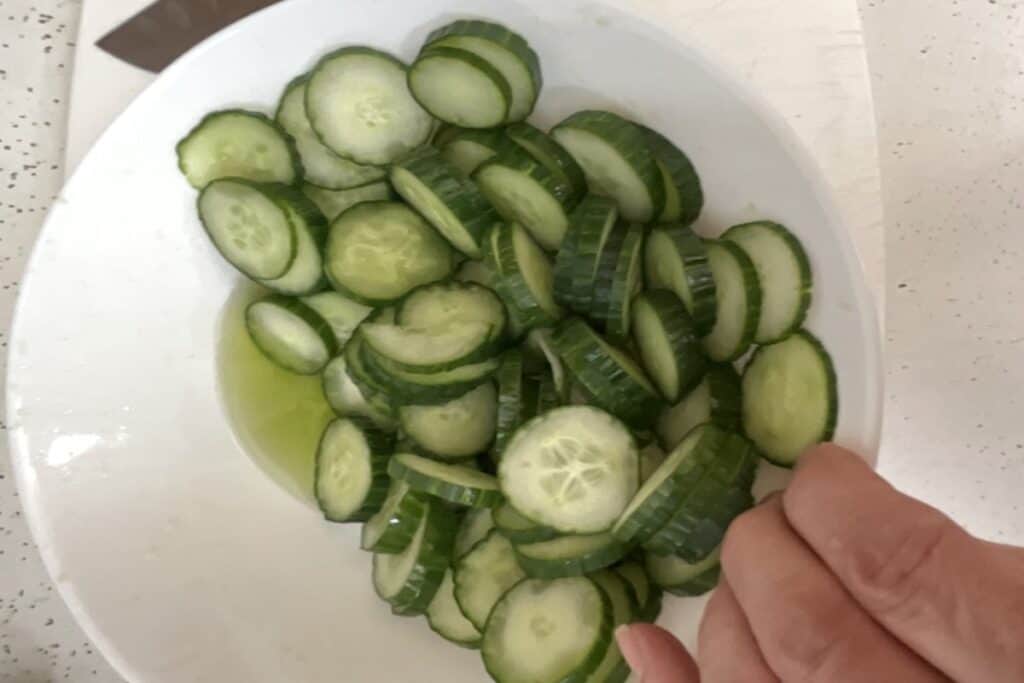 Step 2 – Add a Tablespoon of sugar and teaspoon of salt for each english cucumber. Toss cucumbers to coat. Let stand 30 minutes to extract water from cucumbers. Dump extracted water.
For less sodium rinse and drain salt from cucumbers before adding marinade.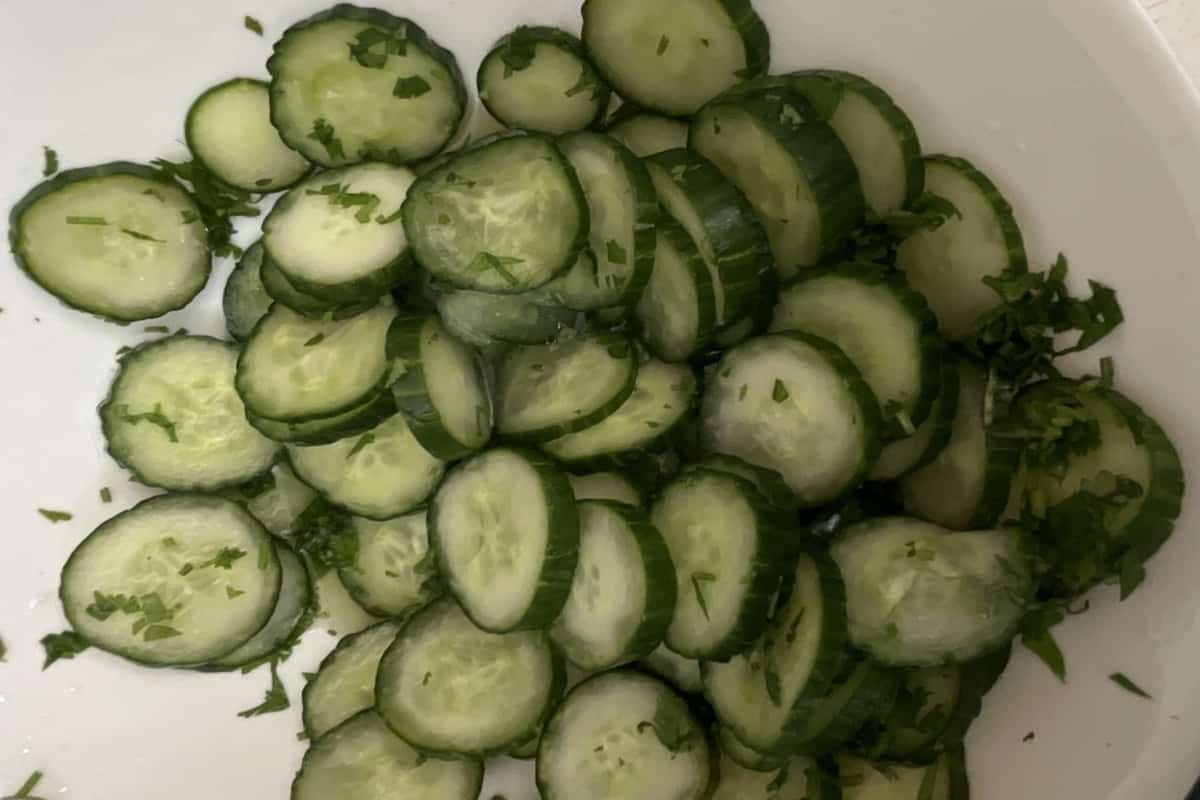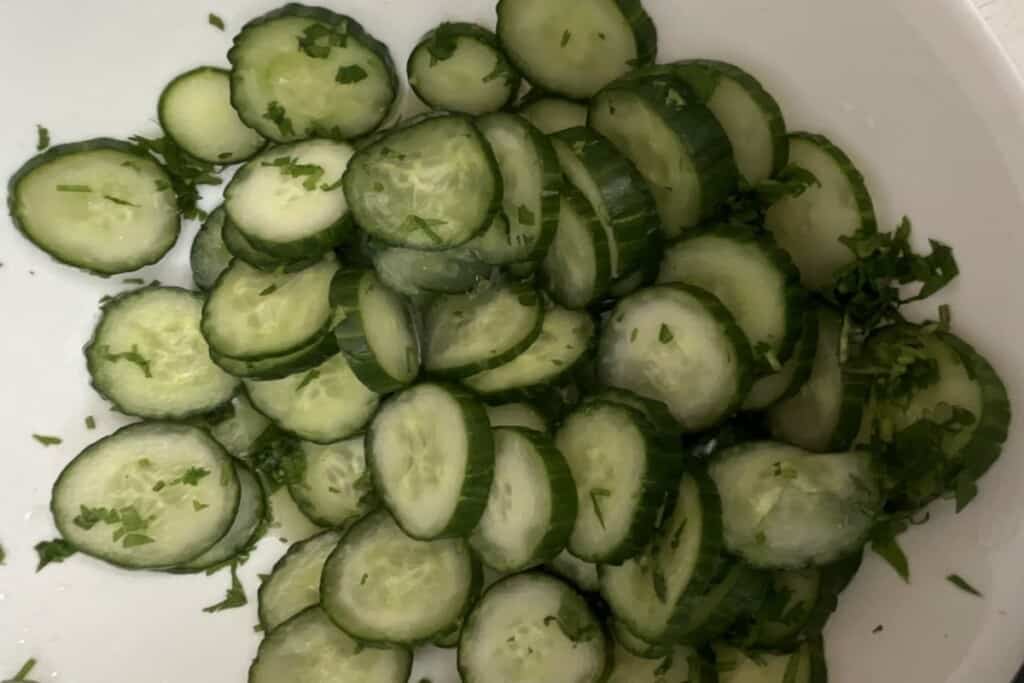 Step 3 – Add in the rice vinegar, the salt, and the sugar. Stir to combine and coat the cucumbers. Add the cilantro. I like to sprinkle on the sesame seeds to each serving individual instead of doing the whole bowl.
Expert Tip: I am leaving you a tip that I actually forgot to do. Take a fork and scrape the cucumbers lengthwise about a quarter inch deep like corn rows.
The indentations on the cucumbers not only enhance their appearance but also serve a functional purpose.
When the cucumbers are sliced or cut into, these indentations help to trap and hold the salad dressing marinade. As a result, the marinade clings to the cucumber slices, ensuring that every bite is bursting with flavor.
Substitutions
Honey – If you want to use honey as a sweetener that can be done.
Coconut Sugar – Coconut sugar can be used in place of sugar. It is a 1:1 replacement for sugar.
Coconut Aminos – Coconut aminos can be used in place of soy sauce.
Variations
Make a Spicy Korean-style cucumber salad by adding gochujang or chili paste, ginger, garlic, toasted sesame oil, and soy sauce.
Thai Flavors – Fish sauce, lime juice, and chopped peanuts will give this a Thai flavor.
Equipment
I always list the items I use in a recipe as well as some things I think are kitchen essentials. I get a small commission when you buy these items using my link, but it won't cost you anything.
Thank you for your continued support. It is very much appreciated.
Organic English Seedless Cucumber
365 Organic Rice Vinegar
Roasted Black Sesame Seeds
Misen Short Chef Knife – 6.8 Inch Kitchen Knife
Happy Belly Sea Salt
Storage
Cucumber salad stored in an airtight container holds up well in the refrigerator. Cucumber salad lasts about 3 to 4 days. To keep the cucumbers for a long time, which is rare because they are usually eaten quickly, cut them slightly thicker.
Pro Tips for Cucumber Salad
Use English or Persian cucumbers as they have thinner, non-waxy skin compared to standard cucumbers. Of course, in a pinch, these can be used. Just be sure to peel them first.
Salads of this nature tend to get better with age. Ensure it is chilled for a minimum of half an hour post-preparation to enhance the taste.
To add variety, consider including slices of red onion and garnishing with chopped green onions. It's tasty and it looks great too. Remember you eat with your eyes first 🙂
FAQ
How do you keep Cucumber Salad from getting soggy?
This is achieved by salting the cucumbers beforehand. Through this process, the water is drawn out, leaving you with a dryer cucumber and prolonging the cucumbers from getting soggy.
Should I peel the cucumbers before making this salad?
it really depends on the variety of cucumber. Standard store-bought cucumbers have thick skin that should be peeled off. English cucumbers and Persian cucumbers possess a slender, consumable exterior that does not necessitate removal and is both palatable and delectable.
Do cucumbers keep better in the fridge or do they last better on the counter?
Even though cucumbers are prone to chilling injury, the fridge is still the best place to store them. At room temperature, cucumbers will only last for about two days.
Should I wash cucumbers before putting them in the refrigerator?
One way to keep cucumbers fresh for a longer period is by washing them in cold water. Cold water cleans cucumbers, removing dirt and debris, making them clean and ready for storage.

Washing cucumbers in cold water cools them, slows ripening, and keeps them fresh for longer.
Pair this Recipe with these Dishes
Air Fryer Frozen Eggrolls
Air Fryer Potsticker Dumplings
Instant Pot Chicken Lo Mein
Ginger Garlic Tofu Stir Fry
Related
Looking for other recipes like this? Try these: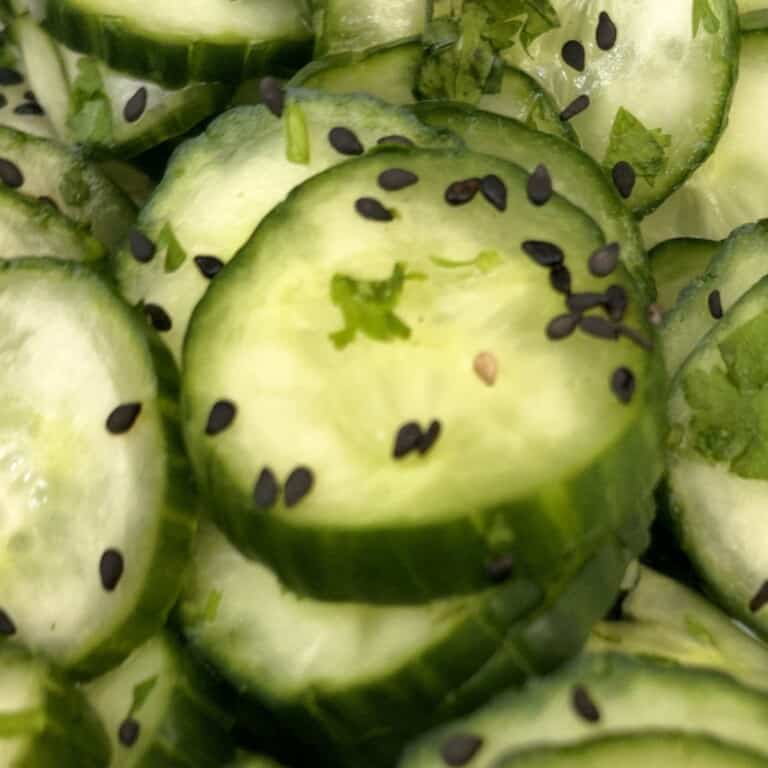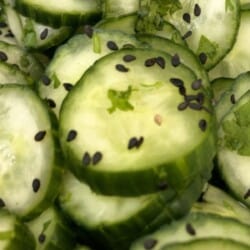 Asian Cucumber Salad (Sweet and Sour)
Asian cucumber salad is Kristin refreshing. The perfect Summer side dish.
Print
Pin
Rate
Ingredients
2

Seedless English Cucumbers

2

Tbsp.

Sugar

1

tsp.

Salt
Sweet and Sour Asian Cucumber Salad Marinade
5

Tbsp

Rice Vinegar

2

tsp.

Sugar

2

tsp.

Salt

2

Tablespoons

Chopped Cilantro

1

tsp

Thai Fish Sauce

Optional

1

tsp.

Toasted Black Sesame Seeds
Instructions
Slice cucumbers up the way that you like. Some like 1/4 inch rounds and some like chunks.

Place cucumbers in a large bowl and add 2 Tablespoons sugar and 2 teaspoons salt. Toss to coat and let sit about 30 minutes to extract water from cucumbers.

Discard excess water from bottom of bowl and add rice vinegar, sugar, salt, and cilantro.

Sprinkle servings with sesame seeds.
Nutrition
(Visited 301 times, 1 visits today)