Air Fryer Frozen Potstickers (Frozen Gyoza) I am surprised at how well the frozen potstickers cook in the air fryer. In fact, this is my favorite method of cooking them. I am amazed because these are frozen potstickers that are store bought, but they turn out so tasty.
They come out crispy on the outside and juicy on the inside. I make a simple dipping sauce to dip them in that is fantastic. I could eat the whole bag of these air fryer dumplings. I think these come out as good as the pot stickers that I get at my local takeout place.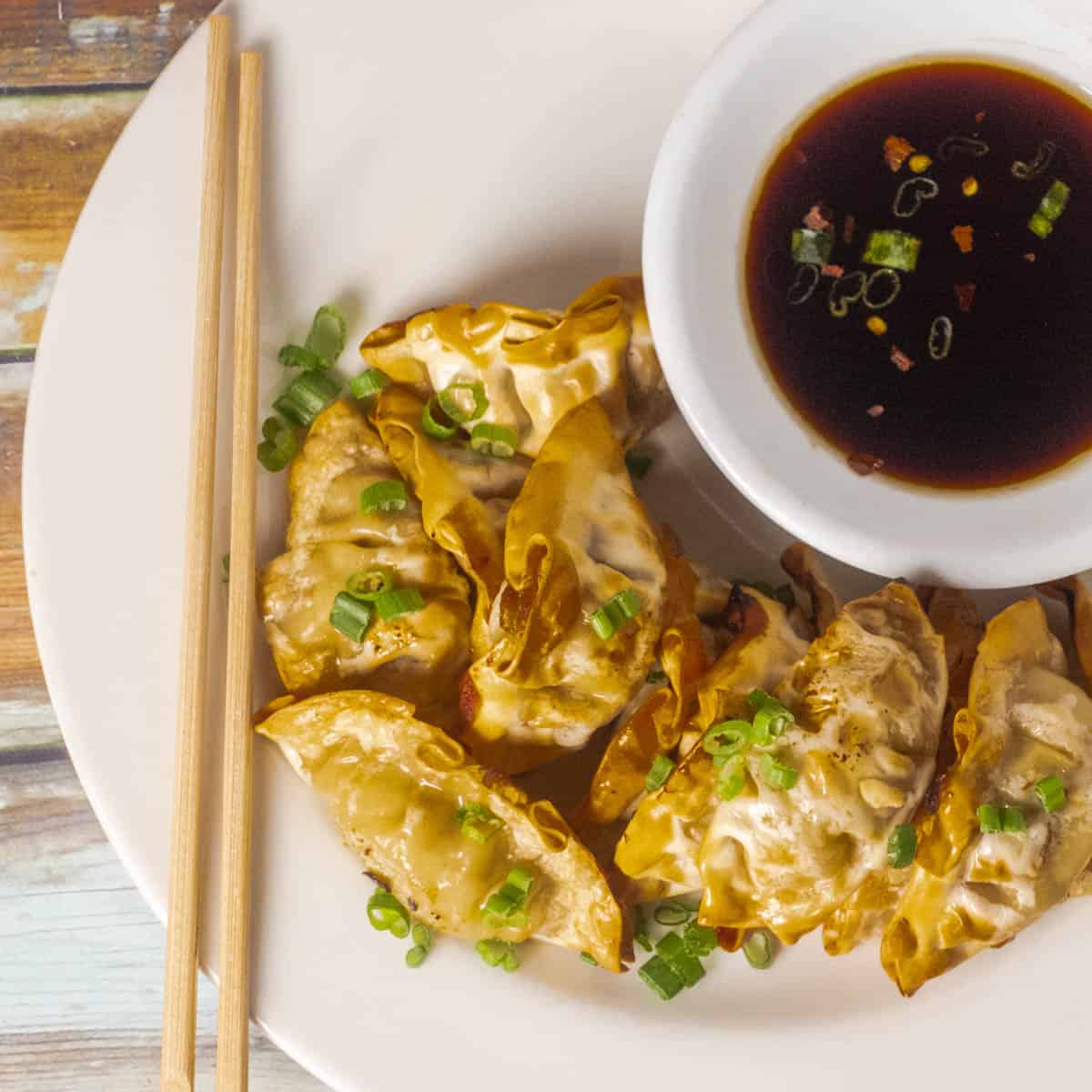 In the past, I would steam them in a pan with a bit of water and they came out pretty good but I always said to myself "this tastes like frozen food." Once I tried making them in the air fryer I was sold. These taste like restaurant quality.
I always buy these dumplings at Trader Joe's. They have many different varieties like chicken, pork, and even shrimp. I always buy the pork dumplings. These are the ones most common in the takeout places.
If these are not just an appetizer or snack and you are looking for a meal to accompany your dumplings I recommend my Instant Pot Chicken Lo Mein recipe. The chicken comes out juicy and you can use any vegetables that you prefer.
Jump to:
Ingredients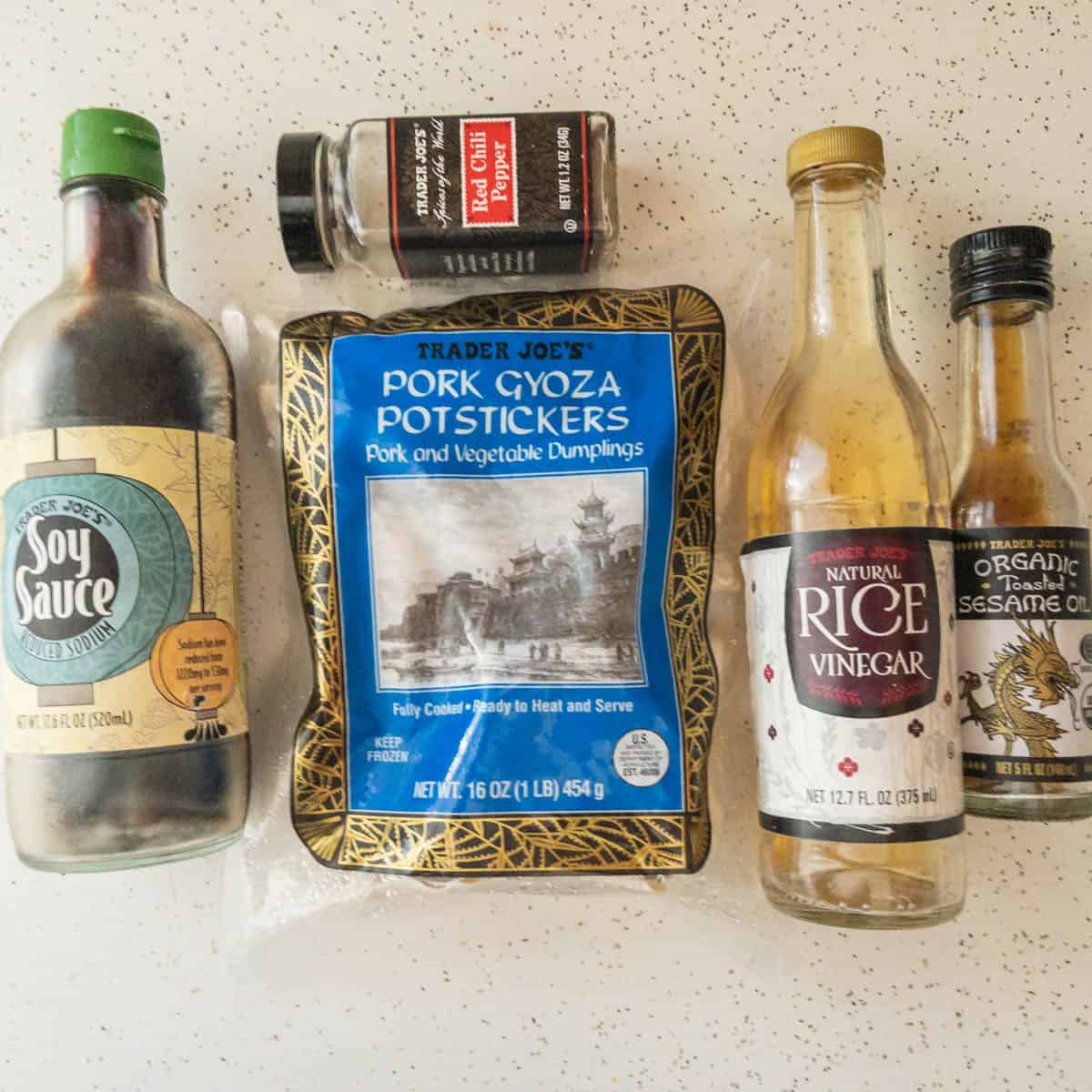 Frozen Dumplings from the supermarket (Pork, Chicken, Shrimp)
Soy Sauce
Rice VInegar
Sesame Oil
Red Chili Pepper (Optional)
see recipe card for quantities.
Instructions
Let's get started on the exact process of how to cook frozen dumplings in the air fryer. It really doesn't matter which brand you use. There are many different varieties available at the local supermarket.
Preheat your Air Fryer to 380 Degrees Fahrenheit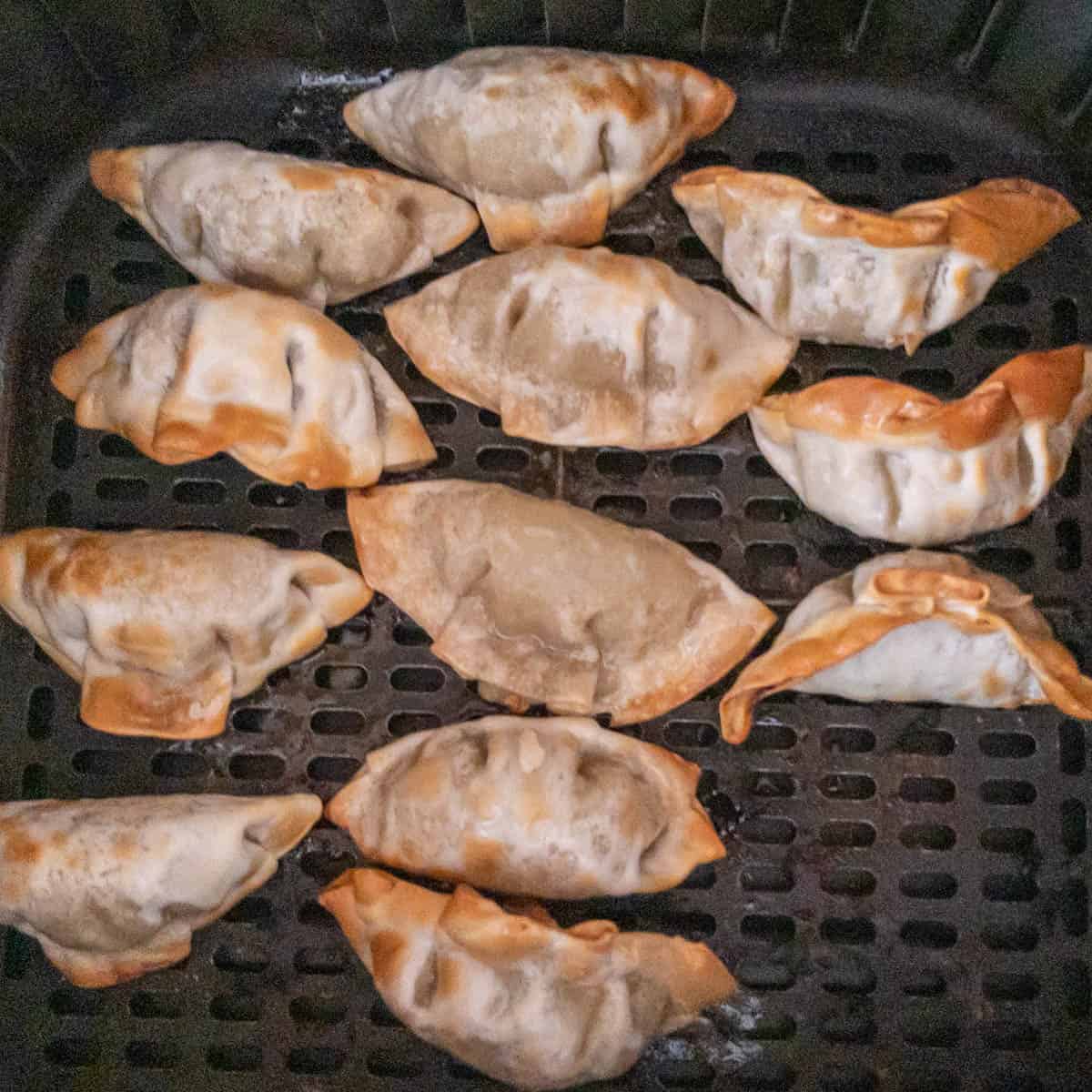 Step 1 – Place dumplings in the air fryer basket in a single layer making sure that there is adequate space in between the dumplings to ensure proper airflow. Air fry the dumplings 8 minutes.
Hint: Spray dumplings with oil so they brown well and do not dry out. If you do not have an oil sprayer these oil sprayers are my favorite. Oil in spray cans is also available at the market today.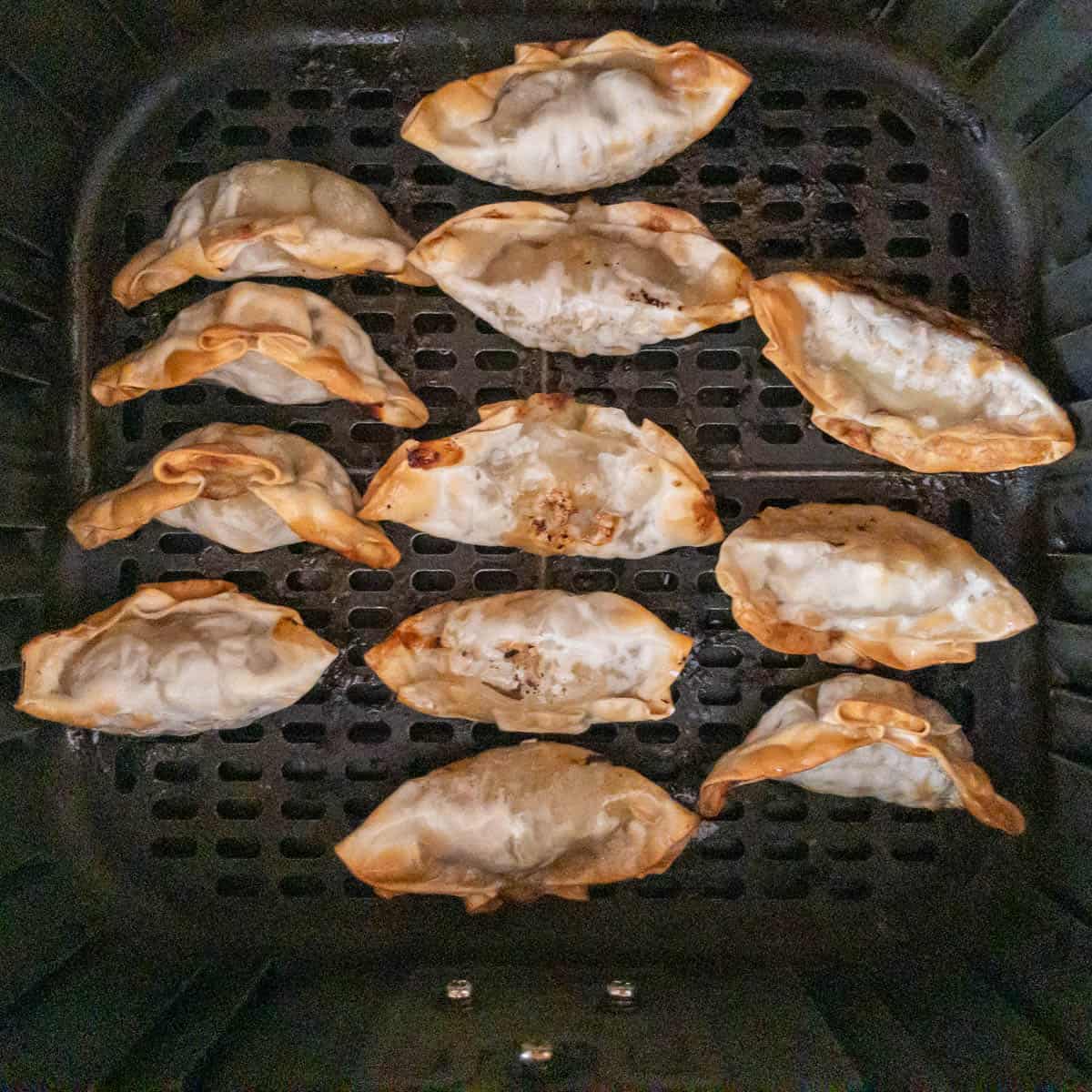 Step 2 – Flip Dumplings – now that the dumplings are starting to get some color give them a flip after the initial eight minute cooking time. I find about 2 minutes after flipping is enough cooking time. They come out a bit crispy on the outside and still juicy too.
TIP: If you like them more crispy cook them a little bit more. I recommend cooking them in 2 minute increments.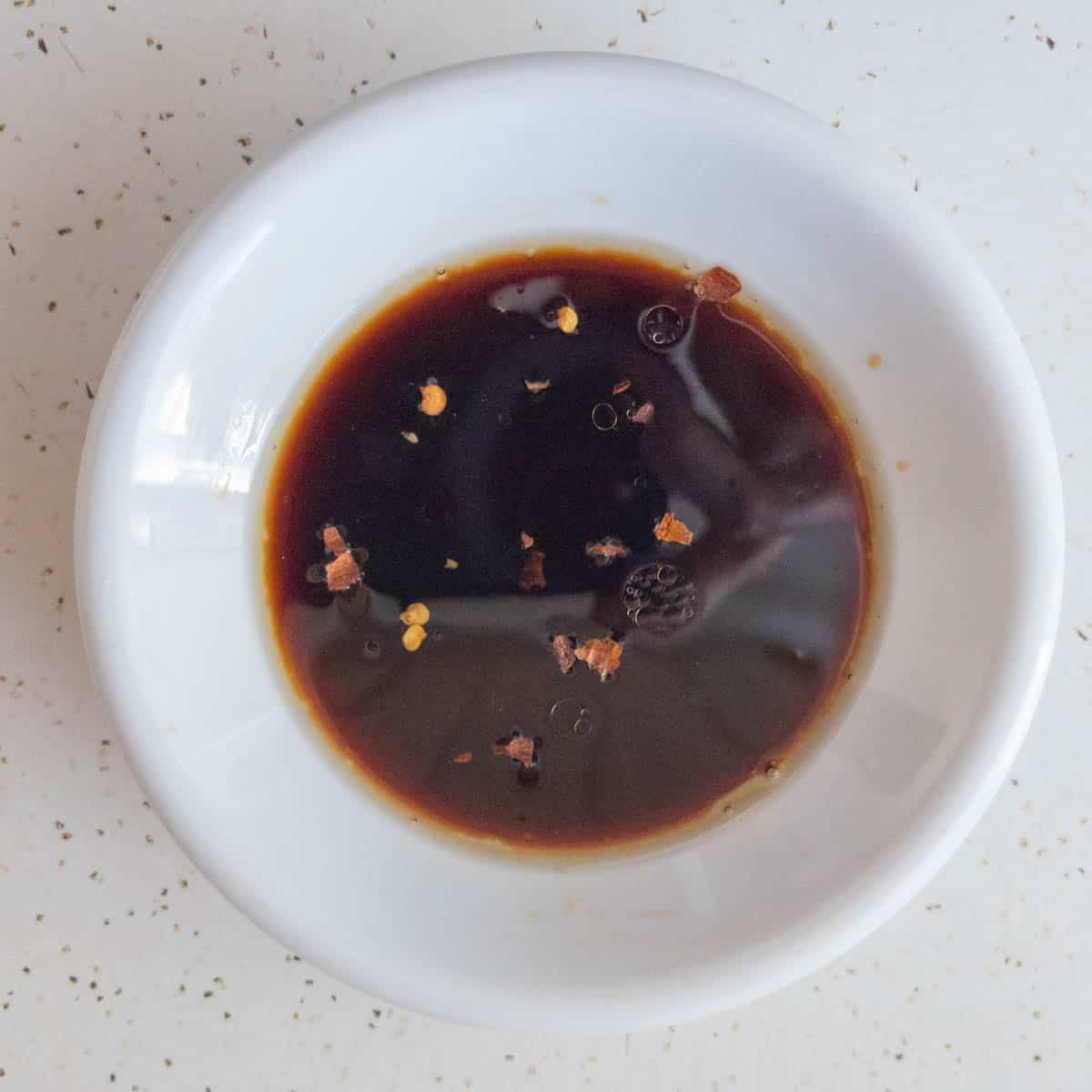 How to Make Dipping Sauce for Dumplings
While the dumplings are cooking it is time to make the dipping sauce. It is simple to do and is just a matter of mixing together a handful of ingredients in a bowl and whisking together. The dipping sauce is made up of soy sauce, rice vinegar, some red chili pepper if you want a little spice, and some sesame oil.
The full quantities are in the recipe card.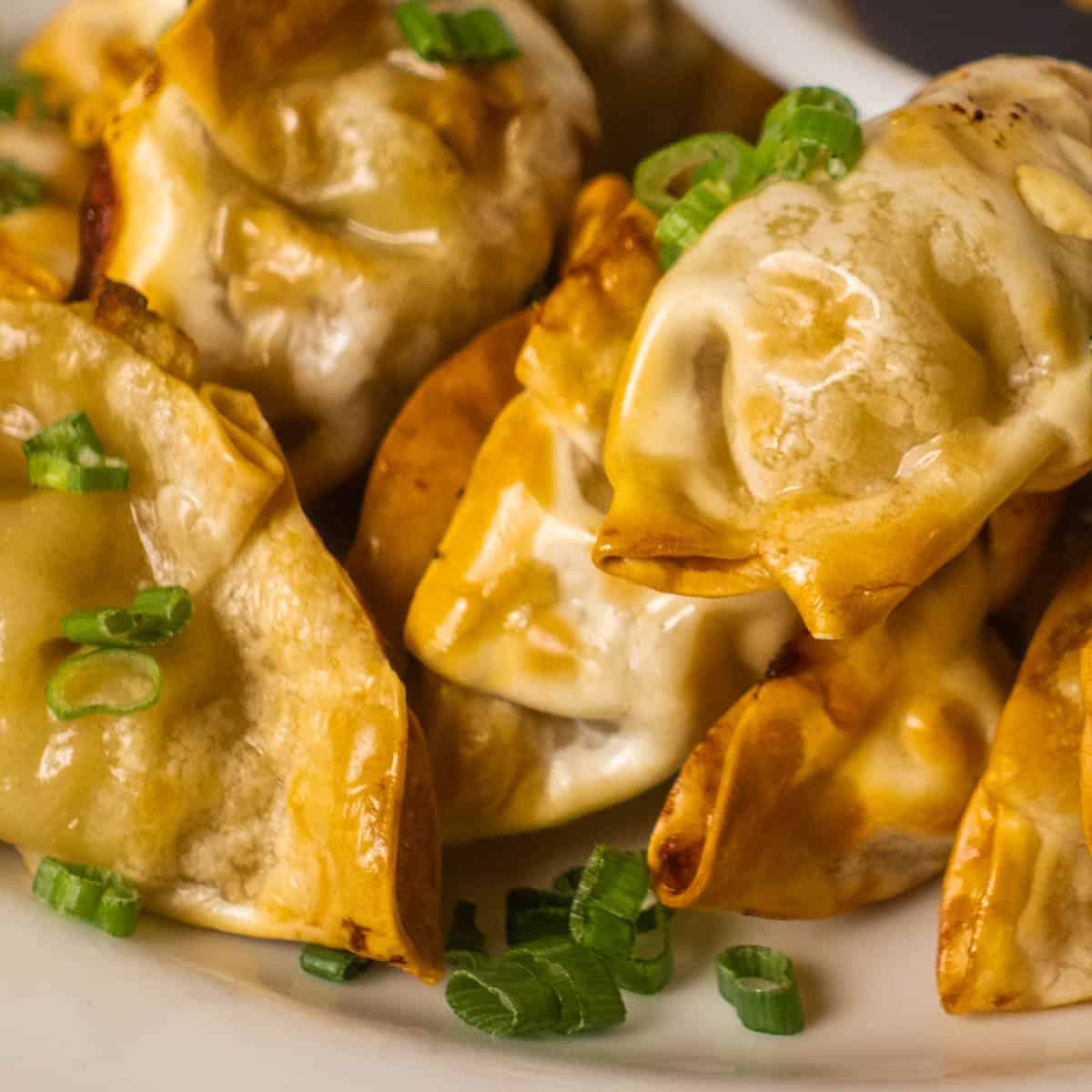 Substitutions
Coconut Aminos – Substitute in place of soy sauce if you have food sensitive allergies or are gluten free.
Honey or Coconut Sugar – Substitute honey or coconut sugar in the dipping sauce if needed.
Variations
Spicy – add more red chili pepper flakes to dipping sauce for a spicier kick.
Equipment
If you are reading this recipe I assume that you have an air fryer, but just in case you're don't or would like to know the equipment that I use I will list all that below. I do receive a small commission on these products at absolutely no cost to you. Thank you for your support.
COSORI Air Fryer Oven Combo 5.8QT Max Xl
Air Fryer Parchment Paper Liners
Reusable Silicone Air Fryer Liners 3 Pack
365 by Whole Foods Market, Sauce Shoyu Soy
365 by Whole Foods Market, Vinegars Rice Organic
365 Toasted Sesame Oil
Storage
If you have leftover dumplings which I doubt you will they can be stored in an airtight container in the fridge for 3 to 4 days.
Reheating
Preheat air fryer to 350 Degrees Fahrenheit. Place 6 to 8 dumplings in the basket in a single layer. Spray with a small amount of oil. Cook 2 minutes or until the desired temperature.
Air Fryer Recipes
Air Fryer Eggrolls
Air Fryer Frozen French Fries
Air Fryer Chicken Nuggets
Air Fryer Bacon Wrapped Hotdog

Air Fryer Dumplings (Frozen Potstickers, Gyoza)
Frozen Dumplings in the air fryer are fantastic. These are as good as takeout.
Ingredients
6-8

Frozen Dumplings

Pork,Beef, Chicken, Shrimp

1

tsp

Oil (Vegetable, Avocado, or preffered)
Dipping Sauce
3

Tbsp.

Soy Sauce

1

tsp

Rice Vinegar

1/4

tsp

Red Chili Pepper Flakes

1 to 2

tsp.

Sugar

1

tsp.

Toasted Sesame Oil
Instructions
Preheat Air Fryer to 380 Degrees Fahrenheit

Dumplings

Place 6-8 Dumplings in Air Fryer in Single Layer. Make sure that dumplings have some space in between fro popper airflow.

Spray dumplings with light mist of oil.

Air Fry Dumplings 8 Minutes.

Flip Dumplings and Air Fry 2 Minutes More.

Note: If you like them more crispy air fry in 2 minute increments.
Dipping Sauce
Mix Ingredients together in a bowl and serve with dumplings.
Notes
If you like the sauce a little spicy add more Red Chili Pepper. If you want the sauce more savory use less sugar.
(Visited 2,043 times, 1 visits today)