I do really love a crunchy piece of moist fried fish. It's fun to eat but can be high in calories. I am always looking for a healthier alternative and this air fryer mahi mahi recipe is a much more healthy dinner option.
It's crunchy the fish is flaky and it's not greasy at all. My family loves this mahi mahi air fryer fish recipe. It is so simple to do. I just season up some plain Panko bread crumbs with some salt pepper and spices like garlic powder, paprika, and some thyme.
In less than 15 minutes you have delicious fish that doesn't have all the calories and fat.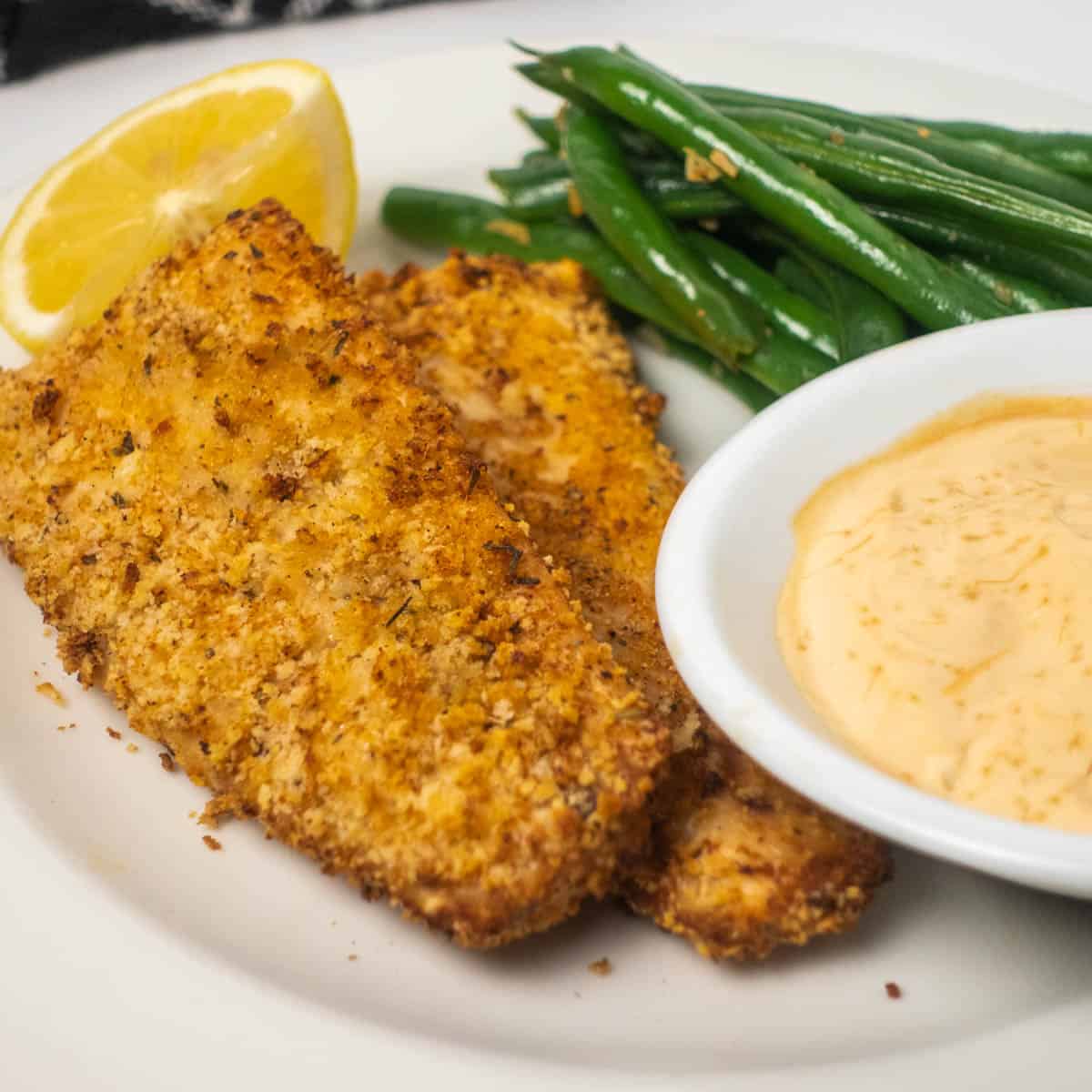 In this post, I am going to teach you a few things
How to cook Mahi Mahi in the air fryer
How to make a delicious quick dipping sauce for fish
How to cook Mahi Mahi in the air fryer from frozen
This dish was inspired by how many times I saw somebody asking how to cook fish in the air fryer on social media. I took it upon myself to give it a shot and be able to answer that question. This recipe is great served with green beans or this Air Fryer Bacon Wrapped Asparagus.
Jump to:
Ingredients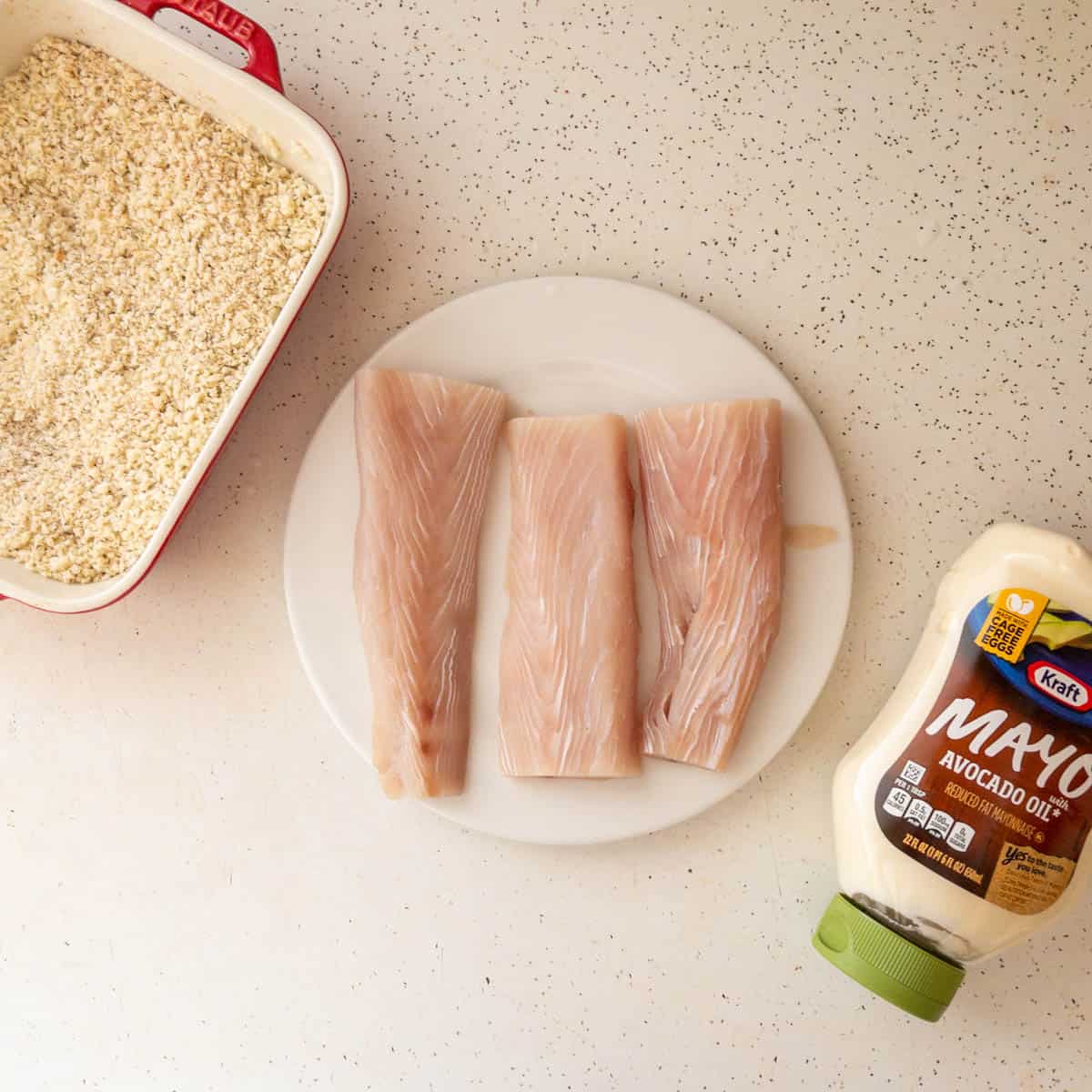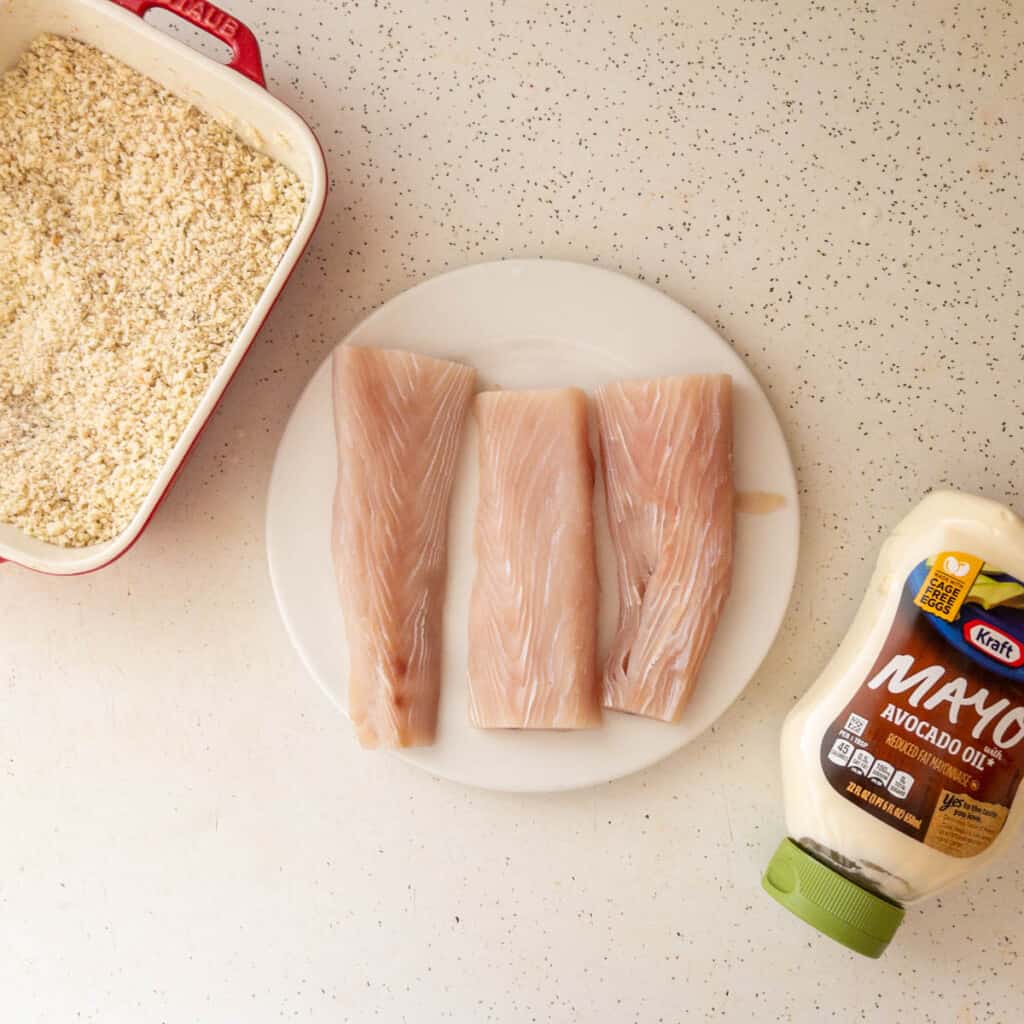 Mahi Mahi Fish Filets
Plain Panko Breadcrumbs
Sea Salt
Black Pepper
Garlic Powder
Smoked Paprika
Dried Thyme
Onion Powder (Optional)
Mayonaise
Olive Oil (Optional)
Jump to recipe card for quantities.
How to Cook Mahi Mahi in Air Fryer
Preheat your Air Fryer to 400 Degrees Fahrenheit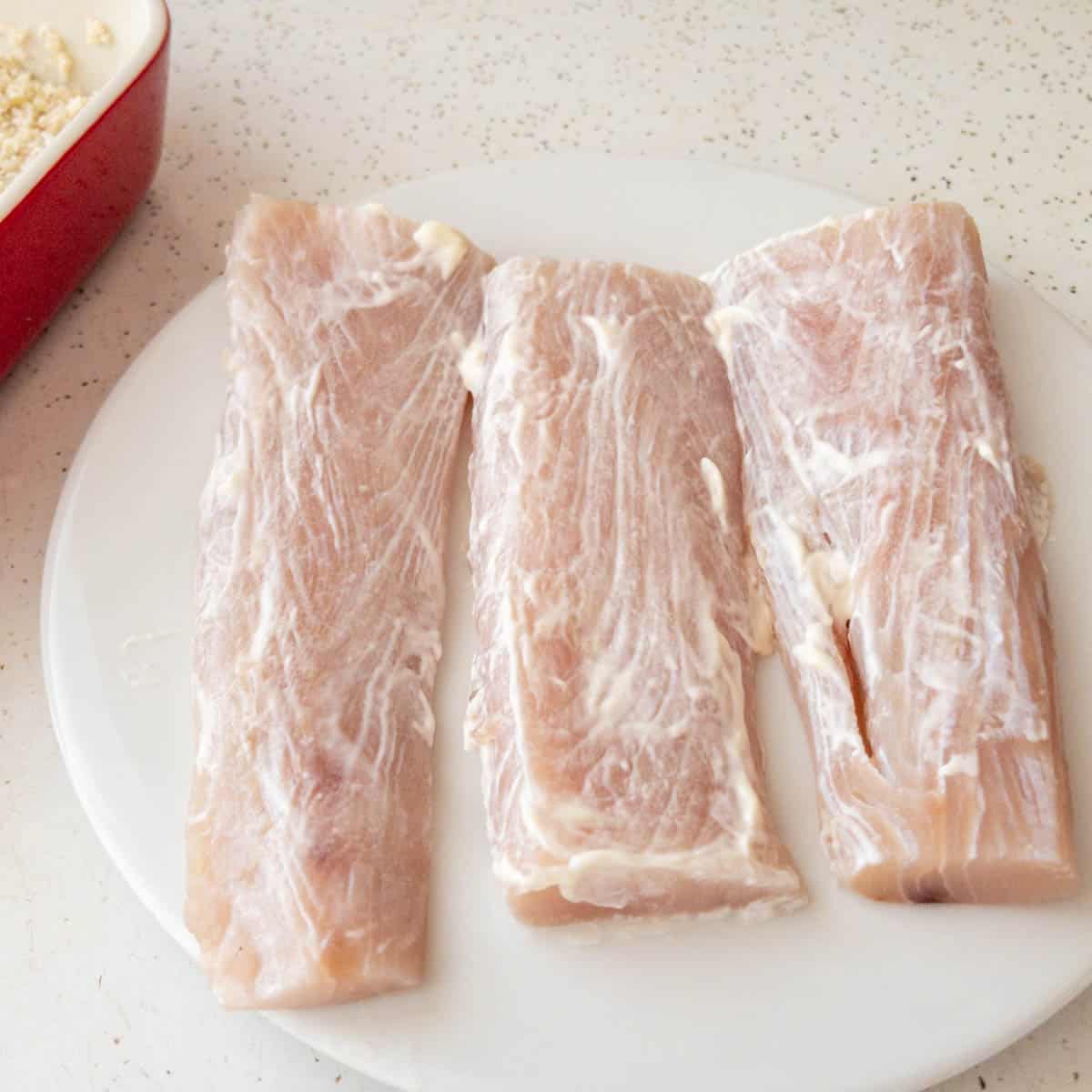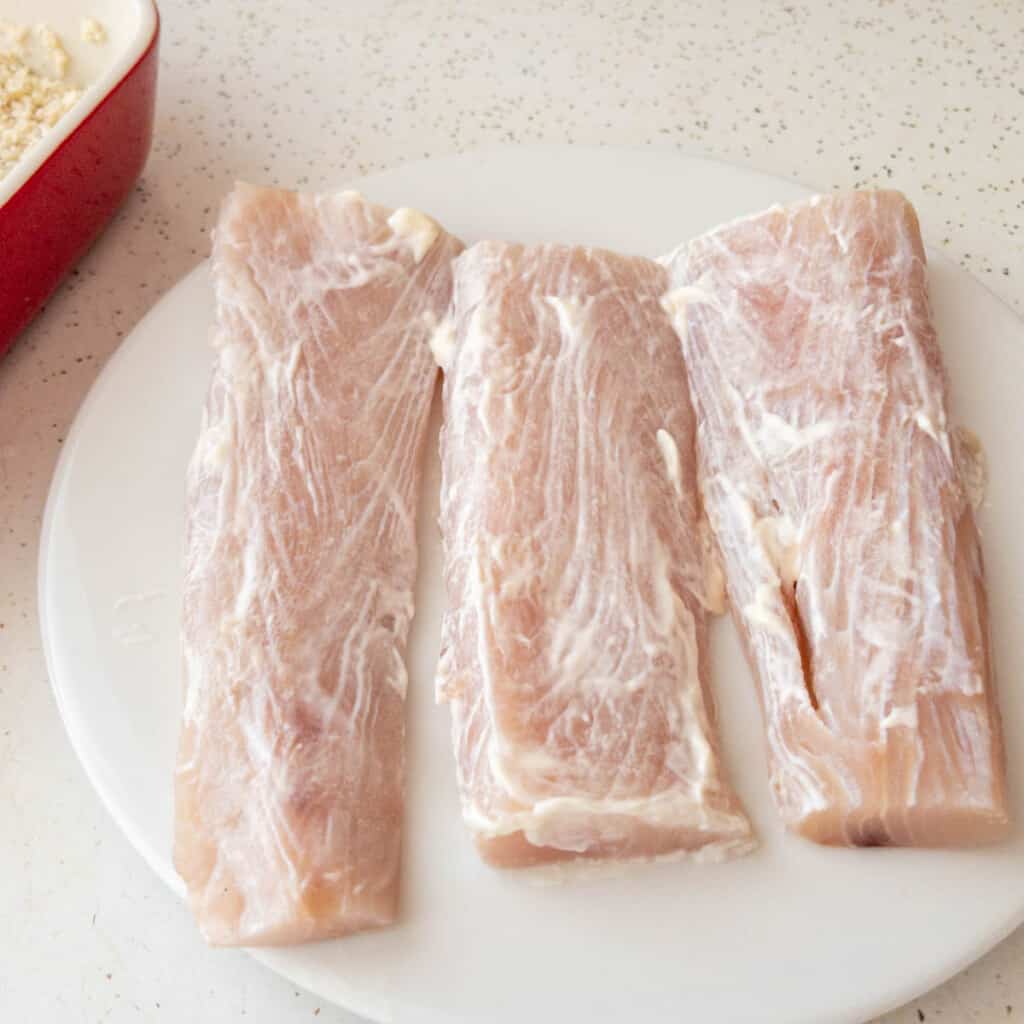 Step 1 – Place the fillets and a large plate and dry well with a paper towel. Coat each of the fish fillets with mayonnaise liberally. This is going to make the breadcrumbs stick better than just drizzling with oil. I did not season the Mahi Mahi itself because I put the seasoning in the breadcrumbs.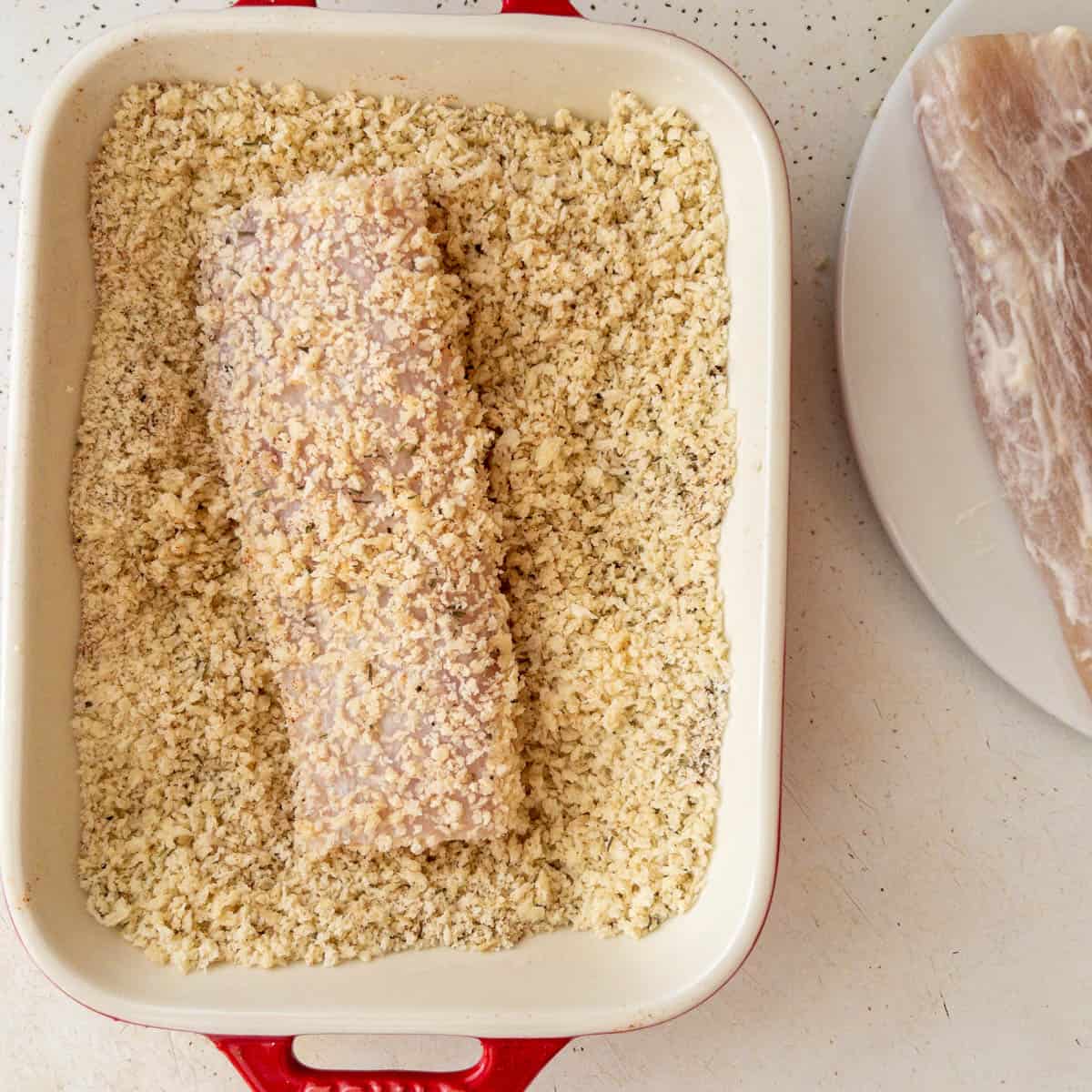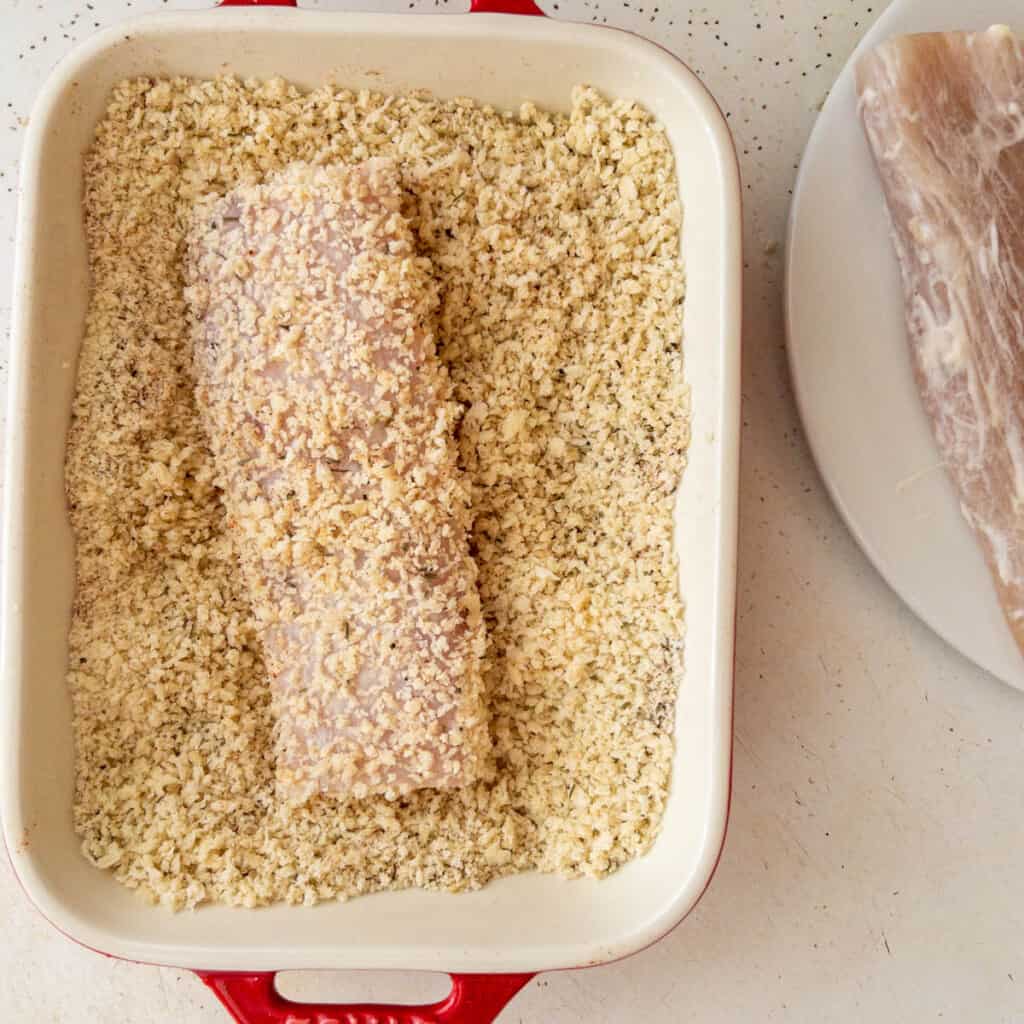 Step 2 – Coat the fish fillets with the seasoned Panko breadcrumbs liberally. When I am breading the fish I push down on the fillets a bit to help the breadcrumbs stick to the fish. Repeat this process for all the Mahi Mahi fillets.
Hint: Press the fillets down in the breadcrumbs to help them stick to the fish fillets.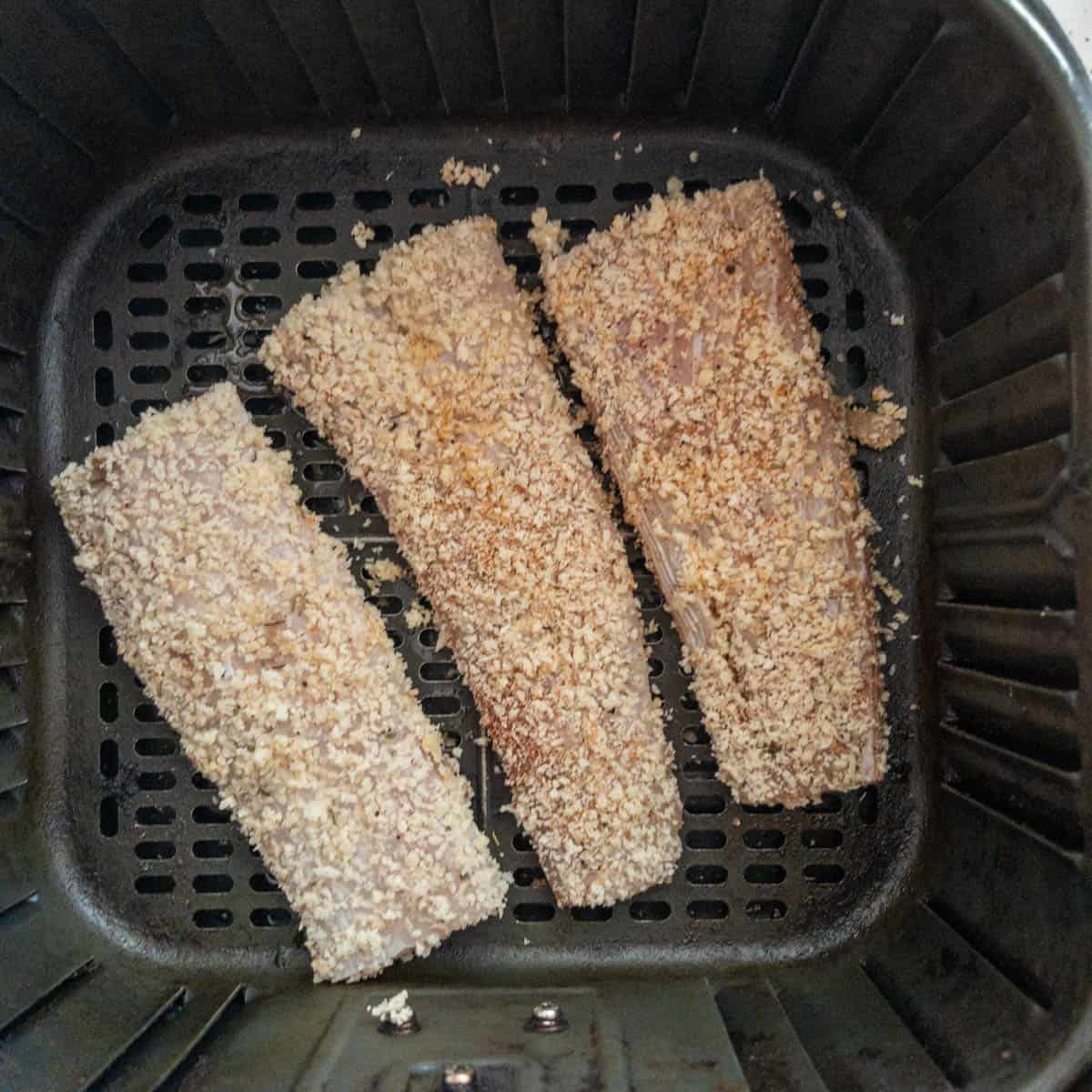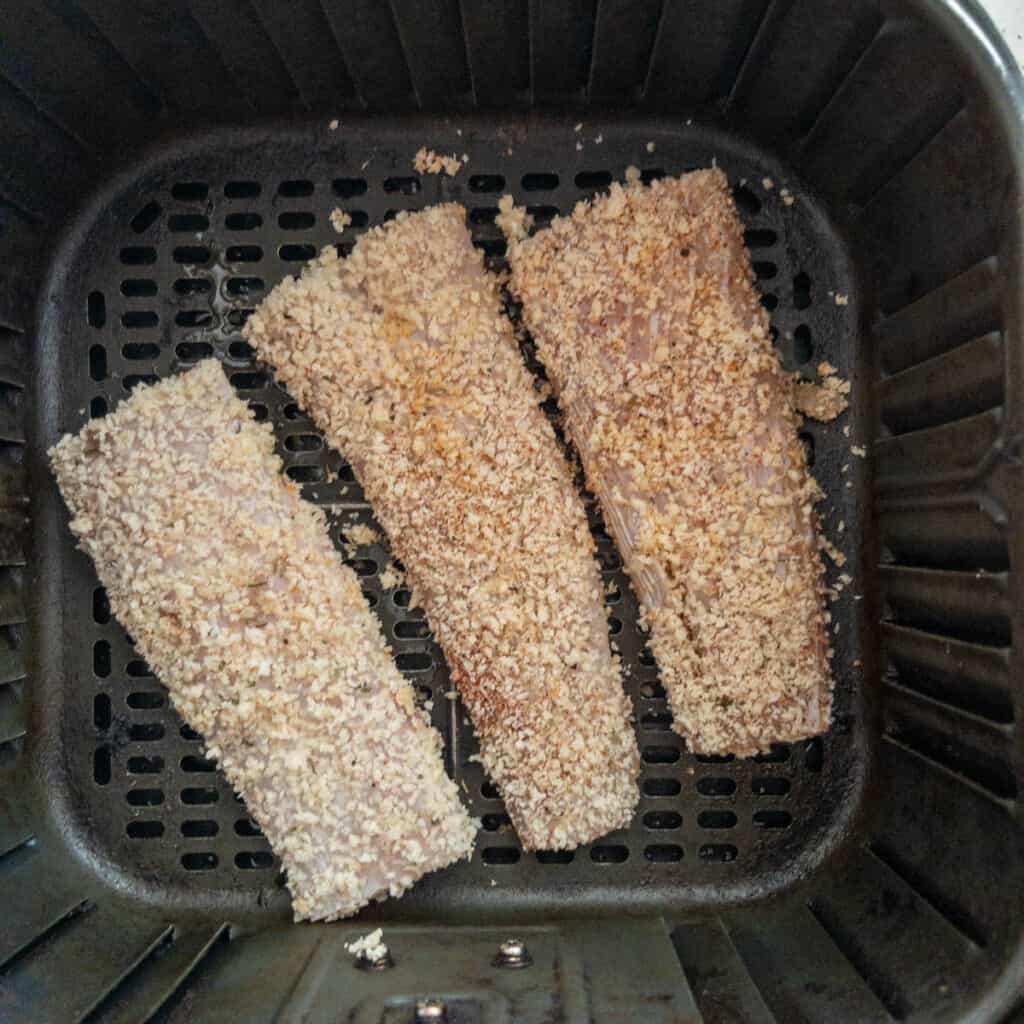 Step 3 – Spray or wipe the basket with a small amount of oil. Place the Mahi Mahi in the air fryer basket and air fry for a total cooking time of 10 to 14 minutes. Flip the fish halfway through.
Remember air fryers come in different wattages so that is why there is a 4 minute window in the cooking time.
I would start checking at 10 minutes. I like to cook the fish until it will flake easily.
Tip: It is recommended that fish be cooked to a minimum temperature of 145 degrees Fahrenheit but keep in mind there is some carryover cooking when it is done so pull it out a little bit early. Do not use cooking spray on your air fryer basket.
How to Make Fish Dipping Sauce
When it comes to crunchy fried fish I like to have some sort of dipping sauce. Mix all the ingredients in a bowl and chill in the fridge for 15 minutes for flavors to blend. This is the ingredients in the dipping sauce.
Mayonaise
Low Sodium Soy Sauce
Franks Hot Sauce or Srachia Sauce if you prefer
Dijon Mustard
Lemon Juice
Salt and Pepper to taste

The measurements are in the recipe card.
How to Cook Frozen Mahi Mahi in Air Fryer
Step 1 – Prepare the fish as usual up until the fish is breaded with Panko breadcrumbs.
Step 2 – Place the breaded fillets in a zip top bag in the freezer until ready to cook.
Step 3 – Preheat the air fryer to 400 Degrees Fahrenheit.
Step 4 – Cook for 13-15 minutes flipping halfway through. Cook until the desired doneness.
Equipment
I always list the equipment that I use for each recipe and some kitchen essentials that I have grown to love over the years. I do earn a small commission from the sale of these items and absolutely no cost to you. Thanks for your support.
COSORI Air Fryer Oven Combo 5.8QT Max Xl
365 Panko Bread Crumbs
Misen Chef Knife – 8 Inch Professional Kitchen Knife
Air Fryer Parchment Paper Liners, 200Pcs Square
Instant Pot Pro 10-in-1 Pressure Cooker
Tell your visitors what equipment you use and how to adjust the recipe if they use something different, and link to your affiliate link to purchase the equipment.
Air Fryer Recipes to Enjoy
Air Fryer Parmesan Balsamic Brussel Sprouts
Air Fryer Dumplings (Potstickers)
Air Fryer Fried Shrimp
Storage
Store Cooked Fish in an airtight container for up to 3 days.
These ingredients don't stand up well to freezing.
Reheating
Reheating fish in the air fryer is simple. Preheat air fryer to 350°F. Place fish in air fryer basket.
Reheat for 3 to 4 minutes.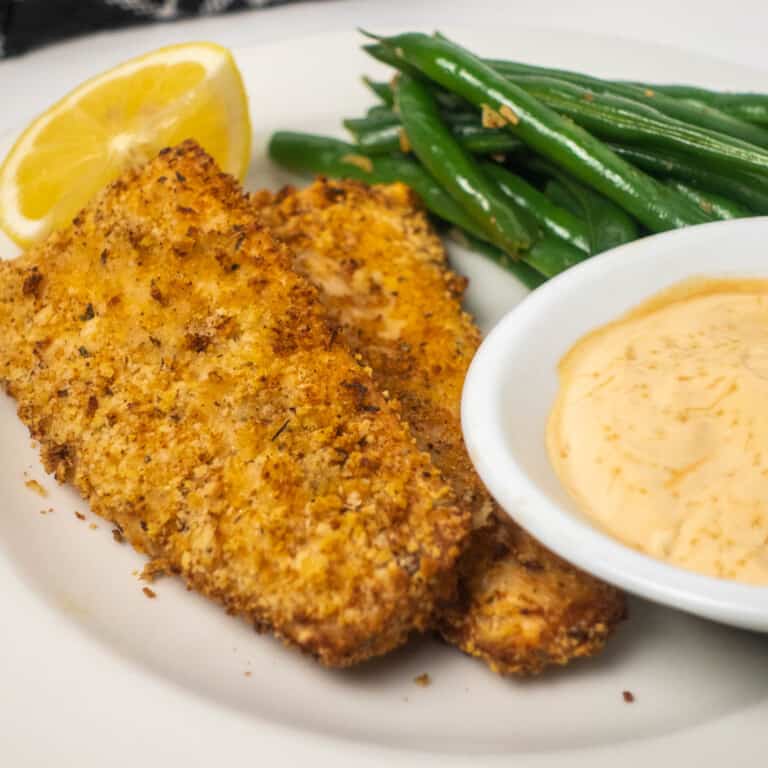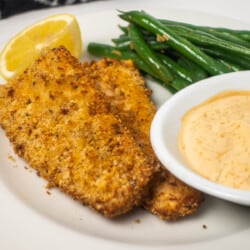 Air Fryer Mahi Mahi
Mahi-mahi in the air fryer comes out crispy and delicious without being greasy.
Print
Pin
Rate
Ingredients
1 to 1/2

Lbs

Mahi Mahi Filets

3

Tablespoons

Mayonaise

1

Cup

Plain Panko Breadcrumbs

1

tsp.

Sea Salt

1/2

tsp.

Ground Black Pepper

1/2

tsp.

Garlic Powder

1

tsp.

Smoked Paprika

1/2

tsp.

Dried Thyme
Fish Dipping Sauce
3

Tbsp.

Mayonaise

1

Tablespoon

Low Sodium Soy Sauce

1/4

tsp.

Franks Hot Sauce
1/2 tsp. Dijon Mustard

1

tsp.

Lemon Juice

Salt and Pepper to taste
Instructions
Directions for Mahi Mahi
Preheat air fryer to 400° F for five minutes

Place Panko breadcrumbs in a dish and season with salt, pepper, garlic powder, smoked paprika and dried thyme. Stir to combine.

Make sure that mahi-mahi fillets are very dry. Coat the filets with the mayonasise liberally and then coat with the seasoned Panko breadcrumbs. Push on the filets a bit to get the coating to stick well.

Place filets in preheated air fryer and air fry about 12-14 minutes. Flip filets hallway through cooking time. If you are using a food thermometer cook to 145 degrees Fahrenheit.
Directions for Dipping Sauce
In a bowl mix together mayonaise, soy sauce, hot sauce, dijon mustard and lemon juice. If you want it a bit more spicy add some more hot sauce or a pinch of cayenne pepper.
Nutrition
(Visited 7,375 times, 13 visits today)