Instant Pot Chicken Lo Mein Recipe is so simple to make it is sure to become one of your favorites. Not only is it delicious it will also save you some bucks on takeout. This Easy Chicken Lo Mein Recipe is also a much healthier option. It is also a one pot meal. If you do not have Lo Mein Noodles on hand you can also use spaghetti noodles in this Instant Pot Lo Mein.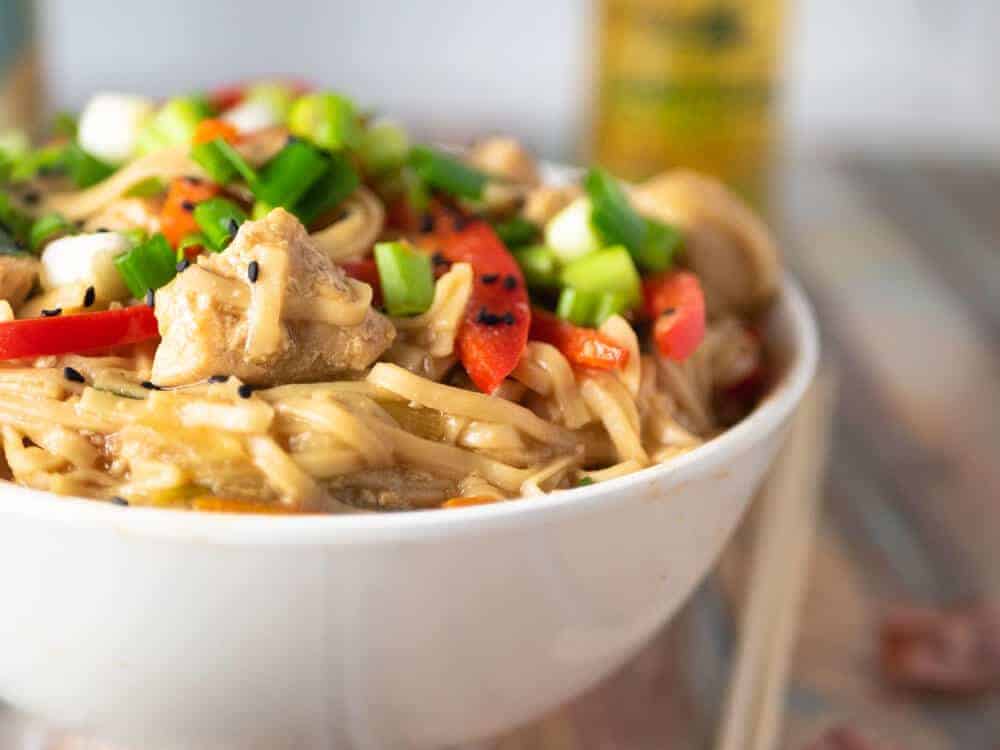 Instant Pot Chicken Lo Mein
I totally dig this Chicken Lo Mein Recipe. It is definitely one of my takeout dishes of choice at Chinese restaurants. Ever since I got an Instant Pot I don't bother getting takeout anymore. This dish has it all and is more healthy than takeout Chinese Chicken Lo Mein. Loaded with lots of veggies like carrots, onions, and celery make this a healthy lo mein. The chicken comes out juicy sweet and tender as well and it even looks delicious. If you're a vegetarian then you can just follow the same recipe and omit the chicken. This Lo Mein will still be very tasty. I do that quite often myself when I'm looking for a fast lunch. This is easy lo mein and is one of my favorite Asian instant pot recipes.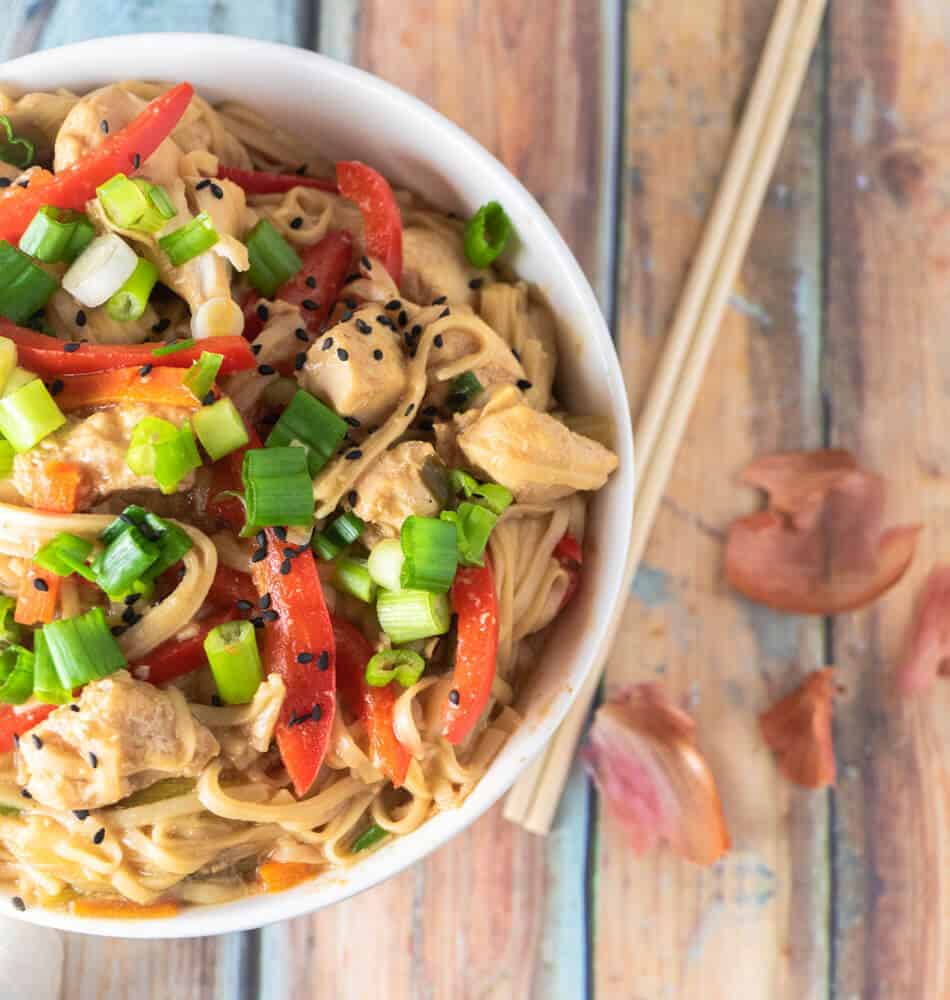 How to Make Chicken Lo Mein
Make the Lo Mein Sauce
Mix together in a bowl the soy sauce, sesame oil, rice vinegar, sweet chili sauce, chili flakes, sugar, garlic, ginger, and chicken broth.
Lo Mein Ingredients to Put in Instant Pot
The next step is to add the chicken to the Instant Pot. Make sure that the chicken is cut into small enough so it cooks completely through. Insert the carrots, celery into to the pot. Reserve the chopped scallions and red peppers.
Pour the Lo Mein sauce into the Instant Pot and stir to coat the chicken and vegetables. Break the Lo Mein Noodles in half and place in a criss-cross pattern on top of the chicken and vegetables. DO NOT STIR THE NOODLES.
Cooking Chicken Lo Mein Directions
Fasten the lid onto the Instant Pot. Turn the valve to the "SEAL" position. Press the "Pressure Cook" button and set the pressure cooker to HIGH Pressure for 3 Minutes.
When cooking time is complete do a Quick Pressure Release and then remove the Instant Pot Lid. Let Lo Mein sit for a few minutes for sauce to thicken a bit.
Stir in the Red Peppers and half the Scallions and let sit for about 3 to 5 Minutes till they soften.
Remove the Chicken Lo Mein from the Instant Pot and garnish with the reserved scallions and serve.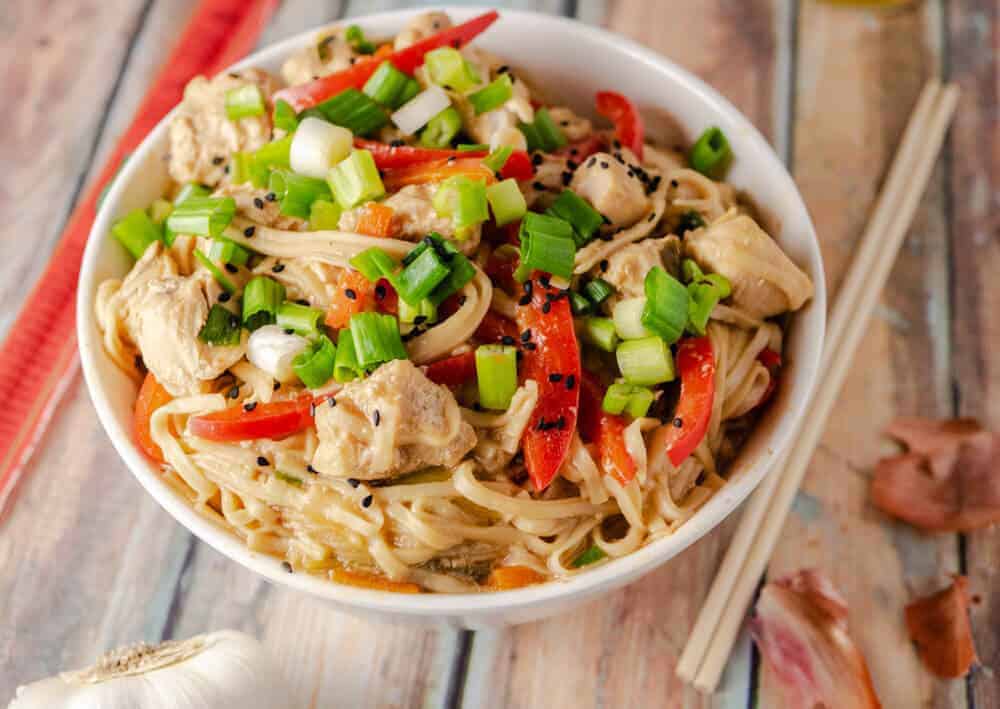 Other Ideas for Lo Mein Noodles
The flexibility of Lo Mein is wonderful. You can use spaghetti instead of Lo Mein Noodles if you want. Add different vegetables. I usually add any veggies that I have laying around in the fridge. Below are a few examples of different proteins and vegetables.
Brocolli
Snow Peas
Water Chestnuts
Cabbage or Bok Choy
Beef
Shrimp
Scallops
Where to Buy Lo Mein Noodles
Lo Mein noodles are always available at your local supermarket and at pretty much all asian markets.
Other Recipes you may enjoy
Udon Noodle Pork Stir Fry.
Ginger Garlic Tofu Stir Fry
Instant Pot Chicken Lettuce Wraps
Equipment You Will Need
Instant Pot Duo Evo Plus 6 Qt Pressure Cooker
Simply Asia Lo Mein Noodles
Organic Shoyu Reduced Sodium Soy Sauce
Dalstrong Santoku Knife Shogun Series

Chicken Lo Mein Recipe
Chicken Lo Mein Recipe (Instant Pot)
Chicken Lo Mein Recipe made in the Instant Pot
Ingredients
1

Pound

Chicken in 1 inch pieces

Breast or Tenderloin

6

oz

Lo Mein Noodles

6

Tbsp.

low sodium soy sauce

1

tsp.

Sesame Oil

1

Tbsp.

Olive Oil

1

Tbsp.

Rice Vinegar

1

Tbsp.

Sweet Chili Sauce

1

Tbsp.

Sugar

1/2

tsp.

Red Chili Flakes

2

Cloves

Minced Garlic

1/2

tsp.

Minced Ginger

2

Cups

Chicken Broth

1

Rib Celery Sliced

2

Scallions Cut in 2 inch pieces

1

Carrot cut into matchsticks

1

Red Pepper in thin slices

Julienned

2

Chopped Scallions for Garnish

1/2

Cup

Water to Adjust Consistency at end
Instructions
Open Instant Pot and Put in all ingredients except red peppers.

First put in chicken then all veggies except the red peppers. Pour in sauce mixture. Make sure chicken is cut into small pieces so it cooks completely.

Break up noodles and place on top. DO NOT STIR THEM.

Fasten lid on to the Instant Pot close valve on the top of the Instant Pot. Push the PRESSURE COOKER button and set timer for 3 MINUTES.

When cooking time is complete do a QUICK RELEASE. Remove lid and stir and let sauce thicken for a few minutes.

Stir in Peppers and Half Chopped Scallions and wait for pepper to soften. About 3 to 5 mins. Then garnish with leftover chopped scallions

Enjoy.

Serves 2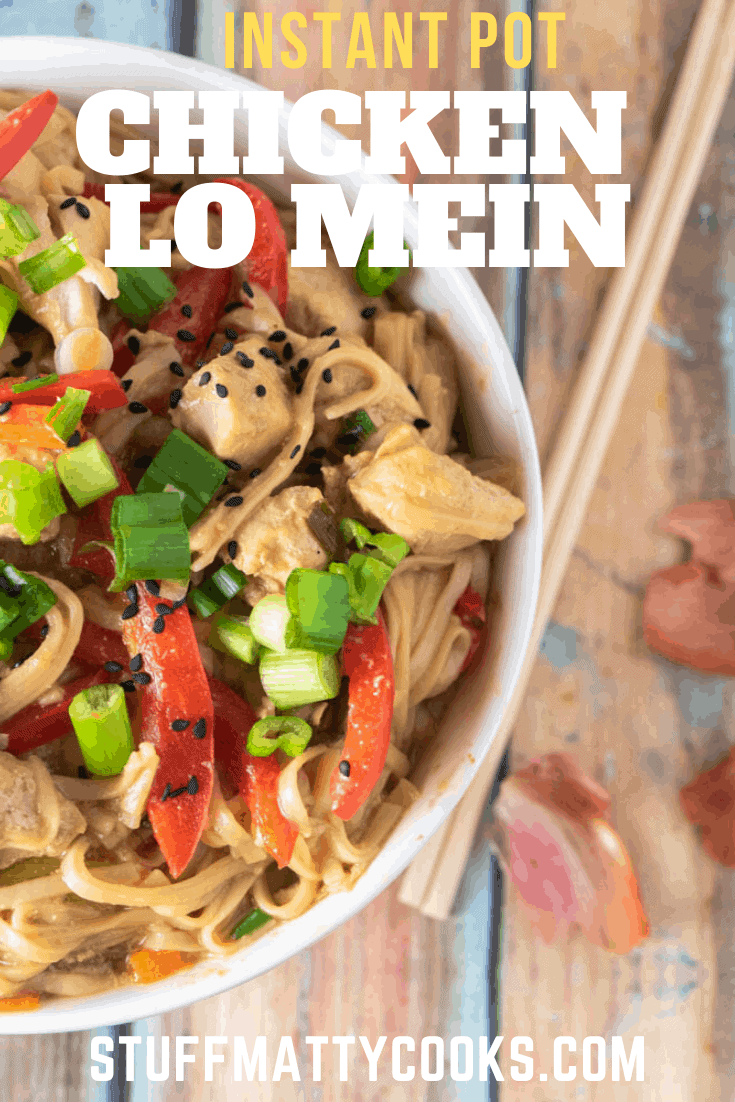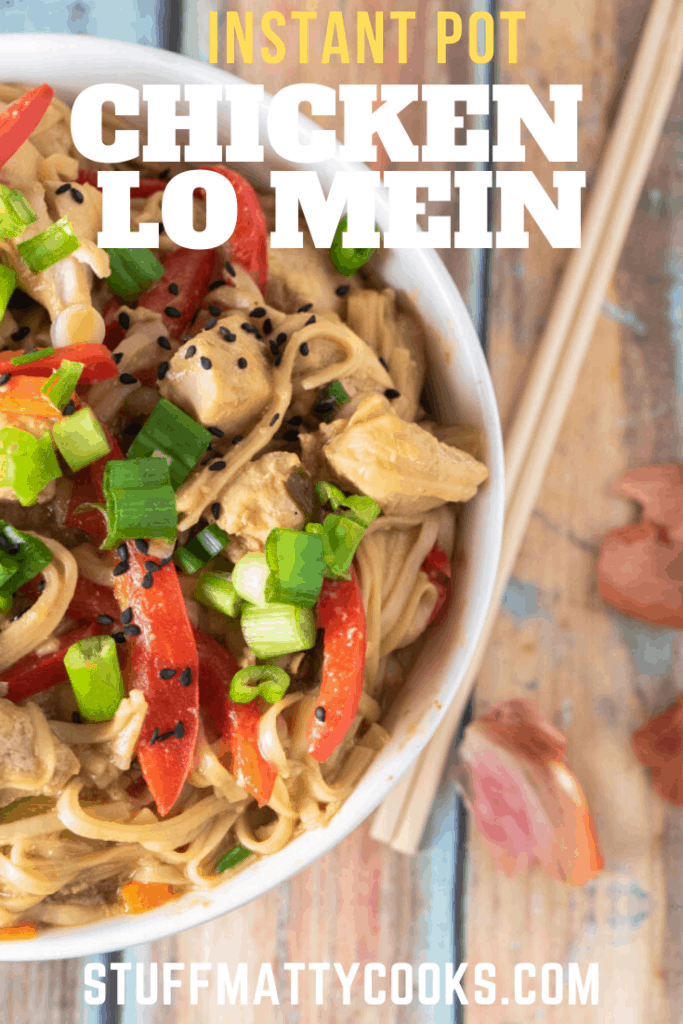 (Visited 11,926 times, 1 visits today)