Udon Noodle Stir Fry is totally delicious and I thought that I would share it with you. It is something i came up with while pacing around my house starving.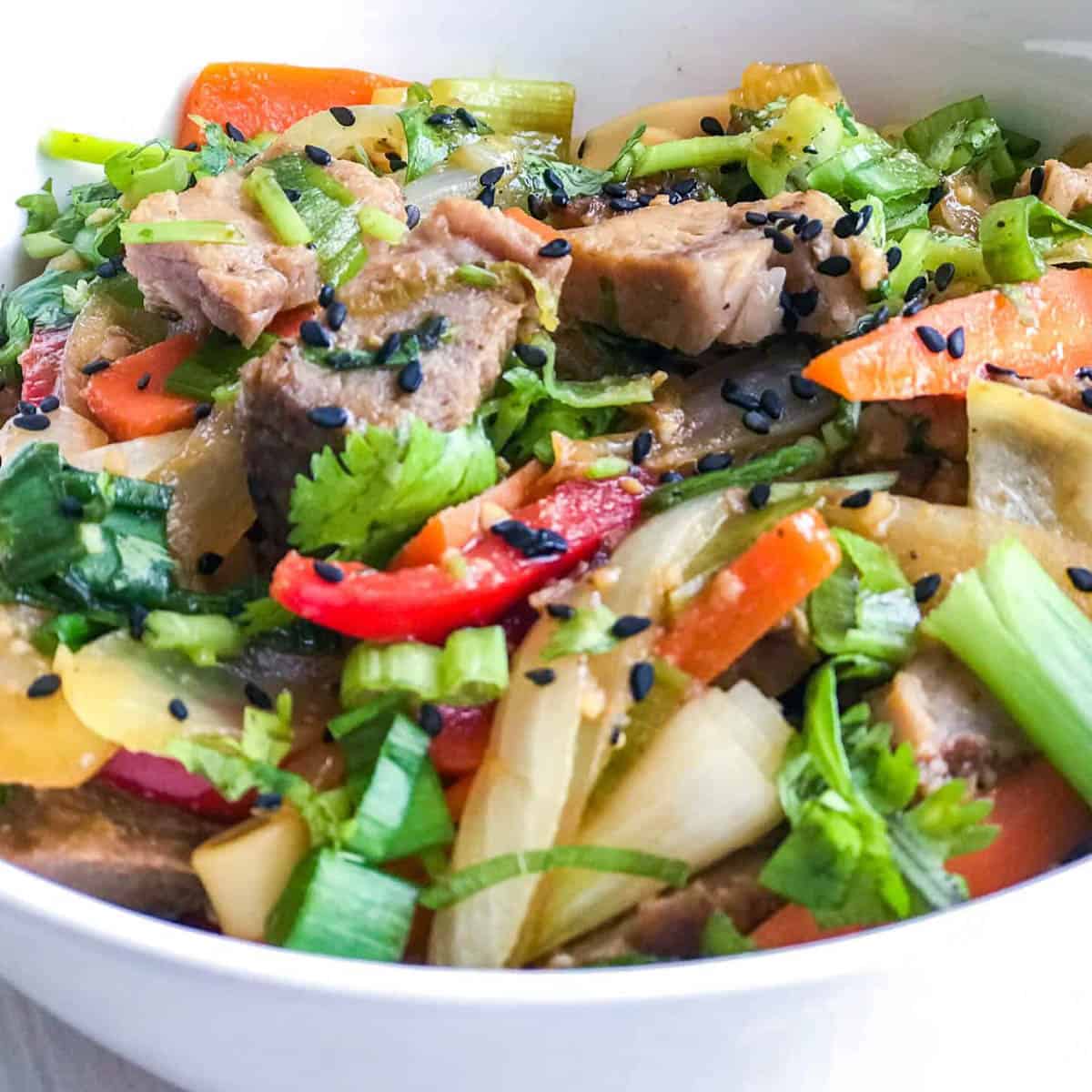 This Stir Fry Udon Noodle Recipe is one of those recipes that i just make from the hip using some pantry ingredients and leftovers, basically this recipe is a cleanout your fridge recipe.
This time for the protein I used leftover Baby Back Pork Ribs in this udon recipe. Any protein can be used in this recipe or you can make it with just vegetables.
Udon Noodle Stir Fry Recipe
Keep in mind in this Udon Noodle Pork Stir Fry ANY protein can be substituted in this recipe. The protein does not have to be a leftover at all. Although it is one less step if your protein is a leftover and ready to go. You can make this with any protein you like. It is good with pork, chicken, beef, shrimp or you can just make it vegetarian. That is what makes stir fry so easy and versatile to me. Basically you can use any vegetables that you prefer.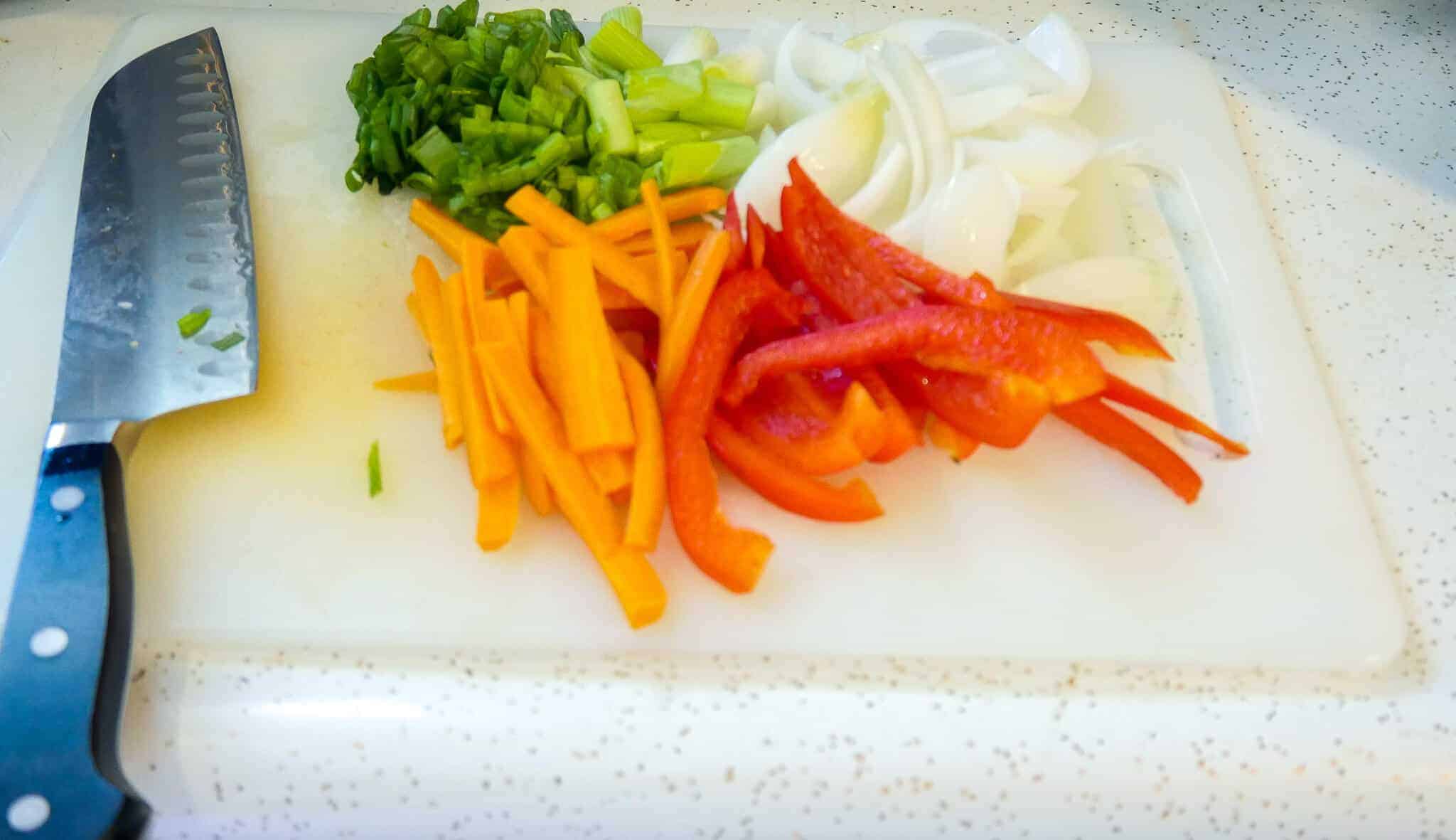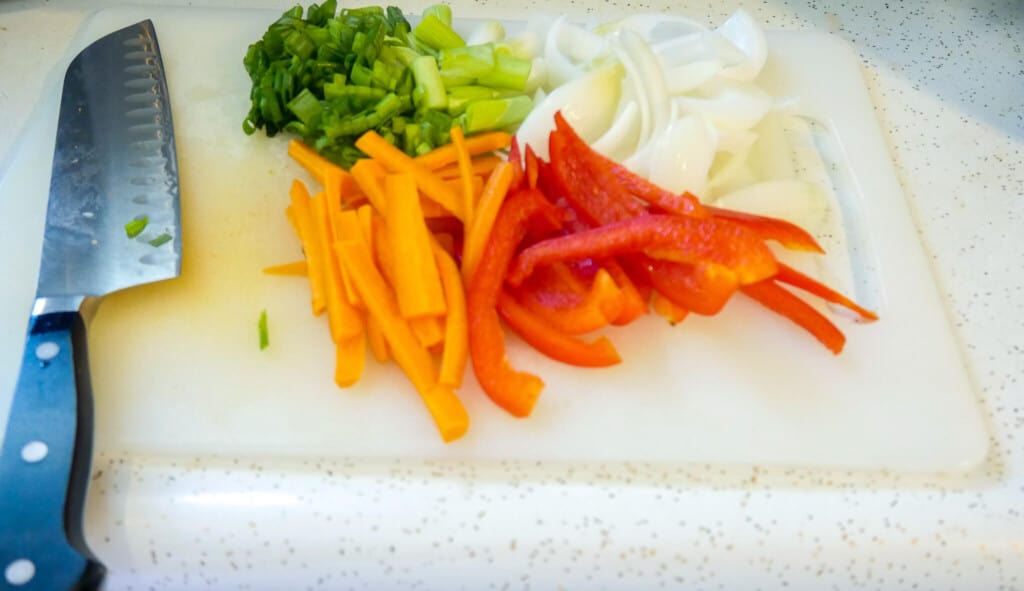 Better Than Takeout Udon
What i try to do is make more healthy versions of the original style recipes. I use low sodium soy sauceless sugar and definitely a lot less oil. In this recipe i even used Organic Udon Noodles. Normally i like the thicker Udon Noodles I get at the Asian Market but they were out of them so i used some from Whole Foods that i had laying around. Keep in mind you can use pretty much and kind of noodles including thin spaghetti if you are in a pinch. I have also used Ramen Noodles before (the cheap kind) but just DONT use the seasoning pack. Make the sauce in this recipe instead. It is so much more tasty and healthy.
Is Udon Healthy?
Udon noodles are usually made with very few ingredients – wheat flour, water, and salt. As Udon Noodles (Yaki udon) is made with an assortment of vegetables and protein, this can be made into a healthy meal with protein, fiber, and carbs. So generally udon is healthy as long as you do not use too much sugar, sodium or oil.
Where to Buy Udon Noodles
Udon noodles are available a asian markets in the frozen section. Dried udon noodles are also available. These days Udon noodles are pretty common and can also be bought at most supermarkets and Whole Foods.
How to cook Udon Noodles.
If you are using dried Udon noodles boil water in a large stockpot. Once water is boiling drop in the noodles and stir to keep them from sticking together. Once the water returns to a boil I usually boil the noodles about 10 minutes. I start to check them after 8 to 9 minutes.
If using FROZEN Udon Noodles from the asian market the process is a little bit different because these noodles are precooked packaged and frozen. Boil water in a large stockpot. Once water is boiling drop in the frozen noodles. When the water comes back to a boil stir the noodles to keep them from sticking together and cook 1 to 2 minutes
Other Recipes
Instant Pot Mongolian Chicken
Chicken Lo Mein (Instant Pot)
Instant Pot Adobo Chicken
Kitchen Essentials and Items I Used
Organic Wide Udon Noodles
Better than Bouillon Organic Chicken Base
Dalstrong Utility Knife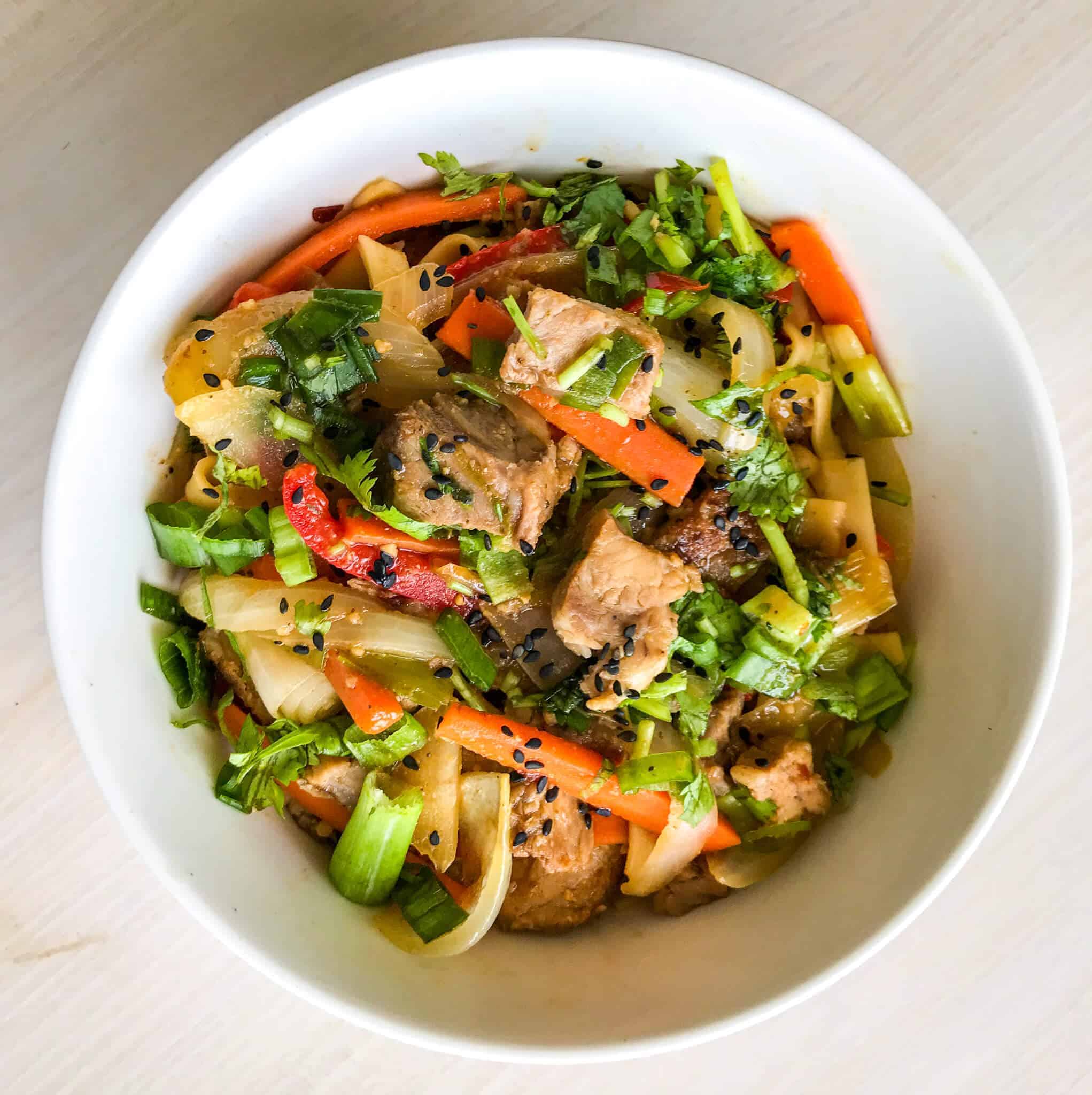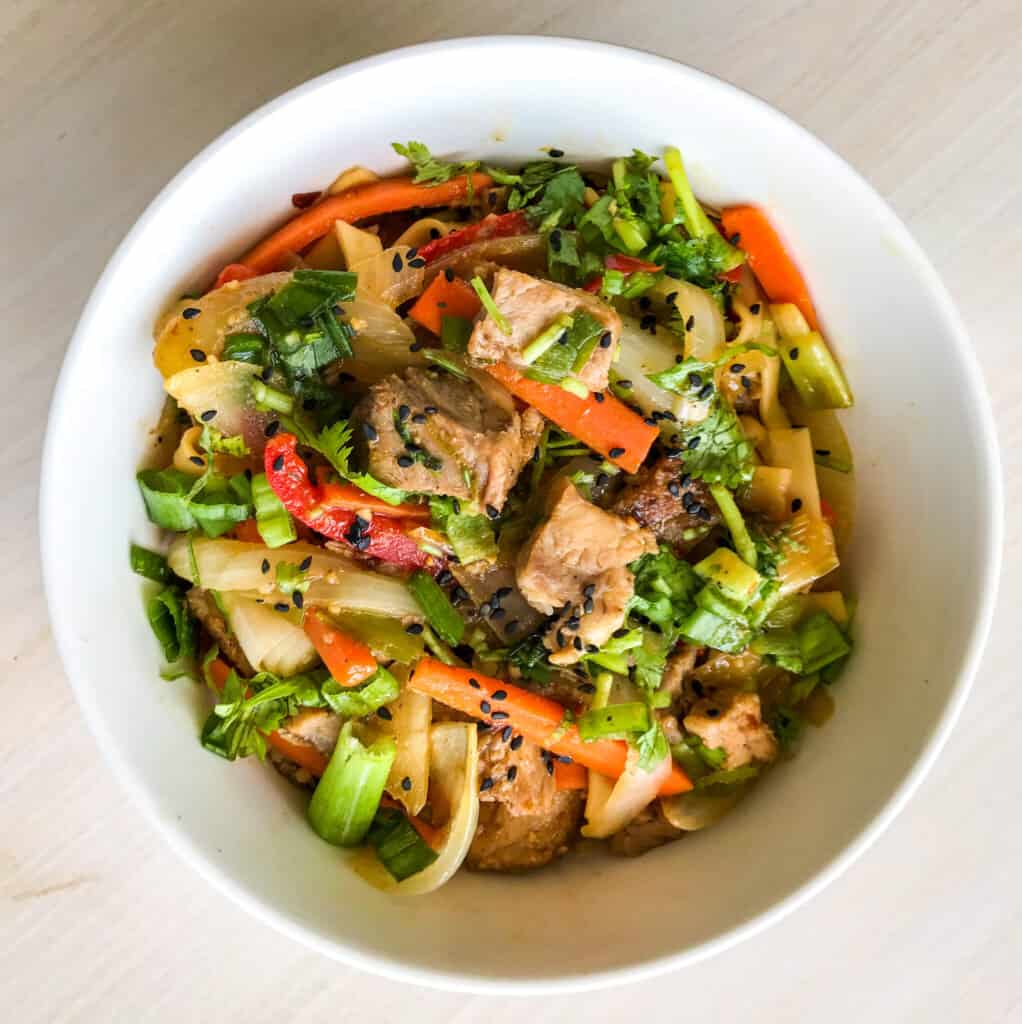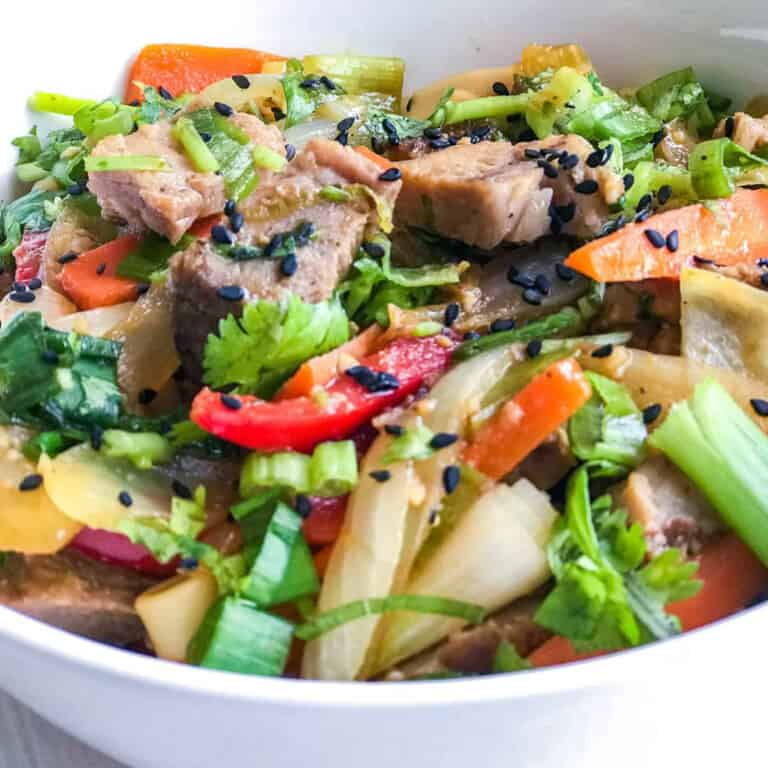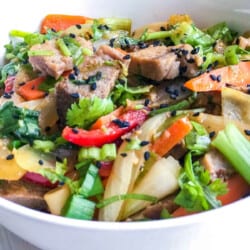 Udon Noodle Stir Fry Recipe
Udon Noodle Stir Fry is an easy healthy noodle recipe.
Print
Pin
Rate
Ingredients
6

oz

Pork (I used leftover baby back ribs)

You can you any protein you like..Beef,Pork,Chicken or Shrimp

3

oz

Udon Noodles or noodles of choice COOKED

I have also used Ramen Noodles

1/2

Red Bell Pepper Julienned

1

Carrot Julienned

1/2

Onion Sliced

3

Green Onions White Part Sliced

4

tbsp

Green Onion Chives for Garnish

1

tbsp

olive oil or avocado or coconut oil for stir fry

2

cloves

garlic
Stir Fry Sauce Ingredients
21/2

tbsp

Low Sodium Soy Sauce

1

tsp

Sesame Oil

1

tsp

Rice Vinegar

1/2

tsp

Red Chili Flakes

1/2

tsp

Minced Ginger

1/4

cup

Chicken Broth

2

tbsp

Water
Garnish
2

tbsp

Chopped Cilantro

2

tbsp

Chopped Chives
Instructions
Depending on which protein you use cooking directions for that protein may vary. I used leftover baby back ribs and took the meat off the bone and cut into 1 inch cubes. If you are using raw protein stir fry that first and remove from wok or pan.

Add olive oil to medium high pan. Let heat up for about 30 seconds or so.Add Carrots and onions to pan and stir fry for 2 MINUTES. Add Red bell peppers, garlic and green onions stir fry for 1 MINUTE. Add Noodles and your PROTEIN (pork,beef,chicken or shrimp) stir fry about a minute then add stir fry sauce and cook till heated.
Stir Fry Sauce Instructions
Mix together soy sauce, rice vinegar,sesame oil, chicken broth and water in a bowl and stir. You can optionally add about 2 tsp of sugar this is optional and i choose to leave it out. But adding the sugar makes for a bit more authentic flavor. Stir in sauce at end of stir fry and heat through. Enjoy
Nutrition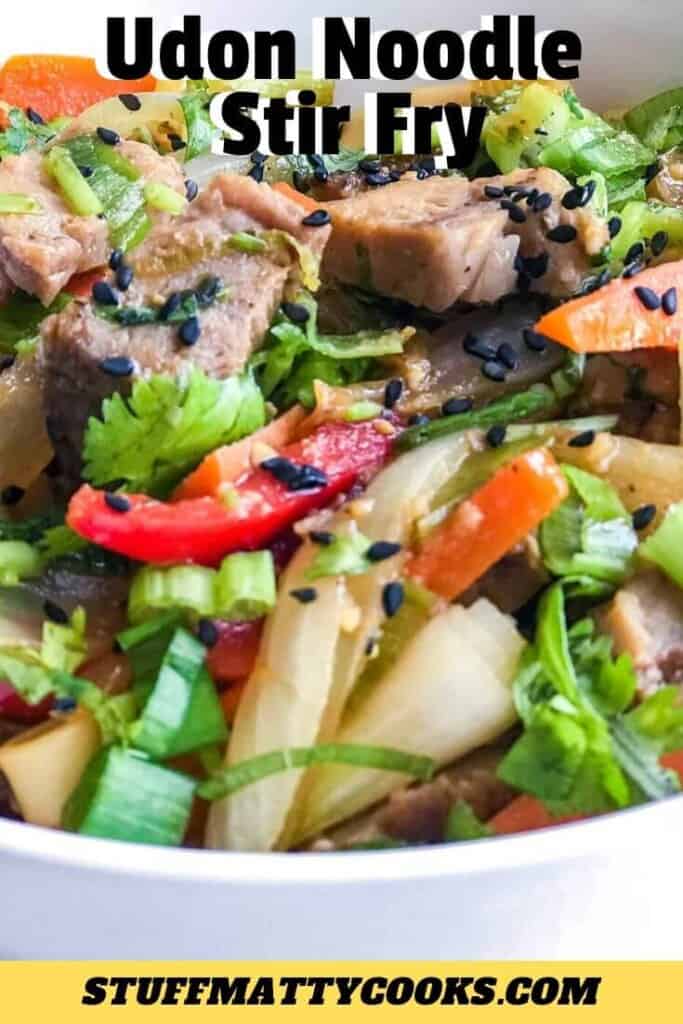 (Visited 2,961 times, 1 visits today)