What exactly is Baby Back Pork Udon Noodle Stir Fry? Well its something i came up with while pacing around my house starving. This Udon Noodle Pork Stir Fry is one of those recipes that i just make from the hip using some pantry ingredients and leftovers. This time I used leftover Baby Back Pork Ribs.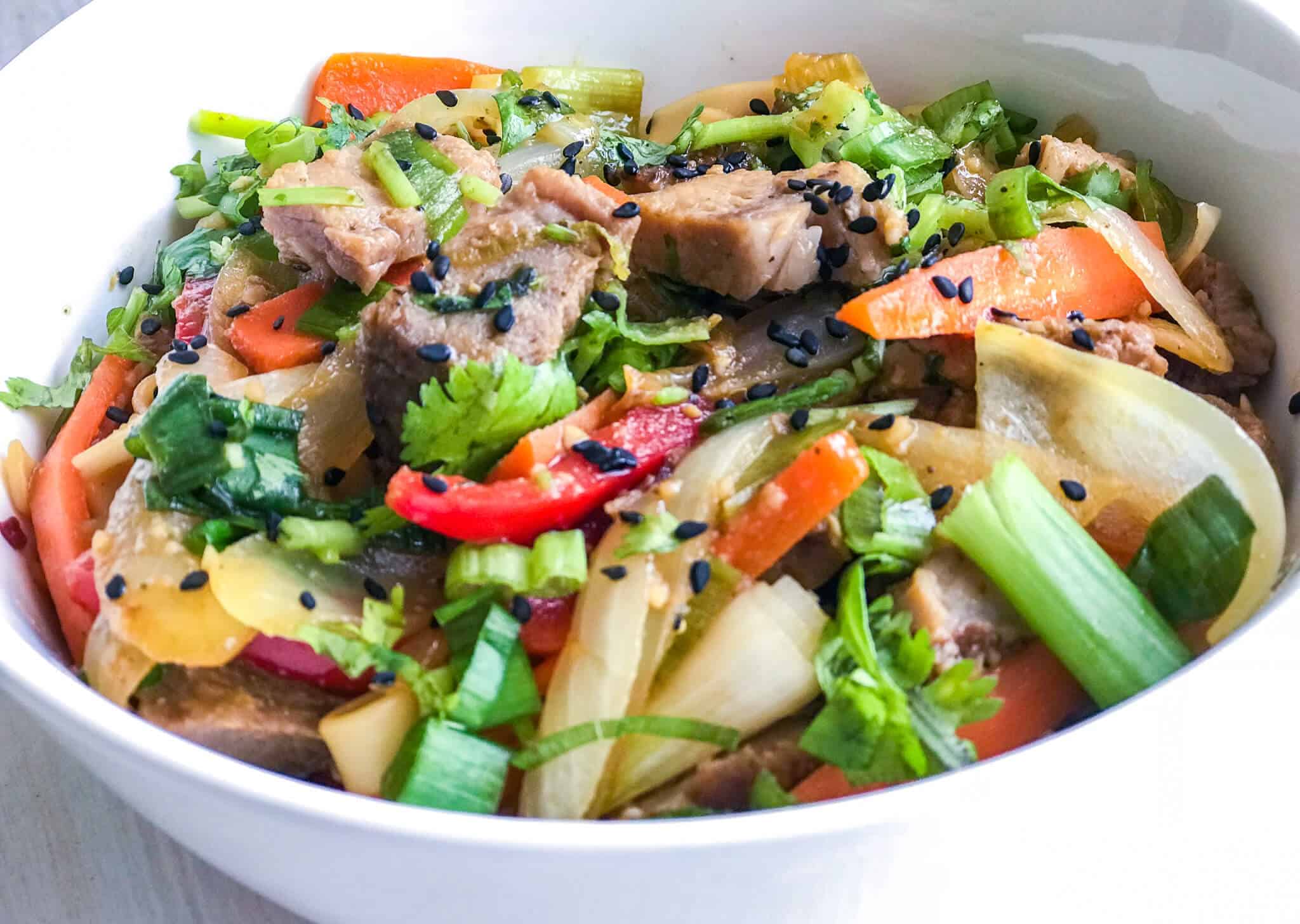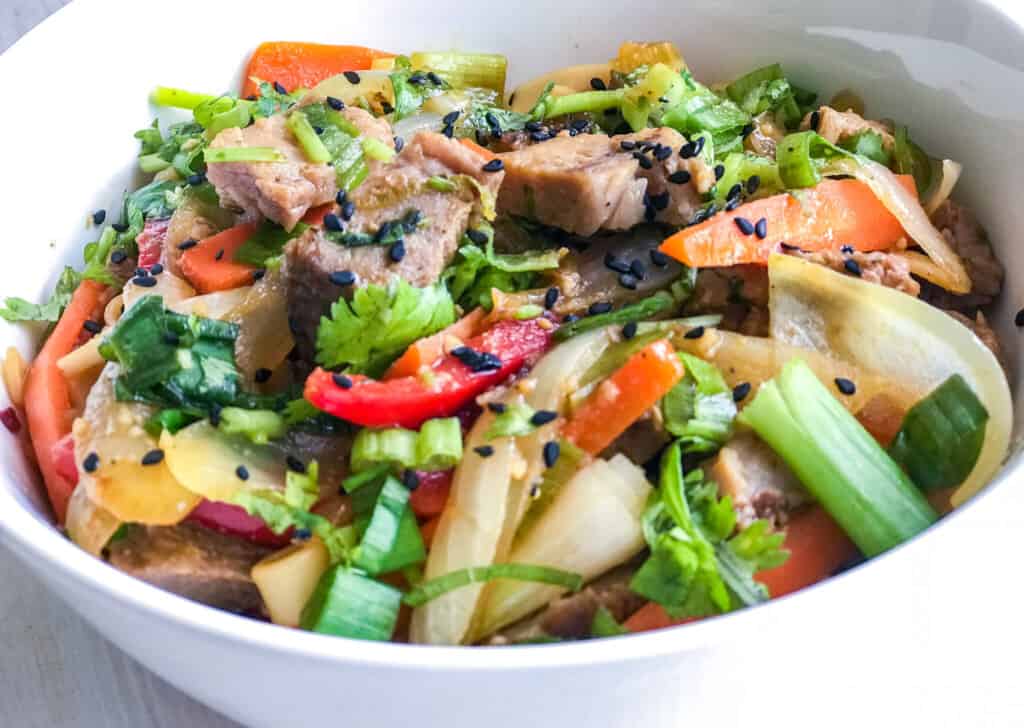 Keep in mind though in this Udon Noodle Pork Stir Fry ANY protein can be substituted in this recipe. The protein does not have to be a leftover at all. Although it is one less step if your protein is a leftover and ready to go. That is what makes stir fry so easy and versatile to me. Basically you just need any vegetables that you prefers protein of your liking and the sauce to stir un at the end. I really would have had added more veggies if my fridge wasn't getting kind of bare….For example maybe some green cabbage,bok chow or even some corn for instance. After all cooking is at the end of the day YOUR creation.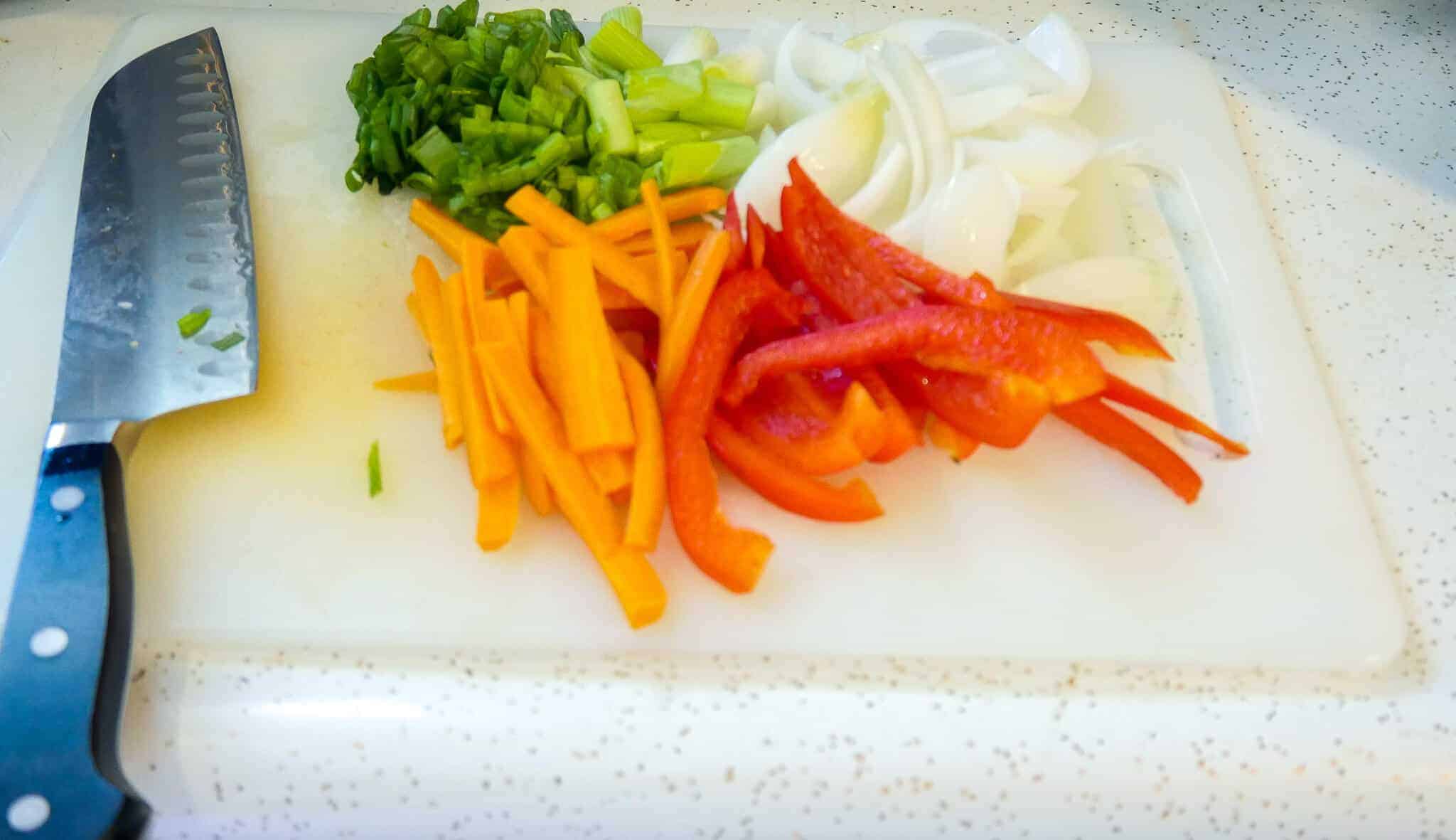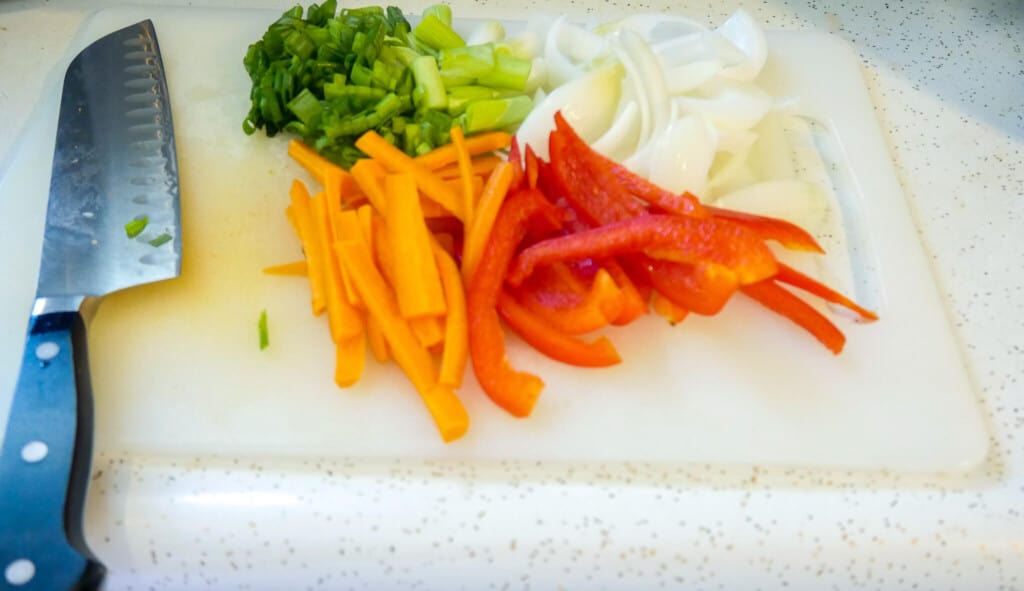 What i try to do is make more healthy versions of the original style recipes. I use low sodium soy sauceless sugar and definitely a lot less oil. In this recipe i even used Organic Udon Noodles. Normally i like the thicker Udon Noodles I get at the Asian Market but they were out of them so i used some from Whole Foods that i had laying around. Keep in mind you can use pretty much and kind of noodles including thin spaghetti if you are in a pinch. I have also used Ramen Noodles before (the cheap kind) but just DONT use the seasoning pack. Make the sauce in this recipe instead. It is so much more tasty and healthy. Hope you Enjoy it. Let me know in the comments below what you think.
Matty.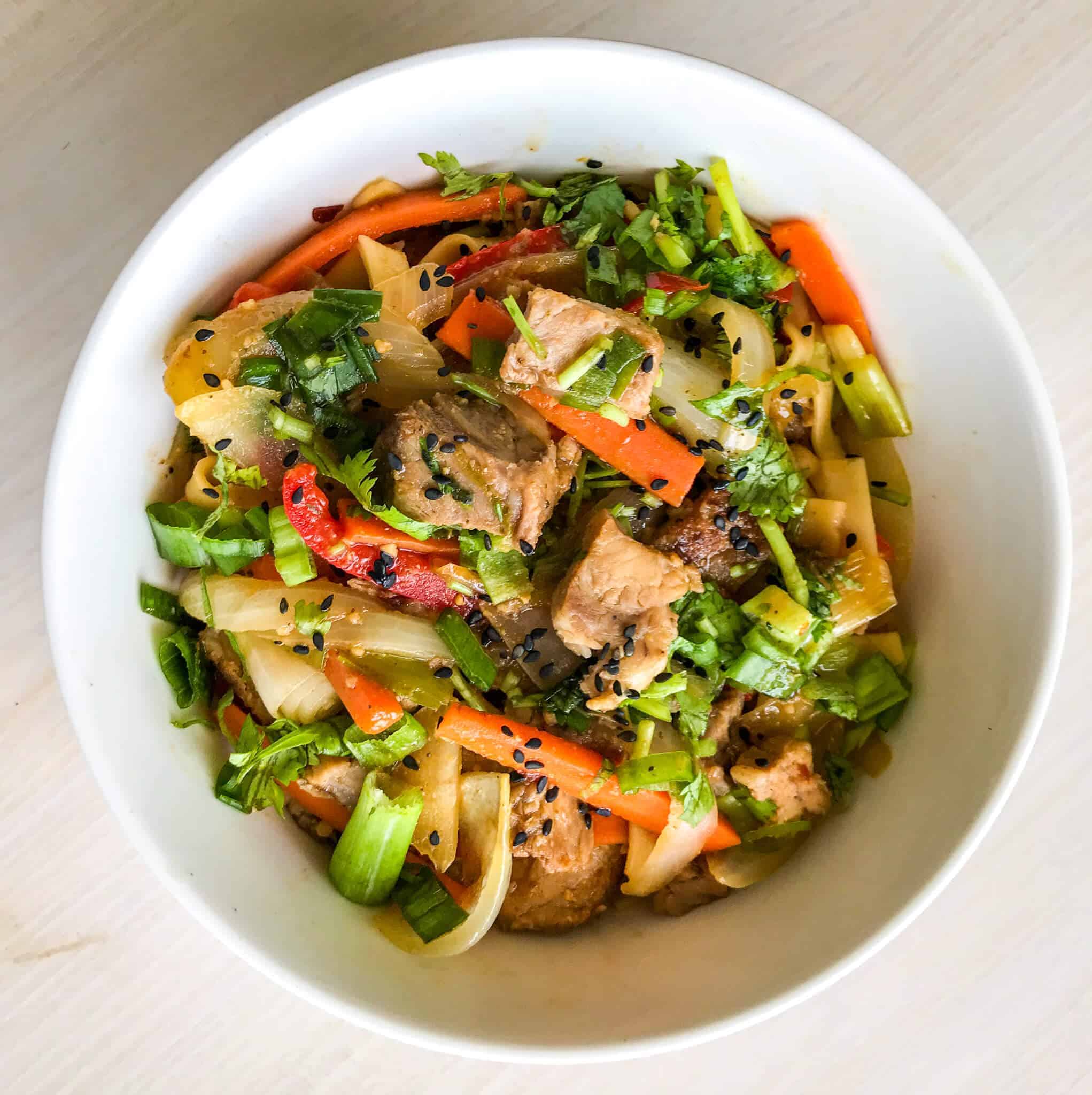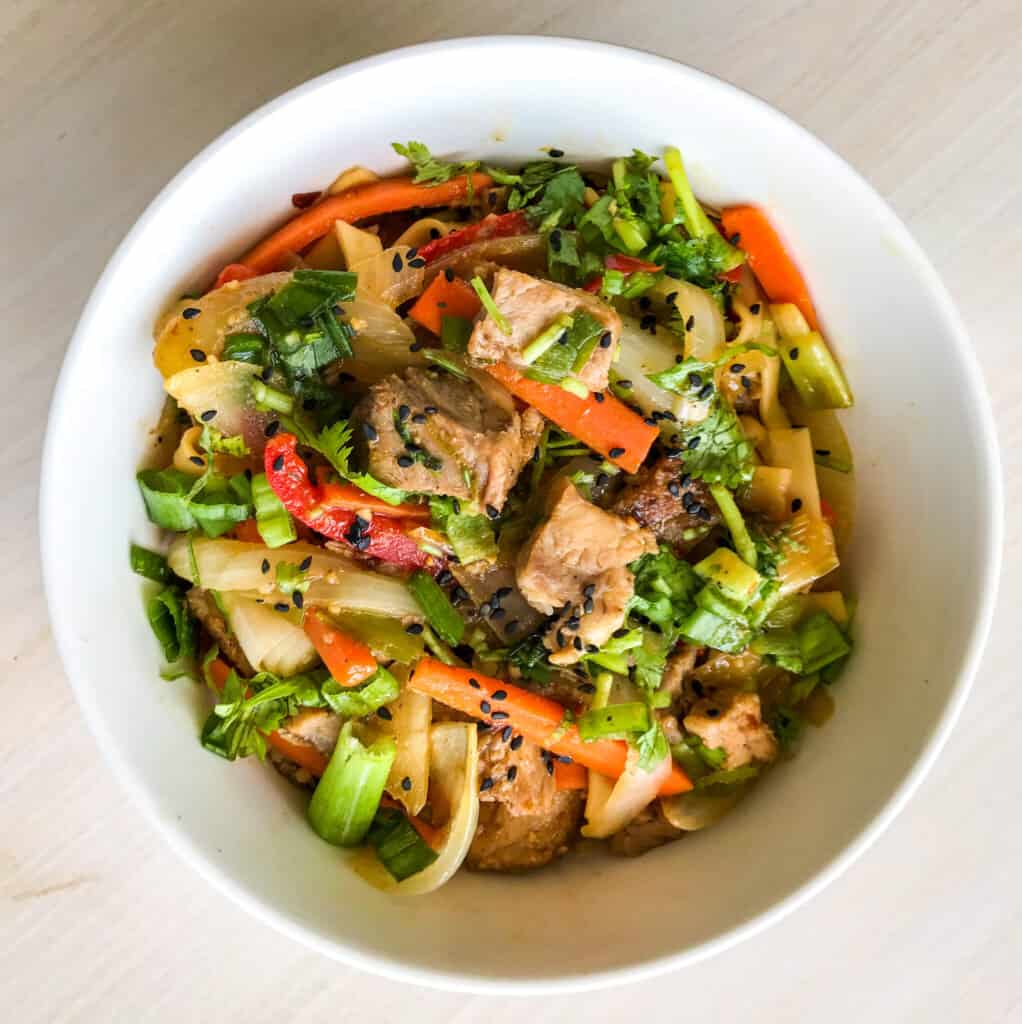 Baby Back Pork Udon Noodle Stir Fry
Baby Back Pork Udon Noodle Stir Fry
Ingredients
6

oz

Pork (I used leftover baby back ribs)

You can you any protein you like..Beef,Pork,Chicken or Shrimp

3

oz

Udon Noodles or noodles of choice COOKED

I have also used Ramen Noodles

1/2

Red Bell Pepper Julienned

1

Carrot Julienned

1/2

Onion Sliced

3

Green Onions White Part Sliced

4

tbsp

Green Onion Chives for Garnish

1

tbsp

olive oil or avocado or coconut oil for stir fry

2

cloves

garlic
Stir Fry Sauce Ingredients
21/2

tbsp

Low Sodium Soy Sauce

1

tsp

Sesame Oil

1

tsp

Rice Vinegar

1/2

tsp

Red Chili Flakes

1/2

tsp

Minced Ginger

1/4

cup

Chicken Broth

2

tbsp

Water
Garnish
2

tbsp

Chopped Cilantro

2

tbsp

Chopped Chives
Instructions
Depending on which protein you use cooking directions for that protein may vary. I used leftover baby back ribs and took the meat off the bone and cut into 1 inch cubes. If you are using raw protein stir fry that first and remove from wok or pan.

Add olive oil to medium high pan. Let heat up for about 30 seconds or so.Add Carrots and onions to pan and stir fry for 2 MINUTES. Add Red bell peppers, garlic and green onions stir fry for 1 MINUTE. Add Noodles and your PROTEIN (pork,beef,chicken or shrimp) stir fry about a minute then add stir fry sauce and cook till heated.
Stir Fry Sauce Instructions
Mix together soy sauce, rice vinegar,sesame oil, chicken broth and water in a bowl and stir. You can optionally add about 2 tsp of sugar this is optional and i choose to leave it out. But adding the sugar makes for a bit more authentic flavor. Stir in sauce at end of stir fry and heat through. Enjoy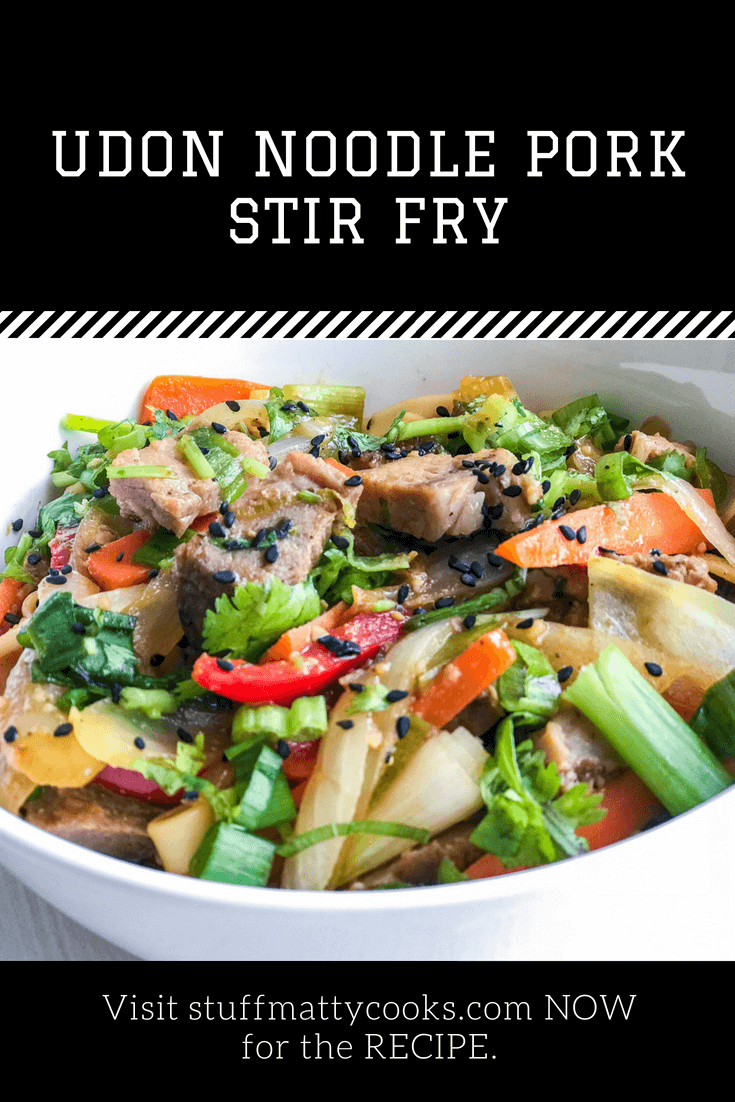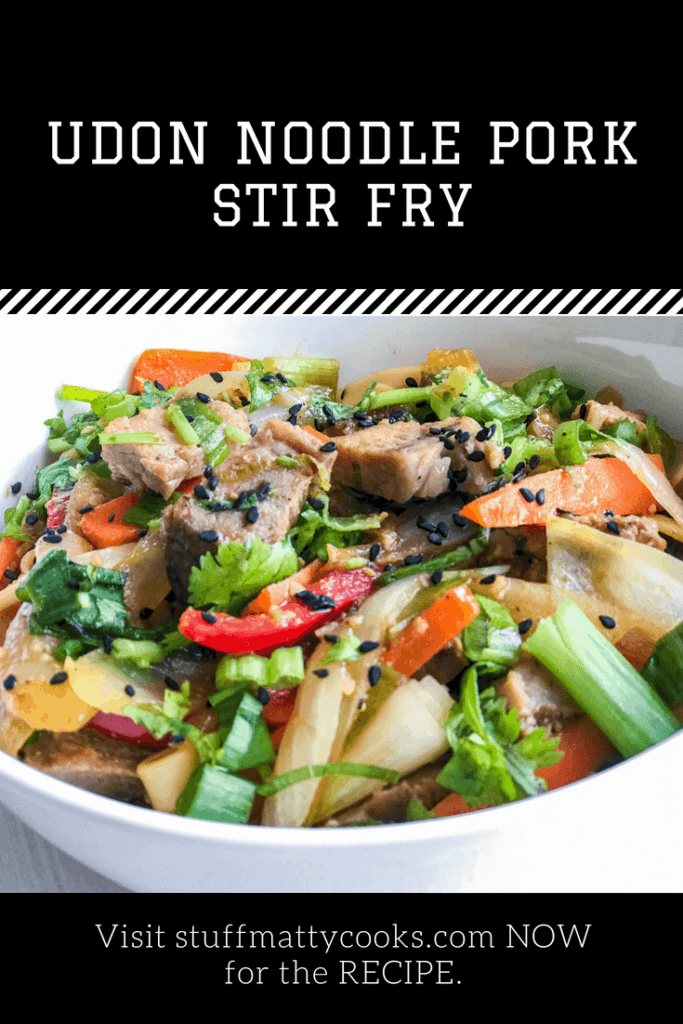 (Visited 232 times, 1 visits today)