Instant Pot Mongolian Chicken takes just five minutes to throw into the Instant Pot pressure cooker and 30 minutes to cook a flavorful, tender and juicy Mongolian chicken. I love this Instant Pot Mongolian Chicken so much and it is cooked in less than 30 minutes.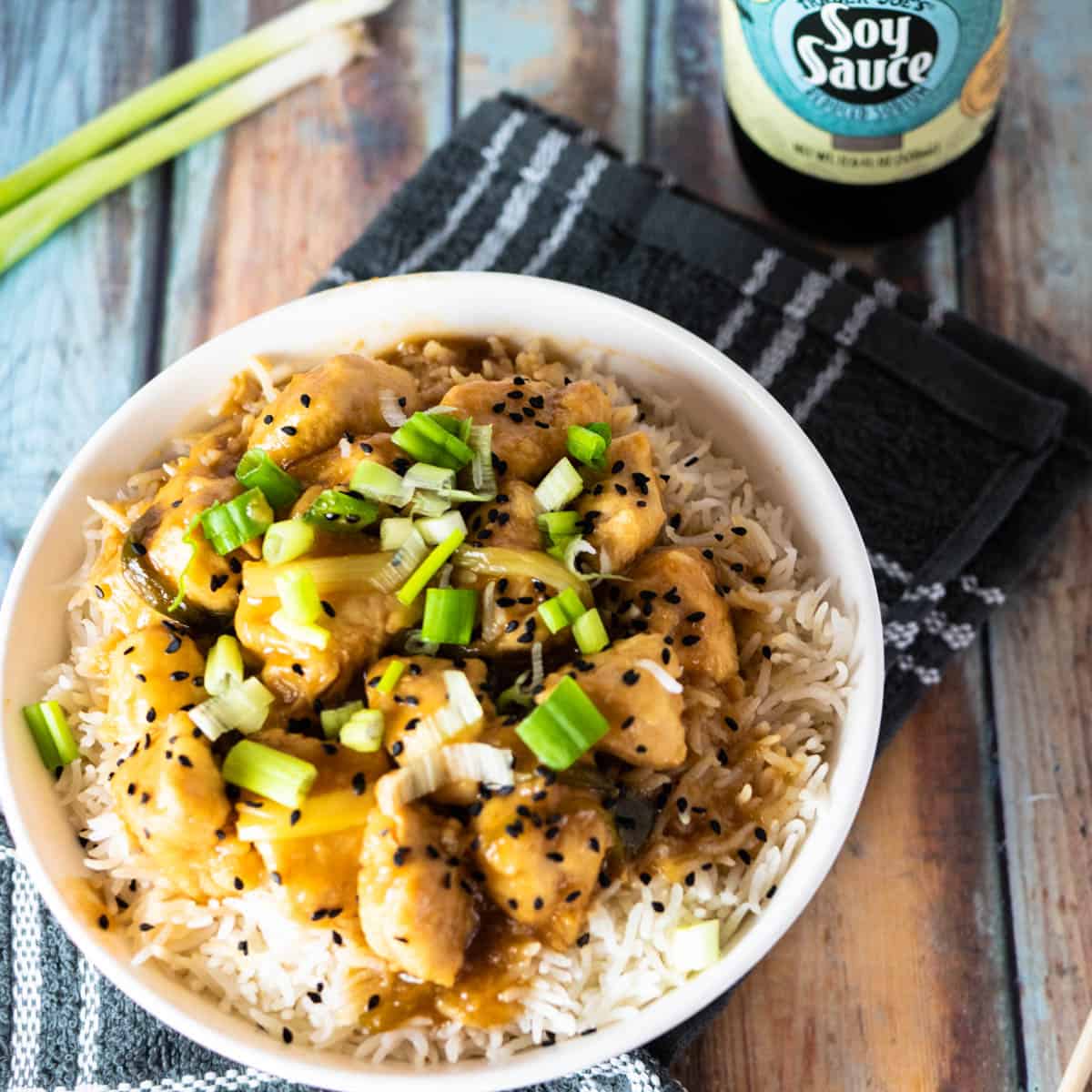 Instant Pot Mongolian Chicken
This Mongolian Chicken in the Instant Pot is much more healthy than Chinese takeout and you don't have to drive anywhere and it will save you money as well.
The boneless skinless chicken comes out tender and juicy with a sweet-savory flavor that you and your family will love. The most common is to serve over rice.
Mongolian Chicken is great for busy people that are trying to eat more healthy, and short on time. It will take you less than 10 minutes of cooking time to prepare this recipe. It is more healthy than takeout and it will save you money too. This is one of my favorite Instant Pot chicken recipes.
Jump to: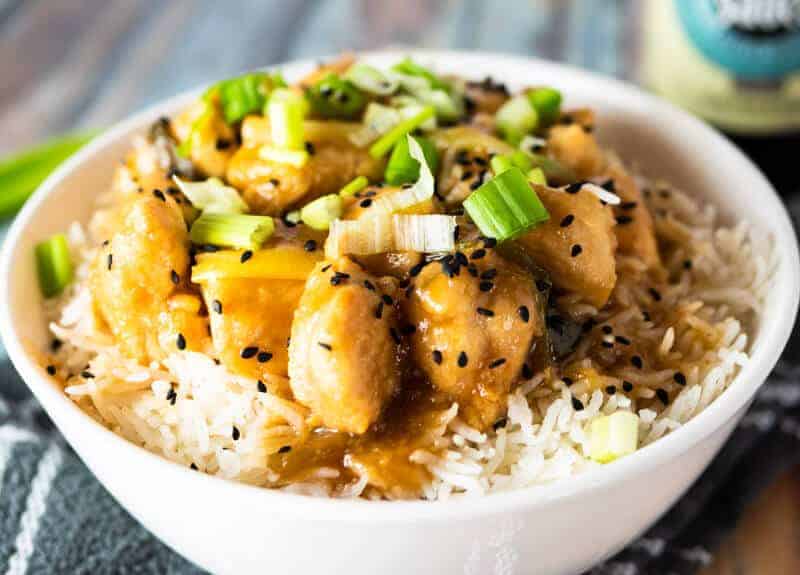 Sweet and savory chicken that is tender and juicy with garlic, ginger, soy sauce and a touch of sesame oil. What not to love? It is as good as it looks and is super easy to make.
Ever since I got an Instant Pot I have not gotten Chinese takeout since. You can also substitute beef and make this Mongolian beef which is also delicious.
This dish is delicious served over white rice. This Mongolian Chicken is really flavorful and juicy. Crispy slices of chicken breast soaked in a delicious sweet and savory sauce. It is one of those dishes that tastes even better when cooked at home.
Keep in mind that you can add other vegetables to this dish. A lot of the time I just use up the vegetables in my fridge. Sometimes I will add in some red peppers, onions and broccoli.
It is ok to use different vegetables or add some more. Sometimes I even use chicken thighs instead of chicken breast. I like it both ways. When you add more vegetables the dish is more like Moo Goo Gai Pan.
How to Make Mongolian Chicken in a Slow Cooker?
This recipe can also be made in your slow cooker or crockpot. Just throw everything in EXCEPT the cornstarch slurry and cook for 3 HOURS ON HIGH or 6 HOURS on LOW. When the cooking is complete stir in the cornstarch slurry and cooks for 20 minutes more.
How to Make Mongolian Chicken in the Pressure Cooker
Full Instructions in Recipe Card Below. Print Recipe option available.
Saute the meat: Using the Saute function of your IP, quickly saute the poultry for about 2-3 minutes in Olive Oil. Remember to properly stir while browning the chicken.
Deglaze: After sauteeing it, ensure that there is nothing stuck to the bottom of the pot, otherwise, you will get a "burn notice". To avoid it, deglaze the pot with 1/4 cup water and scrape them with a wooden spoon. If you leave the bits stuck to the bottom, they may burn or cause the pot not to come to pressure.
Add the rest of the ingredients and cook: Next, add the Mongolian sauce and the rest of the ingredients and chicken broth. Stir well to combine. Then, close the lid and cook on High pressure.
If you want it a little spicy add a shake of Red Pepper Flakes
Add the cornstarch slurry and serve: Last Step, in a bowl, prepare the cornstarch with 1/4 cup water, whisk together, and add the mixture to the pot. Gently stir, and let it cook on Sauté function on LOW for a few more minutes without the lid, until the texture thickens.
Serve over rice and top with Green Onions and Sesame Seeds.
How to Make Mongolian Chicken on the Stovetop
Here are some instructions if you do not have an instant pot and would like to prepare this recipe on the stovetop.
Cut or Cube the chicken: Start by cutting the chicken breast into thin pieces.
Coat the meat: Coat the chicken in cornstarch. Use about 1/4 cup cornstarch in a resealable plastic bag, and then shake to coat the chicken evenly.
Stir-fry: Once coated, stir-fry for about 3-4 minutes per side cooking the chicken until crispy. Then, remove it from the pan and place on a plate lined with a paper towel
Prepare the sauce: In the same pan, add the garlic and ginger, and cook for 30 seconds. Next, add the soy sauce, sesame oil, water, and sugar to it, and bring it to a simmer. After, add 1.5 to 2 teaspoons of cornstarch combined with 1 tablespoon of cold water. Gently stir and bring to boil just until it has the proper thickness.
Combine the sauce with chicken: Add chicken to the sauce, and toast to properly and evenly coat it. Serve over rice or noodles if you like.
What to serve with Mongolian Chicken
Brocolli
Asparagus
Bok Choy
Cabbage
Noodles
White Rice
Brown Rice
Fried Rice
Other Recipes:
Instant Pot Chicken Lettuce Wraps
Instant Pot Adobo Chicken
Instant Pot Chicken Lo Mein
Instant Pot Brown Basmati Rice
Kitchen Essentials and Items Used in This Recipe:
Instant Pot Ultra 10-in-1 Electric Pressure Cooker
Royal Basmati Rice, 15-Pound Bag
Simply Asia Chinese Style Lo Mein Noodles, 14 oz ( pack of 6 )
Shun Kanso Asian Utility Knife, 7 Inch, Handcrafted Japanese Cutlery
KooK Japanese Ceramic Noodle Bowl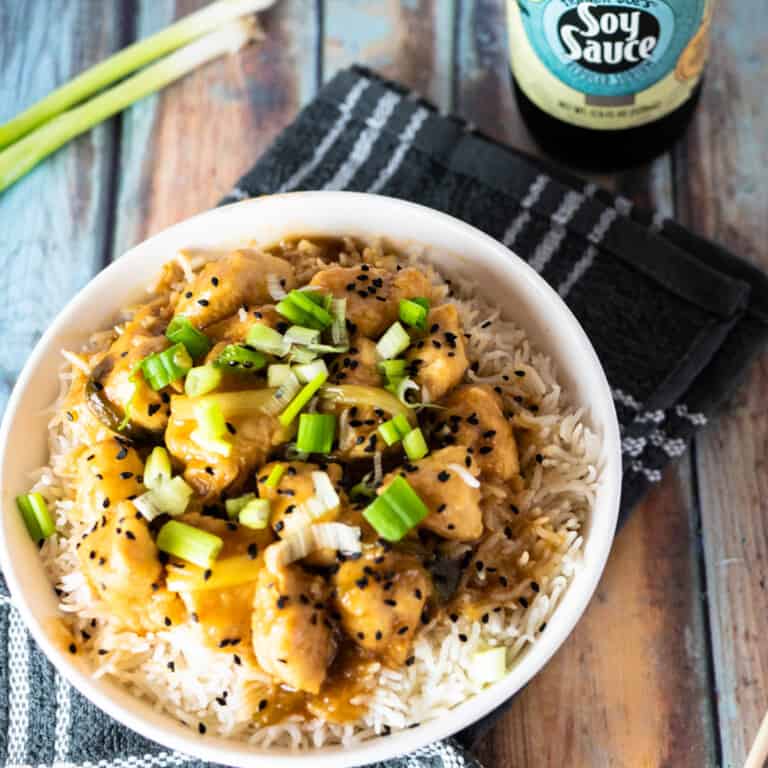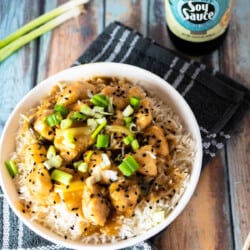 Instant Pot Mongolian Chicken
Instant Pot Mongolian Chicken
Print
Pin
Rate
Ingredients
1

Pound

Chicken Breast cut into 1 inch cubes

3

Scallions cut into 3 inch pieces

6

Tbsp

Low Sodium Soy Sauce

4

Tbsp.

Sugar

You can use less or more if you want

1

tsp.

Minced Ginger

1

tsp.

Sesame Oil

1

Tbsp

Olive Oil

2

Cloves

Garlic Minced

1

Cup

Chicken Broth

2

Tbsp

Cornstarch

Coating chicken Pieces

2

Tbsp.

Oil for Sauteeing Chicken

2

tsp.

Cornstarch for Slurry

4 to 5

Tbsp.

Water

1/2

tsp.

Sesame Seeds for garnish

1

Chopped Scallion for Garnish
Instructions
Directions
Push Saute function on Instant Pot and set to "More" Setting so it is nice and hot. Wait for Screen to say "HOT". Cut up chicken into 1 inch cubes. Put chicken in ziplock bag with 2 Tbsp. cornstarch and shake to coat chicken pieces.

Mix together Soy Sauce,Sugar,Garlic,Ginger,Sesame Oil and Chicken Broth and set aside.

Pour Oil into Instant Pot and when oil is hot add in chicken pieces. Stir chicken to prevent it from sticking. Saute until chicken pieces have a bit of color for about 3 to 4 minutes. Add in soy sauce mixture and deglaze bottom of pan and scrape up flavor bits from bottom of pan. Put cut scallions on top of chicken mixture. Put lid on top of Instant Pot and then put valve to "Seal" Position. Push "Cancel" on Instant Pot and then push the Poultry button and set to high pressure and set time for 5 minutes. When cook time is complete let pressure natural release for 10 minute and then manually release pressure by push valve to open position.

Mix together 2 tsp. cornstarch with water and make a slurry. Push cancel on Instant Pot then press "Saute" button. Pour in slurry mixture and wait for sauce to boil for 2 minutes. Then press cancel on Instant Pot.

Serve over white rice and garnish with chopped scallions

Enjoy.
Nutrition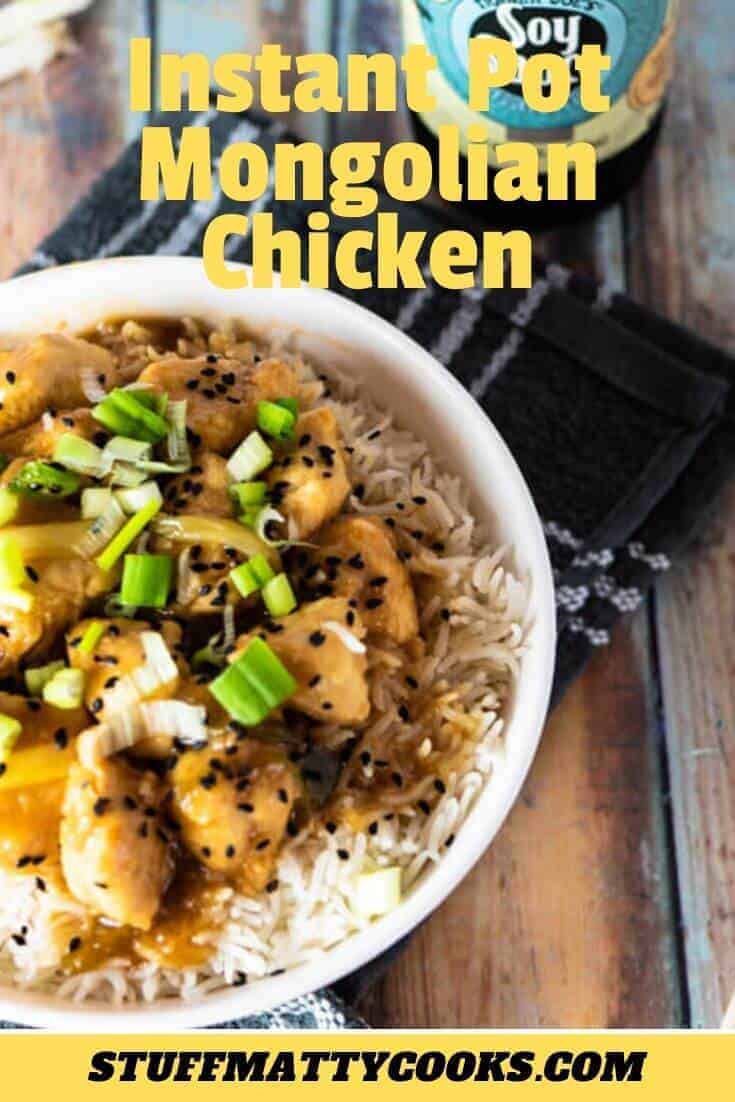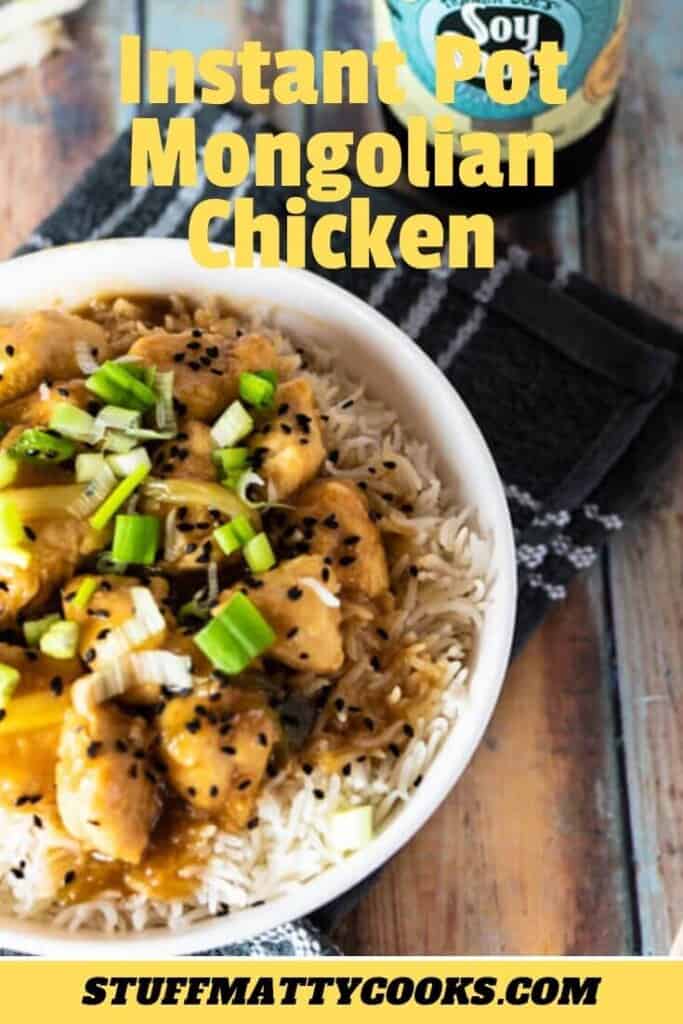 (Visited 54,604 times, 1 visits today)