Brown Basmati Rice in the Instant Pot is one of the big reasons to have an Instant Pot. The pressure cooker will cook brown rice in half the time of the conventional stovetop method.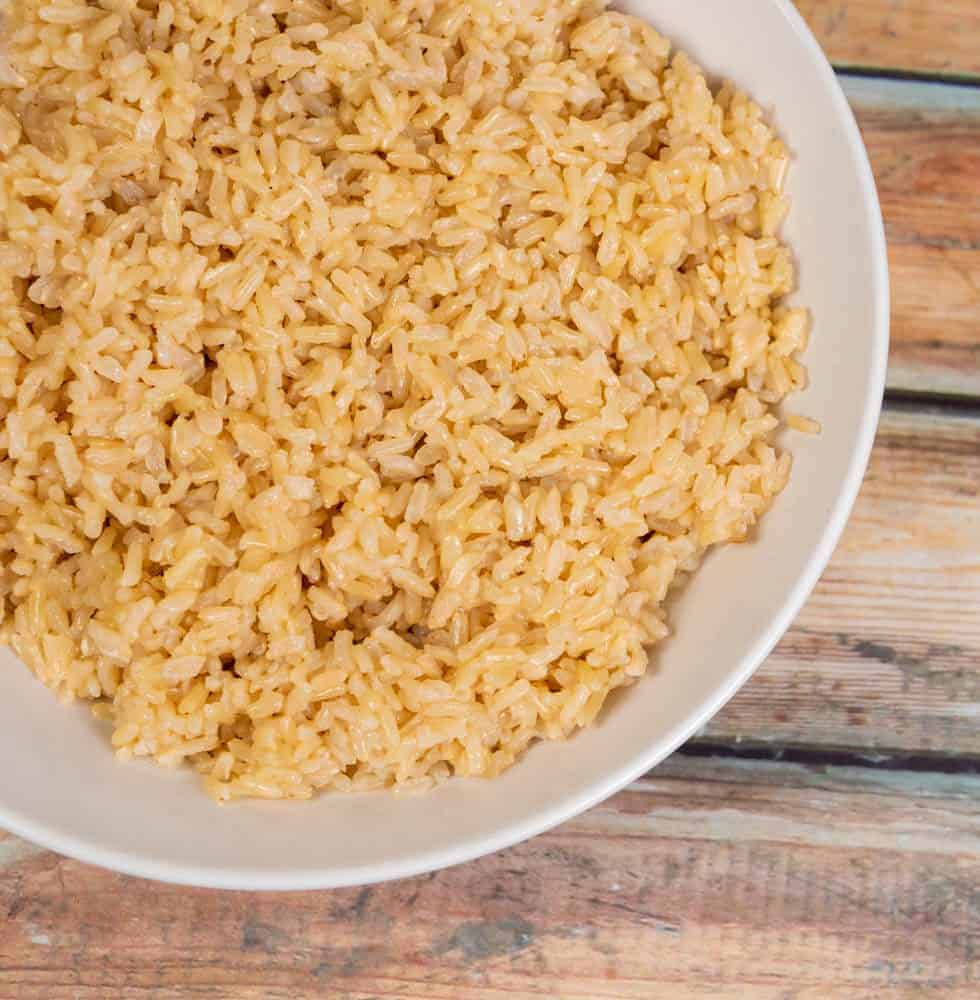 Brown Basmati Rice Instant Pot
There is a few reasons that eating Brown Basmati Rice is considered more healthy than eating white rice. Brown rice contains the fibrous germ that is still got the bran.
This germ has been removed from white rice. Brown rice is also much more nutritious for you than white rice. Basmati rice smells great when it cooks.
I love this type of rice. Cooking the rice is so much easier now that I have a pressure cooker. This rice has become a weekly staple in my family. Not to mention that it is much more healthy.
Brown rice may need more cooking time than white rice, but with an Instant Pot you can have delicious nutritious brown rice ready to eat in under 30 minutes.
I like to make a big batch of this brown rice ahead of time. It makes meals on weeknights simple. This way I can use it in many different recipes. It is grayed alongside grilled chicken and vegetables or it can be added to a stir fry or a burrito.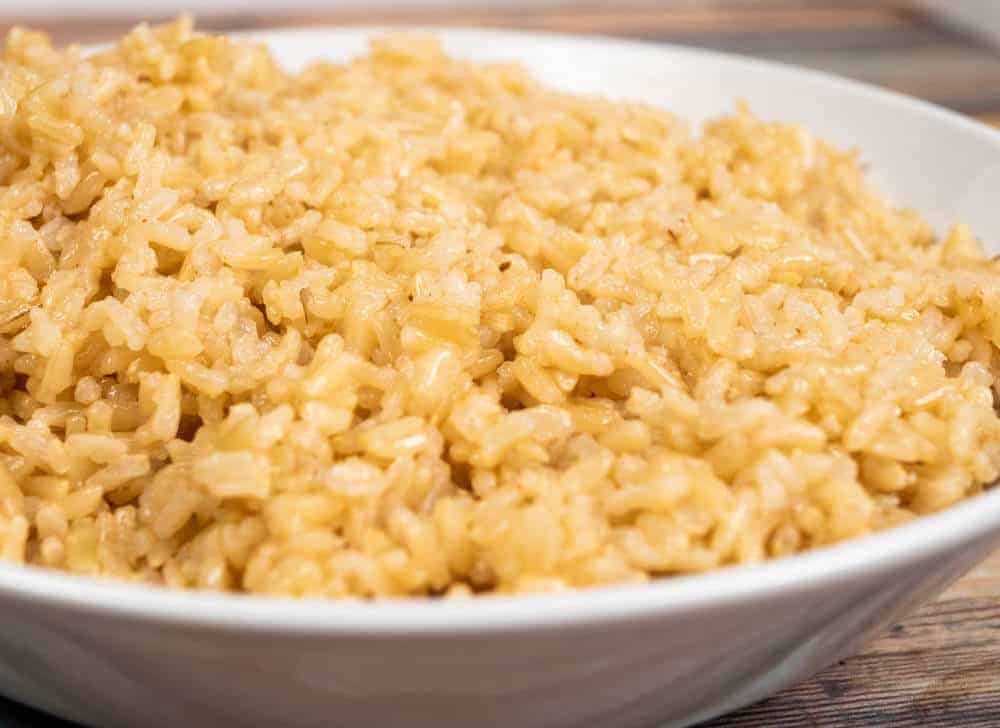 How to Cook Brown Rice in Pressure Cooker
Tips for perfect Brown Basmati Rice 
No soaking of rice
Rice to water ratio – 1:1.25
Pressure Cook / Manual on HIGH Pressure for 22 minutes
10 minute NPR – Manually release the pressure 10 minutes after the cooking time is complete.
Pressure Cooker Brown Rice is simple and you will get delicious fluffy brown rice every time. This is a basic "set and forget" type method. It is not like cooking brown rice in a conventional way.
I always got mixed results using that method. Follow my method to learn how to cook brown rice in the pressure cooker. This will end up being your favorite brown rice recipe. It is one of my most used Instant Pot recipes.
How Much Water to Cook Brown Rice in Pressure Cooker?
One of the most important things when cooking brown rice in the water to rice ratio. 1:1.25 rice to water ratio is what I find to be the correct ratio for Instant Pot brown rice. I find that a little bit more than a cup of water is needed per cup of brown rice.
I also use some sort of broth to give the rice some flavor. You can use chicken broth, beef broth. I choose to use the Better than Bouillon broth base.
It is organic and delicious. I will link to both of them below so if you are interested you know where to find them. I also use about a teaspoon of salt.
It is not really all that much considering that this recipe is for 2 cups of dry brown rice. I also add about a Tablespoon of Olive Oil to keep the rice from sticking together.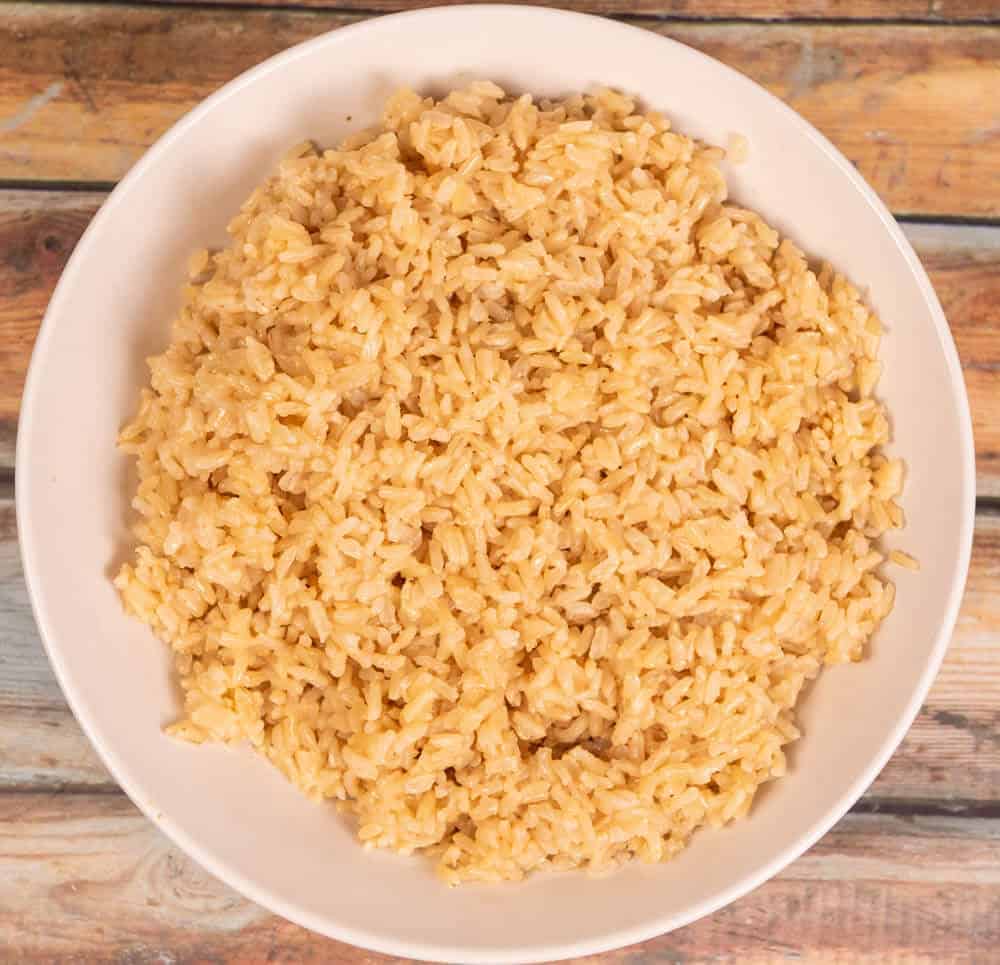 Once you have all the ingredients in the pressure cooker give everything a stir to combine and then put the lid on. Turn the valve to "Seal". Press the "Pressure Cook" button on the Instant Pot and make sure that it is set to the "High Pressure".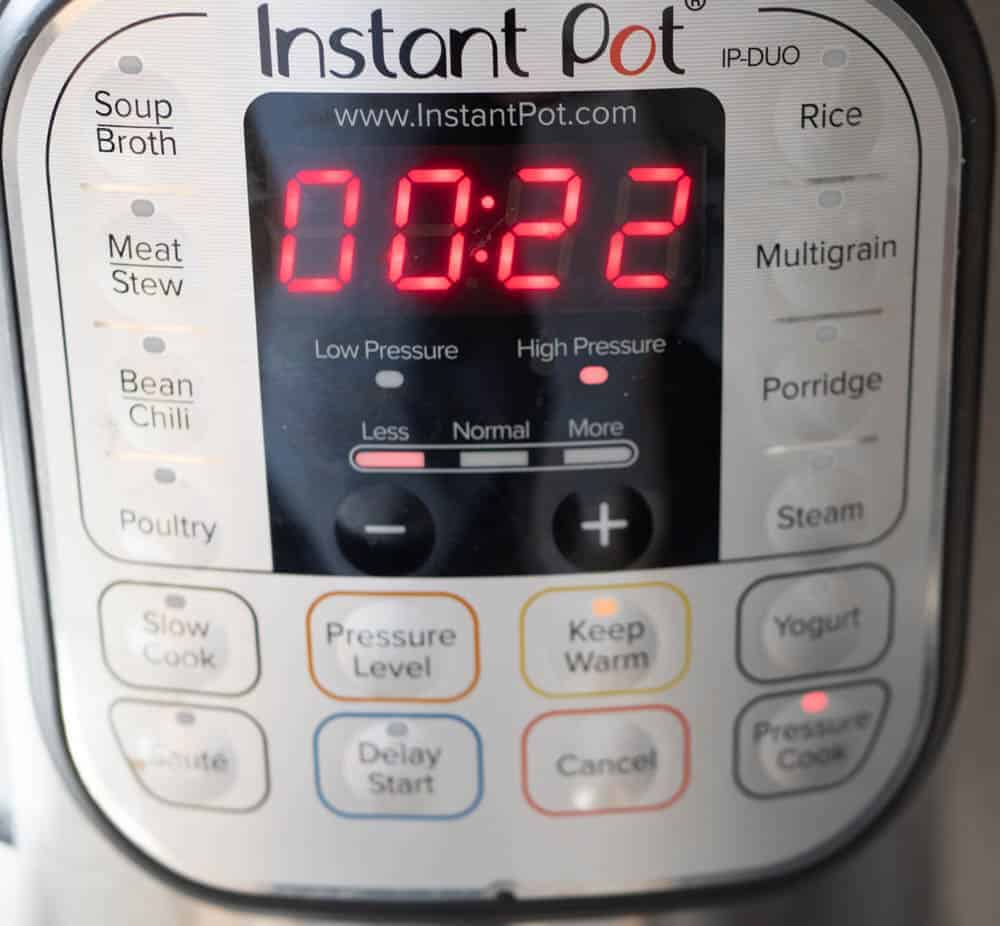 How Long to Pressure Cook Brown Rice?
I find that this is the perfect cooking time. Set the timer on the Instant Pot for 22 Minutes. If you want it a little more al dente you could go 20 minutes, but I find the recommended timing is perfect.
I also like to turn OFF the "Keep Warm" function. I do this because in the end I like to do a Natural Pressure Release for 10 or 15 minutes or until the pin drops by itself and I don't want the rice to get overcooked at all.
Once you have done the Natural Release open the pressure cooker and fluff the rice with a fork and enjoy your perfectly cooked brown rice.
Other Recipes:
Instant Pot Collard Greens
Balsamic Parmesan Roasted Brussel Sprouts
Instant Pot Chicken Lettuce Wraps
Ingredients and Equipment Used in Recipe:
Instant Pot Duo Evo Electric Pressure Cooker
Better than Bouillon Chicken Base
Instant Pot Mini Mitts
Instant Pot Cheat Sheet
Brown Basmati Rice Instant Pot
Brown Basmati Rice in the Instant Pot. Perfect results in 30 minutes.
Ingredients
2

Cups

Brown Basmati Rice (Rinsed)

2 1/2

Cups

Water or Broth

1

tsp

Salt

1

Tbsp.

Olive Oil
Instructions
Measure 2 Cups Brown Rice into the strainer. Rinse until the water runs clear. Add rice to Instant Pot

Add Water or Broth to Instant Pot.

Put the lid on Instant Pot and Turn Valve to Seal

Press Pressure Cook and Set Timer to 22 minutes

Press Keep Warm to Turn OFF Keep Warm function

When cooking has finished do a Natural Pressure Release until pin drops (About 10 Minutes).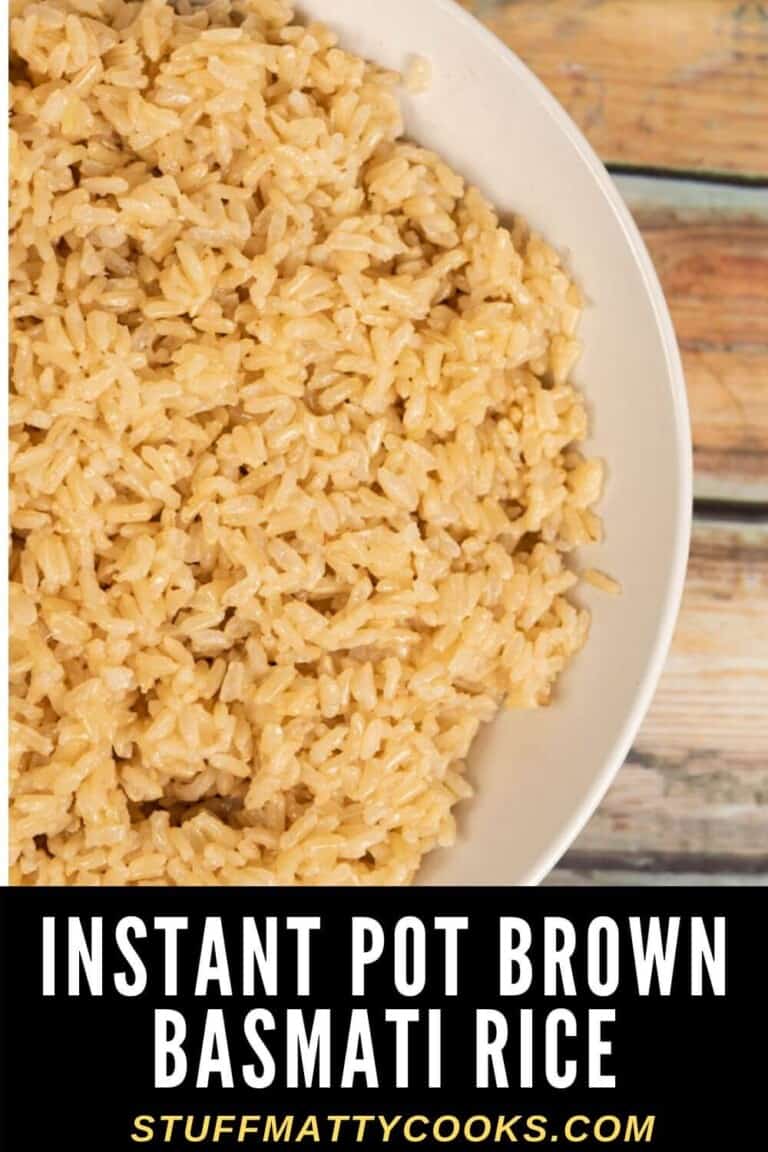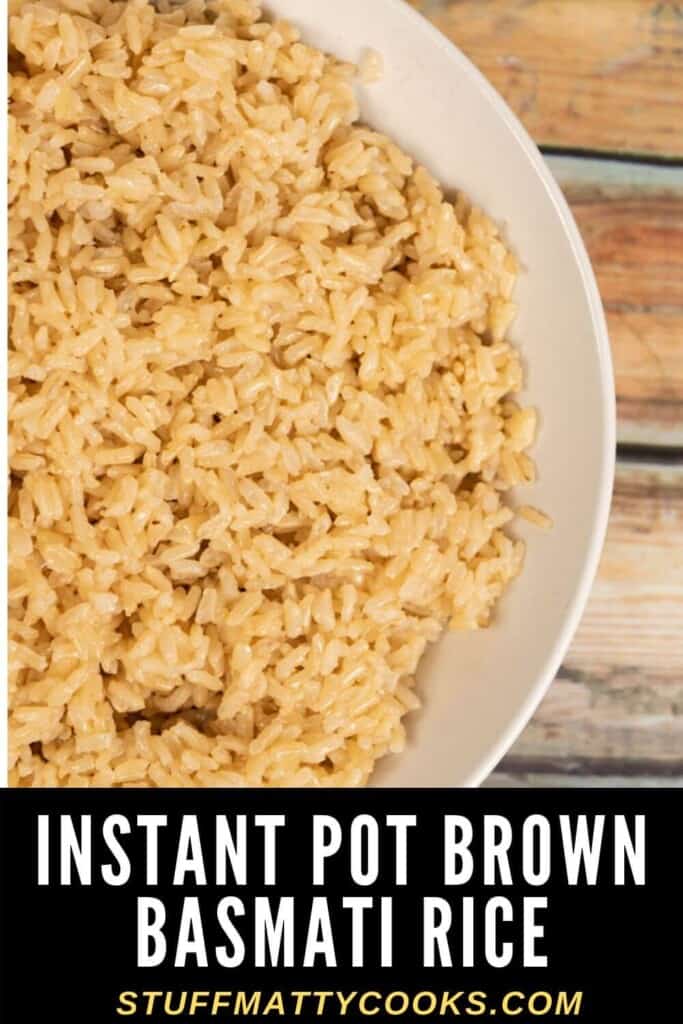 How to Store Brown Rice
Brown rice is one of those recipes that is great to make ahead of time, as it is really a timesaver for people that are meal planning. .I always like to make a big batch when I make brown rice in the pressure cooker. It is easy to store in the refrigerator or freezer.
How Long Does Brown Rice Last in the Refrigerator?
Brown rice stored in an airtight container can last in the refrigerator for up to a week.
How Long Does Brown Rice Last in the Freezer?
Yes, brown rice can be stored in the freezer. It can last up to 3 months stored in an airtight freezer safe container. I like to let the rice cool and then portion it out into zip bags.
How to Reheat Brown Rice?
How to Reheat Rice in the Microwave
Brown rice can be reheated a few different ways. Of course you can reheat the rice in the microwave. The trick to that is include a little bit of water to the rice before reheating. I find that a tablespoon is enough for a cup or so of rice and cover it with a paper towel.
How to Reheat Rice on the Stove
Brown or white rice can be reheated on the stove. Place rice in a pot that is not too deep and add a little bit of water to the rice. About 2 tablespoons per cup of rice. Cover and heat the rice over medium low heat stirring frequently until rice is heated through.
How to Reheat Rice in Instant Pot
This is my preferred way to reheat rice. The Instant pot has a steam function that is great for reheating food that does not need to be crispy.
I add a cup of water to the Instant Pot. I put the rice in a metal dish. Put the included trivet inside of the Instant Pot.
Place the dish with the rice on the trivet. Put the lid on the Instant Pot and close the valve. Press the steam button and set the timer for 7 minutes.
(Visited 24,968 times, 10 visits today)