It is east to make Instant Pot Boiled Peanuts are very tasty, salty snack that is easy to make in your Instant Pot or slow cooker. Boiled peanuts can also be made on the stove.
These peanuts are not like your average peanuts. They are not roasted they are boiled. They are delicious and a great high protein snack that can be easily made at home.
Boiled peanuts were made famous by the state of Georgia. Being that it's the state crop. When driving through Georgia or South Carolina you will see stands on the side of the road selling boiled peanuts. They are also a popular southern snack available at gas stations in the area.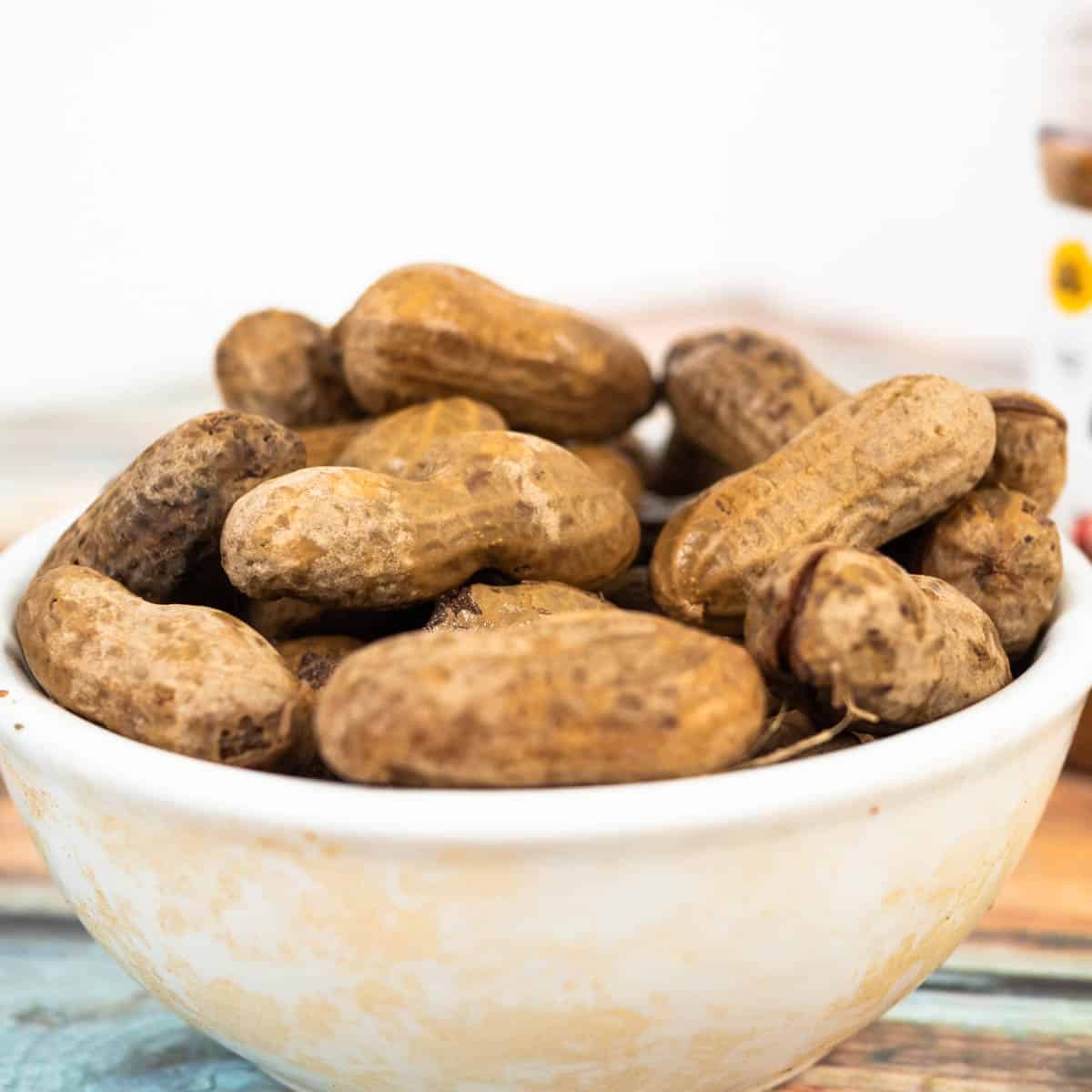 Boiled Peanuts Instant Pot
Green Peanuts are normally used to make boiled peanuts. However, in my finding Green peanuts is not easy. Raw peanuts in the shell are easy to find at your local grocery store.
Below are the ones that are used all the time that I get locally. You do not have to soak them overnight.
Jump to: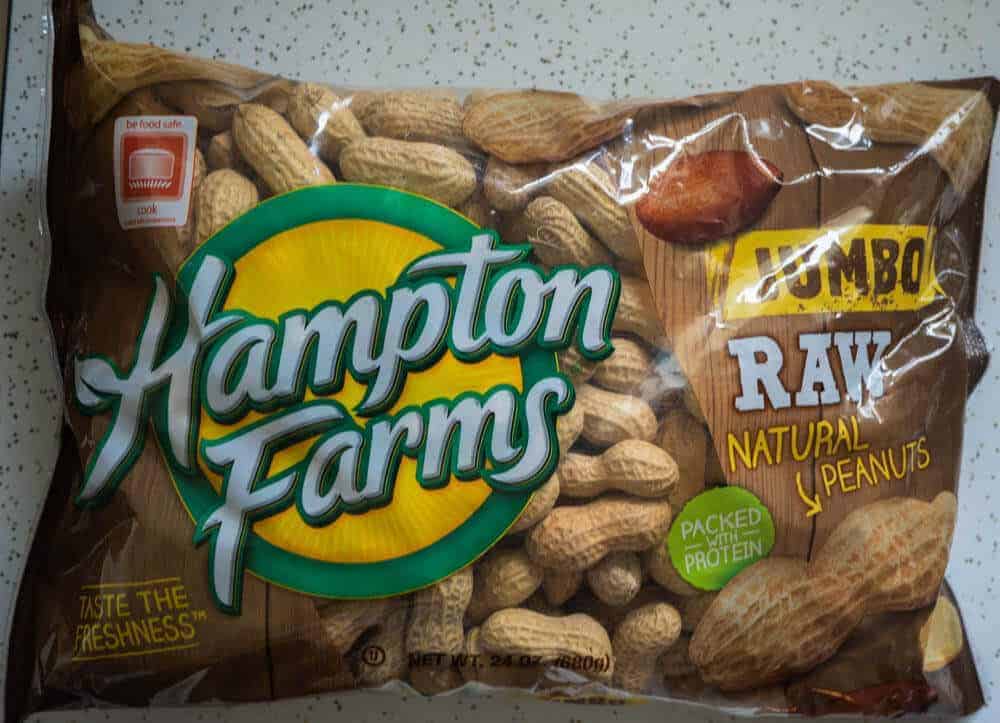 What do Boiled Peanuts Taste Like?
I would describe boiled peanuts taste similar to of bean. More like a salty kind of garbanzo bean. The texture is soft and the flavor is salty.
The peanuts can be flavored any way you like with all kinds of spices. Most of the time I make cajun flavored boiled peanuts recipe most of the time. These are just the ones that I am partial to eating lately. I love boiled peanuts.
How do you eat Boiled Peanuts?
Eating boiled peanuts is simple and fun . Boiled peanuts are different than eating roasted peanuts. This is because boiled peanuts Will have a little bit of liquid left in them.
I give the peanut shell a pinch to crack it open and then I suck out the brine liquid. I then crack open the shell and gobble up that boiled peanuts goodness.
I am going to warn you ahead of time. Eating boiled peanuts is very addictive.
I always feel like it's the same as eating pistachios. I always eat a bunch of them. There's never a time when I just eat a few.
Do you eat Boiled Peanuts Hot or Cold?
Boiled peanuts you can be eaten right out of the Instant Pot hot when they are finished cooking. But be careful though as they will be very hot. They also can be eaten at room temperature. I usually and up refrigerating a large amount of them so they can also be eaten right out of the refrigerator.
Can you Reheat Boiled Peanuts?
Yes. Boiled peanuts can easily be reheated in your microwave. Place the peanuts in a glass bowl and cover it with a paper towel. Microwave in small increments. I find 30 second increments works well.
Ingredients in Boiled Peanuts
Bag of raw peanuts
Sea salt
Cajun seasoning
Pepper Flakes (optional)
Water
Jump to Recipe card for Full Recipe and Ingredient Amount in Recipe Card Below
How to Boil Peanuts in Instant Pot
Making boiled peanuts in the instant pot is an easy process. Follow my step-by-step process and you will be eating delicious boiled peanuts in no time.
Rinse the Raw Peanuts
Rinsing the raw peanuts is a necessary step. Use a colander to do this to make it easy. It is important to get all the dirt off of the peanuts.
Wash peanuts under cold water and shake them in the strainer to wash thoroughly. Place the peanuts into your pressure cooker.
Season the Boiled Peanuts
Season the boiled peanuts with salt and whatever other spices you choose. In this recipe, I season the peanuts with Salt and some Cajun seasoning or Creole seasoning. I like this flavor it's delicious.
Depending on how salty you want your peanuts you can adjust and add salt if you want them saltier. I usually use about 1/3 of a cup of salt to a pound of peanuts. If you like them saltier adjust the salt amount to about 1/2 cup. If you like them a little spicier add more Cajun seasoning.
Boiled Peanut Variations
As there are many variations to making boiled peanuts. you're not just limited to Cajun seasoning. Barbecue seasoning is another good addition to boiled peanuts.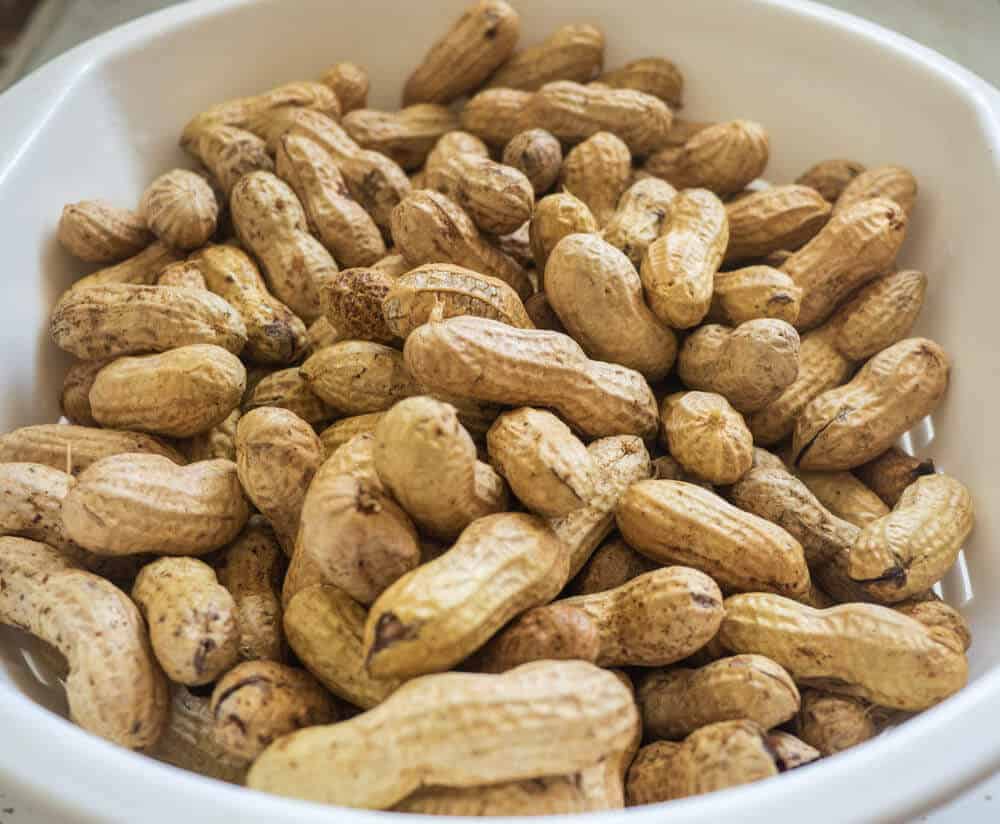 Cooking Boiled Peanuts
Once your peanuts are added to the pressure cooker water needs to be added to the peanuts and seasoning mixture. Add enough water to cover the peanuts. I find that it usually takes about 3 quarts to 3 1/2 quarts of water. Be careful not to fill the instant pot past the max line.
I usually place a trivet on top of the peanuts to keep them weighted down and submerged in the water. Pretty much anything that is flat and will fit in the instant pot on top of the peanuts can be used.
Place the lid on the Instant Pot and turn the valve to the Seal position. Pressure cook on high pressure for a cooking time of 65 to 75 minutes.
I like how the texture of the peanuts are after 65 minutes of cooking. If you like them a little bit softer then lean towards 75 minutes. Cook for at least 60 minutes.
Some people even cook them for as long as 80 minutes for a really soft texture.
Be sure to turn off the keep warm function as this is not needed. When cooking is complete do a natural pressure release, not a quick release. This will take about 30 minutes to 45 minutes or so. You will then remove the lid from the Instant Pot.
How to Cook Boiled Peanuts in the Slow Cooker
Making boiled peanuts in the slow cooker is also an easy process. Add all ingredients to the slow cooker. Cook on HIGH setting for 12 hours. It is a good idea to do this overnight.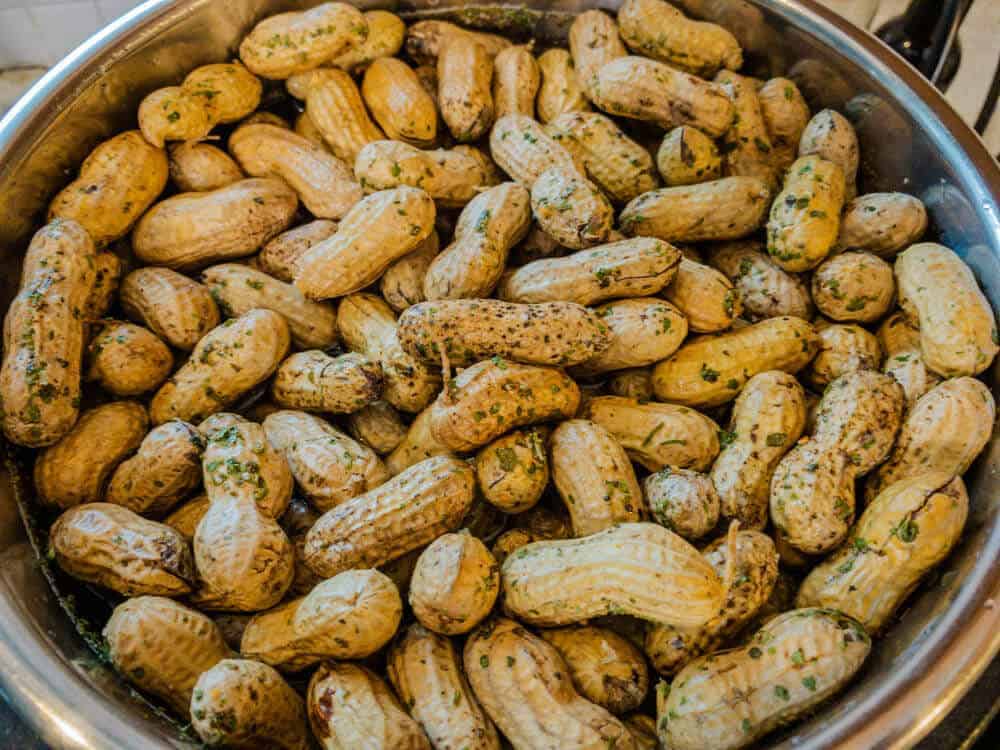 Do you Drain the Boiled Peanuts?
Once the cooking is complete drain the liquid from the peanuts using a colander. Some water will remain inside the peanuts. The"brine" liquid in the peanut is it tasty part of eating boiled peanuts.
Other Recipes to Try
Instant Pot and Oven Banana Bread
Easy Refrigerator Dill Pickles
Mediterranean Cucumber Salad
10 Cheap Instant Pot Recipes Under $10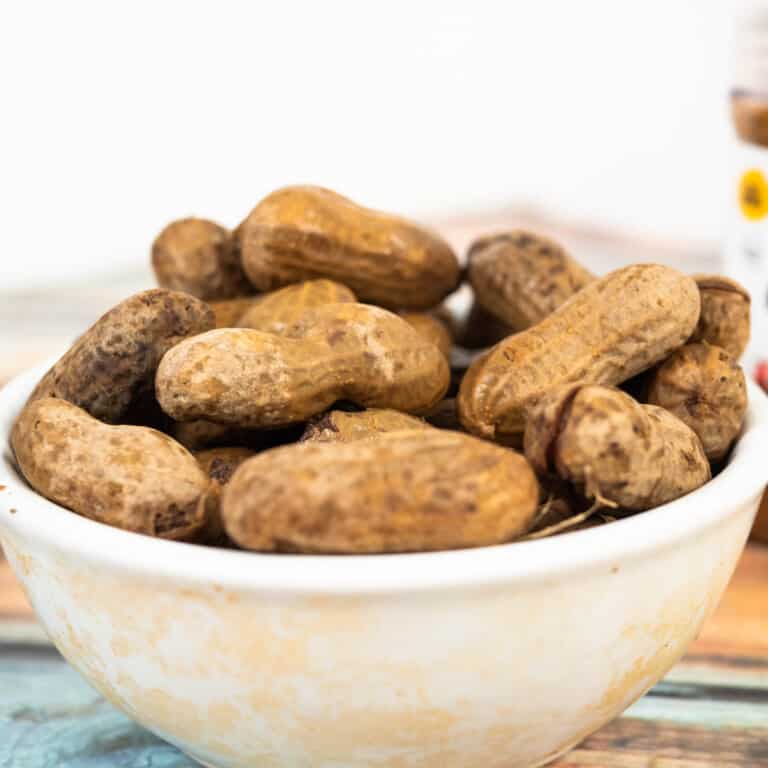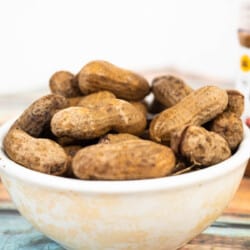 Instant Pot Boiled Peanuts
Instant pot boil peanuts are a salty, tasty easy to make southern snack.
Print
Pin
Rate
Ingredients
1

pound

raw peanuts

I used a whole 24oz bag

1/3 to 1/2

Cup

of sea salt (depending on how salty you like)

depending on how salty you like it

1 to 2

tablespoons

Cajun seasoning

3 to 3 1/2

quarts

water

do not fill past max line
Instructions
Place pound of peanuts in colander and rinse to remove any dirt.

Place peanuts in Instant Pot

Place salt and Cajun seasoning on top of peanuts

Fill pressure cooker with 3 to 3 1/2 quarts of cold water

Stir peanuts to distribute seasoning

Place something heavy on top of peanuts like a trivet or even a plate to keep the peanuts submerged in liquid.

Place lid on instant pot and turn valve to seal. Cook peanuts on high-pressure for 65 to 75 minutes depending on how soft you want them. I like them at 65 minutes. Turn off the keep warm function. When cooking is complete let the instant pot do a natural pressure release. If you like the peanuts to be a little bit stronger you can leave them in the brine for about an hour but this is not required.
Notes
If you like the peanuts more salty adjust the salt from 1/3 of a cup closer to 1/2 cup.
If you like your peanuts even softer Cook for 75 minutes.
Nutrition
Kitchen Essentials and Items Used in Recipe
Instant Pot Duo Evo Plus 9-in-1 Electric Pressure Cooker
Raw Peanuts, 2 Pounds
Amazon Brand – Happy Belly Sea Salt, Fine Ground, 16 Ounces
How Do You Store Boiled Peanuts?
Boiled peanuts can be eaten at room temperature for a period of 24 hours. Store boiled peanuts in air tight container in the refrigerator or in a zip top bag. Boiled peanuts can also be stored in the freezer in individual airtight bags.
(Visited 11,565 times, 2 visits today)