If you were looking to step up your game at your next get together or party season pretzels is the way to go. It really is as simple as adding some seasonings and a bit of oil and baking the pretzels for a next level snack.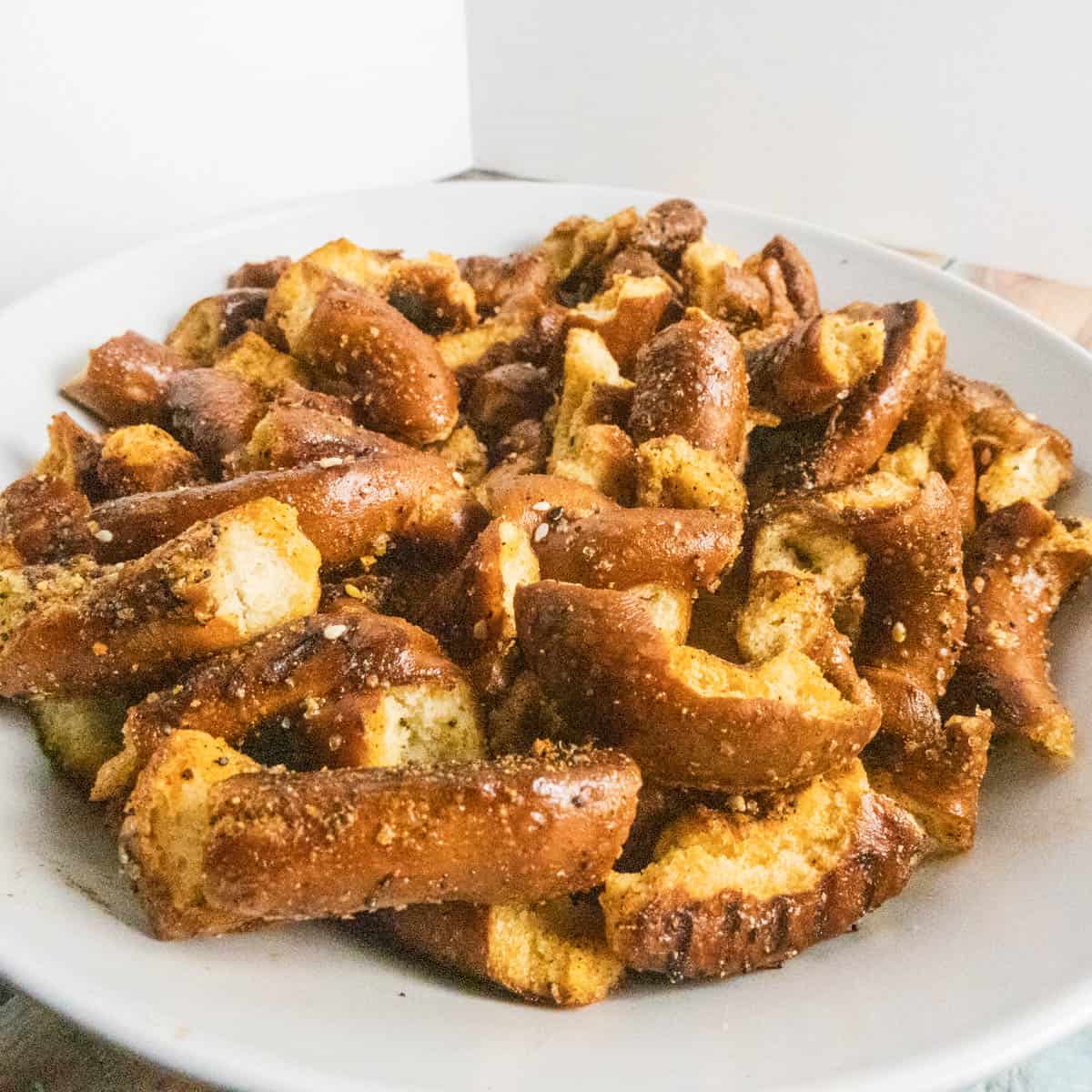 Seasoned Pretzels Recipe
When it comes to making seasoned pretzels I really like the large size Snyder of Hanover pretzels. They have a great flavor and texture. I usually buy the family size bag. I find that these larger pretzels hold on to being seasoned better than others.
What is Needed to Make Seasoned Pretzels?
1 Bag or Box of Snyders Large Sourdough Pretzels
Avocado or Canola Oil
Seasonings you prefer ( Garlic,Pepper,Ranch Seasoning,Cayenne Pepper)
Zip BAG or Large Bowl
Ranch Dressing Mix
How to Make Seasoned Pretzels
The process of making these seasoned pretzels is simple but I am going to include an oven baked seasoned pretzels method as well as a quick method of making them in your air fryer.
No matter which cooking method you prefer the preparation method is the same. Although if you are baking the pretzels in the oven you are going to need a baking sheet.
Step 1- Break pretzels into bite size pieces.
The first step in making these Snyders seasoned pretzels is breaking the pretzels into smaller bite size pieces. I alway do this by hand and I place the pretzels in a large bowl or zip bag.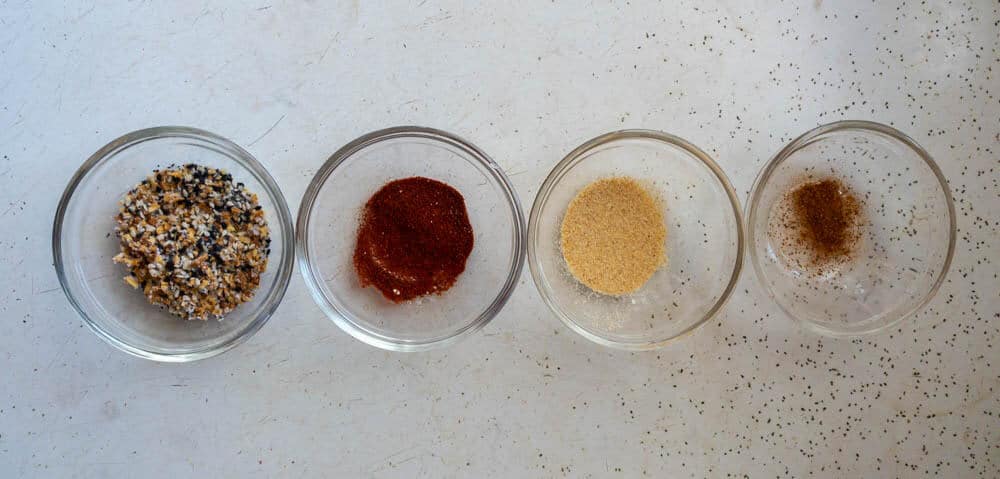 Step 2- Seasoning your Pretzels
I wanted to be a bit different with these flavored pretzels. I used a combination of garlic powder, everything bagel seasoning, smoked paprika, and a touch of cayenne pepper for my seasoning mix. If you do not want a spicy pretzel recipe you can omit the cayenne pepper.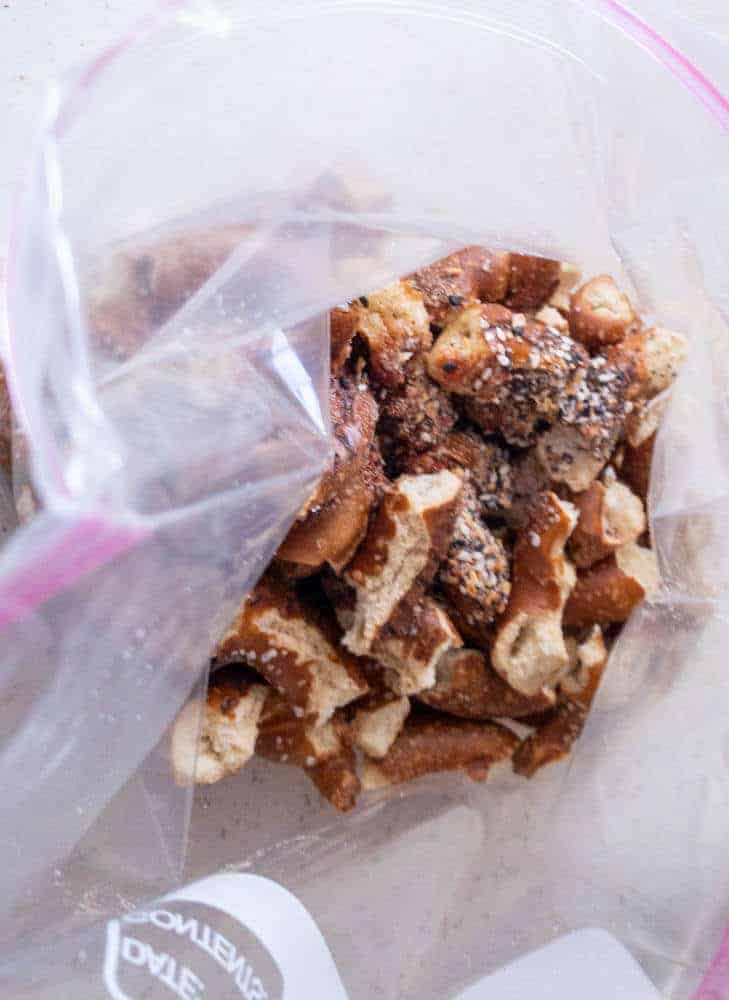 Step 3 – Toss the Pretzels in Oil and Seasoning to Coat.
Once you have all your oil and seasonings together toss everything in a large zip bag and shake to coat everything liberally with the oil and the seasonings. I used a half cup of oil for this recipe and I chose avocado oil.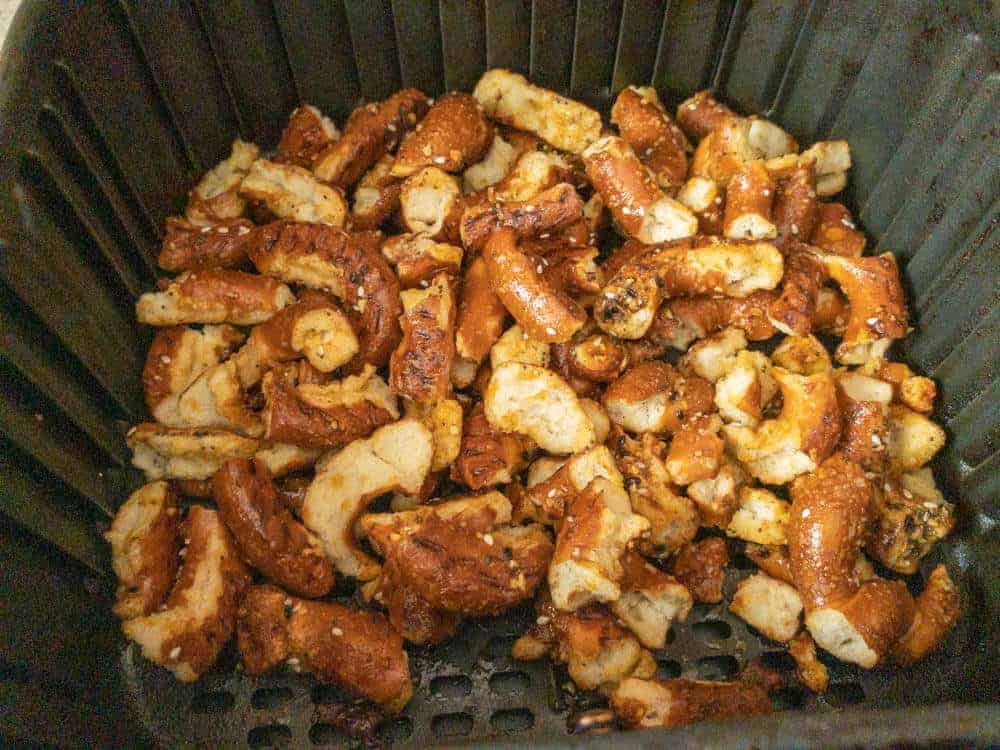 Step 4 – Air Fry or Oven Bake the Seasoned Pretzels
I am including two different methods of cooking in this recipe. One is how to quick cook them in an air fryer. The other is to slow bake the pretzels in the oven on a baking sheet. See instructions below.
How to Make Seasoned Pretzels in the Air Fryer
The quickest way to make these seasoned pretzels is in an air fryer. Preheat the air fryer to 360 degrees Fahrenheit and spread seasoned pretzels in an even layer in the air fryer basket. If you have a small air fryer this may need to be done in batches.
Air fryers are not all the same. Some are hotter than others. My air fryer happens to be one that is HOT.
My cooking time was about 8 to 10 minutes. Cooking times in the air fryer can take as much as 15 minutes, but keep an eye on them so you do not burn them.
How to Make Seasoned Pretzels in the Oven
If you do not have an air fryer or are making larger quantities the oven produces fantastic results. Preheat your oven to 200 degrees Fahrenheit. Line a baking sheet with parchment paper and bake for 40-45 minutes.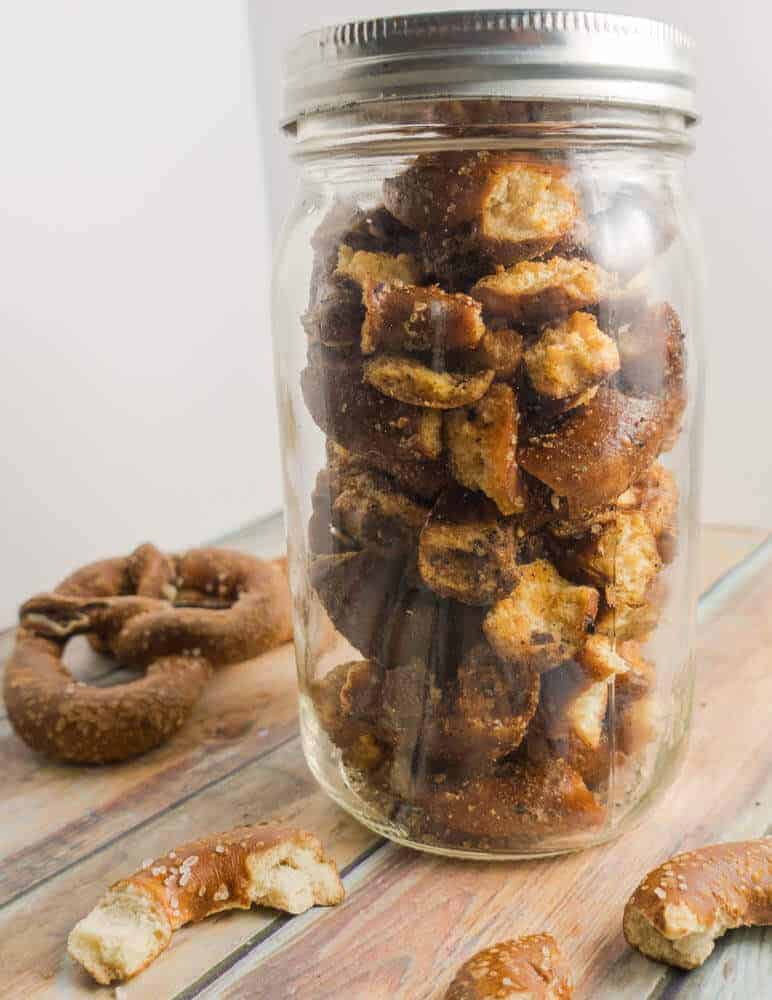 How to Keep Hard Pretzels Fresh
Hard pretzels will stay fresh stored in an airtight container for up to three weeks. I use mason jars like the image above to store them. You can also use a zip bag if you prefer.
Seasoned Pretzel Flavor Variations
Keep in mind that you can season the pretzels with any flavor that you enjoy. For example you can add some melted butter to the oil mixture. Another delicious method is to add some lemon pepper or ranch seasoning. Ranch pretzels are one of the favorite party pretzel flavors.
If you just want something simple onion, garlic and pepper is great. Throw in a pinch of dill weed and up the flavor another notch. The flavor combinations are endless and that is part of the fun and it is all super easy.
Are Sourdough Pretzels Healthy?
Sourdough pretzels are quite a few calories less than fried snacks like potato chips. They are fun to eat but at the end of the day they have a bit of fiber in them but they are not a very nutritious snack.
Kitchen Essentials and Items Used
Alexia Smart Classics Frozen French Fries

Other Recipes for You to Enjoy
Air Fryer Roasted Chickpeas
Air Fryer Empanadas
Air Fryer S'mores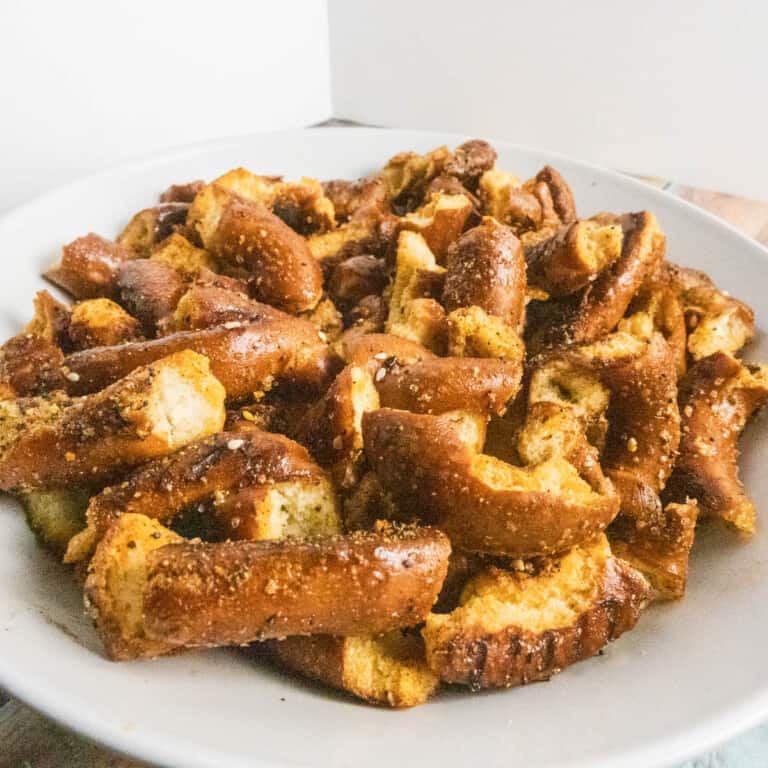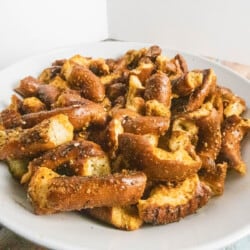 Everything Bagel Seasoned Pretzels (Air Fryer/Oven)
These tasty seasoned pretzels can be made in your air fryer or baked in your oven.
Print
Pin
Rate
Ingredients
1/2

Cup

Avocado Oil

1

Tbsp.

Everything Bagel Seasoning

1/2

tsp.

Black Pepper

1

tsp

Garlic Powder

1

tsp.

Smoked Paprika

1/4

tsp.

Cayenne Pepper (Optional)

1

Packet

Ranch Seasoning (About an Ounce)
Instructions
Air Fryer Instructions
Break pretzels into bite-size pieces

Place Oil and seasonings in zip bag and shake to coat evenly

If you are cooking in the air fryer preheat air fryer to 360 degrees Farenheit

Place pretzel in air fryer basket and cook 8 to 10 minutes. Shake pretzels half way through cooking time.
Oven Baking Instructions
The preparation instructions are the same as above but cooking teperature and time is different.

Preheat oven to 200 degrees Farenheit

Place pretzel on parchment lined bakig sheet

Bake 40-45 minutes shaking pretzels halfway through cooking time.
Nutrition
(Visited 7,455 times, 1 visits today)