Did someone say S'mores? I'm pretty sure everybody loves them. The good news is that you actually don't need a campfire to make them.
I am going to show you how to make S'mores indoors. No, you are not going to have to use your fireplace. I am going to show you how to make them in your air fryer.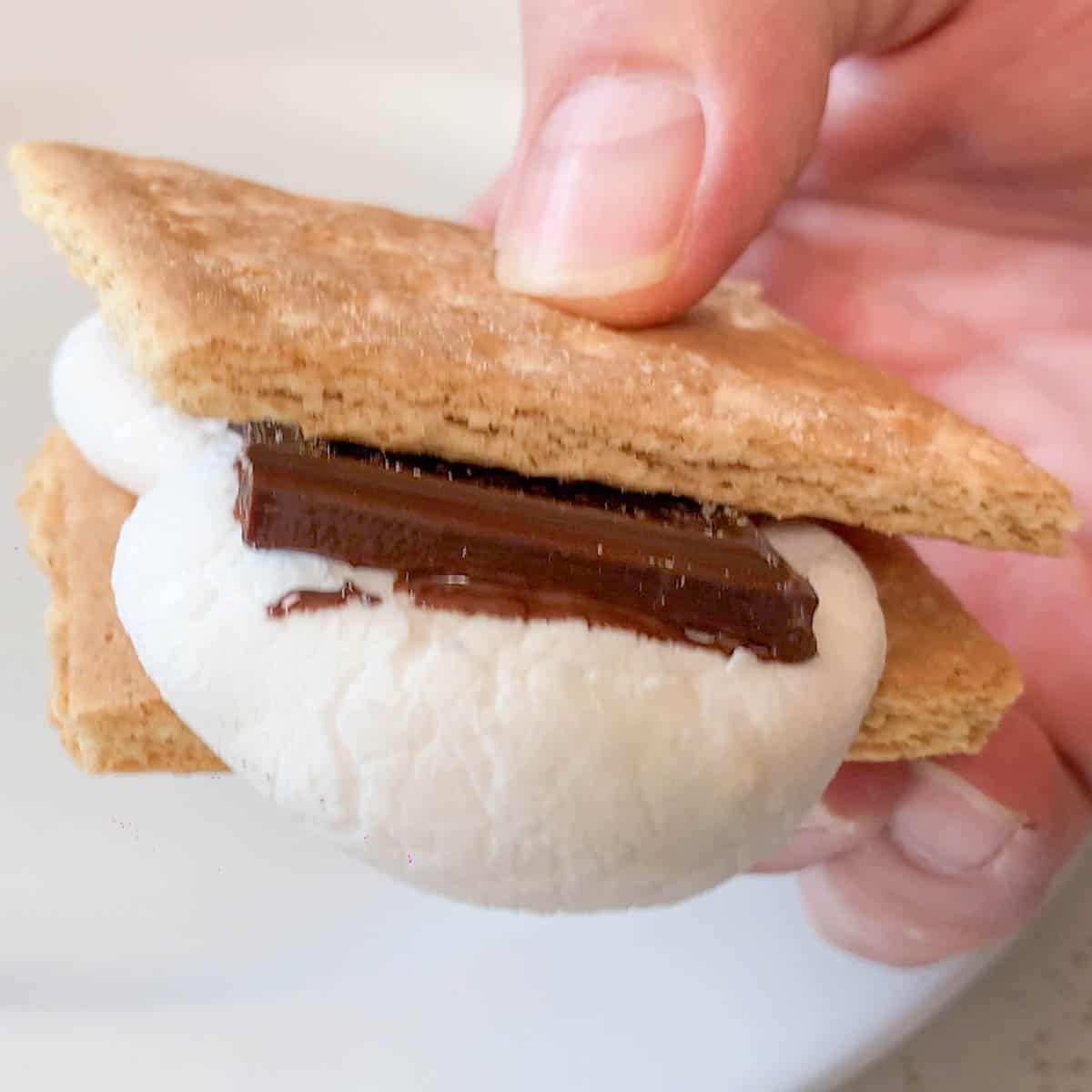 Air Fryer S'mores
I don't know about you but I just love chocolate. All kinds of chocolate but my favorite is dark chocolate.
I am not the biggest sweets person but when I crave something sweet it is always chocolate or ice cream.
Recently I had a craving for s'mores. There's something about the crunchy gram cracker with the roasted marshmallow and the melted chocolate. It is so delicious.
I love the crunchy, sticky melted chocolate texture of them. I really could now even remember the last time I had one until I made this recipe. Lets get to making some because talking about them is making me want them.
How to Make S'mores Indoors in the Air Fryer
Ingredients in S'mores
Graham Cracker Squares
Marshmallows
Chocolate Bars (Milk Chocolate, Dark Chocolate, Chocolate Chips)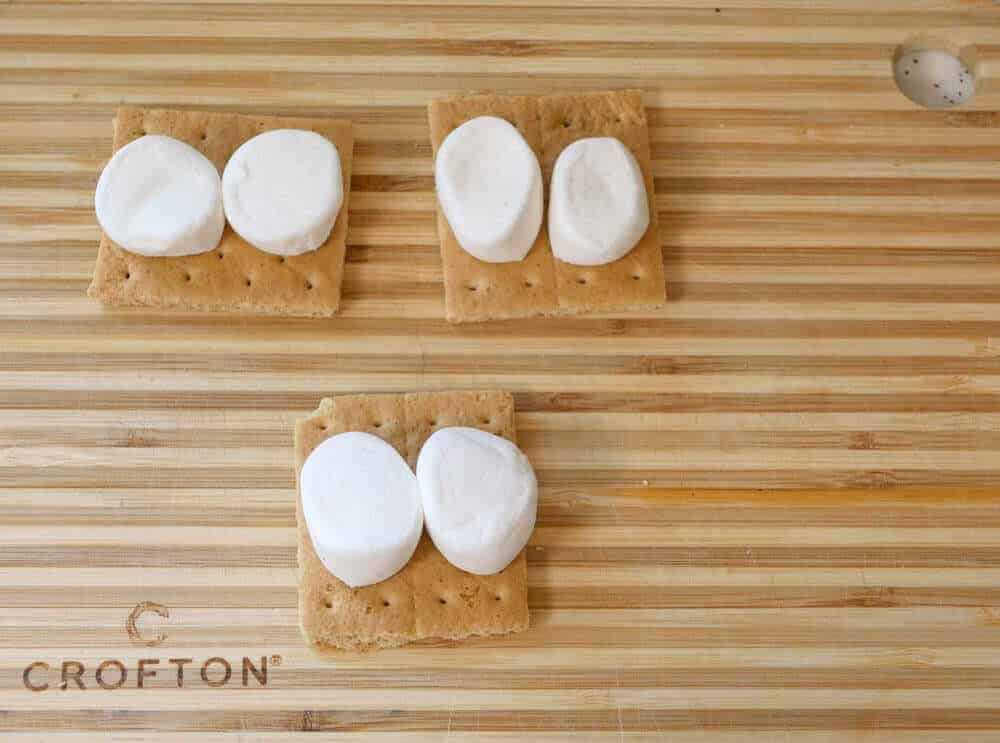 Step 1
First, get all your ingredients together and preheat your air fryer to 390 degrees. It really only takes a few minutes in the air fryer to make the s'mores.
Step 2
The next step is that you want to do is grab your graham crackers and break them in half to make squares like the picture above. Cut or rip the marshmallows in half so the sticky side is exposed.
Place the sticky side down on the graham cracker and give it a little push to make it stick. This is necessary to adhere the marshmallow to the graham cracker so they don't get blown around in the air fryer. I'm saving you a huge headache LOL.
Step 3
Place the graham cracker halve with the marshmallow in the air fryer basket. Make sure that they are not touching. Air fry for 2 to 3 minutes cook time until they are golden brown and toasted a bit. Some air fryers take a couple of minutes longer.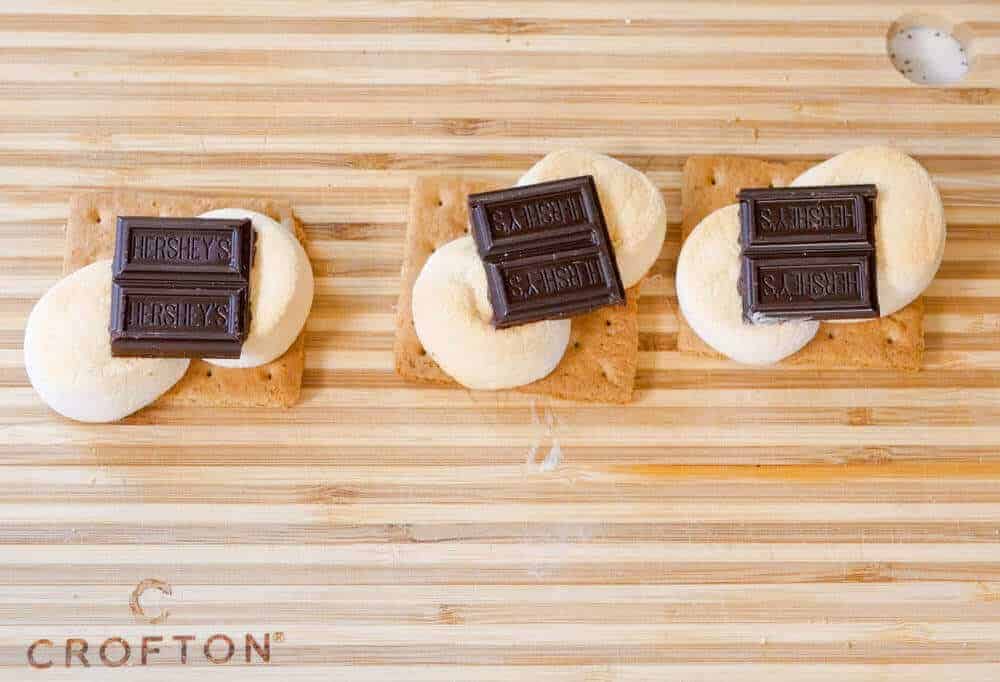 Step 4
The next step is to add the piece of chocolate. You can either add the piece of chocolate to the top of the marshmallow inside the air fryer and air fry for one minute more if you like your chocolate more melted.
I removed my marshmallow graham cracker and topped with chocolate like the picture above. The chocolate and marshmallow will melt together from the heat.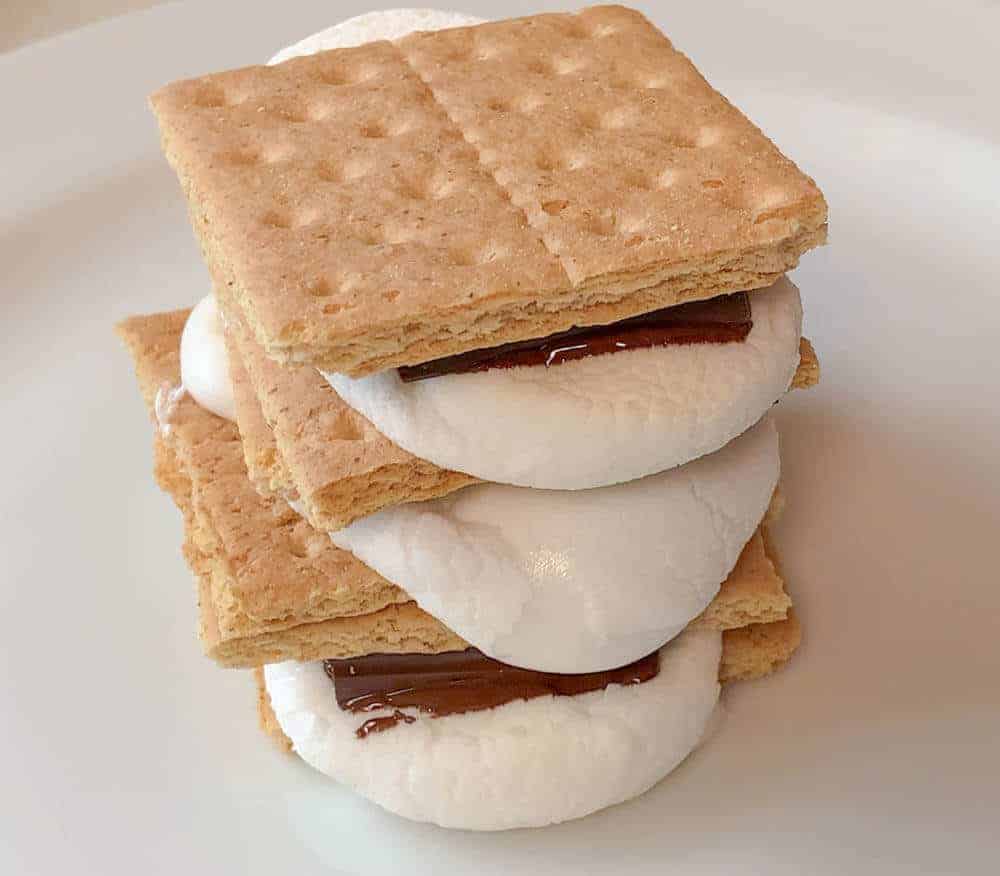 Step 5
Tap your chocolate marshmallow s'mores with the other halve of graham cracker and give it a little tap to stick them together. Now you have made your first of many indoor s'mores.
I like to let them cool just a bit. It changes the texture a bit and makes them easier to handle. I learned the hard way that melted marshmallow and chocolate can be a real mess 🙂
Other Recipes to Make
Smoked Bratwurst in Pellet Smoker
Air Fryer or Instant Pot Banana Bread
Million Dollar Bacon
Air Fryer Meatballs
Oven Roasted Tri Tip

Kitchen Essentials and Items Used
COSORI Max XL 5.8 Quart,1700-Watt Electric Air Fryer
365 Everyday Value, Large Marshmallows, 10 oz
Hershey's, Milk Chocolate Bars, 9.3 Oz, 6 Ct
Air Fryer Parchment Paper, Set of 100, 8.5 inch Square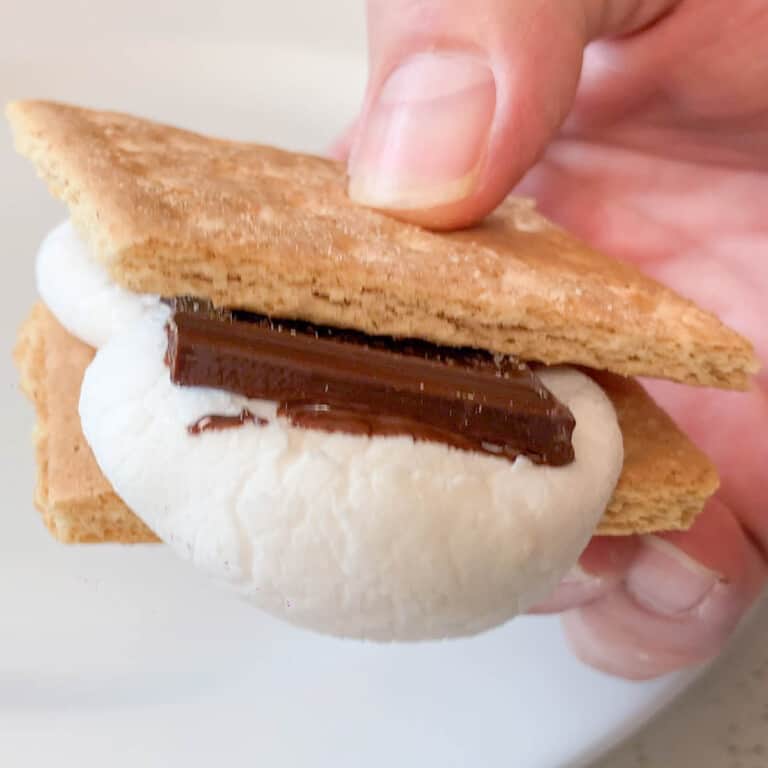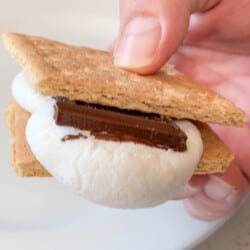 Air Fryer S'mores (How to Make Indoors)
Make S'more's indoors in your air fryer. No campfire or fireplace needed.
Print
Pin
Rate
Ingredients
4

pieces

Marshmallows (cut in half)

4

pieces

Graham Crackers (Broken in Half)

1

piece

Hersheys Milk Chocolate Bar
Instructions
Preheat Air Fryer to 390 degrees

Break Graham Crackers in half to make two pieces for a top and bottom.

Cut Marshmallows in half or tear them in half

Place both pieces sticky side down on Graham Cracker. Make sure it sticks so it does not move around in the air fryer.

Place the bottom half with the Graham Cracker and Marshmallow in the air fryer basket and cook 2 to 3 minutes until Marshmallow is golden brown.

Once marshmallow is golden brown you can top the marshmallow with a piece of chocolate. The heat from the marshmallow should melt the chocolate. If you like your chocolate really melted you can heat it for 1 minute on top of the marshmallow in the air fryer.

Remove bottom half of s'more from air fryer and top with other halve of Graham Cracker.

Enjoy your indoor s'mores.
Notes
Some air fryers are not as hot as others and cook time could take a few minutes more. Usually, the cooking time is 2 to 3 minutes. If your marshmallow is not golden brown at all cook in one-minute increments after the original two minute cooking time.
Nutrition
Join Our Facebook Groups
(Visited 4,999 times, 1 visits today)