Bacon Wrapped Asparagus is one of those things cooked in the air fryer that comes out surprisingly delicious. The bacon is crispy and the asparagus comes out delicious and not overcooked. The flavor of air fried bacon and asparagus is a delicious combination of flavors.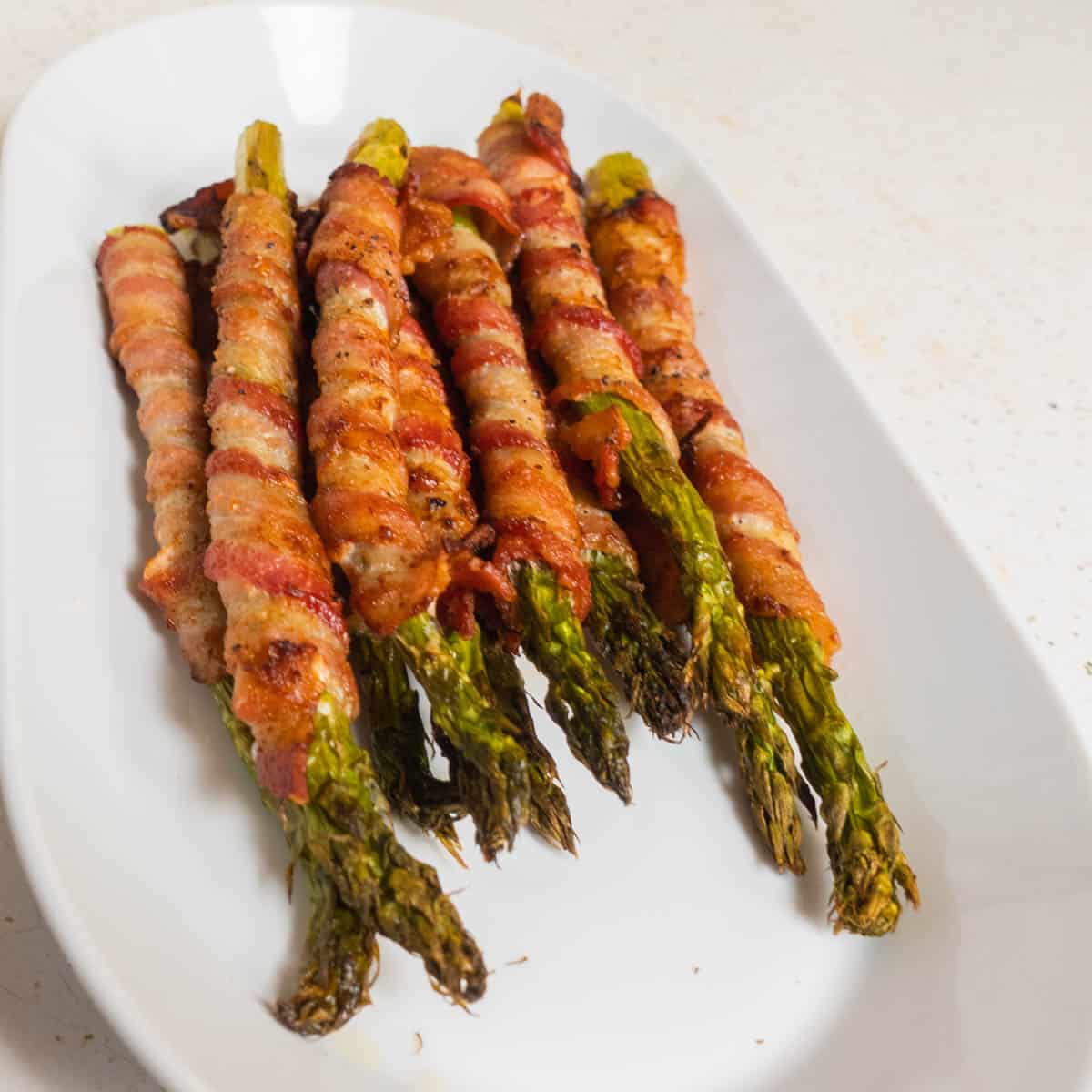 Bacon Wrapped Asparagus in the Air Fryer
In my honest opinion air fried bacon wrapped asparagus is the easiest and best way to cook this delicious side dish. The air fryer or ninja makes some things so easy. No matter which air fryer bacon wrapped asparagus recipe in the air fryer is delicious. It's ready in less than 20 minutes.
I love roasted asparagus and I am pretty sure everyone love bacon. In this dish you get the best of both worlds. Another great thing about bacon wrapped asparagus is that it is a great side dish accompaniment to just about any dish. This is a great recipe to make for a brunch as well.
Jump to: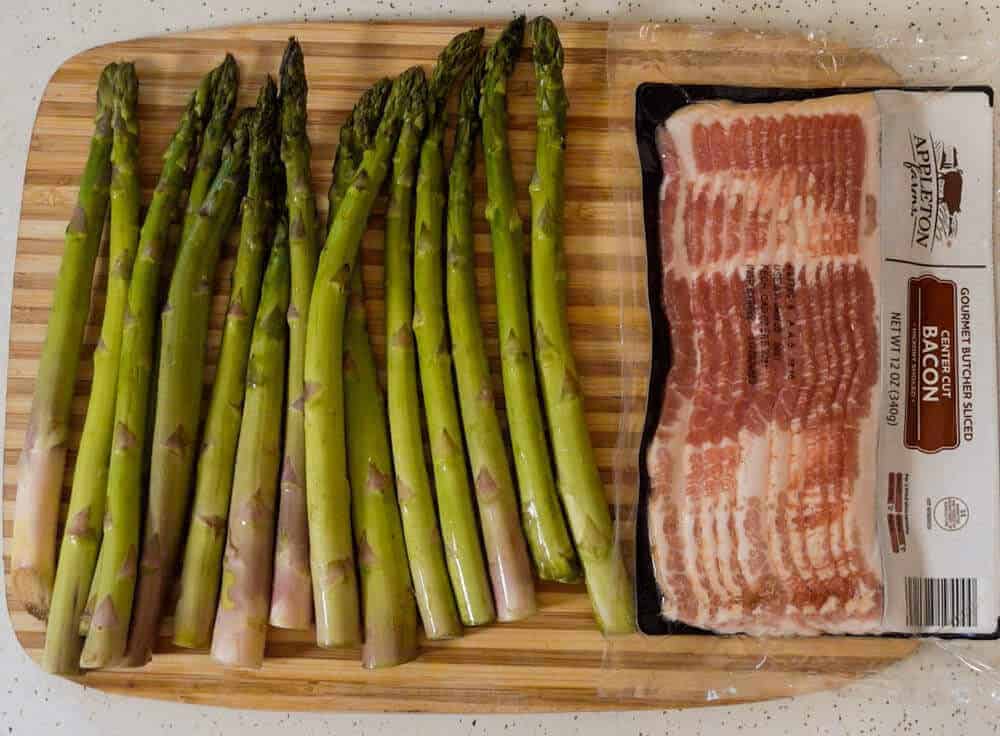 How to Choose Asparagus
I have seen quite a few other bacon asparagus recipes. It seems that most of them seem to use thin asparagus wrapped as "asparagus bundles." I feel that you will end up with better results using fresh stalks of asparagus that are thicker like my photo.
The object is that you want the asparagus to be done cooking around the same time as the bacon. This is the point in using the thicker asparagus.
Bacon Wrapped Asparagus Ingredients
Fresh Asparagus (Thicker is better)
Center Cut Bacon
Salt
Black Pepper
Garlic Powder
Olive Oil (Optional)
Full Instructions and Ingredient Measurements Jump to Recipe Card
How to Cook Bacon Wrapped Asparagus in Air Fryer
The process of how to prepare asparagus with bacon is fairly simple. There are just a few steps in the process to make this easy and delicious side dish. Whether you have an air fryer or ninja foodi the results are great.
Step 1 – Snap the ends off your Asparagus
Snapping the ends of the asparagus is a simple process. Grab the asparagus and with your index fingers near the base of the asparagus bend the asparagus.
The asparagus will naturally break in the correct place on its own. Continue to do this with all the remaining asparagus. The woody ends can be cut off from the asparagus base with a knife for perfectly trimmed asparagus. I prefer the snap method.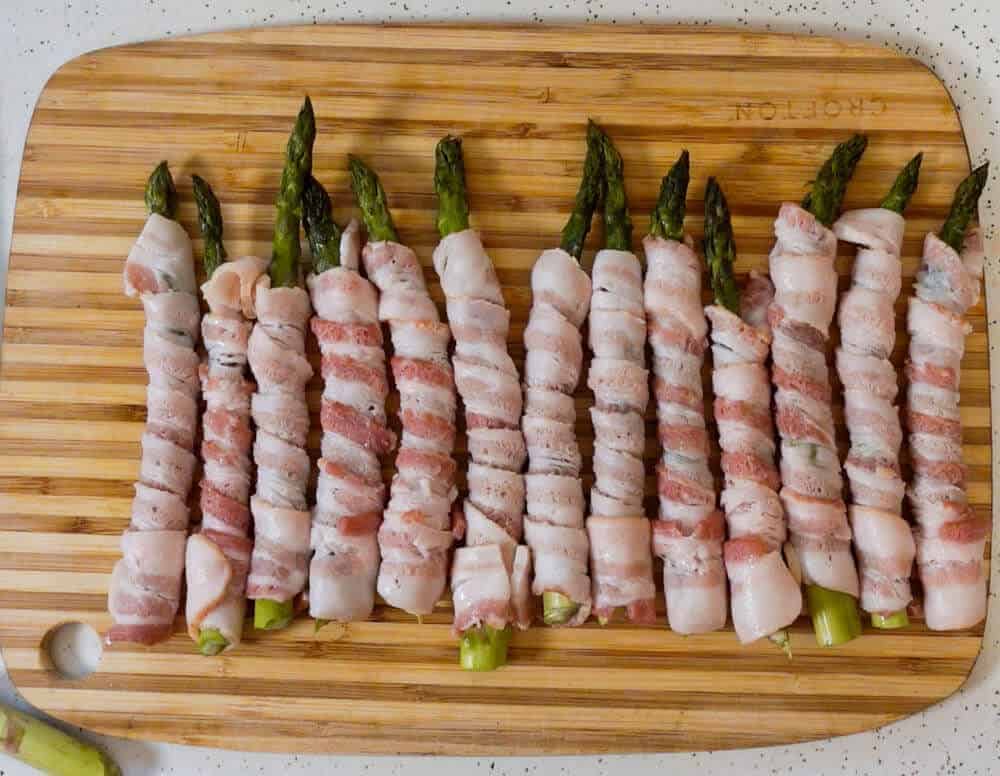 Step 2 – Wrap the Asparagus in Bacon
Wrapping the asparagus in bacon is simple. Grab yourself a piece of bacon and stretch it just a bit. I find that makes this process easier and you can cover the entire asparagus with a slice of bacon this way.
Wrap the asparagus so each time you wrap around the asparagus the edge of the bacon overlaps your previous wrap. Continue until all your asparagus is wrapped in bacon and looks like the image below.
Step 3 – Seasoning the Asparagus
I chose to season the asparagus spears with a mixture of salt, pepper and garlic powder. I find this is a fantastic combination. Just don't go overboard when you season with salt as the bacon is already salty. You can also leave out the salt if you prefer.
How to Cook Bacon Wrapped Asparagus in Air Fryer
The process of cooking this air fryer asparagus is simple. This recipe is very straightforward and simple as well. To ensure that the asparagus cooks in the air fryer basket evenly do NOT overcrowd. Make sure that there is a bit of space to promote even air circulation.
The object is that you want to get an even cook on these asparagus. If you are cooking a bunch of asparagus it is better to do it in batches.

The truth is the hard part is not eating all the asparagus that was cooked in the previous batch. Lol.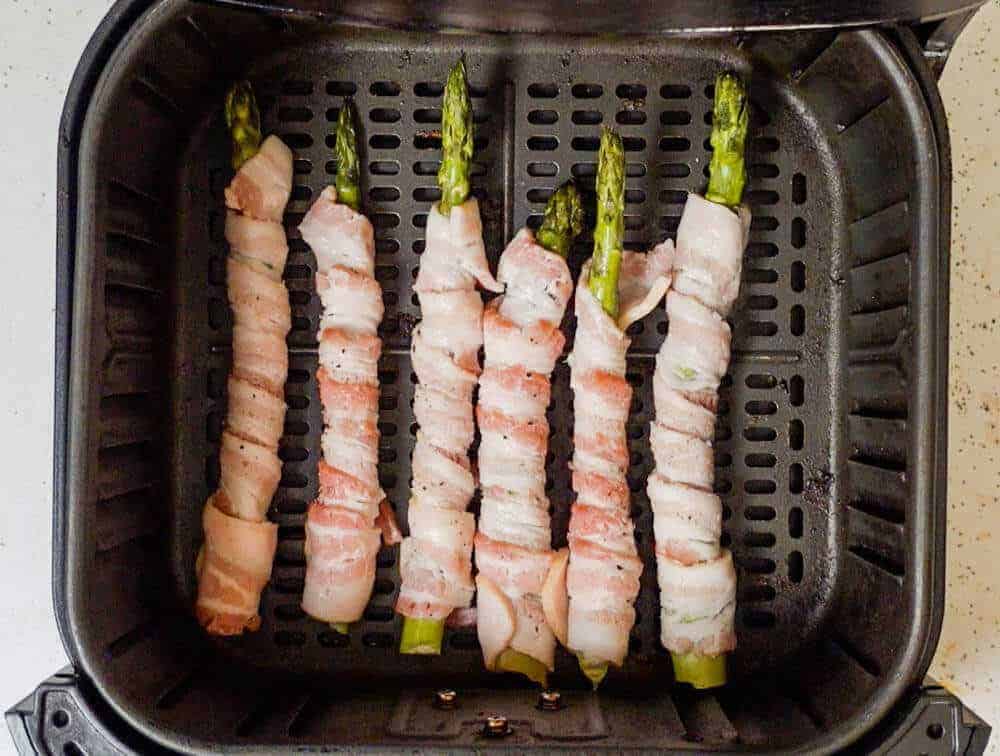 Place the asparagus in the air fryer basket like the above image in a single layer. Keep in mind to leave space between the asparagus to get good air circulation around the basket.
How Long to Cook Bacon Wrapped Asparagus in the Air Fryer
The cooking time for the asparagus in the air fryer is about 10 to 12 minutes. The cooking temperature is 390 degrees. I start checking for doneness at around 10 minutes.
The goal here is to end up with some crispy bacon and asparagus that is not over cooked. I place them on a wire rack when cooking is complete.
Tips for Making Air Fryer Bacon Wrapped Asparagus
Cooking time may be a few minutes more or less depending on the thickness of the asparagus being used.
If you notice one side of the asparagus darkening too quickly just flip them over.
Adding parmesan cheese when there is 5 minutes of cooking time left is a nice variation and great flavor.
If you are trying to be more health conscious with saturated fat turkey bacon wrapped asparagus is also tasty.
These can be prepared a day ahead of time and stored in an airtight container until cooking.
Variations
White Asparagus – This stuff is hard to get your hands on but would be tasty.
Cream Cheese – Spread Cream Cheese on the Bacon before wrapping.
Add Cheese – Feta Cheese or Parmesan is great. Sprinkle after a few minutes of cooking.
Tomato Sauce Puree with Herbs – Spread some sauce on Bacon.
Marmalade or Maple Syrup – Spread some sweetness on the Bacon before cooking.
Brown Sugar – Sprinkle Bacon with Brown Sugar for a tasty flavor boost.
Pancetta – Wrap in Pancetta which is Italian Bacon that has not been smoked.
Cooking Bacon Wrapped Asparagus in Oven
If you do not have an air fryer this bacon wrapped asparagus oven method can easily be used. Place them on a baker's rack because this is the best heat circulation method to make the most crispy bacon. Cook bacon wrapped asparagus at 400°F for about 30 minutes.
How to Store Bacon Wrapped Asparagus
I do not recommend storing bacon wrapped asparagus after it has been cooked. However, these asparagus can be stored uncooked up to a day in advance. Store them in an airtight container that is stored in the refrigerator.
Other Air Fryer Recipes
Air Fryer Crunchy Fried Shrimp
Air Fryer Naked Fried Chicken
Air Fryer Frozen French Fries
Kitchen Essentials and Items Used
Alexia Smart Classics Frozen French Fries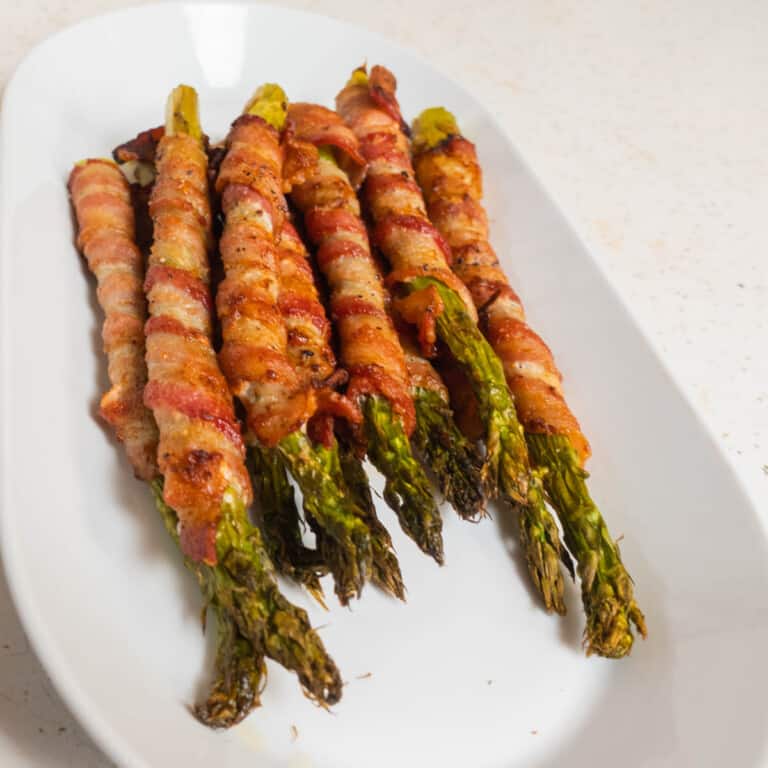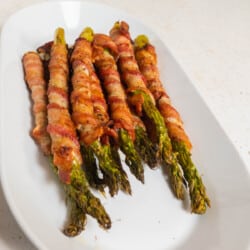 Bacon Wrapped Asparagus (Air Fryer)
Asparagus wrapped in crispy bacon. This tasty side dish is ready in under 20 minutes.
Print
Pin
Rate
Ingredients
1 Bunch

Fresh Asparagus (Thicker)

1

Pound

Center Cut Bacon

1/2

tsp.

Salt

1/2

tsp.

Pepper

1/2

tsp.

Garlic Powder

1

Spray

Olive Oil (Optional)
Instructions
The first step in this recipe is to snap the bottom with woody ends off of the asparagus. All the asparagus between your two index fingers and gently bend. The asparagus will naturally break in the correct spot. Repeat on all asparagus spears.

Wrap each asparagus spear in a slice of bacon starting at one end of the asparagus and wrapping around overlapping previous wrap.

Once all asparagus spears are wrapped in bacon season both sides with salt, pepper, garlic powder. Be sparing with the salt as bacon is already quite salty.

Place the wrapped asparagus in the air fryer basket leaving room for proper air circulation. I find about six pieces at once seems to work fine. If you are cooking a lot of asparagus cook it in batches.

Set air fryer to 390°F and set the timer to 12 minutes. Flip the asparagus after about 5 minutes. I find the cook time is usually about 10 to 12 minutes based on your air fryer.
Notes
Keep in mind that all air fryers are different and based on wattage. Cooking times can fluctuate 1 to 2 minutes in either direction.
Nutrition
(Visited 81,435 times, 3 visits today)