Frozen French Fries in air fryer are one of the things that the air fryer makes fantastic. Everyone loves them and cooking frozen french fries in the air fryer makes an easy side dish or a snack both for kids and adults. Today I am going to show you how to make fries come out perfectly crispy and golden brown delicious in an air fryer.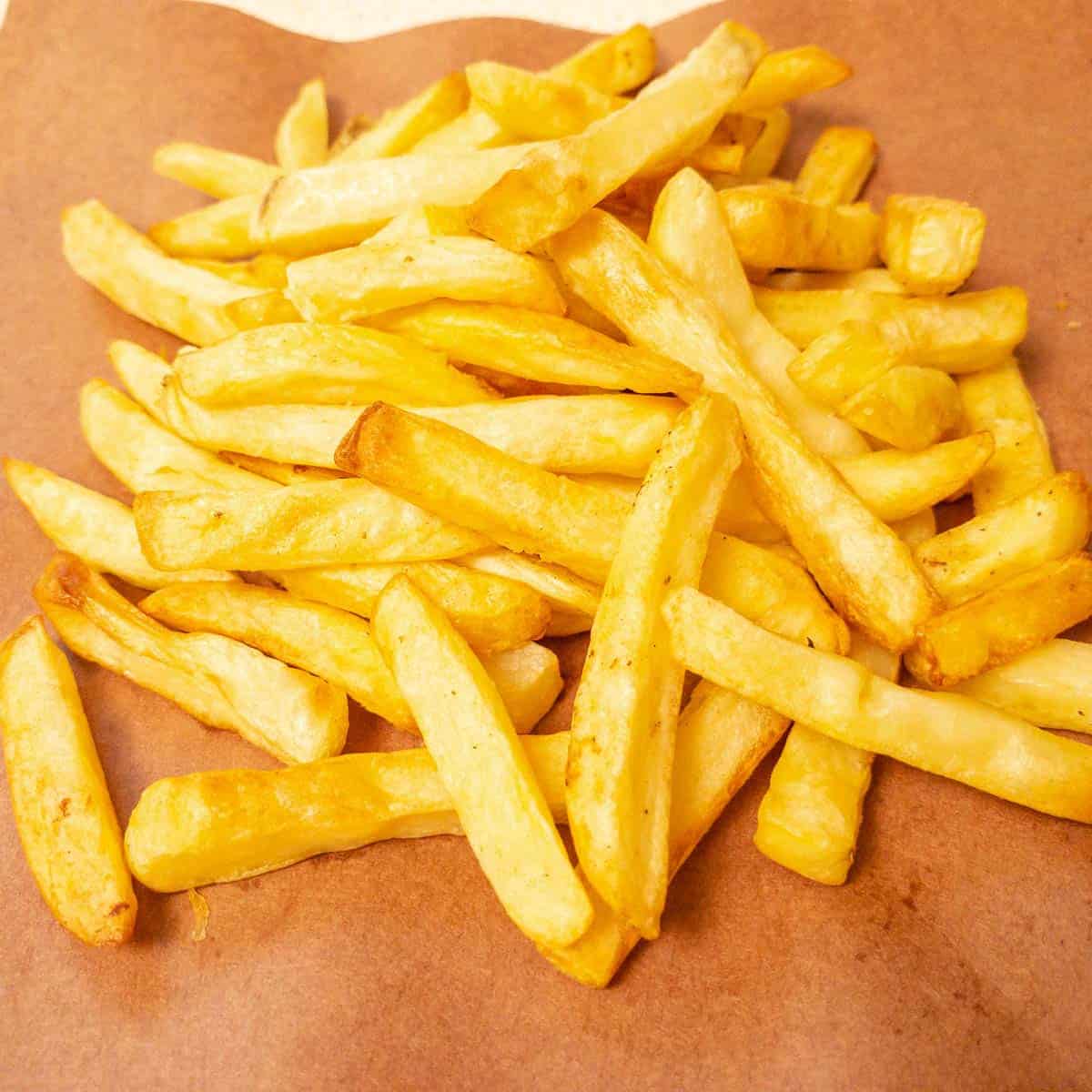 Air fried french fried potatoes are not the only reason I love my air fryer. There are many reasons why I just love it. It makes great things and more importantly, it makes them faster and the end result of cooking frozen fries in the air fryer is crispy delicious more healthy food not fried in oil.
I always make sure that I have a bag of frozen fries in the freezer. There is not any certain brand or type. You can buy crinkle-cut fries, shoestring fries, sweet potato fries or steak fries.
The majority of them you just throw into the basket and within 15 minutes these air fried frozen fries are ready to eat. I like them even better than fast food fries. All the different brands of fries turned out great.
Air fryer frozen fries are really a convenient side dish item. When you are in a pinch and need a side dish for your meal you really cannot go wrong with frozen fries in the air fryer. It is easy to cook frozen fries and much healthier than deep fried versions.
Jump to:
How to Cook Frozen Fries in Air Fryer?
I will show you how to cook frozen fries in the air fryer. Do not spray the fries with extra oil.
Don't spray the basket. These are frozen fries and they do not need any additional oil. Trust me on this. They come out great.
They come out like french fries that have been double fried. The outside of the french fries stays crispy while the inside is a soft texture and delicious. I like fries crispy with a softer center.
Place french fries in air fryer basket. Spread fries out evenly to allow for proper air circulation. Do not spray with oil it is not needed. Air Fry at 400°F/205°C for 10-14 minutes.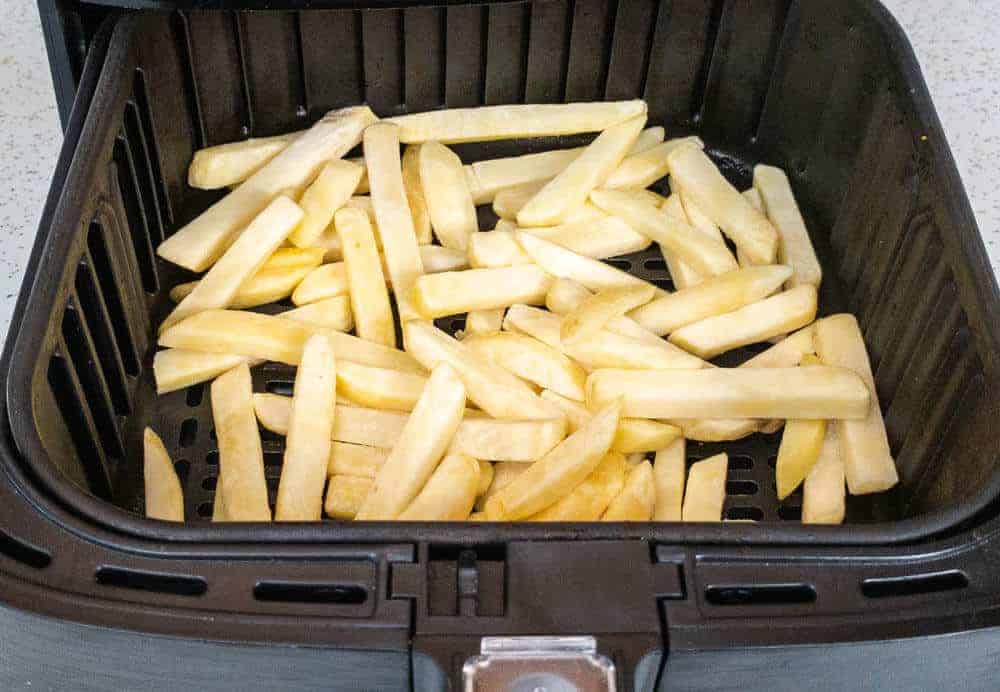 How Long to Cook Frozen Fries in Air Fryer?
The cooking time for frozen fries fries in the air fryer can vary depending on the level of doneness that you like your french fries. I set the timer for 15 minutes and set the temperature to 400 degrees.
If you like the fries more well done add a few more minutes. Cook times vary from air fryer to air fryer depending on the wattage of the air fryer.
Step 1 – Preheat air fryer to 400 degrees and add Frozen French Fries to Basket.
It doesn't matter what kind of fries you use. They can be straight fries curly fries crinkle fries they all work.
Add some fries to the air fryer basket once it is pre heated. One tip I recommend is to not overfill the basket. Keep fries in a single layer.
Step 2 – Set Timer to 15 Minutes and Cook French Fries.
I cook the fries for about 15 minutes. I find for me this is just perfect. This cook time will produce the results that you see below. These fries below had a crunchy exterior and soft center.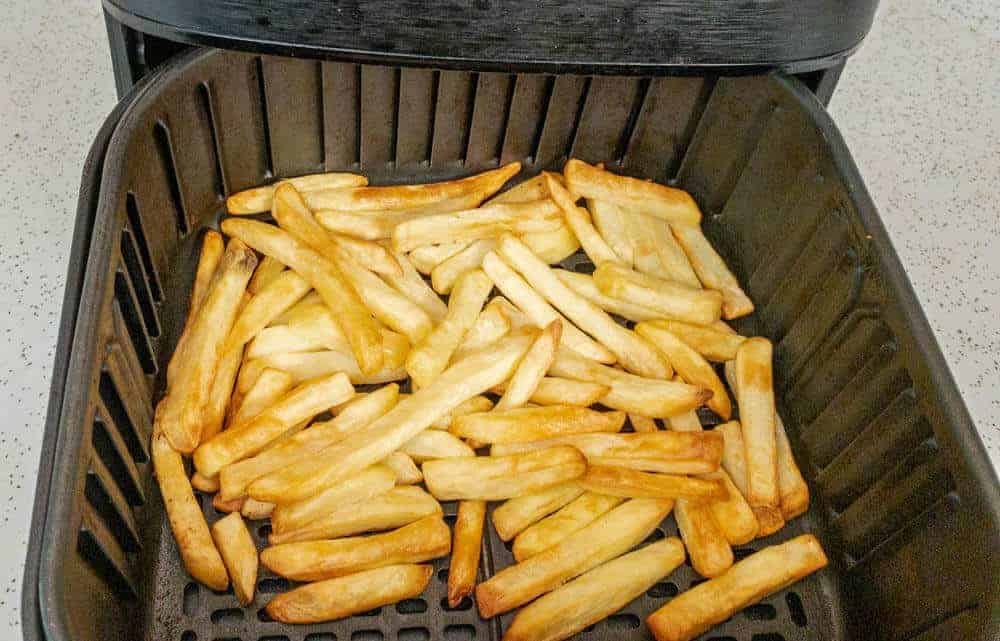 Step 3- Shake and Toss the French Fries
About halfway through the cooking time remove the basket. Mix up the fries by shaking the basket to toss the fries. This is an important step to keep even cooking. Return basket to air fryer to finish the cooking process.
Tips for making Frozen Air Fryer French Fries
Air Fryer Power and Wattage: Depending on the wattage power of your air fryer start checking the french fries for doneness after about 10 minutes. If you are using shoestring fries they do not take as much time to cook. If you are using steak fries they take a few minutes longer.
Should I Use Oil or Cooking Spray? I never use oil or cooking spray when making frozen french fries. Frozen french fries already have some oil in them.
If you are concerned about the fries sticking to the air fryer basket you can spray the basket. Most air fryer basket are non stick. I have never had a problem with the fries sticking together or to the basket of the air fryer.
Don't Overcrowd the Air Fryer: Overcrowding the air fryer with too many fries will make your fries take longer to cook and they won't be as crispy. This is because air fryers work on air circulation.
Fill the air fryer so there is a single layer of french fries spread across the basket. A bit of overlapping is fine. If you are looking to cook a lot of french fries cook them in batches.
Shake the Basket: About halfway through the cooking time and you were going to want to give the basket a good shake to distribute the fries evenly and move them around a bit to ensure even cooking.
The last thing to do to your french fries is season them. For some, it is as simple as sprinkled salt on the fries. I happen to like seasoned salt on fries.
I think it is a great flavor. Rosemary and garlic powder is a good addition to french fries as well.
More Air Fryer Recipes:
Smores in the Air Fryer
Air Fryer Meatballs
Jerk Chicken Wings in the Air Fryer
Airfryer Fried Chicken
Kitchen Essentials and Items Used in this Recipe
Alexia Smart Classics Frozen French Fries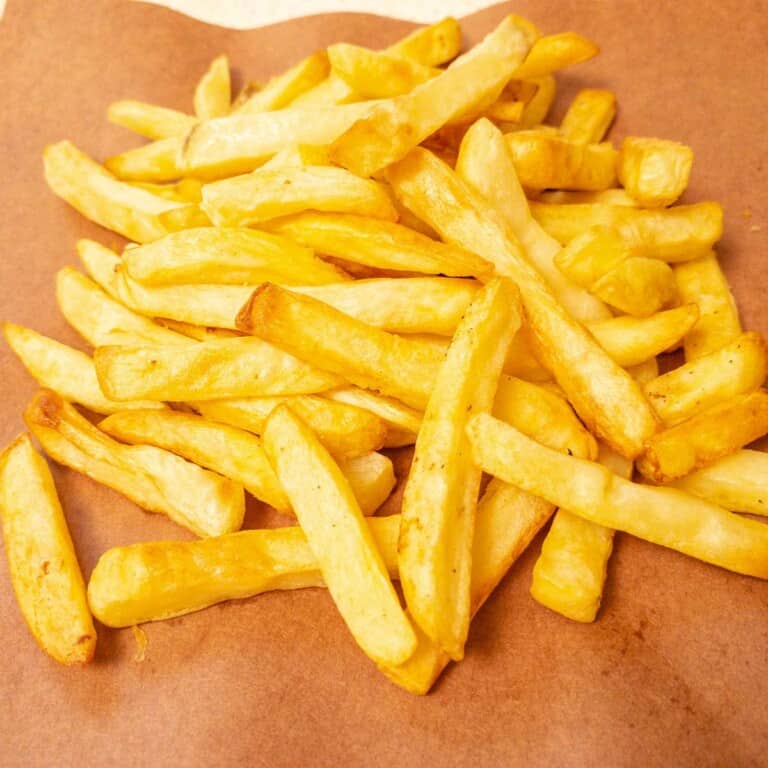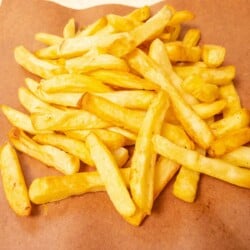 Frozen French Fries in Air Fryer
Frozen French Fries in the Air Fryer come out great and they are ready in less than 15 minutes.
Print
Pin
Rate
Ingredients
1/2

bag

Frozen French Fries

1/2

tsp

Olive Oil for Basket (if not non stick)

1

tsp

Seasoned Salt (Optional)
Instructions
Preheat Air Fryer to 400 Degrees

Add about 1/2 bag of french fries to basket of air fryer. Spreaf in single layer. A bit of overlap is ok.

Do not spray fries with oil or cooking spray (It is not necessary.)

Air Fry French Fries 15 Minutes. Halfway through cook shake basket to toss fries and continue cooking.

Check fries after 10 minutes. Cook to desired crispness
Notes
Do not spray fries with oil or cooking spray.
Do not Overcrowd Air Fryer.
Nutrition
(Visited 38,958 times, 1 visits today)