Jerk Chicken Wings in the Air Fryer I am a complete sucker for. These wings are totally delicious just like Jamaican Jerk Chicken. These chicken wings are not an Authentic recipe but is still delicious. Air Fryer Jerk Chicken Wings have easily become one of my favorite chicken wings recipes.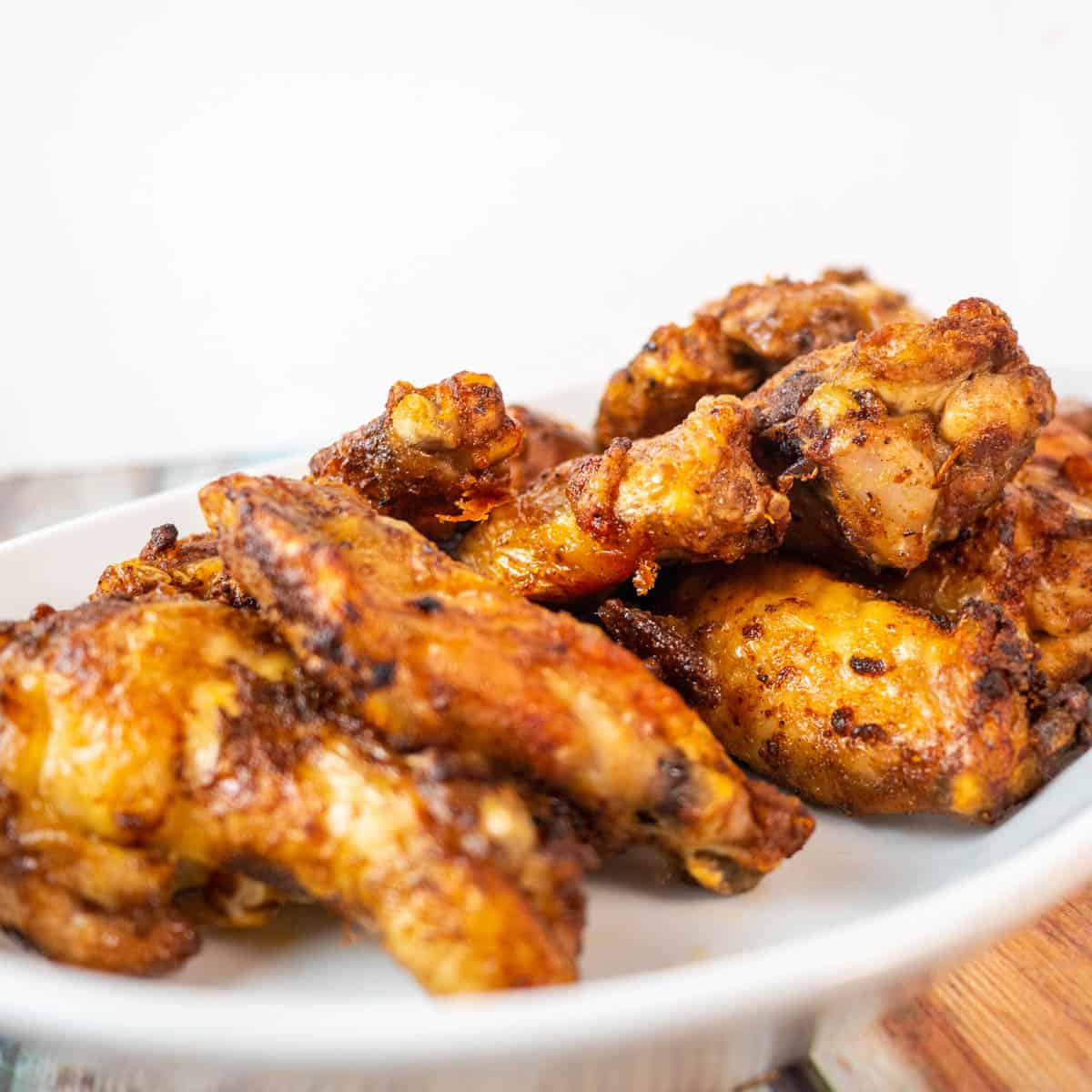 Air Fryer Jerk Wings
Cooking this recipe is much more simple than other jerk chicken wings recipes because this recipe used 4 ingredients and some oil out of the Misto Oil Sprayer and that's it. This is more of a dry rub than a sauce. These are some really good air fryer chicken wings.
If you prefer you can make air fryer jerk chicken breast or air fryer jerk chicken thighs. I've also made this with drumsticks and it's also really tasty. But since I came up with this Jerk Chicken Wings Recipe it seems I have been making them about once a week. I am actually craving them as I am writing this.
Jump to:
Are These Chicken Wings in the Air Fryer Healthy?
These jerk chicken wings are so good, and crispy with less oil because of air frying them with very hot air circulation. Such a healthier way to enjoy deep fried chicken wings. Even though I do use cornstarch to help get these wings super crispy they are still a pretty healthy option. There is only about a Tablespoon of cornstarch in the entire recipe and that is not much at all.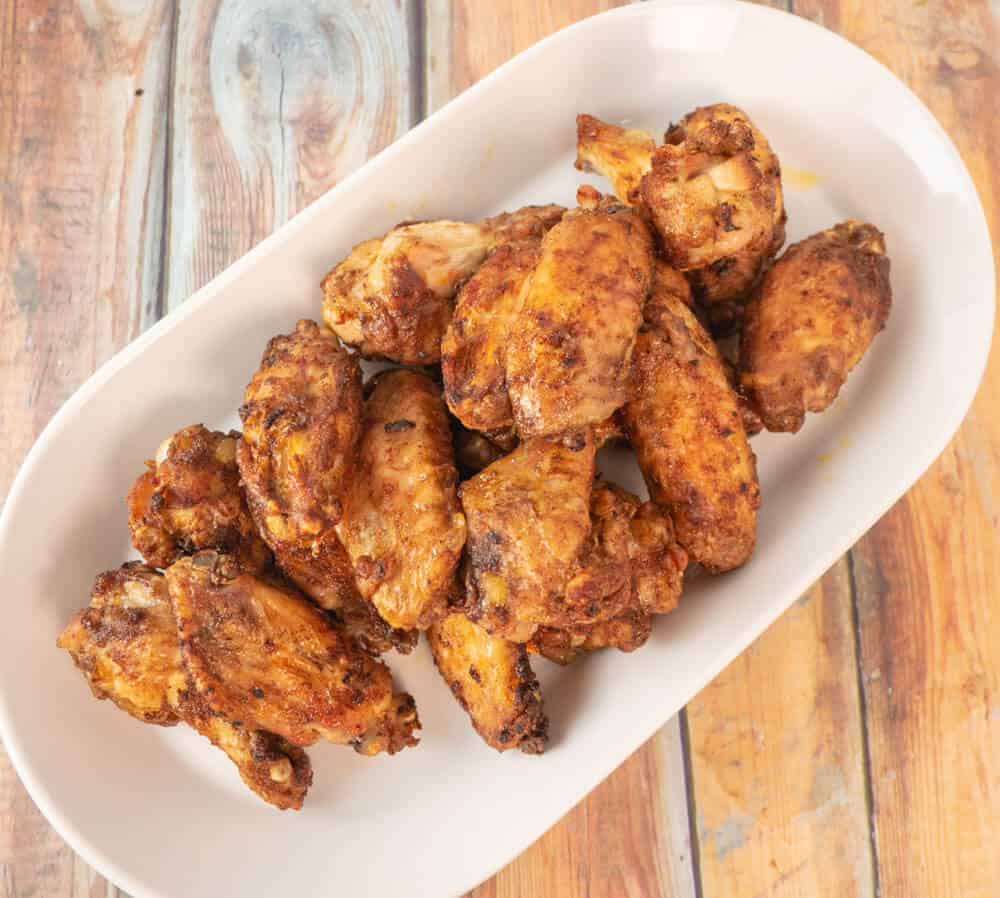 How to Make Jerk Chicken Wings
This Jerk Chicken Wings Recipe is easy to make. There are REALLY only 4 ingredients and then a couple of sprays of olive oil on the wings to make up the seasoning. Just a couple of minutes of prep to the food to make this homemade jerk wings recipe.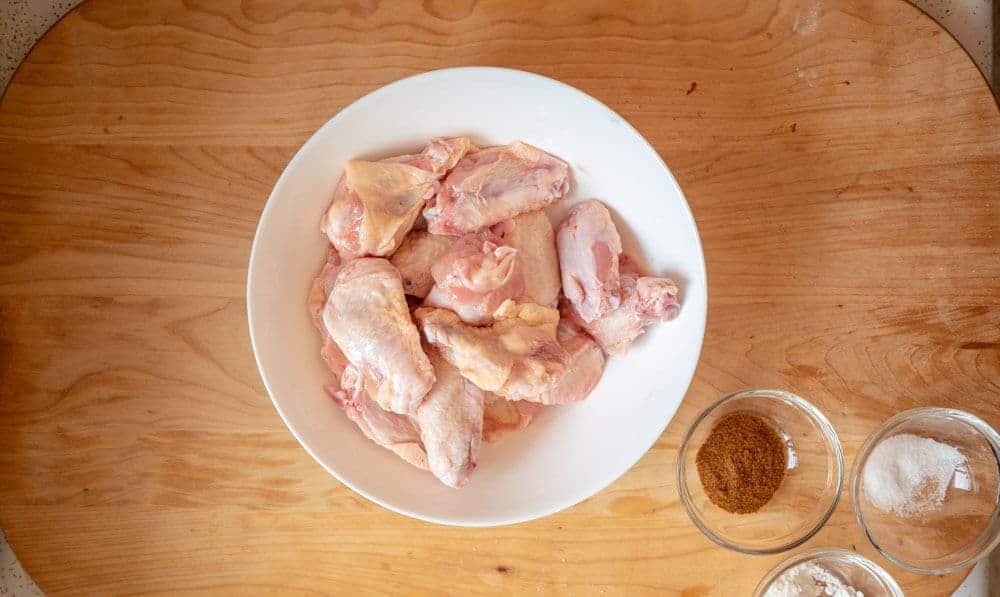 Ingredients in Air Fryer Jerk Chicken Wings Recipe
Salt or Soy Sauce
Pepper
Jamaican Jerk Seasoning spice mix
Cornstarch
A few sprays of Olive Oil
Jump to recipe card for quantities and instructions.
Seasoning Jamaican Jerk Chicken Wings
Place your fresh wings in a bowl and pat them dry with a paper towel. Once they are dry sprinkle the wings with about 1 to 2 teaspoons of salt. Next use a pepper grinder with fresh ground pepper and season the chicken wings with about 12 turns of the pepper grinder (About a teaspoon).
Next up is the Jerk Seasoning. You are going to need a Tablespoon of Jerk spices. Sprinkle Jerk Seasoning liberally over the chicken wings.
Sprinkle about a Tablespoon of cornstarch over the wings. Get in there with your hands or cooking tongs and toss the wings to get an even coating all over the wings.
If you want them a bit sweeter you can add a teaspoon of brown sugar. I choose to leave it out because I like more savory flavors.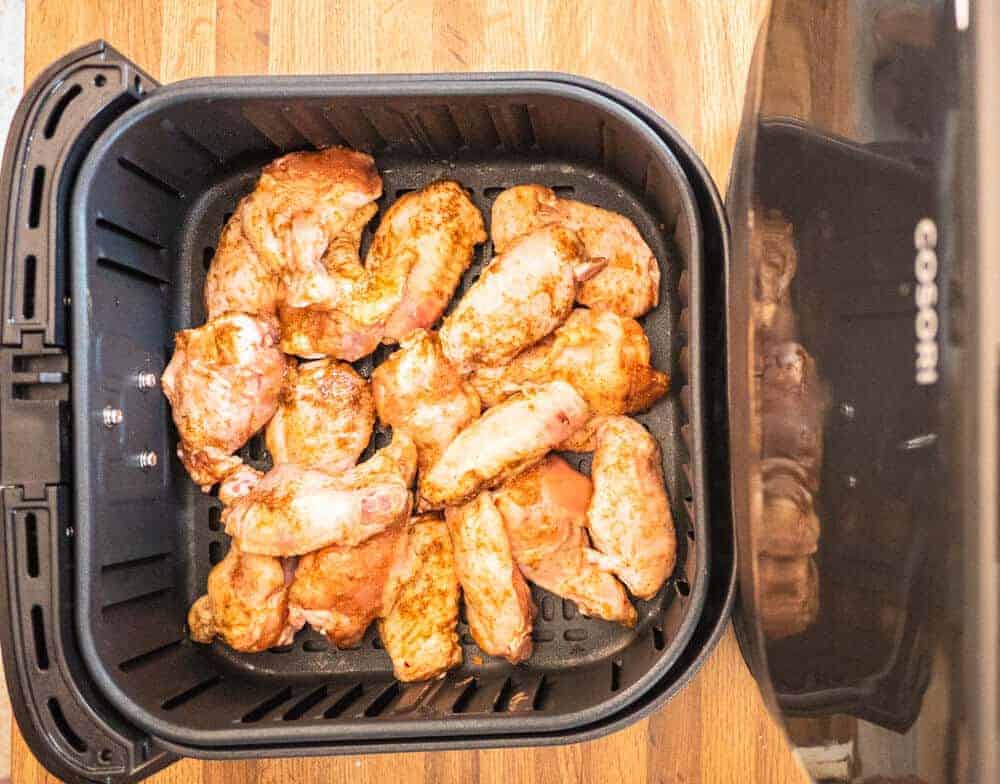 Cooking Jerk Chicken Wings in Air Fryer
Place your seasoned jerk wings in the air fryer basket so they look like the picture above. You want to try and get the wings in a single layer the best that you can. It is ok to have them overlap a bit but do not stack them directly on top of each other. You want to get even air circulation inside the air fryer so the wings cook evenly.
Do I Have to Marinate Jerk Chicken
It is not required to marinate this jerk chicken or reserved marinade, or even a food processor, but I usually do let it sit in the fridge for about an hour before cooking to let the spices soak in. These wings are dry rubbed. This really increases the flavor.
How Long to Cook Chicken Wings in Air Fryer
All Air Fryers cook differently so cooking time can vary by a few minutes. For this recipe I set the cooking temperature to 380 Degrees.
I am using a Cosori 6 Quart Air Fryer and the cooking time is 20 to 22 minutes flipping once. It really depends on the level of doneness that you prefer with your wings. Using the cooking time of 20 minutes seemed great to me. There is no need to preheat oven.
What is the Minimum Internal Cooking Temperature for Chicken Wings
For juicy white meat chicken the minimum internal cooking temperature is 150°F. The recommended internal temperature is 165°F. For dark made it is 175°F.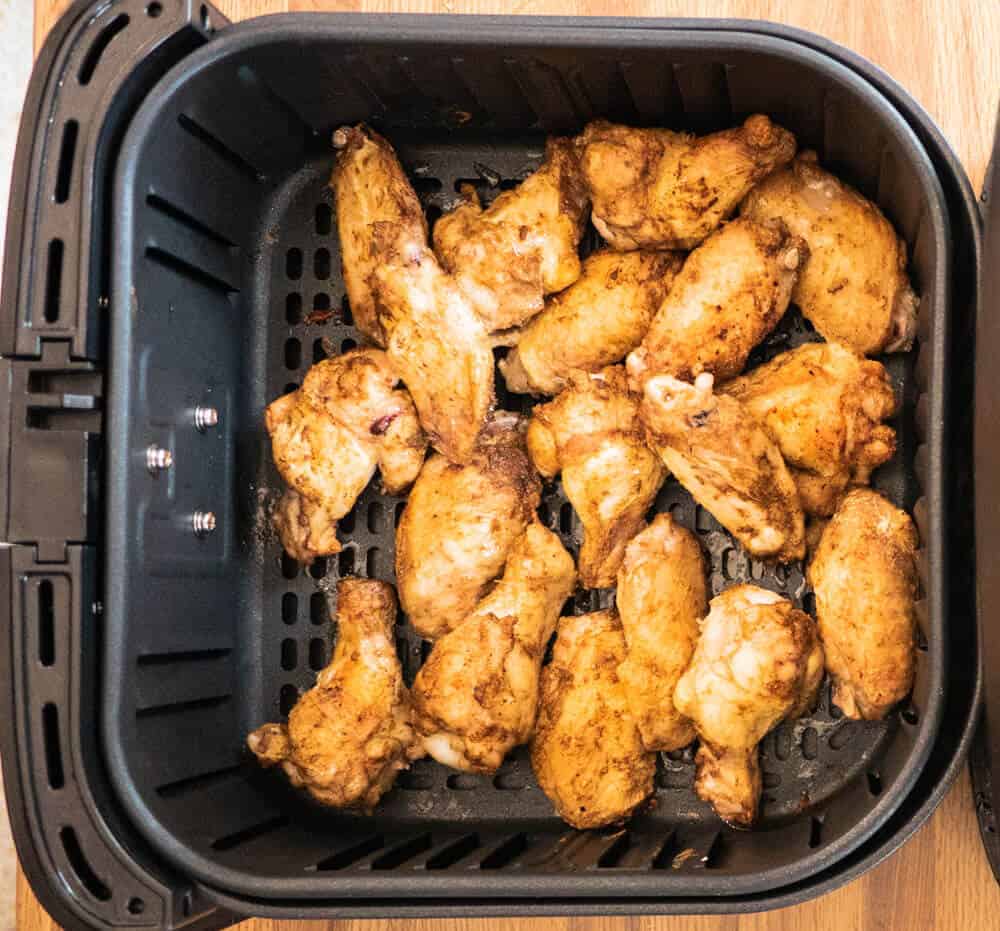 Here were my wings after about 20 minutes. They are looking great. I gave them another couple of minutes just to get them a little more golden brown and delicious.
Remove the wings and eat. I like to top them with green onions for a delicious looking presentation.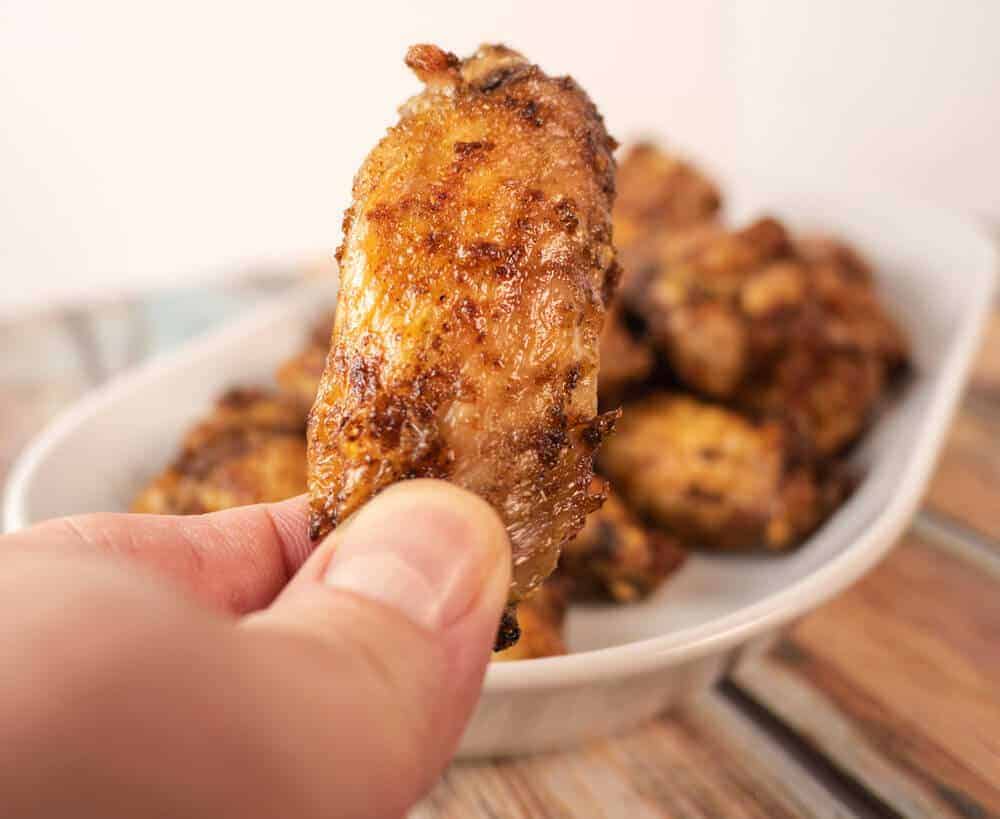 As you can see they came out great. I love these jerk chicken wings. They are so darn tasty and addictive. I love Caribbean flavors.
What to Serve with Wings
Sometimes we just want something on the side to nibble on along with our wings. Of course celery and your dressing of choice like blue cheese or ranch dressing go great with these wings.
If you ever got Caribbean food in my area it is almost always served with steamed cabbage. Here is my version of Jamaican Steamed Cabbage.
It will go great with this or really any dish. You could also even serve these Instant Pot Collard Greens. Both of these recipes are delicious and would go great with wings.
Equipment and Items Used in this Recipe
Cosori 6 Quart Air Fryer
Misto Oil Sprayer
Jamaican Jerk Seasoning
AmazonFresh Organic Cold Pressed Olive Oil
Some Other Air Fryer Recipes From Stuff Matty Cooks
Air Fryer Chickpeas Recipe
Air Fryer Chicken Easy Crispy Low Fat and Healthy
Vegetarian Pasta Salad Instant Pot
Jerk Chicken Wings Recipe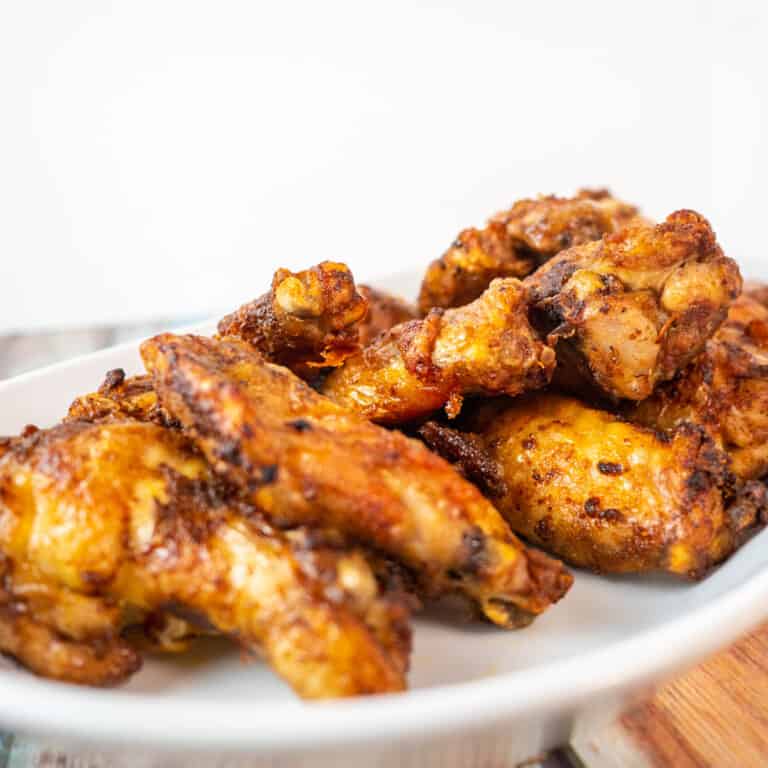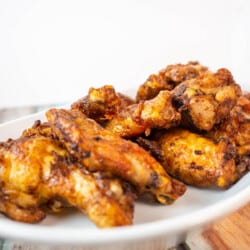 Jerk Chicken Wings Recipe (Air Fryer)
Jerk Chicken Wings Recipe (Air Fryer)
Print
Pin
Rate
Ingredients
1/12 to 2

Pounds

Chicken Wings

Wing Tips Removed

1

teaspoon

Salt

Fresh Ground Pepper

10 – 12 Turns of a Pepper Grinder About a teaspoon

1

Tablespoon

Jerk Seasoning

1

Tablespoon

Cornstarch

1

teaspoon

Olive Oil
Instructions
Trim Wing tips from chicken wings and put Chicken Wings in a Bowl. 
Sprinkle Chicken Wings with Salt

Pepper the Chicken Wings with about 12 turns of a Pepper Mill

Coat the Wings with the Jerk Seasoning.

Sprinkle Cornstarch Over the Chicken

Mix Up Chicken Wings to Coat with Ingredients

Put Chicken Wings in Air Fryer Basket trying to get them in a single layer.

Spray wings with the Olive Oil Sprayer (If you do not have drizzle wings before putting in basket)

It is ok to have them overlap a bit but do not have them stacked on top of each other. Assuring to get even air circulation.

Turn Air Fryer to 380 Degrees and a cooking time of 20 to 22 Minutes. Shake or Flip Chicken Wings halfway through cooking time. Check wings at about 20 minutes for doneness. Cook a few minutes more if you like them a bit more well done or crispy.

Serve with Celery and Blue Cheese or Ranch Dressing.

Makes 2 Servings
Nutrition
(Visited 68,895 times, 1 visits today)