Instant Pot Buffalo Harissa Chicken Wings are definitely a unique change from standard Buffalo Wings.
In my never ending quest to come up with new ideas for chicken wings flavors I give you Buffalo Harissa chicken wings. What is Harissa you ask? Harissa is a North African Chili Paste that is a very popular condiment in that type of food. It is said that it is popular as ketchup is in the United States, but make no mistake Harissa doesn't taste anything like ketchup.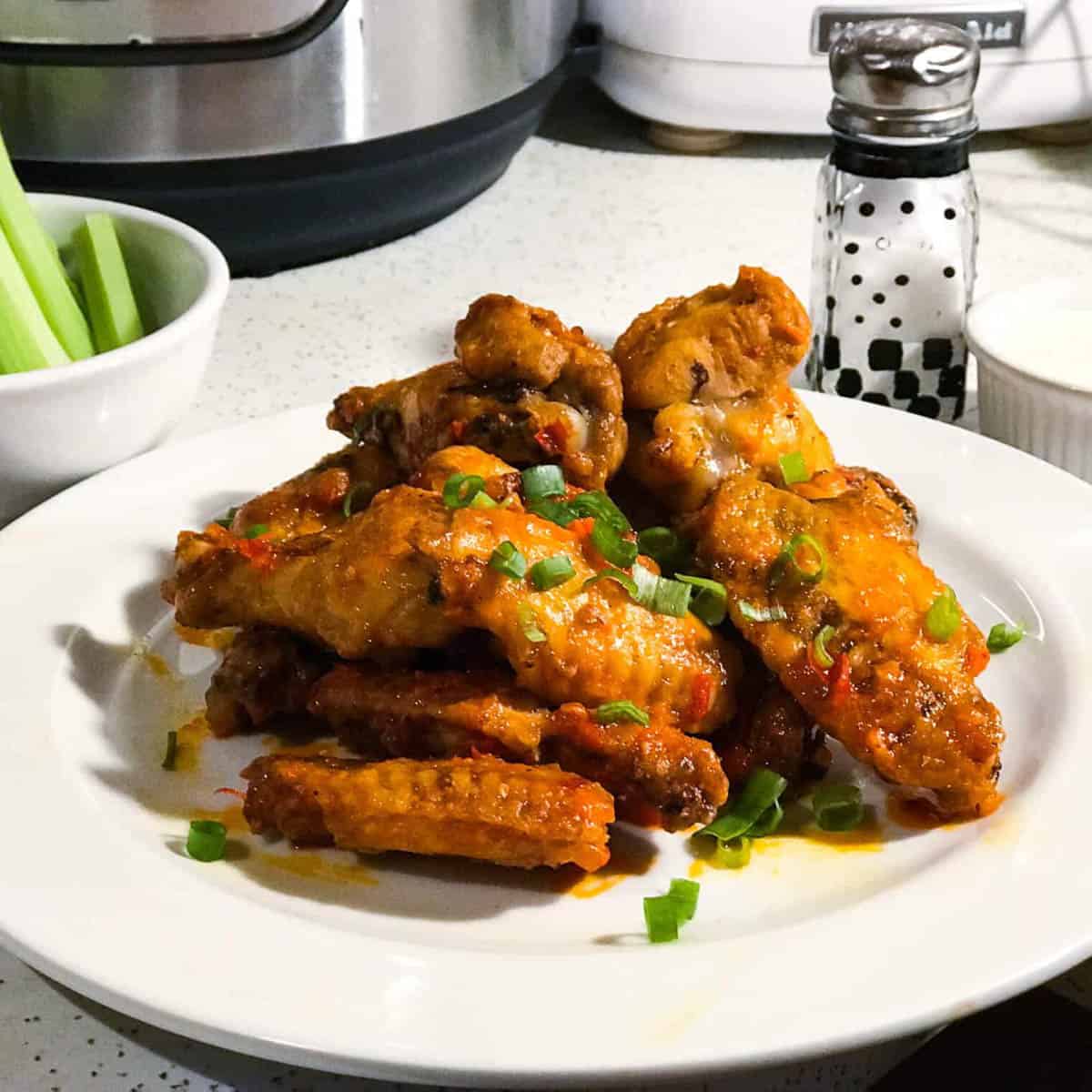 With the Instant Pot you can't have these wings ready in a flash. In this recipe I did 2 pounds.I made a little extra because I knew I would want the leftovers:-). When it comes to chicken wings in the instant pot I usually just throw the wings in straight from frozen. I make sure to use the trivet or a steamer basket to keep the wings out of the cooking liquid. I don't even bother putting seasoning on the wings until they are tossed in the sauce. After all the whole point of the instant pockets to make things quick and easy.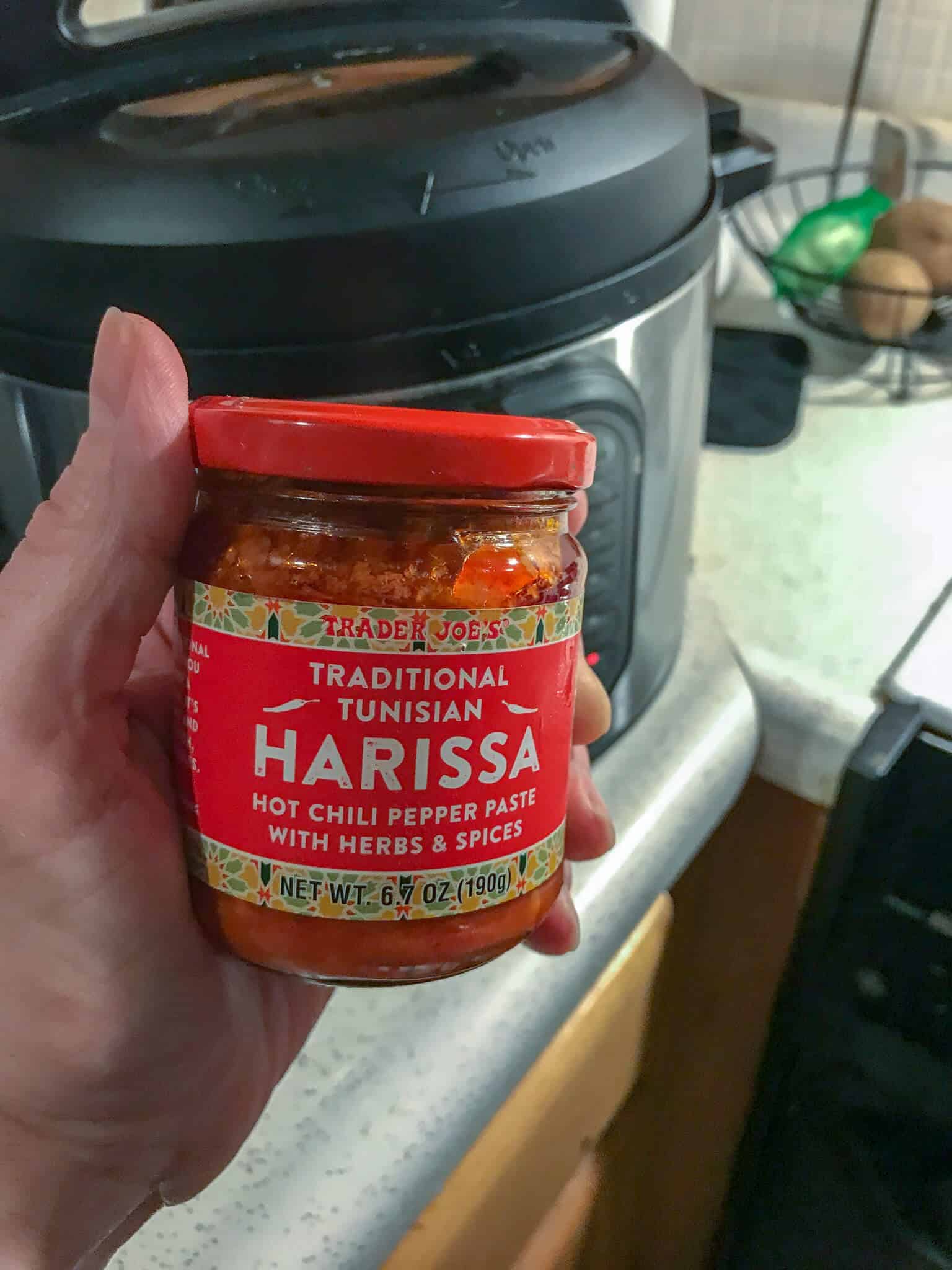 I got my Harissa sauce at Trader Joes but I'm pretty sure you can get it most markets these days.It really is like chili paste but just not as sweet it's got a little bit of a roasted pepper flavor to it Plus a little bit of heat which makes it great for chicken wings. whatever you do don't skip the broiling step for the wings. This is important both for color and flavor. I know you will enjoy these wings they're pretty much like Buffalo wings with a special kick.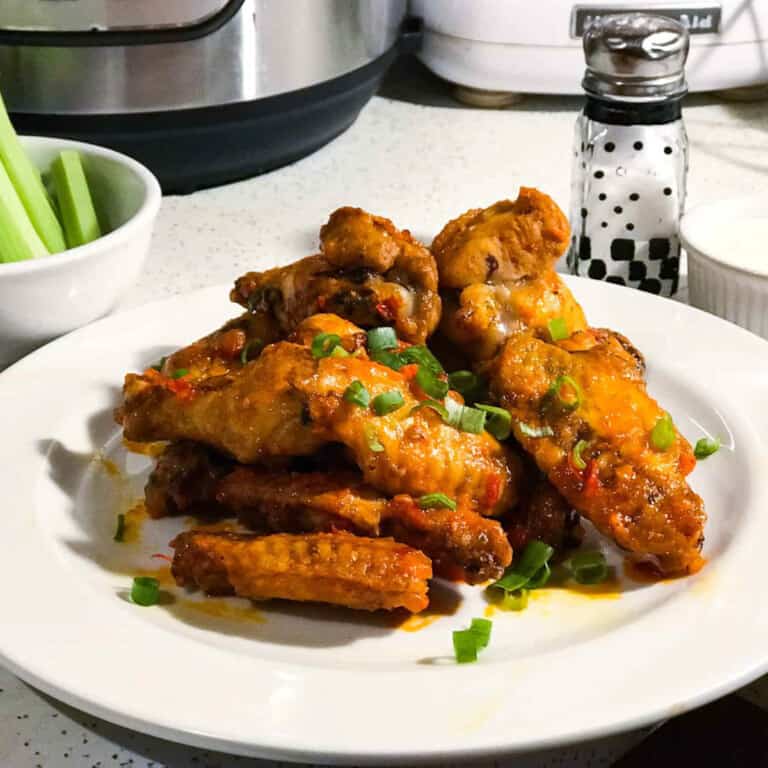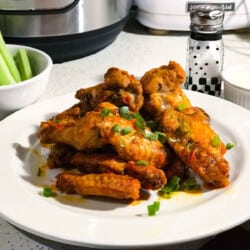 Instant Pot Buffalo Harissa Chicken Wings
Instant Pot Buffalo Harissa Chicken Wings. A little spicy with a very unique flavor kick.
Print
Pin
Rate
Ingredients
2

pounds

Chicken Wings and Drumettes

1

tbsp

Butter

2

tsp

Apple Cider Vinegar

2

tsp

Soy Sauce

2 to 3

tsp

Hot Sauce (Franks Red Hot)

1 1/2

tbsp

Harissa Chile Paste (Got mine at Trader Joes)

1/2

tsp

Garlic Powder

1

cup

Water

3

tbsp

Chopped Scallions for Garnish
Instructions
THIS RECIPE WAS MADE WITH FROZEN WINGS. IF YOU WANT TO MAKE WITH FRESH WINGS DECREASE COOKING TIME 2 MINUTES.

THIS IS A 2 PART RECIPE. WINGS ARE BROWNED UNDER BROILER AFTER BEING COOKED IN THE INSTANT POT.

Insert trivet into Instant Pot. If you have a steamer basket that will work too. You just want to keep the wings out of the liquid.

Put wings into Instant Pot. No seasoning is required at this point seasoning will be in wing sauce. Put 1 Cup water in bottom of Instant Pot.

Close Lid of Instant Pot and move valve to SEAL. Push POULTRY button on front of Instant Pot and set time to 10 MINUTES. It is going to take about 10 to 15 minutes for Instant Pot to come to pressure.

When cooking is complete do a QUICK RELEASE of the pressure and then go and heat up your oven broiler.
Make Sauce
I do this in the microwave but you can do it in a saucepan on the stove if you prefer. In a microwave safe bowl put Butter,Vinegar,Soy Sauce,Hot Sauce,Garlic Powder and season with some Salt and Pepper.

Put in microwave for about 90 seconds or just until butter melts and sauce is warm. Stir sauce to combine and then salt and pepper to your liking.
Broil Wings
Put wings on a sheet pan in a single layer. Place under broiler about 6 inches from heat source. Broil about 4 to 5 Minutes per side.

Toss broiled wings in wing sauce.

Enjoy.
Nutrition
SaveSave
SaveSave
SaveSave
SaveSave
SaveSave
SaveSave
SaveSave
SaveSave
(Visited 2,674 times, 1 visits today)