Instant Pot Chicken Adobo is one of the best recipes. This recipe has such a unique flavor profile. It is an absolutely delicious dish. Tart and savory with a hint of sweetness.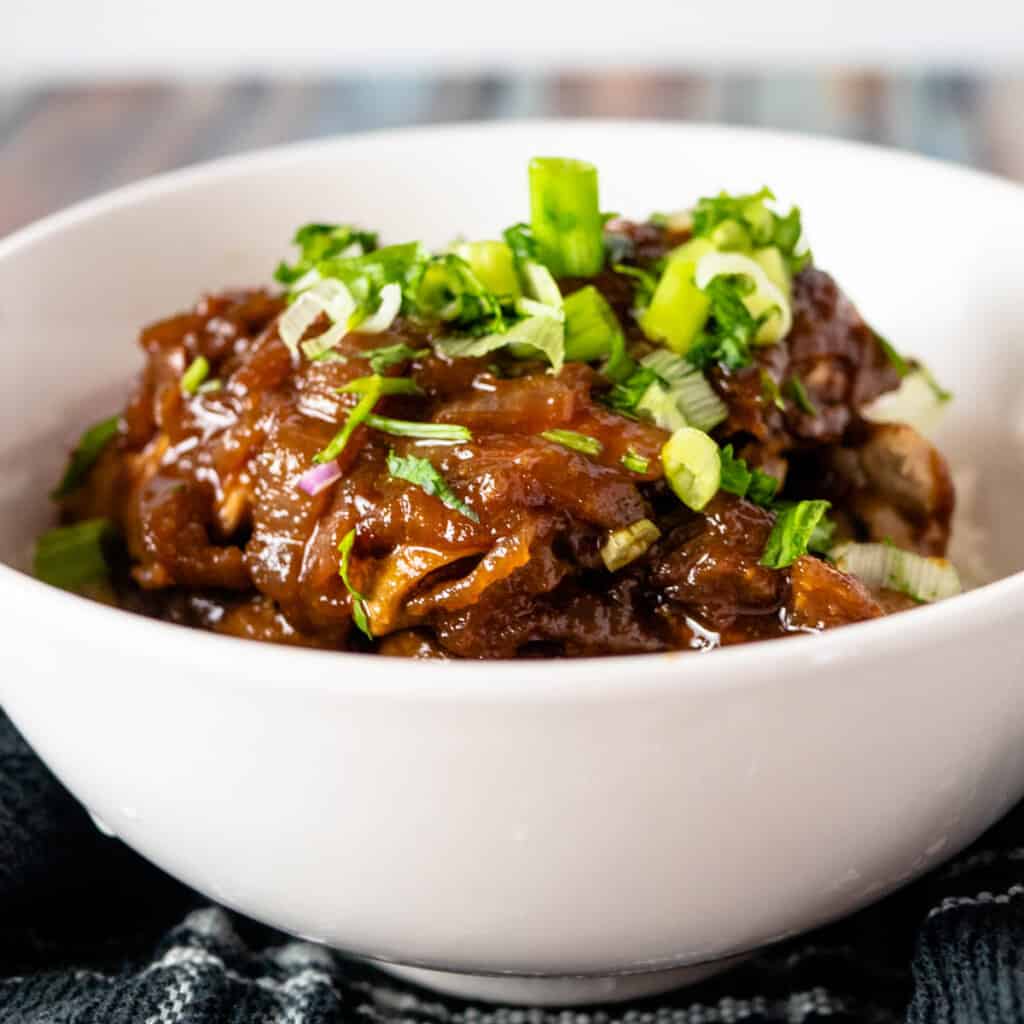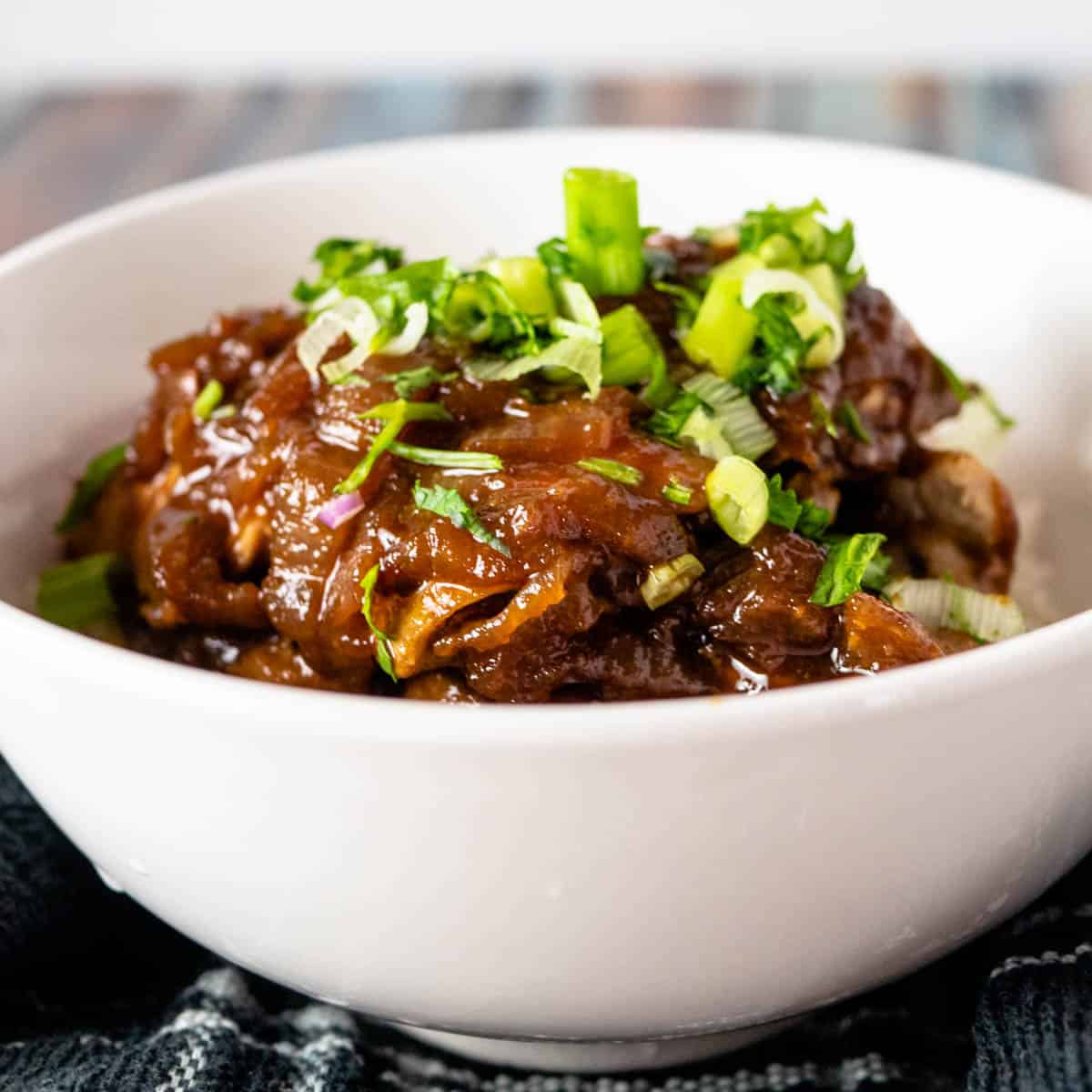 Instant Pot Adobo Chicken
Instant Pot Chicken Adobo is a unique Asian flavor that my family loves. The combination of soy sauce, vinegar, and garlic gives this dish its special flavor.
Although this is not actually an AUTHENTIC filipino chicken adobo recipe it is the same flavor without the specialty ingredients that can be hard to find. This recipe uses a little bit more than a 1/4 cup low sodium soy sauce. Much less sodium than an authentic recipe.
What Does Filipino Adobo Chicken Taste Like?
I always describe adobo as a unique Asian flavor that is the perfect blend of sweet and salty. The vinegar gives this dish its unique flavor and balance. Everyone in my family and my friends love this dish.
What is Adobo Chicken?
The authentic version of Adobo either uses chicken or pork. The term adobo means to be stewed in garlic bay leaves, peppercorns, soy sauce, and vinegar. This dish is a staple in Filipino culture.
I created this recipe using common ingredients that most home cooks will have in their pantry. This Filipino chicken dish is easy to make and the chicken comes out fork tender and the adobo sauce is so flavorful. This dish will make your entire house smell amazing while cooking.
Filipino Chicken Adobo Instant Pot Ingredients
Chicken Thighs (Boneless or Bone-in)
Onion
Garlic Cloves (Minced)
Soy Sauce ( I used Low Sodium)
White Vinegar
White Sugar or Brown Sugar (use what you have)
Red Chili Flakes
Chicken Broth
Water
Chopped Cilantro
Scallions (Green Onions)
Bay Leaves (Optional)
Salt
Pepper
Black Peppercorns (Optional)
Full Ingredients and Measurements in Recipe Card Below
Chicken Adobo Instant Pot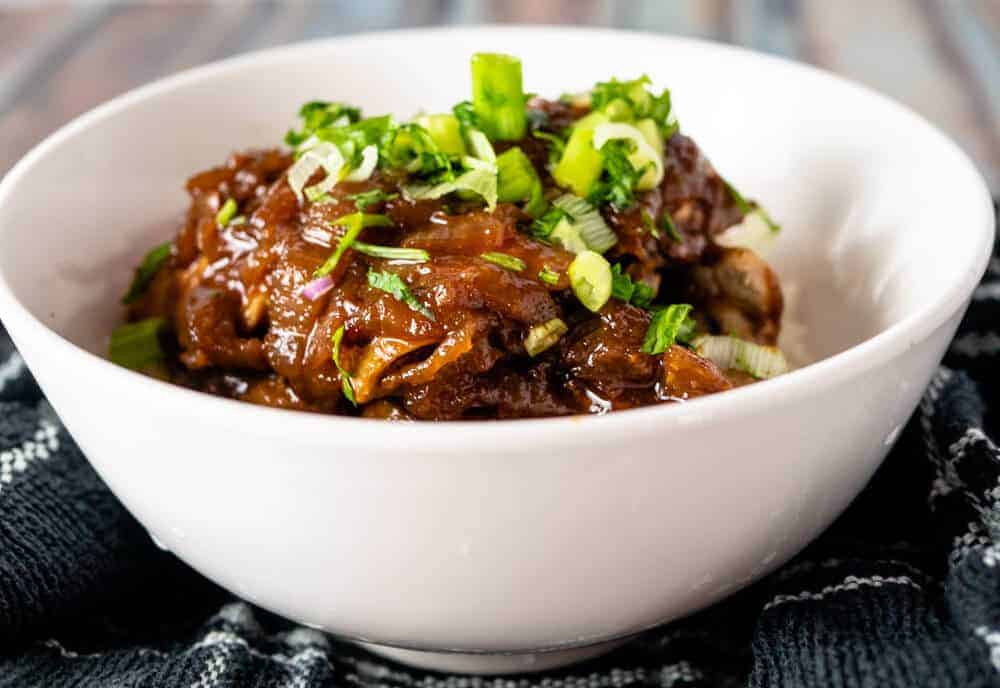 How to Make Chicken Adobo
This is a great quick meal for any weeknight that the whole family will enjoy. Best of all It can be made very quickly in the Instant Pot. It can be made also with Fresh or FROZEN chicken.
Whatever you choose the cooking time is the same. This can also be made with bone-in chicken thighs.
How to Cook Chicken Adobo in Instant Pot
Step 1 – Season the chicken thighs– Season chicken with salt and pepper. If using frozen chicken skip this step.
Tip: If you are using FRESH chicken and want to boost the flavor even more brown the chicken on the HIGH saute function for a few minutes per side before adding the other ingredients. This is NOT a required step but it makes it even better. If using chicken with skin always start your sear skin side down.
Step 2- Make the Sauce – Mix together in a bowl the soy sauce, white vinegar, sugar, chili flakes minced garlic cloves and chicken broth.
Tip: A shortcut I use is to use the Better Than Bullion chicken base and mix it with water. It has a great flavor and is wonderful in this dish. There is a link below to buy it if you like.
Step 3 – Place Ingredients in Instant Pot – Place chicken pieces in the Instant Pot and top with the sliced onions. Pour the sauce you mixed up over the chicken.
Step 4 – Cook the Chicken – Place the lid on the Instant Pot locking the lid. Turn valve to the SEAL position. Press your poultry button and set the timer for 11 minutes. NOTE: if you do not have a poultry button you will either have a manual button or a pressure cook button.
When using the PRESSURE COOK button make sure that it is set to HIGH PRESSURE. When cooking is complete release pressure and remove the lid. Remove chicken and set aside. Press Cancel on the Instant Pot.
Step 5 – Reduce the sauce – Press the SAUTE button until it is on the HIGH setting. Sauce will come to a bit of a boil. Reduce sauce until it becomes darker.
This takes about 15 minutes. The sauce will also thicken a bit. Do not skip this step or cut it short. This is an important step.
Once the sauce has become darkened and thickened return the chicken to the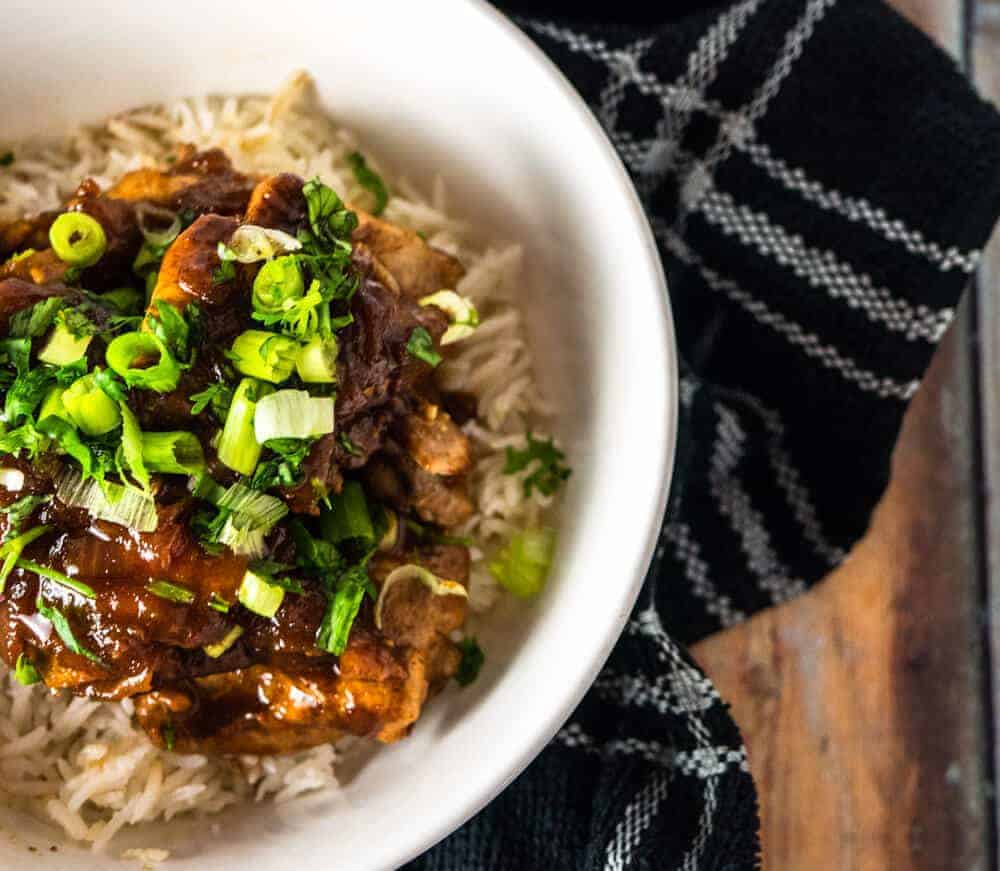 Can you Make Chicken Adobo in the Slow Cooker?
Yes, you can. Just start with chicken that is already defrosted. Put everything in your crock pot slow cooker and turn on Low for a cooking time of 4 hours.
When cooking time is complete add a slurry of 2 Tablespoons Cornstarch to 3 Tablespoons water to crockpot and then cook on HIGH 20 minutes longer. Do NOT add cornstarch directly to slow cooker.
What to Serve with Adobo Chicken
White Rice
Brown Rice (This is a good recipe)
Quinoa
Jasmine Rice
When i make this recipe I usually make a double batch. I sometimes will individually freeze portions of this recipe in storage bags. This makes it even easier to make dinner quick and easy. Just remove the portion from the bag place in the Instant Pot and cook.
If you choose to cook the whole batch at once that is also fine to do. In fact adobo chicken is even better the the next day. Belive it or not this is a great recipe for meal plan or if you are low carb. There really are only about 3g of carbs.
How to Reheat Adobo Chicken
Of course you can always take the easy route and reheat the adobo chicken in the microwave but if you are like me food reheated in the microwave is really not that good. Stick with me there is a better way.
Stovetop Method
Reheating on the stove top is simple. Place adobo chicken in saucepan or skillet and reheat on medium heat about 15-20 minutes until hot.
Reheat Adobo Chicken in Instant Pot
Not sure if you're familiar and if you are not I am about to show you a great trick. Not only is your instant pot great for cooking food but it is also wonderful for reheating food. Are use the steam function for this and food that is reheated using this method is as good as the day it was made.
Place chicken in Instant Pot
Close lid and valve on Instant Pot
Press STEAM Button and set timer to about 7-8 minutes
When timer beeps release pressure.
Serve
Please leave me a comment and let me know what you think about the recipe.
Matty.
Other Recipes:
Instant Pot Soyaki Chicken
Instant Pot Chicken Lo Mein
Instant Pot Mongolian Chicken
Chicken Lettuce Wraps (Instant Pot)
Kitchen Essentials and Items Used to Make This Recipe
Instant Pot Duo Nova 6 Qt. Pressure Cooker
Better Than Boullion Roasted Chicken Base
365 Everyday Value Shoyu Soy Sauce
Imarku Chef Knife – Pro Kitchen Knife 8 Inch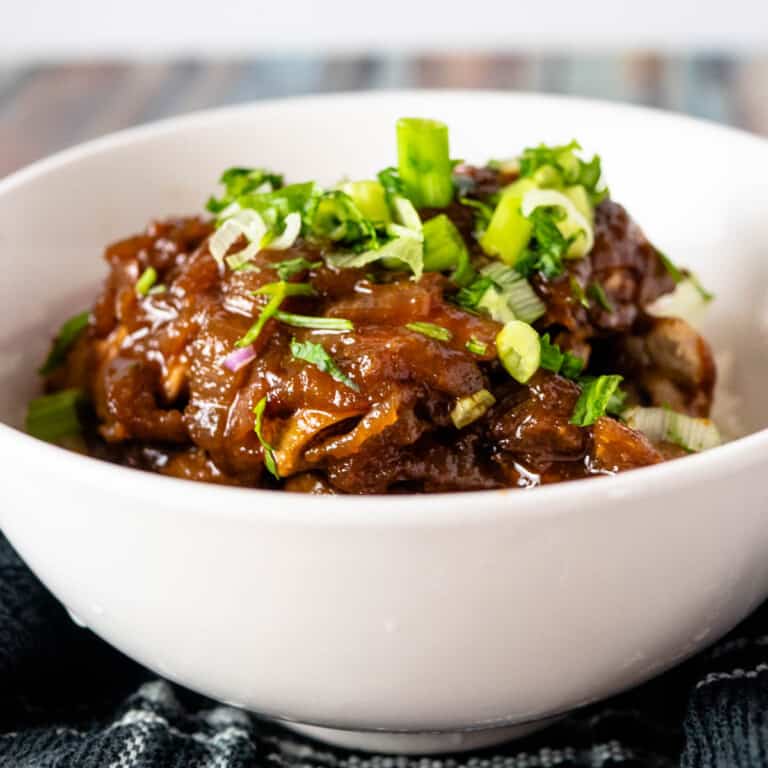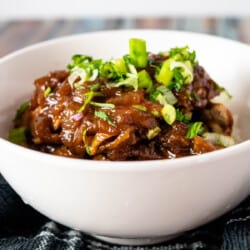 Instant Pot Chicken Adobo Recipe
Instant Pot Chicken Adobo is savory and tart with a hint of sweet.
Print
Pin
Rate
Ingredients
3

Boneless Chicken Thighs (Fresh or Frozen

1

Half an Onion Sliced

2

Cloves

Garlic Minced

5

Tbsp

Low sodium soy sauce

2

Tbsp

White Vinegar

2

Tbsp

Sugar

1/2

tsp

Red Chili Flakes

1/2

Cup

Chicken Broth

1/2

Cup

Water

1

tbsp

chopped cilantro

set aside for garnish

1

tbsp

chopped scallions

set aside for garnish

Salt and Pepper to taste
Instructions
Salt and Pepper the chicken Put chicken in Instant Pot. I used FROZEN chicken for this recipe but you can use fresh chicken and the cook time is the same. Top chicken with the sliced onion. Mix together in a bowl soy sauce, white vinegar, sugar, chili flakes garlic and chicken broth (I use the chicken base) and water. Add all the liquid to the Instant Pot.

Put the lid on the Instant Pot and turn valve to SEAL. Press Poultry button and set time to 11 Minutes. When cooking is completed release pressure of Instant Pot by opening the valve. Remove chicken from Instant Pot and set aside. Press cancel on Instant Pot. The press the SAUTE button and set to the High setting. Let sauce reduce until it becomes darker in color. This takes about 15 Minutes. Then Put chicken back in pot with reduced sauce to warm it up a bit. Then serve chicken and spoon sauce over it and enjoy. I serve the chicken over rice.
Nutrition
(Visited 129,091 times, 1 visits today)