If you have never had oven-roasted tri-tip then I am here to tell you that you are in for a treat. What great flavor tri-tip has and it is also TENDER! This a great family or holiday meal.
Stop missing out on this wonderful cut of meat any longer. cooking this tri tip recipe oven roasted is easy and a great family dinner.
This has now turned into one of my favorite cuts of beef. It is so tender and has so much flavor. It is like the flavor of ribeye with the tenderness of a filet mignon.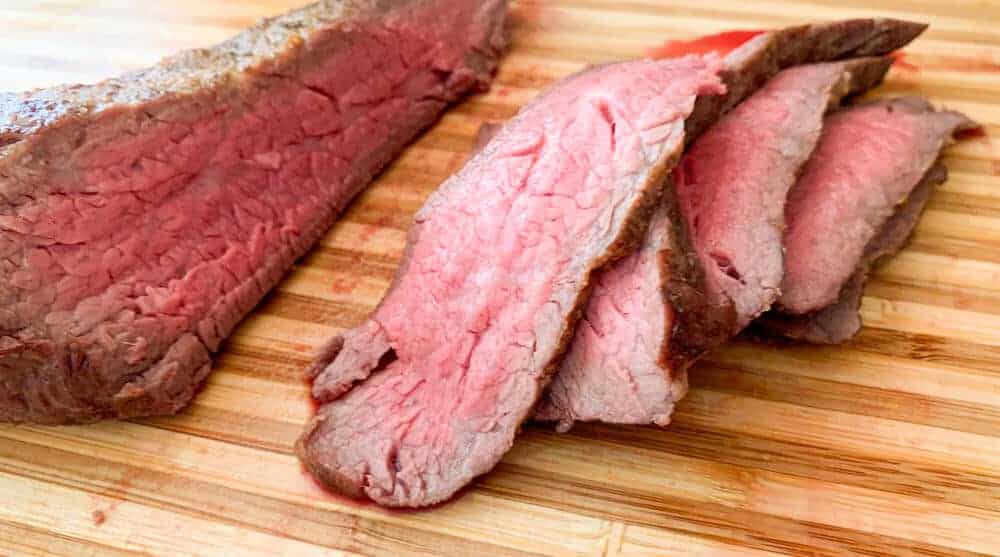 Oven Roasted Tri Tip


What is Tri-Tip Beef?
Beef Tri Tip is cut from the bottom sirloin and it has 3 tips. It looks like a triangle. Sometimes called "triangle roast." Made popular in Santa Maria California in the 1950s.
It can also be called "California Cut." This cut of beef is sometimes called the poor man's filet mignon. "Santa Maria Steak" is also a name for tri tip.
Where to Find Tri Tip Roast
These days alot more supermarkets are starting to carry Tri Tip Roast. I got the one below at Whole Foods. Most of the time they have it available.
If you have a local butcher that you use they will generally have Tri Tip available. Since this cut of meat is getting more and more popular it is becoming more common. This is a perfect roasted recipe for tri tip.
How to Oven Roast Tri-Tip
I am going to show you a foolproof way to make baked tri tip. It is fairly simple to do. When you buy a tri-tip roast they usually are about 2 pounds I have noticed. If you can get bigger do it because leftovers make really great sandwiches.

Seasoning your Tri-Tip Roast
It does not take much to make a tasty tip roast. I used a spice mixture of salt and black pepper, garlic powder, and seasoned salt. I then coated the meat with a bit of olive oil. Some people will marinate them but for this recipe, I did not bother because the meat is so flavorful and tastes great even without marinating.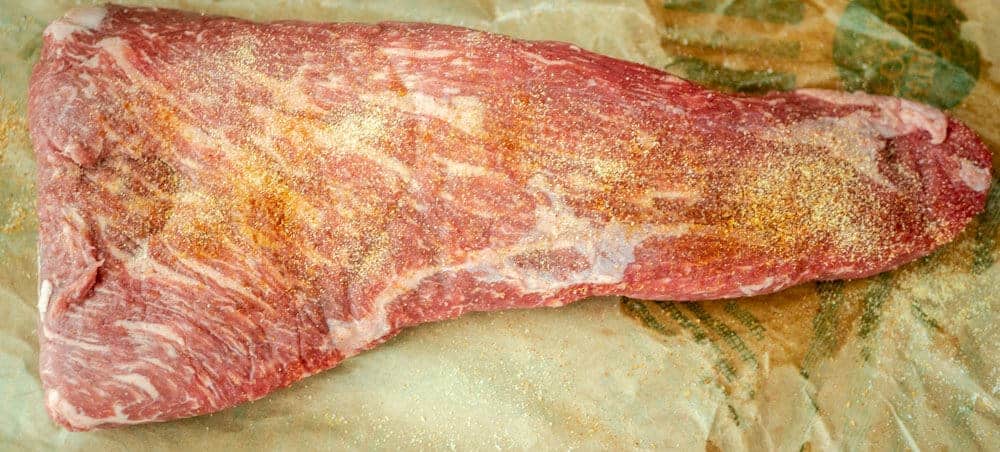 Be pretty liberal with the spices, you will not regret it at all. When searing in the end it will make a nice crust of flavor on the meat that is really good. You can also season the tri-tip with any spice rub that you would season a steak with if that makes life easier for you. Place beef in a plastic bag.
Slow Cooking Tri Tip
Slow cooking tri tip is my secret weapon in cooking this tri tip is to cook it at a LOW temperature. The old " Low and Slow" method. Do not worry though, For this method, it is cooked at a temperature of 275 degrees.
It takes a little bit longer than some of the other methods but this method is worth waiting a little longer. This beef tri tip recipe is going to be a favorite.
It really helps to have one of the digital meat thermometers with the probe that you stick into the meat and can set the temperature at which you would like the meat done.
The one I have is the Thermopro TP20 Digital Thermometer. You can absolutely use a standard Instant read thermometer but the one that I mentioned makes life easy and is a worthwhile investment.
How to Cook Tri Tip
I am going to show you how to cook a tri tip. Most of the time people are wanting to slow smoke a tri tip. There are alot of ways of cooking a tri tip. The method I am going to show you is how to cook a tri tip in the oven.
Let us get started cooking this Oven Roasted Tri Tip Recipe. After seasoning your beef tri tip roast with the spices and a light coating of olive oil you are going to want to put the roast on a roasting rack in a roasting pan.
The object is to keep the tri tip roast from sitting directly on the bottom of the pan. You want to keep it a bit elevated so the air circulation around the roast is even.
Put a small amount of water in the bottom of the pan. Just enough to cover the bottom of the pan. About a half a cup of liquid.
How to Cook Tri Tip in Oven
There is just a few steps in learning how to cook a tri tip in the oven. Seasoning generously with salt,pepper and garlic is the first step. Add in any other spices you enjoy like for example rosemary is good too.
Rub the cut of meat with some olive oil or spray with some olive oil spray. I use one of the glass spray bottles and they make it easy.
If you are using a temperature probe place it in the meat starting at the thickest point of the meat and put in the meat lengthwise. Place the roasting pan in an oven preheated to 275 degrees.
Rub tri-tip with your favorite seasoning salt and black pepper.
Heat oil in an oven-safe pan and sear the tri-tip, fat-side down.
Flip tri-tip and pop it in the oven.
Bake for 10 to 15 minutes per pound.
Cook to an internal temperature of 128 degrees
Allow roast to rest for 10 minutes, and done!
Internal Temp for Tri Tip Roast
For this recipe, I cooked the tri tip to an internal temperature of 128 degrees. When you take the roast out of the oven the internal temp will goto about 133 degrees. This to me is the perfect doneness. This is a rare to medium-rare temp.
Rare 135-140 Degrees
Medium Rare 140-145
Medium 145-150
Well 150-155
How Long to Cook Tri Tip in Oven
I use the meat probe and set the tri tip temp at 128 degrees for rare. If you do not have a meat probe the cooking time for the tri tip at 275 degreess is just about 60 minutes. Resting time for the tri tip steak is 20 minutes.
Reverse Sear Tri Tip Oven or Grill
Once the roast is done you are going to want to sear it. You can do this under the broiler for about 5 minutes per side. If you have easy access to a grill it would also be about 5 minutes per side.
You can also do this in a cast iron skillet on the stove. Reverse sear means that you cook the meat first and then sear instead of the traditional sear first method.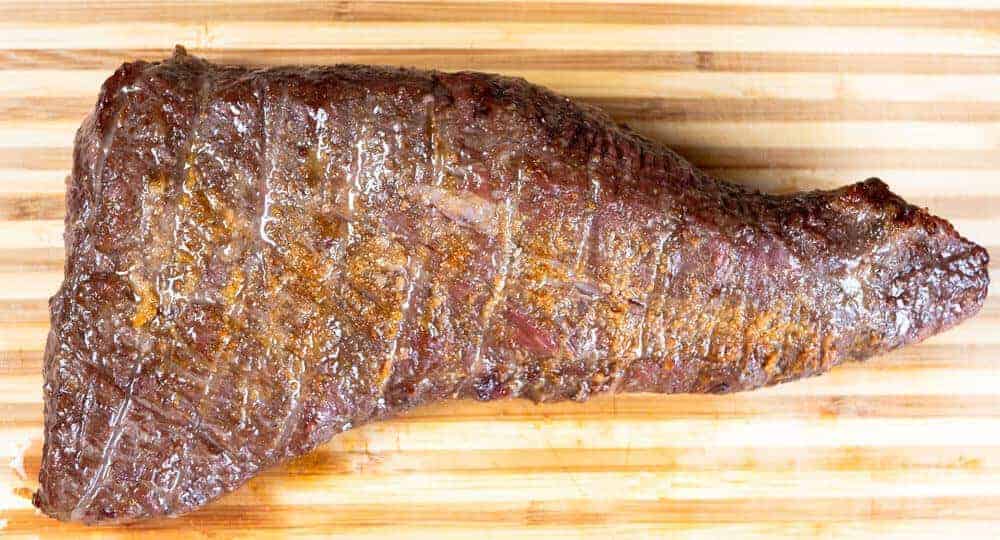 How Long to Let Tri Tip Rest
A general rule of thumb is to let the meat rest about half the amount of cook time. Since this Oven Roasted Tri Tip was cooked abut an hour a rest time of about 20 minutes is suggested.
How to Cut a Tri Tip Steak
How to cut a Tri Tip is a common question. The correct way of slicing a Tri Tip Steak is to place the meat on a cutting board and slice against the grain into thin slices holding the knife at a slight angle. This will give you the most tender cuts of meat. Let the meat rest several minutes before slicing.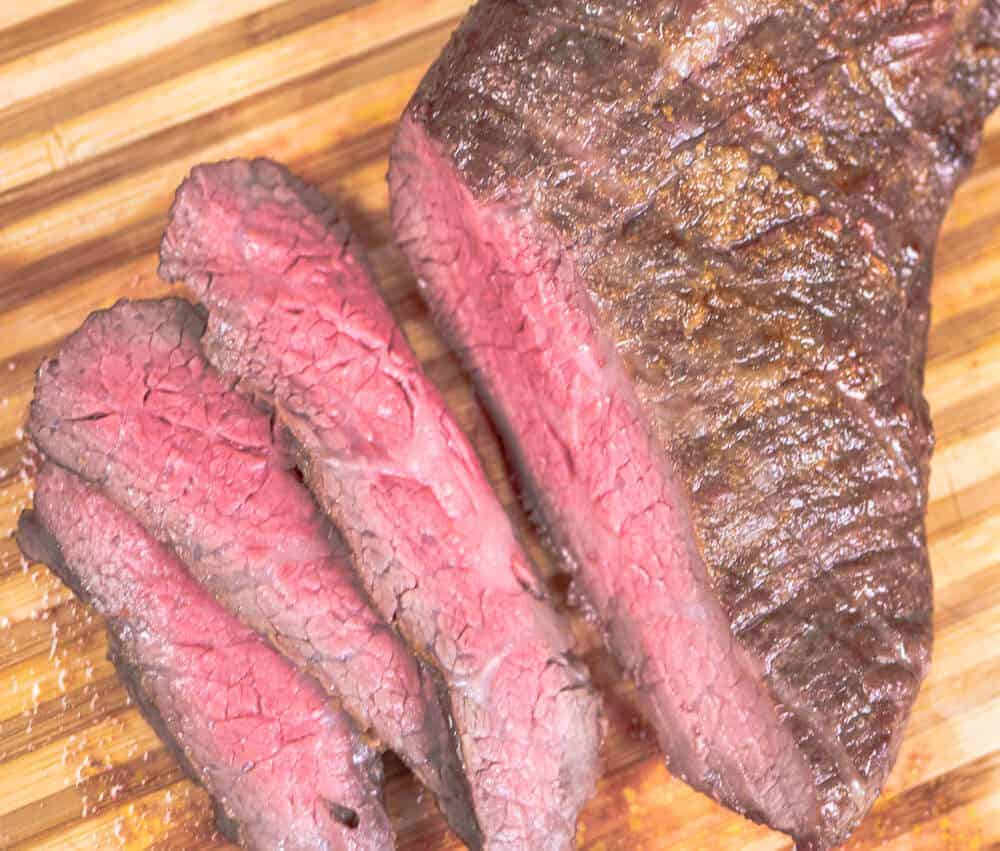 What to Serve with Tri Tip
Of course there is a number of things that you can serve with Tri Tip. The standards like mashed potatoes and gravy are great. Roasted Potatoes or even something as simple as a baked potato is great. I have linked to a few side dishes that I think you would love and are a great accompaniment to this wonderful dish.
Parmesan Brussel Sprouts
Sauteed Jamaican Cabbage
Lemon Asparagus Salad
I am sure you are going to enjoy this cut of meat as much as I do. It is so flavorful and tender. Another great thing about it is, for the most part, it is a set and forget type of cooking process.
Making it a great cut of meat to serve at holidays or dinner parties. This makes it easier to spend time with friends and family.
Cosori Air Fryer Toaster Oven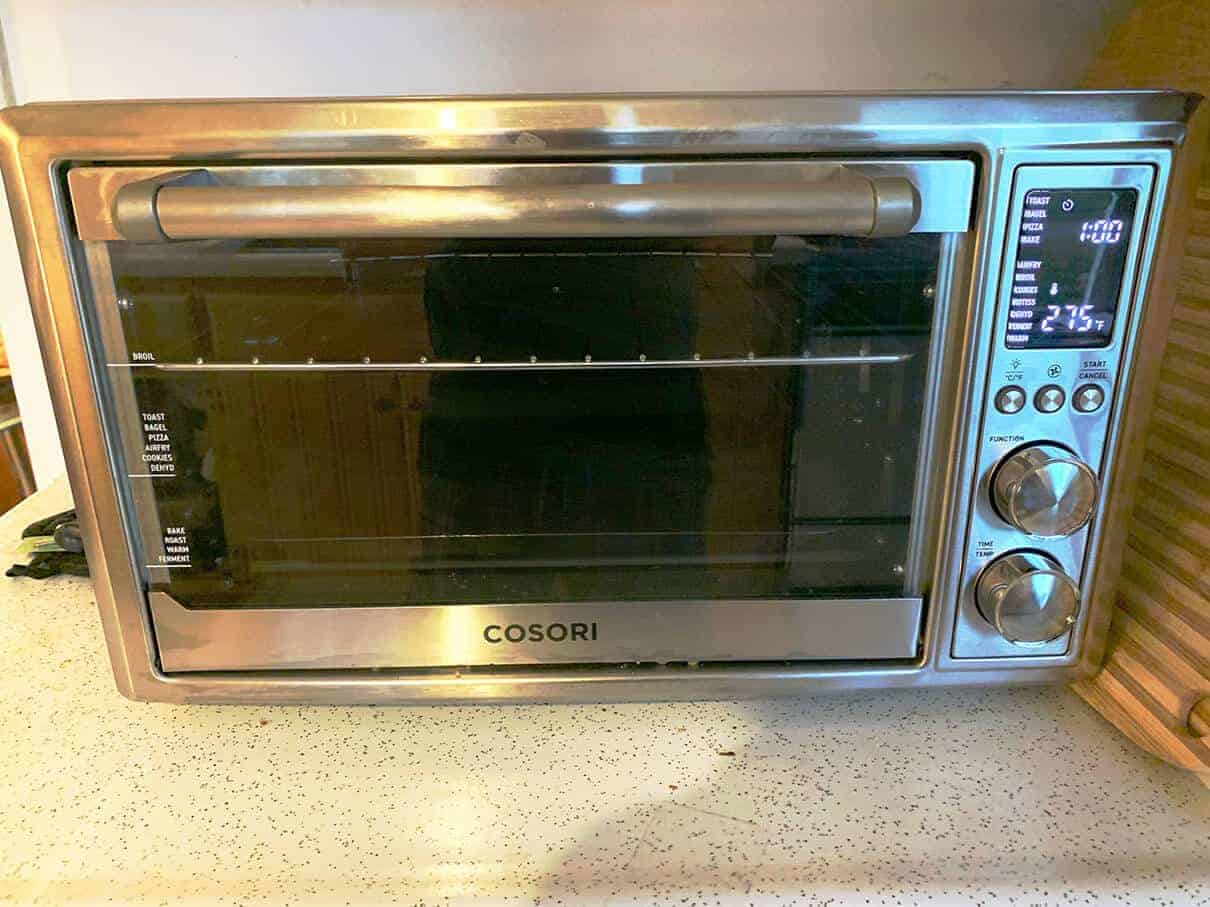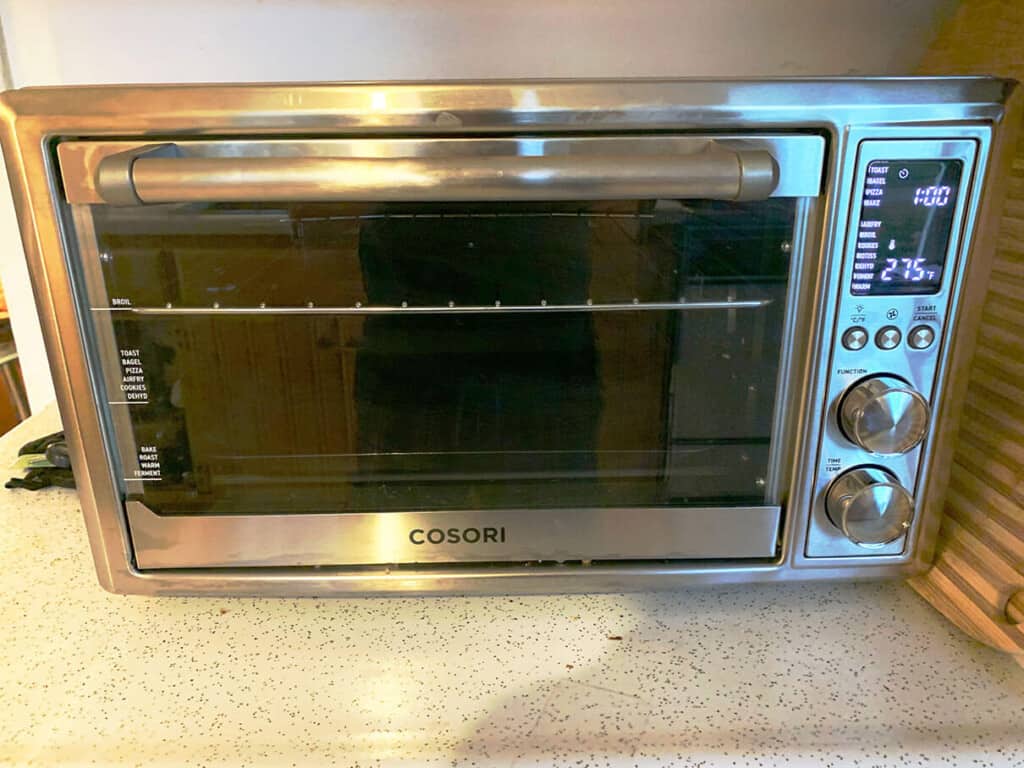 I actually used this Cosori Air Fryer Toaster Oven to cook the Tri-Tip. This is the Swiss Army Knife of Air Fryer Ovens.
I love it. It does everything. Cosori sent it to me to review and I have nothing but good things to say about it.
If you are in the market for an Air Fryer, Toaster Oven, Rotisserie or Convection style oven give this a look. It has become a staple in my kitchen making a lot of tasks faster and easier.
Cooking Instructions in Cosori Air Fryer Toaster Oven
Preheat Oven on Roast setting to 275 degrees.
Turn Convection fan on the LOW setting.
Cook Roast about 42 minutes to an internal temperature of 128 degrees.
Sear roast on BROIL setting under high heat for 10 minutes per side.
Rest meat 20 to 30 minutes.
Slice meat on the bias across the grain an enjoy.
Kitchen Essentials and Equipment
Cosori Air Fryer Oven
ThemoPro Remote Digital Meat Thermometer
Dalstrong Chef Knife Gladiator Series 8″
Cuisinart Lasagna Pan with Roasting Rack
Misto Frosted Glass Oil Sprayer Bottle
More Recipes
Instant Pot Collard Greens
Air Jerk Chicken Wings
Oven Roasted Tri Tip Recipe
Oven Roasted Tri Tip is flavorful, tender and juicy.
Ingredients
2

Pound

Tri Tip Roast

1

Tbsp

Olive Oil

1

Tbsp

Coarse Sea Salt or Kosher Salt

12

Turns

Fresh Ground Black Pepper

1

tsp

Garlic Powder

1

tsp

Seasoned Salt

1/2

cup

Water or Chicken Broth
Instructions
Preheat Oven to 275 Degrees

If you are using the Cosori Air Fryer Oven I used the Roast setting and also turned on the low speed convection fan.

If using a temperature probe insert lengthwise in the thickest part of the roast.

Season Roast with Salt, Pepper, Garlic, and Seasoned Salt. Pat in the spices.

Place roast on roasting pan with a rack to keep roast elevated off the bottom of the pan.

Pour 1/2 Cup of Water or Broth in Bottom of Roasting Pan.

Place roast in oven and roast at 275 degrees for about 42 minutes. This can take up to an hour. Cook meat to an internal temperature of 128 degrees for rare to medium-rare.

Once the meat has reached the desired temperature it is time to sear the meat. This can be done under the broiler, on a medium-high grill or in a skillet.

Sear time on broil in the Cosori Air Fryer Oven was 10 minutes per side.

Sear time under the broiler or on a grill would be 5 minutes per side.

Pan searing would be about 5 minutes per side.

Once the meat has been seared meat must rest. I find 20 to 30 minutes is sufficient.

Slice meat across the grain with the knife on an angle.

Enjoy this wonderful cut of meat.
Notes
When cooking roast in the Cosori Air Fryer Toaster oven I used the Roast setting with the low speed convection fan.
Cook time in a conventional oven is about 42 minutes to an hour.
Cut meat across the grain for most tender results.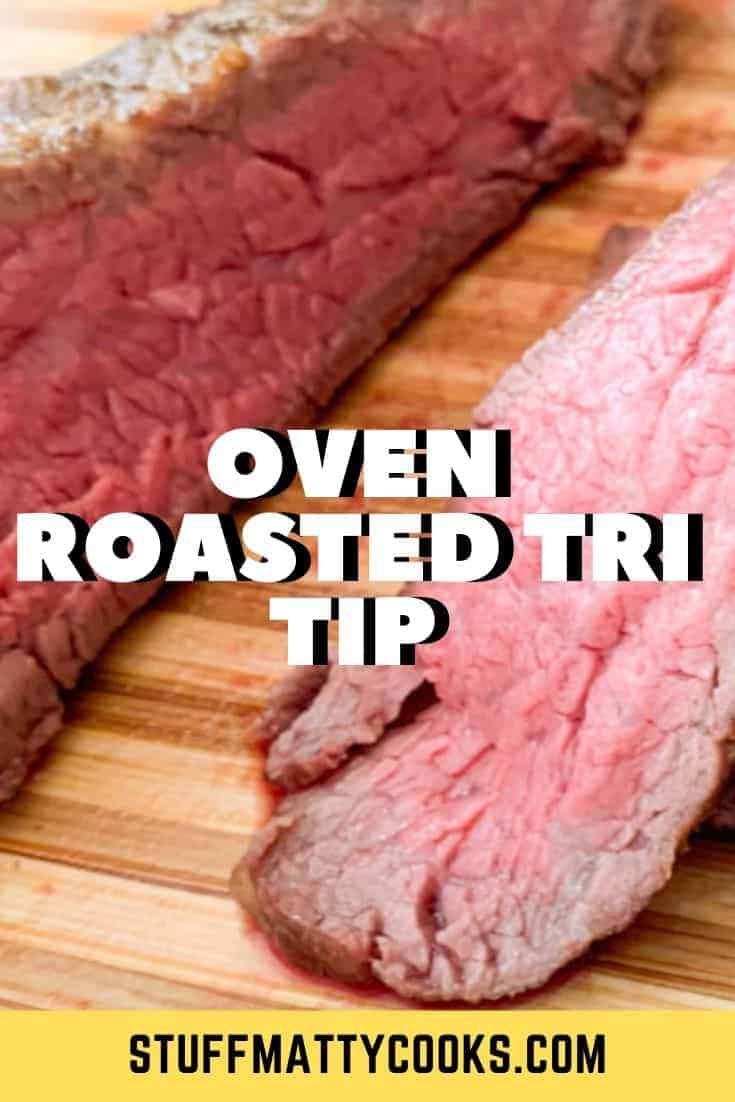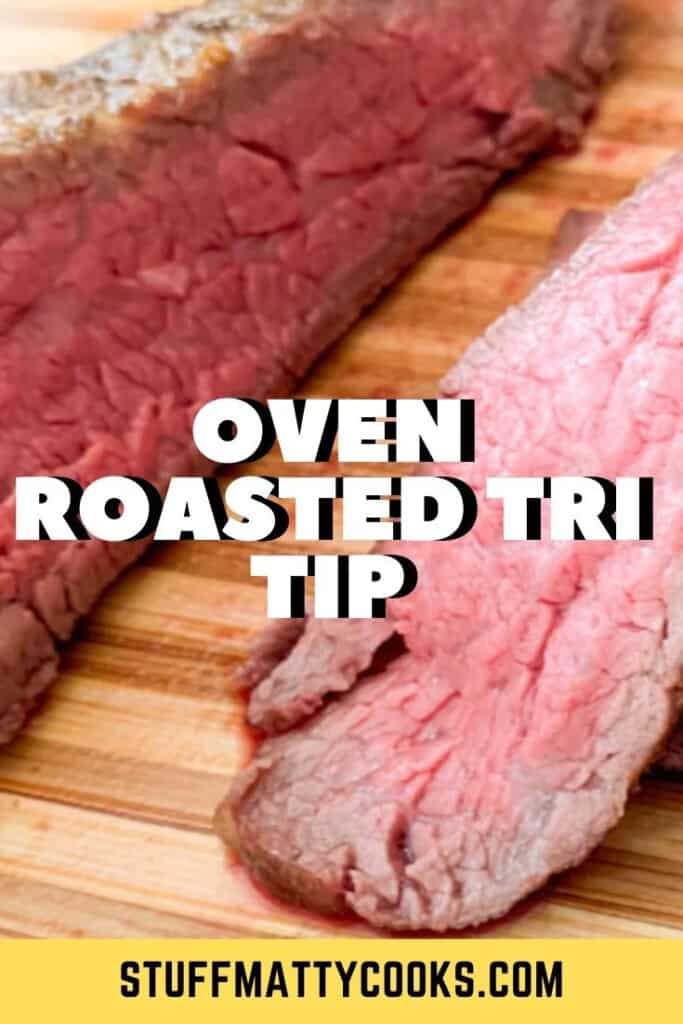 (Visited 65,261 times, 16 visits today)