These easy air fryer turkey legs come out juicy on the inside and crispy skin on the outside. These are delicious and they make your house smell like Thanksgiving. I mix up a quick seasoning rub which is more of a traditional style of seasoning turkey.
I drizzle them with avocado oil and season them liberally. I love the flavor of thyme and rosemary on turkey. Not to mention the amazing smell when cooking.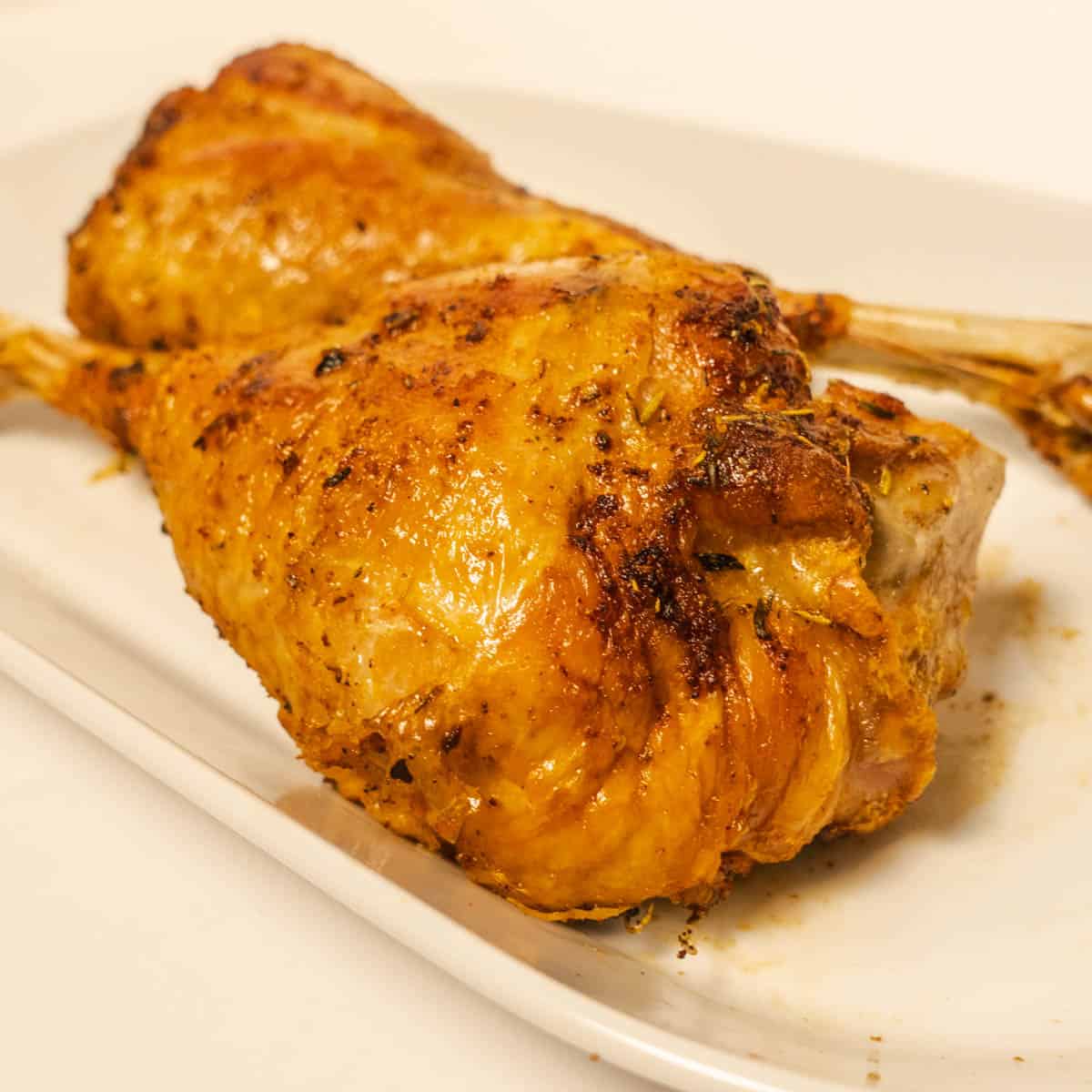 Turkey legs in the air fryer remind me of the smoked turkey legs I always get when going to the Renaissance fair.
The first thing I do when I get there is grab a giant turkey leg and a nice cold beer. This is such a fun and delicious combination.
I came up with the idea of making these turkey legs in the air fryer because of how good my Air Fryer Fried Chicken recipe came out. I wanted to try other options for quick dinners. I normally pair the turkey legs with this steamed cabbage recipe quite often. If cabbage isn't you thing then these would be fantastic with mashed potatoes.
Jump to:
Ingredients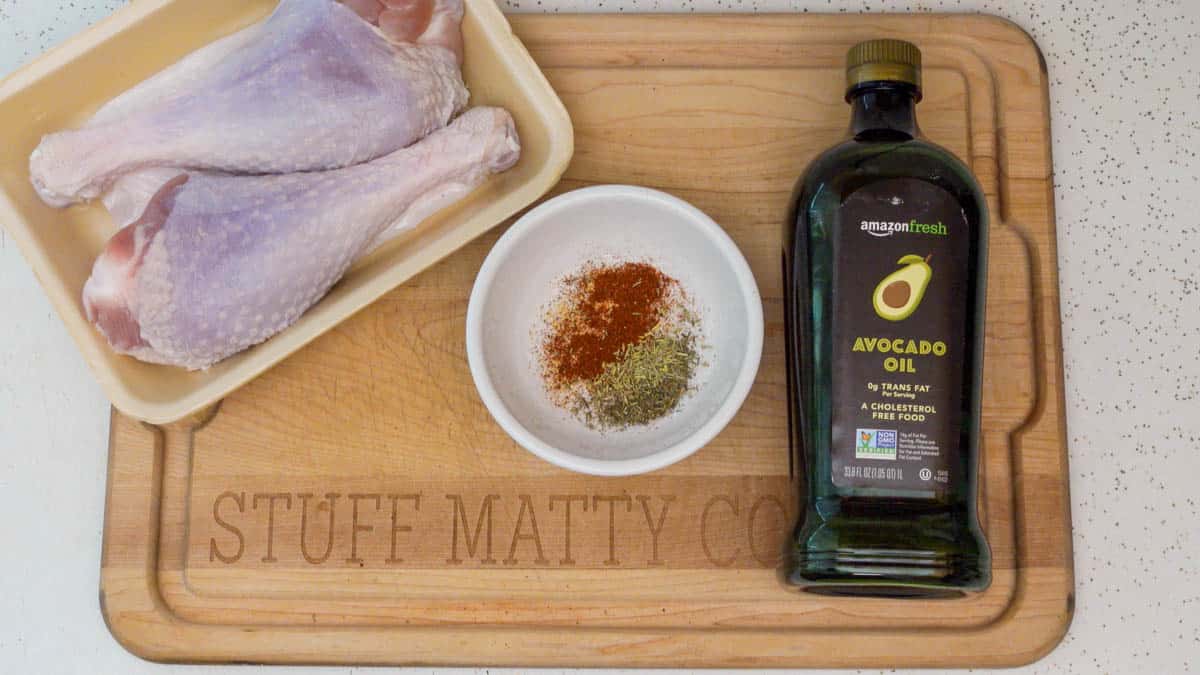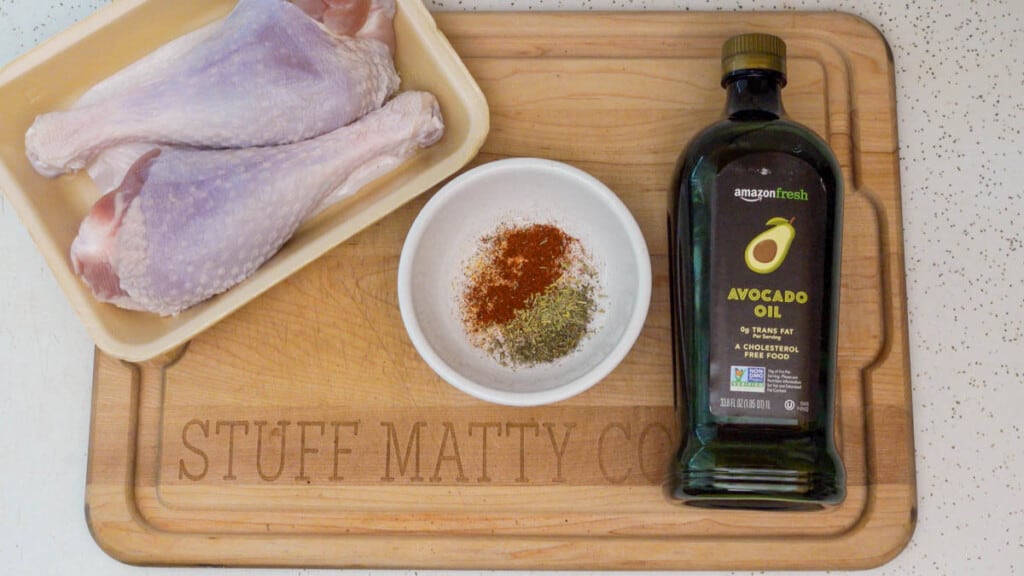 Turkey Legs
Avocado Oil or Olive Oil
Salt
Black Pepper
Garlic Powder
Dried Thyme
Dried Rosemary
Jump to recipe card at the bottom for quantities.
Instructions
I'm gonna show you exactly how to cook air fryer turkey legs. The process is simple and just a few steps. The cooking time for the turkey legs is about 30 minutes. Full Instructions for cooking turkey legs are in the recipe card at the bottom.
Step 1 – Drizzle the Turkey Drumsticks with avocado oil. Combine all the spices in a bowl. Season turkey legs with spice rub.
Place turkey legs in the air fryer basket. Cook at 380 degrees Fahrenheit for 20 minutes.
Step 2 – Flip the Turkey Legs and continue cooking for about 8- 10 more minutes.
I find that the cooking time is about 30 to 40 minutes depending on your air fryer. It was 28 minutes of cooking time for me.
Cook until the internal temperature of the turkey legs reads 165 degrees on an instant-read thermometer. Check the temperature in the thickest part of the turkey leg.
I take the chicken out a few degrees early to allow for carry-over cooking, so it won't be dry. As you can see from the picture, it comes out moist and flavorful.
If you would like you can also brine the turkey legs. I did not brine the turkey for this recipe, but if you would like to try it I have included the brine recipe below.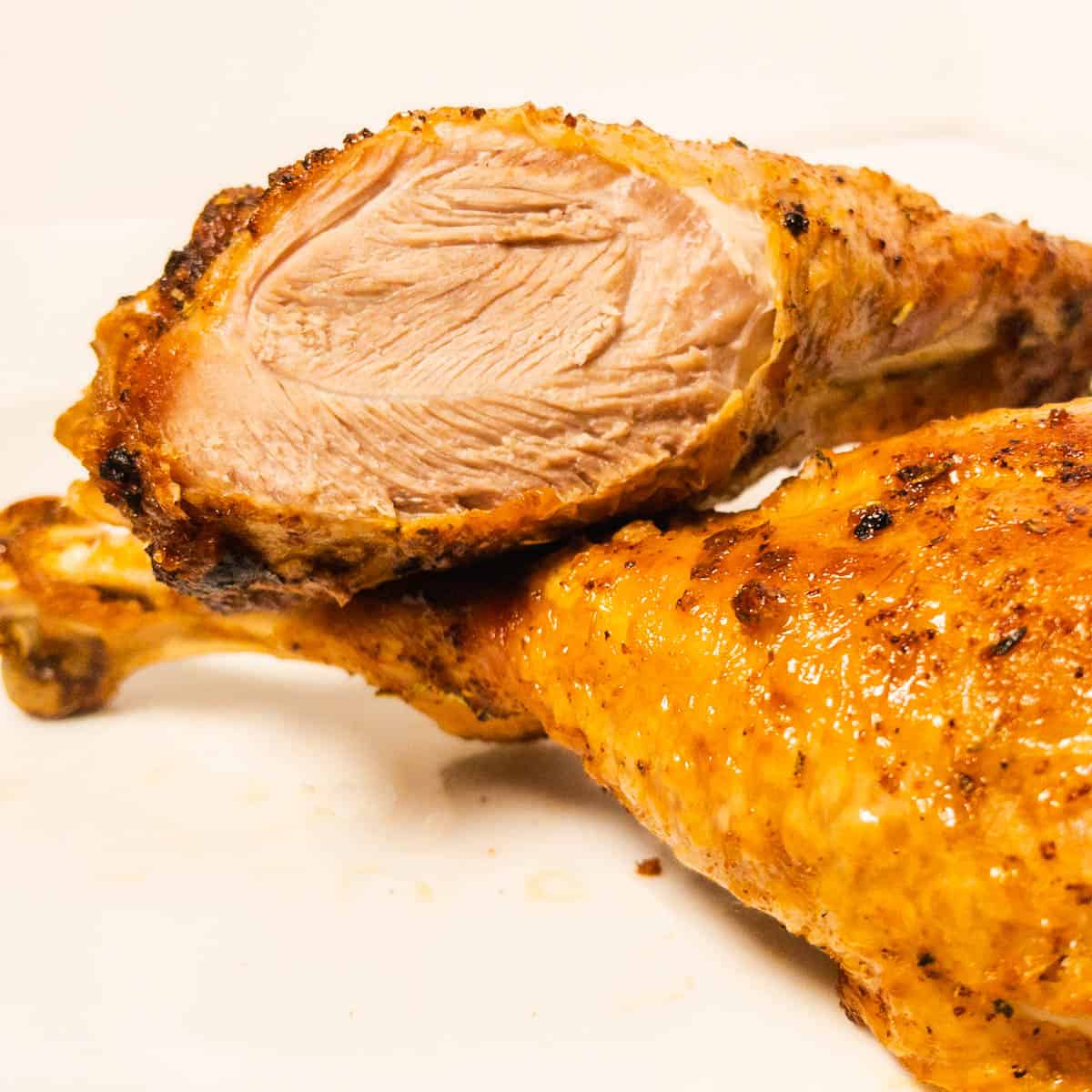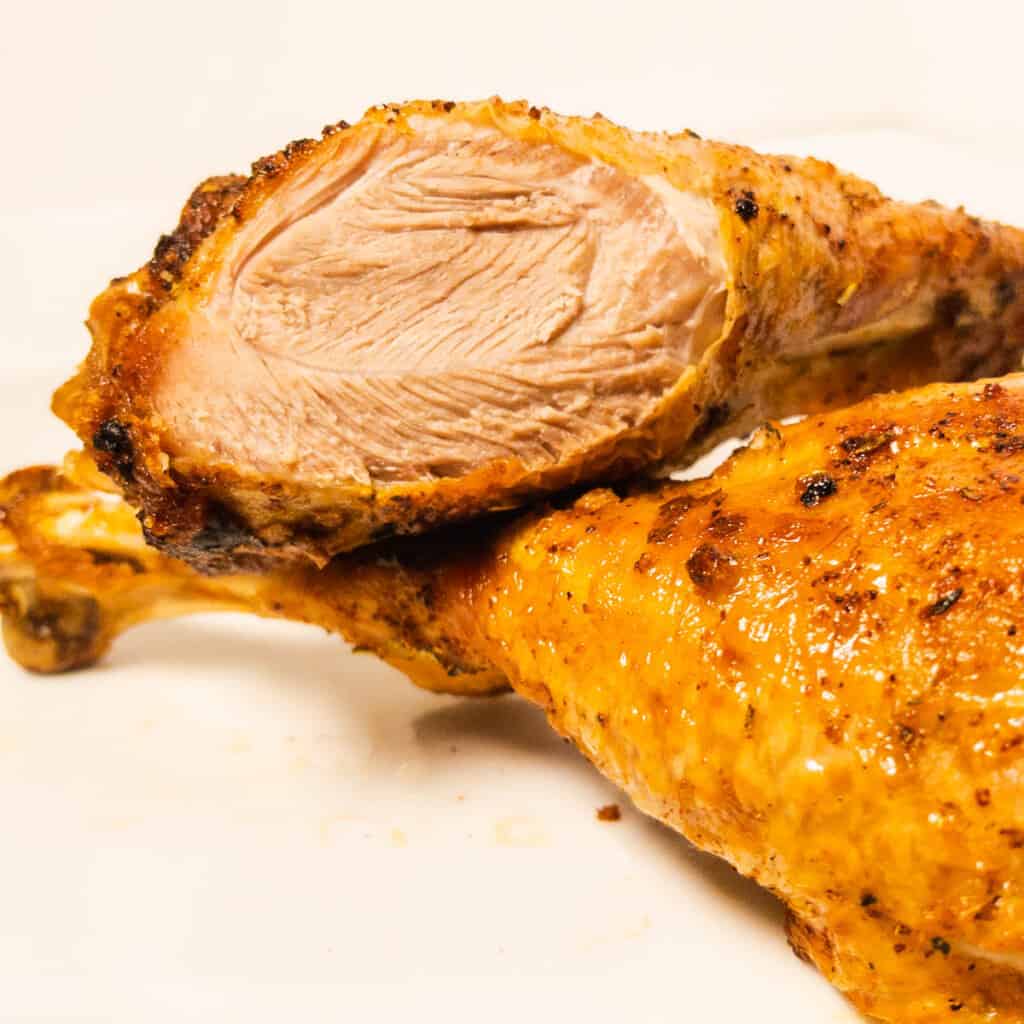 This is one of my favorite air fryer recipes. These turkey legs come out beautiful. Golden brown and delicious.
The skin is so crispy and the meat is juicy and full of flavor. These make a great weeknight dinner. Kids always love turkey legs cooked in the air fryer. They make a great dinner at any time!
Are Turkey Legs Healthy?
Yes. Turkey is a healthy option. Dark meat has a lot of vitamins and minerals. Turkey can be higher in saturated fat, but if you would like to avoid this the skin can always be removed. Turkey is actually a leaner protein than chicken and even lower calories.
Hint: Place turkey legs on parchment paper when seasoning and drizzling with oil to minimize cleanup.
Variations
Seasoned Butter – Make seasoned butter for turkey legs instead of oil and spices.
Cajun Seasoning -Cajun seasoning is a great way to change up the turkey legs for a different delicious flavor.
Equipment
I always list the equipment I use for every recipe. I also include other kitchen essentials. I do earn a small commission on the sale of the items but this is at absolutely no cost to you.
All of these items are used by me and items I like. Thanks for all of your support.
COSORI Air Fryer Oven Combo 5.8QT Max Xl Large Cooker
COSORI Air Fryer 6.8 Qt, Large Oven with Dual Blaze Tech
Ninja Foodi 10 Quart 6-in-1 DualZone XL 2-Basket Air Fryer with 2 Independent Frying Baskets
200pcs Air Fryer Parchment Paper, Air Fryer Liners 8.5inch
AmazonFresh Avocado Oil, 33.8 fl oz.
Naturevibe Botanicals Organic Paprika Powder
Roasting Turkey Legs in the Oven
If you're reading this recipe and either don't have an air fryer or are thinking of getting one you can still make this recipe. Follow all the steps of the recipe and roast in the oven using the instructions below.
Preheat Oven to 450 Degrees
Place Seasoned Turkey Legs on Baking Sheet
Roast 20 Minutes Until Skin is Golden Brown
Cover loosely with foil and continue roasting until the instant thermometer reads an internal temperature of 165 degrees Fahrenheit. About 30 minutes of cooking time.
Storage
Turkey legs can be stored in an airtight container in the refrigerator for 3 to 4 days.
Reheating
Place turkey legs in the air fryer basket.
Reheat at 375 degrees Fahrenheit for 3-4 minutes.
Repeat in 2 minute increments until the desired temperature is reached.
Air Fryer Recipes to Enjoy
Air Fryer Frozen French Fries
Air Fryer Mahi Mahi
Air Fryer Bacon Wrapped Asparagus
Air Fryer Onion Rings
Notes on Air Fryer Turkey Legs
Preheating the air fryer with this turkey legs recipe is not necessary.
I buy turkey legs at my local grocery store in a two pack. Sometimes I can find a bunch of them in a family pack which is my favorite way to buy them.
All air fryers cook a little differently. Some cook hotter than others depending on the waters of the air fryer.
Brining turkey legs is not necessary. I will include a brine recipe if you want to go ahead and do that to make the turkey legs even more moist.
Brine Turkey Legs
This is not a necessary step but it does make turkey legs and chicken even juicier. I wanted to share my standard brine recipe and ratio just in case you wanted to take this optional step.
Brine Recipe
1/4 Cup Salt
1 Quart Water
2 Tablespoons Sugar (Optional)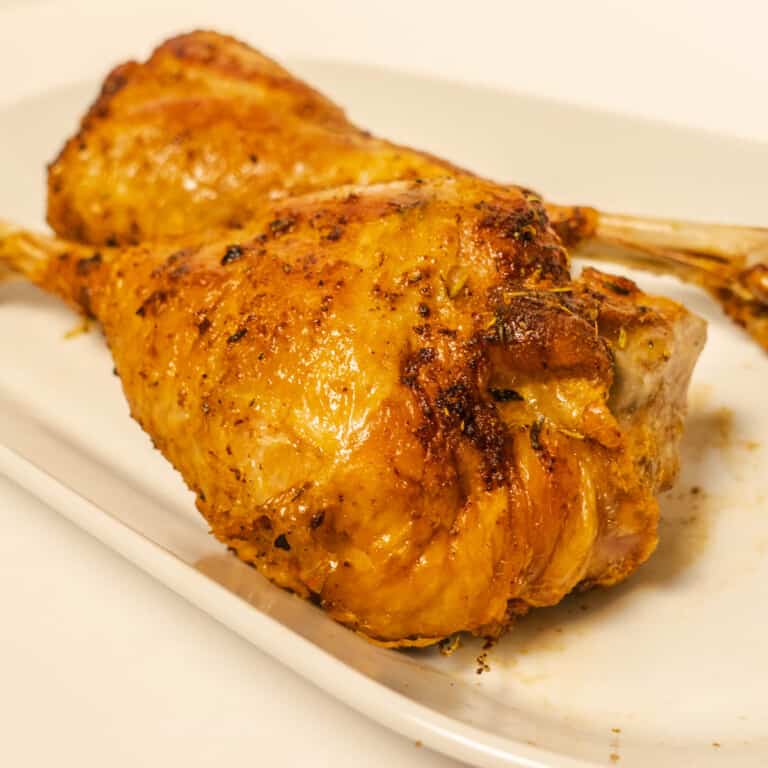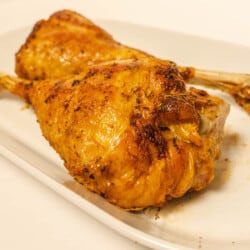 Air Fryer Turkey Legs
Air fryer turkey legs are crispy and juicy and a great alternative to chicken.
Print
Pin
Rate
Ingredients
2

Pounds

Turkey Legs

About 2 Pieces

1

Tablespoon

Avocado Oil

1

tsp.

Salt

1/4

tsp.

Black Pepper

1/2

tsp.

Garlic Powder

1/4

tsp.

Dried Thyme

1/4

tsp.

Dried Rosemary

1/2

tsp.

Smoked Paprika
Instructions
Coat the turkey legs with the avocado oil liberally.

Mix together the rest of the dry ingredients to make a rub.

Season turkey legs liberally with spice rub.

Play turkey legs in the air fryer basket.

Cook Turkey Legs at 380 Degrees Fahrenheit for 20 minutes.

Flip Turkey Legs and cook additional 8-10 minutes until desired doneness
Join Our Facebook Groups Community
Instant Pot Recipe Spot
Air Fryer Recipe Spot
Vegan and Vegetarian Plant Based Recipes
(Visited 2,399 times, 1 visits today)