Instant Pot Turkey Chili is my go-to recipe for a lean healthy version of beef chili. It is definitely a lot fewer calories and it is packed with protein. This recipe takes about an hour or so to make and is very versatile. You can substitute your favorite kind of beans or eliminate them all together.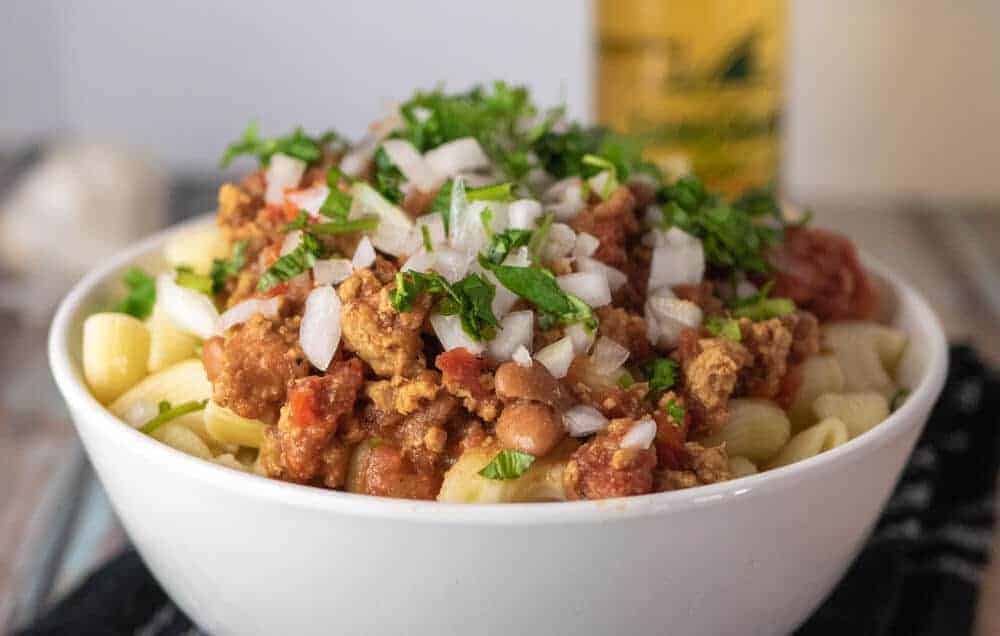 This version of Turkey Chili basically is made up of ingredients that I just had sitting in my pantry. Nothing complicated at all really. After all its chili so there is really no rules except to make it thick enough. If it isn't thick enough…well then it's SOUP. Nobody wants chili soup so give it time to thicken. A good trick is to let it simmer until a fork or spoon can basically stand on end in the chili.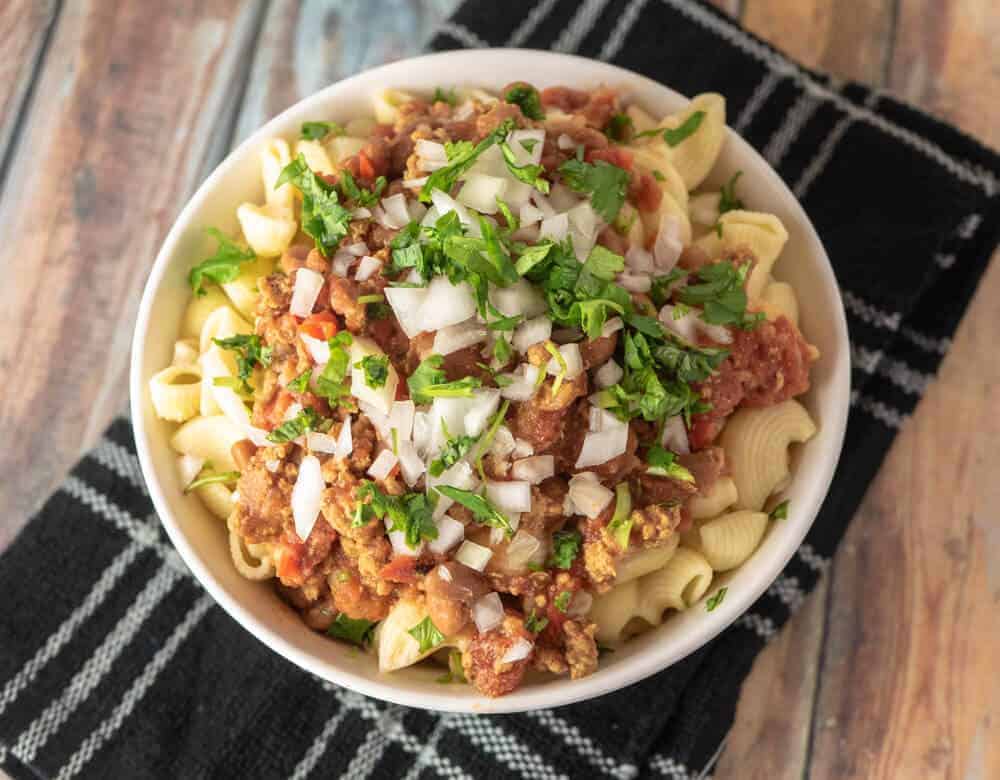 How to Make Turkey Chili
So how do you make this Turkey Chili? Well, it can be made in the Instant Pot obviously but it can also be made in the slow cooker. You can pretty much toss in whatever you like after browning the meat. I used pinto beans in this but you can use black beans or garbanzo beans or a mix of beans. Throw in any other veggies that you think will be tasty. Just remember there are no rules just a foundation.
Slow Cooker Turkey Chili
Making this in the slow cooker is very simple. Just brown your meat and then toss in all the other ingredients. The cook time is 4 to 5 Hours on HIGH or 7 to 8 Hours on LOW.
Pressure Cooker Turkey Chili
As long as you have a pressure cookerit is the way to go. Making a recipe take an hour instead of 7 or 8 hours is a no-brainer. I do understand people love their slow cookers though. If you do not yet have an Instant Pot Pressure Cooker jump on board cause they are great. I list them below in the links and I do receive a small commission at NO COST TO YOU. I really appreciate you stopping by my little spot on the internet. If you have any questions leave them in the comments I do respond. Also if you have made one of my recipes please leave a rating and a comment it helps us a lot. If you like this recipe you most likely will also like my Instant Pot Salisbury Steak Meatballs.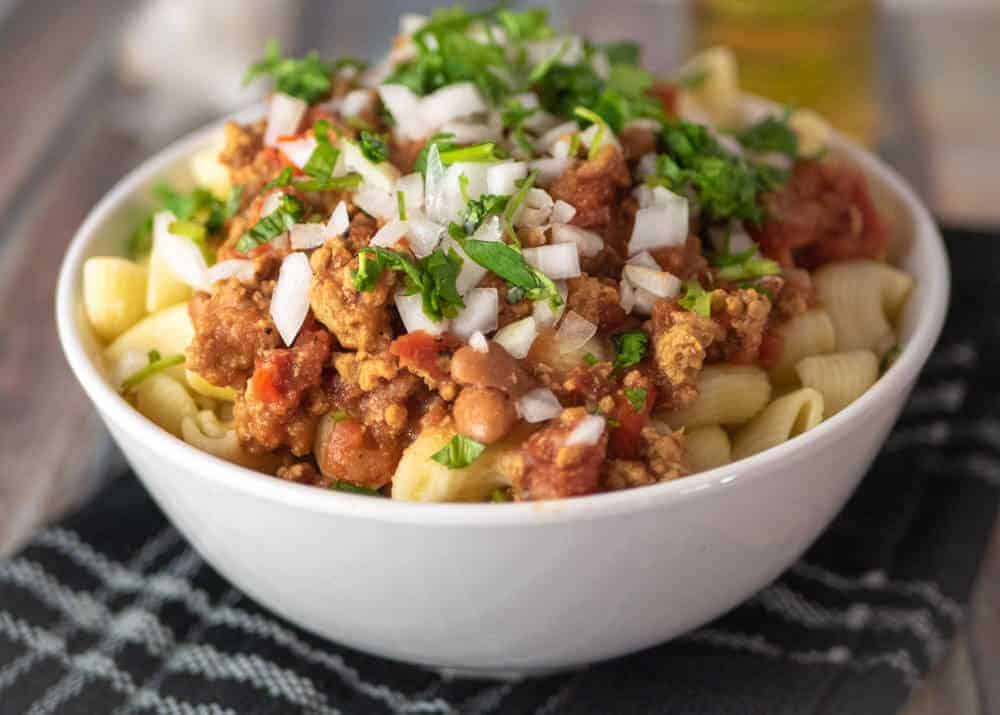 Items I used in this Recipe. Available from Amazon. You can HOVER OVER THE LINK to see INFO and PRICE or just Add Them to Your Cart on Amazon. I do receive a small commission from Amazon at NO EXTRA COST to YOU. Thanks so Much for Your Support.
Instant Pot DUO60 6 Qt Pressure Cooker

Simply Organic Chili Powder Certified Organic

Instant Pot Turkey Chili
Ingredients
1

Pound

Lean Ground Turkey

1

TBSP.

Olive Oil

2

TBSP.

Chili Powder

I used taco seasoning

1

Onion Chopped

1

Red Pepper Chopped

1

tsp.

Salt

1/2

tsp.

Pepper

2

tsp.

Cumin

1

tsp.

Garlic Powder

1

tsp.

Chipotle Pepper Powder

less if you want it mild

1

Can Pinto Beans

use any beans you like

1 1/2

Cups

Chicken Broth

1

Can Crushed Tomatoes or Stewed Tomatoes

2 to 3

TBSP.

Chopped Onion

for garnish

2

TBSP.

Chopped Cilantro

for garnish
Instructions
Press Saute on Instant Pot and set to Normal Setting.

Once screen says "HOT" add Olive Oil to Instant Pot.

Add Ground Turkey and Chopped Onion and Red Pepper to Instant Pot and cook till onion is Soft and Turkey is Browned. About 5 Minutes.

Add Chili Powder or Taco Seasoning, Salt and Pepper,Cumin, and Garlic Powder and stir till combined and cook till fragrant. Add Chicken Broth and Crushed tomatoes and Beans. Stir to combine.

Put Lid on Instant Pot and turn Valve to SEAL. Press Cancel on Instant Pot then Press the Manual Pressure Cook Button and Set time to 10 Minutes. When cook time is complete do a quick release of pressure. Remove lid on Instant Pot. Press Cancel on Instant Pot. Then Press the Sautés Button and Set to Low setting. Use a Potato masher to smash up some of the beans in the chili to help with the thickening process. Let the chili simmer for 40 Minutes or until desired thickness. I like it that so a fork will basically stand on end without falling over. That is an easy way to gauge it. Stir once and a while to gauge thickness.

Top with garnish of chopped onion and cilantro.

Enjoy.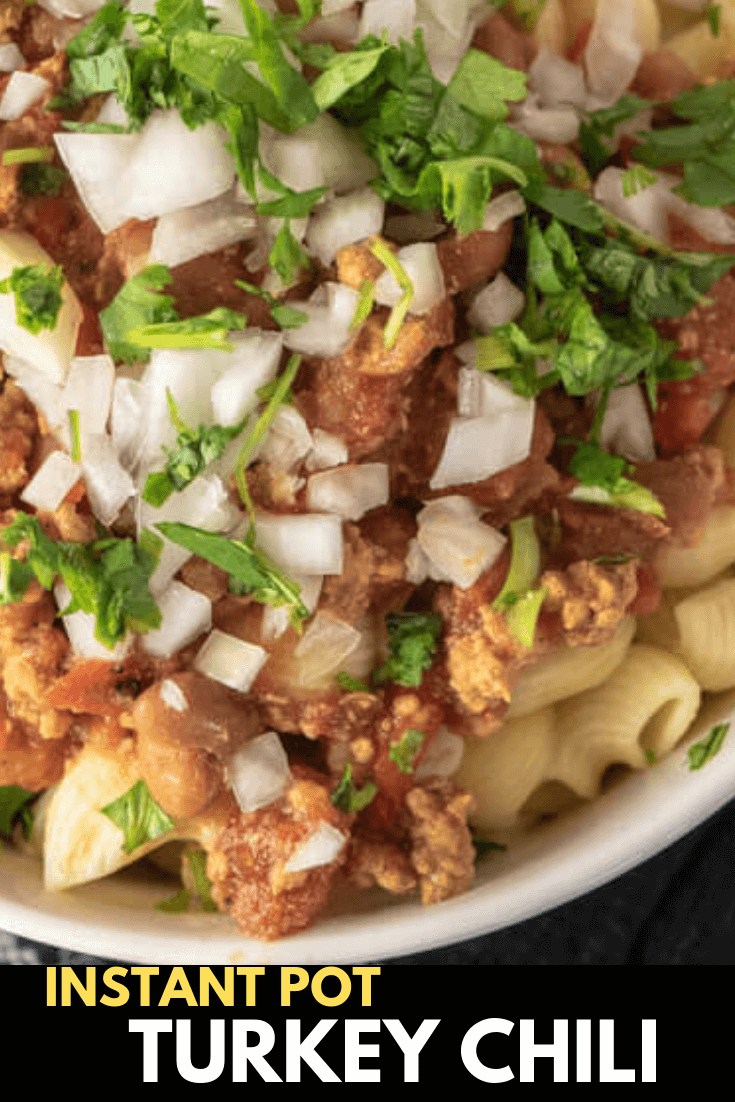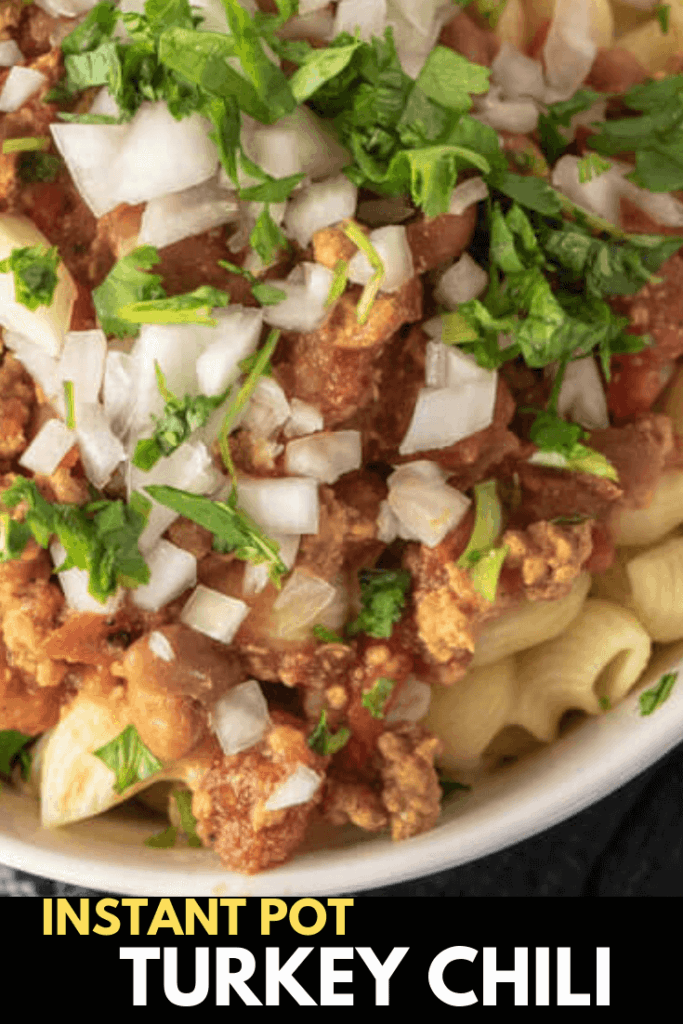 (Visited 1,124 times, 1 visits today)