This is my goto recipe when I need something quick and tasty to eat and I have that craving for Italian food. This easy instant pot sausage and peppers recipe is super easy and you can have it popped into your Instant Pot and cooking in no time flat.
I grew up eating Italian Sausage and I love it. It is versatile and fairly inexpensive. It can be used in so many different ways. It is delicious over pasta but I prefer it over rice. Sometimes I like to grill the Italian sausage but since this is a recipe for Italian Sausage in the Instant Pot I will stick to that.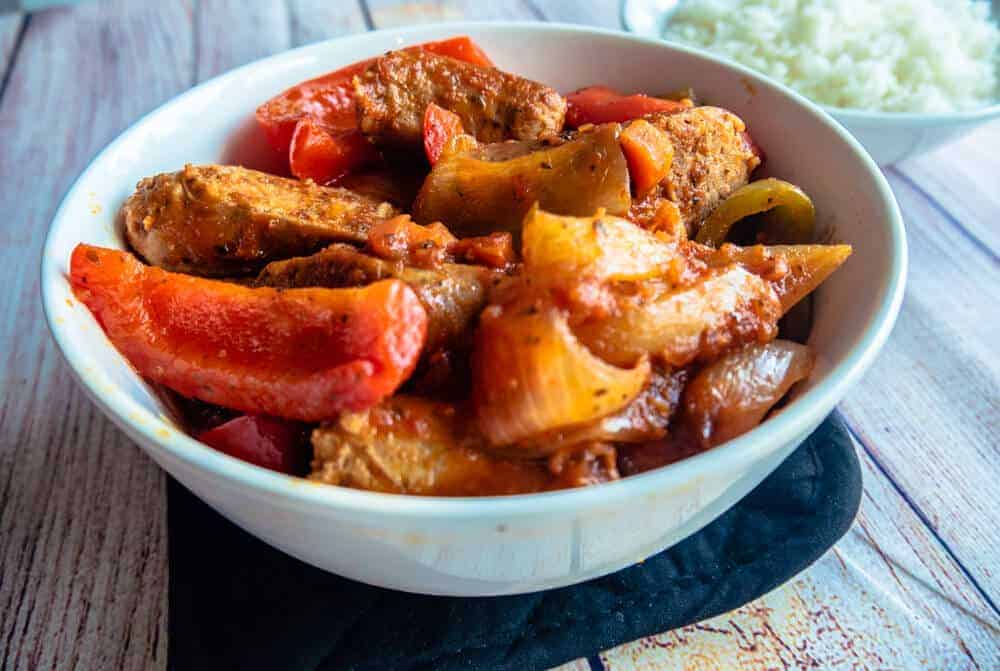 For this version of Sausage and Peppers recipe, I choose to use Trader Joes Tomato Basil Marinara. I seem to always have a jar of that in my cupboard. After for prepared sauce its GOOD and its under $2 per jar. I pretty much buy a jar every time I go to Trader Joes.
I take the extra step and give everything a little sauce just for extra flavor. This isn't necessary but I recommend it cause sausage peppers and onions with the extra sauce you can't go wrong.
How to Make Sausage and Peppers
Making Italian Sausage in the Instant Pot this way is really easy and it avoids any mess on the stove or grease spatters too. Another great thing is you can make Italian sausage sandwiches out of the leftovers.
To Make Sausage and Peppers Sandwiches
Get some of your favorite sub rolls or even french bread.
Extra cheese for topping
Assemble sandwiches with cheese in the roll first then top with some peppers, onions, and sausage and then top with shredded mozzarella.
Sausage and Peppers in a Crock Pot or Slow Cooker
It is easy to make crock pot sausage and peppers. Just throw in the Italian sausage, peppers and onions and sauce. Cook on LOW 6-8 hours. Or Cook on HIGH 3-4 hours. If you would like you can brown the sausages in a skillet first for a few minutes just to add some color.
Baked Italian Sausage and Peppers
Baked Italian Sausage is delicious and it can be done with this recipe. You can choose to do this with or without the tomato sauce. It is a delicious sausage and peppers recipe either way.
Baked Italian Sausage and Peppers Recipe
Preheat Oven to 400 Degrees
Cut up peppers and Onions and place on the bottom of the baking dish.
Place sausages on top of peppers and onions. Poke the sausages with a fork a few times.
Drizzle with about a Tablespoon of Olive Oil.
Place in the oven for about 30 minutes. When 30 minutes up remove the dish and cut sausages into 2-inch pieces.
If adding tomato sauce add it now and stir the mixture to combine. If not adding sauce stir mixture to combine sausages peppers and onions.
Return to oven and cook for additional 20-25 minutes.
Other Easy Recipes you may Like.
Airfryer Chicken Legs (Easy Recipe).
Join Our Facebook Groups
Recipe for Instant Pot Sausage and Peppers
Pressure Cooker Sausage and Peppers (Instant Pot)
Instant Pot Italian Sausage and Peppers
Ingredients
2

lbs

Italian Sausage

2

Onions Sliced

2

Green Peppers Sliced

2

Red Peppers Sliced

4 to 6

Cloves Garlic

1

jar 28 oz.

Trader Joes Tomato Basil Marinara (or sauce of choice)

1/2

cup

water

1/2

tsp

Salt

1/2

tsp

Pepper

2

tbsp

Olive Oil
Instructions
Open your Instant Pot and Hit the Saute button and put on the NORMAL setting. When screen says "Hot" Saute Sausages 2 to 3 Minutes and remove. Saute Onions and Peppers about 4 to 5 minutes. Add Garlic and Sauté 1 minute More. Add Jar of Sauce and Water. Lay sausages on top of sauce and DO NOT STIR. Put lid back on Instant Pot and turn valve to SEAL. Push PRESSURE COOK Button and set timer for 15 MINUTES. When cook time is complete wait 5 MINUTES and then QUICK RELEASE pressure of Instant Pot. Remove Lid and stir and let sit and thicken for a few minutes. Serve and enjoy.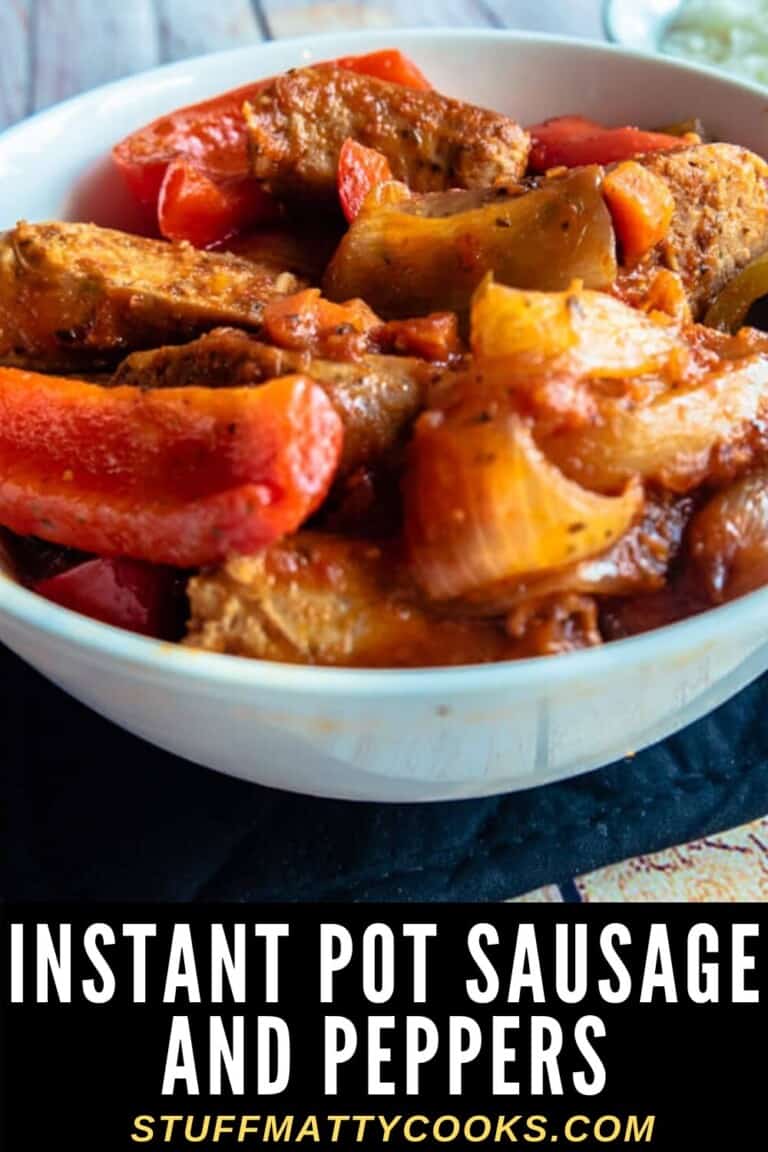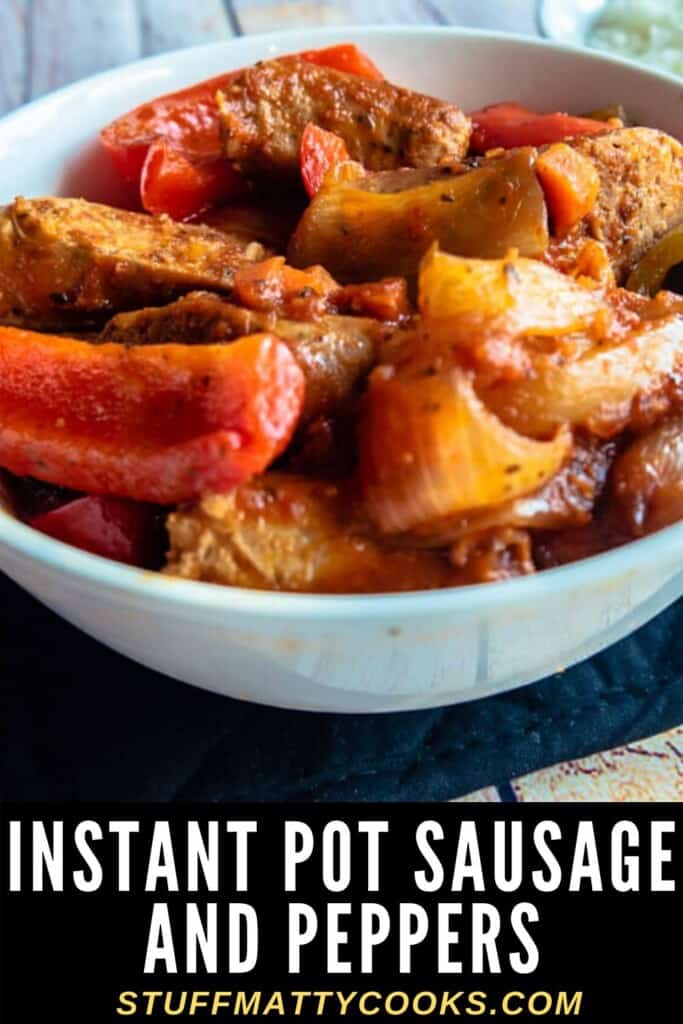 (Visited 17,886 times, 6 visits today)