Instant Pot sausage and peppers are my favorite recipe when I am craving Italian food. Such an easy recipe to throw together. Just throw sausage, peppers, and onions in the Instant Pot along with some prepared sauce.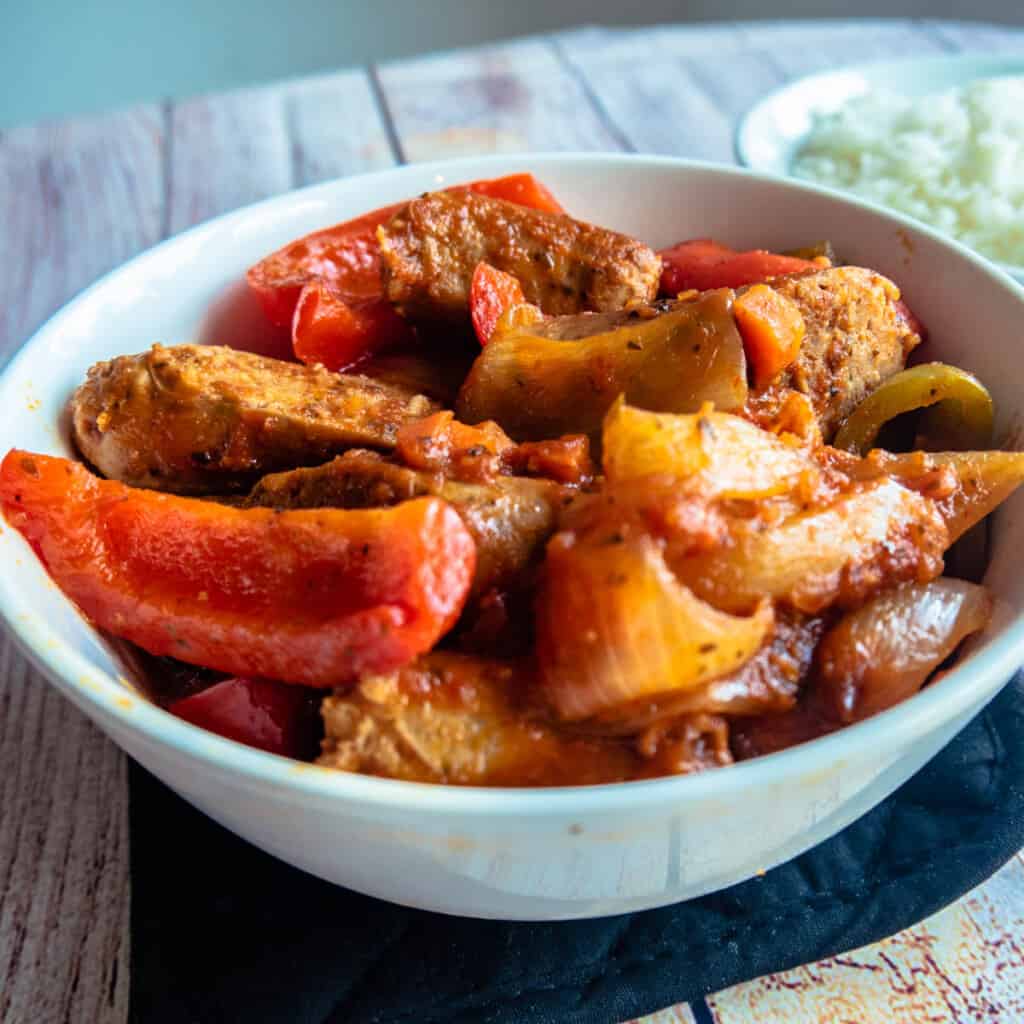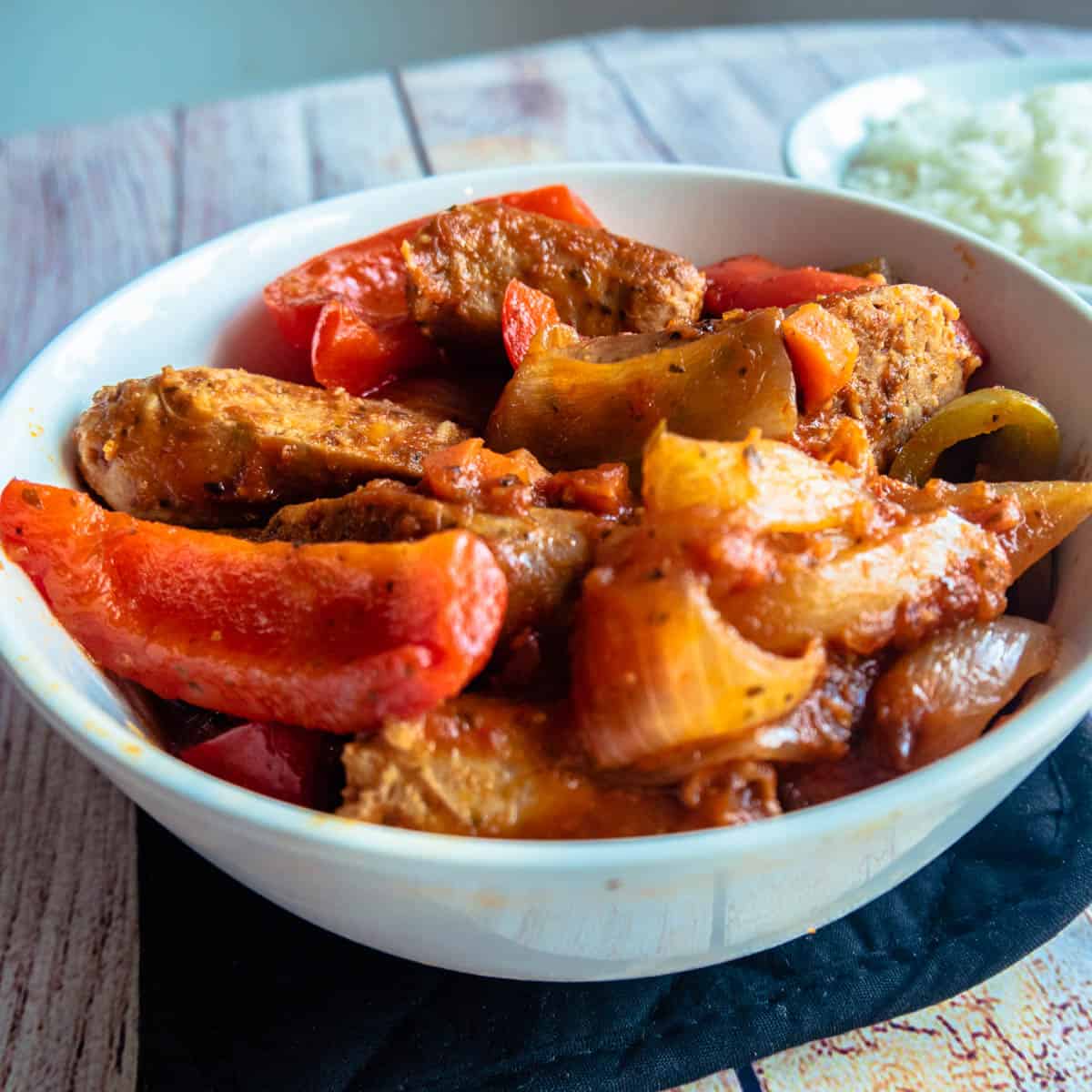 Instant Pot Sausage and Peppers
This sausage and peppers Instant Pot recipe is versatile and fairly inexpensive. It can be used in so many different ways. It is delicious over pasta but I prefer it over rice.
Another great way of serving this dish is as a sandwich. Fill a soft hoagie roll or a crusty Italian bread rollwith some of the peppers onions and sausage.
If you want to take the sandwich to the next level you could cover it with some mozzarella cheese and put it under the broiler and melt the cheese for a sandwich that is heaven.
This is a great recipe to make a big batch of if you are having guests over. It is simple to make and everyone seems to enjoy it. It also makes the whole house smell great while it is cooking.
Everytime I make this recipe for friends they always love it. Dont worry about making to much food because this is one of those recipes that there is usually no leftovers.
If in the case you do have food leftover this peppers and sausage can be frozen and reheated for a quick and easy dinner. I freeze it in individual servings so I can have a fast dinner.
Ever since I purchased the Instant Pot it has really changed things at home. I can put together a dinner that is really delicious without a whole bunch of work. Usually takes me about an hour to have something great for dinner on the table.
Jump to:
Ingredients for Instant Pot Sausage and Peppers
2 lbs Italian Sausage
2 Onions Sliced
2 Green Bell Peppers Sliced
2 Red Peppers Sliced
4 to 6 Cloves Garlic
1 jar 28 oz. Trader Joes Tomato Basil Marinara (or sauce of choice)
1/2 cup water
1/2 tsp Salt
1/2 tsp Pepper
2 tbsp Olive Oil
Full Instructions in Recipe Card Below. Print recipe and try it.
For this version of Sausage and Peppers recipe, I choose to use Trader Joes Tomato Basil Marinara. I seem to always have a jar of that in my cupboard.
As far as prepared sauce goes its GOOD. It is also under $2 per jar. I pretty much buy a jar every time I go to Trader Joes.
If you want some extra texture and flavor to the recipe you could add some a can of diced tomatoes to the pot for some extra texture. A little pinch of Italian seasoning is good too. Some people even add green beans and make it a one pot meal.
I take the extra step and give everything a little sauce just for extra flavor. This isn't necessary but I recommend it because sausage peppers and onions with the extra sauce you can't go wrong.
How to Cook Sausage and Peppers in Instant Pot?
Step 1 Saute the Sausage
Press the saute function on the Instant Pot and set for the normal setting. Once the screen reads "HOT" add the sausage and saute them for a until they are browned and have some color. About 2 to 3 minutes.
Step 2 Add the Peppers and Onions and Garlic
Remove the sausage and set aside. Add the peppers and onions and saute about 4 to 5 minutes. Add the garlic and saute about 1 minute until fragrant.
Step 3 Add the Sauce
Add the jar of sauce and the water to the interior of the pressure cooker and stir. Once the sauce is combined add the sausage back into the pot by laying the sausages on top of the sauce. DO NOT STIR the sausages into the sauce.
How Long Do I Cook Sausage and Peppers in the Instant Pot?
Lock the lid on the instant pot and close the valve. Set the Instant Pot on High Pressure. Pressure cooking for 15 Minutes. When cooking time is complete natural pressure release for 5 minutes then a quick release of the pressure.
Sausage and Peppers Serving Ideas
Sausage and peppers are great served over pasta or rice. One of my favorite ways to eat sausage and peppers is as sandwiches. Served on a hoagie roll or Italian bread roll with extra onion and peppers is one of the best ways to eat this dish and it is quick and easy.
Sausage and Peppers in a Crock Pot or Slow Cooker
It is easy to make crock pot sausage and peppers. Just throw in the Italian sausage, peppers and onions and sauce.
Cook on LOW 6-8 hours. Or Cook on HIGH 3-4 hours. If you would like you can brown the sausages in a skillet first for a few minutes just to add some color.
Baked Sausage and Peppers
Baked Italian Sausage is delicious and it can be done with this recipe. You can choose to do this with or without the tomato sauce. It is a delicious sausage and peppers recipe either way.
Preheat Oven to 400 Degrees
Cut up peppers and Onions and place on the bottom of the baking dish.
Place sausages on top of peppers and onions. Poke the sausages with a fork a few times.
Drizzle with about a Tablespoon of Olive Oil.
Place in the oven for about 30 minutes. When 30 minutes up remove the dish and cut sausages into 2-inch pieces.
If adding tomato sauce add it now and stir the mixture to combine. If not adding sauce stir mixture to combine sausages peppers and onions.
Return to oven and cook for additional 20-25 minutes.
Other Easy Recipes you may Like.
Airfryer Chicken Legs (Easy Recipe).
Join Our Facebook Groups
Items Used and Kitchen Essentials
Instant Pot Duo Evo Plus 9-in-1 Electric Pressure Cooker
Trader Joe's "Trader Giotto's" Tomato Basil Marinara Sauce
Electric Pressure Magnetic Cooker Cook Times Cheat Sheet (Large Font)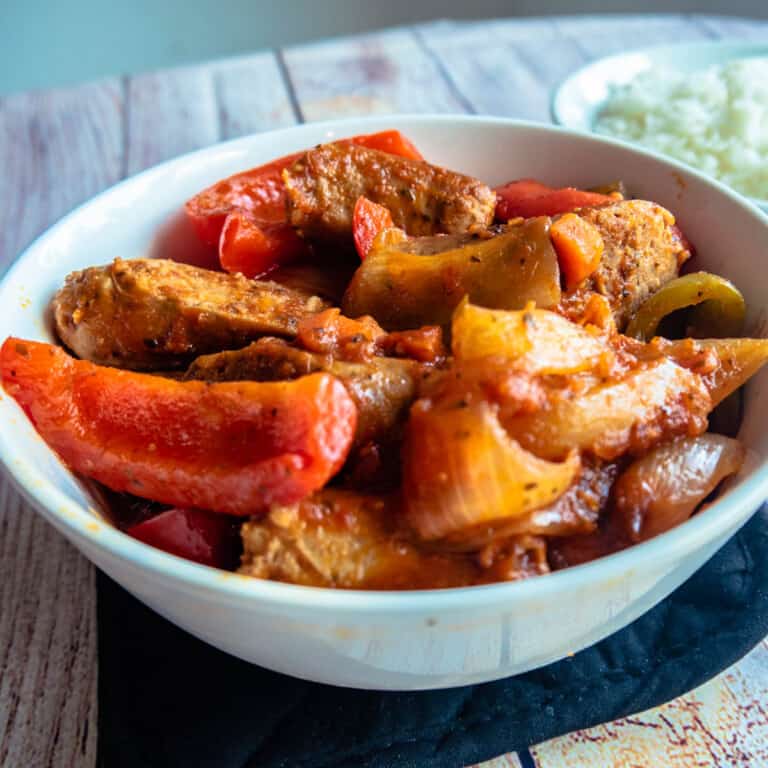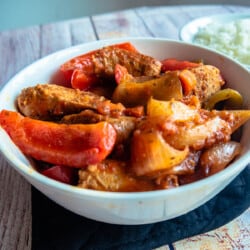 Instant Pot Sausage and Peppers
Instant Pot Sausage and Peppers can also be made in the slow cooker or in the oven.
Print
Pin
Rate
Ingredients
2

lbs

Italian Sausage

2

Onions Sliced

2

Green Peppers Sliced

2

Red Peppers Sliced

4 to 6

Cloves Garlic

1

jar 28 oz.

Trader Joes Tomato Basil Marinara (or sauce of choice)

1/2

cup

water

1/2

tsp

Salt

1/2

tsp

Pepper

2

tbsp

Olive Oil
Instructions
Open your Instant Pot and Hit the Saute button and put on the NORMAL setting. When screen says "Hot" Saute Sausages 2 to 3 Minutes and remove. Saute Onions and Peppers about 4 to 5 minutes. Add Garlic and Sauté 1 minute More. Add Jar of Sauce and Water. Lay sausages on top of sauce and DO NOT STIR. Put lid back on Instant Pot and turn valve to SEAL. Push PRESSURE COOK Button and set timer for 15 MINUTES. When cook time is complete wait 5 MINUTES and then QUICK RELEASE pressure of Instant Pot. Remove Lid and stir and let sit and thicken for a few minutes. Serve and enjoy.
Nutrition
How Long Does Sausage and Peppers Last in the Fridge?
If stored properly in an airtight container sausage and peppers can last in the refrigerator 3 to 4 days.
How to Reheat Sausage and Peppers
Reheat Sausage and Peppers in the Oven
Place the sliced sausage and peppers in a baking dish and cover with foil. Preheat oven to 375°. Cook in oven 25 to 30 minutes until hot. If the sausage and peppers is frozen cooking time is going to be about 45 to 60 minutes.
Reheat Sausage and Peppers in Instant Pot
One of my favorite ways to reheat food is in the Instant Pot. I place the food in a dish just slightly smaller than the instant pot liner. I placed the dish on top of the trivet that came with the Instant Pot.
Place a cup of water in the bottom of the Instant Pot. Fasten the lid on the pressure cooker and turn the valve to the "SEAL" position. Press the steam button and set the timer for 5 minutes.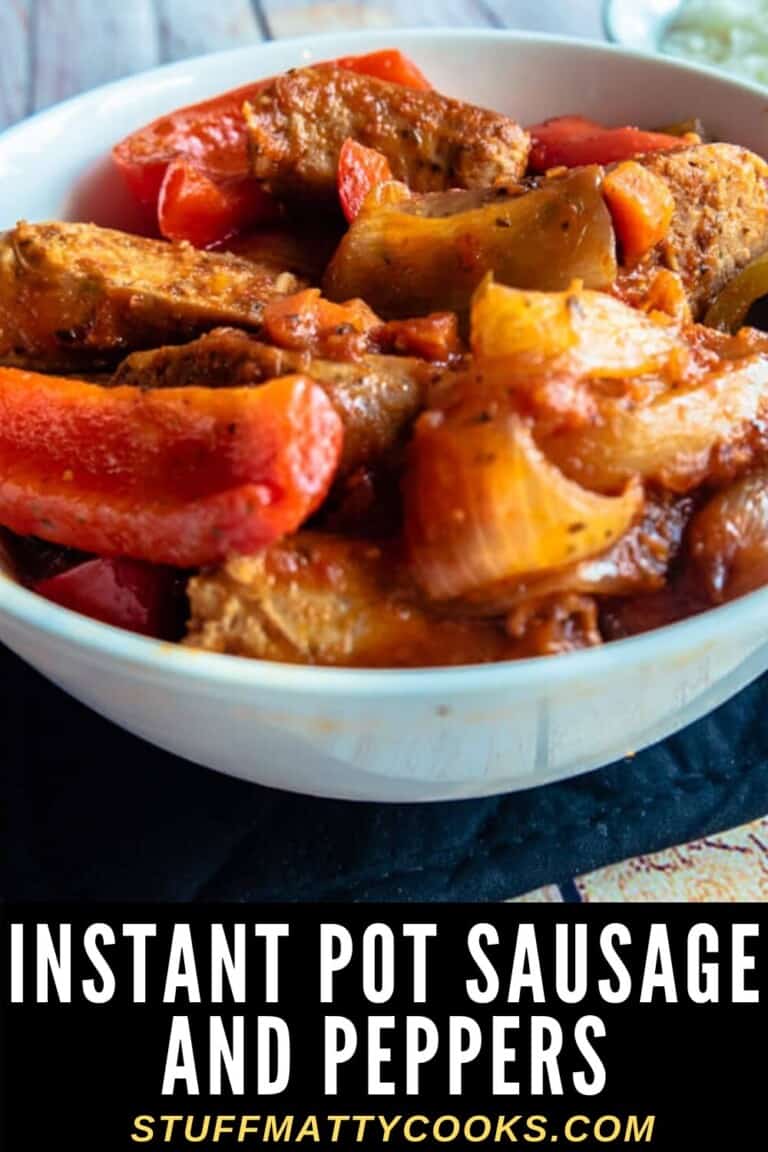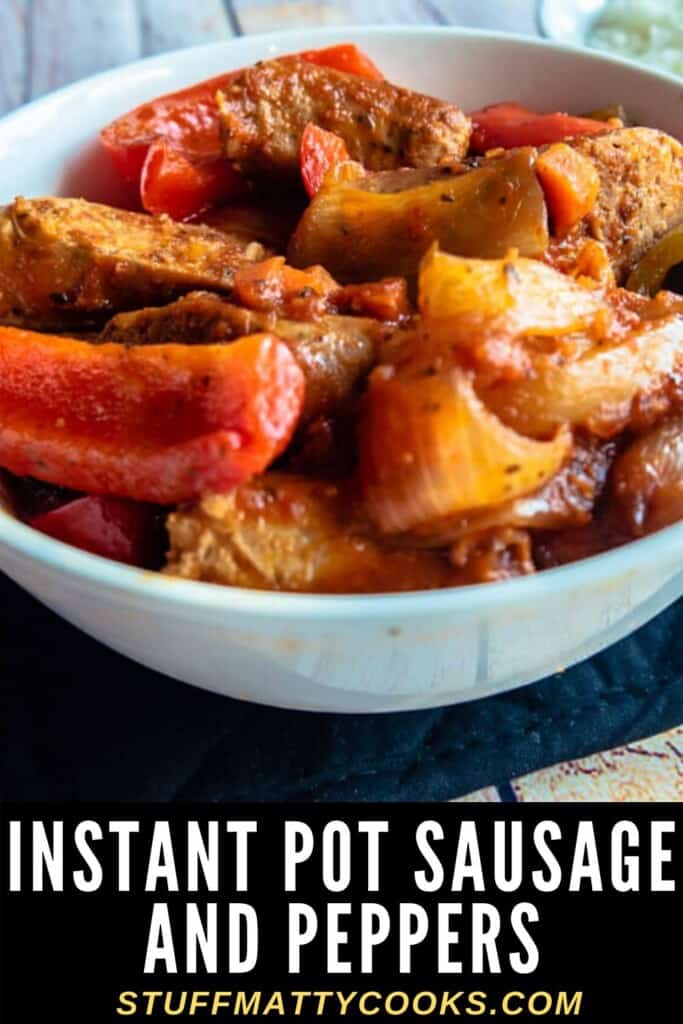 (Visited 32,880 times, 1 visits today)