Mississippi pot roast in the Instant Pot is a delicious version of pot roast. It is a quicker version than standard pot roast because it is cooked in the pressure cooker. It is an easy recipe to make too. Even if you are just starting out with the pressure cooker. Instant Pot Mississippi Pot Roast is a great place to start. The flavor of this roast in the Instant Pot is fantastic and it is fork tender.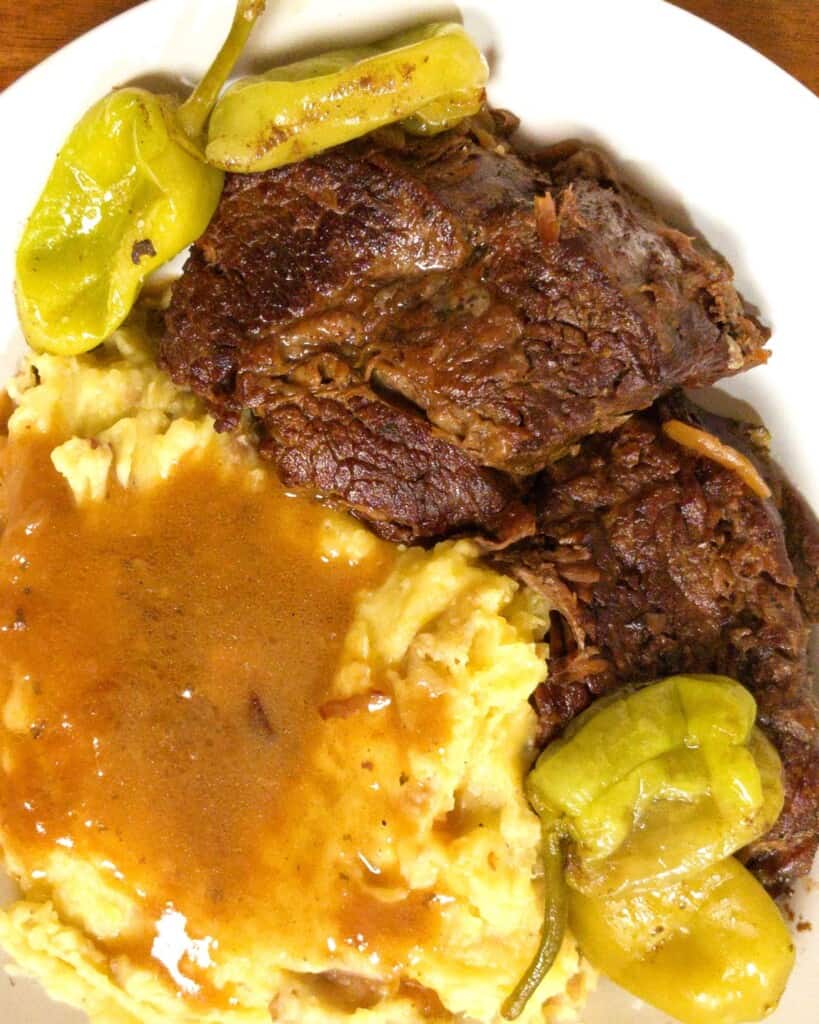 This Mississippi Roast is much faster to make than using an oven or crock pot and it really is mostly a "set and forget" method of cooking this tasty dish. If you are new don't be afraid and if you were like me and had never tried Instant Pot Mississippi Pot Roast before trust me this is easy to do. The reward is tender pot roast and tasty gravy and a satisfying meal.
I am not kidding this pot roast is different than your traditional pot roast recipe. I think it is absolutely delicious and one of the best renditions of pot roast. I love all the different flavor notes of this dish. I especially like the tangy flavor the pepperoncini peppers brings to the gravy and the chuck roast gets super tender and has so much flavor!
Jump to:
Ingredients Needed for Instant Pot Mississippi Roast
I had a frozen roast from Wild Fork in my freezer that I wanted to use and I bought the other ingredients that I didn't have like the gravy packet, pepperoncini peppers in the jar so I could also use the pepperoncini juice as a flavor booster and of course the ranch seasoning. The other ingredient like beef broth and unsalted butter are pantry staples.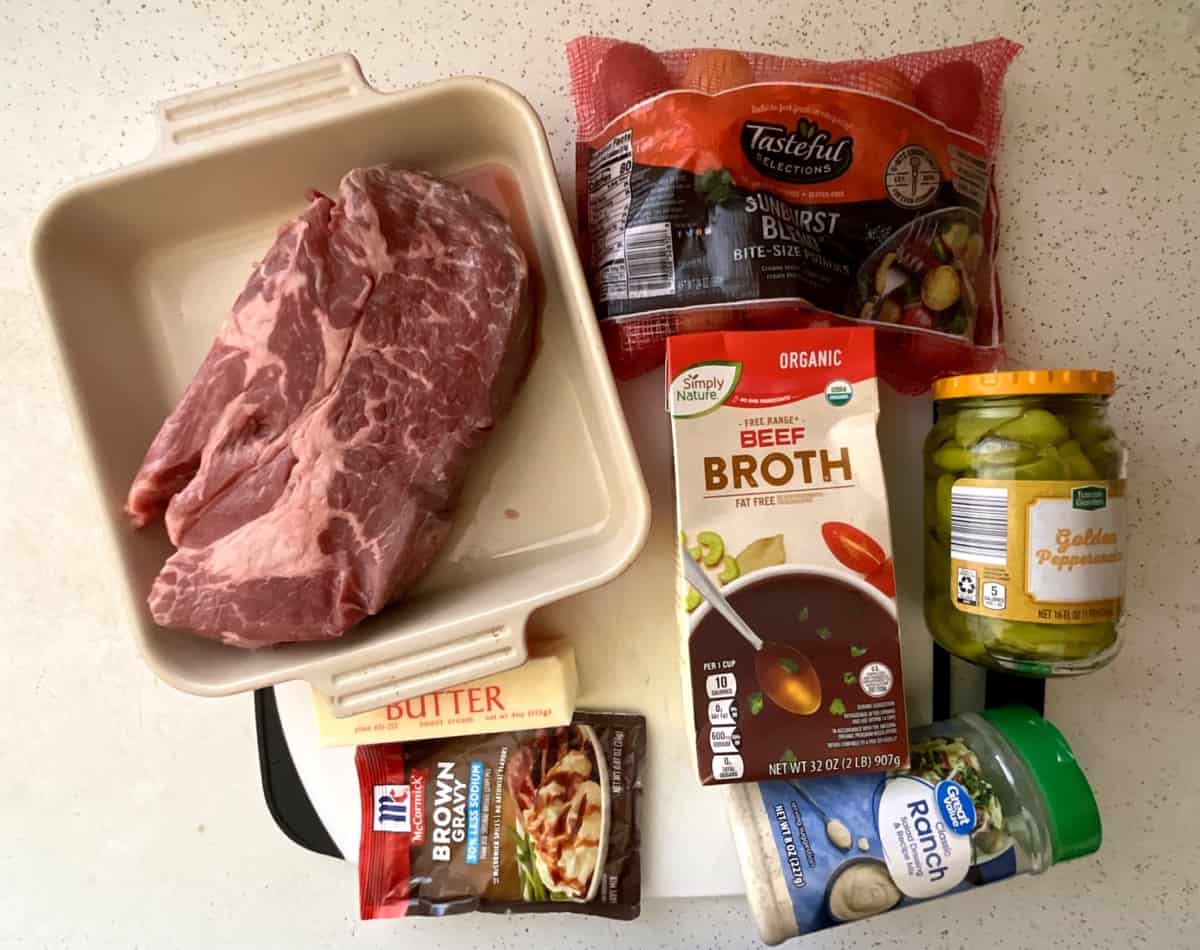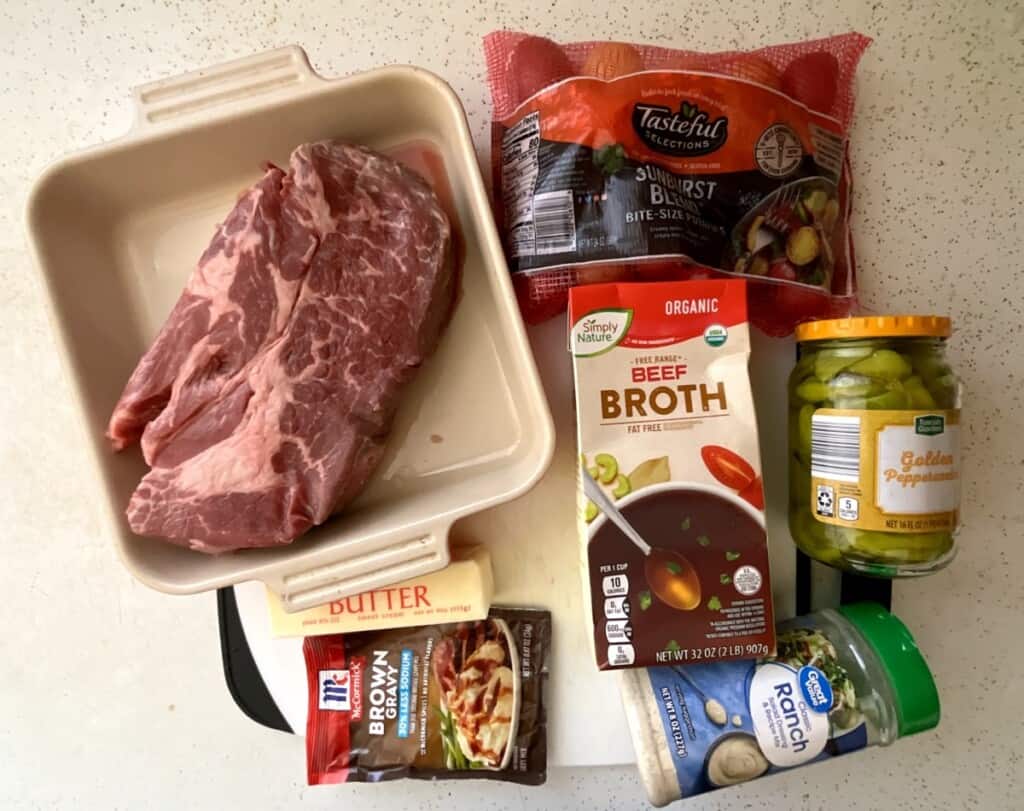 Chuck Roast
Beef Broth (Low Sodium Recommended)
Brown Gravy Mix Packet
Ranch Seasoning Packet or Mix
Potatoes (Optional)
Pepperocinis in the Jar with Brine
Unsalted Butter
See recipe card for quantities.
Save Time Cooking Pot Roast in the Electric Pressure Cooker
Using an electric pressure cooker saves time. It takes just a little over an hour to cook a pot roast in the pressure cooker. If you use a slow cooker it can take 7 to 8 hours. If using an oven it takes about 3 to 4 hours. It takes just over 1 hour of cooking time to make a pot roast in an electric pressure cooker.
How to Cook Mississippi Roast in an Instant Pot
Cooking Mississippi pot roast in the Instant Pot is an incredibly easy process. I am going to show you step by step how to do it so you end up with that slow cooked tender beef pot roast and the delicious gravy in much less time than using a crock pot or oven.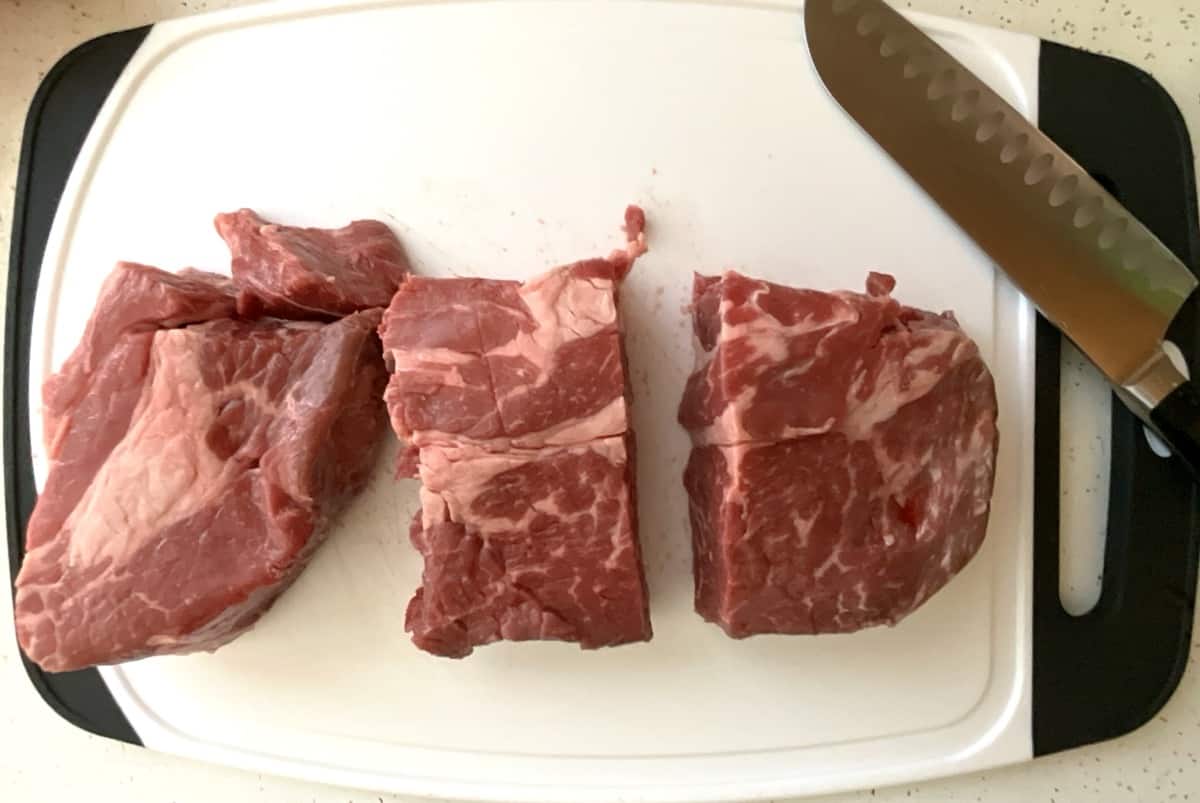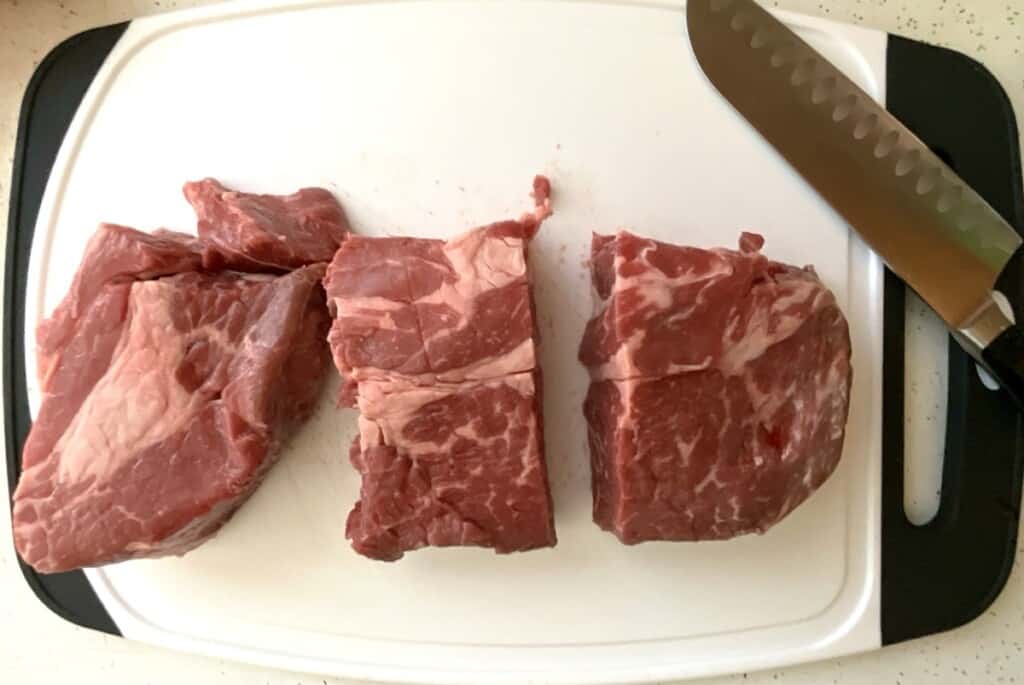 Step 1 – Cut Pot Roast into Chunks. This allows for a much better sear and added flavor. The reason is by cutting is into cubes you can sear the beef on all sides adding flavor and texture. This was just about a 3 pound chuck roast.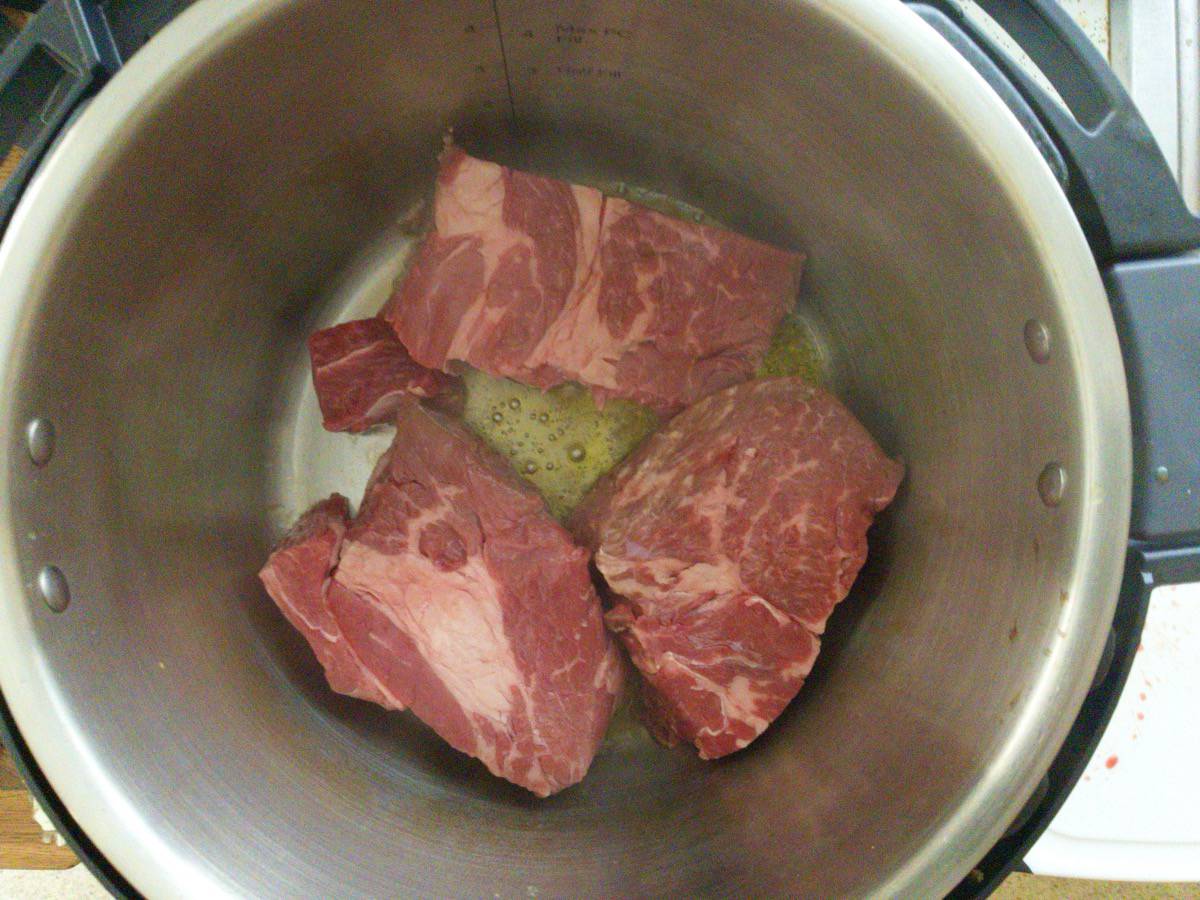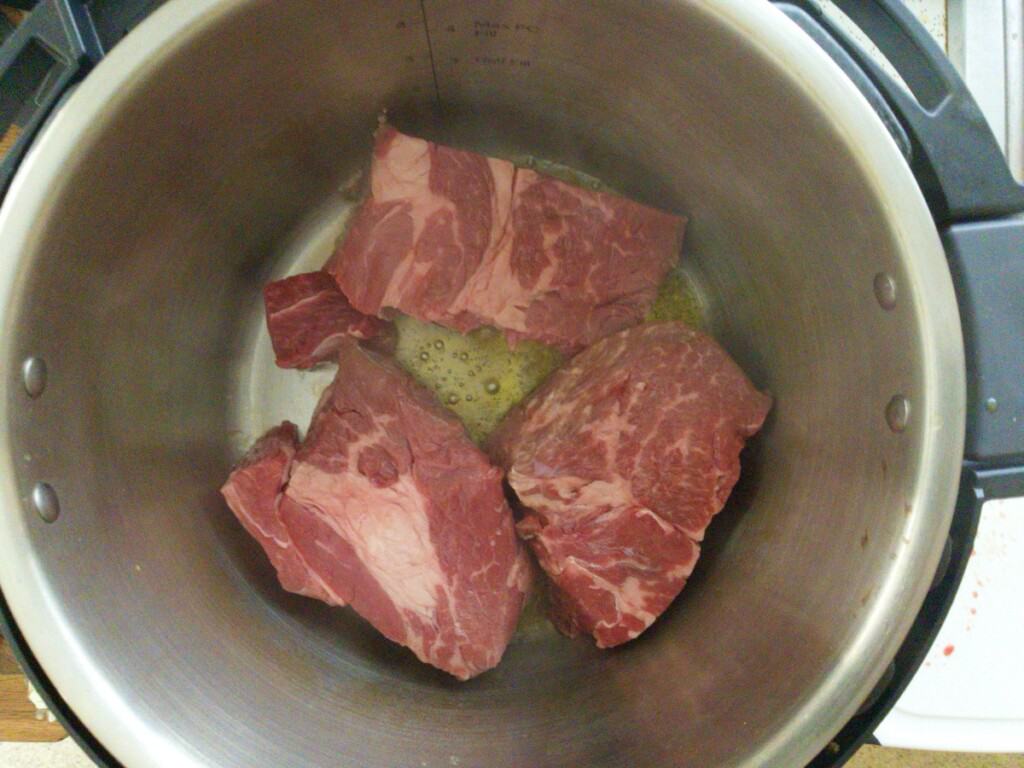 Step 2 – Turn on Saute Mode and Sear. Press "Saute" Button until the screen it at the "HIGH" setting. Somer of the older Instant Pots say "More." When the screen says "Hot" it is ready to sear. Pour in Oil and give it a chance to heat up. Place in your roast. Try to get a bit of space in between pieces for a better sear. Do not touch for 5 minutes.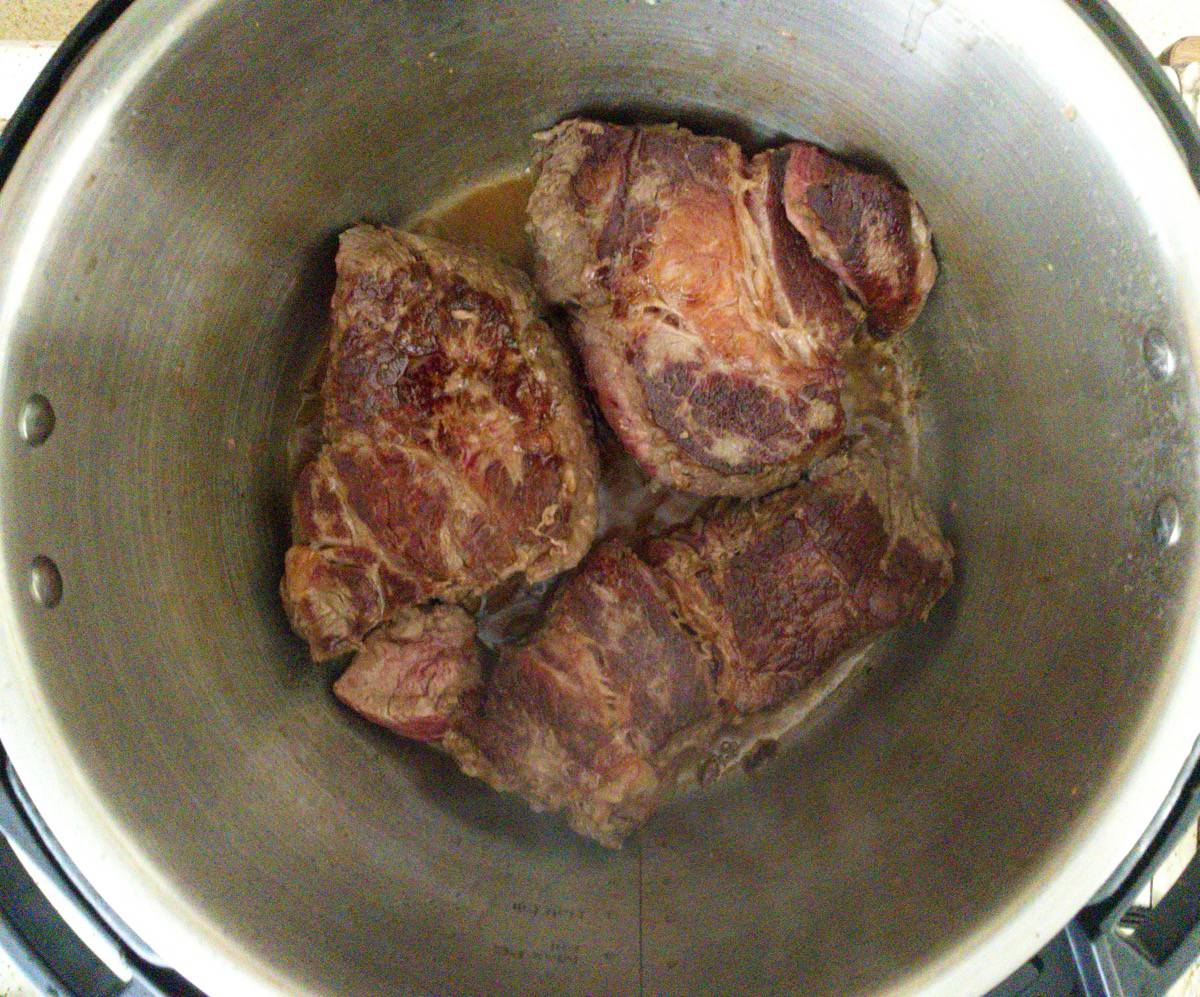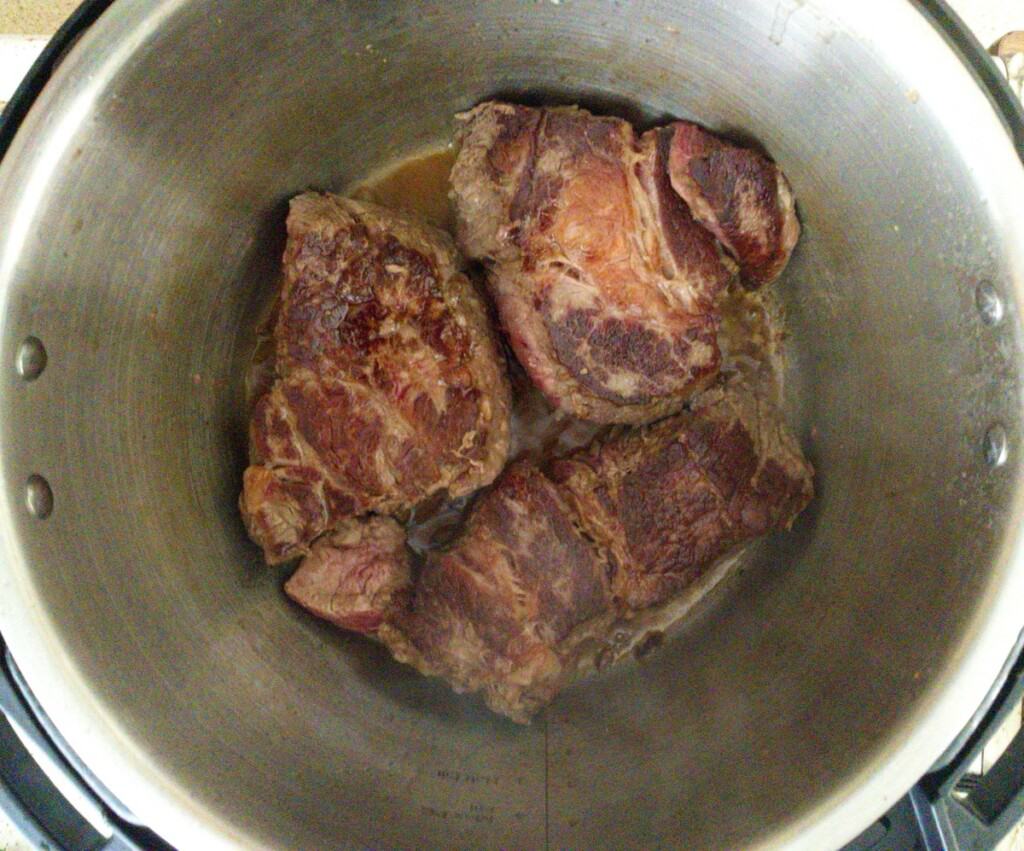 Step 3 – Flip and Sear on all Sides. After the initial 5 minute sear on the first side flip and repeat for another 5 minutes. Do this on all sides for maximum flavor. If you have a larger roast this may need to be done in batches.
Step 4 – Remove Meat and Deglaze. Once all of your meat is seared remove and keep warm. If using onions which I recommend since it adds more flavor add them to pot and sauté for 1 minute. Deglaze the pot bar pouring in about 1/4 cup of the broth. Scrape the bottom of the pot to release all the bits from the pot.
Step 5 – Add Seasoning packets Broth and Brine. Add the beef broth, ranch seasoning and au jus seasoning and the brine from the pepperocini jar. Stir to mix everything up. Return the meat to the instant pot and place the pepperoncini peppers on top.
Tip: I like to make sure that the liquid is halfway up the sides of the meat.
Step 6 – Pressure Cook Mississippi Pot Roast. Place the lid on the Instant pot and move the valve to the sealing position. Pressure cook Mississippi pot roast 50 to 60 minutes cook time depending on size of roast. When the cooking cycle ends do a 15 minute natural release and then quick release remaining pressure.
Step 7 – Making the Gravy. Remove the chuck roast from the Instant pot and set aside on a plate under some foil to keep warm. Press cancel on the Instant Pot and then select Sauté setting. While the beef broth mixture is heating up mix together the softened butter and flour in a bowl until combined.
When the liquid in the Instant Pot is bubbling add the butter flour mixture and stir constantly to get everything combined and avoiding lumps. When everything is combined let gravy mixture simmer 2 to 3 minutes until thickened. If you want it thicker let it simmer a few more minutes.
How to Make Mashed Potatoes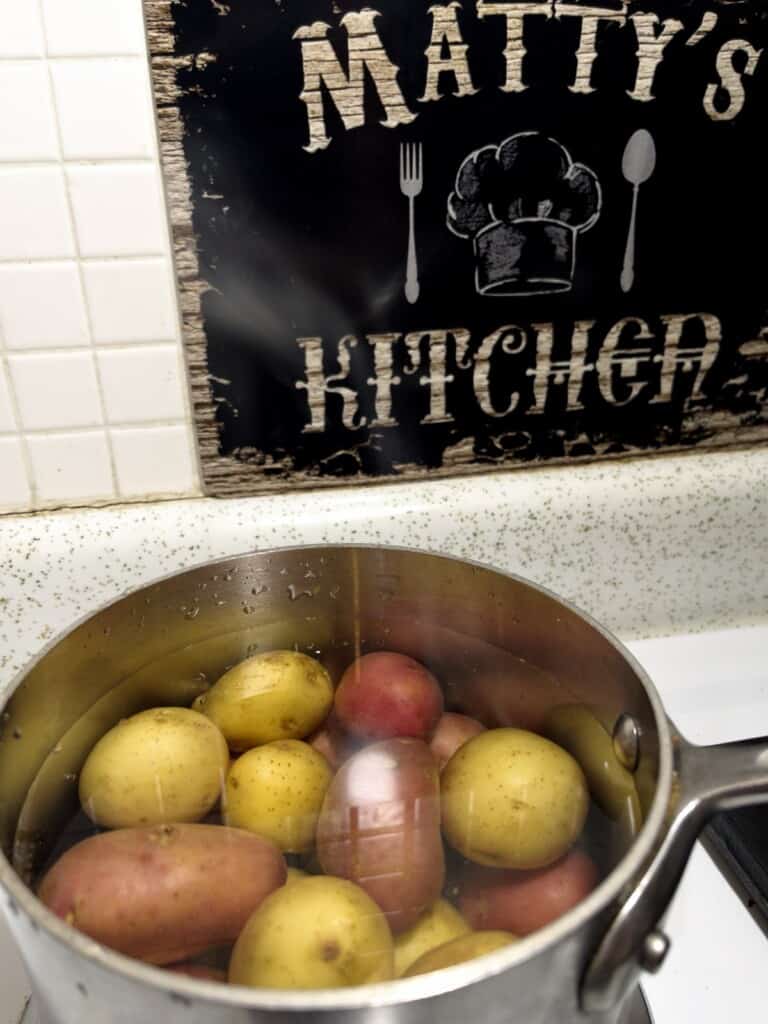 When I was making this Mississippi pot roast I was going to have it with these mini potatoes and then I thought to myself that this dish would be much better with mashed potatoes. It turns out that these mini potatoes make great mashed potatoes and you don't have to peel them.
When I was making this Mississippi pot roast I was going to have it with these mini potatoes and then I thought to myself that this dish would be much better with mashed potatoes. It turns out that these mini potatoes make great mashed potatoes and you don't have to peel them.
Place potatoes in a pot and cover with water.
Turn to Medium High until water is boiling
Boil potatoes about 20 minutes until tender when poked with a fork.
Remove from heat and drain water.
Place lid on pot for a couple minutes to dry the potatoes.
Add 2 Tablespoons butter and put lid back on to melt butter.
Once butter is melted add about 2 Tablespoons Half and Half.
Mash potatoes with potato masher until combined and at your desired texture.
If they are dry add a Tablespoon more Half and Half
Salt and pepper to taste.
Can A Frozen Roast Be Used?
Yes a frozen roast can be used but you will have to skip the searing of the meat step which adds flavor. The other drawback is you will not be able to just the pot roast into chunks so the cook time will be longer.
Can Veggies Be Added?
Yes veggies can be added to Mississippi pot roast. Since the cooking time for the roast is about an hour I would not add the veggies directly to the original cook time. I would wait till after everything is cooked and pressure is released and roast has been removed. I would place in the veggies and cook them BEFORE making the gravy. The pressure cooker will come to pressure quickly since it is already hot. Follow times below and cut the veggies into larger pieces.
Carrots 4 minutes High Pressure
Potatoes 4 Minutes High Pressure
Green Beans 1 Minute High Pressure
What Kind of Beef Can Be Used?
I always use a chuck roast but bottom round roast, top round roast, rump roast and sirloin tip roast are a few other cuts of beef that could also be used to make this Mississippi pot roast.
How to Make Mississippi Pot Roast in a Slow Cooker
Heat oil in a skillet over Medium High Heat
Sear the beef cubes on all sides. About 5 minutes each side.
Remove the beef and set aside. Deglaze the pan with some of the beef broth or brine from the pepperoncini peppers.
Add broth, ranch seasoning and au jus gravy packet to the slow cooker. Onion soup mix can also be used. Stir to combine.
Add the beef cubes to the slow cooker and top with pepperoncini peppers.
Slow cook on High for 4 hours or 8 hours on Low.
Mix together 2 Tablespoons cornstarch and 2 Tablespoons water.
Remove beef and add cornstarch mixture to slow cooker and let thicken for 20 minutes.
Add pot roast back to the slow cook and coat with the sauce.
How to Serve Pot Roast
I think the best way to serve this pot roast is over mashed potatoes. This is just pure comfort food to me. I sometimes serve it over rice which is also delicious. 
Substitutions
Onion Soup Mix – A packet of onion soup mix can be used in place of ranch seasoning packet.
Banana Peppers or Hot Cherry Peppers – can be used in place of the pepperoncinis.
Even if your reader doesn't follow a specific diet (eg. gluten free), they may have friends or family that they're cooking for that could use this. This is also a great idea to link out to another blogger with a similar recipe that fits a different diet.
Reheating and Storage of Leftovers
Leftovers can be stored in an airtight container in the refrigerator for 3-4 days.
If wanting to freeze leftovers a nice space saving tip is to put the roast in a zip bag and lay them flat in your freezer.
Reheating in the Instant Pot – Place 1 cup water in the pressure cooker. Place pot roast in glass or metal dish that fits in the Instant Pot. Place dish on top of trivet. Press "Steam" button and set time for 15 minutes.
Reheating in the Oven – Place pot roast in an oven safe dish with a small bit of broth or water and cover with foil. Place in a 350 degree oven for 15 to 20 minutes.
Giving the visitor ideas on how they can change this recipe to better suit their dinner guests, or their cultural cuisine, is a great way to increase the chances they make the recipe
Equipment Used and Kitchen Essentials
I always list most of the equipment I use in a recipe. I will also list kitchen essentials that I use. I do get an affiliate commission from these items at NO COST to you. I appreciate your support.
Instant Pot Pro 10-in-1 Pressure Cooker
Stackable Steamer Insert Pans
Beef Chuck Roast Boneless Pasture Raised
Amazon brand – Happy Belly Reduced Sodium Beef Broth
Cento Pepperoncini Peppers
Amazon Brand – Happy Belly Ranch Dip Mix
McCormick Au Jus Gravy Mix
FAQ
Why is my Pot Roast not tender?
If your pot roast is not tender this is a matter of beef needing more cooking time. Place the lid back on you Instant Pot pressure cooker and cook for additional time. 10 to 20 minutes is the recommendation.
What can I substitute for pepperoncini peppers?
Banana Peppers
Hot Cherry Peppers
What can I use in place of Au Jus Gravy Mix?
Onion soup mix can be substituted for au jus mix.
Related Recipes
Looking for other recipes like this? Try these: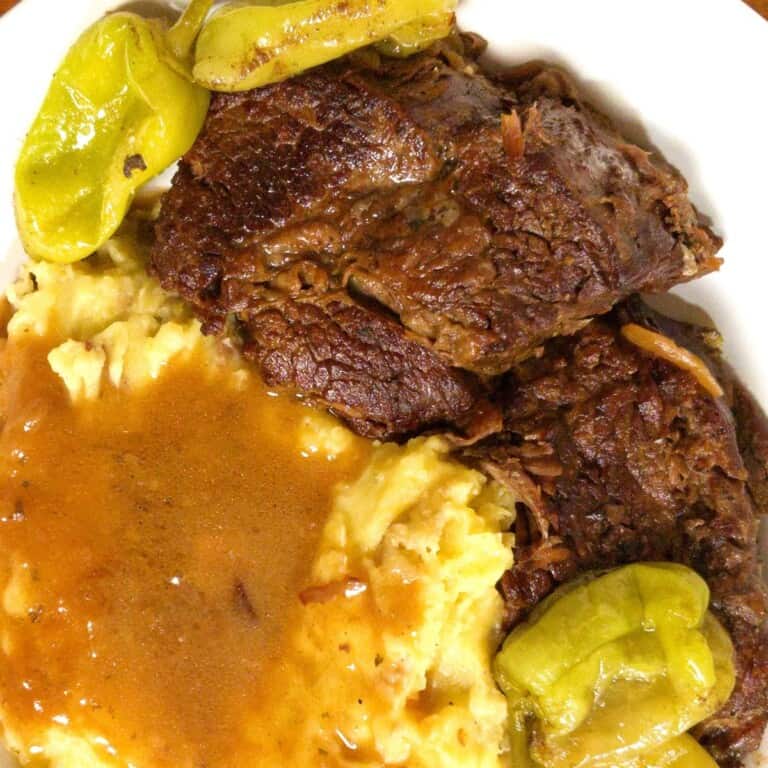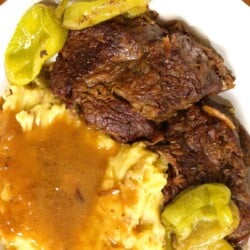 Mississippi Pot Roast Instant Pot
Mississippi Pot Roast in the Instant Pot is a different delicious version of pot roast in your instant pot. It has hints of vinegar and is a little bit spicy. Rich gravy with a hint of ranch flavor makes this a favorite served over mashed potatoes.
Print
Pin
Rate
Ingredients
Pot Roast Ingredients
1 2 1/2 to 4

Pound

Chuck roast cut into bigger chunks about a pound or so.

3

Tbps. Avocado Oil.

This is what I used. Use any oil preferred.

1

Onion Chopped.

Optional but adds flavor

8-10

Pepperocinis chopped or whole

and about 1/4 juice from the jar.

1

Cup

Beef Broth

I used low sodium broth

1/2

Dry Ranch Packet

about 1/2 oz. I used it from a jar

1/2

Beef Gravy Au Jus Packet

about 1/2 to 3/4 oz.

3

Tbsp

Unsalted Butter
Gravy Ingredients
2 to 3

Tbsp.

Flour

3

Tbsp

Unsalted Butter Softened
Instructions
Pot Roast Instructions
Place Instant Pot on Saute Mode. (I used High Setting)

Once screen says "Hot" add the oil.

When Oil is hot add beef and sear 5 minutes per side to build crust and flavor.

Remove meat keep warm under foil tent. Add the onions and sauté for about 1 minute.

Deglaze the pan. This is done by adding a small amount of broth. Scrape bottom of pan when liquid is added to release the bits from the bottom of the pan. That's all FLAVOR.

Turn off Sauce Mode.

Once the pot is deglazed and in the meat, broth, ranch seasoning, and gravy au jus and butter. I make sure liquid is at least half up the sides of the meat.

Place lid on pressure cooker and turn valve to the "SEAL" position.

Pressure Cook on High pressure for 50 to 60 minutes depending on amount of meat.

When cooking is done do a Natural Pressure release for 15 minutes.
Gravy Instructions
Remove the meat from the Instant Pot and keep warm.

Turn on Saute Mode again.

While waiting for the liquid to simmer combine softened butter and flour.

When gravy liquid is at a simmer add butter mixture and stir well to combine and prevent lumps. Let simmer until desired thickness. About 2 to 3 minutes.

Cancel Sauce mode and turn on "Keep Warm" Put meat back in gravy until ready to serve.

Serve over mashed potatoes or rice.
Notes
Since Mississippi pot roast is known to be very salty I have to all the ingredients in the ranch seasoning and gravy packet. I only used about a quarter of a cup of liquid from the peppperocinis also.
Nutrition
(Visited 972 times, 1 visits today)