This Air Fryer Sausage recipe Is a great way to cook sausages. The sausages come out with crispy skin and a juicy inside. The process is so quick and easy.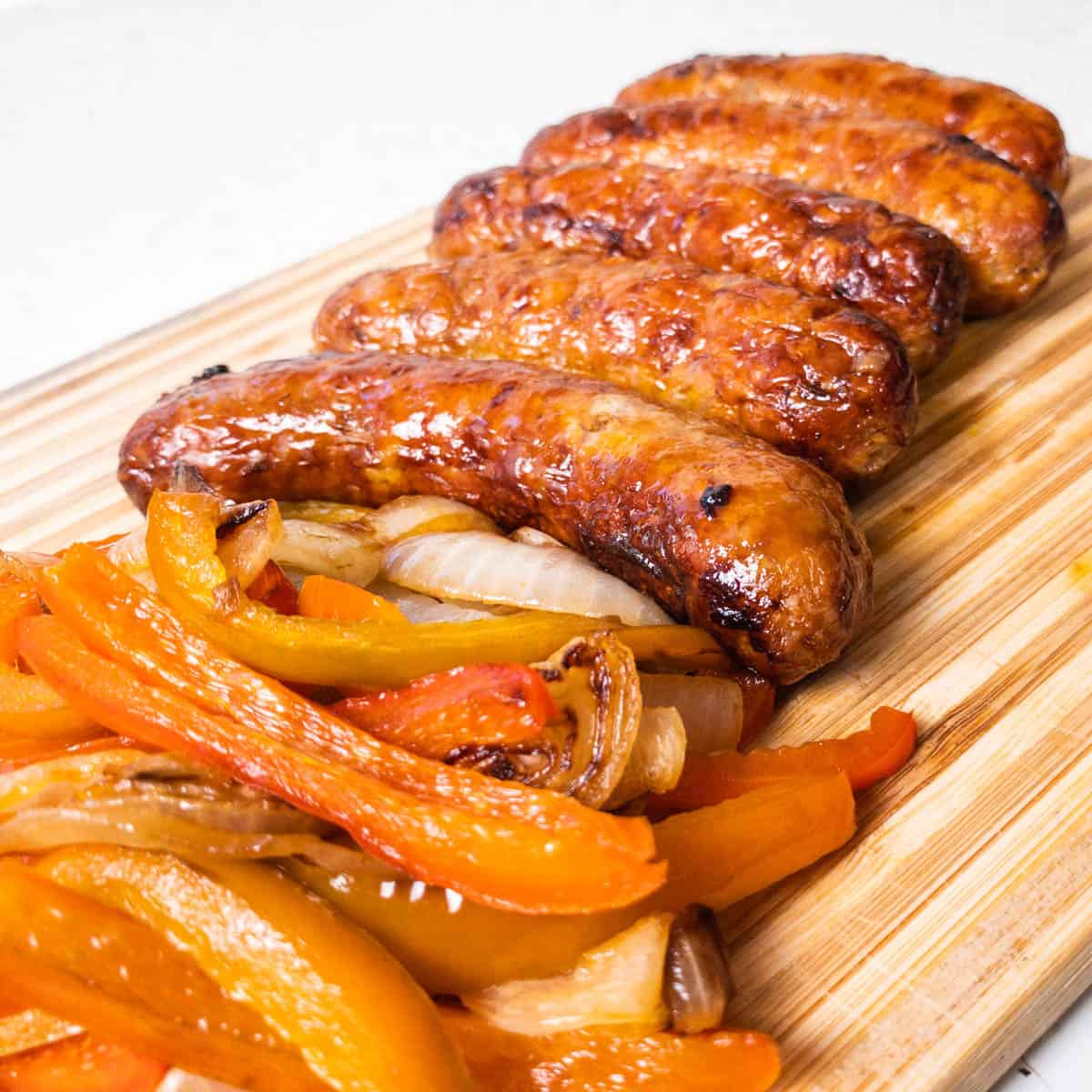 Air Fryer Italian Sausage
I love my air fryer. I am using the Cosori 5.8 quart model and it produces some of the most consistent air fry cooking results. Sausage cooked in the air fryer is so much easier than cooking them in a skillet.
Jump to:
Can you Cook Sausage in the Air Fryer?
Yes, you can cook sausage links in the air fryer. Not only can you cook Italian sausage in the air fryer but you can cook all types. It all comes out fantastic.
I have also cooked bratwurst, chorizo, chicken sausage and breakfast sausage in the air fryer. All of them came out great. When cooking breakfast sausages you want to cook them for a shorter amount of time. 10 minutes seems to do the trick.
How to Cook Sausage in the Air Fryer?
Full Ingredients and Instructions in Recipe Card
Cooking the sausage in the air fryer is a simple process. I am going to show you my foolproof method for the perfect sausage in the air fryer and you are going to love it.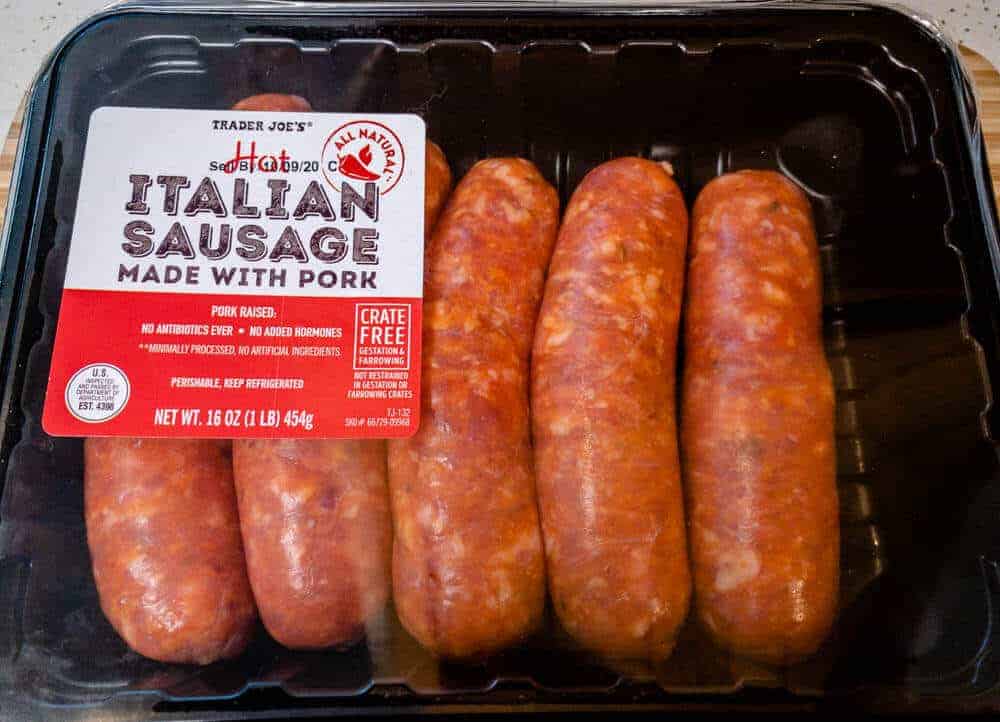 The sausages that I used in this recipe were Italian sausages that I got at Trader Joes. This time I got the HOT Italian sausage because I was being adventurous but they also have Mild Italian sausage which is also fine for this recipe if you do not like spicy.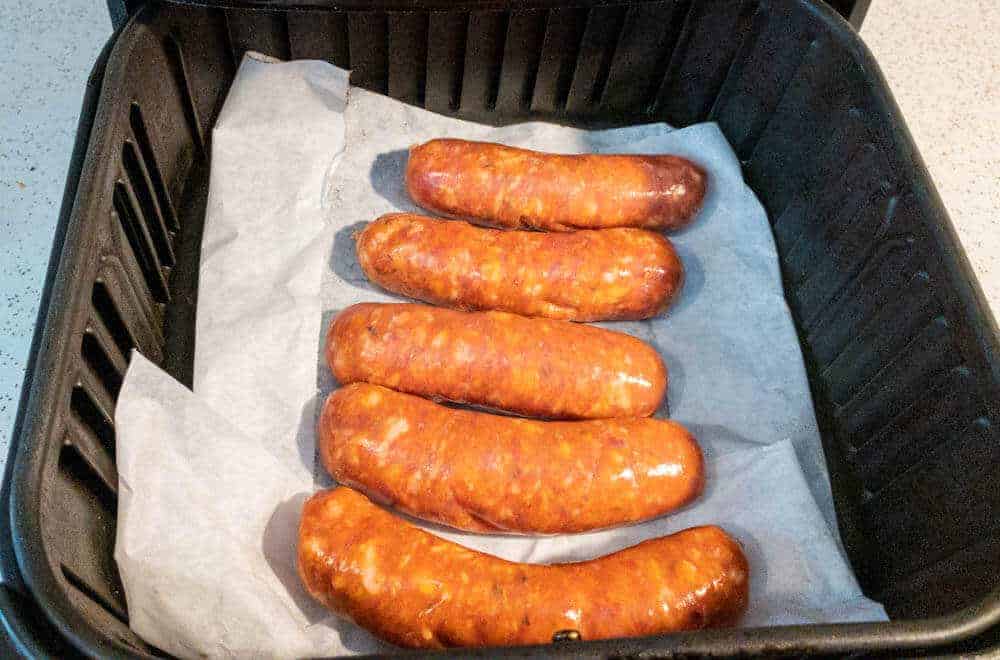 Before we even get into cooking the sausage I want to give you a tip. Line the air fryer basket with parchment paper like the picture above. Not only will it cut down on the smoking of the air fryer but but it will also make cleanup easier.
The parchment paper trick in the air fryer is a great trick for chicken wings too. Put that tip in the vault. Do NOT poke holes in the sausages. If you would rather jump to recipe it is at the bottom of the page.
Step 1 – Line the Air Fryer Basket with Parchment Paper
The reason that you want to line the air fryer basket with parchment paper is to absorb the grease which will cut down on the smoke created during cooking. It will also make cleanup easier.
Step 2 – Preheat Air Fryer
Preheat your air fryer to 360 degrees. I do recommend preheating you air fryer even though it is not required. I feel it make the skin a bit crispier if preheated.
Step 3 – Place Sausages in Air Fryer
Place the sausages in the air fryer in a single layer leaving some space in between for good air circulation. Close the air fryer and set your timer for a total cooking time of 20 minutes.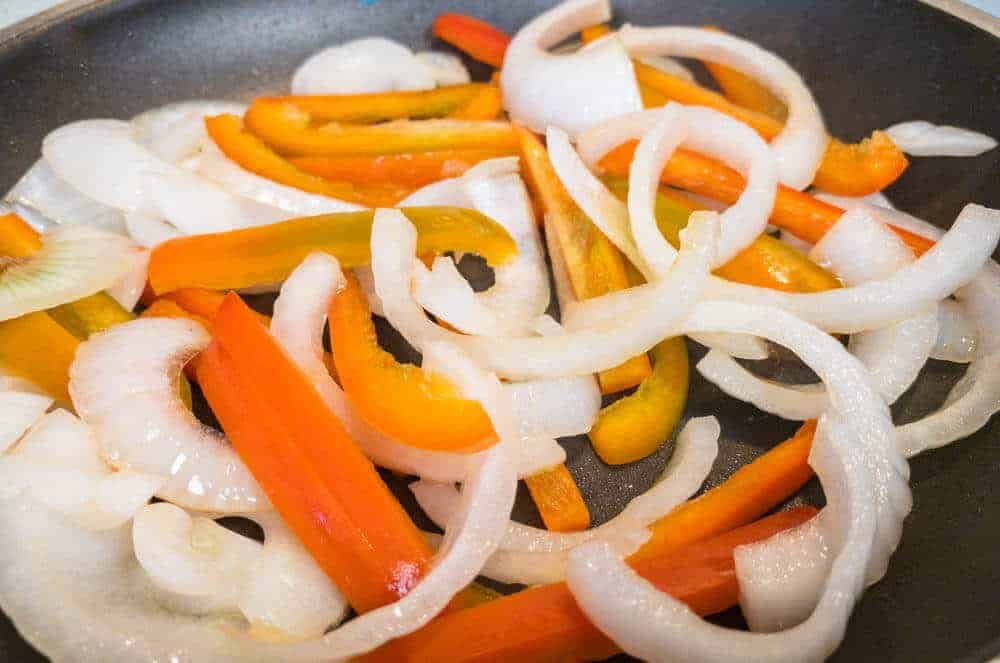 Step 4 – Saute Peppers and Onions
Even though this recipe is just about cooking sausage in the air fryer I threw together some peppers and onions with the sausages because I think they're delicious.
If you would like to also do that the peppers and onions all that I did was slice up a pepper and onion and saute them in a Tablespoon of olive oil for about 15 minutes over a medium heat.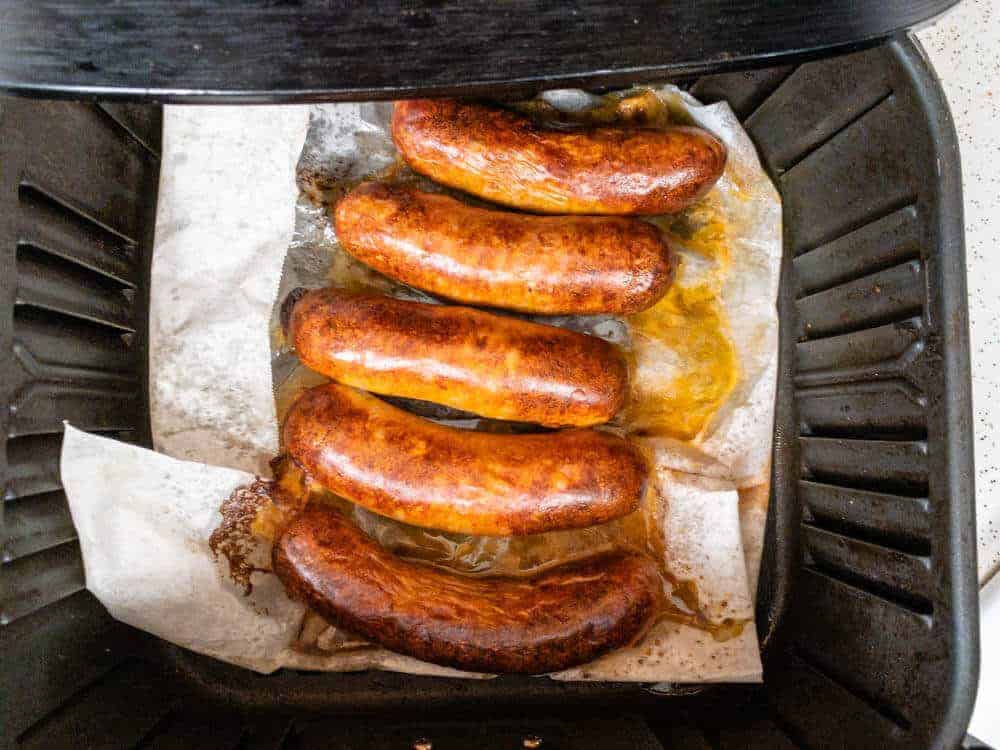 Step 5 – Flip the Sausages and Finish Cooking
After 15 minutes of cooking time open the air fryer and flip the sausage. At this point, they should be looking almost done. Once you flipped fry sausages 5 more minutes and they should be done.
How Long to Cook Sausage in Air Fryer?
Generally, I find that the cooking time for sausages in the air fryer is about 20 minutes. Of course, this depends on the size of the sausages.
How to Cook Breakfast Sausage in Air Fryer
Breakfast sausage I find takes less time at about 10 to 12 minutes cooking time since they are small. If breakfast sausage is frozen 12 minutes should do the trick
If you are cooking a sausage that is not mentioned here and you are not sure how long the cooking time would be the best way to get a good result is to use a meat thermometer and cook to an internal temperature of 165 degrees.
Cooking by temperature instead of time always gives more accurate results. If you do not have a meat thermometer and are interested in getting one I love the Thermopro TP19H. It is accurate, durable, and waterproof.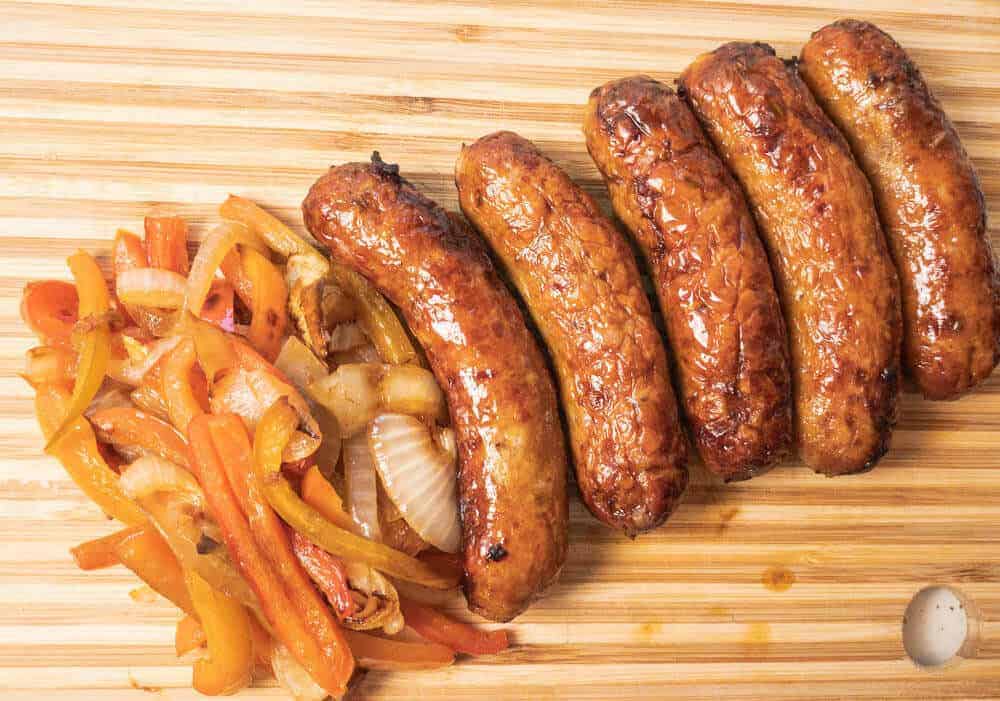 Kitchen Essentials and Items Used
Cosori Air Fryer 5.8 Quart
Thermopro TP19H Digital Meat Thermometer
DALSTRONG Nakiri Asian Vegetable Knife – Gladiator Series
Niman Ranch Pork, Sausage Spicy Italian Links
Italian Air Fryer Sausage Links
Italian air fryer sausage links come out great in the air fryer with a crispy skin and juicy center.
Ingredients
1

Pound

Trader Joes Italian Sausage

1

Onion

Sliced

1

Pepper

Red or Green Sliced

1

Tbsp.

Olive Oil
Instructions
Preheat Air Fryer to 360 Degrees

Line air fryer basket with parchment paper

Place sausages in single layer in air fryer basket

Flip sausages after 15 minutes cooking time

Cook sausages five more minutes till done
Saute Peppers and Onions
Place sliced peppers and onions in a skillet with a tablespoon of olive oil over medium heat

Saute 15 minutes stirring often until desired doneness
More Air Fryer Recipes
Air Fryer French Fries
Air Fryer Meatballs
Air Fryer S'mores
Air Fryer Roasted Chickpeas
Instant Pot Sausage and Peppers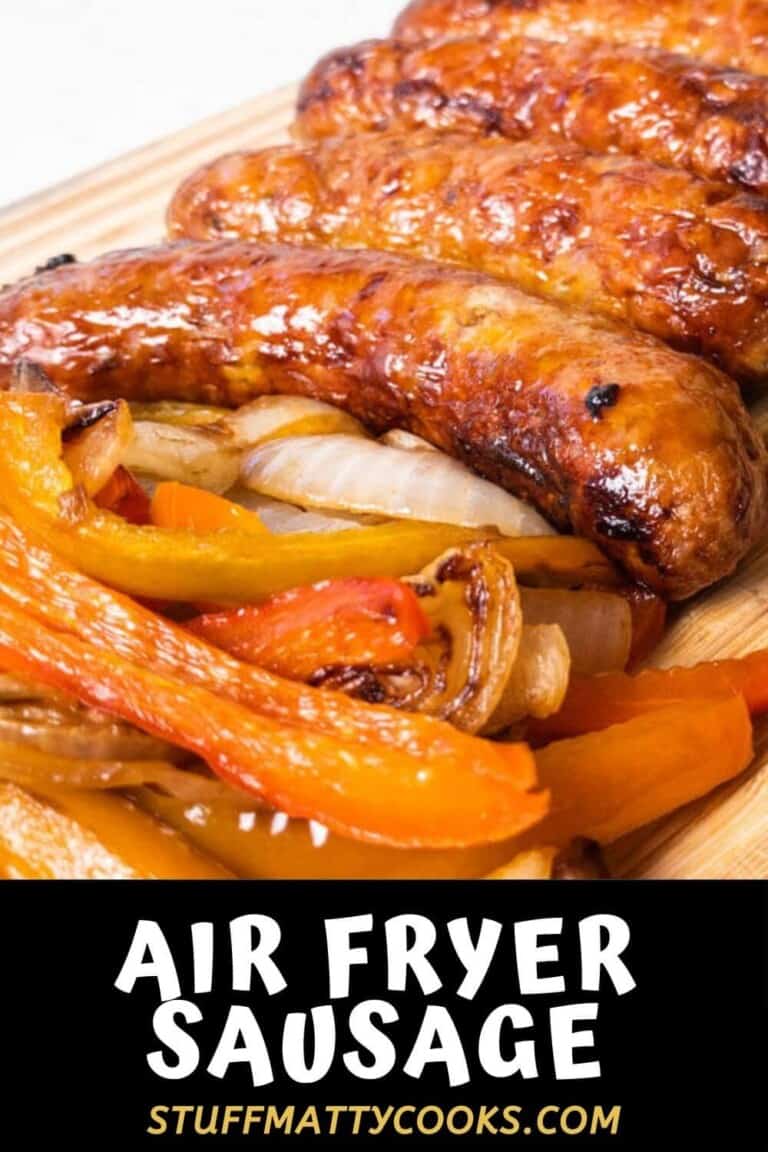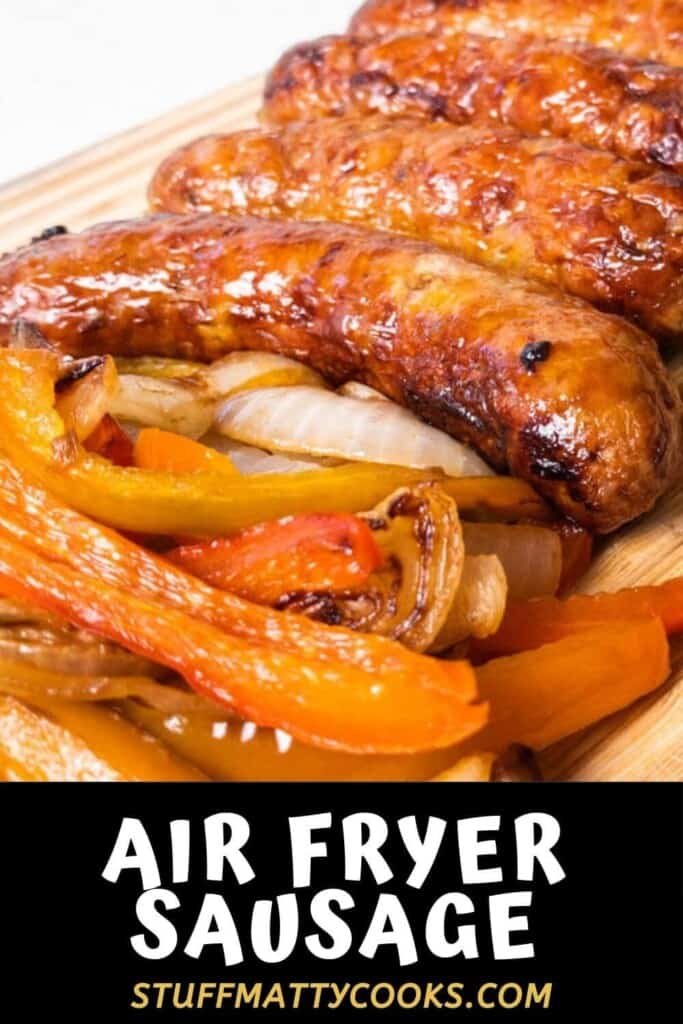 Join Our Facebook Groups
Instant Pot Recipe Spot
Air Fryer Recipe Spot
Vegan and Vegetarian Plant Based Recipes
(Visited 36,790 times, 2 visits today)