Smoked Brats have become one of my favorite things to prepare on the smoker. They are really simple to prepare and smoked bratwurst has a really unique natural flavor after being cooked on the smoker.
These German-style sausages remain juicy and the skin actually gets that "snap." which I completely love. My whole life bratwurst has been cooked in a pan and served with sauerkraut.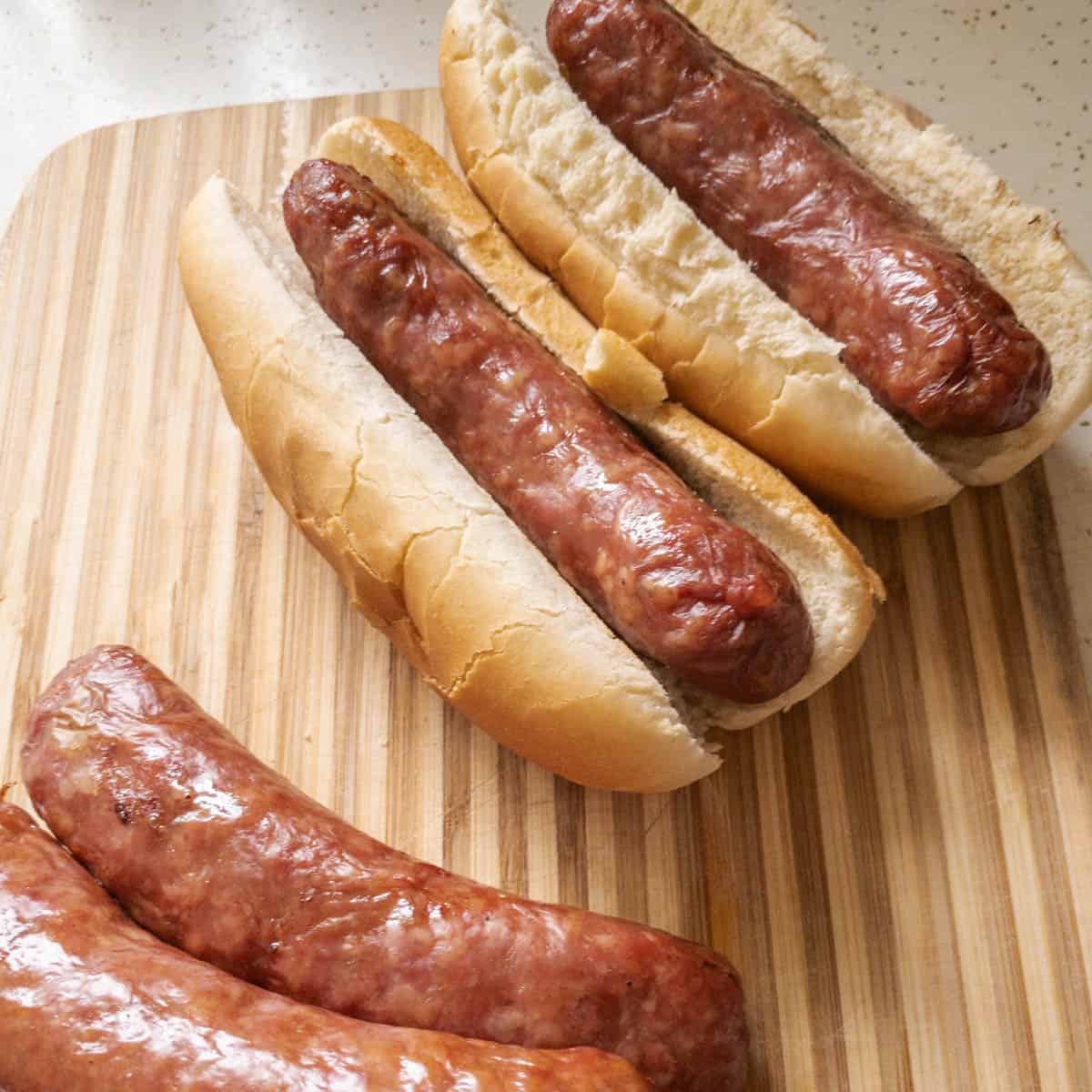 Smoked Brats
Smoking brats is a great method of cooking them. It must be my German heritage. You could put a flip-flop in a sausage casing and I'd probably like it LOL.
I really kind of discovered these by accident. I had upgraded my charcoal smoker to a new model pellet grill and being the cooking nerd that I am I wanted to mess with it. My last trip to the supermarket I bought a bunch of different cuts of meat to break in my new toy
One weekend afternoon I was starving and I looked in the fridge and said to myself "I'm gonna put this bratwurst on the smoker." They do not take long to smoke and the smoke flavor is an awesome addition. They are exploding with flavor.
Of course, you can serve them any way that you like. Sauerkraut is always a good choice, but serving up a brat like a hotdog with mustard and some chopped onion is also one of my favorites. Everyone has a personal preference of what to put on a bratwurst.
Jump to: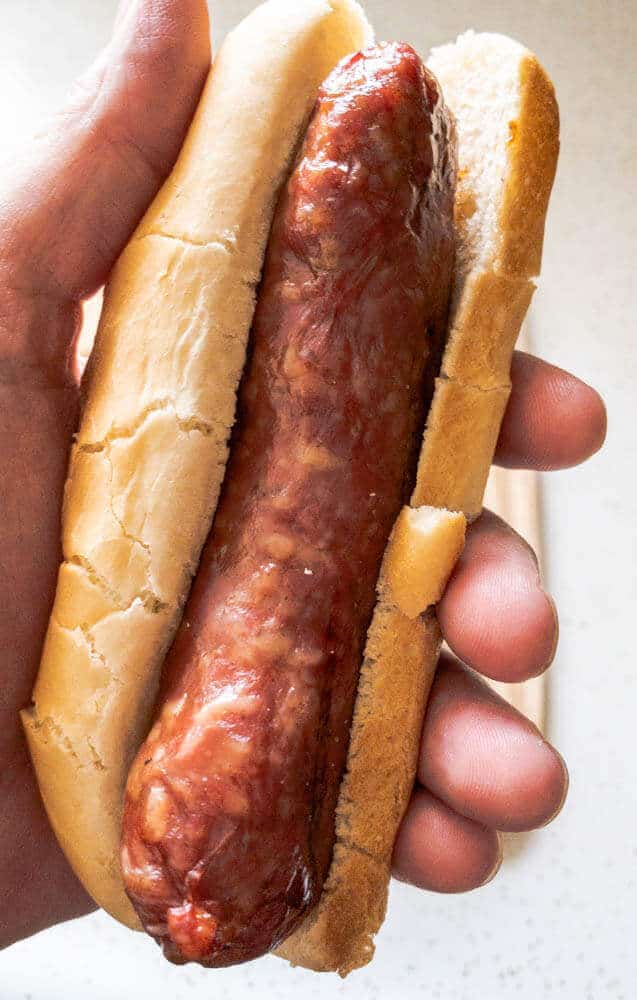 Ingredients Needed for Smoked Bratwurst
Bratwurst Sausages Raw (Not the Fully Cooked Bratwurst)
Hot Dog Buns
Mustard
Chopped Onion
Wood for Smoking Brats
How to Smoke Brats
Smoking bratwurst is a low and slow process. Meaning The temperature is set low and the brats are cooked slowly allowing them cook more gently then for example grilling the bratwurst with high heat.
You'll end up with a super flavorful sausage at the end that doesn't explode like grill brats because of the high temperature which is usually the case when people grill these kinds of sausages.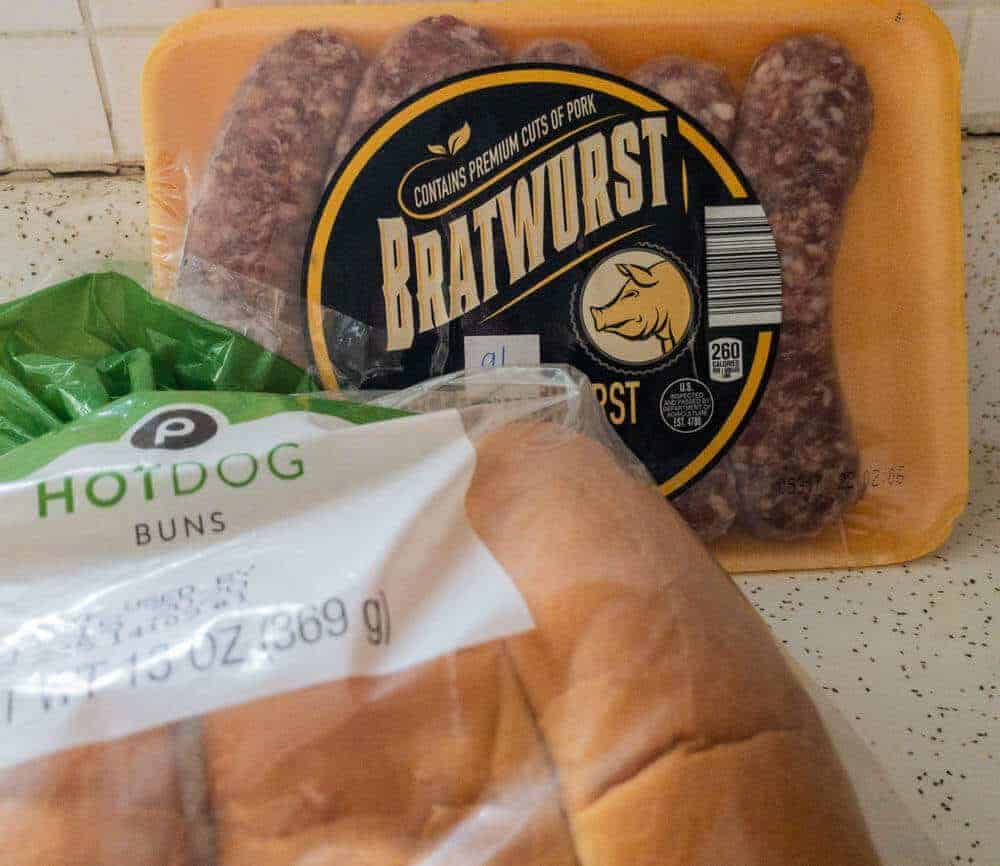 Brats on Pellet Grill
Preheat Pellet Smoker to 225 Degrees Fahrenheit or High Smoke
Place Brats on Pellet Smoker and Smoke for 30 minutes
Increase temperature to 275 Degrees Fahrenheit
Cook for another 30 minutes
Brats are done when internal temperature reaches 160 Degrees Fahrenheit
The first thing you have to do here to make the smoked bratwurst is obviously you need to have some sort of smoker. It doesn't matter what kind of smoker you have. These brats can be smoked on any smoker.
The same process applies to all smokers. It does not matter if you have a "stick burner" style smoker, an electric smoker, or a pellet smoker. The same temperatures and cook times are used.
If you don't have a smoker or you're interested in another type of smoker I just upgraded my smoker to a new Camp Chef Pellet Smoker. You can check it out if you are interested by visiting that link.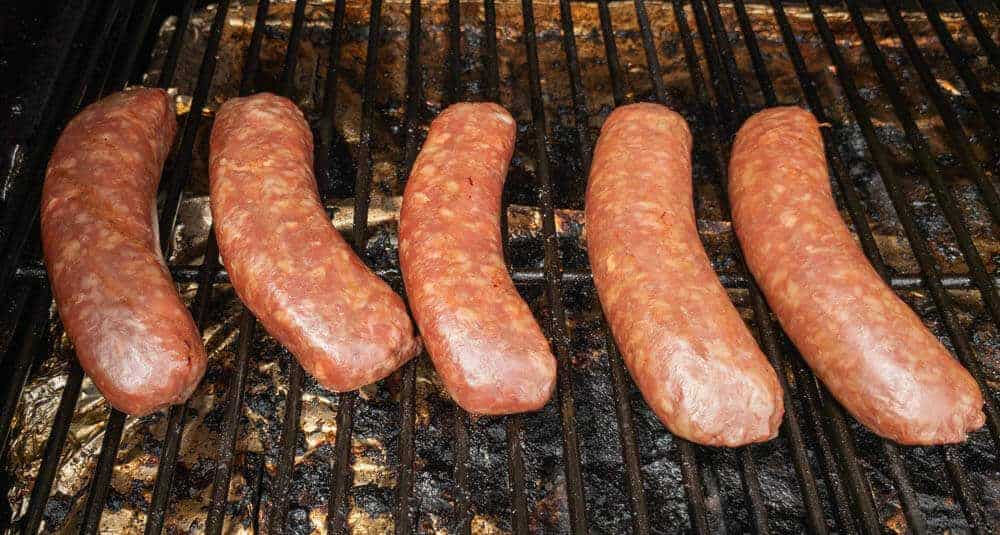 Step 1 Preheat your smoker
The first step in cooking these brats is to preheat your smoker to 225 degrees. If you have a Traeger pellet smoker you can set it to "High Smoke" or "Super Smoke." On the Camp Chef that I have I set it to the "High Smoke" setting. This should take about 15 minutes.
As far as the kind of wood to use you can pretty much use almost anything. I am using something called gourmet blend which is mostly oak and hickory. Apple wood is great wood chips or pellets if you happen to have some of that flavor.
Step 2 Cooking your Brats
Now that your smoker is preheated place the sausages in your smoker giving them plenty of space for the air and smoke to circulate on the hot grill.
How Long to Smoke Brats
The cooking time for these brats is about 45 minutes to 60 minutes. After about 30 minutes of cooking time, you're going to want to increase the temperature to 275 degrees for the second half of the cook.
I find raising the temperature gives the bratwurst a nice "snap" to the skin of the bratwurst. Once the heat is increased I find turning frequently produces consistent results.
What is the Cooking Temp for Brats?
The cooking temp for brats that I like to use is 225 degrees. The brats can be cooked at this temp for the entire cook.
Brat Cook Temp if Grilling
Preheat your grill to 325 to 350°F for a two zone cook.
Place brats on the indirect side of the grill.
Turn brats often for even cooking
Cooking time of 15-18 minutes.
Transfer brats to the direct heat side of the grill and crisp casing for a few seconds and get some grill marks.
What is the Correct Bratwurst Internal Temp?
You do not have to increase the temperature of the Brats if you don't want. The correct bratwurst internal temperature for a fully cooked brat should be when it reaches 160 degrees when done cooking and ready to eat. Bratwurst is going to become one of your smoked sausage favorites.
Look how tasty these brats turned out and they were so easy. Just slap them in a bun with your favorite topping. Maybe serve with a side dish too. Once you taste these you are guaranteed to make these again they are so good. If you are having guests place the brats in a beer bath on a low simmer.
What to serve with Smoked Brats
Pretty much anything goes with smoked bratwurst. I pretty much treat it like a barbecue item or even a hotdog. It is great just talked with mustard by itself or you can add a bunch of toppings like chopped onion, sauteed onions, or kraut. Below are a few links to some side dishes.
Side Dishes to serve with Smoked Bratwurst
Jamaican Steamed Cabbage
Vegetarian Pasta Salad
Cucumber Salad
Kitchen Essentials and Items Used
Camp Chef Woodwind Pellet Smoker
Traeger Grills Signature Blend 100% All-Natural Hardwood Pellets
Stainless-Steel Locking Grill Tongs 17-inch
Smoked Brats on the Pellet Smoker
Smoked Brats on the Pellet Smoker are easy to cook and loaded with flavor.
Ingredients
1

Package

Raw Uncooked Bratwurst Sausage

1

Package

Hot Dog Buns

1

Container

Yellow Mustard

1

Tbsp

Chopped Onion (Optional)
Instructions
Preheat Smoker to High Smoke Mode or 225 Degrees

Once smoker is preheated add the bratwurst to the smoker and smoke for 30 minutes.

Turn the temperature to 275 degrees and flip the sausages.

Smoke brats around 30 minutes more until internal temperature is 160 degrees

Heat buns in smoker for a minute or two

Serve brats with chopped onion and mustard or any toppings desired.
Notes
This recipe can be done on any type of smoker. It doesn't matter if it's a pellet smoker, electric smoker, or stick burner wood smoker. The same cooked times are applied.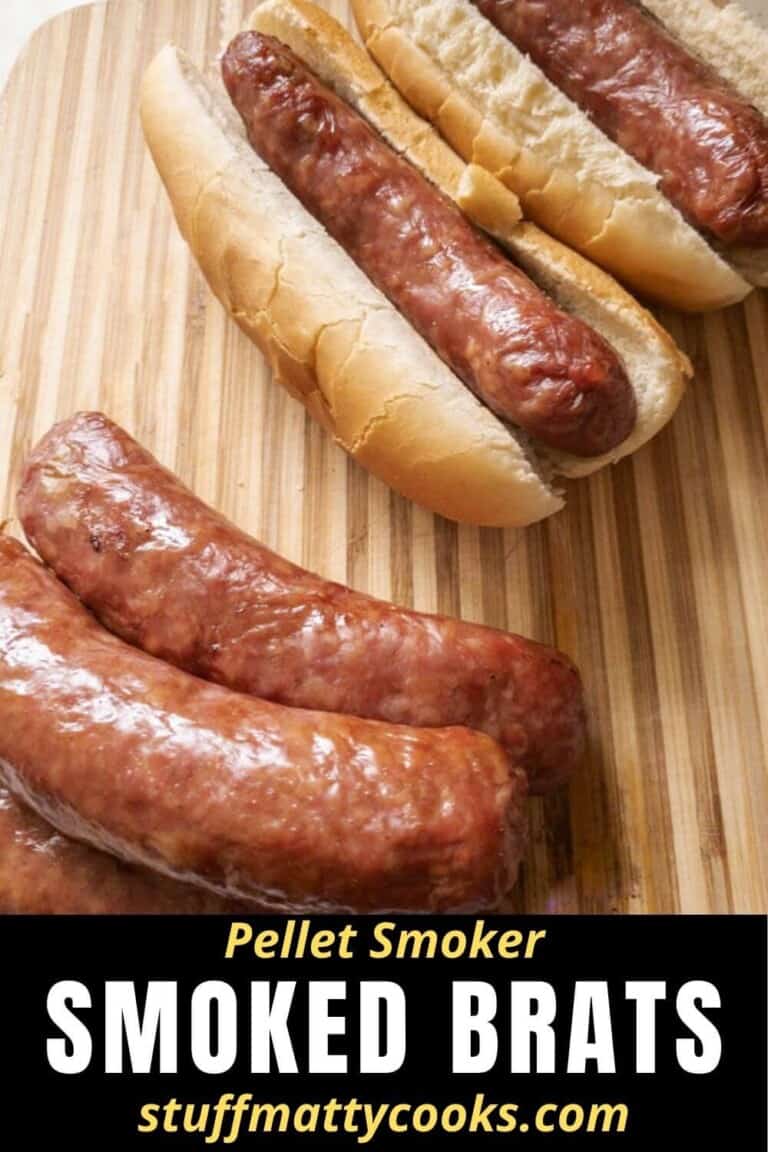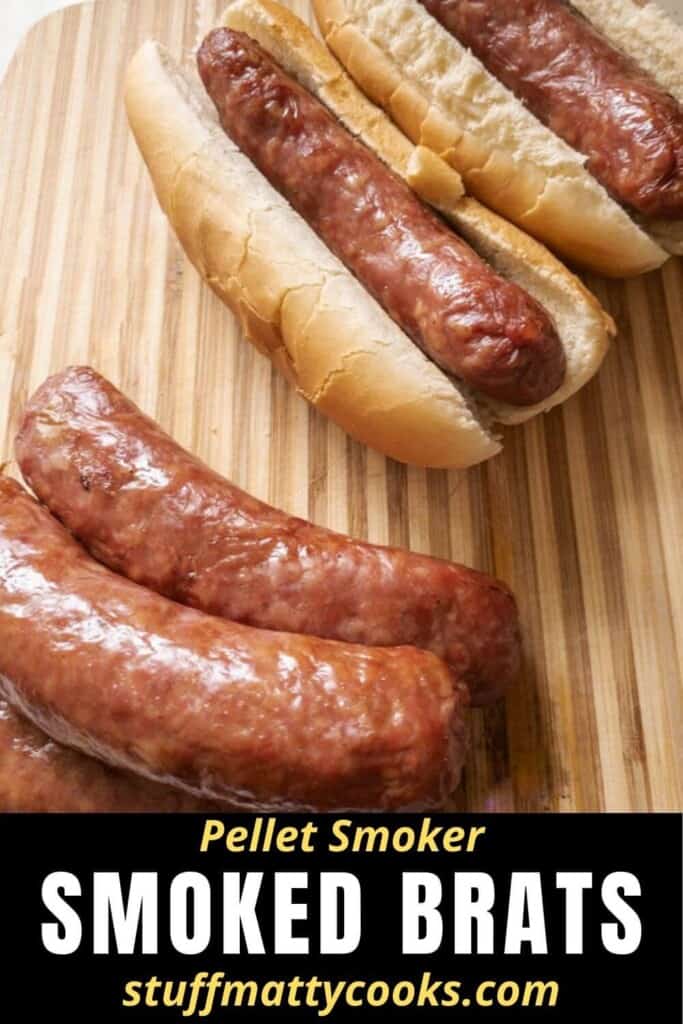 (Visited 83,762 times, 51 visits today)