I am going to show you how to cook Halloumi. Fried Halloumi Cheese is a delicious appetizer recipe that when pan fried is an amazing tasting cheese appetizer.
This cheese has a texture a lot like mozzarella cheese. When it is pan fried or grilled it has a golden exterior and the texture of a roasted marshmallow.
Most people know halloumi cheese from Greek restaurants. Which is actually how I became familiar with it. I used to go with my grandfather to a neighborhood greek restaurant and we always got an order of it.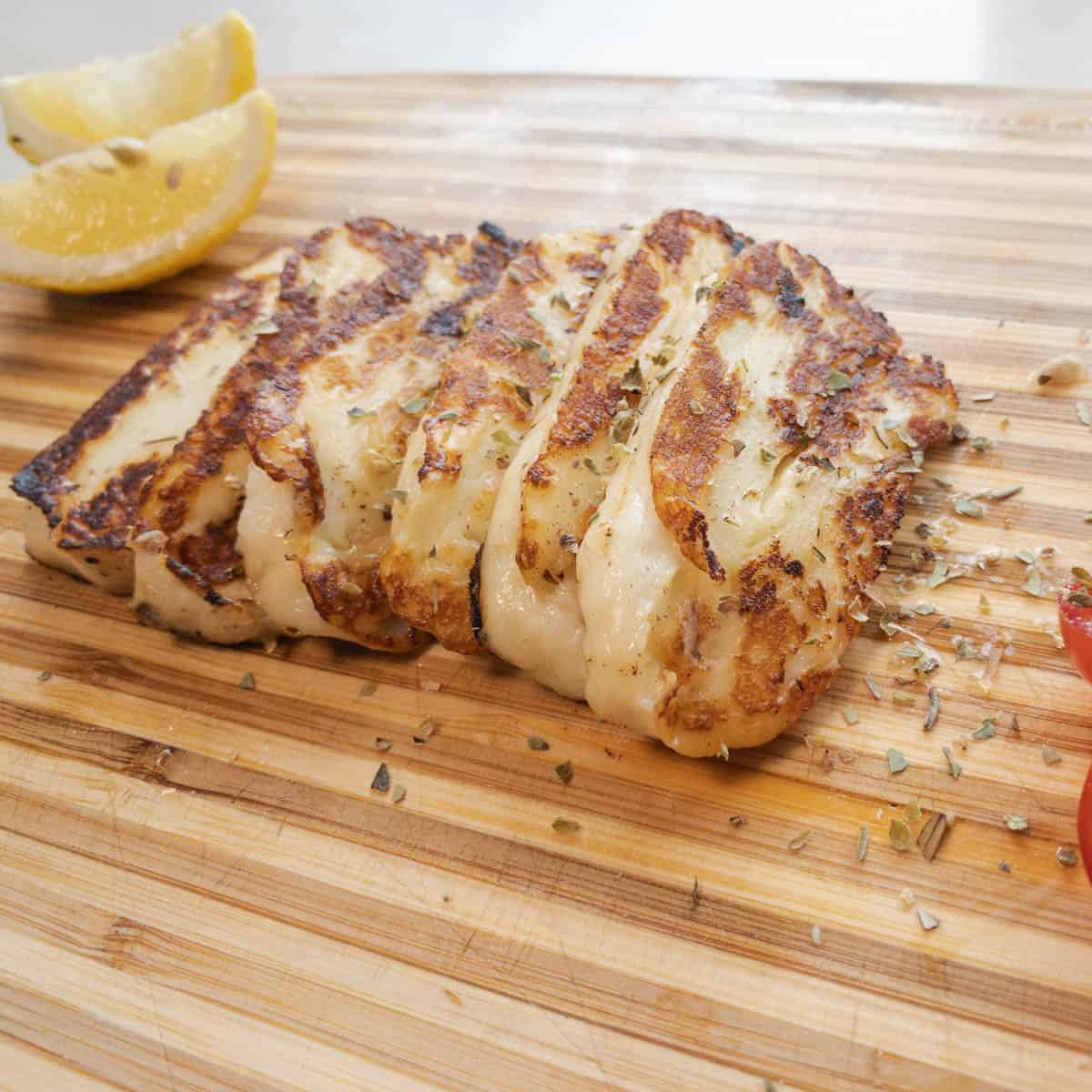 Fried Halloumi Cheese
I remember at the restaurant they always Brought out the halloumi slices in a pan still sizzling. They would then put a squeeze of lemon and usually some mint and or oregano.
What is Halloumi Cheese?
Halloumi cheese is made with a blend of goat and sheep milk. It is most associated with Greece and Greek food. The truth is this cheese came from the Medieval period and came from the Island of Cyprus. Then it gained popularity in the Middle Eastern areas.
Halloumi is salty in flavor. It has a texture similar to mozzarella cheese. It is a brined cheese that is packed in saltwater. The salty flavor is not too strong at all.
Where to Find Halloumi
Halloumi has gotten to be much more popular in western countries like the USA. It can generally be found at most major supermarkets in the specialty cheese area. I get mine at Whole Foods. They have packages of halloumi in the specialty cheese area.
If you do not have a Whole Foods in your area you can always find this cheese at a Mediterranean or Middle Eastern market.
How to Fry Halloumi
I am going to teach you how to fry Halloumi in less than 5 minutes. It is an easy process and the reward is a very tasty appetizer that will also impress your friends and family.
Halloumi Ingredients
Block of Halloumi cheese
Juice of half a lemon
Grape tomatoes or Tomato slices
Olive Oil
Mint and or Oregano (Fresh is best but use what you have.)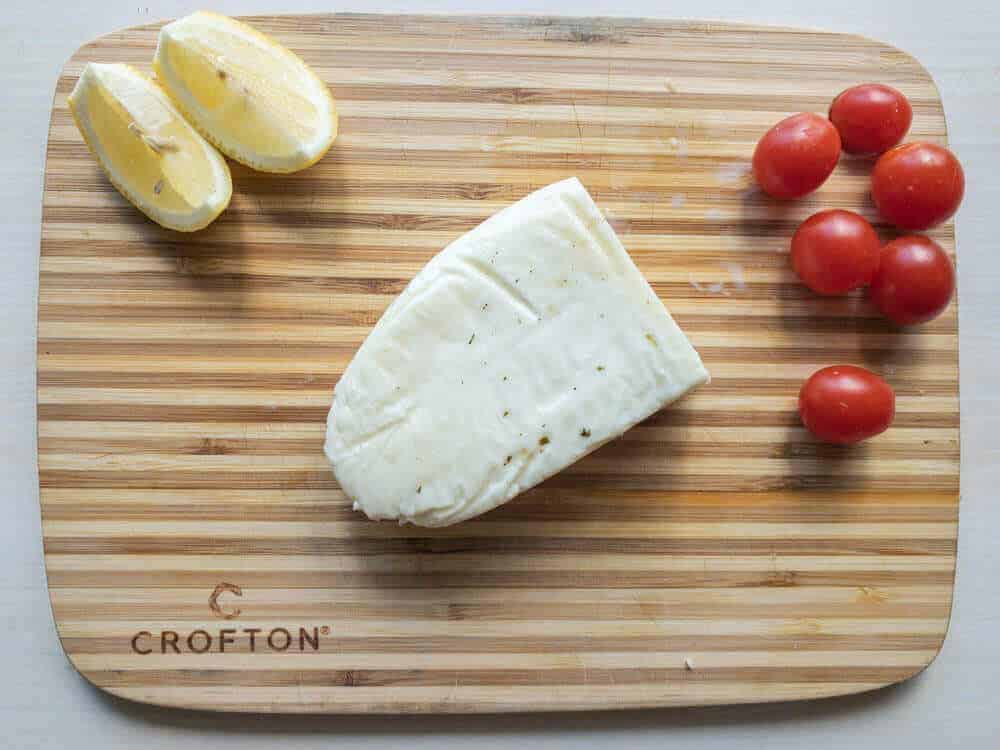 Step 1 – Cut into Slices
Cut Halloumi Cheese into slices. I like it thicker like the slices pictured below. Do your best to make the slices uniform in size. Slice your lemon in half and the into a wedge to make it easy to squeeze on to the dish.
Cut up some tomatoes. This is not required but I like it as an accompaniment when you eat halloumi.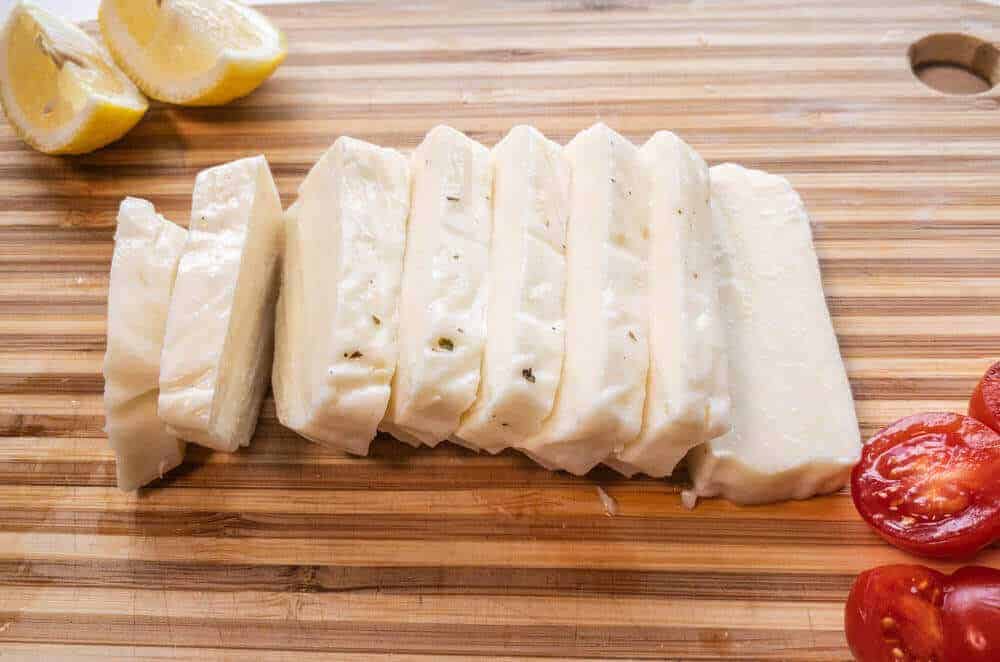 Step 2 – Heat your Pan
Heat your pan to a medium heat. Pan frying this cheese only takes a few minutes each side or less. I just recommend watching it closely.
I used a non stick pan to make this dish. If you are using a non stick pan then you can do a dry fry if you want.
I brushed the slices with some olive oil first. If you do not use a non stick pan then brushing the cheese with olive oil is required to keep it from sticking.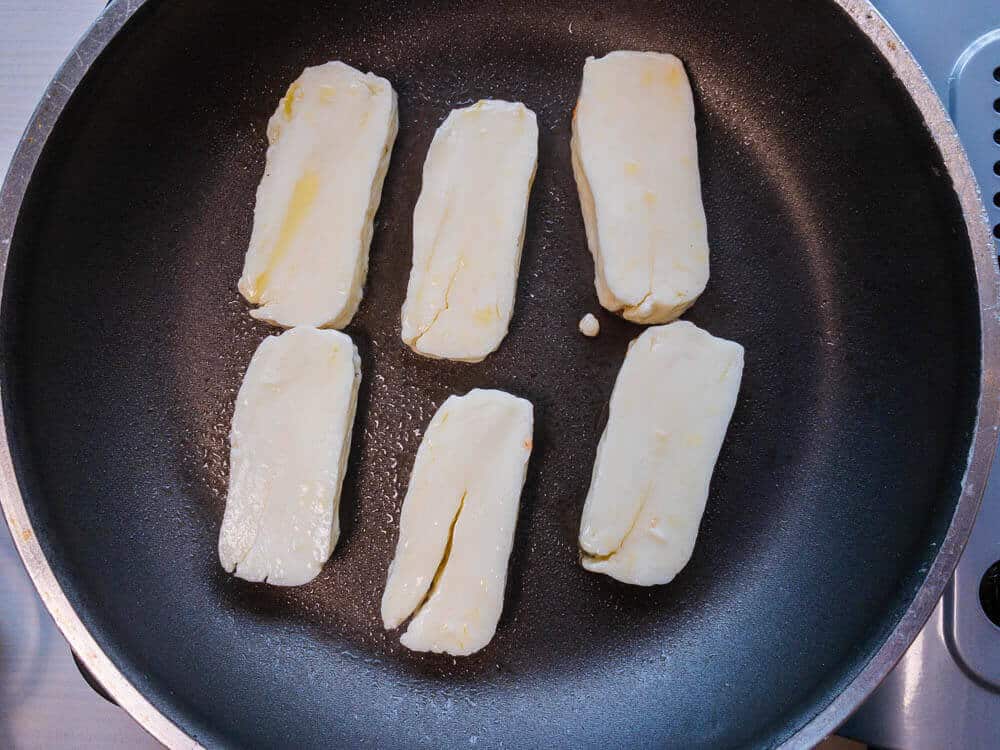 Step 3 – Pan Fry Halloumi
Now it is time to cook the halloumi. Place it in the pan and give adequate space in between the pieces for even cooking. I find it takes about 2 minutes per side for a nice golden brown crust. Just check it after a couple minutes.
Cook it to the level of doneness that you prefer. I prefer it a bit more brown as I like the outer texture a bit more browned.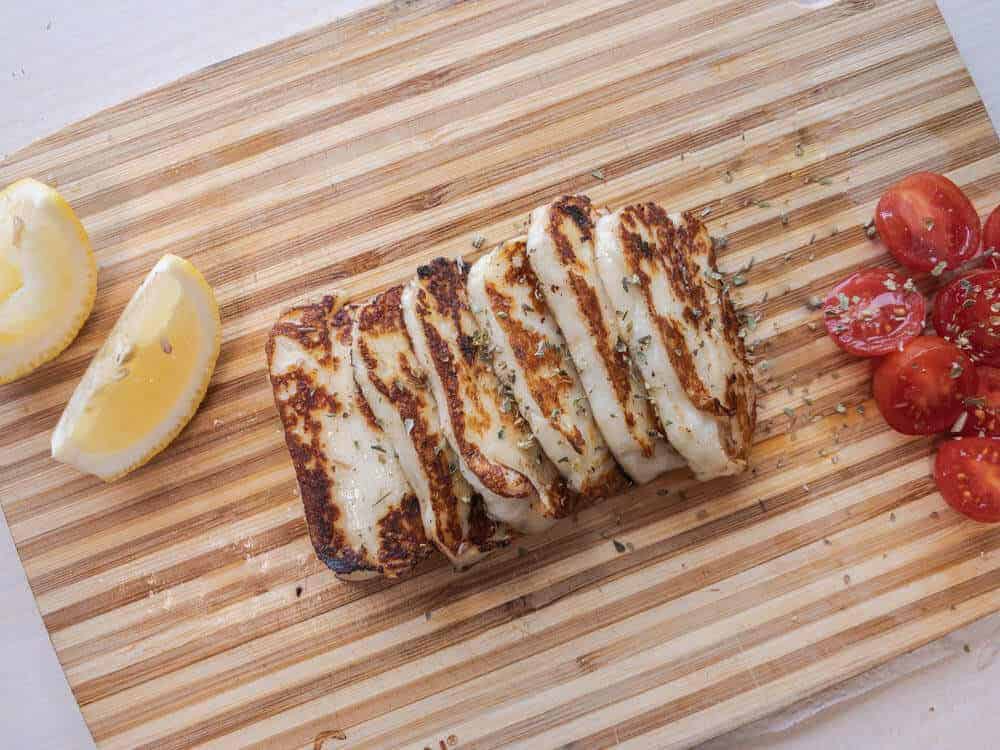 Step 4 – Squeeze with Lemon add a pinch of herbs
Once your Halloumi cheese is cooked to your liking remove it from the pan and give it a big squeeze of lemon juice. It is delicious this way and the lemon with balance the saltiness of the cheese.
Season the cheese with some mint and oregano. I prefer the taste of fresh herbs but I always tell people to use what they have available. Get out your fork and knife and have a taste.
Why Does Halloumi Cheese Not Melt?
Halloumi cheese Does not melt due to its high melting point. It is great pan fried or grilled. Another reason that it does not melt is due to the fact that the cheese is cooked twice.
Can you eat Halloumi Cheese Raw?
Even though most people eat Halloumi pan fried or grilled it is perfectly safe to eat Halloumi raw. I find it goes great with sliced fruit like melon or watermelon or even a piece of grilled meat.
How to Grill Halloumi
Grilled Halloumi cheese Is another way to serve this fantastic cheese. It is as simple as cutting it into slices or you can do it the way I always do and cut it into cubes and threaded onto skewers.
Preheat your grill to a medium hot setting. Brush the Halloumi with some olive oil and place on the grill. Grill until you get some nice grill marks.
I find a cooking time of 5 minutes does the trick flipping often or turning often if you have it on skewers until all sides are browned. Another tip is if you do not have a grill you can use a grill pan with good results.
Air Fryer Halloumi
The air fryer is also a great way to cook Halloumi. I am doing this quite often as I love halloumi and this is an easy method.
Preheat your air fryer to 360 degrees
Cut your halloumi into cubes or slices
Spray your air fryer basket with some oil
Place your Halloumi in the air fryer
Cook 10-12 minutes flipping once.
Note: If you are cooking smaller cubes they do need to be turned more often and do not need as much cooking time. They need about 7-8 minutes.
How to Store Halloumi?
If you have leftover Halloumi and plan to use it quickly it can just be stored in an airtight container or resealable bag for up to 3 days.
If you want to store it for a longer period of time you can make a salt brine for it by combining one cup of water with 1 teaspoon salt. Submerge the cheese in this brine and it will store in your fridge for up to two weeks.
Halloumi Recipes Ideas
Halloumi goes with just about anything. I have cubed up the cooked halloumi and put it in a salad. Grilled it on skewers with vegetables and even made a sandwich out of slices with some other grilled vegetable like onions and eggplant.
Other Recipes to Enjoy
Oven Roasted Tri Tip
Air Fryer Meatballs
Air Fryer S'mores
Smoked Brats
Kitchen Essentials and Items Used
Will Studd, Halloumi Cheese
365 Everyday Value, Organic Extra Virgin Olive Oil
365 Everyday Value, Organic Oregano
Lodge Pre-Seasoned Cast Iron Reversible Grill/Griddle
COSORI Air Fryer Max XL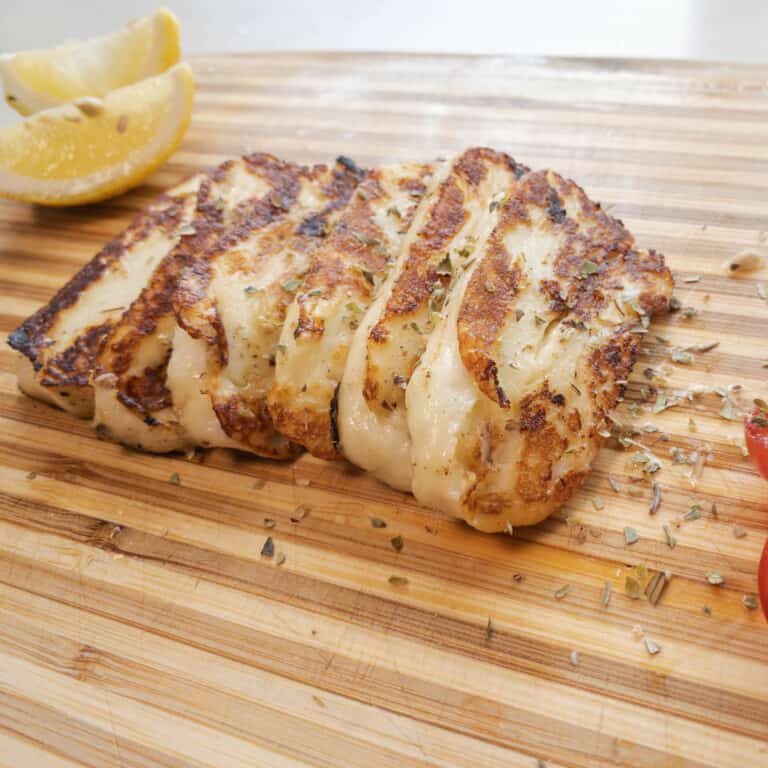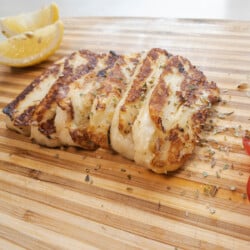 How to Cook Halloumi Cheese
How to cook Halloumi Cheese is an easy to follow way to cook this popular cheese either pan fried, grilled or even in the air fryer.
Print
Pin
Rate
Ingredients
1

Block

Halloumi Cheese (About 8 ounces)

1

Tbsp

Olive Oil

1

Half Lemon cut into wedges

4 to 5

Grape Tomatoes cut in half

1/2

tsp.

Oregano and or Mint (Fresh is best)
Instructions
Cut your halloumi cheese into six or eight half-inch thick slices.

Cut Grape Tomatoes in half

Brush slices of cheese with Olive Oil

Preheat pan to Medium Heat

When pan is hot place cheese slices in the pan. Cook about 2 minutes per side until golden brown.

Remove cheese from pan and immediatly give the cheese a large squeeze of lemon.

Sprinkle with your herbs and serve.
Notes
Air Fryer cook time is 10- 12 minutes for thick slices. If Grilling cook time is about 5 minutes. Pan Fried Halloumi 2 minutes per side.
Nutrition
(Visited 5,753 times, 2 visits today)