I am going to show you a Turkey bacon in the air fryer recipe that is tastier than standard cooking methods. One of my favorite things about cooking air fryer turkey bacon is that it can be done without having to constantly watch it.
This saves a lot of time in the morning. I normally am not a fan of turkey bacon but it was what was available at the store when I went so I wanted to give it another try. I liked it and I am going to show you exactly how to cook turkey bacon in the air fryer.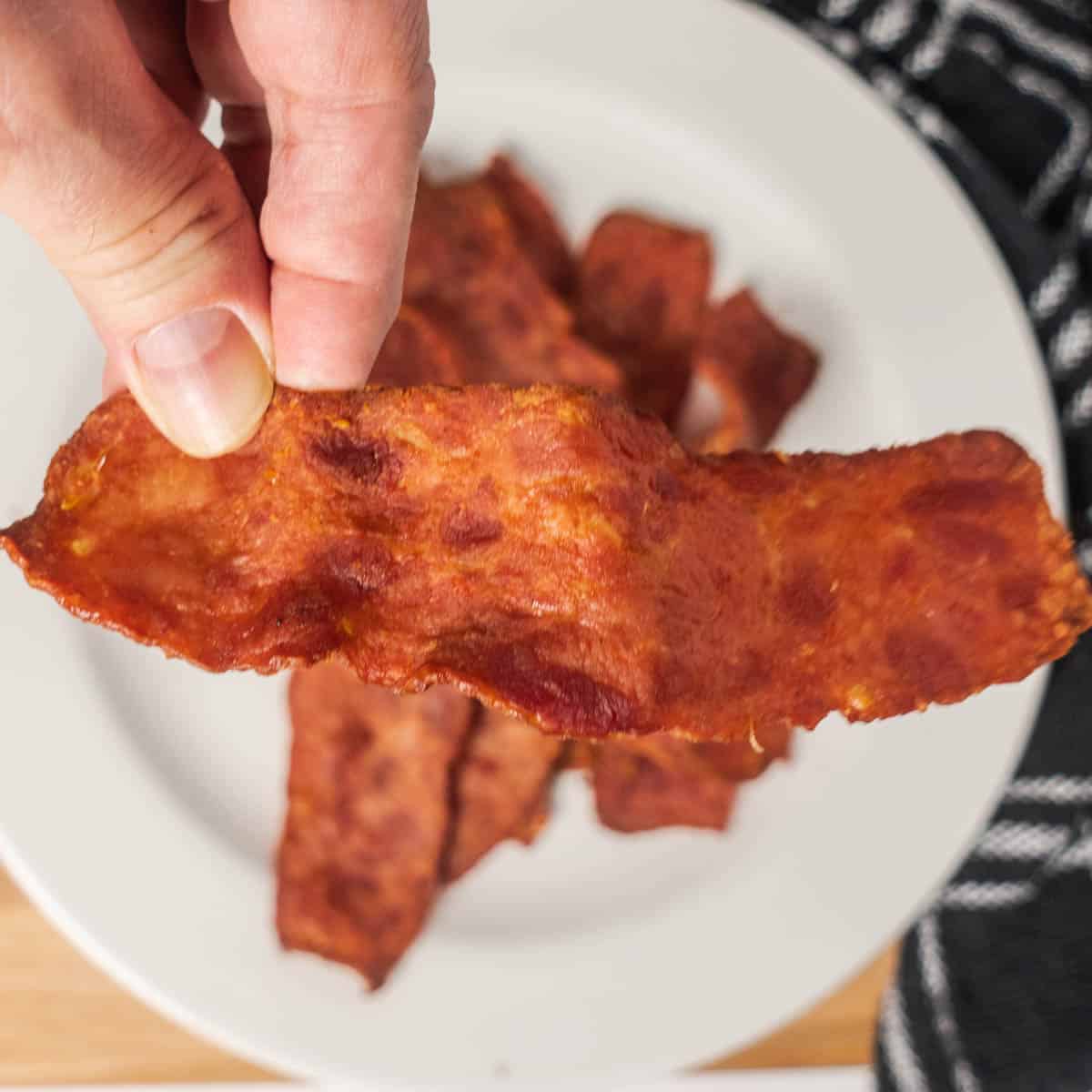 I used Uncured Trader Joes Turkey Bacon to make this recipe. I was pleasantly surprised with how it came out. I used it on club sandwiches, crumbled up in salads, and even on pizza, and it added a delicious smoky flavor. I even got to save a few dollars and calories.
Jump to:
Ingredients
I chose to buy the Uncured turkey bacon. It was just a little bit more money and has no nitrates added. I didn't use any other ingredients on the bacon. I wanted to see how it would come out on its own.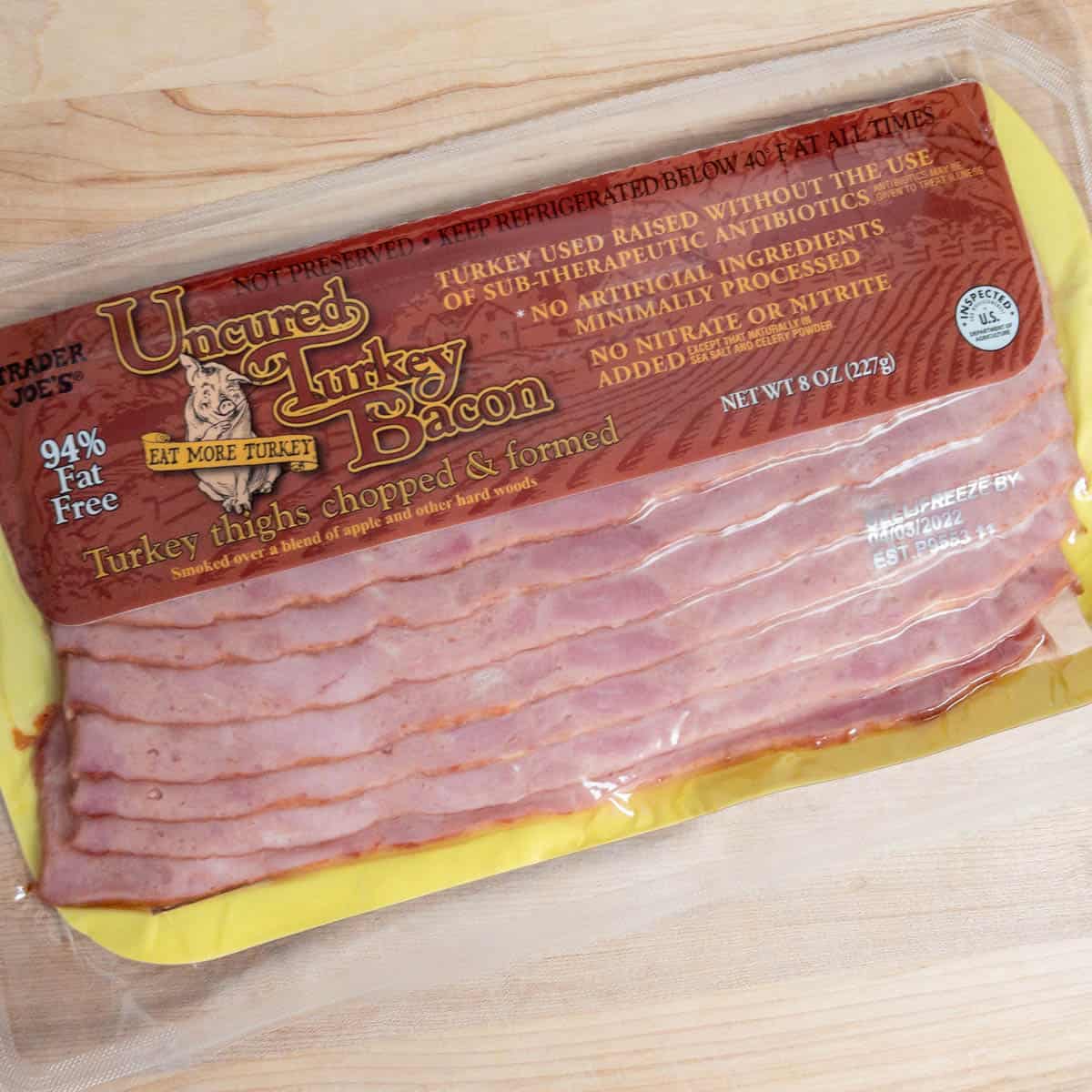 Turkey Bacon ( Uncured is what I used)
Salt (Optional)
Pepper (Optional)
Maple Syrup (Optional for drizzle at end)
Jump to recipe card for quantities.
How to Cook Turkey Bacon in Air Fryer
Step 1. Place Turkey Bacon Strips in the Air Fryer in Single Layer.
Step 2. Air Fry Turkey Bacon at 390 Degrees Fahrenheit for 5 Minutes.
Step 3. Flip the Turkey Bacon. Flip the Bacon. Air Fry Bacon 3 to 5 minutes more.
I am going to show you how to cook turkey bacon in the air fryer. It is easy to do and air fried turkey bacon comes out perfectly crispy.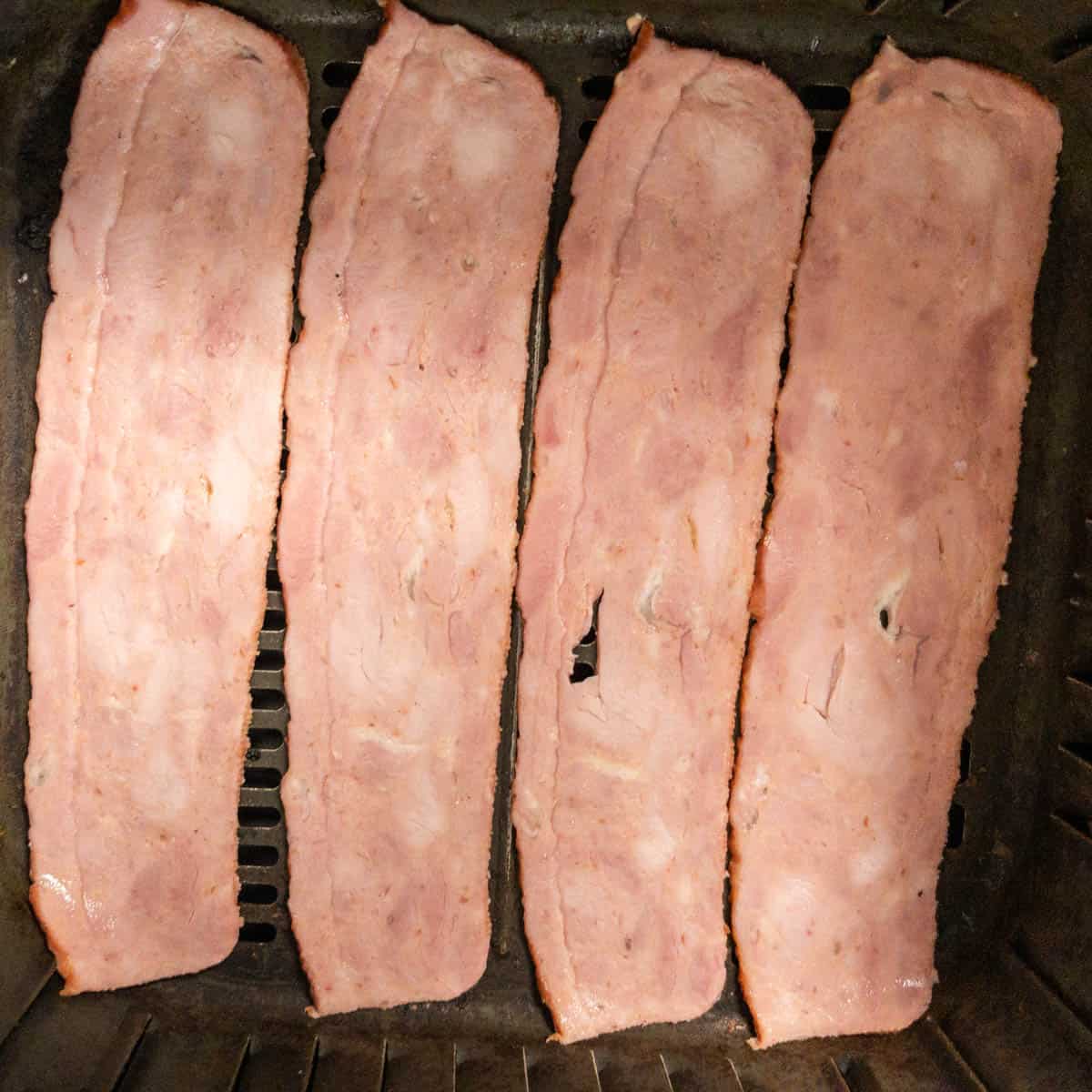 Step 1. Place the turkey bacon strips in the air fryer in a single layer. Leave a bit of space in between the bacon so there is proper air circulations and the strips do not stick together.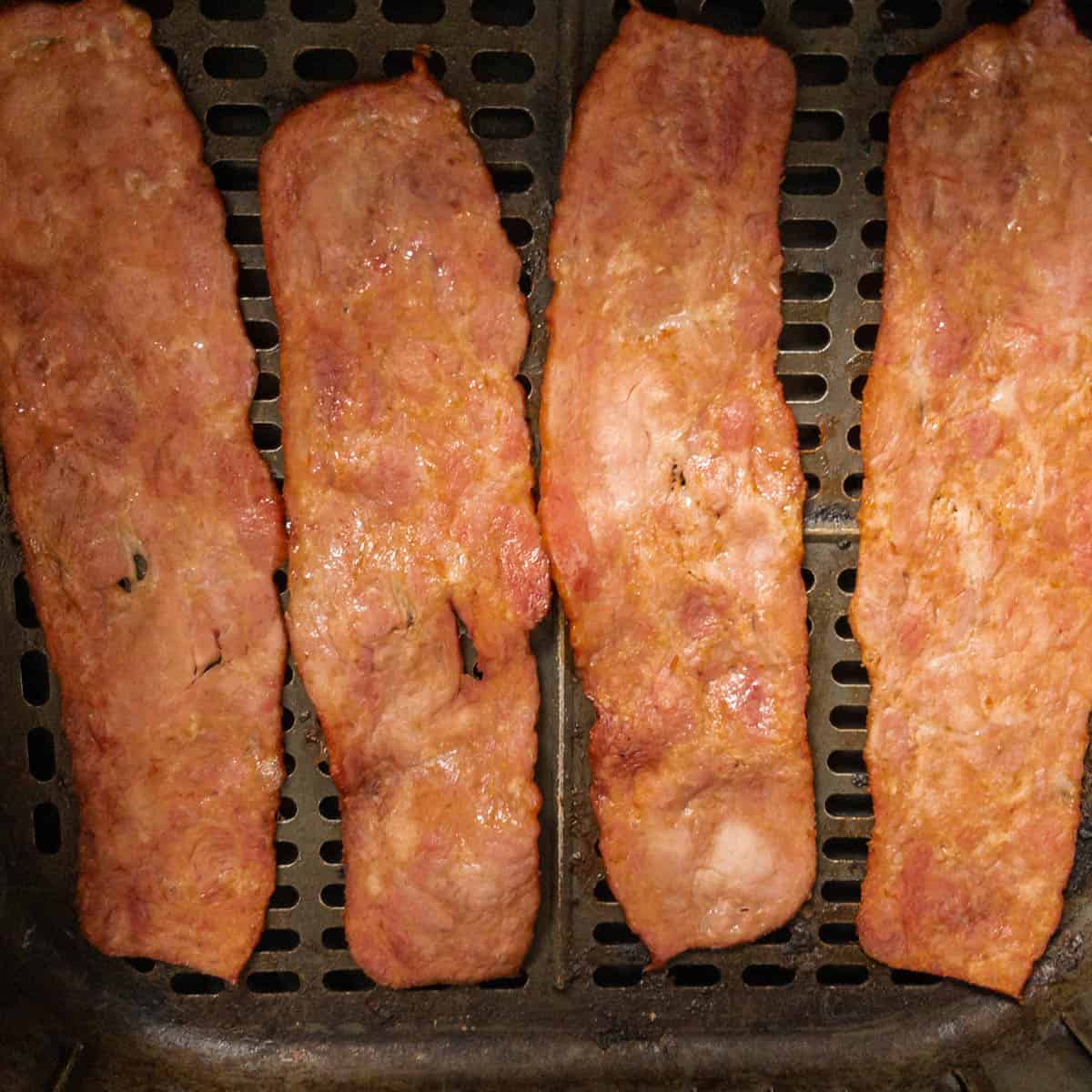 Step 2. Check the bacon and flip. Air Fry 3 to 5 minutes more. I like it for a total of 8 minutes. I find that Turkey bacon is easier to overcook than pork bacon.
Keep an eye on it for the last few minutes.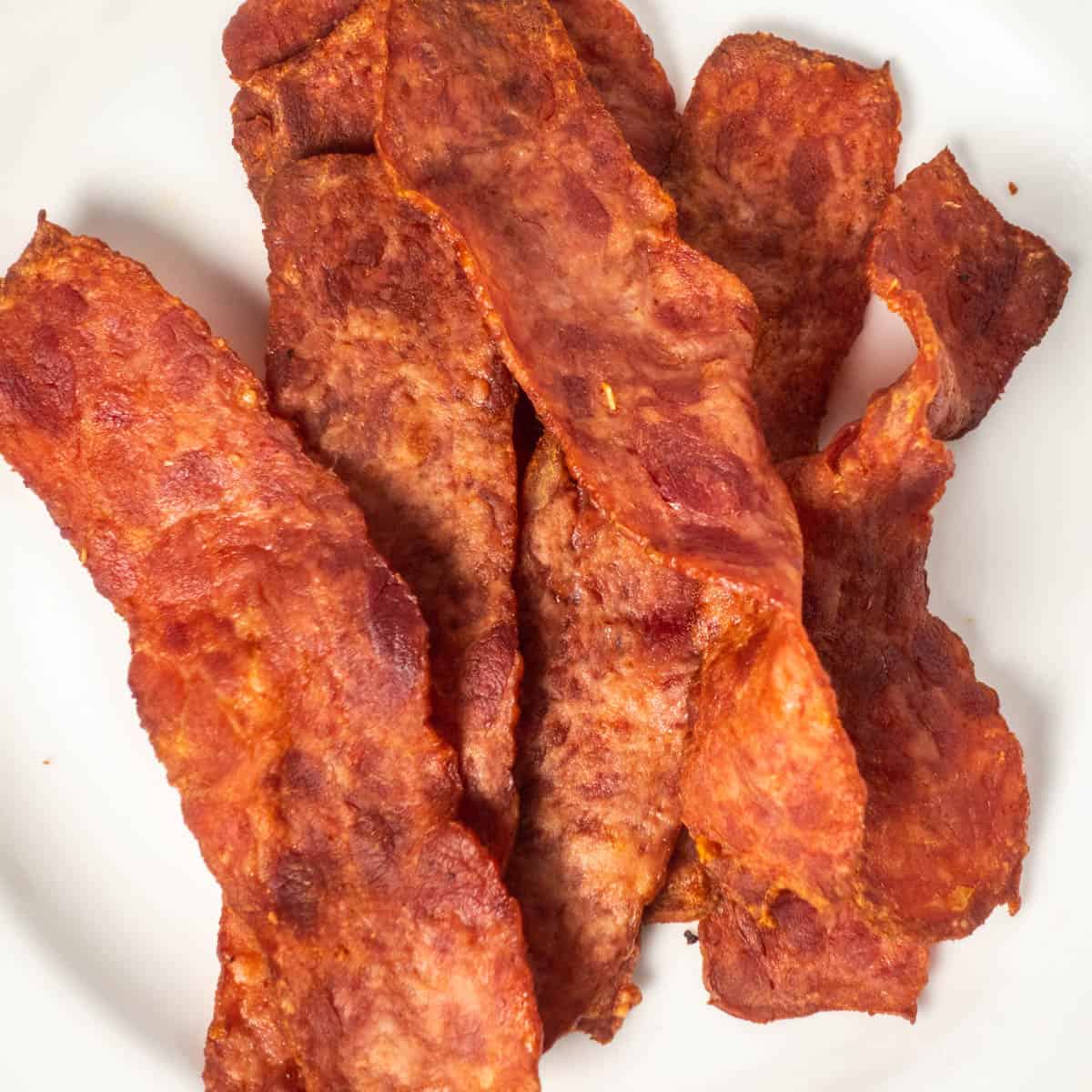 Step 3. Check for doneness and see if the bacon is cooked to your desired crispness. Place on a paper towel or a slice of bread to absorb excess grease.
Hint: If you are looking to make cleanup a bit easier I like to use these Air Fryer Parchment Paper Liners (affiliate link) for keeping the air fryer basket clean.
How Long to Air Fry Turkey Bacon?
How long to air fry turkey bacon is a personal preference. I like to cook turkey bacon in the air fryer at 390° for a total of 8 to 10 minutes. I flip the bacon one time during cooking.
Note: Cooking times can vary from one air fryer to another. I find it is usually by just 2 minutes more or less.
How Healthy is Turkey Bacon
I don't know if I would call turkey bacon healthy. Although it is lower in calories and saturated fat than regular bacon. I would call it "healthier." It is a good option for people that cannot eat regular bacon because of diet or religious views. Nutritional information in the recipe card.
Variations
Giving the visitor ideas on how they can change this recipe to better suit their dinner guests, or their cultural cuisine, is a great way to increase the chances they make the recipe
Maple Syrup – drizzle cooked bacon with maple syrup at the end for a bit of a sweet treat.
Black Pepper – Season Turkey Bacon with coarse gorund black pepper for a tasty spicy kick.
Other Air Fryer Recipes to Enjoy
Air Fryer Crispy Mahi Mahi
Air Fryer Bacon Wrapped Asparagus
Air Fryer Toast
Air Fryer Oven Million Dollar Bacon
Air Fryer Empanadas
Equipment and Kitchen Essentials
The equipment I used and some kitchen essentials in this recipe is below. I do earn a small commission from the sales of these products at NO COST to you. I really appreciate the support.
COSORI Air Fryer Oven Combo 5.8QT Max Xl
Instant Vortex Plus XL 8 Quart 8-in 1 Dual Basket Double Air Fryer
Air Fryer Parchment Paper Liners, 200Pcs Square Air Fryer Liners
17 Pcs Air Fryer Accessories with Recipe Cookbook
Ninja Foodi 8 Quart 6-in-1 DualZone 2-Basket Air Fryer
Storage
Bacon can be stored in an airtight container like a zip top bag for 3 to 4 days.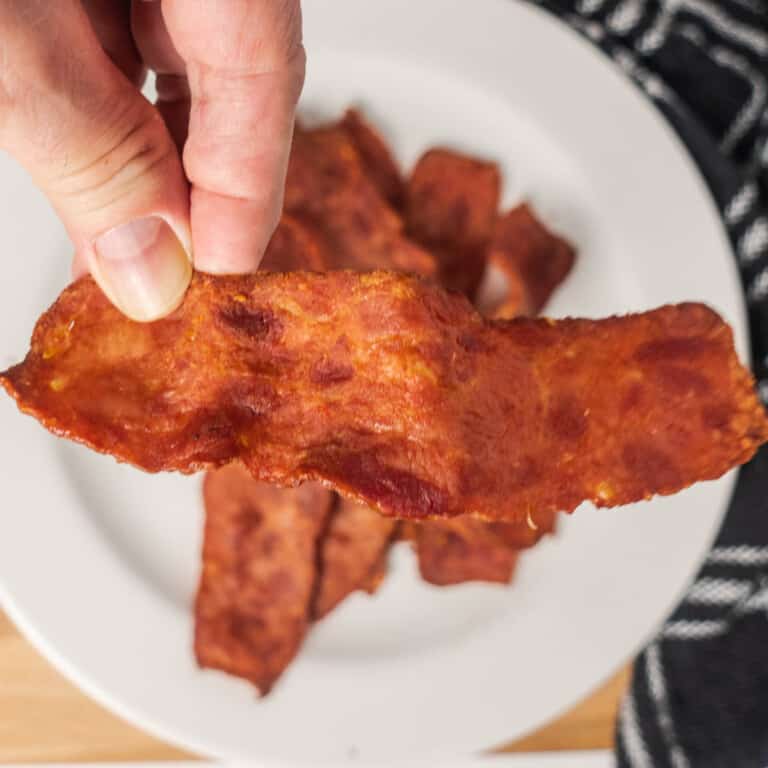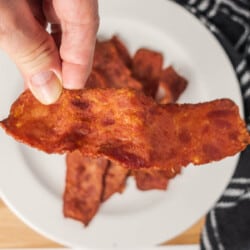 Turkey Bacon in Air Fryer Recipe
This Turkey Bacon in the Air Fryer Recipe is easy and the Turkey Bacon is better than standard cooking methods. The bacon comes out crispy and has a tasty smoky flavor.
Print
Pin
Rate
Ingredients
1

Pound

Turkey Bacon (Cured or Uncured)

1

Tbsp.

Maple Syrup (For Drizzle at End)
Instructions
Preheat air fryer to 390°F for 5 minutes

Place turkey bacon strips in air fryer basket in single layer

Air Fry 3 to 5 additional minutes to desired crispness

Drizzle with Maple Syrup (Optional)
Nutrition
(Visited 3,685 times, 1 visits today)