Instant Pot Collard Greens made with bacon are to die for. With just basic seasoning like salt and pepper a bit of chicken broth and you are just minutes away from a taste of Southern tradition. Not only are these a very tasty treat but they are also very nutritious. These Southern Style Pressure Cooker Collard Greens are flavorful, tender, and cooked in half the time than the stove top method.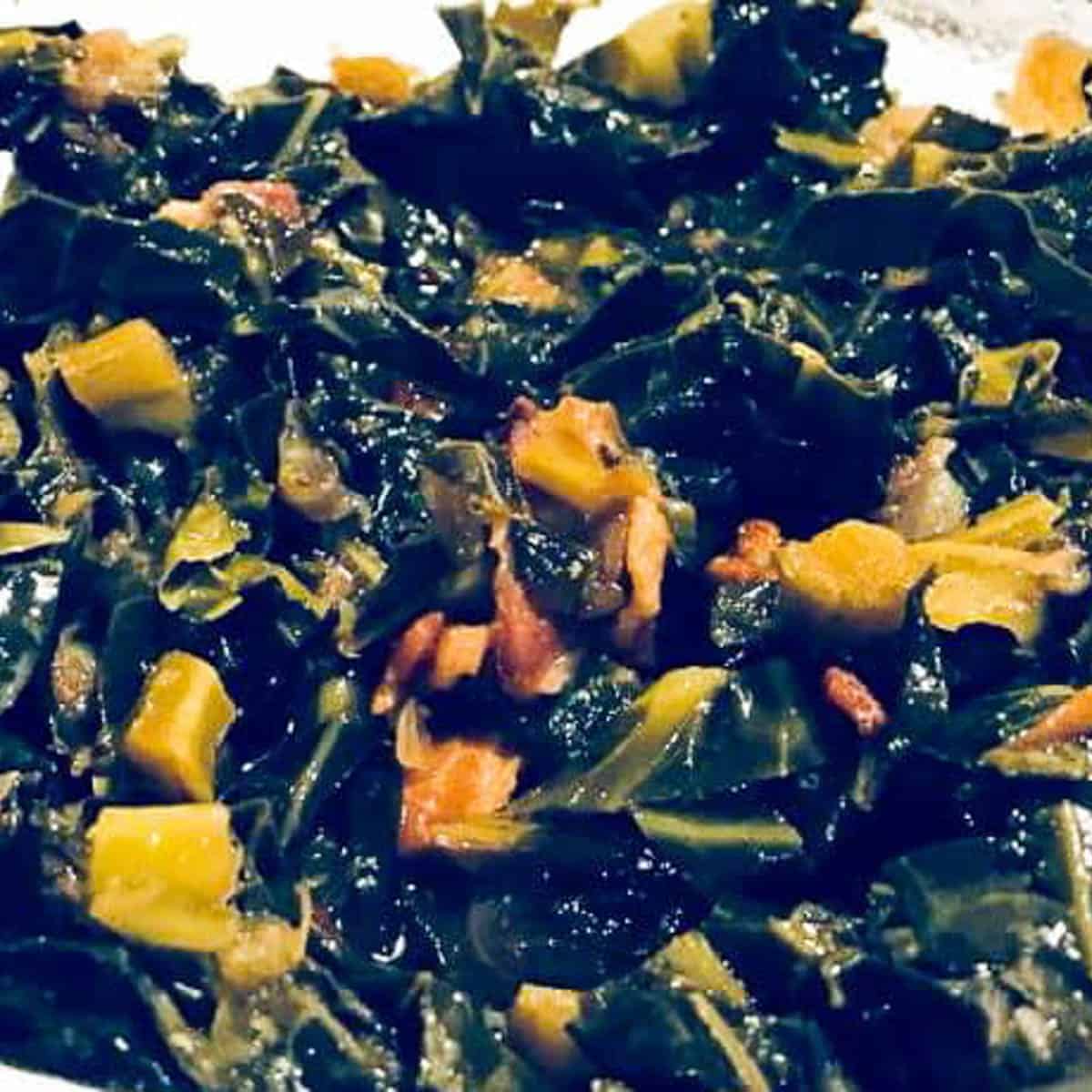 Instant Pot Collard Greens
Collard greens are a standard Southern side dish, the perfect accompaniment to everything from pulled pork, spare ribs to fried catfish. In the South they are cooked until they fall apart, and flavored with a hint of smoked pork. In this recipe I used bacon which adds a great flavor and is readily available.
How to Cook Collard Greens
Cooking this collard greens recipe is as simple as sautéing the bacon and the chopped onion. First rendering some bacon fat then adding the onion to the instant pot and sautéing until soft. Add all your greens to the Instant Pot and saute in the bacon, onion mixture until they start to wilt. Pour in the chicken broth and push the greens into the broth.
Put the lid on the Instant Pot. Close the sealing valve on the top of the pot. Press the Cancel Button and then press the pressure cook button and set the timer to 25 minutes. When the greens recipe is done cooking let the pressure release for 10 minutes and the release the pressure by opening the valve on the top of the pressure cooker.
What Foods Go Well with Collard Greens?
Smothered pork chops, fried chicken, mashed potatoes, black eyed peas, potato salad, pinto beans, corn bread, meat loaf, macaroni and cheese, fried catfish, salmon patties, chitterlings, steak, blackened fish, roast chicken, roast beef, ribs, pulled pork, bbq anything, red beans and rice, jambalaya, shall I continue?
Where to Get Collard Greens
Collard Greens are readily available at the supermarket both in Fresh and Bagged form. Either is fine to use. The fresh ones do take quite awhile to wash and process. The bagels ones are washed, chopped and ready to use. They generally cost a couple dollars more than the fresh greens but they do make cooking greens a whole lot more simple.
Collard Greens Alternative?
If you cannot find Collard Greens at your local market you can use Kale, Mustard Greens, Turnip Greens or any combo of greens. Some people prefer the combination of greens in their recipe. I personally stick with Collards as the greens to use in my recipe.
Other Recipes You Will Like
Jerk Chicken Wing in the Air Fryer
Vegetarian Pasta Salad in the Instant Pot
Easy Refrigerator Dill Pickles
Equipment Used in this Recipe:
Instant Pot Duo Nova Pressure Cooker
Better than Bouillion Chicken Base
Instant Pot Cheat Sheet
Instant Pot Collard Greens Recipe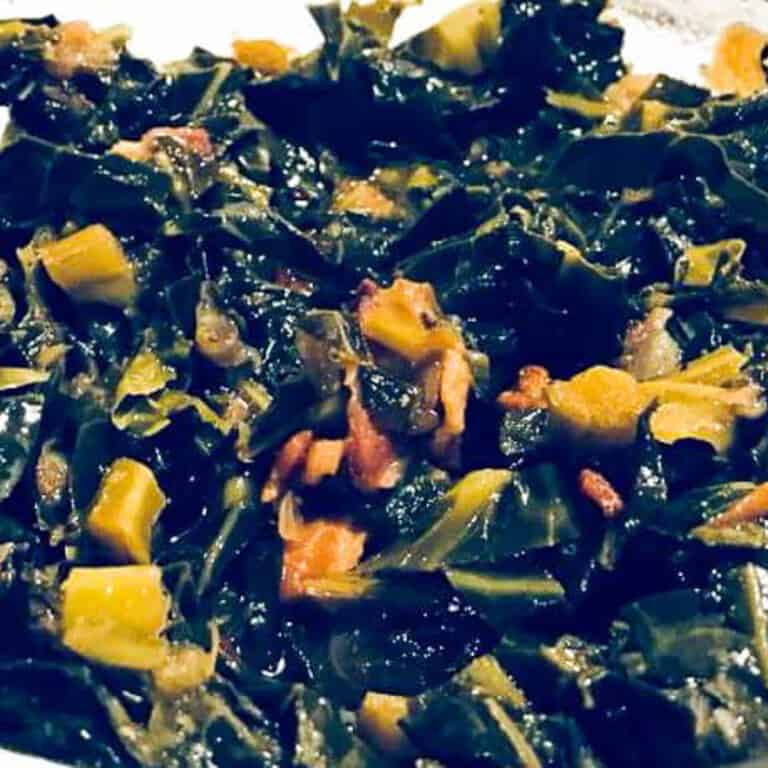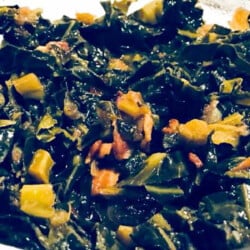 Instant Pot Collard Greens
Southern style Collard Greens Instant Pot Style. Don't forget the bacon. These are DELICIOUS!
Print
Pin
Rate
Ingredients
1

Half Bag Shredded Collard Greens

about a pound

3 to 4

Slices

thick cut bacon cut in 1 ice pieces

1

minced onion

1/2

cup

chicken broth

1/2

tsp

salt

1/2

tsp

pepper
Instructions
Press sauté On your Instant Pot and set temperature to More.

Sauté bacon until brown and crunchy about 5 to 7 minutes. Add minced onion and sauté about one minute.

Add in your collards and toss to coat in bacon grease toss them until they start to wilt. Once wilted a bit toss in the water and put the lid on your instant pot.

Make sure your valve is set to Seal. Push the pressure cooker button and set timer for 25 minutes. When cooked time is done let sit for natural release for five minutes then do a quick release. Open your Instant pot and put the pepper on the Greens.

Enjoy
Nutrition
SaveSave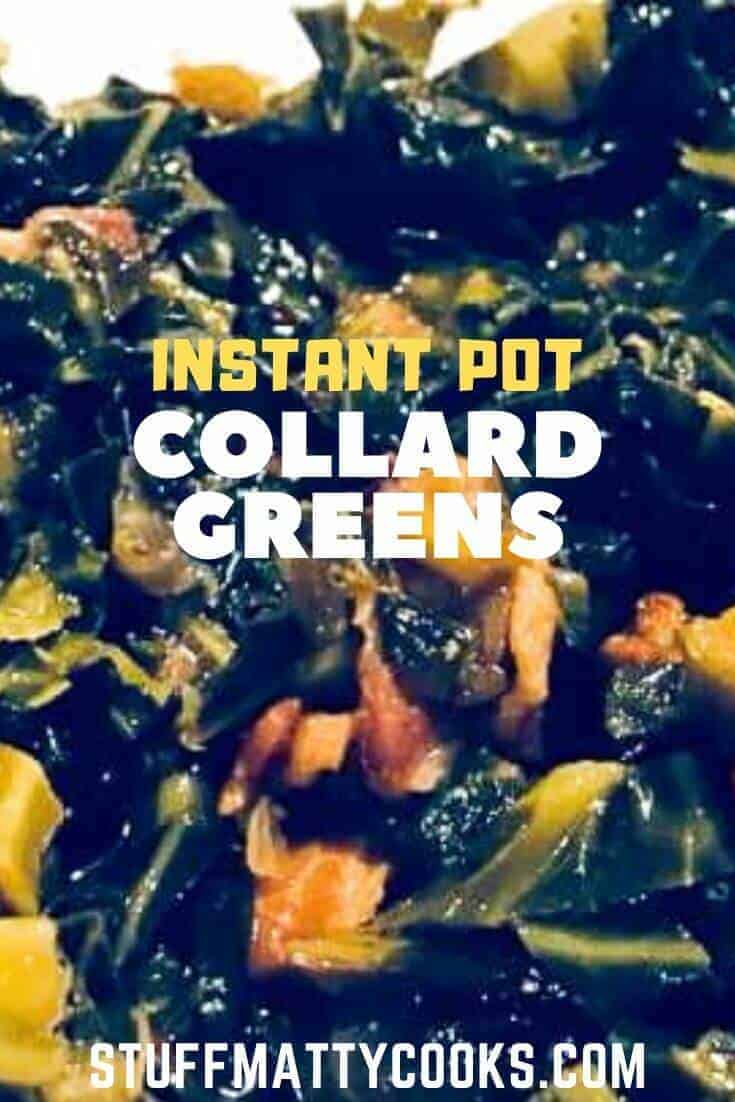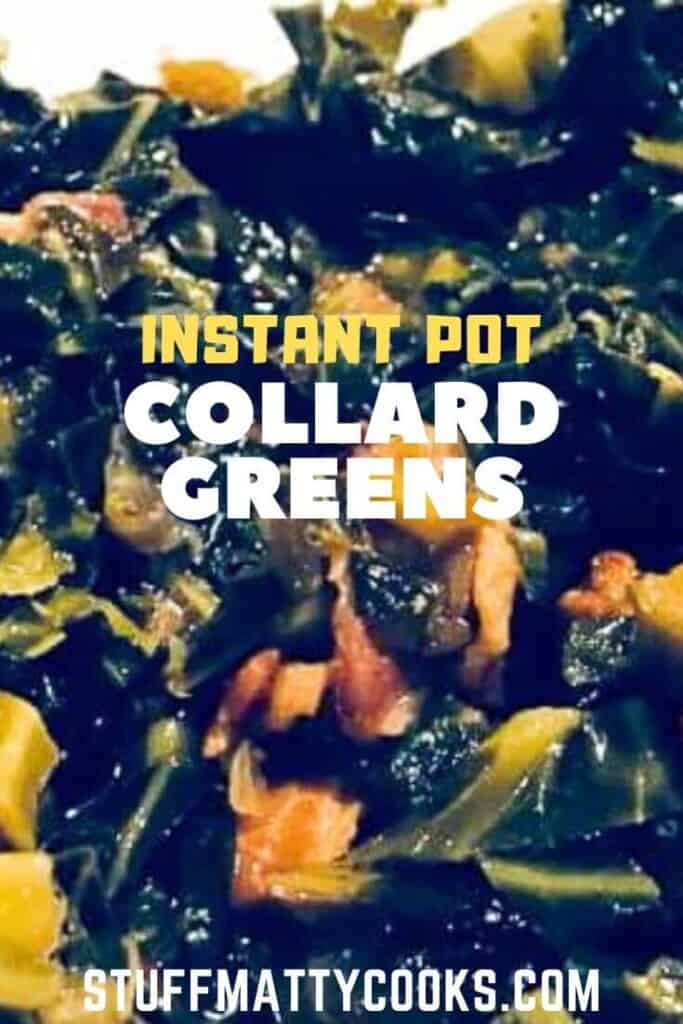 SaveSave
(Visited 10,648 times, 1 visits today)