Instant Pot
Vegetarian Pasta Salad is that side dish for when you are grilling, throwing a party or having a picnic in the park. This one is loaded up with different veggies like celery, red onions, carrots, scallions, red peppers and even radishes and cucumbers for a great fresh clean flavor and texture.
INSTANT POT VEGETARIAN PASTA SALAD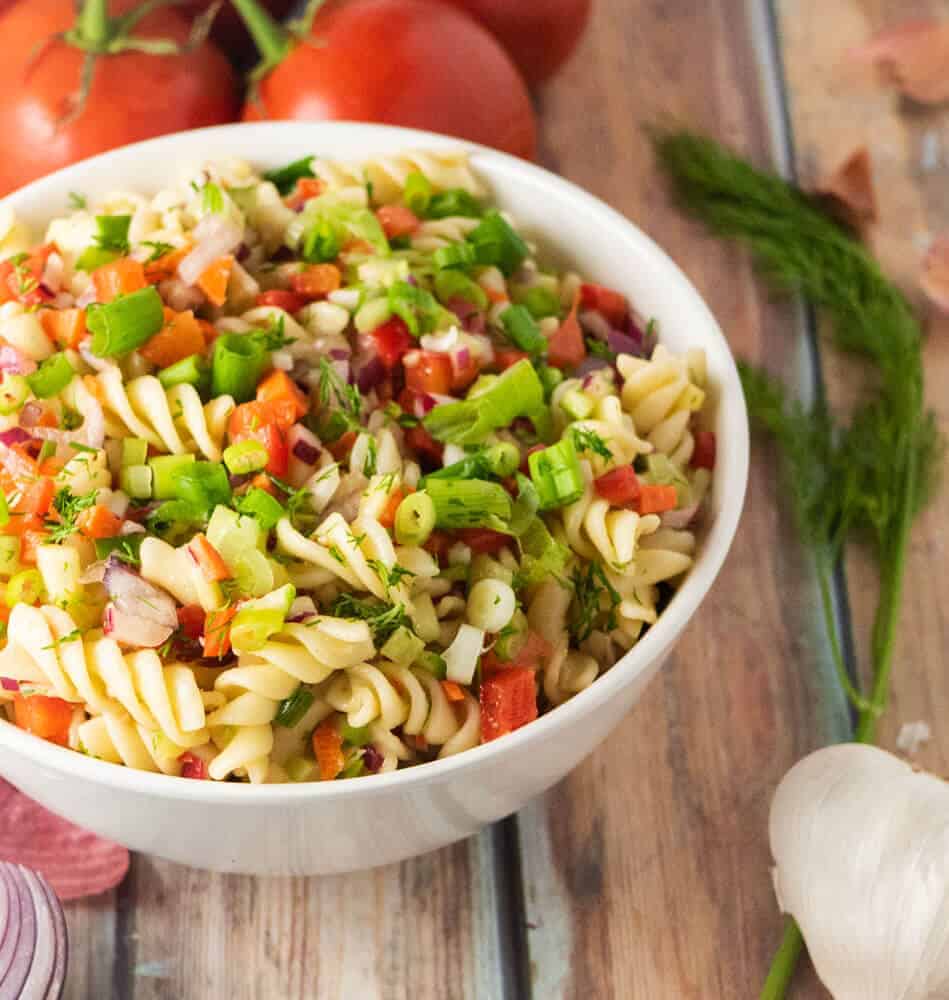 One of the great things about an Instant Pot is how easy it makes things. This Instant Pot Vegetarian Pasta salad has just a 4 minute cook time. Basically, throw in your pasta and fill to just cover pasta with water. Fasten the lid onto the Instant Pot and set the timer for 4 minutes. It really is that easy.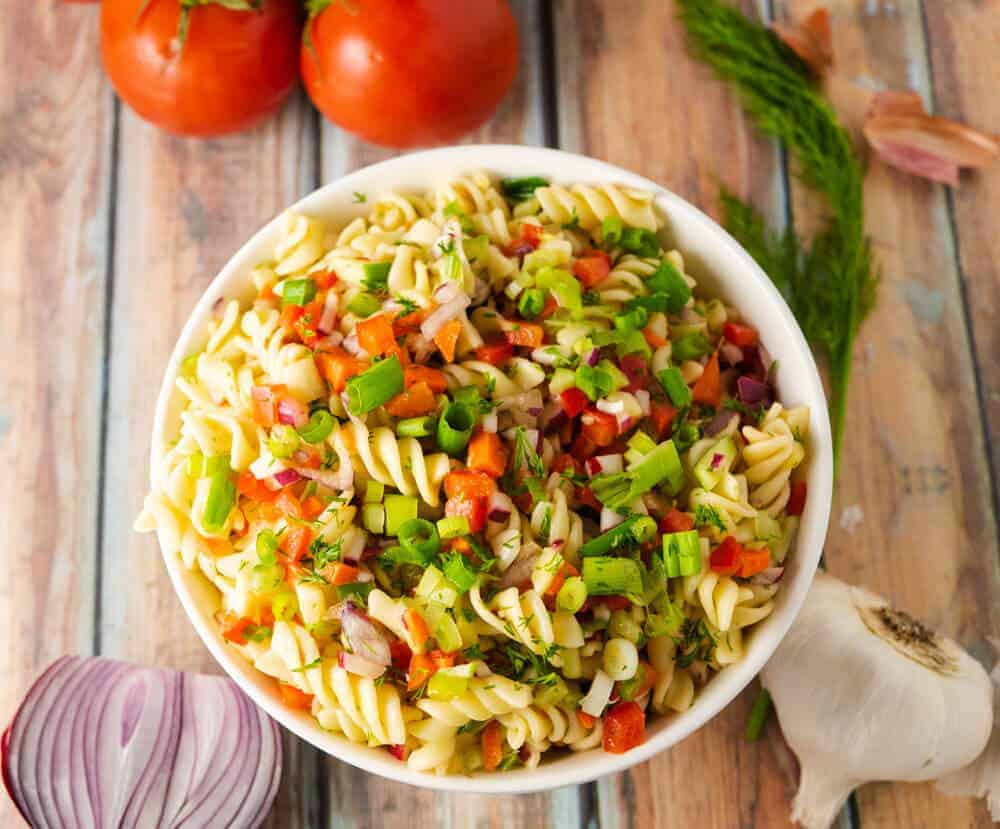 Keep in mind that there really are no rules for thisInstant Pot Vegetarian Pasta Salad. If you want to omit or add any certain veggies go right ahead. One thing though that I think is really important is that fact that I add FRESH dill. Not the bottled dried kind. The fresh dill makes a big difference in flavor for this dish and I do not recommend skipping it or trying to replace it with its dried counterpart.
As for the dressing for this Instant Pot Easy Pasta Salad, I choose to keep it simple. Most of the time I will use about half of a cup of my favorite bottled Italian dressing and just toss the pasta salad in that. You can go ahead and make your own but then it doesn't make this dish as simple.
I want to Thank You for stopping by my website and I hope you enjoy my recipes. If you do please leave a rating and a comment that really helps out. Also if you have any questions you can also leave them in the comment box below I do read them.
Items I used in this Recipe. Available from Amazon. You can HOVER OVER THE LINK to see INFO and PRICE or just Add Them to Your Cart on Amazon. I do receive a small commission from Amazon at NO EXTRA COST to YOU. Thanks so Much for Your Support.
Instant Pot DUO60 6 Qt. Pressure Cooker

De Cecco Rotelle Pasta 1 Pound (Pack of 5)

Set 2 Soup Bowls Pasta Salad Plates

Vegetarian Pasta Salad Instant Pot
Easy Pasta Salad Vegetarian Style mad in the Instant Pot
Ingredients
1

Pound

Rotelle or Fusilli Pasta

1

Medium Carrot Diced

2

Ribs Celery Diced

1/2

Medium Red Onion Diced

2

Radishes Diced

2

Scallions Chopped

1

Red Pepper Diced

1/2

tsp.

Salt

1/2

tsp.

Garlic Powder

4

Sprigs Fresh Dill Chopped Fine

1/2

Cup

Italian Dressing of Choice
Instructions
Insert Pasta Into Instant Pot and cover completely with water.

Put lid on Instant Pot and turn Valve to SEAL. Set timer for 4 MINUTES. When cook time is complete do a QUCK RELEASE. Keep a rag nearby just in case there is spatter out of the valve.

Drain pasta and immediately rinse pasta to get rid of extra starch. Let pasta cool for a bit. Add Pasta back to Instant Pot liner or large bowl.

Combine all remaining ingredients and toss with Italian Dressing of choice. Chill in refrigerator. Stir before serving.

Enjoy.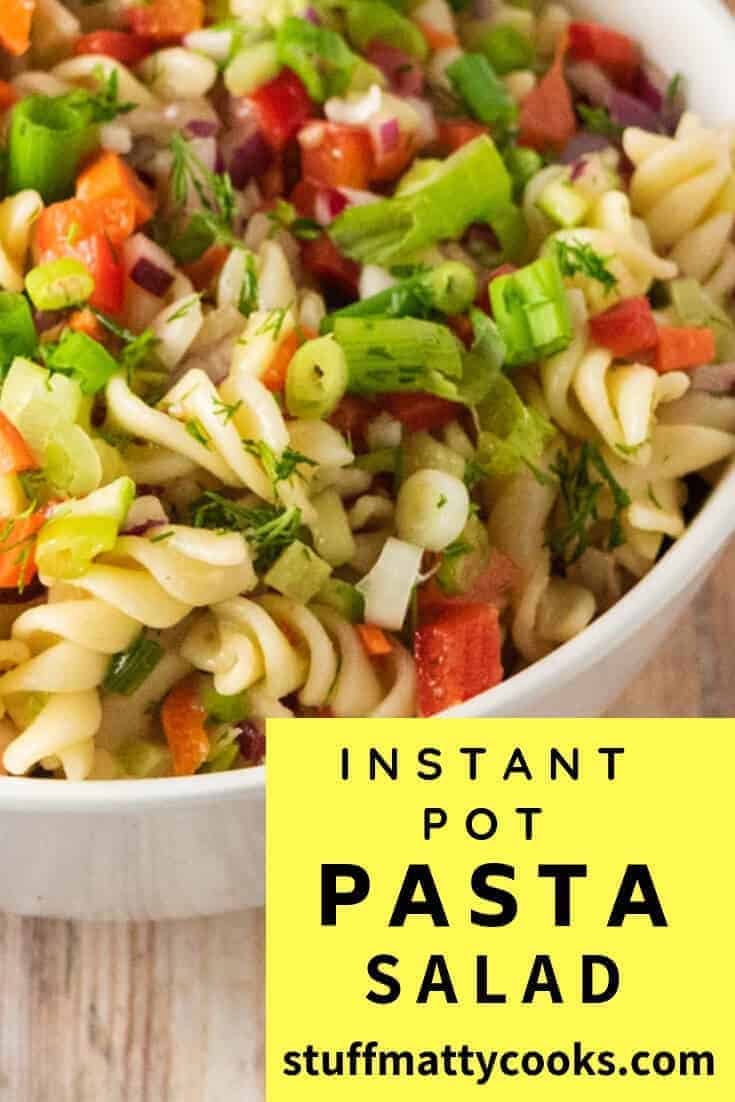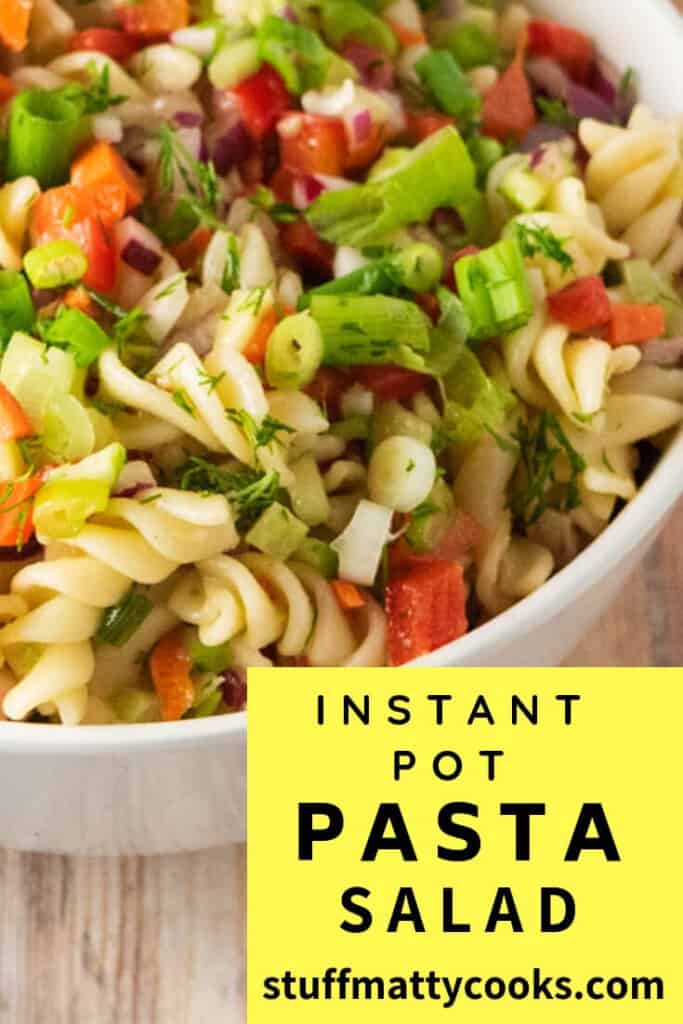 (Visited 3,921 times, 1 visits today)