Million Dollar Bacon is so darn delicious. This candied bacon recipe has a style all its own. Let me tell you it goes with anything. Whether you are cooking it to go with your breakfast, brunch, bloody mary, or even a beer you are going to absolutely LOVE it.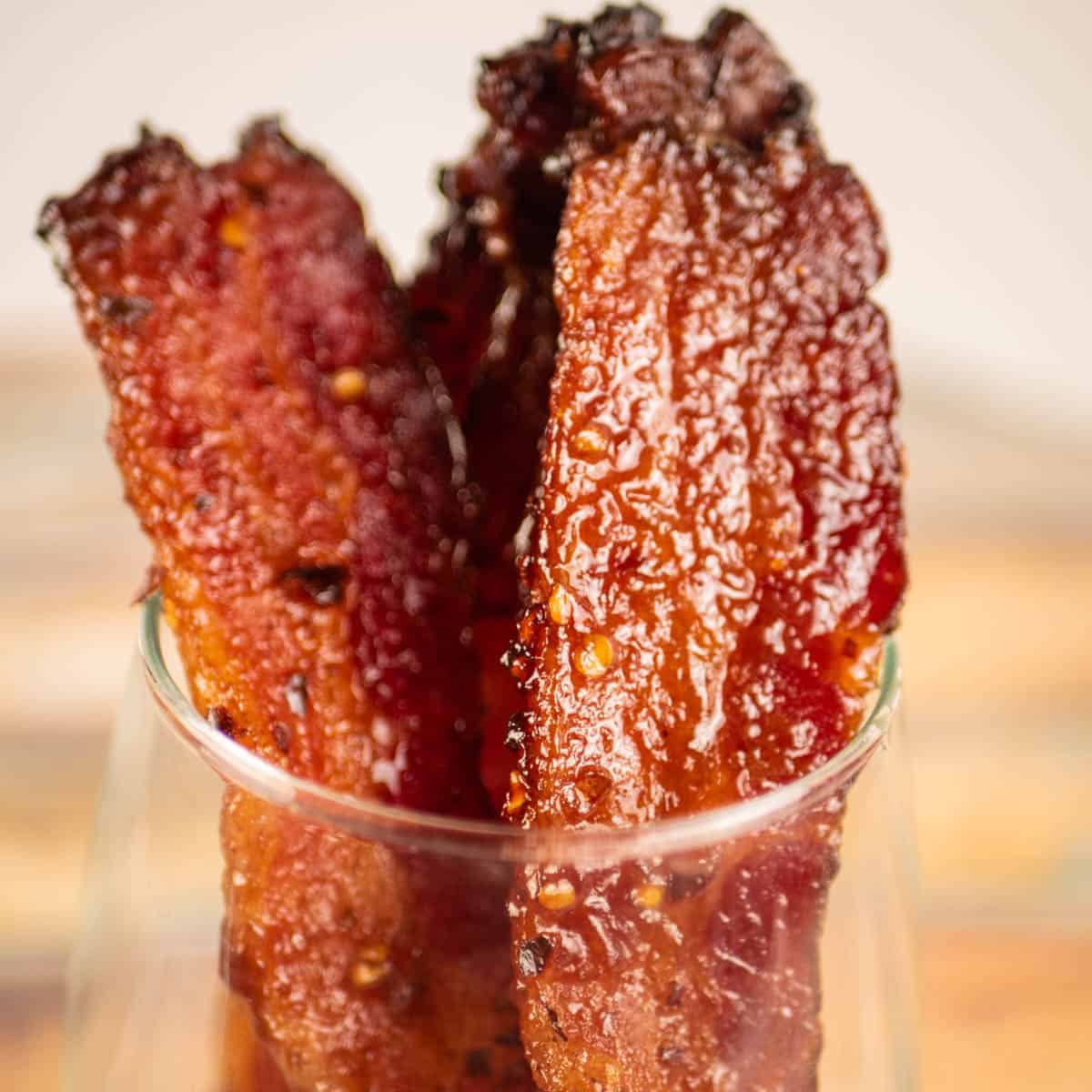 Million Dollar Bacon
This version of candied bacon is called million dollar bacon and it is the perfect blend of sweet spicy, and salty with a bit of heat. This makes for a perfect crunchy snack.
The first time I had a version of it was at a restaurant bar called Twin Peaks that is native to my hometown of South Florida.
It was called billionaires bacon on their menu and I ordered it to have with my beer as a snack, to be honest. It was such a good snack to have with an ice cold beer. This is some fancy bacon even though it is simple to make.
No matter if you call it bacon candy, pig candy or just candied bacon this is a delicious million dollar bacon recipe I assure you. If you are a fan at all of smoked pork belly, hind leg, or any kind you will love this.
Since that day every time I go I get an order. I have also heard that the popular Breakfast restaurant First Watch is known for its bacon so you may have had something similar there.
Jump to: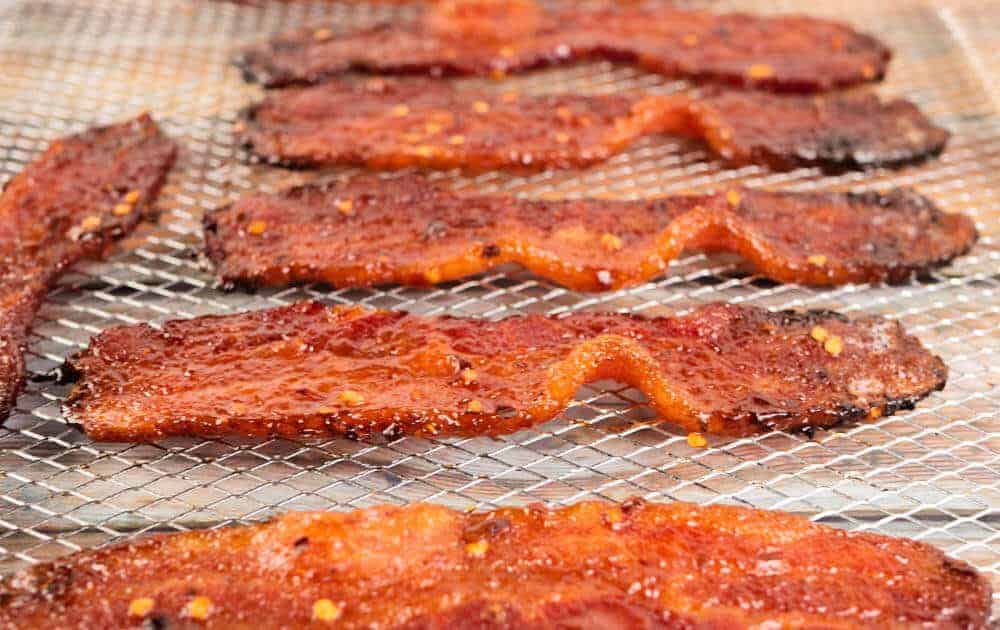 What is Millionaires Bacon?
Millionaire Bacon is made using Thick Cut pork bacon. (I do not recommend thin slices or Canadian bacon.) It has become very popular across the country and is really just a fancy name for candied bacon.
What Kind of Bacon is Best for Millionaires Bacon?
Thick Cut Bacon cooks best for this million dollar bacon recipe. Bacon that is thick enough to handle all the seasoning. This kind of bacon is popular these days. Even Dunkin has a version of it now, but I didn't like theirs at all when I tried it.
Thick cut bacon can be found at places like Trader Joes or Whole Foods in the cold section. Whole Foods also sells good quality bacon at the meat counter that is thick cut and great for this candied bacon.
Ingredients in Candied Bacon Recipe
Thick Cut Bacon
Brown Sugar
Black Pepper
Cayenne Pepper
Crushed Red Pepper Flakes or Red Chili Pepper
Maple Syrup (Optional Drizzle at the End)
Jump to Recipe Card for quantities
How to Make Million Dollar Bacon
Since that day I tried this "bacon candy" I was thinking that I was going to come up with something similar. I had to give this gift of yummy to the world.
So while myself and my whole state of Florida were sitting around on quarantine during the Coronavirus pandemic thing I thought to myself cooking bacon is a great idea. I had some good bacon in the fridge lets do this.
Apparently the so called "original" recipe was made by a restaurant in San Francisco called the Sweet Maple Restaurant. Although I have never been there and had their version.
If I make it out west in the future I will definitely go there and try their version of millionaire bacon.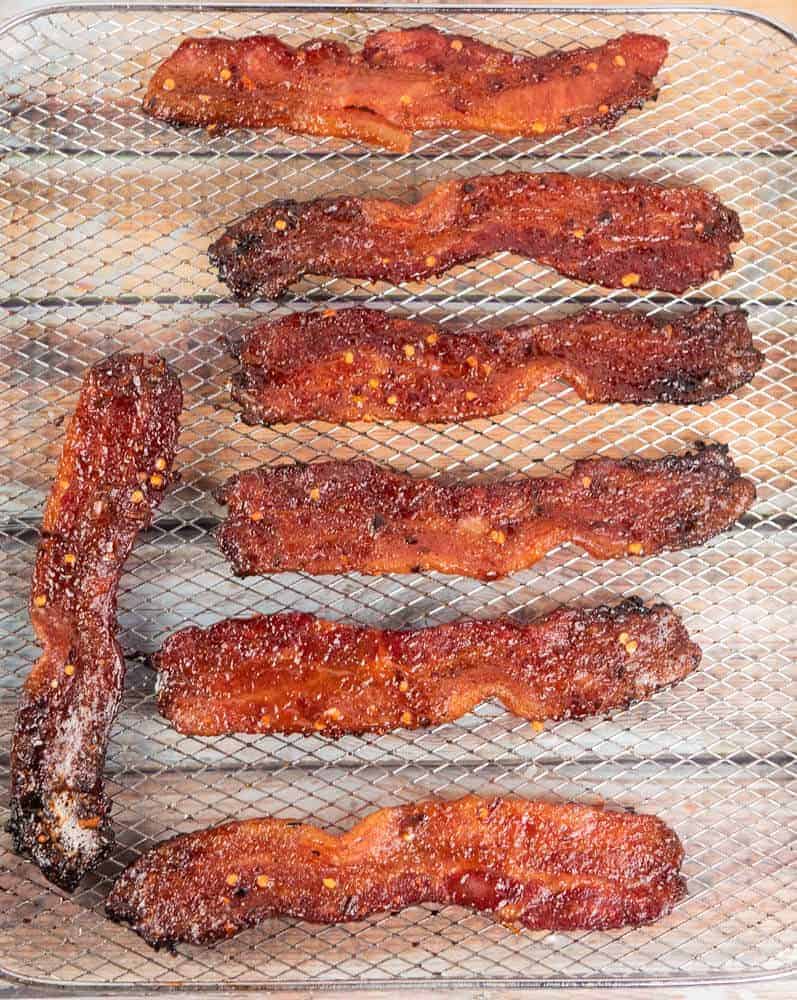 Millionaire Bacon Recipe
Preheat Oven to 350 Degrees
Line a Baking Sheet Pan with Parchment Paper to minimize cleanup. This works better than aluminum foil. You want to prevent the bacon from sticking to the pan when you bake bacon.
Place Bacon Slices on Baking Sheet Pan. Make sure they are not touching so they do not stick together. Add bacon in single layer. How many slices you can make at a time is based on the size of your pan and your oven.
Add to a small bowl the Brown Sugar, Black Pepper, Cayenne Pepper, and Red Pepper Chili Flakes. Stir to combine sugar mixture.
Sprinkle the spice mixture over the bacon liberally. You want to coat the bacon. Pat mixture in with your hand. Flip bacon and repeat the process.
Cook Bacon in Preheated Oven for 35 to 40 minutes. Check on the bacon near the end to make sure that the sugar does not burn. I start keeping an close eye after about 30 minutes.
Remove bacon from the oven and let sit a few minutes to cool.
Transfer bacon to wire rack or cooling rack and lay bacon flat to let cool completely and let sugar harden.
Once the bacon has cooled you can also use a paper towel to absorb any excess grease.
Full Instructions in Recipe Card
Cooking Tips for Cooking Candied Bacon in the Oven
Easy Cleanup line a baking sheet with parchment paper.
Don't Overcrowd Give the bacon some space between slices.
Coat Bacon Well For best results coat bacon well with sugar and spices mixture.
Use a cooling rack.
What to Serve with Million Dollar Bacon
The truth is this bacon pairs well with so many things. It is great for breakfast and brunch recipes.
Eggs benedict
Pancakes
Waffles
Hash Browns
Great on its own but even better with a Bloody Mary.
Other Recipes to Enjoy
Instant Pot Deli Roast Beef
Brown Basmati Rice (Instant Pot)
Oven Roasted Tri Tip
Air Fryer Turkey Bacon
How to Store Candied Bacon?
Millionaires Candied Bacon can be stored in an airtight container in the refrigerator for about 4 days.
How to Reheat Candied Bacon?
Reheating Bacon in Microwave
Bacon can be reheated in the microwave in intervals of 10 to 15 seconds until the desired temperature.
Reheating Bacon in the Air Fryer
This is my favorite way to reheat bacon. Reheat in Air Fryer at 370 Degrees for 3 to 4 minutes cook time.
Kitchen Essentials and Items Used in Recipe
Nordic Ware Natural Aluminum Commercial Baker's Half Sheet
AmazonBasics Silicone Baking Mat
COSORI 12-in-1 Oven Air Fryer Combo, Convection Toaster
Reynolds Kitchens Unbleached Parchment Paper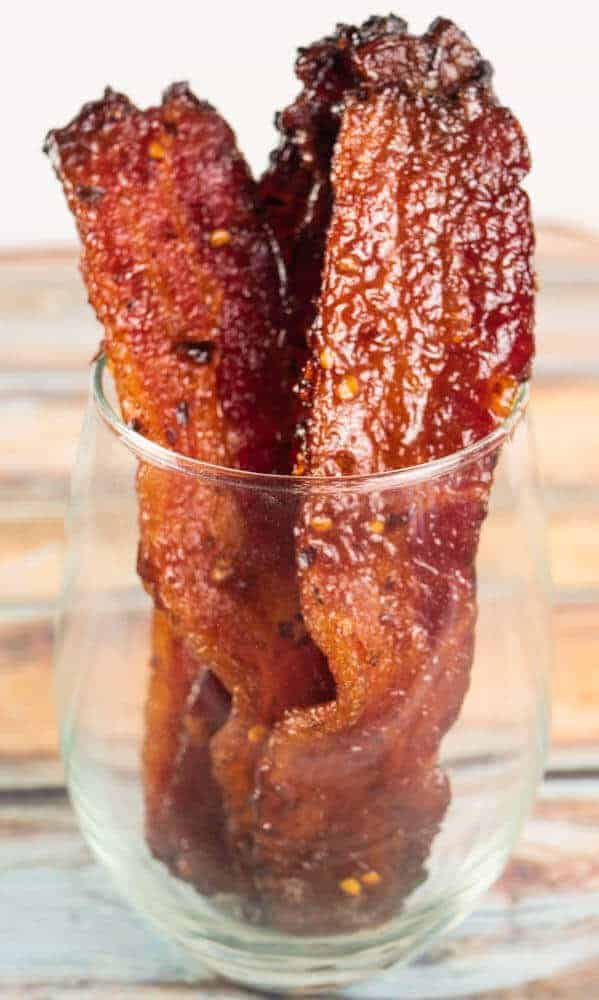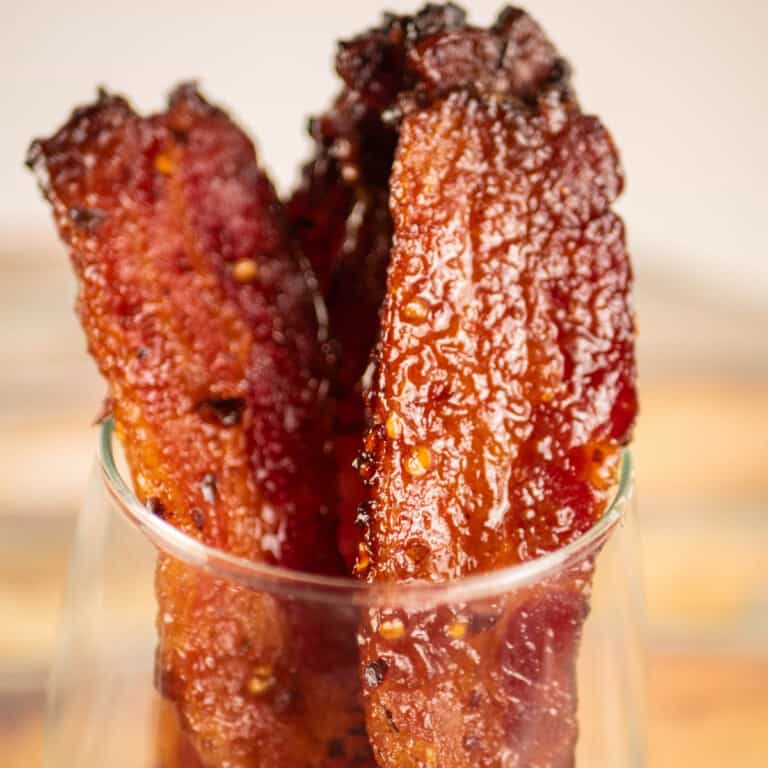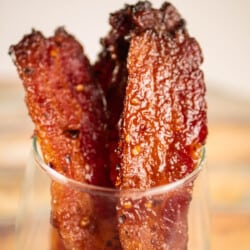 Million Dollar Bacon
Million Dollar Bacon is salty, sweet, with a bit of heat. Makes a great appetizer, side dish or snack. Crunchy and delicious.
Print
Pin
Rate
Ingredients
1

Pound

Thick Sliced Bacon

6

Tbsp.

Brown Sugar

1/2

tsp.

Black Pepper

1/4

tsp.

Cayenne Pepper

1/2

Tbsp.

Red Chili Flakes

1

Tbsp.

Maple Syrup (Drizzle at End) Optional. I leave it out.
Instructions
Directions
Preheat Oven to 350 Degrees

Line a Baking Sheet with Parchment Paper

Mix together Brown Sugar and Spices

Lay Bacon flat on Baking Sheet. Put a generous amount of the sugar and spice mixture on the bacon. Press into bacon. Flip bacon and repeat process.

Bake in oven 35 to 40 minutes.

Serves 4
Notes
Make sure you watch the bacon near the end of the cooking time. You do not want the sugar to burn. Letting it carmelize is good but burn is not. Keep an eye on it the last few minutes. The Maple syrup drizzle at the end is an option. I happen to like the spicyness and don't do it but try it both ways and see what you like. Use REAL Maple Syrup.
Nutrition
(Visited 108,340 times, 4 visits today)