The flavor of these Air Fryer Green Beans with lemon and garlic is so delicious. I love the little bit of a crispy texture on the outside the air fryer creates but the green beans are still tender. I like even more that these green beans in the air fryer take less than 10 minutes to cook.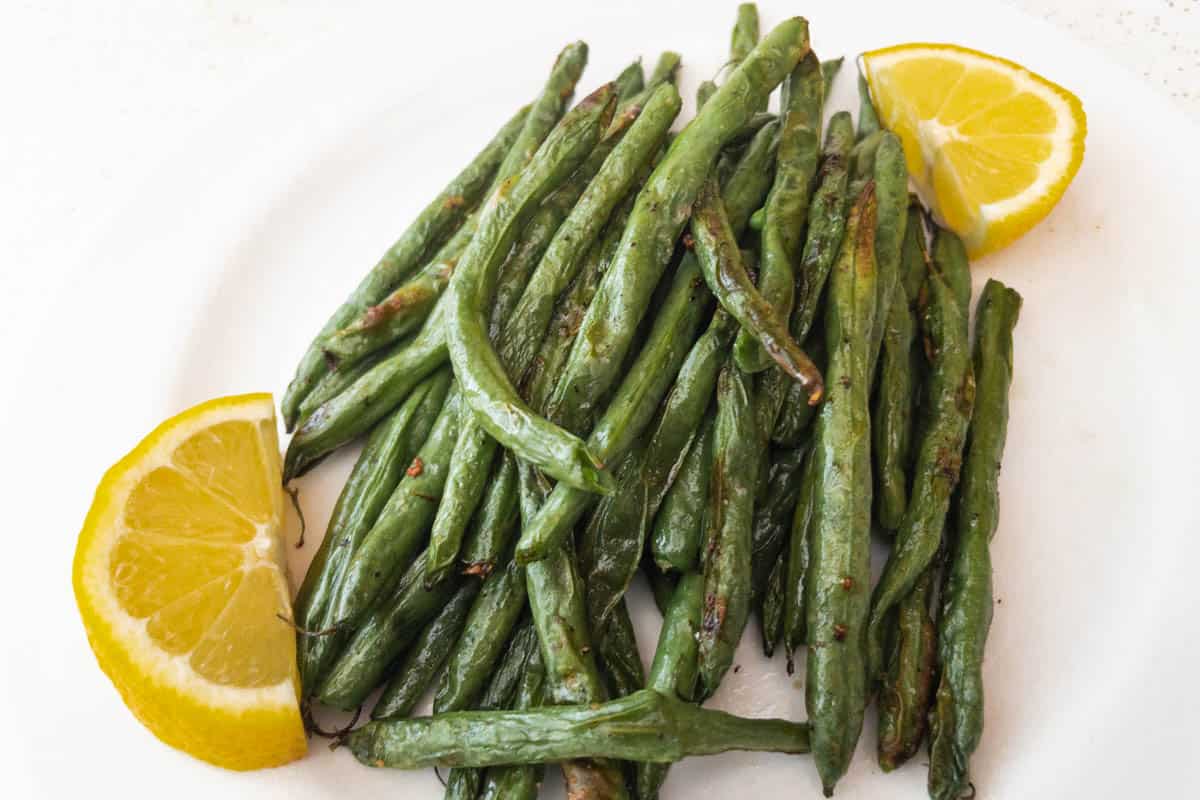 This green bean recipe is a perfect side dish for pairing with any weeknight meal. Airfryer side dishes are really simple to make and that is what I like. A side with big flavor and can give a flavor boost to any meal.
Jump to:
Ingredients for AirFryer Green Beans
The ingredients are minimal to make air fryer string beans. I always use fresh green beans when i make this dish. I like the texture of green beans betterwhen they are fresh, although frozen green beans could be used it is not my recommendation.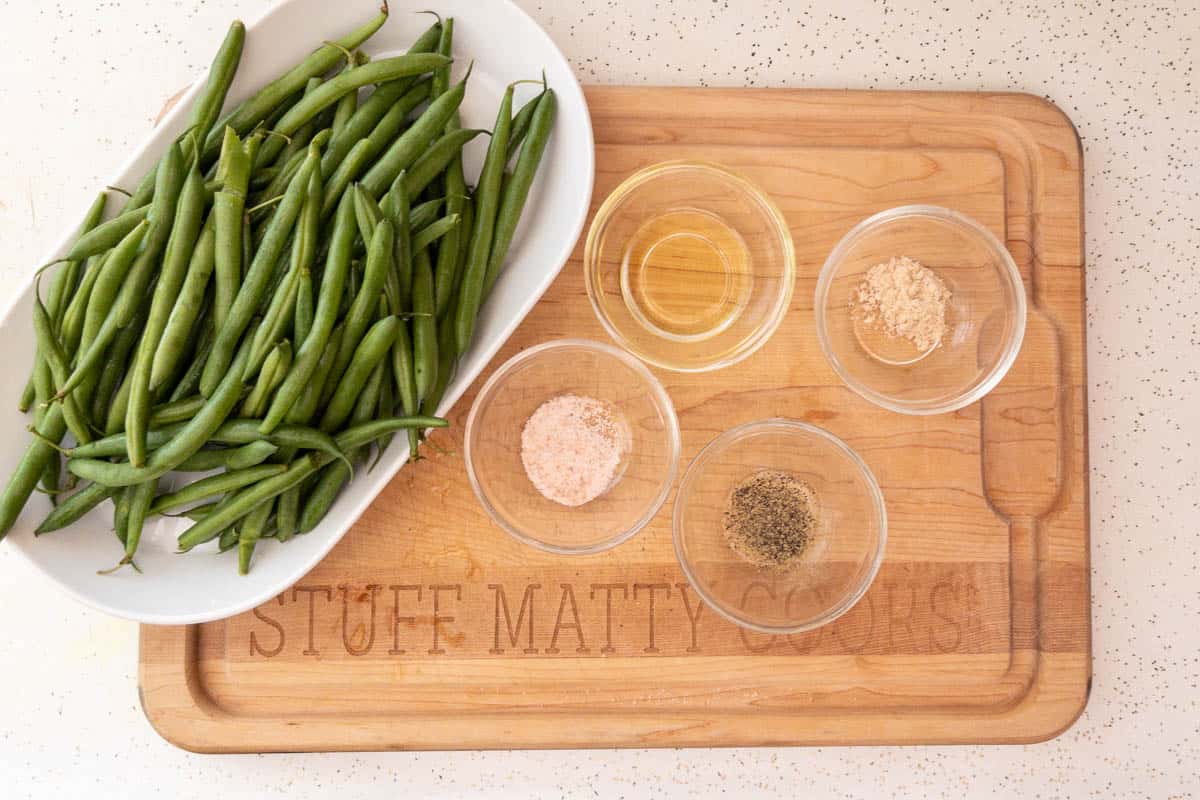 Fresh Green Beans
Salt
Pepper
Garlic Powder
Chicken Boullion Powder (Optional)
Lemon Juice (Optional)
Jump to recipe card for the quantities.
How to Air Fry Green Beans
I am going to show you how to cook green beans in the airfryer the same way that I do it. There is just a handful of steps to airfryer green beans and you will be eating them in minutes. These green beans are one of my favorite air fryer recipes.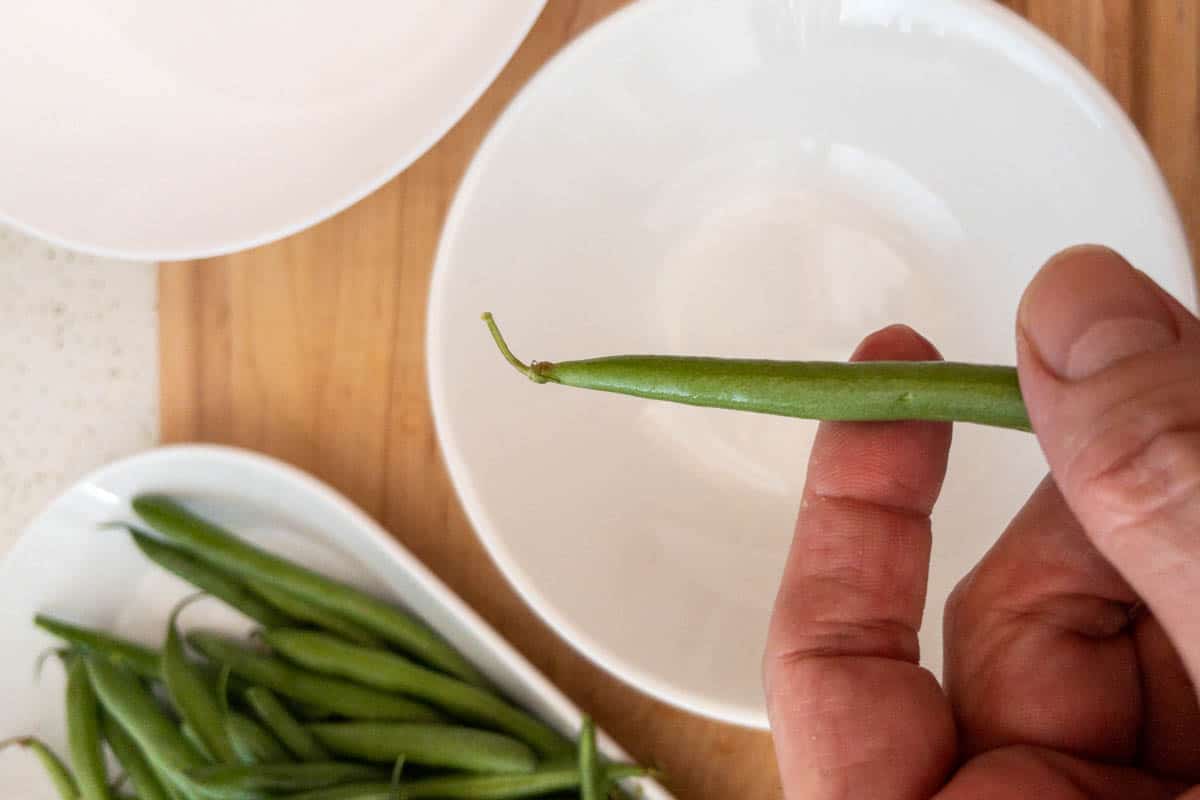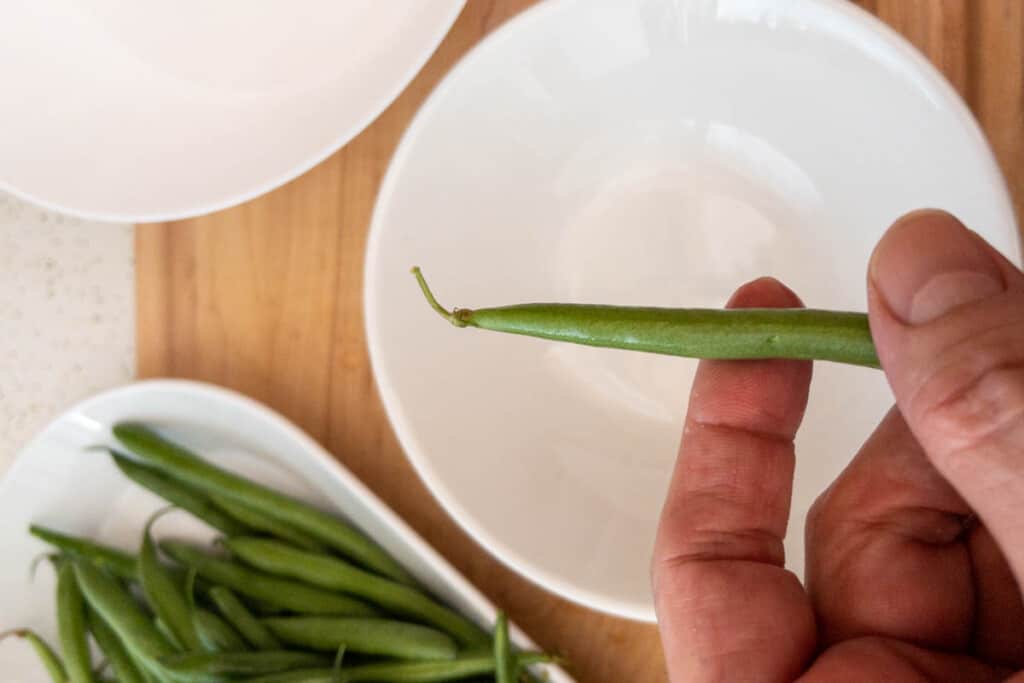 Start by trimming the end off the green beans. I usually just pinch the woody end off with my fingers. Scissors can also be used to trim the green beans.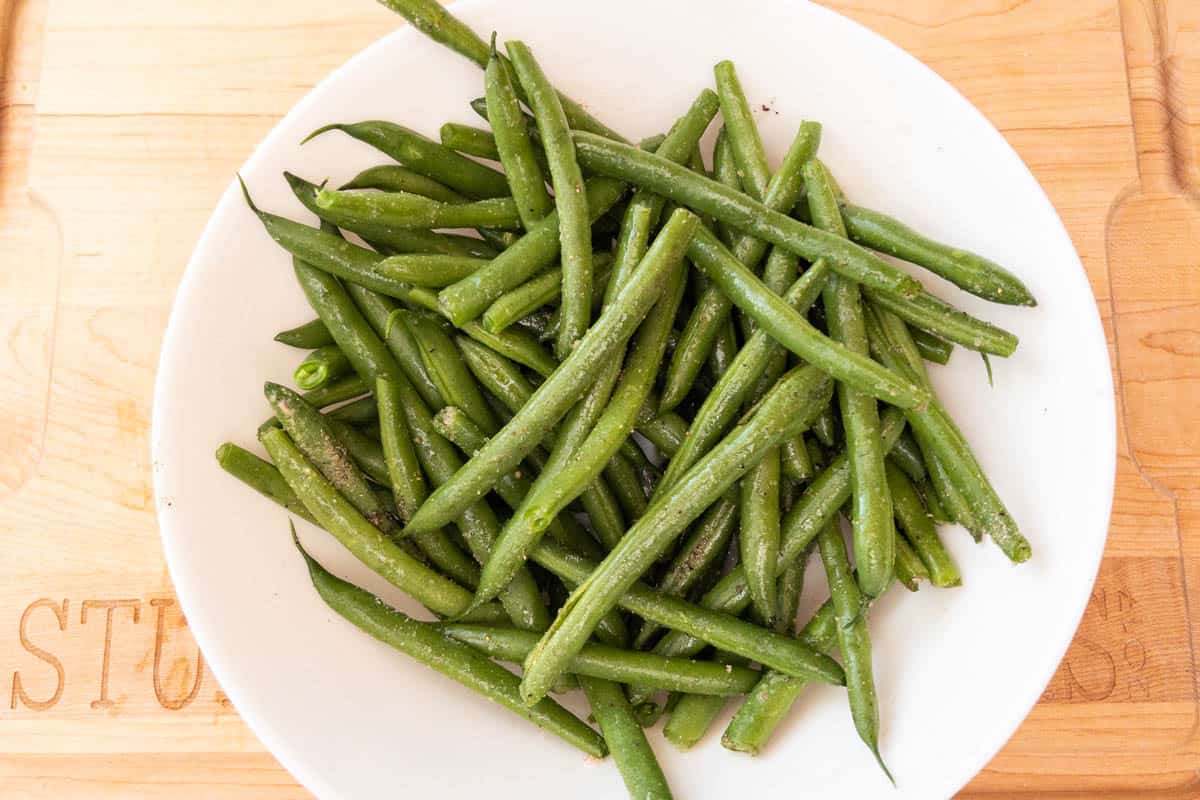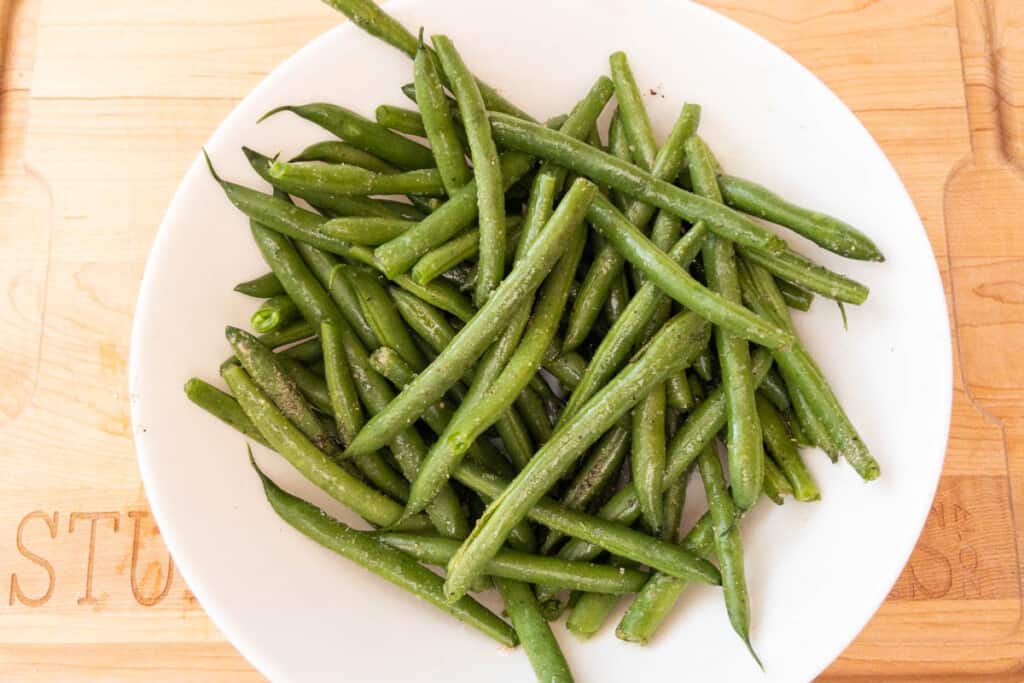 2. Place green beans in a large bowl and drizzle with olive oil and add all of the spices. Toss with tongs until the green beans are evenly coated.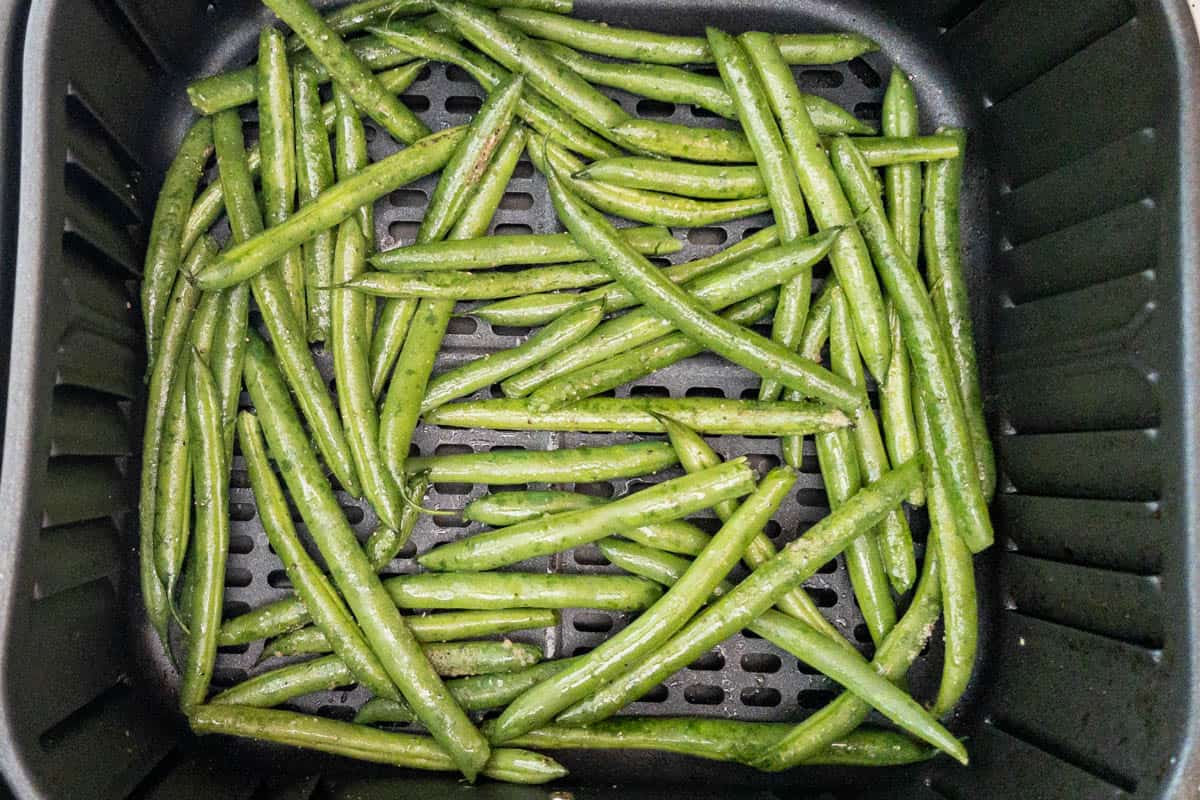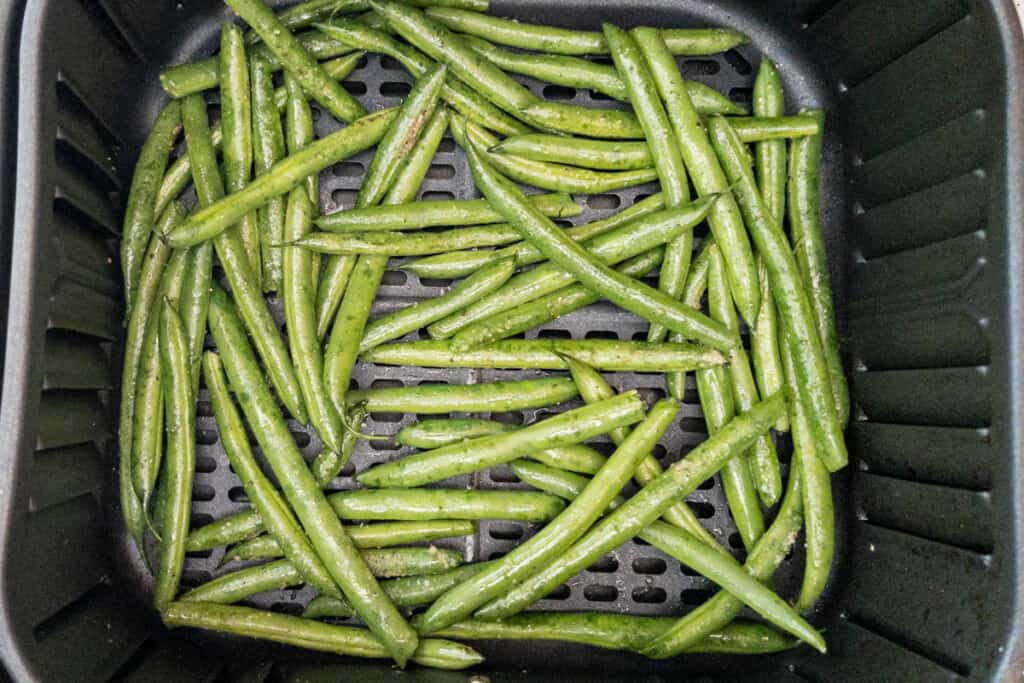 3. Place the seasoned green beans in the air fryer basket. It is important to make that the green beans are in a single layer like in the photo and not a pile. Depending on the size of you air fryer you may have to cook in batches.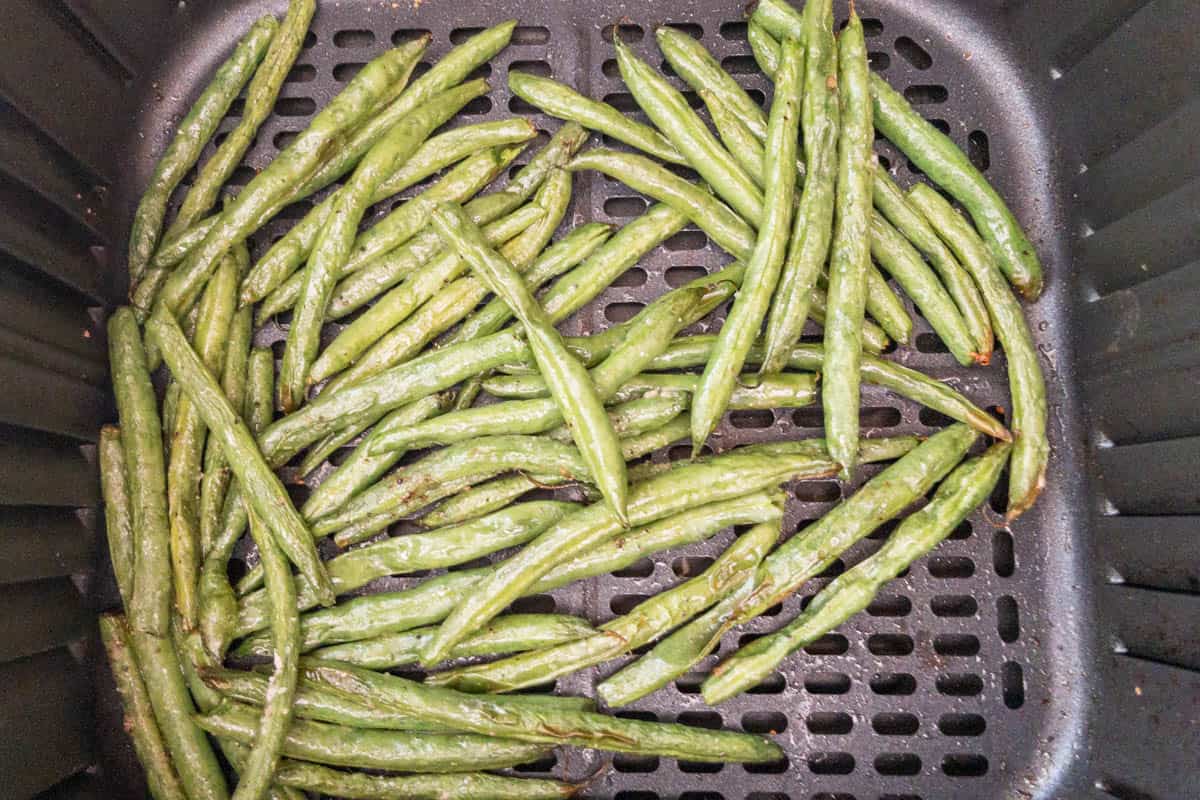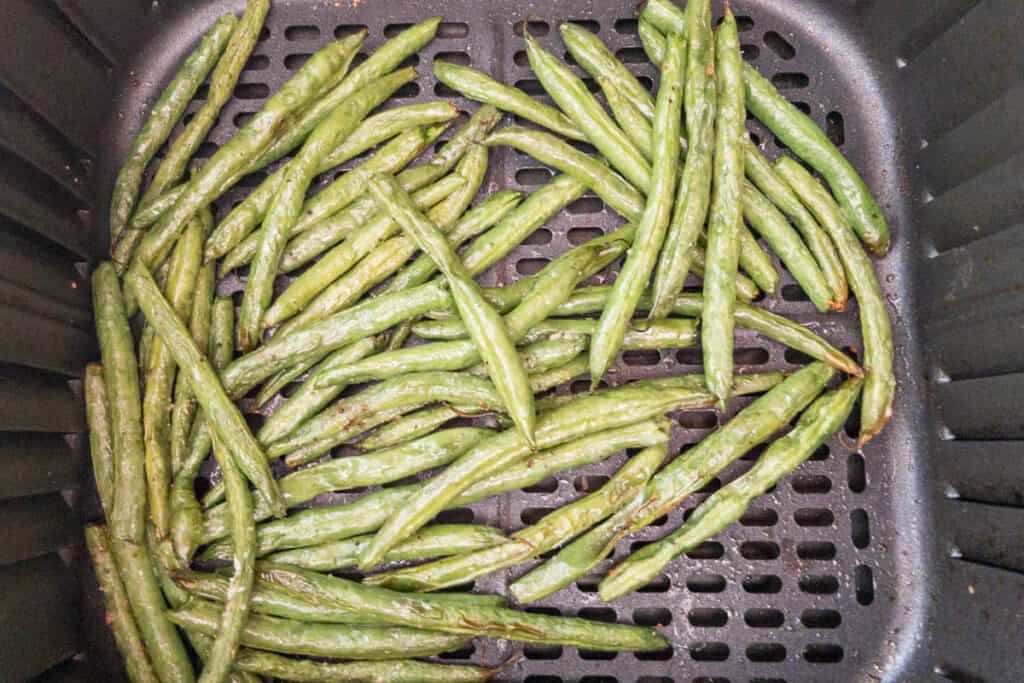 4. Air fry the green beans at 380 degrees Fahrenheit for 7- 8 minutes cooking time or until your preferred doneness.
Tips for Air Frying Green Beans
AirFry in a Single Layer – Place green beans in airfryer basket in a single layer to ensure proper airflow to get that delicious crispy tender texture.
Cook in Batches – It is better to cook the green beans in multiple batches than to pile green beans into the basket. This will ensure better results and exterior to the green beans.
Sprinkle with Chicken Bullion Powder – Chicken bullion powder is also great as a seasoning in a small amount on the green beans. This adds a fantastic flavor.
Eat immediately after cooking – These green beans are best enjoyed while they are hot. The little crispiness on the exterior is better when eaten right away.
Variations
Spicy – add some red chili pepper flakes to add a kick of heat.
Parmesan Cheese – Sprinkle with fresh shredded parmesan for a tasty change.
Sesame Oil – add a drizzle of sesame oil to change up the flavor for something else delicious.
See this spicy version of this recipe on my website! (placeholder for in-content link)
What Pairs with Green Beans in the AirFryer
Jamaican Steamed Cabbage
Air Fryer Turkey Legs
Instant Pot Rice Pilaf
How to Cook Frozen Green Beans in Air Fryer
If frozen green beans is all you have available to make in your air fryer frozen green beans it is. Frozen green beans can be cooked in the air fryer even though I do not think the results are nearly as good. I always say to use what you have. Even if it is frozen vegetables.
Preheat air fryer to 380 degrees Fahrenheit.
Place frozen green beans in air fryer basket in single layer.
Air fry frozen green beans for 8-11 minutes

How to Store AirFryer Green Beans
Let the green beans cool.
Store air fryer green beans in an airtight container.
Store in refrigerator for 3-4 days.
How to Reheat Green Beans in the Air Fryer
Preheat air fryer to 380 degrees Fahrenheit
Add green beans to air fryer basket
Spray with oil
Air fry 3-4 minutes
Equipment Used in Air Fryer Recipe
Cosori Air Fryer 5.8 Quart
Instant Pot Vortex
Ninja Foodi Air Fryer and Pressure Cooker
Air Fryer Liners
More Side Dish Recipes
Million Dollar Candied Bacon
Air Fryer Parmesan Brussel Sprouts
Frozen French Fries in the Air Fryer
Bacon Wrapped Asparagus (Air Fryer)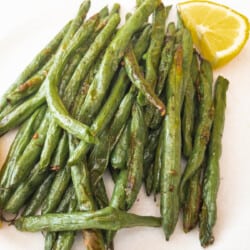 Air Fryer Green Beans
Air fryer green beans are a simple and delicious side dish recipe that can boost any meal. These green beans have lemon, garlic and spices that taste fantastic. This side dish is ready in less than 10 minutes.
Print
Pin
Rate
Ingredients
1

Pound

Fresh Green Beans

1

Tablespoon

Olive Oil

1/2

tsp

Salt

1/4

tsp.

Black Pepper

1/2

tsp

Garlic Powder

1/2

tsp

Chicken Bullion Powder

Optional but worth it
Instructions
Wash green beans. Pinch or cut the stem end of the green bean off. Repeat this process for all green beans.

Place trimmed green beans in a large bowl. Season with salt, pepper, garlic powder, and chicken boullion powder. Toss green beans to coat evenly with oil and spice mixture.

Preheat air fryer to 380 Degrees Fahrenheit.

Add green beans to air fryer basket in SINGLE LAYER. Do not over crowd the air fryer. It may have to be done in two batches.

Air fry green beans at 380 degrees Fahrenheit for 7-8 minutes or until you preferred doneness.
Notes
Make sure green beans are in a single layer in the air fryer basket before cooking to have best air circulation and cooking results.
Nutrition
(Visited 3,438 times, 1 visits today)