I love this Lemon Asparagus Salad. It is full of asparagus, olives, and tomatoes with a hint of blue cheese. This is a cold asparagus salad and it is super easy to prepare. I will show you how to do it from start to finish.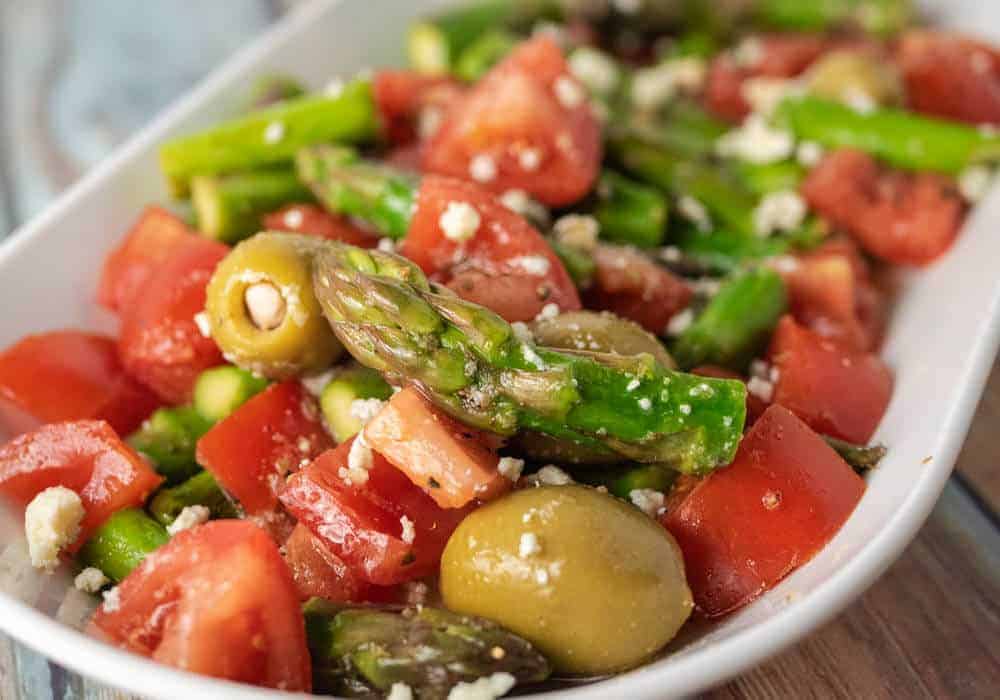 Lemon Asparagus Salad
I love the flavor of this salad. This asparagus salad recipe Has such a great texture. The asparagus is blanched and the lemon dressing is simple to make with just some good olive oil and lemon juice and some salt and pepper. This asparagus salad with lemon vinaigrette goes with anything as a side dish. It also makes a great lunch just eaten by itself.
Another thing I like about this cold asparagus salad is that it can be prepared ahead of time. It is always good to let this marinate for a bit. You can make it a few hours ahead of time for a party or a barbecue.
Ingredients for Lemon Asparagus Salad
Asparagus
Olives
Tomatoes
Bleu Cheese
Extra Virgin Olive Oil
Salt
Pepper
Garlic Powder
Oregano
How to Cook Asparagus for Salad
The process for cooking asparagus for this salad is called blanching. It will make the asparagus bright and vibrant and beautiful. It sounds complicated but it's not and I will show you how to do it. It is an easy process.
Boil water in a large pot
While water comes to a boil prep a large bowl of water with ice (this is called an ice bath).
Add asparagus spears to boiling water and let cook for 1-2 minutes. Use a slotted spoon or tongs to remove from the boiling water and transfer spears immediately into the ice bath.
Let the asparagus chill in the ice water for a few minutes then remove with the slotted spoon or tongs.
Transfer asparagus to a large plate lined with a clean kitchen towel to dry the asparagus.
Lemon Dressing for Asparagus Salad
Making the lemon dressing for this asparagus salad is a simple process. Grab a large bowl and mix together the olive oil, lemon juice, salt, pepper, and oregano.
Preparing Lemon Asparagus Salad
Once you have prepared the dressing in the bowl simply toss together all the ingredients. Be sure to let this salad marinate for an hour or two before eating to get the best results.
Other ingredients can be added to your liking and you can also substitute items. For example, you might want black olives instead of green olives or you would prefer feta cheese instead of Bleu Cheese.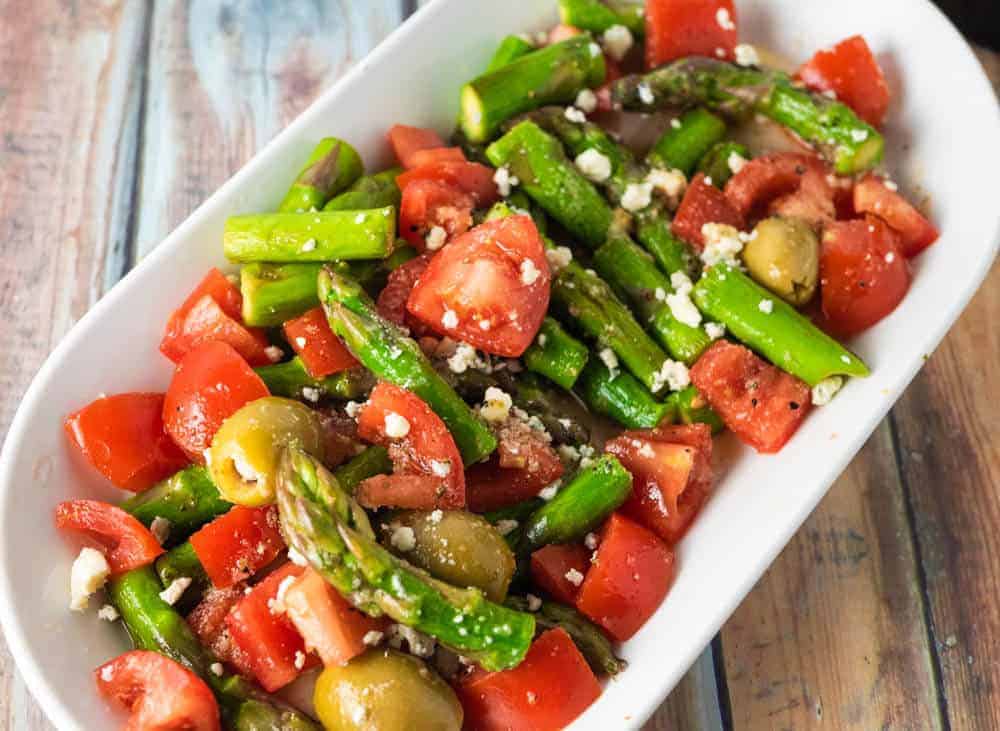 Other Recipes:
Roasted Eggplant Dip
Air Fryer Chickpeas
Vegetarian Pasta Salad
Easy Refrigerator Dill Pickles
Kitchen Essentials and Items Used in This Recipe:
Lemon Garlic Asparagus Salad
Lemon Asparagus Salad is a delicious beautiful bright salad that is a great side or appetizer for any meal.
Ingredients
1

Pound

Asparagus Cut into 2 Inch Pieces

3

Plum Tomatoes Cut Into Chunks

6 to 10

Olives of Choice

3 1/2

Tbsp.

Extra Virgin Olive Oil

1/2

Lemon Juiced

1/2

tsp.

Salt

6

Turns of Fresh Ground Pepper

1

tsp.

Garlic Powder

1/2

tsp.

Oregano

1

Tbsp

Crumbled Blue Cheese
Instructions
Cook Asparagus in slow boiling water about one inch deep in a skillet with lid. I find this produces better results with the asparagus. Steam Asparagus about 3 to 5 minutes based on your desired doneness.

Mix together Olive Oil, Lemon Juice, Salt, Pepper, Garlic Powder and Oregano in a bowl big enough to hold all the ingredients. Mix together all ingredients except Blue Cheese.

Toss Salad to Coat. Let Marinate 1 to 2 hours before serving. Top with Blue Cheese before serving.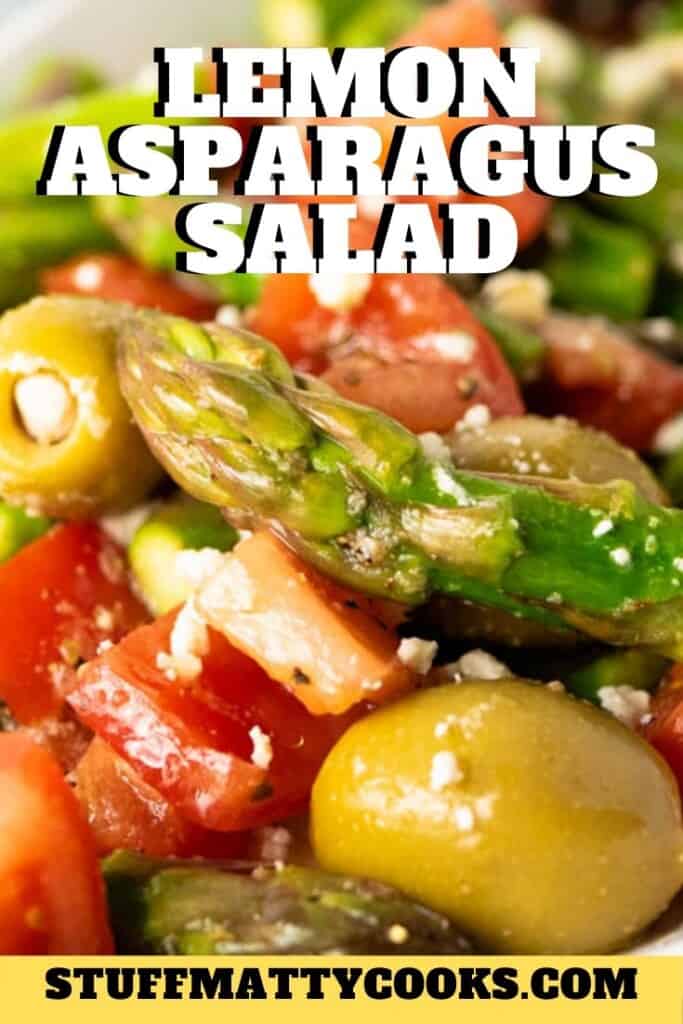 (Visited 1,481 times, 1 visits today)