I love this Asparagus Salad Recipe. It is full of asparagus of course, olives, and tomatoes with a hint of blue cheese. This is a cold asparagus salad and it is super easy to prepare.
I will show you how to do it from start to finish. This recipe is easy to make and any ingredients you enjoy can be added. The sky is the limit. I have included some variation ideas for this recipe as well.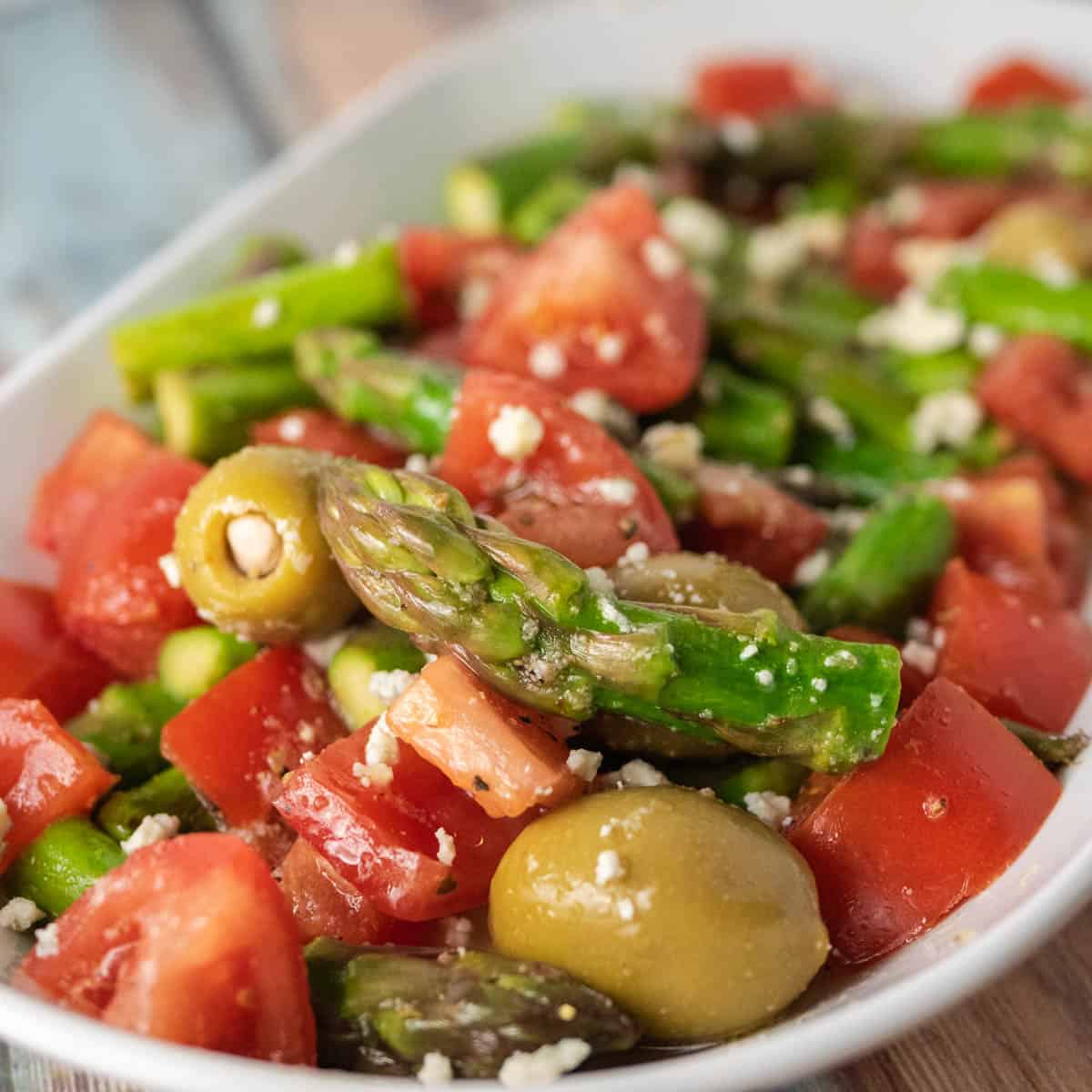 Asparagus Salad Recipe with Lemon Vinaigrette
The flavor if this dish is on point and it has such great texture. The lemon vinaigrette dressing in this dish is simple to make. I recommend some good olive oil and lemon juice and some salt and pepper. When I eat this salad I can help think of the spring and summer time of year.
I usually just throw a mixture of what I have in my fridge that I think will work. This dish started as an asparagus tomato salad recipe and ended up with the olives and the blue cheese. When I make this I just "use what I have" in the fridge. No matter what combination you come up with it is delicious and refreshing.
The combinations are endless. For example sometimes I swap out the blue cheese for feta cheese or parmesan cheese. Throw in some red onion for another layer of texture and another color that pops with the tender asparagus.
Ingredients for Lemon Asparagus Salad
Asparagus
Olives
Tomatoes
Bleu Cheese
Extra Virgin Olive Oil
Salt
Pepper
Garlic Powder
Oregano
How Do I Prepare Asparagus for Cooking
Preparing asparagus for cooking is simple. Trim with a knife or snap off the woody and at the base of the asparagus. This process can be done by grabbing the asparagus end with your thumb and forefinger and bend until the asparagus snaps. Continue this process with the rest of the asparagus.
Wash asparagus under cold water
Snap or trim off woody end at base of asparagus.
Cook asparagus as soon as prepared. If storing is needed wrap in damp towel.
How to Blanch Asparagus
Blanching is a process of cooking in boiling water for a few minutes and then shocking in cold water. It will make the asparagus bright and vibrant and beautiful.
Boil water in a large pot
While water comes to a boil prep a large bowl of water with ice (this is called an ice bath).
Add to boiling water and cook the asparagus for 2-4 minutes.
Use a slotted spoon or tongs to remove from the boiling water.
Plunge spears immediately into the ice bath.
Let the asparagus chill in the ice water for 5 minutes then remove with the slotted spoon or tongs.
Transfer asparagus spears to a large plate lined with a clean kitchen towel to dry the asparagus.
Lemon Dressing for Asparagus Salad
Making the lemon dressing for this asparagus salad is a simple process. Grab a large bowl and mix together the olive oil, lemon juice, salt, pepper, and oregano. If you want another layer of flavor add a teaspoon of dijon mustard to the dressing.
How to Make Asparagus Salad
Preparing the asparagus salad is simple. Combine the dressing, blanched asparagus, and other ingredients in a large bowl and mix together.
Make this dish ahead of time if you are having friends or family over. This cold asparagus salad can be prepared hours in advance. It is always good to let this marinate for a bit. Makes a great side dish for brunch or even a family barbecue.
TIP: If you are making this dish ahead of time hold off on adding the tomato until right before serving time. This will keep the texture of everything in your dish as well as preventing the tomato from getting soggy.
Other ingredients can be added to your liking and you can also substitute items. For example, you might want black olives instead of green olives or you would prefer feta cheese instead of Bleu Cheese.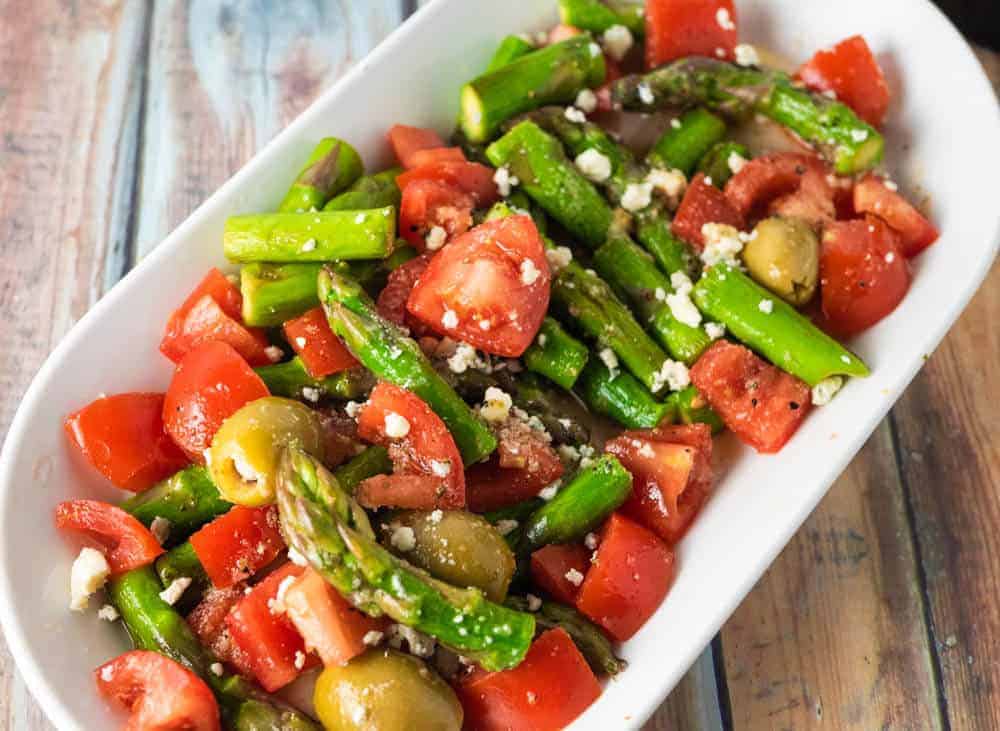 Asparagus Salad Ideas
Here is a few ideas on other ingredients that can be used as a variation. Use your imagination and the list below to change it up if you want. Sometimes it's just a mix of veggies or it can be made into a complete dish by including a protein. Here is some simple ideas.
Cherry Tomatoes
Artichoke Hearts
Hearts of Palm
Feta Cheese
Parmesan Cheese
Cocktail Shrimp
I have also been known to grill the asparagus for this recipe. The little bit of char flavor is an excellent additional step. Usually I do this when I am already planning on grilling. It is easy to so this so I figured that I will include how to grill the asparagus.
How to Grill Asparagus?
Preheat grill to High Heat
Wash and trim asparagus
Place on baking sheet lined with foil.
Drizzle asparagus with some oil.
Season with salt and pepper.
Place on grill for 3 to 4 minutes turning often until nice and browned.
Is Asparagus Healthy?
Asparagus is low in calories as well as high in nutrients. Some health benefits include weight loss and improved digestion. In some cases asparagus can even lower blood pressure. This dish is heart healthy and low in saturated fat.
Other Recipes to Enjoy
Roasted Eggplant Dip
Air Fryer Chickpeas
Vegetable Pasta Salad
Easy Refrigerator Dill Pickles
Kitchen Essentials and Items Used in This Recipe: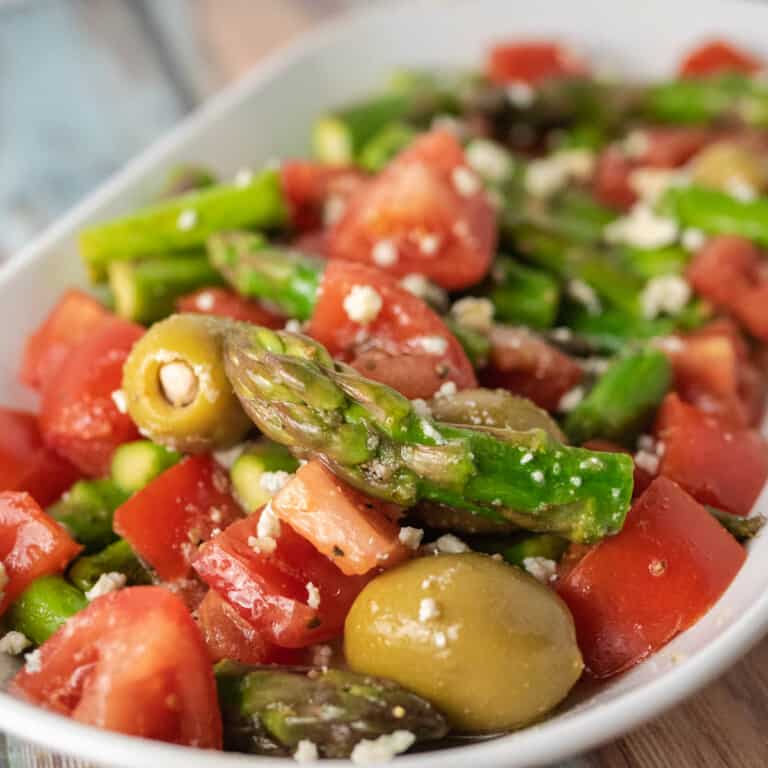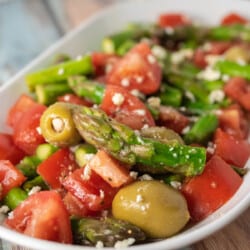 Lemon Garlic Asparagus Salad
Lemon Asparagus Salad is a delicious beautiful bright salad that is a great side or appetizer for any meal.
Print
Pin
Rate
Ingredients
1

Pound

Asparagus Cut into 2 Inch Pieces

3

Plum Tomatoes Cut Into Chunks

6 to 10

Olives of Choice

3 1/2

Tbsp.

Extra Virgin Olive Oil

1/2

Lemon Juiced

1/2

tsp.

Salt

6

Turns of Fresh Ground Pepper

1

tsp.

Garlic Powder

1/2

tsp.

Oregano

1

Tbsp

Crumbled Blue Cheese
Instructions
Cook Asparagus in slow boiling water about one inch deep in a skillet with lid. I find this produces better results with the asparagus. Steam Asparagus about 3 to 5 minutes based on your desired doneness.

Mix together Olive Oil, Lemon Juice, Salt, Pepper, Garlic Powder and Oregano in a bowl big enough to hold all the ingredients. Mix together all ingredients except Blue Cheese.

Toss Salad to Coat. Let Marinate 1 to 2 hours before serving. Top with Blue Cheese before serving.
Nutrition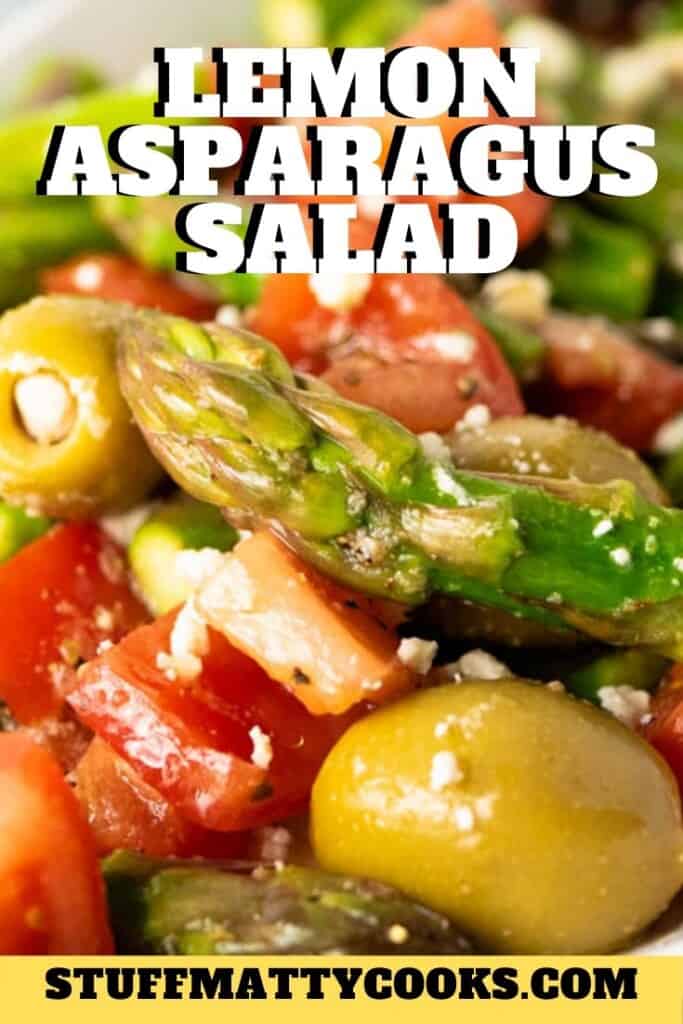 (Visited 3,828 times, 1 visits today)